Immoral Bookies
Are you a matched bettor or engaged in sports arbitrage, or probably Value Better? Whatever the advantage play you use, you are facing Soft Bookie's Account Restriction.
But how do they do?
We extract the contents from Peter Ling's Article in SBC (Smart Betting Club – see our full review of this fantastic tipster valuation service), which outlines the lengths one bookmaker goes to in order to restrict winning punters and apply 'stake factoring' to their customer accounts.
The original document comes from Justice Punter which describes their site as;
It's a story about a huge worldwide industry that has been allowed to bankrupt people whilst refusing to take even £1.00 bets from the tiny number of people who win when gambling. One word explains it; immoral.
Peter also uses his own connection with a current bookmaking employee who works within the 'restrictions' department to outline more on what really goes on behind the scenes.
Stake Factoring
Until now, no outsider was precisely sure about how a bookmaker tracks your account to limit your bonus or stake. But now we know "Stake Factoring" as one of the key tools thanks to the publication of a.k.a. Bookie-Leak.
Peter wrote;
Betting restrictions are called 'stake factoring' as this determines the percentage amount of the maximum bet size offered by the bookmaker that each customer is allowed to get on.
For example, a stake factor of 0.01 indicates a customer is allowed to get on 1% of the maximum bet allowed in that market.
Conversely a stake factor of 5.00 indicates a customer allowed up to 500%.
I am told that this maximum bet amount will vary from market to market and customer to customer and each firm operates this slightly differently. At some firms it is one layer of restrictions, yet what this stake factor table provides is insight into how one firm profiles gamblers based on their activity.
So, see how the stake factoring table looks;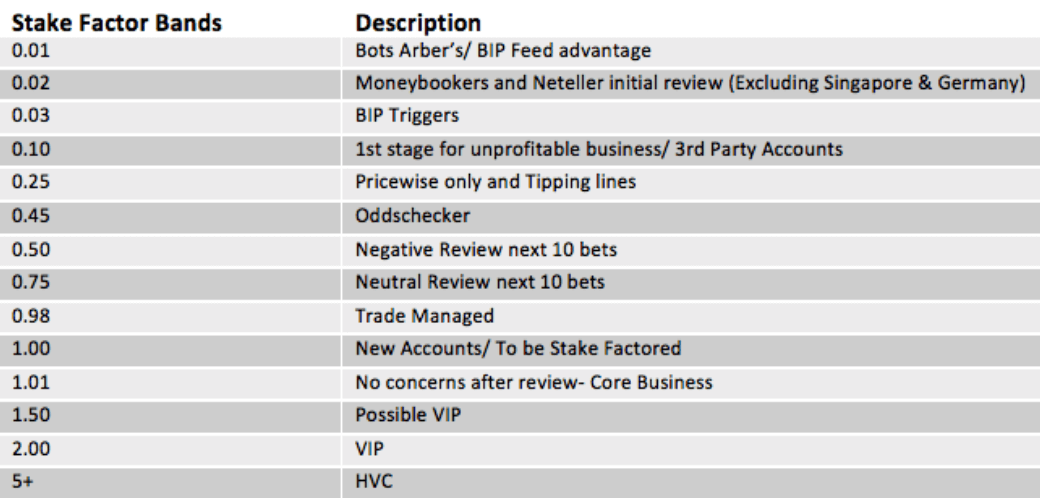 When a new customer opens an account with this firm, unless it immediately draws a red flag (for example a link to a previously restricted or closed account) then he or she is given a stake factor of 1.00 to begin with. They are tagged as 'To Be Stake Factored' , no doubt as the bookmaker needs to build up a picture of the punter and the type of bets they are likely to place.
My insider tells me the first job head office staff at his firm have when dealing with a new customer is to gently promote the casino and games to find out what kind of punter they are dealing with. He tells me that if they see regular casino use for example, the punter is tagged as a good customer (i.e. if you look like a losing bettor). We see this in the above table where 'Core Business' punters are stake factored to 1.01.
At the insider's firm, good customers will then be given regular free bets to encourage betting, especially if they go quiet for a week or so. He has seen punters lose thousands and then stop betting, only for them to be incentivised to restart with a free £25 or £50 bet, designed to encourage them to deposit more.
There is no evidence such practice goes on at the firm behind the stake factoring table above, but we can see a focus on certain punters (almost certainly all losers) as this firm will upgrade you to 1.5X the max stake as a 'Possible VIP', 2X as a confirmed VIP and 5X+ as a 'High Value Customer'.
Providing the very distinct impression that the more you lose – the more they allow you to bet.
This is why we encourage advantage players to play casinos at least occasionally (make sure you use our 7 strategies) to disguise your advantage gambler's nature.
Stake Factoring – Unprofitable Accounts
Unprofitable is not for the customer but for the bookmaker. What are their basic tactics?
Bookies want to have their cake and eat it by targeting losing customers for as much as they can, whilst dramatically reducing the business they take from those with a modicum of ability. It's the ultimate 'heads I win, tails you lose' business and it's no wonder so many firms are making record profits.
And because bookmakers only win when their customers lose, these record profits are based on money taken from losing punters, some of whom are likely to be vulnerable people.
Back to the new account process and if after placing your first set of bets, it is not immediately obvious you are a losing punter, you will be given a neutral review. At this point you are factored quickly to 0.75. Even when 'neutral', the firm is already limiting what you can get on.
Should you be given a negative review, this reduces to 0.5.
And if you are confirmed as 'unprofitable business' – i.e. a winning punter then the starting point is a stake factoring of 0.1.
So, you are being tracked everything from the outset.
All the soft bookmakers (see the list) like Skybet (very unethical bookmaker) which are the quickest bookies to gubb obviously employ such a Stake Factoring system. 
Stake Factoring – Oddschecker
Another point Peter highlighted is Oddschecker.
There is also another stake factoring point from this table that I want to highlight – The use of the Oddschecker website.
Now most of us know what Oddschecker offers but for those unfamiliar it's essentially a comparative tool to see which bookmaker offers the best odds on any given bet. Just as you might use Expedia to compare prices of hotels with different websites, so you would use Oddschecker to see which bookmaker offers the best odds.
Take 7/1 rather than 6/1 on a bet just by betting with William Hill over Paddy Power? It's a no-brainer and a great tool for punters to use and in general I am a fan of the site and concept.
Yet, according to our leaked table, the simple act of using Oddschecker and being price sensitive will see your account stake factored to 0.45.
I imagine most bookmakers see Oddschecker as a necessary evil – a site that sends them a lot of customers, yet one that encourages price sensitivity and brings with it a fair share of problems.
This is because bookmakers love punters who have 'brand loyalty' – those who only ever bet with them and who don't play the price comparison game.
So unlike standard business practice with the efforts to develop brand loyalty by providing better service / lower prices, bookmakers strive to improve their profitability by excluding price seekers. Where is a fair trading concept here?
Stake Factoring – Full Elements
The leaked document also reveals a list of requests when analysing a customer's account as follows;
1. Price Advantage achieved (Taken Price/ Final Price)
2. Average Time of bet v start of Race/ Event
3. % Stakes that are Free Bets/ Bonuses (a.Record of free bets/bonuses?)
4. BOG Cost
5. Singles v Multiples Ratio
6. Distribution of stakes by Time of Day/ Day of Week
7. Pre v BIP Ratio
8. Average Time Between Bet Placement and price change (a.Bet placement and Final price)
9. Frequency of cross-over into other products
10. Average length of session/ activity (a.Average length for bet placement)
11. Stake distribution v quality/ grade of Events
12. What triggers a withdrawal?
13. Time elapsed from bet settlement to next bet (a.Bet settlement time stamped?)
14. Activity triggered by Free Bet/ Promotion (a.Historical record of promotion?)
15. Average price taken including split by sport
16. Average Stake by Sport
17. Metric for Stakes increasing when on a winning streak
18. Average Time elapsed between Activity resulting in Zero Balance and next deposit
19. Behavior similar to other customers with SFX
20. Customers by Affiliate-typical behaviour (a.Record of affiliate associated with the account?)
Some other possible elements;
1. Metric for decreased activity when on a losing streak
2. Metric for stakes increasing/decreasing when on a losing streak
3. Metric for increased activity based on winning streak
4.% of repeat bets based on win/loss
5. Price disadvantage from opening price to the price taken (well-backed horses)
6. Multiple and single ratios – do multiples convert to singles when no longer life
7. Wins to Bets ratio
8. Potential win amount to bet stake ratio
9. Out of character bets frequency
10. Period of deactivation
11. Seasonality of bets
12. BIP triggers by match situation/period in game etc available for football/tennis
13. For Horse racing there are additional metrics that can be measured, if required, such as propensity to back LTO/Course/Distance winners
OMG, it covers indeed everything about your betting activities. It is safe to assume that all major soft bookies do more or less the same.
It's really a disgusting story.  
Stake Factoring Conclusion – Action Plans
Immediate Solutions 
So, it's just a matter of time before you face some form of account restriction if you keep taking values from such soft bookmakers (over 90% of the online bookies are the soft bookies, and who are the worst? See the list in the next section).
Therefore, we have prepared the following 2 guides – One is Before Restriction, The Other One is After Restriction;
We believe the above 2 guides will help you keep exploiting unfair bookies, means will enable you to make money on the side reliably for long term with advantage plays. 
Ultimate Solutions
The ultimate solution for you is to use the bookmakers that welcome winning players, called sharp bookies. We have issued and periodically updated the below 2 lists (the world worst betting sites list is the one we referred to above);
In the above Sharp Sportsbook list, on top of the conventional sharp bookie such as Pinnacle, we list the following 4 betting exchanges that never use the Stake Factoring tool given their business model;
There are 4 established betting exchanges as below;
In case you are not familiar with the betting exchanges, the below 2 documents will be of good help;
The above guide shows all the top 4 betting exchanges' latest sign-up offers & how to extract cash risk-free from each (using the matched betting technique) offer including Betfair (you may want to use Betfair Alternatives) £100 Free Bet, which is supposed to be one of the best offers in the industry, just FYI.
For those who can't access the 4 key betting exchanges, don't worry, you can use bet brokers, but you need to take a cautious approach given their small business operation. The following 2 documents will help you select the right one(s);
Honest Opinion About Bet Broker & How To Use Them Safely & Smartly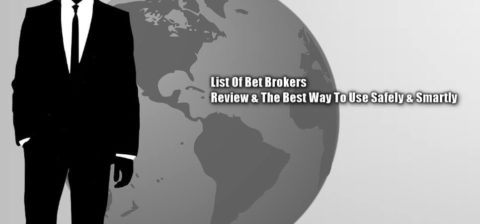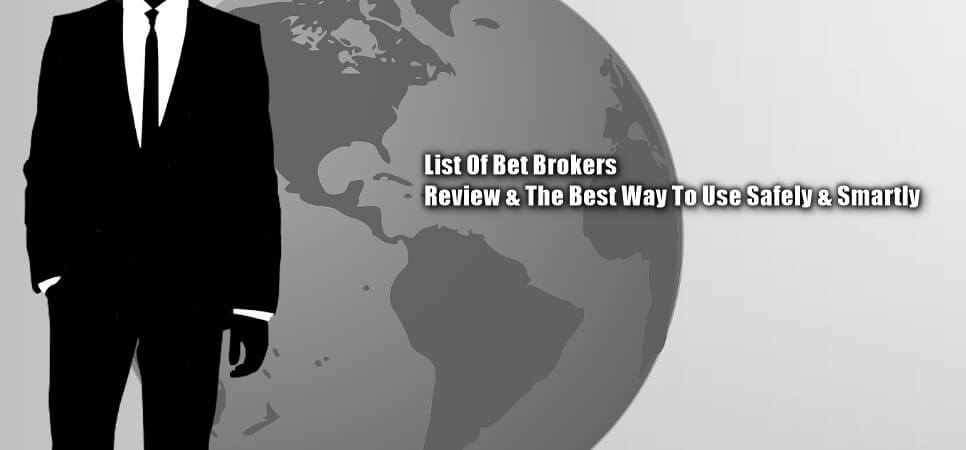 Betfair Alternatives For People Who Can't Access Or Seek Better Options
BTW, you may also want to access World 19 Best Offshore Betting Sites Offers where we list mainly Caribbean-based sportsbooks which hardly restrict your account.
Bitcoin Betting
Lastly, cryptocurrency betting represented by Bitcoin has become a major stream, especially for international players because it can circumvent some geographical restrictions, besides bitcoin sportsbooks rarely limit your account, so suggest you go through;
Peter also said;
My 'insider' has worked for a variety of bookmakers over the years – including a role helping profile winning customers and restrict them from getting on. Ensuring he is extremely well placed to reveal more on the 'dark art' of how restrictions work and the tips and tricks to avoid them as best you can.
The full interview with this 'Bookie Insider' is available only to those of you with a Smart Betting Club membership, so if you would like to read this and several other expert articles we have on the topic, I invite to you subscribe right away.
If you're interested in this fantastic tipster valuation service, see our Smart Betting Club Review or Smart Bet–Winning Formulas for Global Punters.  
BTW, in case you want to be a sharp casino & game bonus hunter, strongly suggest taking a look at the List of 52 Best Bitcoin Casino Bonuses and for those who appreciate the highest privacy, go to the List of Best Anonymous Bitcoin Casinos & Bonuses, just FYI.
Joshua Walker (bio) 
Editor – Global Extra Money (GEM)