What's Bitcoin Matched Betting?
Crypto Matched Betting is to do risk-free matched betting using sportsbooks that accept cryptocurrencies such as bitcoin & other major altcoins. 
Crypto Matched Betting will help;
Because the below crypto sportsbooks enable punters from many countries to deposit & withdraw via cryptocurrencies  (see Best 20 Crypto Sports Betting Sites for more choices, and if you happen to come from the US, go to Best Crypto Sportsbooks for Americans & Matched Betting Everyone in the World incl. USA).
Besides, you don't want to miss the info contained in the "List of Best Bitcoin Casino All Types of Bonuses", which includes BTC Casino No Deposit Bonuses, Our GEM Exclusive Bonuses, Reload Bonuses, & BTC Faucet (obviously, these will help boost your matched betting earnings). 
Crypto Bookmakers & Betting Exchange for Matched Betting
Crypto Betting Exchange
Besides, the bitcoin betting exchange has made many people pursue matched betting easier;
Crypto Matched Betting Methods
If you're completely new to Matched Betting, suggest you start at Matched Betting for Dummies. In case you know the concept but have not really done Matched Betting, go through (1) How Bonus Works, (2) Placing Qualifying Bet & (3) Profits Extraction, which give you step-by-step instruction.
Crypto Matched Betting 3 Approaches
There are 3 approaches to doing so;
As you are aware, cryptocurrencies are very volatile and their price fluctuates dramatically. This means using the crypto & fiat between the back bet at a sportsbook and the lay bet at a betting exchange creates a big risk, therefore we share the example later but we don't suggest the 3) approach.
Just get familiar with the below basics;
BTC Unit
Firstly, understand the unit you may usually use in betting BTC since nowadays 1BTC is pretty high value;
For your convenience, you may want to use BTC Converter.
Odds Format
Second, you need to use Decimal Odds Format (European) to make matched betting because Betting Exchange uses Decimal Odds, and Matched Betting Calculator is set based on Decimal Odds. You can use the Odds Converter.
1) Back & Lay Both Cryptocurrency
Let's use the Sportsbet.IO Welcome Offer of "Make a deposit and place your first qualifying bet on any sport and you'll receive x3 your stake as a free bet! ";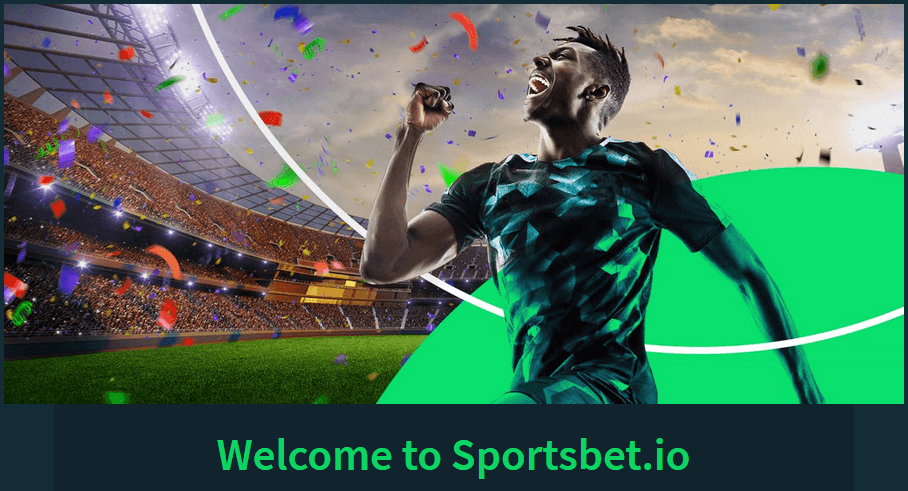 Sports.IO T&C shows;
Place a bet on any sport (can be pre-live or live, single or multi) of EXACTLY mɃ 2 (µɃ 2,000) / €10 / USD 10 — with odds over 1.50, Receive an mɃ 6 (µɃ 6,000) / € 30 / USD 30 — free bet within 48hrs.
The bold parts are important, they also accept fiat currencies and you need to select the event with over 1.5 odds, then you will get x3 Free Bets.
With these conditions, matched betting is Essentially Doing;
2 transactions of Back (bet on win) mɃ2 on Team A with 1.5< odds at Sportsbet.IO & Lay (bet on NOT win, means both lose & draw like football match case) appropriate mɃ amount (it can be automatically calculated by Free Software) with the closest odds to back odds on the same Team A at Crypto Betting Exchange namely Fairlay so that you cover all outcomes.
No matter what the event's result will be, your losing & winning will cancel out each other. In real practice, usually, 2 bets are not perfectly offset due to the odds difference & exchange commission therefore you make a small loss called a Qualifying Loss.
However, now you receive mɃ6 Free Bet. What you need to do is to repeat the exact same process but use the free bet for the back bet at Sportsbet.IO. Then, this time the stake you bet at Sports.IO is Free Bet (not your money but free money), therefore free bet value – qualifying loss will become your net profit. Usually, at least 80% of the bonus value can be extracted as a pure profit.
The success factor is how to minimize the qualifying loss by selecting the Team whose odds gap (between Sportsbet. IO & Fairlay) is the narrowest.
2) Crypto Bookmaker & Conventional Betting Exchange
Some crypto sportsbooks like Stake allow you to convert BTC to fiat currency like EUR & USD in the account and bet in EUR or USD.
What does it imply? You can use traditional betting exchanges like Betfair (suggest the use of Betfair Alternatives), Smarkets & Matchbook to lay without being bothered by any cryptocurrency's rapid fluctuation. 
Actually, depositing BTC and betting USD then withdrawing BTC is the standard practice for offshore sportsbooks which I list as Offshore Hybrid (accepting both fiat & cryptocurrencies) bookies in the List of 30 Best Bitcoin Sports Betting Bookmakers, (don't miss World 24 Best Offshore Betting Sites Offers as well). 
Offshore Crypto Sportsbooks Examples 
Several examples are;
Crypto Matched Betting Using Hybrid Sportsbook Process
Let's use the example of Betonline. Always remember, we need to check T&C before betting anything.
Betonline Welcome Bonus T&C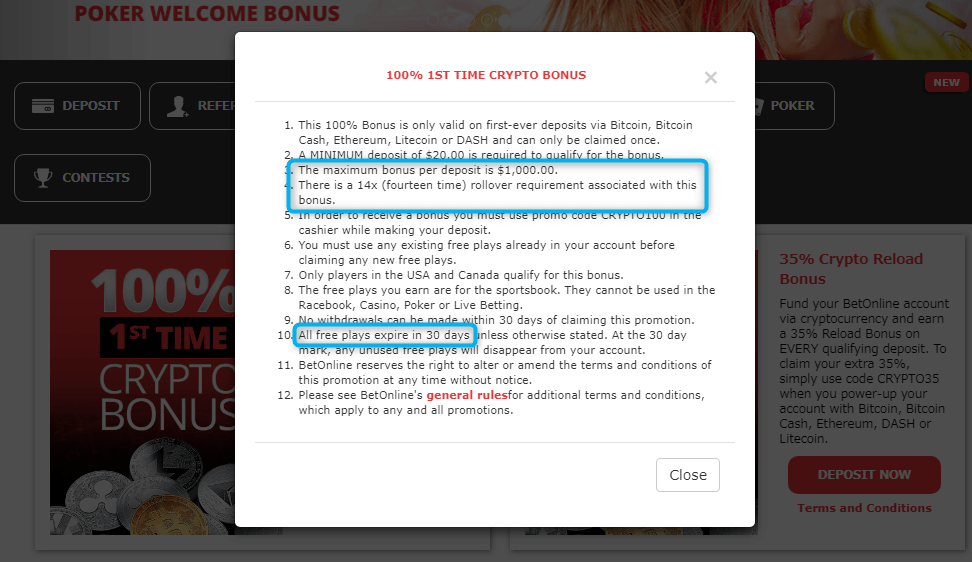 So, you get a 100% deposit bonus of up to $1,000 which requires x14 Rollover (same as WR: Wager Requirement), which means if you receive a full $1,000 bonus you need to bet $28,000 wager before you can withdraw anything from your account.
Sounds hefty? Yes, but actually no need to be intimidated. You have 30 days to complete this rollover and no restriction on odds.
Matched Betting Implementation
To construct matched betting, firstly, you need to search the sports event in which back & lay odds are very close. You can search manually but if you use software like Oddsmonkey you can save a lot of time & money.
Among the bookies we list in this report, Oddsmonkey includes Betonline, Sportsbetting AG (Betonline's Clone), Bookmaker EU, & Intertops in its oddsmatcher software (see our Full Review, if you're interested). My quick search shows;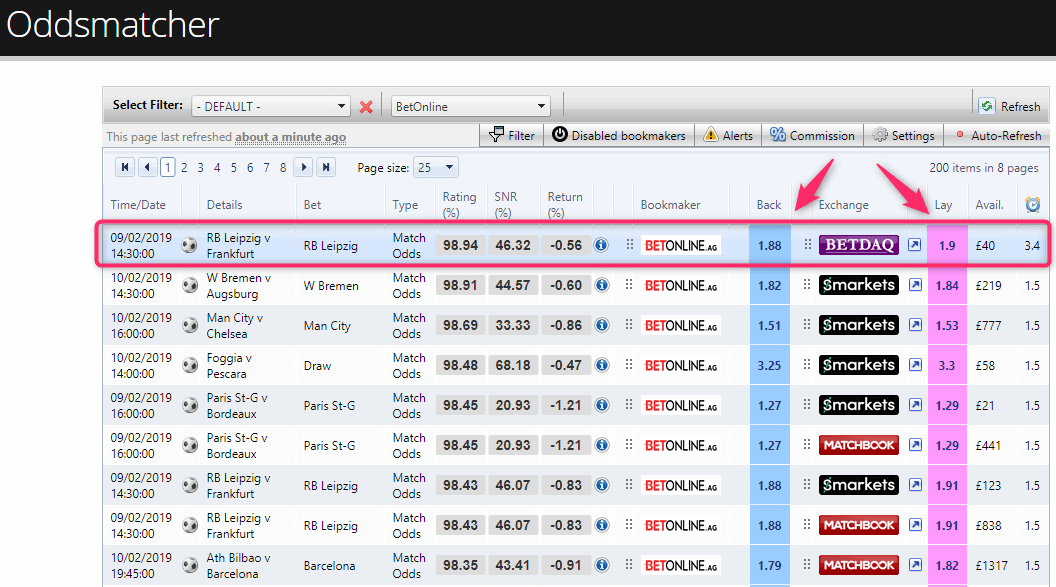 At this moment in time, the best event is Bundesliga Leipzig vs Frankfurt with a 98.94% odds match, which means when you back & lay this event (on Leipzig) you will lose 1.06% regardless of the outcome.
$28,000 is the amount we have to roll over. And remember you can find this level of odds matching (98% – 102%, over 100% is arbitrage condition) almost anytime, so let's simulate how the final result will be if we bet a total of $28,000 with similar conditions;
So, we will lose $294.74 (forget about the £ currency unit being displayed, it's just because of UK software), while the bonus is $1,000.
This means $1,000 – $294.74 =  $705.76 is your pure profit (Betdaq commission shows 0% because Oddsmonkey offers a Zero commission deal, if we add a 2% standard commission, the net profit will be down to $560, but still good). It's fantastic for Risk-Free Extra Income, isn't it?
Under Lay Technique
For rollover-required offers, you can use the technique called Under Lay to maximize your profit. For full instruction, go to Profits from Betting Signup Offers – Bonus WR (Wager Requirements).
Simply put, what we do is laying lower than required. Why?
Because once our account balance in Betonline becomes 0, no more rollover is required, finish. Assuming our initial account balance is $2,000 ($1,000 own deposit + $1,000 bonus), we bet full $2,000 on a single event.
By making underlay, if we lose (lose at Betonline) our loss will be higher but the rollover is finished. But if we win (win at Betonline), the loss is lower or even we will add profit to move into the next rollover round. See the below calculation;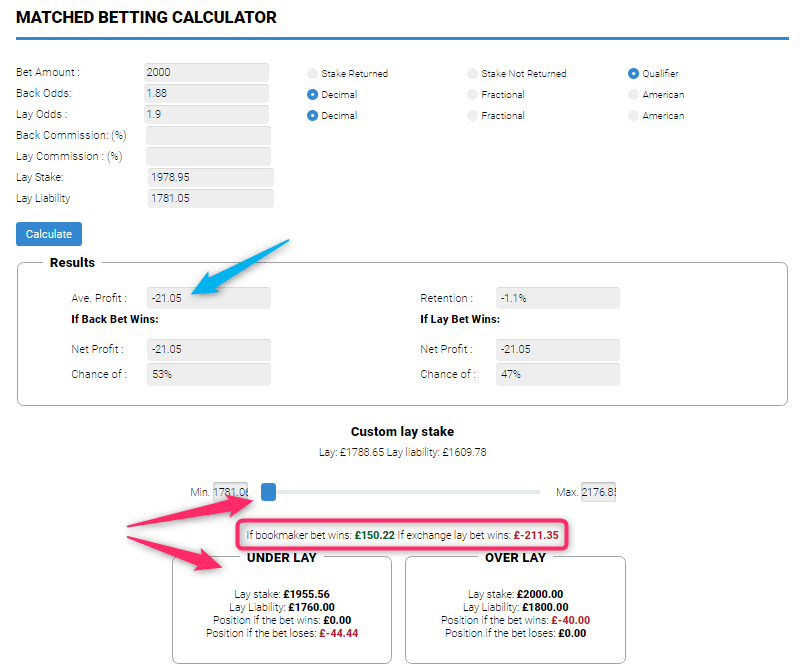 By laying $1,788.65 rather than the standard $1,978.95, our result will be a $211.35 loss (means $1,000 – $211.35 = $788.65 net profit as our final profit) when we lose at Betonline.
However, we add a profit of $150.22 to move to the next bet if we win at Betonline. So, we can repeat this until we lose all the balance in Betonline or complete the rollover.
3) Matched Betting using Both Cryptocurrency & Fiat Currency
Firstly, as warned before we don't suggest this approach due to the huge cryptocurrency exchange rate fluctuation risk.
However, we share below for those who can't access conventional betting exchanges. As introduced, the established bitcoin betting exchange is Fairlay (Commission 0.25% on winnings). 
Since there is no odds-matching software that covers the bitcoin betting exchange, we have to search for the opportunity manually. After I quickly look around the major soccer markets, backing 1.75 on Barcelona at Betonline & laying 1.757 on Barcelona at Fairlay in the "Athletic Bilbao vs Barcelona" match is a reasonably close odds as below;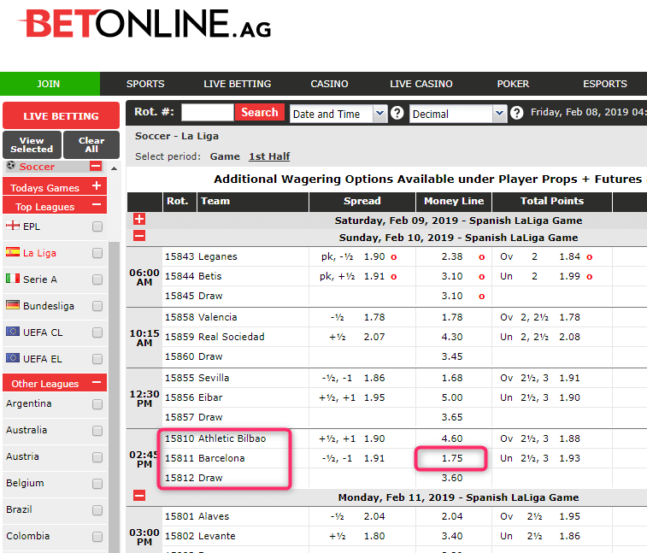 And

Let's simulate the profits by assuming the maximum back stake of $28,000 again to complete the rollover;
We are losing $141.64, which means finally we will get $1,000 – $141.64 = $858.36 profits, not bad, is it?
What you should remember here is you have to bet in BTC in Fairlay, so you have to convert the above lay stake of $27,928.18 into BTC or mBTC. As introduced before, use software to convert;

Therefore, 7,661.4005 mBTC should be the lay amount you will bet in Fair Lay.
Allow me to reiterate that Bitcoin is very volatile, thus you will always expose yourself to Exchange Risk during the period you hold BTC.
It may work favourably or unfavourably, which is the gambling part of this matched betting process unless you're a cryptocurrency expert & have enough confidence to predict the future price accurately.
For those who can't access conventional betting exchanges, you may want to use Betfair Alternatives.
Crypto Matched Betting – Caution
It's a boring task but you have to carefully check T&C for each offer.
CloudBet which offers a "Join Now To Claim 5BTC Bonus" is huge.
T&C says;

Then, we have to know how we receive the loyalty point, which is;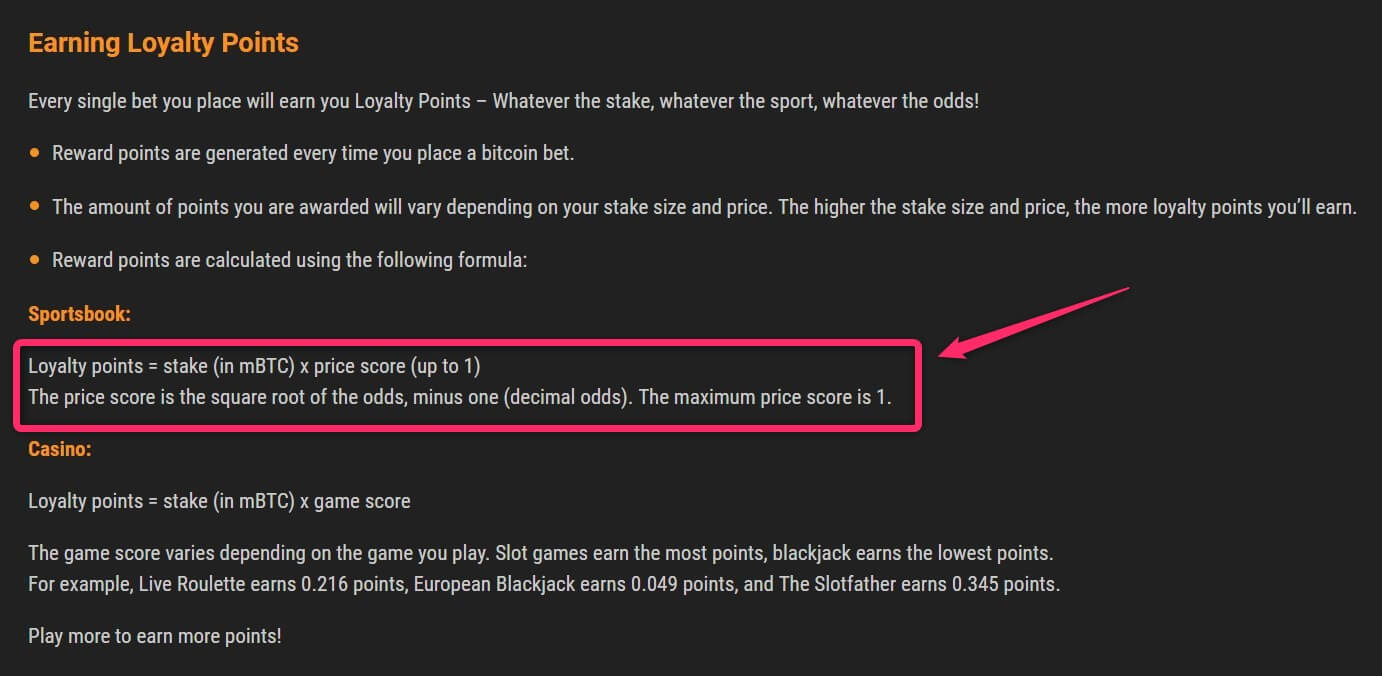 Looks not simple.
Anyway, in order to simulate how profitable this deal would be via matched betting, I just quickly searched opportunities and found the Premier League Leicester 5.86 back odds at Cloudbet and 5.9 lay odds at Fairlay (Exchange) in Tottenham vs Leicester City match;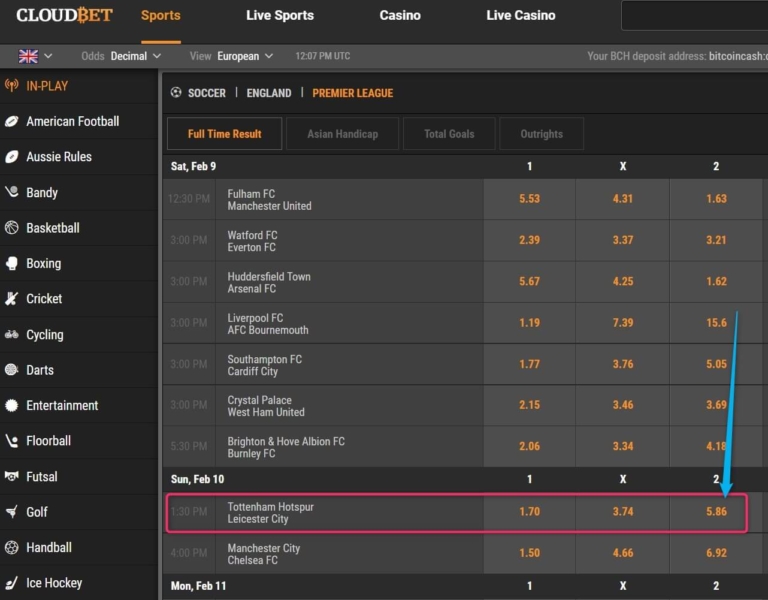 Backing Leicester at 5.86 at Cloudbet sounds like a good matched betting opportunity for relatively long odds (I search longer odds events because it looks advantageous to accumulate loyalty points based on their T&C).
Assuming we back 100 mBCT, then the qualifying loss would be;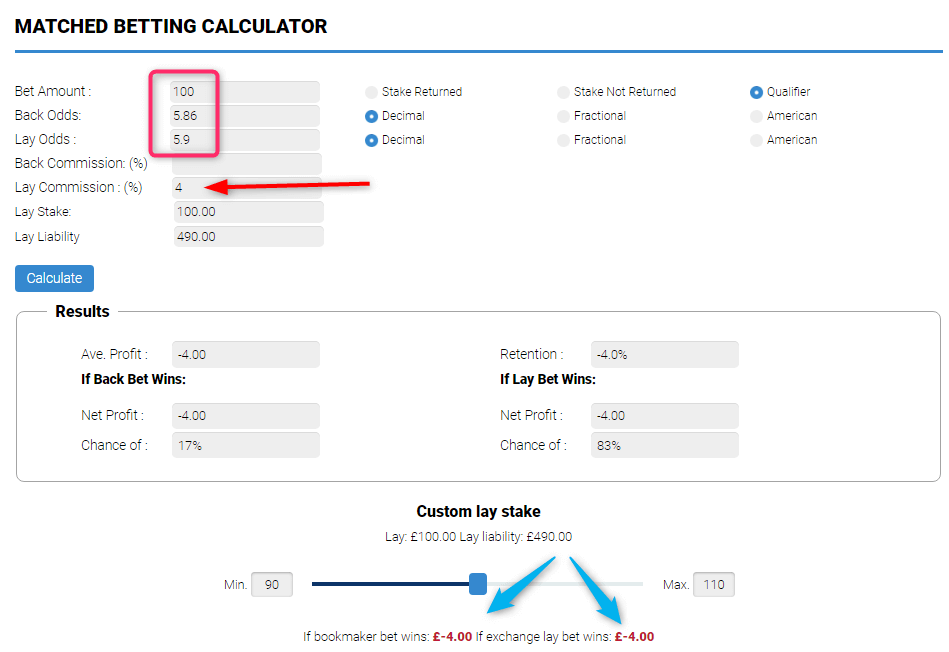 Again, don't be bothered by the £ unit displayed in the above calculator, just consider it as a 4mBCT loss. Then, how can this be translated into the loyalty point and eventually the cash bonus?
Their T&C says Loyalty points = stake (in mBTC) x price score (up to 1) The price score is the square root of the odds minus one. Since we stake 100 mBTC (0.1 BTC) with the odds of 5.86, then Loyalty points = 100 x (√5.86 – 1) = 142.1 Then, what will this be the cash bonus, 142.1 / 800 = 0.181 points and 0.178 x 10 mBTC = 1.78 mBTC
So, we lose 4 mBTC to get a 1.78 mBTC cash bonus, which means a 2.22 mBTC net loss. Not good. Wait, don't forget that BetBTC also provides a 100% First Deposit Bonus, of which T&C says;

Applying Leicester bet to this instruction; 100 mBTC (lay stake) / 20 mBTC = 5 points so, 5 x 0.1mBTC = 0.5 mBTC All summing up, (4 mBTC) + 1.78 mBTC + 0.5 mBTC = (1.72 mBTC) resulting in still negative EV (Expected Value).
Crypto Matched Betting Caution Summary
Hope this guide will help you capture ever-increasing crypto betting (bitcoin betting) opportunities including Bitcoin Value Betting.
Please let us know if you need any further assistance via contact.
Good Luck On Your Bitcoin Betting!!
Joshua Walker (bio)
Editor – Global Extra Money (GEM)