How Does Copy Trading Work?
Copy trading is automated trading by allowing traders to copy the same trades executed by other investors in the financial markets. Since the platforms enable traders to copy multiple other traders, the diversification can reduce risk. 
It's in fact very simple concept, see the basic process as the below image;

Pick one of the finest social trading platforms that enable copy trading and share strategies etc. You can duplicate their trading activities with one click once you discover a lucrative trader with a solid track record.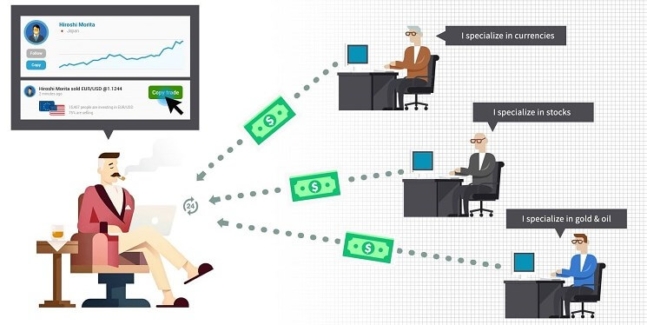 As the above image shows, you as an investor chose the specialized experts in each investment category like Forex, Stocks & Commodities, and the precise same trade done by the experts will be replicated on your account automatically.
You can choose to copy trades using a set quantity depending on your risk tolerance, regardless of the original position size opened in the copied account.
Alternatively, you can opt-in proportion to your account balance to open trades. This way you keep the same amount of danger as the account you copied.
Is Copy Trading Worth it?
Is copy trading legit? Does copy trading Forex really make money? These are natural questions for newbies. We list the following 5 key facts related to copy trading to assess if copy trading is worth it;
Market Potential
How Academic & Business Evaluates Copy Trading
Is Copy Trading Profitable?
Best Platforms
Best Practice & Risk Management
Copy Trading Five Facts
Fact 1) Copy Trading Market Potential
What's copy trading all about?
Firstly, in case you're not familiar with Social Trading or Copy Trading, please take a look at Three Practical & Safe Ways To Succeed In Passive Forex Trading.
But very briefly, Social trading platforms allow investors to automatically follow the trades from traders they believe to be profitable via copy trading software, of which process is called "Copy Trading" i.e. auto-trading.
In the copy trading, you do not need to make any input at all on all trades but the professional trader who you copy makes every single decision and you basically get the identical returns on the trade as the traders do on their personal account.
Therefore, Copy Trading (or Social Trading) is one of the easiest ways to utilize the expert's knowledge & skill in various financial trading including Forex.
Numbers
I want to share specific numbers in this industry though, unfortunately, there are very little numerical data related to the market. However, let me pick & mix a few reliable information to provide you with some insights on how this industry has been growing & could be evolving down the road.
Overall Market (Germany)
Phillip Capital, Singapore based securities research firm summarized ayond ltd business (ayond is one of the top social / copy trading platform companies) including industry analysis in Aug 2018.
I believe sharing their data & charts would shed some light on the market.
There is very little data on the size of social trading. A study conducted on behalf of the Federal Ministry of Finance* suggests that EUR190m was transacted on social trading platforms in Germany in 2015. A 63% rise from 2014. There are at least 14 social trading platforms in Germany alone.
The three market leaders in Germany are Wikifolio, eToro and ayondo. Market penetration of assets under management by social trading, robot-advice providers and others was approximately EUR1.36bn in 2015 (or 0.1% penetration combined).
It is expected to grow to EUR40bn in 2020 (CAGR 96%) and EUR68bn in 2025 (CAGR 48%). ayondo Ltd The alternative asset management platform
It's a massive growth forecast.
Customer / Trader (UK)
Let me take some consumer (trader) related research result from the press release from ayondo themselves; 
A survey of UK equity investors reveals:
One in four investors say they are considering Social Trading in 2018
A third (33%) say a traditional stock market approach is over-complex, which can be simplified by automatically following Top Traders
Social Trading allows investors to follow experts' moves, meaning they can effectively trade the markets without excessive time-commitment
The model appears to suit most investors. 52% say they always seek advice from experts or peers before making any decision
ayondo research press release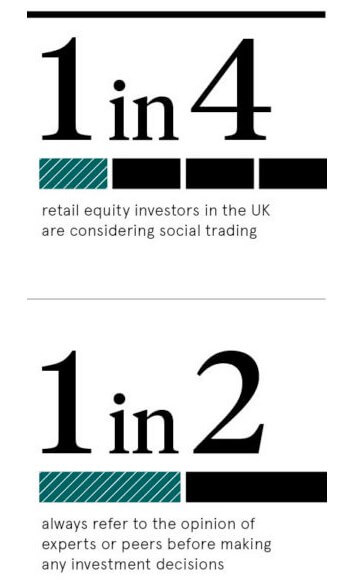 Very impressive results, especially 1 in 4 investors already think they may use Social / Copy Trading. It clearly indicates Social Trading / Copy Trading is an essential tool for modern investors.
Social Trading Platform (Market Leader)
The market leader eToro celebrated has been showing remarkable growth in worldwide. Let's take a look at its income statement;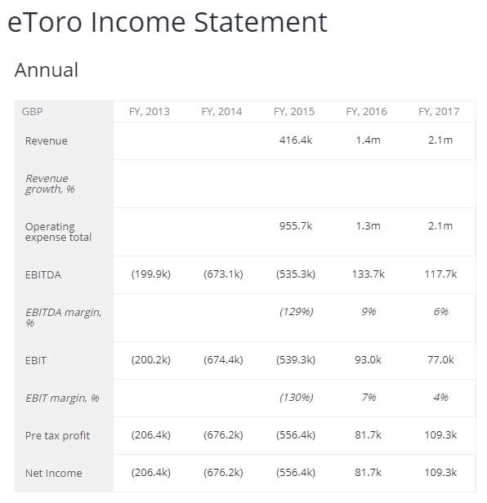 Revenue shows skyrocket from 416k in 2015 to 2.1m in 2017, that proves continuous rapid growth of customer base.
Geographically, in 2014, the majority of the trading came from Europe & Asia and North America contributed only 10% due to the eToro's limited trading license.
However, in 2018 eToro opened its doors to the US market, yes, copy trading USA via eToro started and a gradual rollout among the states is planned (see eToro Explanation), which again enabled them to achieve massive revenue growth to 8m in 2018.
All the above numbers prove the Copy Trading System has caught on with the implication that this new system is working.
Fact 2) Copy Trading Perception in Academic & Business Industry
There are several academic & business research or key comments from influential conference related to Copy Trading, some of them are;
MIT Computer Scientist and researcher Yaniv Altshuler described social trading networks as complex adaptive systems, and his paper concludes that "social trading provides much better opportunities for profiting compared with individual trading," but that users make "excellent but sometimes not optimal decisions in selecting experts when they can see others' choices."
A World Economic Forum report described social trading networks as disruptors, which "have emerged to provide low-cost, sophisticated alternatives to traditional wealth managers. These solutions cater to a broader customer base and empower customers to have more control of their wealth management,"and "pose a tangible threat to the traditional practices of the wealth management industry".
Economist Nouriel Roubini's thinktank predicted that "newer forms of investment, such as socially responsible investments and social trading" will bring some of the largest industry growth in the coming years."
Wikipedia Social Trading
All these results show a positive outcome related to the Social Trading influences. For the 1st MIT study, we will elaborate on it a bit in the next section.
Regarding the 2nd disruptor comment, let me quote UK FCA (Financial Conduct Authority) view as follows;
We classify copy trading as portfolio or investment management where no manual input is clear from the account holder. This entails standard regulatory obligations for authorised management.
We support the view set out in the question nine of European Securities and Markets Authority's (ESMA) MiFID Questions and Answers: Investor Protection & Intermediaries (PDF, 15 pages) as to how copy and mirror trading fit within the MiFID Directive. It considers them an automatic execution of trade signals.
FCA
As usual, there has been a lot of disputes raised by traditional financial advisers regarding the legality of copy trading, at least UK FCA consider it legit.
Fact 3) Is Copy Trading Profitable?
Related to the above MIT study, MIT Professor Alex Sandy Pentland said in the Deloitte Interview that;
For instance, social learning on eToro's trading network can improve the user's return on investment by about 30 per cent, which is huge. And this has been tested over millions of people, several years, and tens of millions of trades.
It's quite interesting (see Further Details).
Besides, let me excerpts key points from HBR (Harvard Business Review) report titled "Beyond the Echo Chamber" by this professor, which summarized the MIT Media Lab research on eToro as follows;
(refer to the table below) You can see that people fall along a continuum. One group of investors works in almost total isolation: Its members follow a few other traders and come up with most investment ideas on their own.
At the other end of this spectrum lies a group of hyper-connected traders who follow (and are followed by) many others, and social learning guides a lot of their strategies.
Many of the investors using eToro fall somewhere in the middle—they engage in a moderate level of social learning but behave with a degree of independence that makes it clear that they're not just following the herd.HBR Beyond the Echo Chamber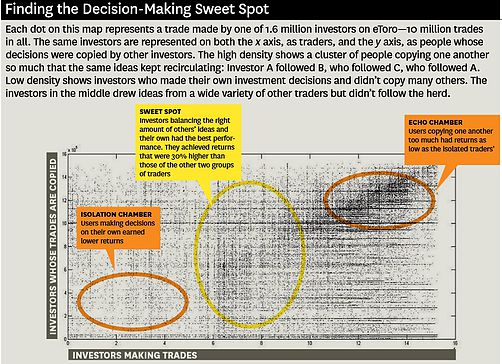 The report continues;
"What pattern of exploration and social learning produced the best outcome?
We discovered the answer when we plotted the return on investment each trader got against the diversity of ideas he or she harvested through social learning.
An analysis of the results reveals that the effect of social learning is enormous. The traders who had the right balance and diversity of ideas in their network—meaning that their social learning was neither too sparse nor too dense—had a return on investment that was 30% higher than the returns of both the isolated traders and those in the herd.
In this digital trading environment, the sweet spot resides between the two extremes. This intermediate zone is where social learning—that is, copying successful people—yields real rewards. And though this study looked only at financial decision making, we believe the principle holds true for all kinds of decisions." HBR Beyond the Echo Chamber
So, at least academic research confirmed that Copy Trading works.
Fact 4) Copy Trading Best Platforms
As said before, in this industry, there are very little numerical data to conclude which platform is the best based on the numbers.
However, let me share aforementioned Phillip Capital's same research data about ayond business in Aug 2018, I'll share their data & charts as below; Regarding the industry competition, it says;
In the self-directed business, there will be the traditional competitors such as FXCM, CMC Markets, IG and Saxo Bank.
In social trading, there are many other platforms in the marketplace. The two most prominent competitor to ayondo will be eToro and ZuluTrade.
eToro started in 2007 and is reportedly planning for an IPO. It has raised a total of $162mn and now valued at $800mn. In a series E funding in Mar18, eToro raised US$100mn from China Minsheng Financial, SBI Group and Korea Investment Partners.
ZuluTrade was similarly started in 2007 and focuses on U.S. customers. In 2017, ZuluTrade was acquired by China-based Formax Group who also purchased Dayo, the company holding the patents used by ZuluTrade. ayondo Ltd The alternative asset management platform
So, eToro & Zulu Trade are the largest players in this market. The comments on each competition are;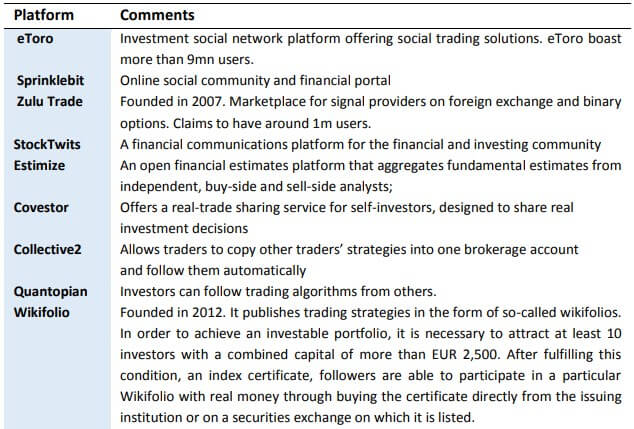 The comparison of key features among Social Trading Platforms shows below, which may help you decide which platform best suits you;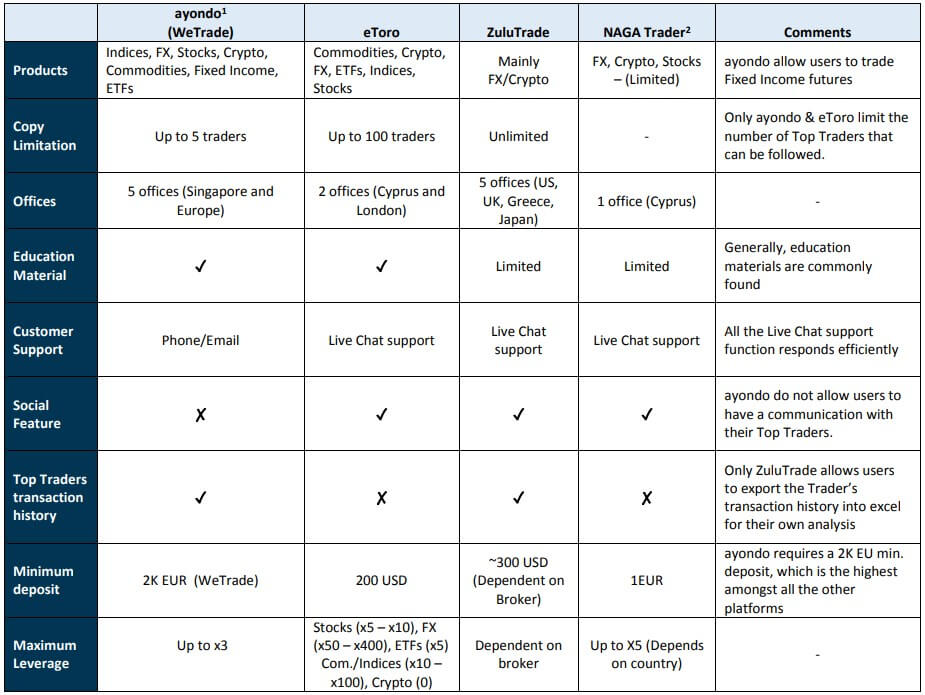 From a diversification point of view, you may consider having a few platforms rather than focusing on a single platform.
Fact 5) Copy Trading Risk Management / Best Practice
Some of the popular copy trading sites said 67% of the copy trader lost, because of very common reasons such as Poor Risk Management / No Diversification / No Patience / No Effort / Unrealistic Expectations.
Means, even copying the experts fails. So, risk management is essential.
Here is how you can start your copy trading, importantly, don't put your hard-earned money from the beginning, but starting with a demo account Risk-Free.
1. Review & Select the Social Trading Platform:
Although they all broadly work along the same lines, there still differences shown in the above comparison table.
You may want to carefully review key elements though, for newbies, given the established reputation, starting with eToro or ZuluTrade must be the safest approach if your residence is allowed to open their account.
Suggest go through our guide :
2. Decide & Open FX broker:
If you already have your own Forex broker account then need to check if the broker is supported by the Social Trading Platform you choose (for eToro, no other choices but you need to open its broker).
In case you don't yet have any Forex Broker account you should first check which brokers are the partner brokers.
In order to ensure you chose the right broker, you may want to go through【 Select Trusted Forex Brokers With No Hidden Agenda 】.
3. Set Your Own Trading Strategy:
Copy-trading may not require technical trading knowledge but it is important to develop a clear strategy on how you will allocate your trading funds and risk tolerance which would be a basis to select the trader you copy.
For this purpose my separate articles of PAMM Investment Ultimate Guide – 7 Secrets To Find The Best Account must help you.
4. Open Your Account in Social Trading Platform:
Surely you can open multiple accounts with different sites. Opening account is usually quite simple by just filling out the online registration form and you do not need to deposit any money at this stage.
5. Start with Demo Account:
Strongly suggest that before going into real money trading, start a dummy trading in demo account where you will be able to trade with virtual money.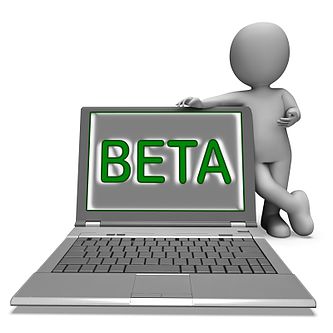 The conditions will represent real market returns, therefore simulate your planned real trading, means if you intend to invest $500 then set $500 rather than any other amount like $10,000.
Using the demo account, start copying a number of traders and follow their progress closely for the duration of your demo period. Track how their trade decisions turn out to be correct.
Don't switch to a real account until you start making a profit on your demo account comfortably.
eToro Demo Account is HERE. 
6. Research The Traders You Copy:
Needless to say, the most crucial thing is to choose the right traders to copy.
You may want to check the number of followers to each trader disclosed in the Social Trade Platform site, which is an easy & comprehensive indicator of how good that trader might be. However, never ever count on only this number.
First, don't pick a single trader and follow the rule of diversifying your profile by picking up multiple traders to follow. A single trader isn't supposed to make winning trades all the time so minimize your risk of loss by following multiple traders who use different trading strategies and tactics.
Actually, both eToro & ZuluTrade provide you with the suggested traders' portfolio based on their algorithm, so check;
Alternatively, you can develop the portfolio based on your own selection. Then you need to know how to assess the trader.
Go " How To Find The Best Trader To Copy" section in each eToro review & ZuluTrade review, where you will see the comprehensive process to identify the traders that best fit your needs. 
Importantly, to ensure that you only take risks you are ready to take, select traders whose risk portfolio matches your own.
Never ever simply pick up a random trader and start following them in the hopes of making winning trades. 
7. Start Trading with Real Money:
Once your dummy account starts seeing consistent profits, you can then deposit real cash into your account and begin trading for real.
Some social trading sites offer bonus cash when you make a first-time deposit – this can be a good way of raising the amount of capital you have to trade with.
It is strongly advisable for new traders to limit early investment, choose risk and leverage carefully and take up the opportunity to copy several traders so any losses may be balanced out.
Is Copy Trading Worth It? – Wrap Up 
Why Do We Use Copy Trading To Earn Extra Money?
Lastly, allow me to share the reason why we suggest copy trading.
Our site intends to provide you with smart ways to make money on the side. You may want to take a look at the below guide, which explains the whole background & rationale behind why you need Extra Income from Passive Financial Trading.
Anyhow, let me excerpts from it;
Assuming you have a daily job, thus extra income should come from side earning (otherwise it can't be an extra income).
It should not negatively affect your main-stream work. Whatever you do it will be competing for your time, attention and resources.
We have only 24 hours a day, therefore it's wise to earn from the task of which nature should be either 100% Passive or Semi-passive.Three Clever Ways To Diversify Your Income For A Rainy Day
Yes, we have limited time & resources thus making the best use of the Expert's Expertise is the most logical & smartest way to earn extra money while minimizing the risk & saving time. Copy Trading is mimicking the professional financial trader's moves.
The key point here is that the Experts (skilled traders & institutional traders) have a significant advantage over the average retail traders. For detail statistics behind this fact, see Passive Trading.
Given the zero-sum game in Forex Trading, using such experts as the winners will massively increase your chance of making profits even if you don't know anything about the trading & markets.
As you have seen, copy trading is legit, safe and profitable as long as you take the right approach explained in Fact 5).
So, yes, copy trading is worth it. 
Other 2 Passive Tradings
The 2nd & 3rd of 3 Passive Tradings are;
Copy Trading belongs to Social & Copy trading that is the 1st of 3 Passive Trading, the others are;
Copy Trading vs PAMM Account
Both are basically passive though, there are a few differences.
PAMM Advantage over Copy Trading
No Latency / Slippage: although PAMM trader only accesses to his own capital within the entire pool of funds, his whole trade size is automatically "scaled-up" in exact proportion to the full amount that's allocated to him by his investors.
On the other hand, copy trading is first executed remotely by the expert you copy then replicated a few instants later in your account. This small delay may not result in the same entry or exit level as the trader you copy.
The problem is worsened if you're using an entirely different broker to the trader. These slippage problems should not happen with PAMM (provided the software works) because the trader's account is one "big virtual pot" so to speak.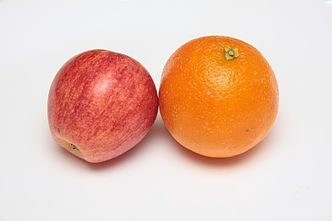 Copy Trading Advantage Over PAMM
As briefly said before, Social Trading Platform for Copy Trading offers many investment opportunities other than Forex, including Copy Trading Stocks, Precious Metals, Indices & Options etc, while at this moment in time majority of PAMM is Forex, so from the perspective of diversification, Copy Trading looks better.
Forex Own Trading
For those who still would like to pursue self-trading, strongly suggest you go through:
These reports comprehensively explain how you can evolve Forex Trading successfully by using world top-class tools & the full list of them.
It includes the introduction of Trading For A Living: Lucrative Trading Business, Travel the World And Work For Less Than 20h/week.
Good Luck!!
Joshua Walker (bio)
Editor – Global Extra Money (GEM)
BTW, we GEM deal with 6 Advantage Play as follows;
For Full Index of Our Guides, Go; List Of Special Reports – All Information are Based On Our Intensive Research & Professional Analysis