What's Social Trading All About?
Social Trading is a form of trading where you make investment decisions namely Forex, Stock, Commodities etc based on observations and collaboration with your peer traders through the social trading platform.
It is built on the notion that the collective wisdom of thousands of traders is better than the wisdom of one. By connecting traders from all over the world into a network and sharing their views and trades real-time, investors can use that information to make social rather than fundamental or technical trading decisions.
Social trading offers significant benefits of sharing knowledge with others. The World Economic Forum has defined social trading as a low-cost, advanced solution to traditional wealth managers as requiring little or no understanding of financial markets.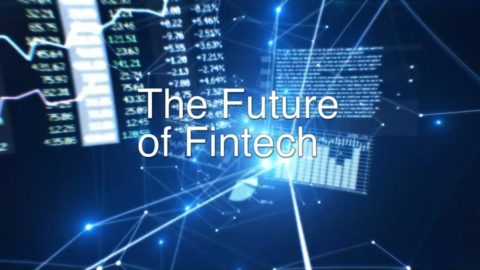 How does social trading work?
Social trading is built on social trading networks that are a social environment offering interaction between active traders in real-time.
The social trading platforms allow users to follow a top-ranked trader, post their own updates on the platform's social news feed, and comment on other posts.
Means, you can use social trading to look for other trader's good trading idea or get support from them to develop your own trading strategies & make an independent decision.
If you're a novice trader, you may cut the amount of time & efforts to analyze the market because some of the ideas you get from other traders have already assessed and proven success in the market.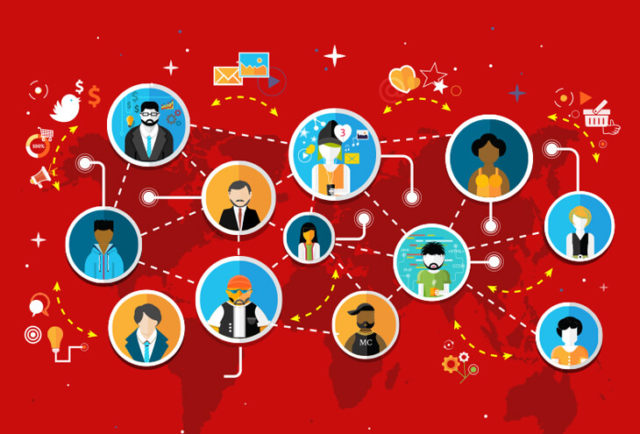 Social Trading is appropriate both for beginners & experienced traders who want to learn & improve trading through communication with other traders, which can be also fun & entertainment in Social Trading Network.
Some of the advantages of social trading are;
Engage with other traders which will help improve your overall Forex trading strategies
Access to relevant information and specific data for a more comprehensive investment decision
More autonomy over trading decisions, reducing risks that come with automated trading
On the other hand, there are a few disadvantages over the copy trading we explain later;
Chances to miss good opportunities that automated copy trading can capture while you're out from the market
Need to devote a lot of time & efforts to constantly analyze & monitor market information before you enter a trade
If you're a newbie, your emotion will affect your trading much higher than experienced traders, means big news and collective sentiments may result in impulsive trading.
Since social trading allows quick communication, sharing of trading signals, auto-trading and synchronization of order executions between several accounts, the established social trading platforms such as eToro & ZuluTrade have brought social trading into the next level of Copy Trading, check;
Social Trading vs Copy Trading 
Social trading is basically your own manual trading, so it's skill-based trading in our definition.
On the other hand, copy trading is automated trading allowing traders to copy the same trades executed by other investors. So, this is passive income trading.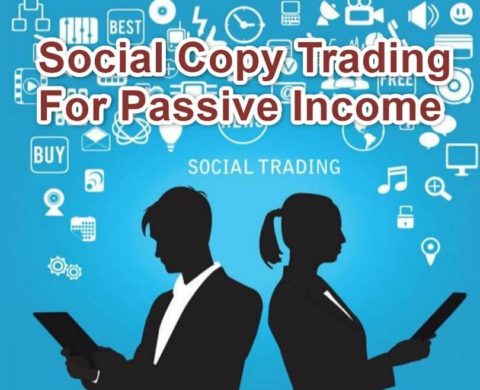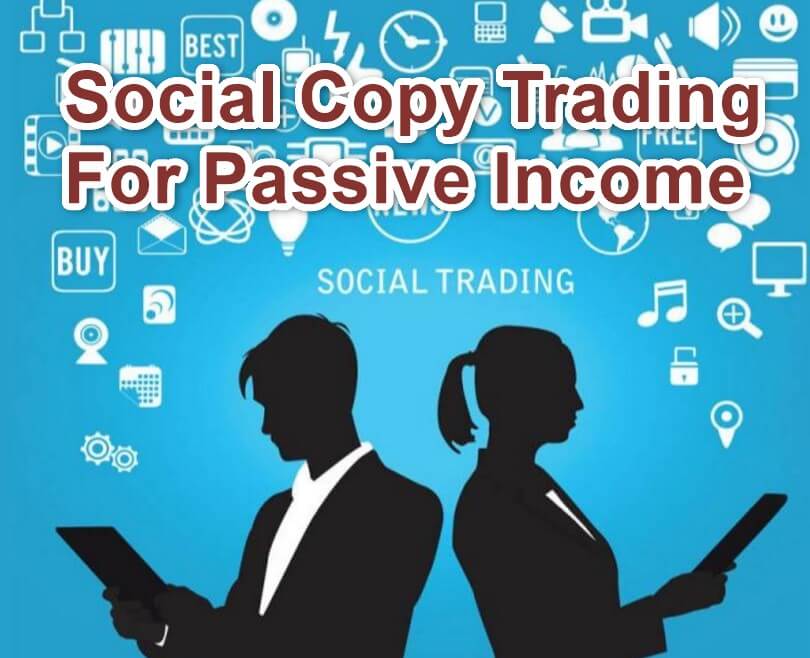 Copy Trading fits both beginners who want to learn the basics by copying top traders and those who don't have time to do own trading that requires constant market analysis and price action.
Copy Trading vs Mirror Trading
You may have heard the term Mirror Trading, sounds like a Copy Trading. Yes, it's confusing, isn't it? So, let me briefly explain the differences. 
Mirro trading basically works the same as copy trading in the sense that you copy trades executed by experienced other traders in real-time.
The difference is that you don't duplicate trades of a single signal provider. Instead, use algorithmic strategies from top traders to execute trades automatically. So, you must be very clear at your trading criteria rather than a list of traders.
Mirror trading is quite a sophisticated system appropriate for a large volume of trades. Although it's an auto-trading, you'll need to constantly keep an eye on your trading account to check that you have sufficient funds to meet all the trading activity, so, all in all, it's not for a newbie. 
Can We Really Make Money from Social Trading?
Needless to say, this is essentially the point everybody wants to know. 
MIT Professor Alex "Sandy" Pentlandsaid in the Deloitte Interview that "For instance, social learning on eToro's trading network can improve the user's return on investment by about 30 per cent, which is huge. And this has been tested over millions of people, several years, and tens of millions of trades.", quite interesting.

Academic Research Proves Social Trading Advantage – 30% Higher Return
As reported in eToro Review, MIT Media Lab researched and verified that Social Trading results in at least 6% better than the trading without guidance from the social network.
You can read its full-report HERE. Let me quote its conclusion as below; 

We find that social trading provides much better opportunities for profiting compared with individual trading. We discover that the eToro crowd is making excellent but sometimes not optimal decisions in selecting experts when they can see others' choices.

Considering the fact that financial systems, after all, are composed of humans, we believe that this direction of research is potentially valuable. 
Let me make another excerpt from HBR (Harvard Business Review);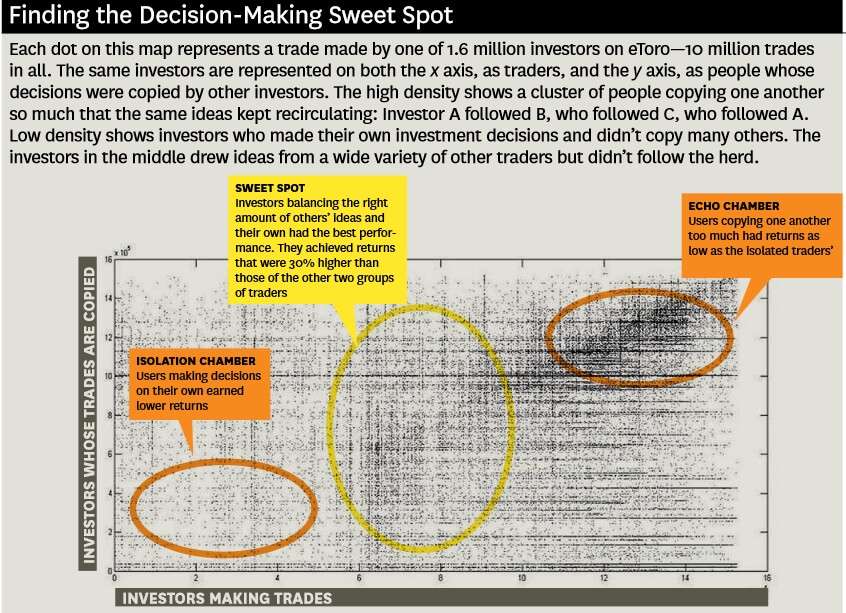 What pattern of exploration and social learning produced the best outcome? We discovered the answer when we plotted the return on investment each trader got against the diversity of ideas he or she harvested through social learning (see the above chart).

An analysis of the results reveals that the effect of social learning is enormous. The traders who had the right balance and diversity of ideas in their network, meaning that their social learning was neither too sparse nor too dense had a return on investment that was 30% higher than the returns of both the isolated traders and those in the herd.

In this digital trading environment, the sweet spot resides between the two extremes. This intermediate zone is where social learning, that is, copying successful people yields real rewards. And though this study looked only at financial decision making, we believe the principle holds true for all kinds of decisions. 
MIT Media Lab Further Evidence
Let me also excerpt some interesting findings from the MIT Media Lab report as follows;
Working with the eToro investment network, Altshuler distributed $20 trading coupons to 500 active financial traders out of the more than two million eToro members.

Matches between traders and recommendations were based on an innovative algorithm designed to optimize information flow within the network. Even this small number of coupons was enough to move the entire network away from dangerously high levels of groupthink, and as a consequence, the entire trading community–not just the 500 coupon users–saw a significant increase to their rate of return.

The increase in return was more than 10 percent compared to those who traded without guidance from the social network, and 4 percent higher than those who only followed the highest-performing gurus.

"This study demonstrates how an efficient collaborative trading community can be formed by carefully balancing the complex mixture of 'trend setters' and 'bellwethers' who govern the behavior of the crowd," says Altshuler."

For more details about the algorithm developed by MIT Media Lab. Anyhow, it proved copy trading results in at least 6% better even without such algorithm.

Then, can we expect to gain exactly the same % as the popular traders in OpenBook if we copy them? Well, firstly, unlike some other social trading networks that use outside broker, slippage does not seem to be a big issue.

Means you can expect the same trading as the trader you copy in almost all trades. However, trader's result (especially the popular traders') could be distorted because they automatically get more capital comes from the bonuses they received from eToro for every investor who copies them – reportedly eToro pays $10 for each copier who actually invested.

All in all the best strategy is testing by yourself using Free Demo Account with Virtual Money as explained later.

Let me introduce the indicative numbers I found in the eToro forum as below; First of all, the financial markets are risky and unpredictable and there is no such thing as a guaranteed profit.

Secondly, even the best traders can't maintain exactly the same level of gains week by week, it all depends on the opportunities the market offers at a specific point in time. Sometimes they'll have large gains, sometimes small ones and sometimes they'll have to absorb losses.

Thirdly different traders have different trading styles – some take more risks, which means bigger gains but sometimes also bigger losses, and some play it safe which usually means smaller gains but also less chance of losses. It also depends on how many trades they open per day, if they're scalping or making long term investments, what their profit goals are for each trade etc.

Having said that, here are some figures that'll help you calculate the gains you can expect when copying a successful trader with good money management and low risk:

1) The average trade of such a trader would take up 3-4% of their total account.
2) They would use low to medium leverage, let's say x25-50 on average.
3) Their average take profit would be 30%
4) They would open approximately 20 trades per week.

Keeping in mind that these are just estimated figures, not based on anyone in particular, we can calculate that if you allot $50 to copy this imaginary trader you would invest on average $1.5 per trade, with a x50 leverage that makes 75 currency units, and a 30% profit amounts to 0.45 cents.

With 20 trades per week that comes out to $9 for the first week. Calculate some losses into that and you'll get around $8. The next week you have to make the same calculation starting with $58 as your copy amount.

Again, these figures are purely theoretical. What I would suggest, to get a more substantiated estimate, is to open an eToro demo account and try copying with just $50 of your virtual money.

This way you don't risk any real money and you can see how much profit you're making per week. I hope this helps and I wish you happy trading!

Abby, eToro Team MIT Media Lab report
I think when it comes to the average, there must be a "survivorship bias", means the traders who failed are eliminated in the list and only successful traders remain in the list which is the basis of the entire universe of traders.
Having said the above numbers could be pretty optimistic and MIT Media Lab result must be much more realistic.
Nevertheless, eToro's system is really worth trying.
eToro continued a study with MIT led by Dr Altshuler and Professor Sandy Pentland aiming at developing a "sustainable trading mechanism".
And a small preview of what we can expect with MIT's "Daily Tip" technology: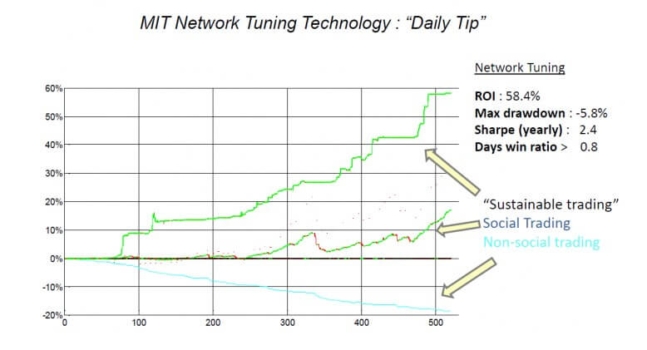 Although the research uses eToro case, the key findings obviously can apply to Social Trading generally including Zulu Trade case given the similar size & diversity.
Best Social Trading Platforms
For newbies, it looks safer if you start up in either eToro or ZuluTrade because these 2 are by far the most established & reputable social trading platforms.
Since both provide you with copy trading feature, you can switch to the copy trading dow the road if you want. 
Those brief profiles are;
eToro
eToro – appropriate for novice traders, good education tool & friendly interface.
eToro provides you with both the broker and social trading network functions (no use of a 3rd party broker), which gives you an advantage of almost no slippage (the slippage is usually the weakness of copy trading compared with PAMM account), but remember spreads are not as competitive as some other brokers.
eToro Broker Account Features
Let me summarize a few technical facts of eToro Web Trader for you to make a brief look at its broker function as follows;
Broker Type: Market Maker (No Dealing Desk) (STP)
Traders From USA: Yes / Islamic Account: Yes / Free Demo Account: Yes
Trading Platforms & Tools: Web-based Own Proprietary Platforms (both PC & Mobile) / CopyPortfolios
Account Currencies: USD / EUR / GBP
Minimum Deposit: $200 / Minimum lot size: 0.1 lot / Minimum Trade Size: 10000
Leverage: Maximum 400:1
Spreads (pips): EUR/USD3, GBP/USD4,  USD/JPY2
Payment options: Credit & debit cards, Neteller, PayPal, Skrill, Wiretransfer etc.
Fee & Commissions: Margin Interest:No / Depositing Fees:No / Withdrawal Fees:$25
Scalping: No / Hedging: Yes
Free Demo Account: Yes (up to $10,000)
Trading Detail Tools: Stop Order:Yes / Limit Order:Yes / Market Order:Yes / Trailing Stop Order:Yes / OCO Orders:Yes / One Click Trading:Yes / 24hr Trading:Yes / Charting Package:Yes / Trade-off Charts:Yes / Streaming News Feed:Yes / Email Alerts:Yes / Mobile Alerts:Yes / Telephone Orders:Yes Personal Account Manager: Yes
Supported Languages: Arabic, English, French, German, Italian, Russian, Spanish
Customer Service By: Newsletter, Call Back, Phone, Chat, Email
Customer Service Hours: 24/5
Zulu Trade
Zulu Trade – ZuluTrade is an archrival to eToro.
It supports over 40 outside brokers on top of AAAfx broker as its own broker. ZuluTrade receives compensation per trade per contract from the brokers connected within its peer-to-peer network and splits the compensation with the signal providers that have originated the trades which have been executed successfully on one or more live followers' trading account.
AAAFx Broker
AAAFx broker is owned by Zulu Trade.
Using AAAFx has a number of advantages, for example, since the brokerage is fully integrated with the ZuluTrade platform (ZTP: Zulu Trade Plus), you will experience very limited slippage when you follow signals on the ZuluTrade platform (BTW, you can also choose MetaTrader).
In contrast to a number of other brokerages, AAAFx also does not pay any fee to traders who choose to use the ZuluTrade platform. Key features here are as follows;
Broker Type: ECN based on their self claim, but it is said to be DMA/STP
Traders from the USA: No / Islamic Account: Yes / Free Demo Account: Yes
Trading Platforms: MetaTrader 4 By Meta Quotes / Zulu Trade Plus (ZTP)
Account Currencies: USD / EUR / GBP / JPY / AUD
Minimum account size: $300 / Minimum lot size: 0.1 lot / Minimum Trade Size: 1000
Leverage: Maximum 200:1
Spreads (pips): EUR/USD 0.3, GBP/USD 0.7, USD/JPY 0.4
Payment options: Credit & debit cards, Neteller, PayPal, Skrill, Wiretransfer etc.
Fee & Commissions: Margin Interest: Yes / Depositing Fees: Credit Card 2.95% / Withdrawal Fees: By Wire $25
Scalping: Yes / Hedging: Yes
Trading Tools: Stop Order: Yes / Limit Order: Yes / Market Order: Yes / Trailing Stop Order: Yes / OCO Orders: Yes / One Click Trading: Yes / 24hr Trading: Yes / Charting Package: Yes / Trade-off Charts: Yes / Streaming News Feed: Yes / Email Alerts: Yes / Mobile Alerts: Yes / Telephone Orders: Yes / Personal Account Manager: No
Supported Languages: Arabic, Chinese, English, French, German, Hebrew, Italian, Japanese, Korean, Russian, Spanish
Customer Service By: Newsletter, Call Back, Phone, Chat, Email
Customer Service Hours:24/7
eToro or ZuluTrade?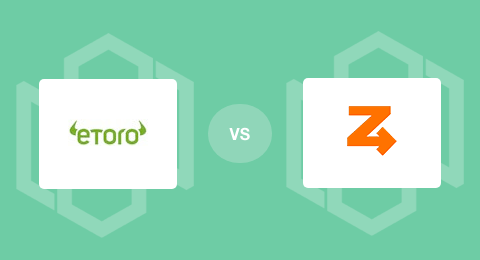 Now, some of you may wonder which to be chosen, Zuru Trade or eTro? Simply put;
Don't get me wrong, I'm neither saying eToro doesn't work for experienced players nor newbies can't trade in Zulu Trade.
My point is that eToro has the advantage in simple setting & training resources which are good for novice players while ZuluTrade is strong in customized setting for trade & risk management which suit experienced players.
Regarding the comparison of these 2 social trading platforms, see the below comparison table will be useful;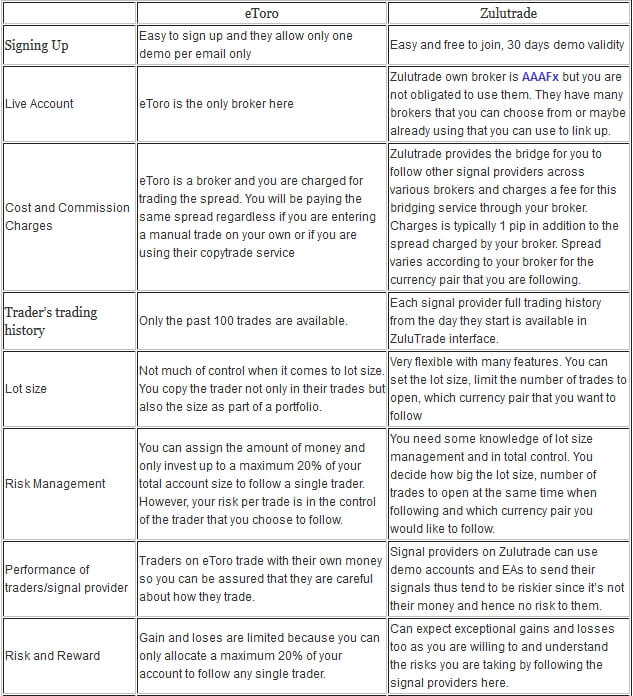 In any case, before investing your hard-earned money, strongly suggest you run through our full analysis of these 2 top platforms (our review primary focus on their copy trading feature especially how to identify the best traders you can copy, just FYI) as below;
Alternative Money Making
Once your trading performs very well, you will notice that your account is being followed & copied by other traders. It is a good incentive & motivation, which enable you to make a commission as your extra earnings.
Your active participation in the community such as posting regular updates & answering other members' questions will contribute to marketing yourself.
The commission programs eToro & ZuluTrader offer are;
eToro – Popular Investor
eToro explains;
Our Popular Investors are a new breed of portfolio manager: traders with unique investment strategies who earn a second income by being followed and copied by other clients on the eToro platform.

If you think you can become a Popular Investor, join the program and get paid when people copy your trades.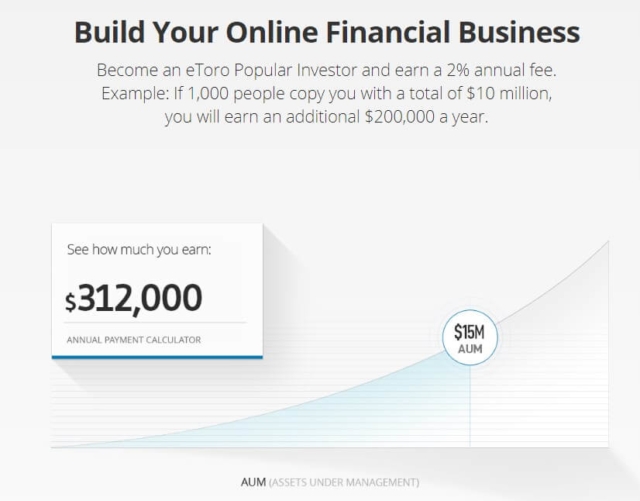 See further details in Become A Popular Investor.
ZuluTrade – Trader Program
In case you are already a skilled trader and want to make extra income in ZuluTrade, you can earn handsome commissions from ZuluTrade Trader Program;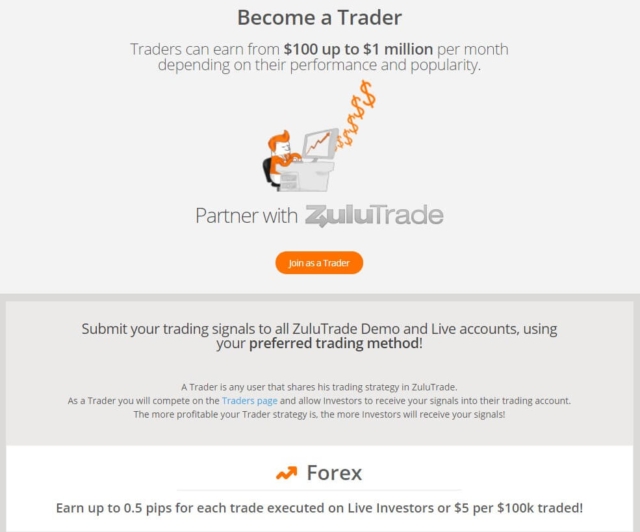 Appendix – Alternative Passive & Own Trading
Own Manual Trading
For those who still would like to pursue self-trading, strongly suggest you go through;
These reports comprehensively explain how you can evolve Forex Trading successfully by using world top-class tools & the full list of them.
It includes the introduction of Trading For A Living: Lucrative Trading Business, Travel the World And Work For Less Than 20h/week.
Good Luck!!
Joshua Walker (bio;)
Editor – Global Extra Money (GEM)