The Best PAMM Services List
PAMM account is provided by Brokers (mainly Forex Brokers). In order to invest in PAMM, you need to go through the 2 stages of;
1) Select the brokers offering PAMM account
2) Select the specific PAMM account(s) traded by each money manager
1) PAMM Service Broker Selection
There are several PAMM service brokers, and one of the most convenient ways to search the best service is to use myfxbook PAMM broker list, which shows the ranking based on the overall scores;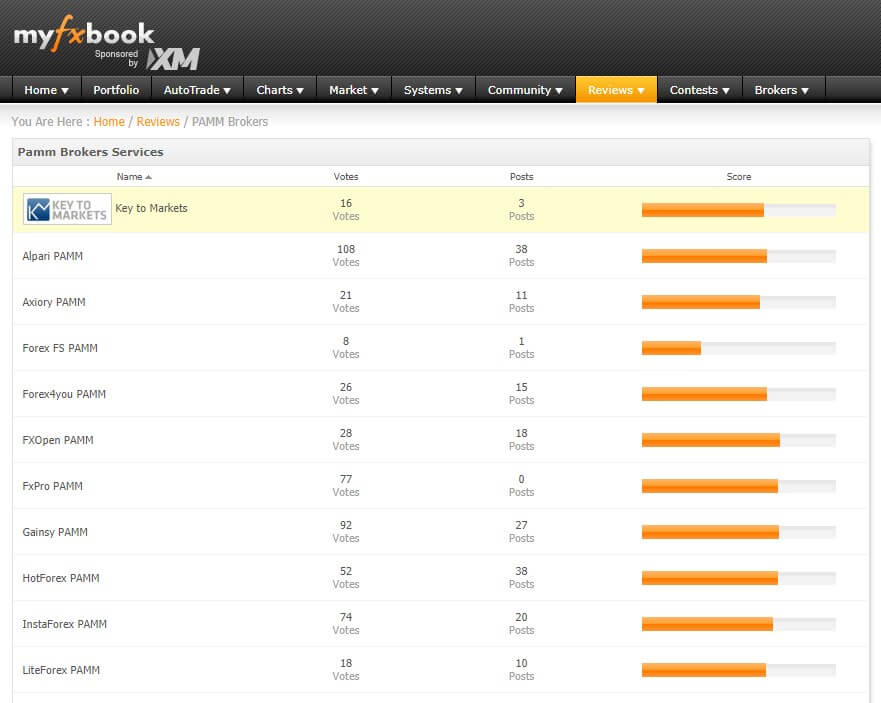 The Highest Score Forex PAMM Service Broker
Among the list, the PAMM service that achieved the highest score is FXOpen, being regulated by the Financial Conduct Authority (FCA) in the UK.
Means your money is segregated & basically safe.
2) PAMM Account (Money Manager) Selection
Once you select the PAMM broker, you need to choose the specific PAMM account managed by each money manager (trader).
For FXOpen PAMM account, they list PAMM Account Rating like below;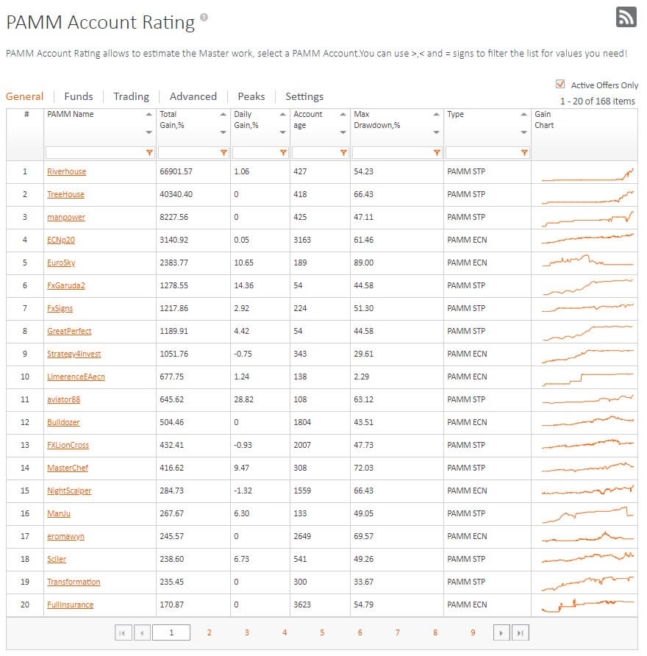 When you select the money manager, don't forget to go through PAMM Investment – 7 Secrets To Find The Best Money Manager.
You may want to take advantage of FXOpen NDB (No Deposit Bonus) If you're interested.
PAMM Broker Selection Cautions
Regulated Broker
Although PAMM service structure is a Ponzi Free means the account is under your name and money manager can't withdraw your account.
However, it's not a Broker Fraud / Bankruptcy Free. 
It's safer to use the regulated broker with a clean record. 
Alpari Caution
Although Alpari collected the highest votes in the above myfxbook list, Alpari (UK) Limited actually went into insolvency caused by the SNB (Swiss National Bank) & subsequent SAR (Special Administration Regime),  the company's US NFA membership was revoked, preventing them from offering their services in the United States.
Alpari International claims they are regulated by FSC Mauritius. Alpari Research & Analysis Limited, which shows a London address though it provides only research and analysis and is not licensed to trade. However, accept UK Traders (in fact I myself could register and trade freely), and they keep sending me the newsletter.
Whatever loophole they use, it's the fact that they are not licensed to trade in the UK and surely they are not regulated by FCA thus your fund will not be protected by FSCS.
So if any bad thing happens, you have a large risk of not recovering your money. Therefore, we strongly suggest you keep away from Alpari.
Verified Historical Performance
It's absolutely essential for you to select the PAMM account of its historical performance is publicized & verified by the 3rd party.
IC Markets
IC Markets is a regulated broker that offers MAM/PAMM service like below;

However, they don't disclose the MAM/PAMM account records publicly. One of our members sent us the answer from IC Markets regarding this point as follows;
With some web research, you are able to find more information on IC Markets Managed Accounts and Money Managers operating with us. IC Markets cannot provide performance information on our Money Managers. The Manager can be contacted directly and a request can be made to him for performance history.

Unfortunately we are not able to provide a list of Money Managers running a MAM with IC Markets. This is our company's policy as we do not offer investment advice.
We are puzzled by their comment on the interpretation of the account's historical record into investment advice. Obviously, it's not an encouraging policy and going further is not recommendable.
What's PAMM All About?
For those who are not familiar with Forex PAMM broker service, let me quickly explain it.
PAMM (Percentage Allocation Management Module) is a new technological solution allowing the trader on one trading platform to manage the simultaneously unlimited quantity of managed accounts.
Depending on the size of the deposit each managed account has its own ratio in PAMM.
PAMM Broker Contract – LPOA
PAMM is actually a software application, which is primarily used by foreign exchange (Forex) brokers to allow their customers to attach cash to a particular trader managing one or more accounts, appointed on the base of restricted legal powers a.k.a. Limited Power Of Attorney (LPOA) such as below image;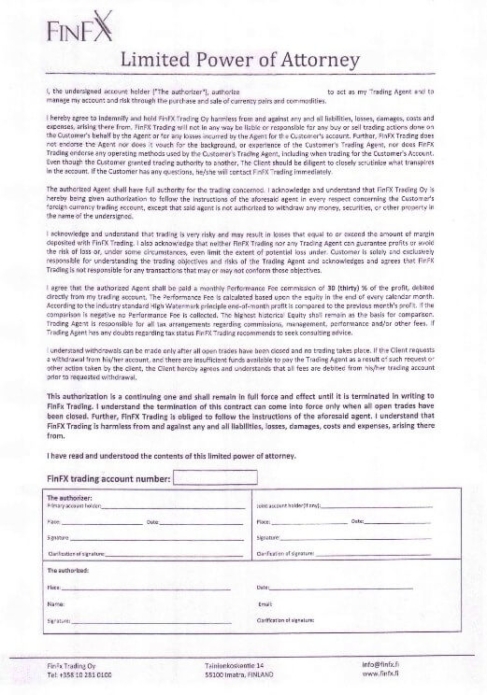 The PAMM solution enables the trader to handle infinite amounts of managed accounts concurrently on one trading platform. Each managed account has its own PAMM ratio, depending on the amount of the payment.
The outcomes of trade activities (commerce, profit and loss) are assigned according to the proportion between the managed accounts.
How PAMM Works
A money manager trades on his PAMM account using his private assets ($300) as well as his investors ' funds ($100 from Client 1 / $60 from Client 2 / $40 from Client 3) in the below example.
As said in the previous section, this money manager & 3 clients are contracted through the POA. The money manager can trade the clients' fund but can't withdraw it.
If the manager in the graph above continues to trade on his PAMM account using their private assets as well as their investors ' funds.
The better their place in the rating outcomes from the trading of the manager.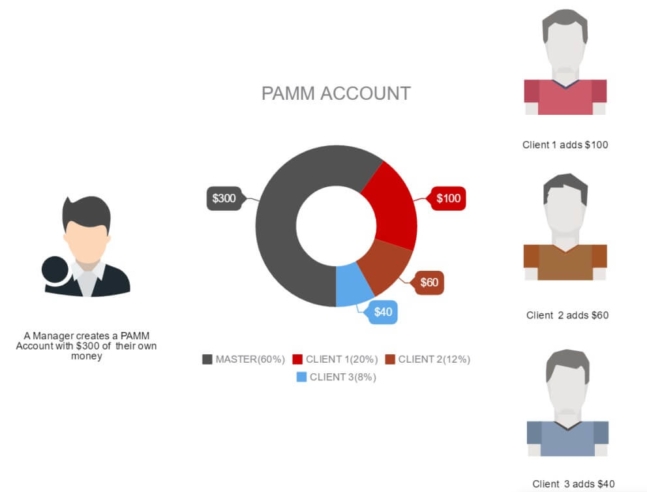 The quantity of money on the PAMM account rises if the manager earns a profit and the profit is spread between the manager and the shareholders depending on the number of their original assets.
If the profit produced 200% and the balance of the account had increased to $1,500 in our instance, the new fund balance for the manager & each client would be as below;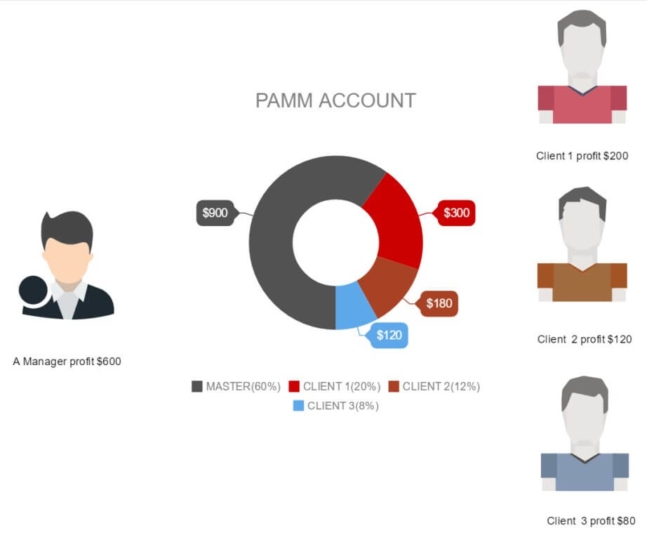 In compensation, the investors pay the manager some of their profit specified in LPOA. In this example, the compensation of the manager is 50% of the profit of the investor as below;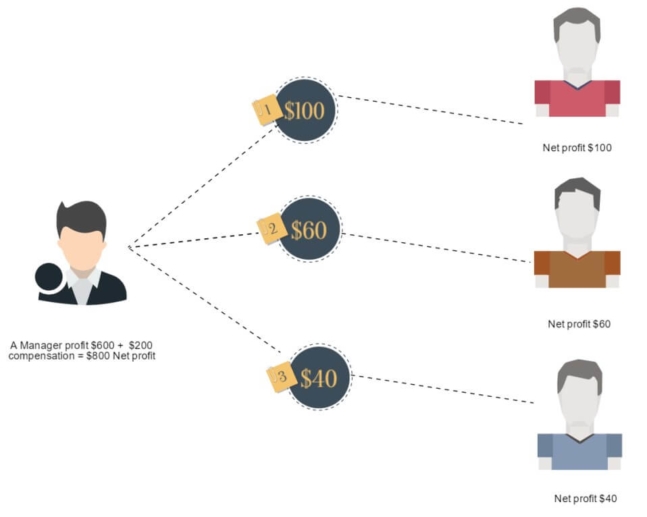 PAMM, LAMM & MAM Account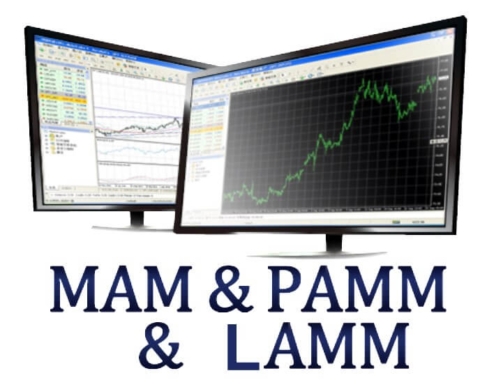 There are few other software featuring more or less the same function as PAMM, such as LAMM & MAM, see the brief description of each 3 software as follows;
PAMM (Percentage Allocation Management Module)
distributes gains, losses and fees on an equal percentage basis. In this way, all accounts regardless of size obtain the same percentage returns.
LAMM (Lot Allocation Management Module)
allows the trader to allocate different trade lots to each investor's account. This grants the trader the flexibility to use different leverages for different types of investors.
MAM (Multi-Account Manager)
is a combination of the features found in a PAMM and LAMM and offers more flexibility to the trader managing investor accounts.
Best PAMM Broker Wrap Up
Some Forex brokers provide a platform where money managers offer their PAMM (Percentage Allocation Management Module) to you.
In short, PAMM is a Collective Fund meaning it's a Managed Account or a sort of mini-version of a mutual fund for mainly Forex trading. You choose the specific PAMM account to generate profits for a predetermined commission.
2 Process to Select The Best PAMM Account  – Firstly broker and secondary specific PAMM account. Don't use the broker that doesn't publicize each account's historical record and when it comes to the selection of PAMM account check the 7 criteria. 
Safety – It's a collective fund but the trader can't withdraw your money but only trading in the broker, so your money is basically scam-free. However, not broker poor-management free, so use a regulated broker.
Passive Income Trading
Our site intends to provide you with smart ways to Make Extra Income.
In case you haven't read Three Clever Ways To Diversify Your Income For A Rainy Day, suggest you do so because it explains the whole background & rationale behind why you need Extra Income from Passive Financial Trading.
In this report, we said; "Make the greatest use of expertise to save your time and boost your chances of achievement instead of doing everything on your own".
Yes, I know everybody is busy and has limited time, thus making the best use of Expert's Expertise is the most logical & smartest way to earn money on the side while minimizing the risk & saving time.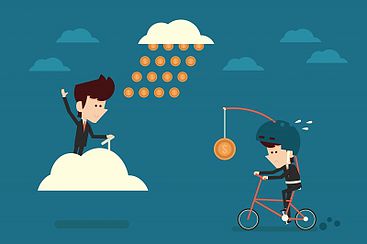 Remember, the Experts (skilled traders & institutional traders) have a significant advantage over the average retail traders. For detailed statistics behind this fact, see Passive Income Trading.
Given the zero-sum game in Forex Trading, using such experts will massively increase your chance of making profits even if you don't know anything about the trading & markets.
Our PAMM-related guide of PAMM Investment Ultimate Guide – 7 Secrets To Find The Best shares essential information that will apply to the other two types of Forex Passive Trading, just FYI. 
Alternative Passive Trading & Own Trading
Other 2 Passive Trading
1st & 3rd of 3 Passive Income Trading;
PAMM – Percentage Allocation Management Module is the 2nd of 3 Passive Trading, the others are;
If you are somehow sceptical about trading Forex PASSIVELY, then suggest you first read the below report; Three Practical & Safe Ways To Succeed In Passive Forex Trading, which gives you better insight into how it works.
Forex Own Trading
For those who still would like to pursue self-trading, strongly suggest you go through:
These reports comprehensively explain how you can evolve Forex Trading successfully by using world top-class tools & the full list of them.
It includes the introduction of Trading For A Living: Lucrative Trading Business, Travel the World And Work For Less Than 20h/week.
Good Luck!!
Joshua Walker (bio)
Editor – Global Extra Money (GEM)