ZuluTrade Demo Account – How to Open
ZuluTrade Demo Account allows you to access permanently and you can create up to 10 such free demo accounts under the same email.
Free Demo Account Open Process
Opening up ZuluTrade demo account is very easy & straight-forward. Visit Zulu Trade & click register at the top right corner and fill in the form (you can use Facebook selection for your convenience).
Just watch the below video to follow the process (you need to select either "Profit Sharing account" or "Classic Account", many prefer Profit Sharing, see the explanation);
Zulutrade demo account conditions
Bear it in mind that the demo account expires after two weeks of inactivity, therefore you need to log in and place some manual trades through the ZTP platform in order to prove activity at least once every 14 days.
By doing so, you can use the same demo account endlessly, and you can create up to 10 free demo accounts under the same email address.
Account Management
Watch the below video explaining how to manage your demo account;
Zulutrade Demo Account – How to make the most of it
We will show you how to make the best use of demo account and subsequent real account to make real profits from Zulutrade copy trading (in case you're not familiar with Zulutrade or copy trading, see the later section of "Zulutrade Snapshot").
Develop Your Portfolio – Combo Account or Your Own Selection
Once you complete the demo account registration & understand how to manage your account, you need to find the traders you should follow.
As explained in the 1st "How to create a demo account" video, Zulutrade combo account is automatically set in your demo account and using the ZuluTrade Combo Account is the easiest way to start (ZuluTrade Combo is similar to eToro CopyPortfolios), see further in the next section.
Alternatively, you may prefer to create your own portfolio depending mainly on your level of trading experience.
Suggest you go through the next "How To Find The Best Traders & Develop Profitable Portfolio" part and chose the best approach to create the portfolio that best fits you after watching the below video;
How To Find The Best Traders & Develop Profitable Portfolio
Warning
Firstly, remember that anyone can be a Signal Provider in Zulu Trade, and importantly Zulu Trade allows signal providers to use their demo account to be copied by others, means signal providers can attract other traders without risking their own money.
As a result, a massive number of traders become a signal provider to earn a commission (half a pip for each sell & buy trade, which is paid only at the end of the month & only paid if the signal provider is profit), so pro & amateur are jumbled together which reminds you of the importance of selecting a good signal provider.
4 Ways To Develop Profitable Portfolio
1. ZuluTrade Trader's Combo
This is the easiest & probably the safest way particularly for newbies.
Traders Combos is an individual trader's vibrant combination, continuously monitored and updated to guarantee maximum efficiency. They are automatically developed following a point-based algorithm set up to identify lucrative trading strategies combinations.
Combos are divided into levels from conservative to extremely aggressive, which correspond to distinct risk appetites.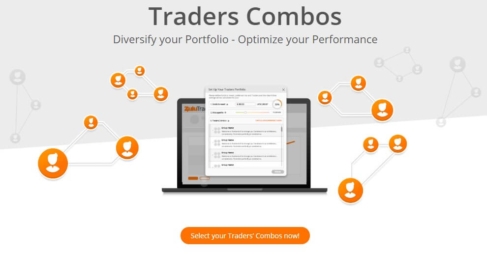 Let me quote what George Ilias (CEO ZuluTrade) describes Trader's Combo as follows; 
Although copy-trading is a favourite of Investors all over the world, it could appear intimidating to some Investors who struggle to decide which Traders to follow according to their risk appetite and available capital.
With Traders' Combos, we managed to create a system that enables Investors to avoid common pitfalls, such as incorrect portfolio settings, suboptimal risk allocation and selection of Traders with conflicting strategies.
By implementing rigorous testing, algorithmic analysis and behavioural assessment of the Traders, the result is the Investors are able to create an optimal portfolio that suits their needs and increases their chances of successful copy-trading, without effort! George Ilias CEO ZuluTrade
So, go ZuluTrade Combo and create the portfolio automatically based on your risk-tolerance preference.
2. Investors (Followers)
Go ZuluTrade Log-In and move to Traders Page and click "Investors" button, then you will find the "List Of Investors" who are in profit (see the below image).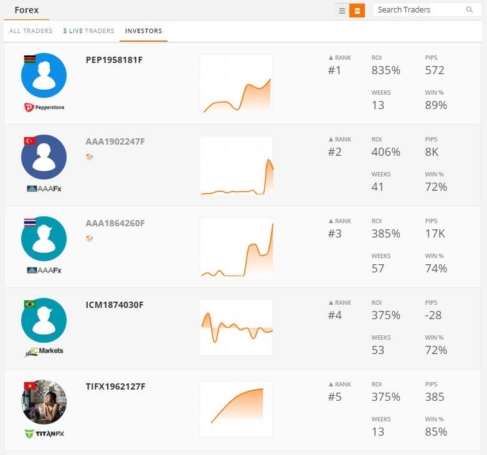 You can see all their account details, more or less the same information as Traders. You can check several KPI (Key Performance Indicators) such as ROI and their risk settings. The useful thing is it shows their current & past "Signal Providers" they copy as below;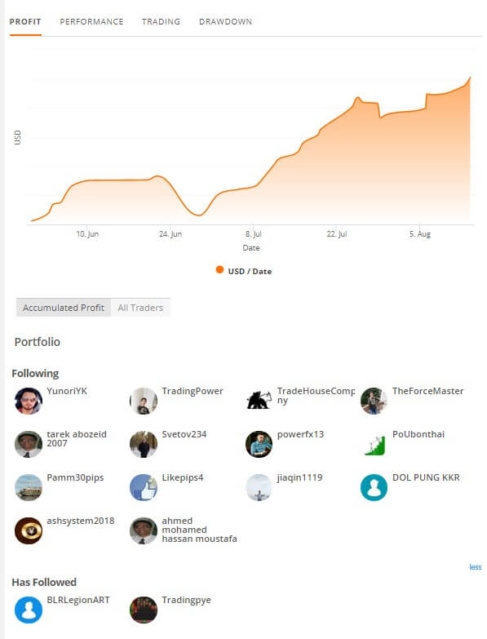 The settings applied in the Live Follower's account can also be copied in your account. It's obviously the smart way to be a winner without any analysis of traders by yourself, but surely you need to analyze the follower carefully.
My personal preference as a conservative trader, is selecting the Investor who has:
Over 100 weeks of trading record
Annualized ROI ranges between 40% and 100%
You may want to set a higher ROI parameter.
Anyhow, approaching from Winning Investor will provide another angle to choose Signal Providers. Unlike the Signal Providers' performance that can be distorted by the flow of commissions based on the number of investors, the Investors performance is never influenced by such factors because Followers don't earn any commission by publicizing their account.
3. Develop Your Original Portfolio By Finding Your Preferred Trader
Firstly, watch the video;
Parameter Setting – Conservative Model
The below is my personal preference as a conservative trader (remember low drawdown is almost equal to low return)  so it is just an indicative number and nothing else if you prefer more aggressive approach do it freely.
Running Weeks: Minimum 60 weeks (means at least over 1 year)
Max Drawdown: 15%
Win Rate: 55% <
Trader Slippage: up to 3
Tick: "are in the top 100 " & "have approved photo and description " & "have been rated by followers " &  "have live users subscribed" , as shown in the below screen;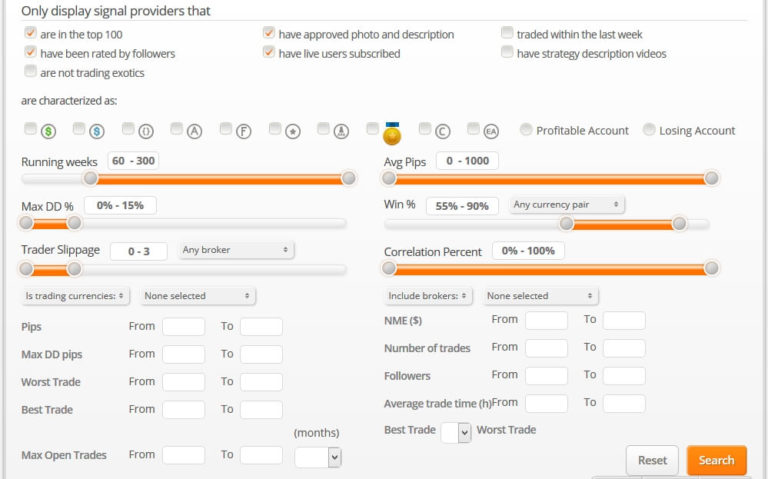 Then the list would be significantly limited, probably up to less than 10 signal providers.
At this stage, you need to check the detail trader's profile;
You may want to check the following points carefully;
If a trader clearly defines his / her strategies and actually follows those strategies
If a trader uses a short-term approach by managing carefully to stop prices, and opening up a restricted number of trades that all reduce drawbacks
If a trader is agile and effectively adjust EA setting when market moves.
Simulator
Finally, use ZuluTrade Simulator,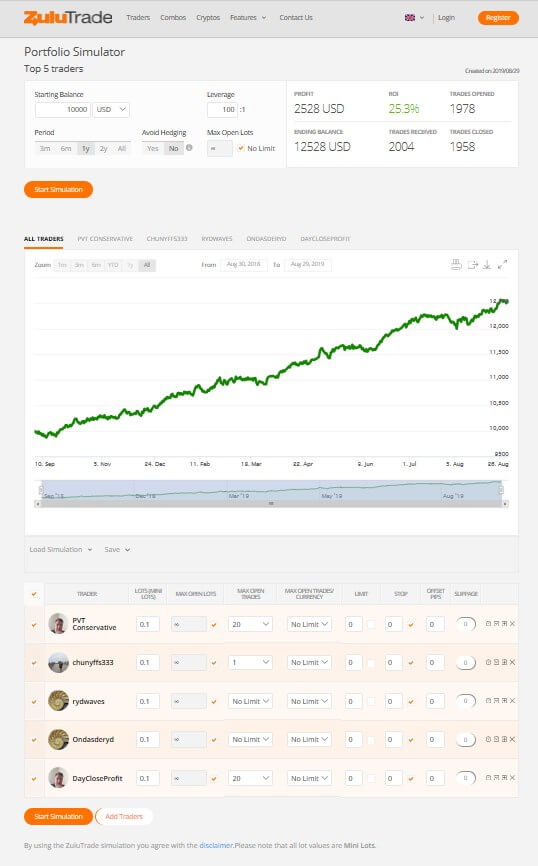 You select the traders you want to follow at the bottom part, then the software will automatically simulate your portfolio prediction based on their past performances.
You can play around by changing the selections of the traders to determine the most optimized portfolio for you. Very convenient tool.
Since copying the best trader is absolutely important for the success of copy trading, you may want to see PAMM Investment Ultimate Guide – 7 Secrets To Find The Best Account, where you can also find how you can make detail DD (Due Diligence) on traders.
4. Crypto Auto Trading
BTC Halving is passed in May '20. As the below chart indicates, both 1st & 2nd halvings brought huge bullish trend in the subsequent year(s);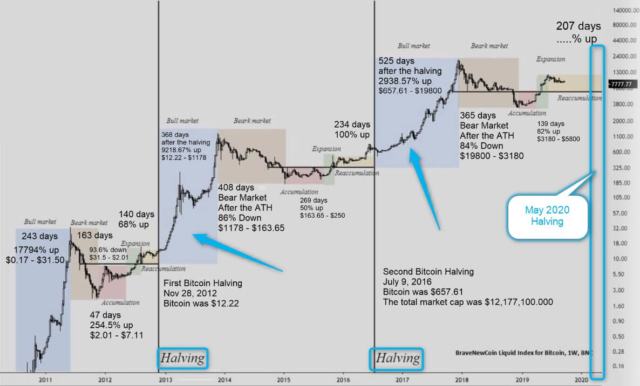 Needless to say, the simple supply & demand balance drove this price hike. Coupled with the rampant monetary easing all over the world under Covit-19 situations, no matter how it goes up & down every week, there are very few reasons to believe BTC is a bad investment at this moment in time & after the 3rd Halving in May 2020.
Apart from the short-term prediction, all the critics agreed that BTC will achieve long-term rising to the right. Therefore, we believe BTC should be a part of your diversified asset portfolio.
So, start the Crypto auto trading;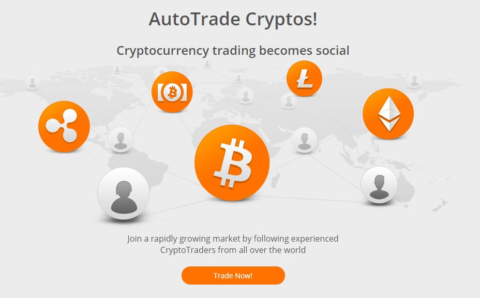 Open Real Account & Select Broker
Once you have confidence in your demo account, then it's time to use "real" money what you need to do is click the button as below;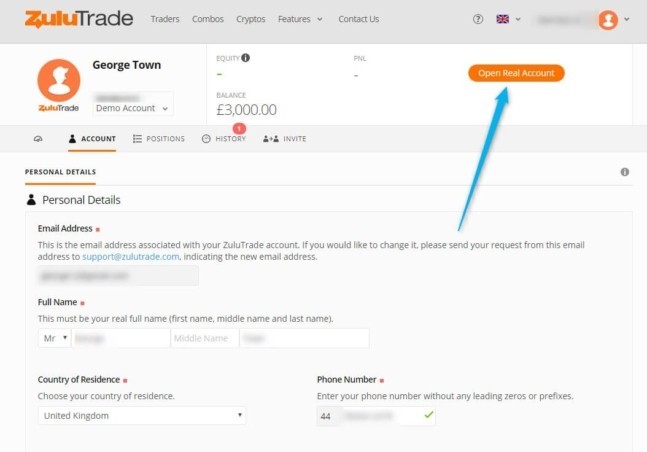 Select Broker
Sign-up with one of their over 50 supported brokers.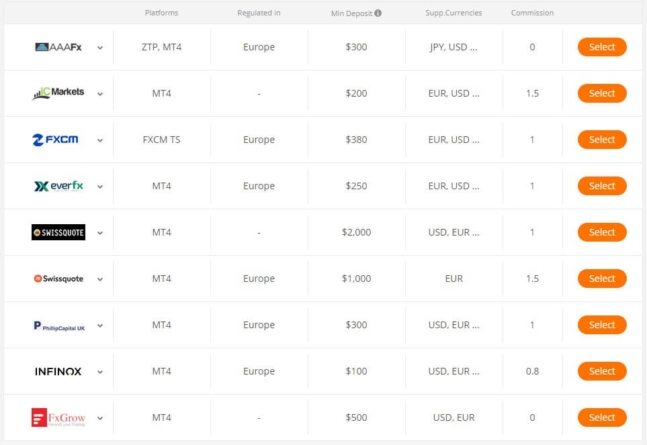 If you already have a broker account that is their supporting broker you can keep using it. On this occasion, make sure you Select Trusted Forex Brokers With No Hidden Agenda.
AAAFx Broker
As explained, AAAFx broker is owned by Zulu Trade.
Using AAAFx has a number of advantages, for example, since the brokerage is fully integrated with the ZuluTrade platform (ZTP: Zulu Trade Plus), you will experience very limited slippage when you follow signals on the ZuluTrade platform (BTW, you can also choose MetaTrader). In contrast to a number of other brokerages, AAAFx also does not pay any fee to traders who choose to use the ZuluTrade platform. Key features here are as follows;
Broker Type: ECN based on their self claim, but it is said to be DMA/STP
Traders from the USA: No / Islamic Account: Yes / Free Demo Account: Yes
Trading Platforms: MetaTrader 4 By Meta Quotes / Zulu Trade Plus (ZTP)
Account Currencies: USD / EUR / GBP / JPY / AUD
Minimum account size: $300 / Minimum lot size: 0.1 lot / Minimum Trade Size: 1000
Leverage: Maximum 200:1
Spreads (pips): EUR/USD 0.3, GBP/USD 0.7, USD/JPY 0.4
Payment options: Credit & debit cards, Neteller, PayPal, Skrill, Wiretransfer etc.
Fee & Commissions: Margin Interest: Yes / Depositing Fees: Credit Card 2.95% / Withdrawal Fees: By Wire $25
Scalping: Yes / Hedging: Yes
Trading Tools: Stop Order: Yes / Limit Order: Yes / Market Order: Yes / Trailing Stop Order: Yes / OCO Orders: Yes / One Click Trading: Yes / 24hr Trading: Yes / Charting Package: Yes / Trade-off Charts: Yes / Streaming News Feed: Yes / Email Alerts: Yes / Mobile Alerts: Yes / Telephone Orders: Yes / Personal Account Manager: No
Supported Languages:Arabic, Chinese, English, French, German, Hebrew, Italian, Japanese, Korean, Russian, Spanish
Customer Service By: Newsletter, Call Back, Phone, Chat, Email
Customer Service Hours:24/7
ZuluTrade vs eToro
Now, some of you may wonder which to be chosen, ZuruTrade or eTro? When it comes to the superiority of the final result, it fully depends on the quality of the traders you select to copy and the risk you're willing to take, therefore no straight answers but simply put;
eToro for Novice Players
ZuluTrader for More Experienced Players
Don't get me wrong, I'm neither saying eToro doesn't work for experienced players nor newbies can't trade in Zulu Trade.
My point is that eToro has the advantage in simple setting & training resources which are good for novice players while ZuluTrade is strong in customized setting for trade & risk management which suit experienced players.
However, allow me to share some observation on the traders in each platform as follows;
The eToro traders seem to be longer-term traders. They have to start trading with their own money (though once they get copiers they can trade with the bonus money they get) and tend to leave positions open over a longer duration of time.
Because the trades in your eToro account are executed proportionally and you can only invest 20% maximum per single trader, your total account gains and losses will normally be smaller than with ZuluTrade.
Because people can become traders on ZuluTrade using demo accounts and several traders use trading robots (which automatically execute trades) there tends to be a higher amount of risky traders on ZuluTrade.
However, the choice of traders is much higher and some also use "real money" accounts. Traders on ZuluTrade also only get their commissions paid in months they're profitable, so their incentive is to be consistent.
In addition, the amount you risk is ultimately up to you depending on how much you invest per trade. In theory, you can double your account in 1 day, though you're also as likely to lose that money in 1 day if that's the risk you take.
With regards to performance, if you're looking for exceptional results and are willing to take the risk associated with it then ZuluTrade would be the better network because they allow you to leverage your capital more and take more risk per trader.
If you want a more managed approach which automatically limits the risk you can take then eToro would be a better solution.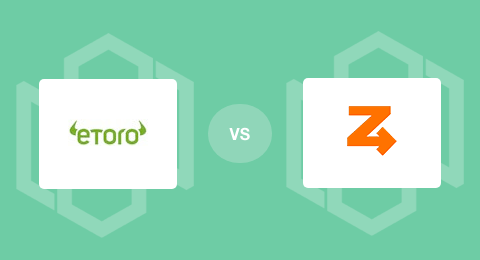 Bottom line, it's difficult to call one of these networks better than the other. In the meantime, since both offers Free Demo Accounts, search the best traders using the above process and practice to see how it works with virtual money.  
Never ever put your hard-working money before you feel comfortable & Confident. Once you get familiar with the system, you may have a better idea about which is for you, or you may eventually want to use Both to achieve as a course of your Diversification.
Conclusions
Allow me to reiterate that anybody can be a Signal Provider in Zulu Trade and there are supposed to be many providers who take aggressive strategy to demonstrate an impressive return to attract followers as many as possible.
However, the aggressive strategy is taking a huge risk therefore huge chance to generate a huge loss in the short term.
Therefore you have to avoid being dazzled by such high return. Be conservative and check the list of Winning Followers as explained before, which will provide you with different insight on the selection of signal providers.
Use Free Demo Account until you feel comfortable & confident. I believe there are many chances of becoming top 5% who make constant earnings in Zulu Trade community as long as you take simple but cautious approach explained here.
ZuluTrade Snapshot
Just in case you're not familiar with Zulutrading, the below summary must be useful;
What is Zulutrade?
ZuluTrade was founded by Leon Yohai a Greek entrepreneur who is mostly known for founding a series of high profile.com ventures. Leon has been trading futures for his own account, inequities and money markets since 2000.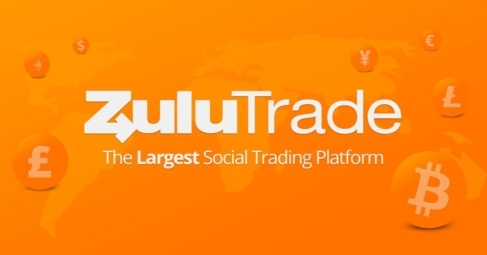 He recognized a need for a service for individual traders who have busy schedules and cannot follow the rapidly changing markets, yet need total control of their funds (this is exactly the need we are trying to fulfil in our Global Extra Money site).
With this background, Leon started ZuluTrade, the first peer-to-peer forex auto trading network in 2006. ZuluTrade has become one of the largest global Social Copy Trading networks and operates $1 billion in live accounts transaction volume by connecting the traders from nearly 200 countries all over the world under the current CEO George Ilias.
The arch-rival is eToro (read eTro ReviewOur article: Please Bookmark " eToro Offers Great Passive Income Opportunities Which Is Also Well-Suited for Start Traders With Restricted Time!! "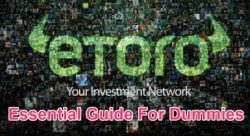 ).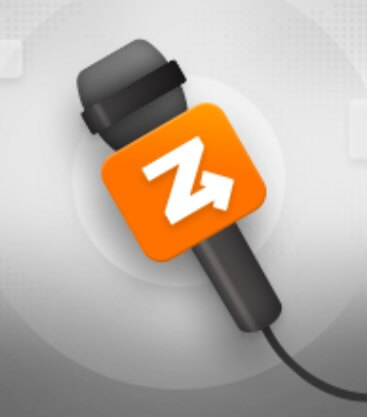 I excerpted some of the interview comments Leon Yohai made, which gives a bit more company's status & future prospect, as below;
Regulatory Issue
Q: As social trading and copy trading platforms have become de rigeur as a tool for retail Forex brokers to attract more new clients, and increase trading volume from that target market, do you think that regulatory authorities will begin to consider the signal provider that users can copy, as a financial adviser and therefore, require all signal providers to be regulated as financial advisers?
A: "ESMA in Europe considers those services as asset management, when the customer copies a trade in real time. We applied for such a license a year ago and we are now in the final stage, where we expect to get it in the next month or so. Signal providers will not need registration since our license is intended to cover all those requirements."
Business Model
Q: In terms of cost model, many retail brokers operate within the STP marketplace where spreads are low, and clients drive a very hard bargain in terms of the cost of closing trades. How will ZuluTrade be capitalized in future to ensure that there is still enough margin to pay for the platform, and give the broker a profit without spread or external commissions increasing. With MetaTrader 4/retail broker partnerships, copy trading platform companies could charge 1 pip above standard rate for a dealing-desk based solution. How does ZuluTrade make a profit in today's environment if spreads are so low and commissions cannot be increased?
A: "Any customer that wants to follow a plain vanilla investment strategy would pay 20-30% fees on profits and a 2% management fee on a traditional basis. So everyone expects to pay something extra. Most brokers have 2 pips spread in the EUR/USD. With an extra pip on top, Zulu gets compensated and our traders as well. And honestly I have never received a complaint by a customer for this extra pip. Remember that all results on the follower's performance page, include the spread!"
Future
Q: What is the corporate plan for the immediate future?
A: "Continue to penetrate Asia, more instruments, more brokers, and most sophisticated tools (for what we are known) to identify when a strategy loses its mojo! This way,?the customer feels protected, and then it's when we feel that we offer a valuable service to our customers."
---
ZuluTrade Strength & Weakness
ZuluTrade Strength
☑ Perfect Transparency: ZuluTrade shares every single trade a trader has done in the past while some other social trading networks only give you access to the last 50 or 100 trades.
☑ Multiple Brokers Choices: On top of a directly integrated broker AAAfx (Greece), they're over 50 outside partnered brokers like FXCM & Dukascopy, including US, UK, Europe, Russia, India, New Zealand and Australia etc, which allow you to keep your account in these and other base currencies. These outside brokers offer a smaller spread than AAAfx broker.
☑ Huge Choice of Signal Providers: Probably the largest number of traders (ZuluTrade call them "Signal Providers" pool to copy, it is supposed to be over 10,000 providers.
☑ Security: Zulu Trade is regulated in most of the key jurisdictions they operate such as both NFA & CFTC in the USA.
☑ Free ZuluTrade Demo Account: It offers 30 days free full-functioning demo account, as explained later the period can be extended and you can open multiple free demo account under the same e-mail without any restriction.
☑ Advanced Risk Management Features: You can choose "Custom Mode" or "Auto Mode", and custom mode allows you to make risk management setting at your own discretion.
ZuluTrade Weakness
☠ Slippage: When you use outside brokers, you will face slippage, means you can't expect the exactly the same trading (profit) as the signal provider you follow.
☠ ZuluTrade Fees (Commission): Again, when you use outside brokers, Zulu Trade charges up to 3 pips per trade on top of their normal spread for connecting your account to ZuluTrade (0 commission for AAAfx as the integrated Zulu broker).
☠ Relatively Complicated Setting System: Zulu Trade gives more freedom to traders for copy trade setting & risk management setting, rather than fully-automated system, means novice trader may take longer time to get used to the system.
☠ Many Poor Signal Providers: Although there are massive choices of signal providers, Zulu Trade allows anybody to be a signal provider and does not impose signal providers to trade using their own money, thus there are big risks that they take a huge risk to show impressive return which may not last long, so careful choice pf providers & constant monitoring of trading progress is required.
Appendix – Alternative Passive & Own Trading
Why Do We Use ZuluTrade To Earn Money On The Side?
Lastly, allow us to briefly explain about our passive trading principle.
Our site intends to provide you with the smart ways to make Extra IncomeOur article: Estimated Reading Time: 29 minutes, Please Bookmark " Job Security Is An Illusion, Quickly Assess Your Financial Future & Consider 3 Clever Ways To Diversify Your Income Online Safely & Reliably For A Rainy Day!! "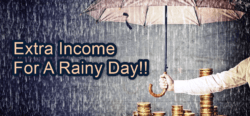 .
And, we use 3 passive trading methodsOur article: Estimated Reading Time: 25 minutes, Please Bookmark " Forex Own Trading Without Proper Training is A Fool's Errand, Consider Passive Forex Trading Three Methods You Can Make Profits Reliably!! "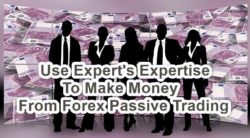 Including Copy Trading), as the most practical & safest ways to succeed in Forex Trading & some other Financial Tradings.
You may want to know how copy trading enables trading to make money passively.  In short, you exactly copy the tradings that expert traders place, means you will achieve the profits the expert you copy makes.
Then, you may ask Why Passive Income By Trading? Because the newbie traders generate extremely high loss rate – see the harsh reality in numbers.
Unlike some of the advantage plays that guarantee profits based on the mathematical edge, Zulu Trade social trading forex generates neither risk-free nor guaranteed profits.
Conversely, Forex Trading is in fact a high-risk investment. However, automatic copying of the experienced experts' trading will substantially improve your profits because professional/institutional traders' average winning rate is significantly higher than retail / individual traders.
Other 2 Passive Tradings
the 2nd & 3rd of 3 Passive Tradings are;
ZuluTrade belongs to Social & Copy trading that is the 1st of 3 Passive Tradings, the others are;
Forex Own Manual Trading
For those who still would like to pursue self-trading, strongly suggest you go through:
These reports comprehensively explain how you can evolve Forex Trading successfully by using world top-class tools & the full list of them.
It includes the introduction of Trading For A Living: Lucrative Trading Business, Travel the World And Work For Less Than 20h/week.
Good Luck!!
Joshua Walker (bio)
Editor – Global Extra Money (GEM)