Bet365 In-Play Free Bet – Latest Condition
Bet365 In-Play Free Bet offer provides you with a maximum of £50 free bet, which is considered to be one of the most lucrative offers for matched betting. 
Because Bet365 In-Play Offer allows matched bettors to get guaranteed profits very easily. 

Bet365 In-Play Free Bet – How It Works
Bet365 says it's an invitation-only offer. However, since it's one of the major Bet365 existing customers offers, you are supposed to receive the offer by e-mail like below unless your account is restricted (Bet365 is a soft bookie that limits winners' accounts quickly. If you're a serious punter, see the list of sharp bookies that never restrict your account.);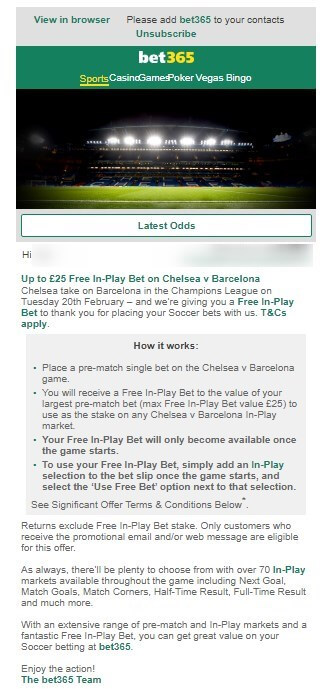 UEFA Champions League is a popular match for Bet365 In-Play Free Bet Offer like the above example or below Juventus vs Barcelona;
When it comes to English Premier League, Man Utd used to be the most popular selected team though, Bet365 in-play offer Liverpool seems to be the most chosen team lately as seen below;

If you haven't received such an e-mail, log in to your Bet365 account, then the pop-up window indicating the offer should appear, or check the Message section, or check the Bet365 promotion page. 
Bet365 Soccer In-Play Bet Offer – T&C
Firstly, the Free bet amount varies among individual players, ranging between £15 and a maximum of £50.
I used to receive a £50 free bet, but it has decreased to £25, obviously because I have taken too much value recently.
Anyhow, it still produces a tasty profit without the risk.
So, how do you get the Bet365 Soccer free bet offer qualified? Let me excerpt a few key requirements from the above e-mail;
How it works:
– Place a pre-match single bet on the Chelsea v Barcelona game.
– You will receive a Free In-Play Bet to the value of your largest pre-match bet (max Free In-Play Bet value £25) to use as the stake on any Chelsea v Barcelona In-Play market.
– Your Free In-Play Bet will only become available once the game starts.
– To use your Free In-Play Bet, simply add an In-Play selection to the bet slip once the game starts, and select the 'Use Free Bet' option next to that selection.
Returns exclude Free In-Play Bet stake.
Only customers who receive the promotional email and/or web message are eligible for this offer.
Bet365 Free In Play Bet T&C
Let's go Step-By-Step.
Matched Betting as Underlying Method – Quick Summary
Before going into the specific process, let me quickly recap how we use a Matched Betting technique to lock in profit from the offer.
If you are already familiar with it, just skip it and go directly to the next section.
Matched Betting Brief Process
In case you're completely new to this concept, Matched Betting For Dummies will be of your help. But just briefly, matched betting works as follows;
2 transactions of Back (bet on win) £25 at Bet365 & Lay (bet on NOT win) appropriate stake £XX (use Free Calculator) at Betting Exchange like Betfair (you may want to use Betfair Alternatives), Smarkets, or Matchbook so that you cover all outcomes.
Regardless of the outcome, your losing & winning will cancel out each other. In real practice, usually, 2 bets are not perfectly offset due to the odds difference & exchange commission. Therefore you make a small loss called Qualifying Loss. However, you get £25 In-Play Free Bets.
Now, you repeat the exact same process in Live Match but use the free bet for the back bet at Bet365. Then, this time the free bet value (minus a little loss) will become your net profit.
For a specific guide on how to do it, please go to Free Matched Bet Starting Guide (2) – How To Sign-Up & Place Qualifying Bet & (3) Extract Profit, where I use William Hill sign-up offer as the example.
Remember, the key success factor is how to minimize the qualifying loss during these processes by identifying the narrowest odds between Bet365 back odds & betting exchange lay odds.
BTW, many people imagine matched betting is for only UK & Ireland, wrong, besides Bet365 offer the similar promotions including In-Play free bet in many countries, therefore check
Betting Exchange
Let me elaborate on the betting exchange since the betting exchange is essential for matched betting. There are 4 betting established betting exchanges as below;
Betfair (see
Betfair Alternatives
)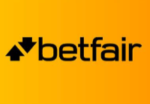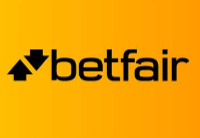 Smarkets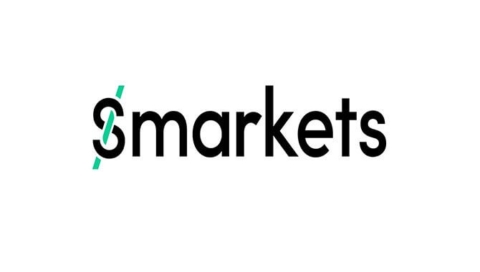 BetDaq (Warning)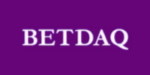 This report shows the above top 4 betting exchanges' latest sign-up offers & how to extract cash risk-free from each offer including Betfair's £100 Free Bet.
In case you can't access any betting exchanges in your country, then use Betfair Alternatives (Betfair White Label).
Bet365 In-Play Offer Tips – Extracting Profit Process
Place A Pre-Match Qualifying Bet
Firstly, we have to place a single pre-match bet as a qualifying bet. The maximum free bet amount you will get is the equivalent amount you make a Pre-Match Single Bet, so, you want to bet your qualified highest free bet amount (in my case £25).
Since there is no odds or market restriction, you can choose whatever market you like or the market with the narrowest gap between Bet365 back odds & Betting Exchange Lay Odds to minimize qualifying loss.
Locating The Best Market
Usually, match bet (1 x 2), BTTS (Both Teams To Score), or Over / Under 2.5 Goals are the markets that meet your demand, which means the narrow odds between the bookmaker & exchange.
However, I focus on Match Bet and don't bet X (Draw) but either 1 (Home) or 2 (Away) because of Bet365's other offer which I will explain later.
I quickly check the odds of the Bet365 Match Bet market in comparison with the other bookies in Oddschecker

Bet365 offers Outstanding Chelsea odds.
Lay Odds Check at Betting Exchange
I used Matchbook because I get 0% Commission thanks to the Oddsmonkey offer (see details).
You may want to consider subscribing to matched betting premium services like Oddsmonkey (see OM Full review) or Outplayed (ex Profit Accumulator) (see PA full review), which gives you cooperation with betting exchanges such as commission deduction or entirely free regular.
Anyhow, the below are laid odds at Matchbook;

While I was taking the above screenshot, the Chelsea lay odds drifted to 3.88. Oops, anyhow, I used Free Matched Betting Calculator to see the predicted qualifying loss by comparing the case by selecting Chelsea & Barcelona;
Betting on Chelsea generates an average £0.835 loss;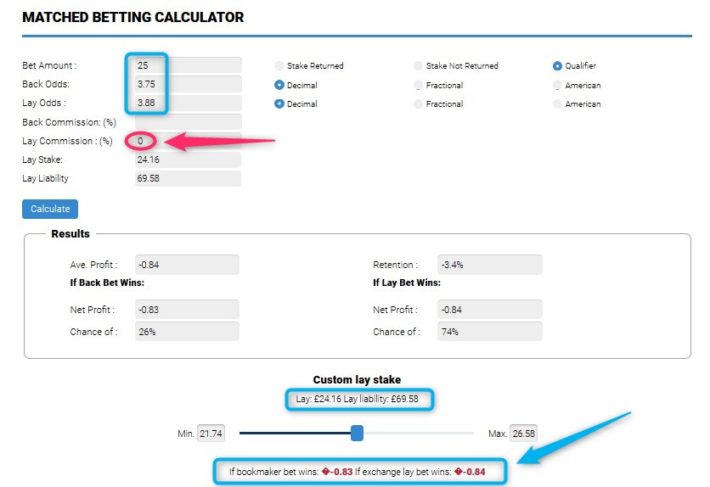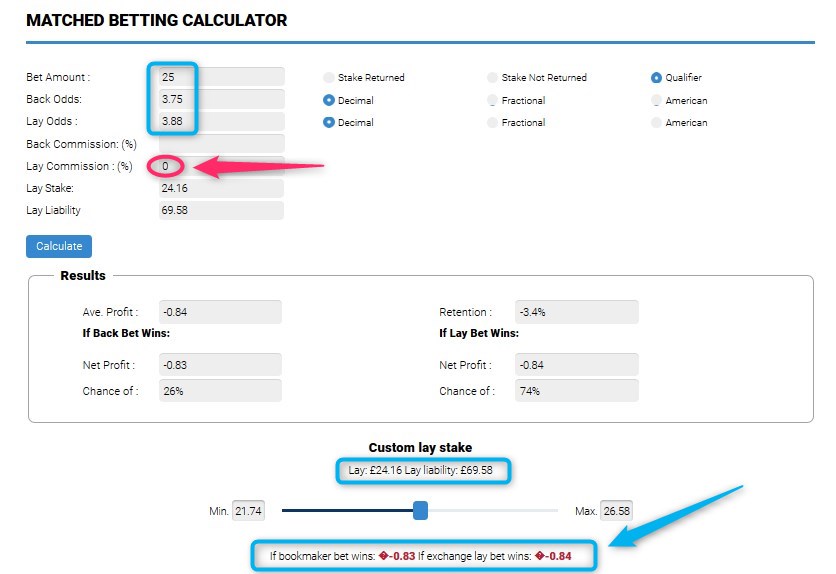 Betting on Barcelona generates an average £0.79 loss;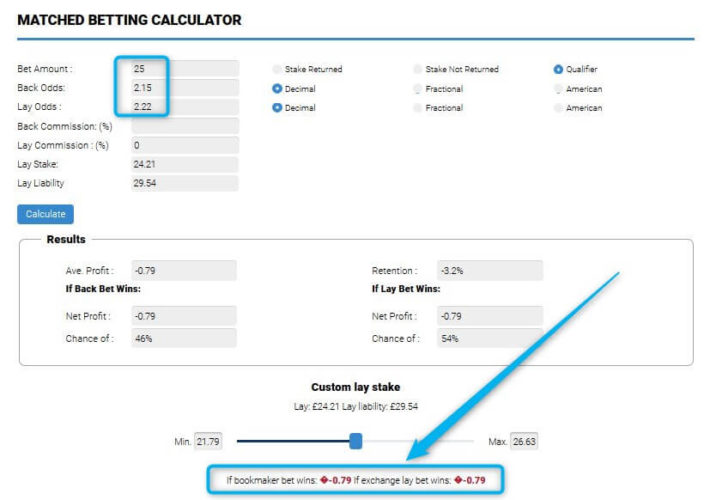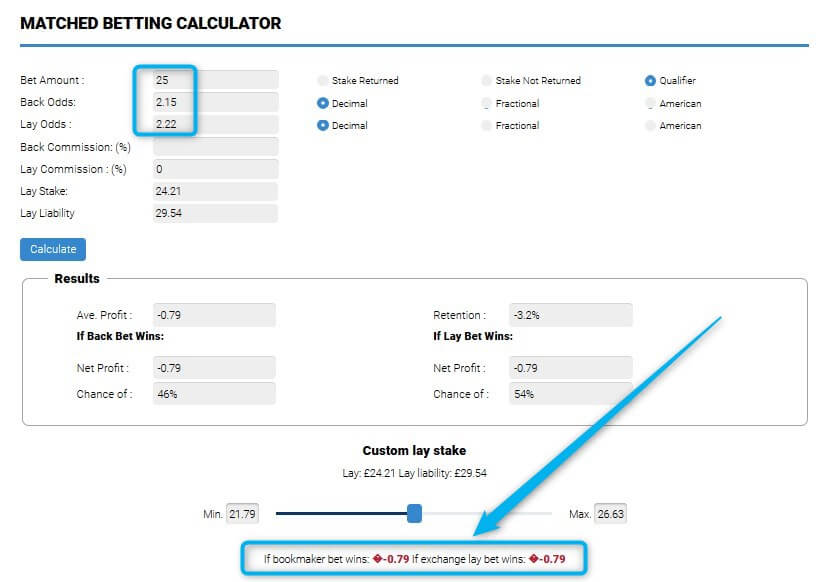 Combining Other Offers
Although betting on Barcelona will result in a smaller qualifying loss, the difference is just a marginal £0.045.
Thus, I decided to bet on Chelsea because I can combine Bet365 Early Payment Offer – please take a look at Paddy Power 2 Up & Bet365 Early Payout Offer – How To Make Massive Profit.
You can enjoy the benefit of this offer by betting on Barcelona as well, but given the long odds of Chelsea, if hit the early payment, we will receive a much better profit when we bet on Chelsea, that's the reason to choose Chelsea.
Successful Example
In fact, I received double payments in the last Bet365 In-Play Offer. That was the Champions League Juventus vs Tottenham match. I bet £25 on Juventus which went ahead by 2 goals, but finally, Tottenham caught up & ended a draw. It means, I got winning of £26.25 in Bet365;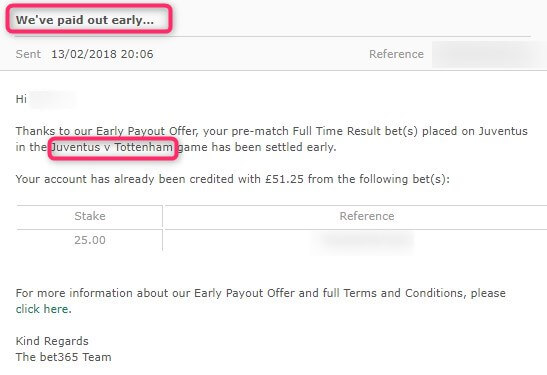 And also £24.29 in the betting exchange (Matchbook) I placed a lay bet on Juventus as;

Coupled with the around £20 profit I extracted from the Bet365 In-Play Free Bet from the above match, I generated around £70 pure profit, not bad for less than 15 minutes of work in total, just FYI.
Placed Both Back & Lay Bet
I completed the back bet at Bet365 as;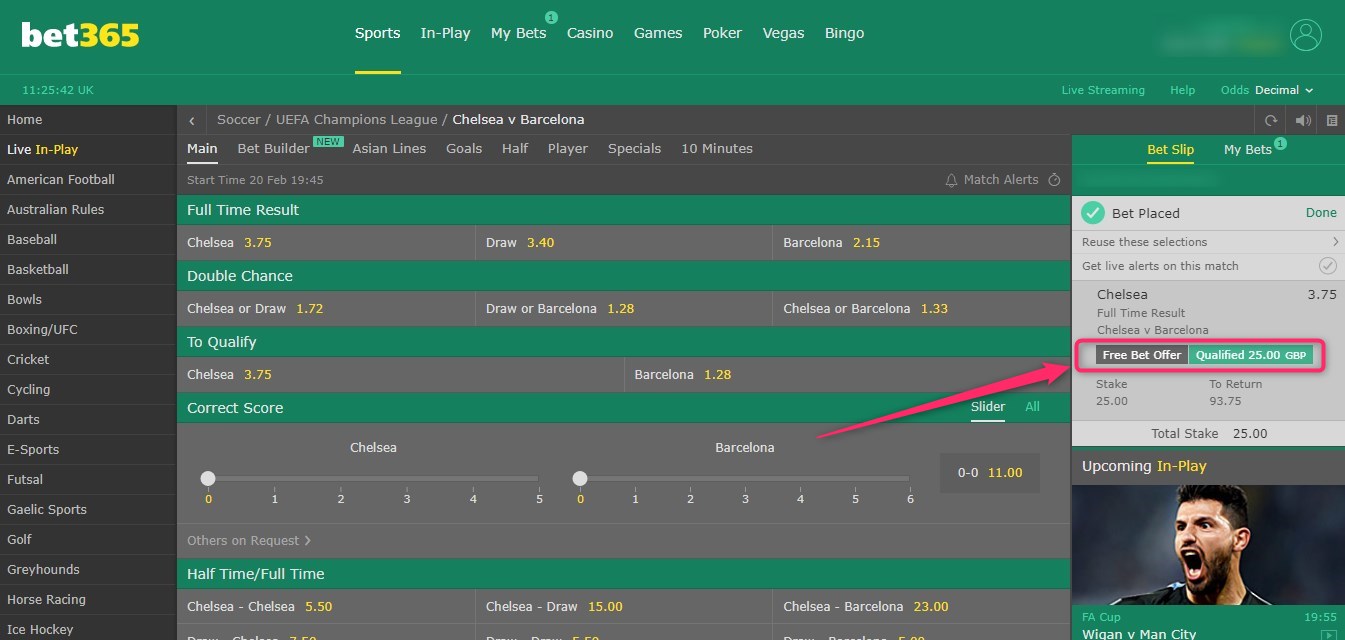 The bet slip automatically shows your entitlement to £25 In-Play Free Bet.
The lay bet at Matchbook as;

Place In-Play Bet By Using Free Bet – How To Use Free Bet
Once the game goes live, you need to place a £25 In-Play Free Bet.
Key Tips for In-Play Bet
Generally speaking, doing matched betting in a Live Match (in-play) is more difficult than a pre-match bet due to the quick fluctuation of in-play odds.
For how to do it smartly, please take a look at Live Betting Tennis – The Best Tips For Seasoned Punters. Although it uses the Tennis case, the general principle absolutely applies to Football In-Play matched betting as well.
A few key points are;
Bet immediately after the kick-off before the odds start changing quickly. At the outset, the odds are relatively stable because scoring within a few minutes is statistically very low. But make sure, you place the back bet after confirming the kick-off whistle – see the live game streamline available in Bet365, otherwise, your own cash will be used rather than the free bet. Besides, remember that Bet365 drastically reduced all the odds soon after the game starts. If it happens before you place the bet, wait for a while until the odds get better. Yes, usually the odds recover a bit since the initial odds deduction is extremely big. Then you can avoid taking such poor odds.
Bet during halftime. It's the time you can expect the calmest odds movement period.
Avoid the market which may immediately put you in danger of losing everything. For example, if you place the correct score, try to avoid 0-0 or 0-1 involving the Nil score. After you place a back bet on such a bet and if any score occurs unfavourably before you complete the lay bet, you will not be able to place a lay bet anymore and you will lose your back bet 100% instantly.
Locate Market For Free Bet
As explained in the guide (3) How To Extract Profit From Free Bet, we need to select the long-odds market to extract profit from the free bet efficiently.
Usually, the Correct Score market or HT/FT provides you with the best opportunities.
I mean the odds with the tightest gap between bookmaker & betting exchange in relatively long odds. So, suggest you make a bit of homework to check which markets could be your target, say 10 minutes before the game starts.
At the time I'm writing this article, the lay odds are very poor, and Chelsea winning by 2-1 is the narrowest gap of 13:15.5 as follows;
Bet365 Correct Score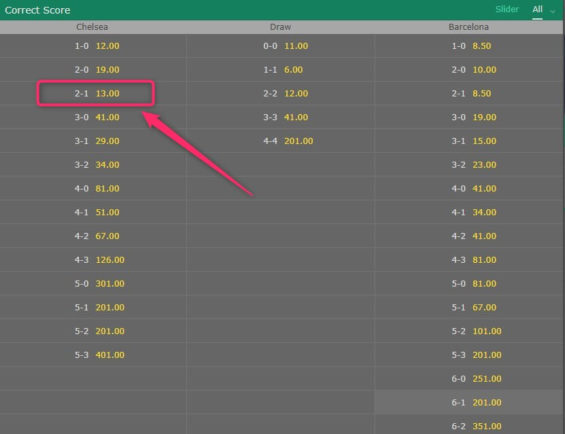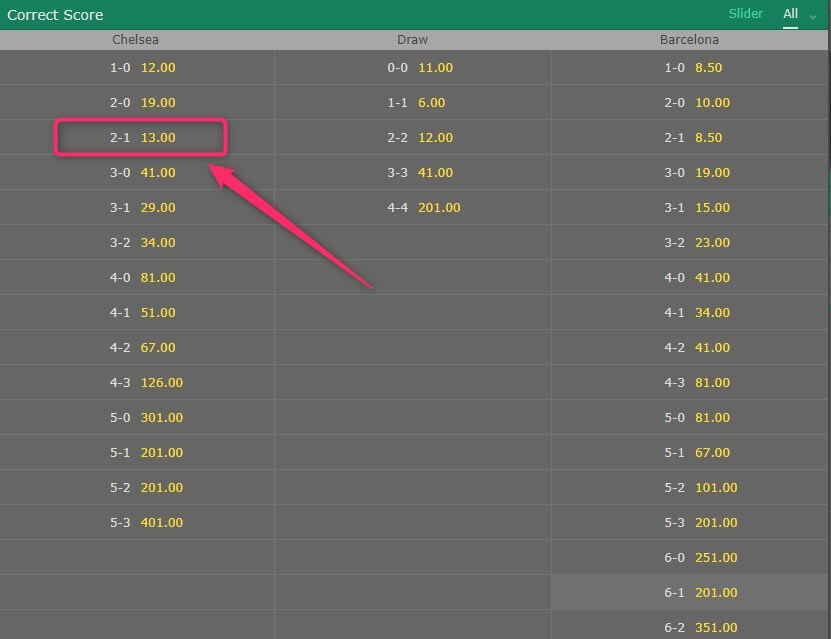 Betfair Correct Score Lay Odds (the correct score market is sometimes not available or lacks liquidity, which means very poor in Matchbook) shows;
Assuming we take this bet by laying at Betfair – I get a 2% Betfair  commission rather than 5% and the predicted profit will be £18.99 as below;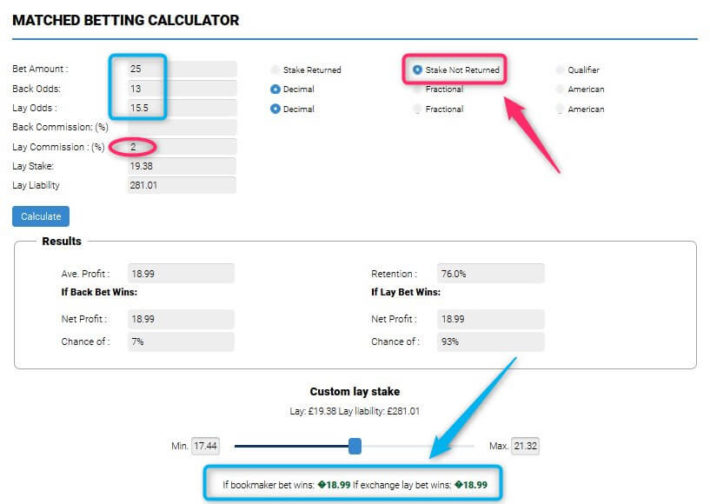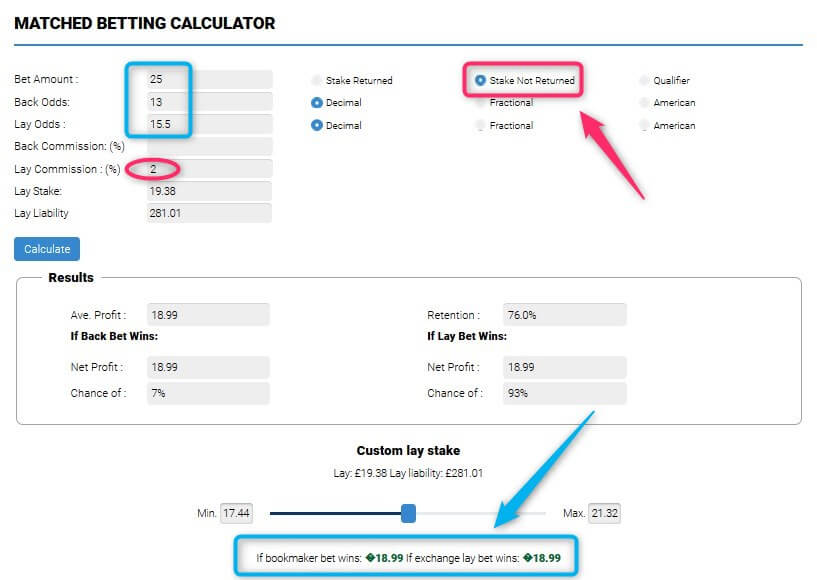 Hope the lay bet will be improved in Live Match.
Wrap Up
The thing that affects your profit is In-Play matched betting. How tight odds you can find will determine your final profit.
Odds move in flush, but Never Ever Become Panic even if you make mistake. There are ways to correct your mistake and minimize loss.
I have summarized many in-play additional tips including such correction methods in the below Case Study of The Previous Bet365 In-Play Offer. So suggest you just go through it as well.
Final Results
As you are aware, the game ended up with a draw as below;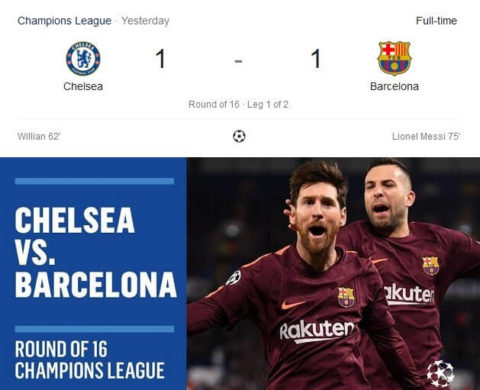 I myself couldn't place an in-play bet until shortly after the 2nd half start due to other priorities. Therefore, I missed the best in-play timing such as the very beginning & halftime.
As a result, I could extract just 72% of the free bet which is £18. Deducting the qualifying loss of £0.84, the net profit was £17.16. Well, not bad for altogether less than 15 minutes of work.
We never count on hitting the early payment and if we could hit it would be a windfall. The important thing is proper planning & execution.
As long as we keep taking up the Positive EV (Expected Value) opportunities like this and follow the right process, we never lose money but will be profitable in the long term.
So, remember being qualified for the Bet365 in-play offer is important, so try to prevent getting gubbed as much as possible – How? See avoid account restriction techniques.
Previous Bet365 In-Play Offer Case Study – Dutching Method
We shared a step-by-step instruction on the previous Bet365 In-Play Offer, which gives you an excellent case study on how to make the best use of Dutching Betting.
Since it can apply to many In-Play Free Bet Offers especially for Big Football Events, we keep the full guide as the good Dutching Case Study.
Please click the below + Bet365 In-Play Offer – Good Dutching Betting Case Study to open the full information;
Bet365 In-Play Offer Wrap Up
Advantage Play
Finally, allow me to talk about our principle a bit. Avoid Prejudice of "Betting = Gambling". We do betting but don't count on chance.
Instead, we do 6 Advantage Plays based on mathematical edge to beat the bookies, casinos & bingo. When it comes to Sports Betting, we use Matched Betting / Sports Arbitrage / Value Bets On Proven Tipsters to lock in a profit or consistently earn extra income for the long term.
With that said, one of our policies is "Betting On Luck Is For Losers, Stop Gambling But Bet on Only +EV (Expected Value) To Win Reliably".
And it is effectively our way to promote Responsible Gambling, and we strongly support GamCare being explained in the about us.
We have shared the method of how to guarantee profits from the Latest Bet365 In-Play Offer which in fact has many variations as Bet365 football specials such as "bet365 in-play offer Liverpool", "bet365 in-play offer man utd", "bet365 in-play offer champions league" and "bet365 in-play offer Liverpool man city" etc. in this guide.
Remember, coupled with Bet365 Early Payout Offer, it is one of the most attractive offers for matched betting.
We also include the specific instruction of the previous Bet365 In-Play Offer that demonstrates an excellent way to use Dutching Betting is a good case study as well.
These are part of our efforts to provide our readers with the methods to beat the bookies based on our above principle.
BTW, if you want to be a sharp casino & game bonus hunter, strongly suggest taking a look at the List of 52 Best Bitcoin Casino Bonuses and for those who appreciate the highest privacy, go to the List of Best Anonymous Bitcoin Casinos & Bonuses, just FYI.
Appendix – Other Bet365 Offers Guide & Account Restriction Measures
You may also want to check the Bet365 Relevant guides;
Finally, if you keep exploiting too much value from bookmakers, you will face Account Restriction a.k.a. "Gubbing".
Actually, it's just a matter of time before most of the soft bookies limit your account if you do matched betting without any precautionary actions.
Therefore, we have prepared the following 2 guides;
You may also want to consider moving up to the next sports trading level of value betting while exploiting the bookies' free bet via matched betting.
The following are proven methods which can be used by basically anyone in the world;
BTW, if you want to be a sharp casino & game bonus hunter, strongly suggest taking a look at the List of 52 Best Bitcoin Casino Bonuses and for those who appreciate the highest privacy, go to the List of Best Anonymous Bitcoin Casinos & Bonuses, just FYI.
If you have any inquiries or need any help from us, please contact us anytime (don't worry, we will not charge you any fee, everything is free here).
Good Luck (Luck can often mean simply taking advantage of a situation at the right moment, It is possible to make your luck by being always prepared. – Michael Korda)!!
Joshua Walker (bio)
Editor – Global Extra Money (GEM)