Bet365 Feature Race 4/1 Offer & ITV Racing 4/1 Offer – Snapshot
Bet365 runs 2 ongoing key horse racing promotions, which are Feature Race 4/1 offer & ITV Racing 4/1 Offer (these pages show the Bet365 horse racing today offer).   4/1 offers of Feature Race & ITV Racing are completely identical and allow you to make Risk-Free Profits every day.
ITV Racing 4/1 offer is for the races televised on ITV that is every Saturday – See ITV Racing Broadcasting Schedule & big meetings such as Cheltenham Festival or Royal Ascot etc.;

The Feature Race 4/1 offer is available on two races per day when there is no scheduled live ITV racing. This means Bet365 provides you with a 4/1 offer effectively every day.
Bet365 4/1 Offers are therefore Everyday promotions and with the method in this guide, you neither need Bet365 horse racing tips nor a Bet365 live stream to chase the race if you don't have time.
You can profit from every single race, regardless of the result. We will show you how.
Warning: Bet365 is a typical soft bookie, which means if you profit a lot from their promotions, your account is quickly gubbed (restricted). If you're a serious punter, suggest accessing the list of sharp bookies that never restrict your account. 
Bet365 Feature Race Offer – How it Works
In this document, I use Bet365 Feature Race as an example to explain how to lock in profits. But all the methods we discuss here can perfectly apply to Bet365 ITV Racing Offer

because as said these 2 offers are completely identical.
Bet365 Feature Race 4/1 Offer T&C
Bet365 says "Back any single winner at 4/1 or more on a bet365 Feature Race and you can have a risk-free bet to the same stake (up to £50) on the next bet365 Feature Race.
This offer applies to the FIRST single bet placed by a customer on each bet365 Feature Race. " So;
You need to place 2 consecutive races with your own money.
The first race: £50 (as a maximum refund amount) bet to be placed over the odds of 4/1 (5.0) even after a dead heat or Rule 4. So even if you take the early price, the SP (starting price) must be over 4/1 to qualify.
If your horse wins in the 1st race, your next bet in the 2nd race will become a Risk-Free Bet. It means you will receive a refund as a £50 cash credit if your horse loses, you will not be given the £50 credit if the next horse wins again, you only get it after a looser as specified below;
Bet365 Feature Race T&C also says;
"If your risk-free bet also wins at odds of 4/1 or more, you qualify for a risk-free bet on the next bet365 Feature Race. Keep backing those winners and we'll keep giving you risk-free bets!
If your risk-free bet loses, your stake (up to £50*) will be refunded to your account.
"
Sounds nice, but understand carefully, this means when you have a winner you will not receive a £50 refund until you have a loser, even if you result in 10 winners in a row.
4/1 Requirement
Bet365 used to require 5.0< odds at SP (Starting Price), and the current T&C is not clear. But obviously, they have changed it into "The price you take" as seen from the below screenshot of the live chat, which one of our members sent to us;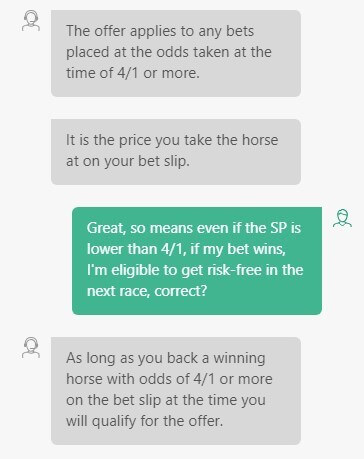 Bet365 Feature Race & ITV Racing 4/1 Strategies – How To Make it Risk-Free
Matched Betting As A Basic Method
To guarantee the profits, we don't use any Bet365 loophole related to Bet365 4/1 Horse Racing, but as briefly said, we use an established legit method a.k.a. Matched Betting. 
If you're new to matched betting, take a look at Matched Betting For Dummies – 9 Essential Things. But allow me to recap how it works very briefly by using Bet365 Feature Race 4/1 Offer.
We show you the detailed process with a real example later, thus here please try to understand the concept.
Matched betting is all about turning the bookmaker's offer often in the form of a Free Bet into Real Cash Profit. The simplest example is Bet XX Get YY Free Bet like 888 Sports Sign-Up Offer. In this offer, first, we have to Bet XX, which is a so-called Qualifying Bet. It involves;
2 transactions of Back (bet on win) Horse A (odds is 5<) at Bookmaker & Lay the same Horse A (bet on NOT win) at Betting Exchange such as Betfair (you may want to use Betfair Alternatives) or Smarkets so that you cover all outcomes.
No matter what your Horse A's result, your losing & winning will cancel out each other. In real practice, usually, 2 bets are not perfectly offset due to the odds difference & exchange commission therefore you make a small loss called Qualifying Loss. For full details of this process, take a look at Matched Betting Starting Guide: Welcome Bonus (2): Place Qualifying Bet. However, if your Horse A wins, your next Feature Race will become Risk-Free.
Then you repeat the same transactions, but this time your bet is Risk-Free, which means if your horse loses you will get a Cash Refund (not a free bet thus more value, that's one of the benefits of the Bet365 Feature Race offer). Therefore when your horse loses, the whole stake minus the qualifying loss (both the first race & 2nd race) will become your net profit.
The success factor is how to minimize this qualifying loss.
Importantly, as seen from the above process, the
betting exchange
makes a critical role in matched betting.
This report shows all top 4 betting exchanges' latest welcome bonuses & how to extract cash risk-free from each bonus, remember the more betting exchange accounts the more Bet365 matched betting opportunities, so increase your exchange accounts.
In case your residential country is not allowed to sign-up for these exchanges, use this solution. 
BTW, some people blindly believe matched betting is only for UK & Ireland, completely Wrong, by
using this approach
, everybody in the world including US citizens can make decent profits from this risk-free betting technique. Specifically for Aussie see
Matched Betting in Australia
and for Germany, Austria, and Switzerland residents,
this program
focuses on the DACH region.  
Instruction Of 3 Bet365 4/1 Offer Strategies & Each Process
There are 3 strategies (approaches) to tackle this offer, which are;
Standard Matched Betting Approach
Risk-Free Approach
Lock-In Profit Approach.
I'll show the process for each approach by using the real race I bet which is;

(Find the latest schedule in Bet365 4/1 Races Today – Feature Race & ITV Racing) 
*Click "+" or Any Part Of the Paragraph To Keep On Reading.
1. Standard Matched Betting Approach
2. Risk-Free Profit Approach
3. Lock-In Profit Approach
Actual Bet365 Result
As seen in below the official record, the top favourite "Halcyron Days" won and my "Caprice Danglais" finished 5th.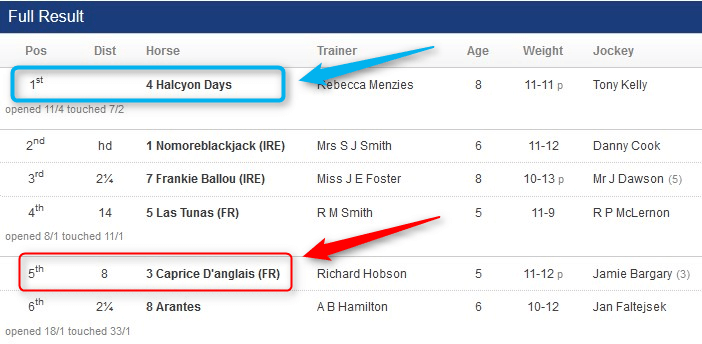 Therefore, at this stage,
Standard Matched Betting Approach lost £2.43.
The risk-Free Approach just resulted in break-even.
Lock-In Approach made £3.92 profit.
Bet365 Feature Race & ITV Race 4/1 Offer Lock-In Profit Calculator
We prepared a customized Spreadsheet that automatically calculates the Lock-In scenario as follows;

The advantages of this spreadsheet are;
Since it is set in the optimized formula for the lock-in scenario, it will instantly calculate the best profit.
Bet365 Feature Race offer is a consecutive offer, and it's good to have 2 races scenario in advance. This calculation allows you to know how much lay stake you need to do with the best profit by combining the 1st & 2nd races. The profit & loss shown in Race 2 already includes the loss that comes from Race 1, so that's the aggregated Profit (or loss).
For those who prefer the lock-in approach, suggest downloading it in the 3 Best Ways To Lock-In Profit on Bet365 Offers.
Back A Winner - Other Bookmakers' Offers
The method we share in this document can perfectly work not only for Bet365 Feature or ITV 4/1 Racing but all other similar offers, such as;
Betfair (suggest use of Betfair Alternatives) & VirginBet ITV Racing 3/1 Offer
Place a single bet in any live ITV race. If your horse wins at SP odds of 3/1 or greater (Racing Post decision final), you will receive a free bet to the same value of your stake, up to £25;

For this particular offer, we prepared for the step-by-step instruction, so please go Back A Winner Betfair Offer – How To Lock-In Profit (note: Betfair currently doesn't offer Back A Winner offer but the basic principle we share in the guide can apply to ant similar offers).
Unibet ITV 3/1+ Special
Unibet periodically provides this sort of offer, especially on the occasion of a big event like; Saturday's ITV Racing comes from Ascot, on British Champions Day, with six great races to be shown throughout the afternoon. Back a horse in any ITV televised race from Ascot and if it goes off at 3/1 or greater and wins, get a Money Back as a Bonus offer to use on your next horse racing bet

Bet365 Feature Race & ITV Racing Offer - Conclusion
This time, the result supports the Lock-In Profit Approach. However, there is no right or wrong when it comes to choice. Let me evaluate this offer in the form of EV (Expected Value) as usual.
Expected Value
For the lock-in method approach, we already know it's a Positive EV because it's a guaranteed equal profit of £3.92 no matter what the final outcome is.
When it comes to the Standard Matched Betting Approach & Risk-Free Approach since it's Bet & Hope concept. For calculating EV, we can use the below calculation formula;
EV = (Outcome A x Probability %) – (Outcome B x Probability %)
The outcome is the possible 2 scenarios I attach for each approach. Outcome A is Receiving a Refund in the next race, which means my horse Wins in the 1st race. Outcome B. is Not Win. Probability in the above case is calculated based on the odds of my horse.
The odds of "Halcyon Days" is 6.0. The implied probability of a win is 16.7% (1.0 / 6.o x 100). Then not win is 83.3%.
Standard Matched Betting Approach EV = (£37.57 x 16.7%) - (£2.43 x 83.3%) = £6.27 - £2.02 = £4.25
Risk Free Approach EV = (£24.7 x 16.7%) - (£0 x 83.3%) = £4.12 - £0 = £4.12 EV will fully depend on the odds. Shorter and Tighter (between Bet365 & Exchange) odds will bring about better EV.
The above example shows a better EV of the Standard Matched Betting Approach than the Risk-Free Approach mainly because of its relatively tight odds (6.0: 6.2).
When the odds gap becomes wider the qualifying loss becomes bigger. Thus, the Risk-Free approach will give you a better EV.
The most important thing is to choose the horse with the narrowest gap between Bet365 back odds & the Exchange lay odds as a basic but critical theory. Just as a reminder.
Bottom-line
All the approaches show Positive EV. The choice mainly depends on an individual's preference. With our approach, Bet365 Feature Race Offer & ITV Racing Offer are absolutely profitable.
You don't always win. Say, you may not get a refund from the 5 races in a row but the refund of the following 2 races will make the whole 7 bets profitable.
So don't be fooled by variance. As long as you keep taking positive EV offers like this, you will make a lot of money.
You don't need to believe me but believe in mathematics.
Bet365 offers this promotion every day when horse racing happens, multiple races on ITV televised day like 10 races on Saturday, and 2 featured races on the day without ITV broadcasting.
So there are hundreds of qualified horse racing you can bet, and assuming you pocket an average of £5 per race, you could make thousands every year.
However, if you bet all the races, you are most likely to be gubbed. So, many people say up to around 70%.
It means if there are 20 qualifying races in 1 week, on Saturday they often offer nearly 10 ITV races, you may not want to bet on more than 15 races. Just a guideline without any guarantee.
Avoid Gubbing & After Being Restricted
if you keep exploiting too much value from the bookmakers, you may most likely be gubbed, which means your betting account will be restricted. Actually, it's just a matter of time before most of the soft bookies limit your account if you do Matched Betting without any precautionary actions. So, we have prepared the following 2 guides - One is Before Restriction, The Other One is After Restriction;
Bet365 Other Offers Guide
For those who seek Bet365 soccer promotion, check Step By Step Instruction for Bet365 In-Play Offer. BTW, have you been aware that you can Extract Well Over £2,000 Extra Money Absolutely Risk-Free from Bet365 Key Offers? If Not, suggest taking a look at 3 Best Ways To Lock-In Profit on Bet365 Offers;
This information is "Member Only", thus please register by just filling in your name & email (that's all) to get a Password to access the document. You can use the password for all the other Member-Only pages.
All of them are very valuable instructions. Just in case you don't have a Bet365 account, suggest not sign-up directly but using cashback sites where Bet365 is usually listed, check & follow how to use gambling cashback sites. 
At the same time, you may want to consider moving up to the next sports trading level of value betting while exploiting Bet365 free bet via matched betting. The following are proven methods which can be used by basically anyone in the world;
Bet365 is a suggested bookmaker by Both of the above systems. 
Besides, legitimacy is not always necessarily no risk. Poor business management leads to company insolvency and you need to know how your money is protected by each bookmaker set by UKGC 3 Levels of Protection. See the list of over 50 Bookmakers' audits on a protection level, for your own safety.  Just FYI.
BTW, in case you have never thought about or been afraid of offshore bookmakers, suggest having a look at World 19 Best Offshore Betting Sites Offers, you may be surprised by their level of safety. 
And, if you happen to be a sharp casino & game bonus hunter, strongly suggest taking a look at the List of 52 Best Bitcoin Casino Bonuses and for those who appreciate the highest privacy, go to the List of Best Anonymous Bitcoin Casinos & Bonuses, just FYI.
If you have any inquiries or need any help from us, please contact us anytime (don't worry, we will not charge you any fee, everything is free here).
Good Luck ("Luck is what happens when preparation meets opportunity" – Seneca)!!
Joshua Walker (bio) 
Editor - Global Extra Money (GEM)