No-Risk Matched Betting Australia Snapshot
Matched betting is completely legal and one of the surest ways to make risk-free online money in Australia & New Zealand.
It works exactly the same way as matched betting in the UK where hundreds of thousands ordinary people do every day.
Watch the below video prepared by Australian matched betting site Bonusbank;
How to do matched betting in Australia – Example
Let me briefly show you the process of matched betting. The below Tab Touch offer provides you with a 100% deposit match bonus with 6x WR (wager requirement) before withdrawing any account balance;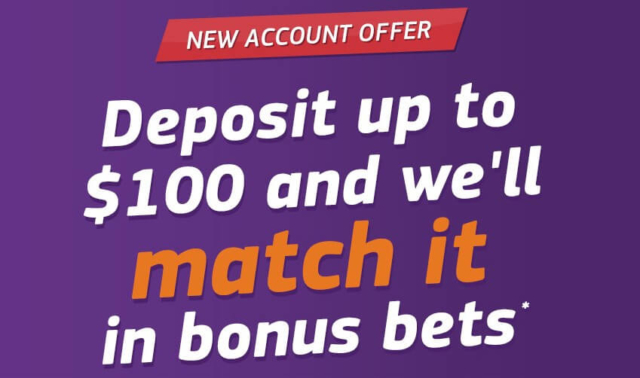 So, the process of matched betting is;
Assuming you deposit $100 to Tab Touch, then the $100 bonus will be credited to your Tab Touch account. In order to withdraw your bonus, you need to wager $100 (bonus) x 6 = €600
There are 2 transactions involved. Since you have $200 in your account ($100 your deposit + $100 bonus), 1 transaction is Back (bet on win) $200 on a sports event at Tab Touch and Lay (bet on NOT win) appropriate stake $ at Betting Exchange Betfair (suggest the use of Betfair Alternatives) or place a back bet on the opposite outcome(s) in other bookmakers a.k.a. Dutching method.
Regardless of the outcome, your losing & winning will cancel out each other. In real practice, usually, 2 bets are not perfectly offset due to the odds difference & exchange commission. Therefore you make a small loss called Qualifying Loss.
If your bet loses at Tab Touch, then your Wager Requirement is completed and at this stage, you successfully cashed out a $100 bonus (minus a small loss depending on the odds) to bet exchange or other bookmakers.
If you win at Tab Touch, then you need to repeat exactly the same process until you complete the $600 wager requirement or your balance becomes 0 at Tab Touch.
For this specific type of offer, there is an advanced technique called "Under Lay" of which details can be found in the method to maximize your profits.
Remember, the key success factor is how to minimize the qualifying loss by identifying the narrowest odds between Tab Touch and betting exchange, etc. during the entire process.
Note: Each offer requirement varies, therefore, you need to carefully check T&C (Terms & Conditions). The key points you need to pay attention to are: if the bonus requires WR (the above case) or is SNR (Stake Not Returned), any minimum odds requirement, restricted any sports category (like except horse racing) or device (only via mobile bet) and valid period, etc.
Matched Betting Australia Legality Review
Online gambling in Australia is legal and regulated in two levels the central government and the state/territorial level.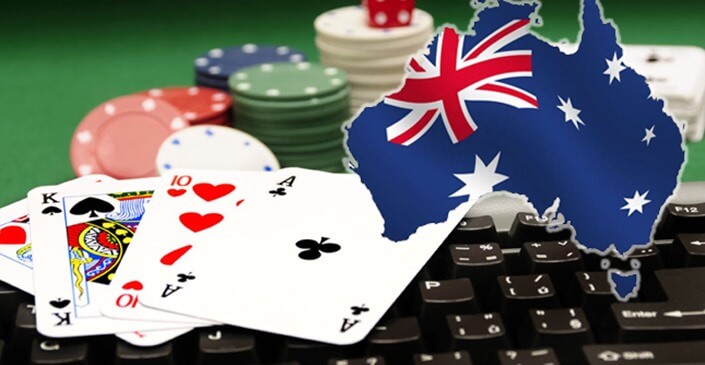 When it comes to matched betting legitimacy, placing back bets and laying bets on different bookmakers as described above to guarantee profits from the bonuses is nothing illegal.  However, providing bonuses depends on individual bookies and state law.
Given the Australian Problem of Gambling (see it in the Conclusion section at the end), the Australian state and territory government implemented the National Consumer Protection Framework (NCPF) in December 2018, which introduces certain restrictions on inducements including bonuses.
Bear it in mind that;
NCPF concerns only the sign-up bonus for new customers and reloads bonuses or any promotional offers to the existing customers are not affected, so people keep earning from the matched betting.
Although the law prohibits it, in reality, most bookies give some kind of welcome bonus through various loopholes to attract new customers. You may need to know how to get them.
Bookmakers in Australia
There are over 20 bookmakers in Australia as shown below;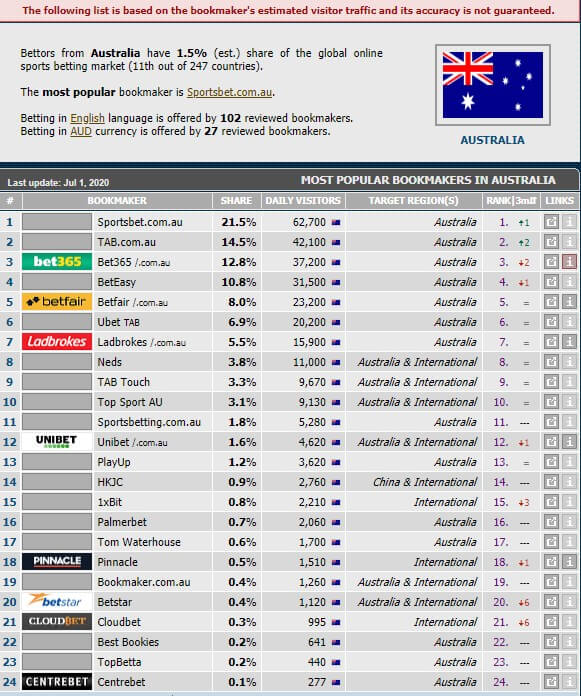 Some of the UK's big names have established places in the Australian market. Sportsbet.com.au, the largest bookmaker is owned by Paddy Power, Bet365 is the global online bookie and BetEasy is the joint venture between William Hill & CrownBet. Betfair is the only betting exchange available currently.
How much can you make from Australian Matched Betting?
From only the welcome bonus (to the new customers), you are supposed to earn well over $3,000 and from reload bonuses (to the existing customers) you may earn $500 – $1,000+ depending on the level of your commitments. Many members of Bonusbank earn much more seen in the testimony below;

Find further in the next Bonusbank Review section.
Australian Gambling Tax
Remember that Australian gambling winning are tax-free, with the 3 key reasons wiki explains;
Gambling is not considered a profession, it's treated as a hobby or recreational activity.
The Australian government views gains from gambling activities not as income, but as a result of good luck. Even if someone wins big, they also lose a lot in other gambling sessions.
The government taxes gambling operators instead.
FYI.
How to start Matched Betting in Australia
You can do matched betting manually on your own.
However,
(1) When you start matched betting, you need to study hard to understand how the whole system works. Although it's risk-free but not human error-free thus your careless mistake may ruin your efforts.
(2) Doing matched betting manually is very time consuming and tiring mainly because you keep several bookmakers & betting exchange sites open and compare the odds before placing the bets properly.
(3) Besides, you regularly need to check & update the bookies' free bet offers to identify the matched betting opportunities which are also time-consuming including the latest sign-up bonuses if available.
Therefore, as many British do in the UK, using a Matched Betting Software service is the smartest & highest-cost performance way to profit from it.
Bonusbank Review
So, let us review Bonusbank which is said to be the best matched betting subscription service in Australia, by examining how Bonusbank solve the (1) – (3) of the self matched betting problems we just listed above;
(1) Matched Betting Education & Training
Bonusbank prepares written tutorials for beginners to advance their level and comprehensive knowledge base. Importantly, you can access over 20 video tutorials as below;

(2) Matched Betting Software & Calculators
Bonusbank provides you with sophisticated software to make your matched betting easy & efficient, represented by;
Bonusbank ATM (Oddsmatcher)
ATM stands for Automatic Telling Machine because it automatically tells you what to bet on. Nico, the founder of Bonusbank said;
As we were the first to launch in Australia, and no-one had ever heard of an 'oddsmatcher', we thought that it was a better name. Especially since we are Bonusbank.
Watch the "Using the ATM" video which we took from the above video tutorial;
On top of the ATM, Bonusbank's key software are;
Bonusbank Horse Power
Horse racing is an everyday event in Australia, and bookies offer many types of refunds means horse racing is an important source of matched betting and you need quality software for it. Also, watch the "How to use Horsepower" video which we took from the above video tutorial;
Dutching
Dutching is a popular betting strategy to increase the winning rate while reducing the risk. In matched betting & Bonusbank, this software can be used for Turnover means WR (wager requirement) & Arbitrage.
Given the fact that the 3 most popular Aussie sports of NRL – National Rugby League, AFL – Australian Football League (Aussie rules football), and the Big Bash – Cricket rarely have a draw, looks like it's a smart idea to dutching rather than laying in Betfair to save the commission.

2Up Matcher
You can use the matcher specifically designed for the Bet365 2Up Early Payment offer (see details), which is supposed to be one of the tastiest matched betting opportunities;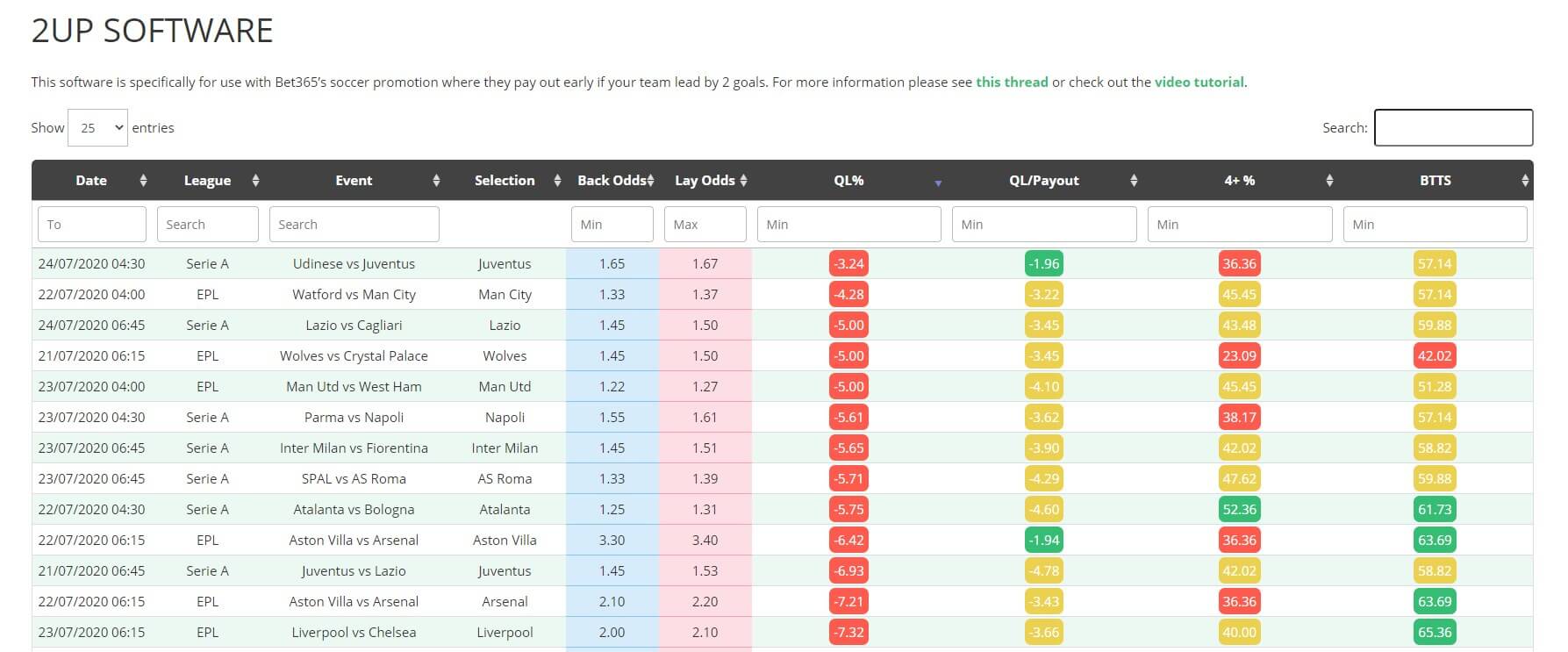 Matched Betting Calculators
You will have below matched betting calculators to meet basically all types of bookmakers' offers;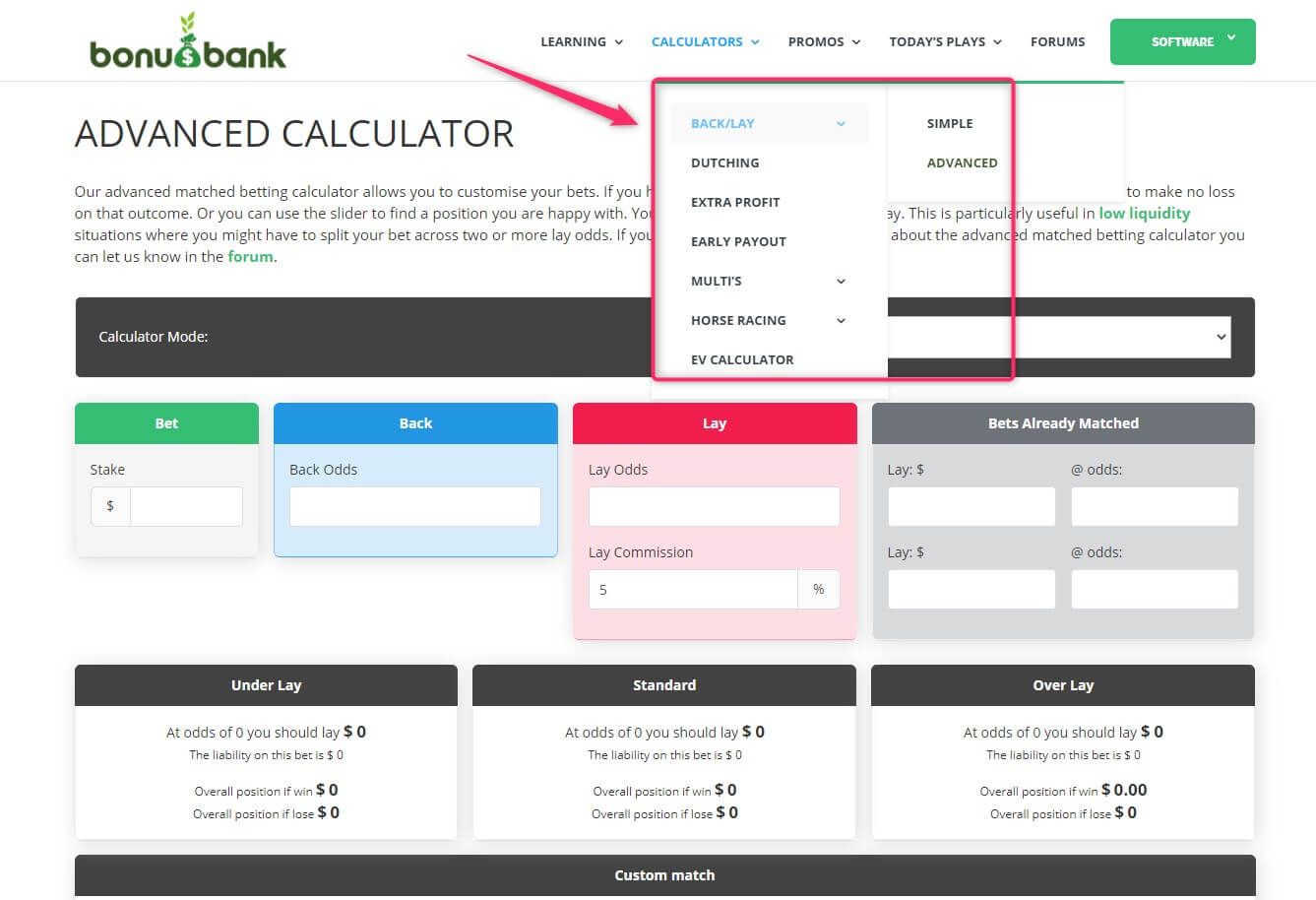 (3) Update Bookmakers' Offer
Daily Offer
Every day, Bonusbank provide you with the available offers like the below, which means you don't need to search for them but just take the bonuses listed;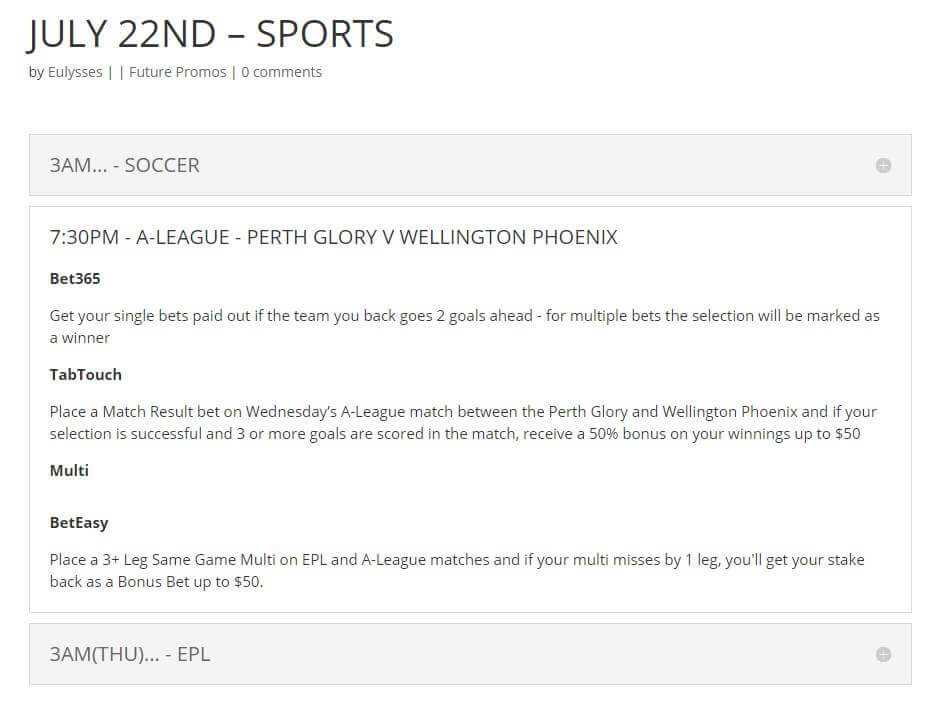 Sign-Up Information
The forum will help you know the latest sign-up opportunities by the state as below;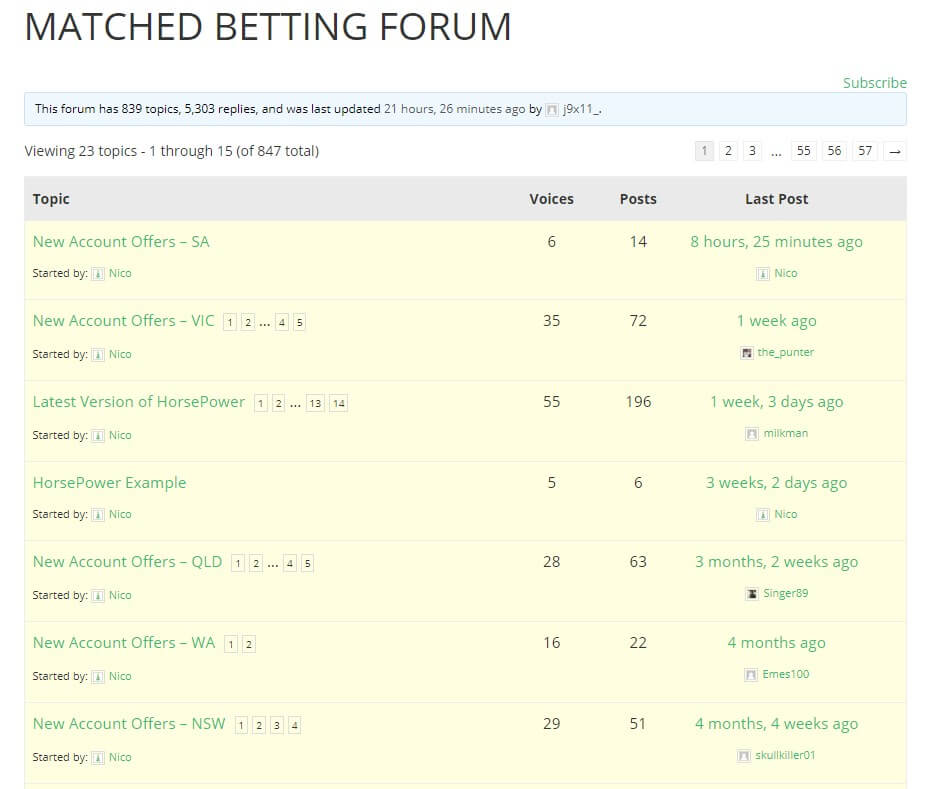 How much money can you make from Bonusbank matched betting?
Bonusbank reports the daily return as below;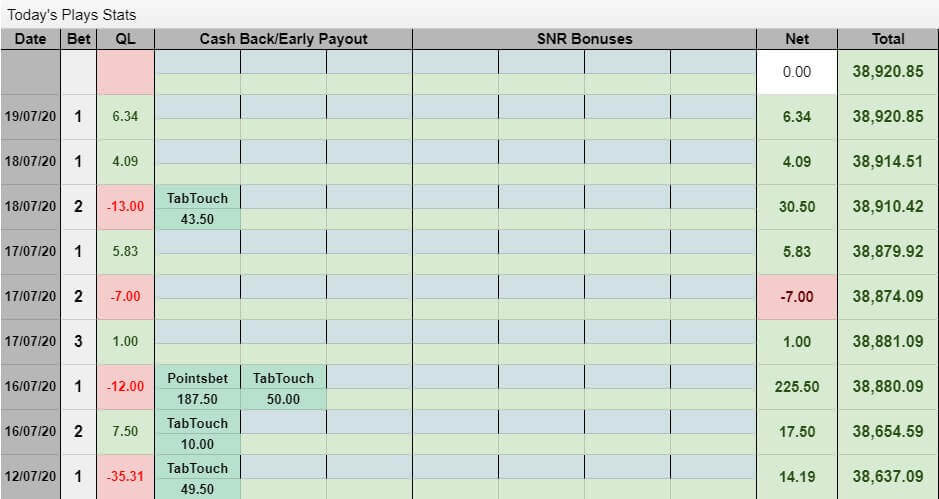 The above table indicates the net return from their suggested plays since the launch in April 2017. So, around $39,000 during the 39 months-period, means $1,000 per month. This may give you a better insight into how much you can earn from Bonusbank.
Bonusbank Summary
The below table summarizes Bonusbank key information;
Services
Tutorial: Full training guides & videos  /  Offer: Today & Future Promo  /  Software: ATM (Oddsmatcher), ATM Alerts, Dutching, Horse Power (Racing) & 2Up /  Tools: 12 Calculators
Forum

Nico describes the Bonusbank community as;

Over 1000 different threads there covering a range of topics. More active than our forum is our chatroom, which has a strong community of people chatting through-out the day. On a Saturday it is especially busy and we can have a couple of hundred people online and thousands of posts.

Bonusbank vs Bonusmoney

Nico explains Bonusbank's key competencies over Bonusmoney, the biggest contender as below;

We offer the widest range of matched betting tools and software available in Australia. The ATM covers more bookies, sports, and markets than the Bonusmoney equivalent, and we also have a chrome extension that provides notification of arbs/good SNR matches. We also have Australia's only dutching software, we are the only site that offers an app, we have software specifically for the Bet365 2up offer, and we offer a host of other calculators and tools. Despite all this, we are also the cheapest premium matched betting service available.

Pricing

Premium $47/month  &  $225/6 months  &  $400/year  (see the table below)

Is Bonusbank safe?

Even if you pay a full annual fee of $400, you will recover it within the first week or so, therefore, pretty good risk & reward ratio.

Bonusbank Free Trial

Register here – you can earn up to £70.

Bonusbank Coupon Code

Use the "GEM" code when you sign up for the premium to get a 25% discount on the 1st month. Go HERE.
Price & Service Table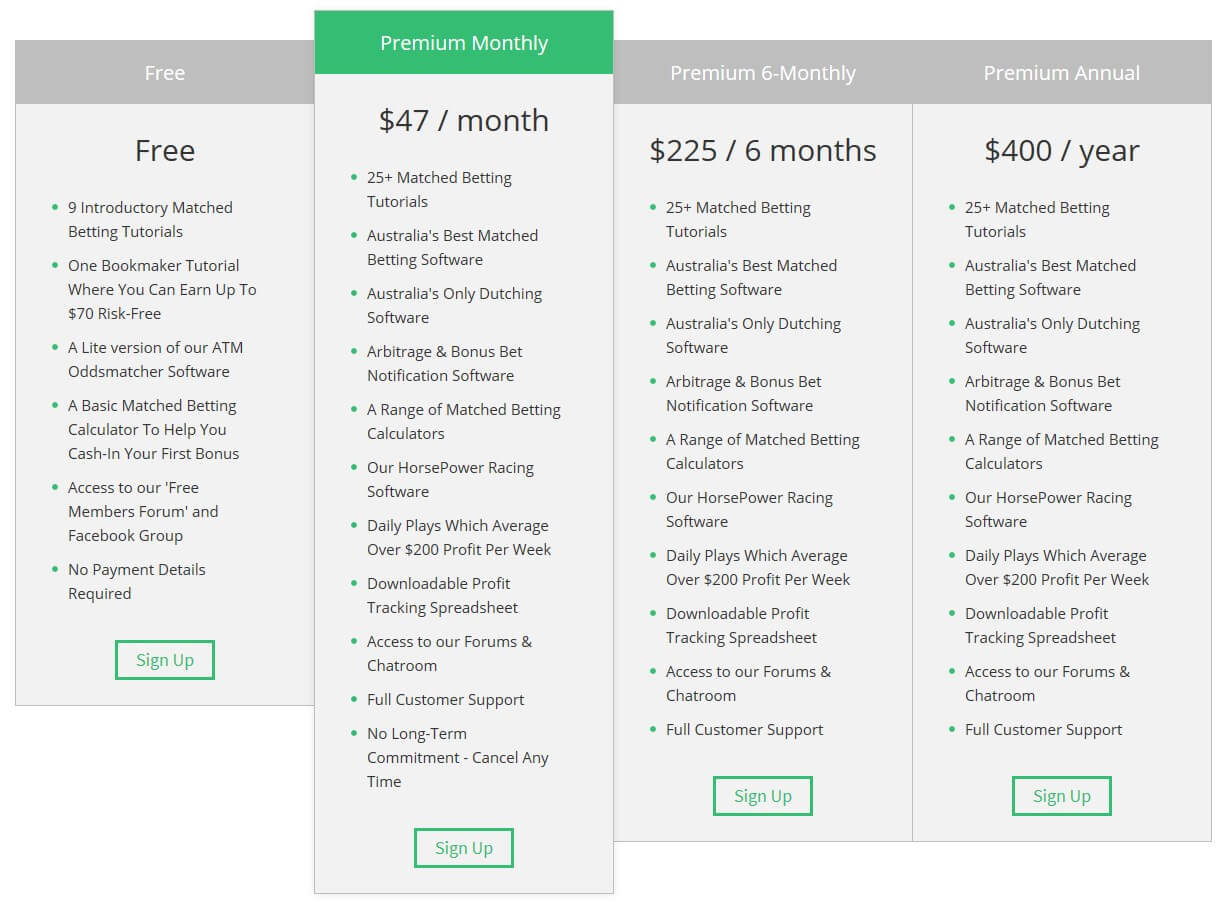 Matched Betting in NZ
BTW, can people in New Zealand enjoy matched betting by using Bonusbank?
The answer is YES.
Australian bookies accept customers from New Zealand, and in most cases, Kiwis are given bonuses in exactly the same way as Aussie customers. The only point you need to remember is that Australian bookmakers deal only AUD, therefore you face the currency exchange risk.
Otherwise, you can use all the Bonusbank services for New Zealand matched betting, in fact in the Bonusbank forum, there is a specific thread where members from New Zealand can share their experiences with each bookie in order to help each other.
Matched Betting in Australia Conclusion
Bonusbank makes matched betting in Australia easy & lucrative.
Aussies, Stop Gambling!!
Australians are the world's biggest gambling losers as seen from the below chart based on H2 Gambling Capital;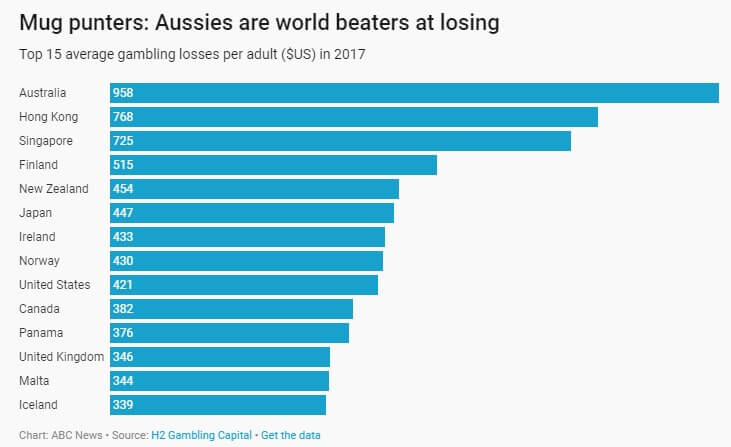 On this occasion, allow us to share a bit about our betting principle.
Please avoid prejudice of "Betting = Gambling". We do bet but don't count on luck. We do 6 Advantage Plays based on mathematical edge to beat the bookies, casinos & bingo. When it comes to Sports Betting & Horse Racing, we use Matched Betting / Sports Arbitrage / Value Bets On Proven Systems & Tipsters to lock in a profit or consistently earn extra income for the long term.
With that said, one of our policies is "Betting On Luck Is For Losers, Stop Gambling But Bet on Only +EV (Expected Value) To Win Reliably". It is effectively our way to promote Responsible Gambling under the regulation, and we strongly support Gambling Help being explained in about us.
We, Global Extra Money (GEM) would like our readers to exploit reliable money-making opportunities as much as possible. Matched Betting is probably the easiest advantage plays and this Bonusbank review aims to provide you with the best approach to matched betting in Australia.
Australian Bookmaker Account Restriction a.k.a. Gubbing
Nico said;
Bookies gub people in Australia in much the same way as everywhere else. Some bookies are trigger-happy with it and you are lucky to last a month, others are far more lenient (i still get bonuses on an account i've had for more than 4 years). In all cases, taking sustainability measures will help eg mug betting etc.
We already prepared the following 2 guides – One is Before Restriction, and the other one is After Restriction (the cases we use are UK bookmakers though, basic tactics & methods can fully apply to Australian matched betting);
We believe the above 2 guides will help you keep exploiting unfair bookies, means will enable you to make money on the side reliably for the long term.
Advantage Play Progression Tactics
As said, we use 6 Advantage Plays based on the EV. When it comes to sports betting, we have 3 advantage plays. Among them, we suggest people take the evolving move as a logical and the safest approach for newbies. namely;
Starting from Matched Betting / Sports Arbitrage (sure bet – see Cheat-sheet for Dummies). Because these are basically risk-free and you can lock in profit from almost every bet. This means you can start safely, which will help change your mindset toward betting activities/gambling.
Comparing matched betting & sports arbitrage, many people feel more comfortable starting matched betting first because you can do it easier with a smaller bank. And, in Australia, we strongly suggest you start matched betting first with Bonusbank.
However, these 2 methods could be relatively short-lived due to the ever-tightening soft bookies' account restriction. See the rationale in Know Bookies' Business Model.
Thus, evolving into Value Betting without risk hedge which is more size with better efficiency for the long term is a natural move as an ultimate betting activity.
With that said, you may want to consider moving up to the next sports trading level of value betting while exploiting the bookie's free bet via matched betting. The following are proven methods that can be used by basically anyone in the world, FYI;
We always value our readers' feedback, if you have any opinion or suggestion on how to improve our site or any list of information you would like to see on our site or any questions you would like to ask, please let us know via contact.
Good Luck!!
Joshua Walker (bio)
Editor – Global Extra Money (GEM)