What Are Horse Racing Refund Offers?
Horse racing refund offers are basically IF bets, means your losing bet will get money back if a certain event happens. 
Bookmakers offer such horse racing refunds every day. To be specific, we are referring to the following refund offers for your better understanding
Back A Winner Refund – 4/1 (or 3/1) Winner Refund or Win by 2 Length etc.
Runner-Up Refund – 2nd (& 3rd) Finish Refund, Beaten By Head or Neck Refund, etc.
Refund As An Insurance – Faller Refund
We analyze the common 10 types of such offers and categorize them into 4 levels based on the expected value to evaluate each. 
What Is Our Fundamental Betting Strategy?
Before going into the detailed analysis, allow me to briefly share the underlying method we use for sports betting/horse racing, which is Matched Betting.
If you're not familiar with it, suggest taking a look at Matched Betting For Dummies. But, let me go through the process very briefly by using Betway's offer of "Money back as a Free Bet on all ITV races, with 6+ runners, if your horse finishes 2nd", a typical runner-up refund;

Matched Betting Brief Process
How we construct matched betting for this offer is;
2 transactions of Back (bet on win) horse A at Betway & Lay (bet on NOT win) the same horse A at a betting exchange like Betfair so that you cover all outcomes.
Regardless of the outcome, your losing & winning will cancel out each other. In real practice, usually, 2 bets are not perfectly offset due to the odds difference & exchange commission. Therefore you make a small loss called Qualifying Loss. 
If your Horse A doesn't finish 2nd, you will end up with the above small loss.
If your Horse A finishes 2nd, you will get a refund of up to £/€25 in this case. So, you repeat the exact same process in any horse race but use the free bet for the back bet at Betway. Then, this time free bet value (minus a little loss) will become your net profit. You will likely pocket around £/€20 net profit from this offer.
Of course, we won't hit a refund in every single race, but we're pursuing value in the long term as explained later. Thus, we'll be making money over time without fail.
The success factor is how to minimize this qualifying loss by selecting the horse of which the odds gap (between Betway & Smarkets) is the narrowest. For further details, please see Place Qualifying Bet Section in Free Matched Bet Starting Guide (2) – Place Qualifying Bet.
As an alternative to matched betting, you can use Dutch Method, see horse racing dutching tips.
BTW, many people imagine matched betting is for only UK & Ireland, wrong, check;
this approach enables everybody in the world including US citizens to make decent profits from this risk-free betting technique
for Germany, Austria, and Switzerland residents, suggest this program that focuses on these 3 countries
when it comes to Australia, this service is supposed to be the best.
Betting Exchange
As you see in the above process, the betting exchange represented by Betfair (you may want to use Betfair Alternatives) is essential for matched betting.
There are 4 established betting exchanges as below;
Betfair (see
Betfair Alternatives
)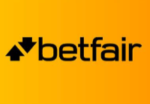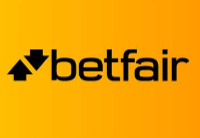 Smarkets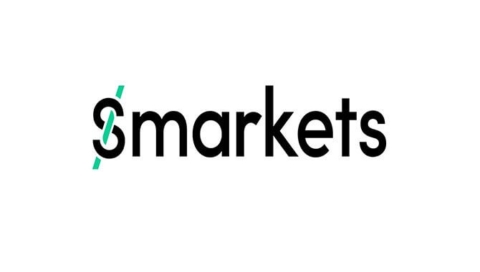 BetDaq (Warning)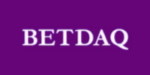 And, in case you are not familiar with the betting exchanges, the below 2 documents will be of good help;
Anyhow, for those who have not opened a Smarkets exchange account (Smarkets is a rising star in this category), we prepared a step-by-step guide for your convenience – the  "+" icon underneath displays Full Contents;
In case you can't access any betting exchanges in your country use this method.
Why Are Horse Racing Refund Offers Important?
The UK Horse Betting market is the 2nd largest in the world next only to Japan. Horse racing is an everyday event.
Major bookies such as Bet365 give you a Refund Offer called Feature or ITV 4/1 Race offer every day.
The busiest day is Saturday when ITV televises the race usually from 13:30 – 16:00. The market is filled with a lot of Freebets opportunities.
On top of these regular events, you will find massive offers in big festivals like Cheltenham, Grand National, Derby & Royal Ascot, you name it.

The point is you can make a lot of Risk-Free Extra Income from Horse Racing Refund Offers via matched betting techniques instead of mere gambling. 
Actually, only from the Bet365 Horse Racing Refund, you can expect well over £3,000 every year. For the rationale behind this, please access How To Guarantee Profit from Bet365 Feature Race 4/1 Offer.
Together with Football Refunds, Horse Racing Refund Offers would be part of your engines to drive your £1,000 monthly income on the side through matched betting.
Evaluate Value Of Each Offer – Horse Racing Returns Calculator
Every offer has a different value. Therefore it's very important to decide which offers should be worth pursuing & which are not, or prioritize the offers by gauging the value as well as setting up tailored tactics to ensure profit.
This is the key objective of this document.
EV – Expected Value
As usual, we use EV (Expected Value) to gauge the value of Horse Racing Refund Offers. EV is the average value for the long term.
As long as you keep taking the offer with + (Positive) EV, you will be profitable. The Expected Value calculation formula, in this case, can be:
EV = (Outcome A Value x Probability % of Trigger Condition ) – (Outcome B x (1 – Probability % of Trigger Condition))
Although you don't need to master any of the mathematical formulae, if you would like to know more about EV & Implied Probability, please take a look at Beat The Bookies By Knowing How Your Enemy Makes Money – Secret Of Odds.
Outcome A is Receiving Refund Value while Outcome B is the Qualifying Loss. And, the probability of occurrence a.k.a. Implied Probability % is calculated in the below formula;
Implied Probability % = (1 / Decimal Odds) x 100
Example of horse racing betting returns calculator for refund 
Let's set a hypothetical but practical scenario as follows;
Back Stake £25 (the refund offer max range is between £10 – £50, so just use around the middle)
Refund is usually in the form of a Free Bet (Bet365 give you cash, thus they are high value), of which cash value is estimated to be 80%, which means £20.
The Back Odds of your horse is 5.0 while the lay odds are 5.3. Exchange is Smarkets, thus commission is 2%. Then, the qualifying loss is £1.8 (7.2%) calculated by Free Software as below;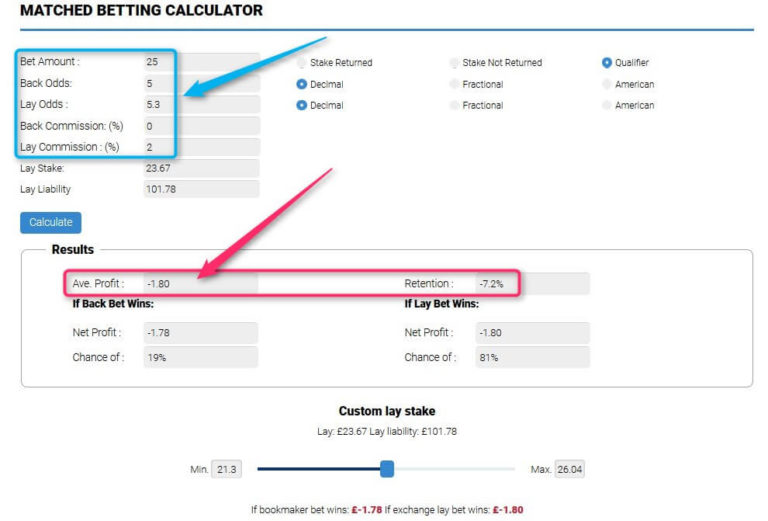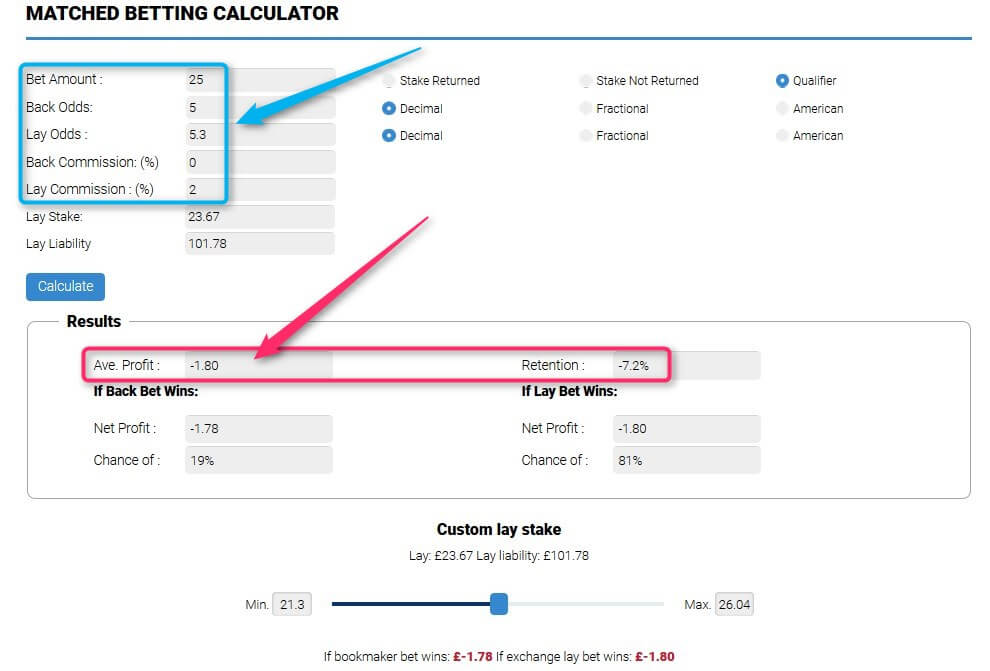 Assuming we're taking up the 2nd Place Refund Offer, then regarding the probability of 2nd finish;
We can calculate based on the bookie's Each Way term such as 3 places with 1/4 or 1/5 payout. However, it's a bit complicated.
More importantly, the implied probability based on the place terms tends to give too high odds to top runners to attract place bets. This means favourites' probabilities tend to be lower, while underdog especially outsiders' probabilities become too high, which means payouts get worse.
Therefore allow me to avoid unnecessary complications and make a bold assumption that the probability of 2nd would be similar to the probability of winning (top), which I assume is closer to the true probability.
Then the implied probability of finishing the 2nd is 1/5 x 100 = 20% So;
EV = (£20 x 20%) – (£1.8 x 80%) = £2.56 , which is +EV, means you will earn average £2.56 from this offer for long-term.
Prioritization & Go or No Go Parameter
Calculating EV for each offer to decide Go or No Go is not the purpose of this document given the multiple variables. But we try to give you a clear ranking of the offer by focusing on the probability of the refund trigger condition.
Then, we need to establish certain norms to decide if the offer is worth pursuing. With the above scenario, we can calculate the probability of hitting the trigger condition to achieve Break-Even (BE), the point of EV = 0 is;
EV = (£20 x BE%) – (£1.8 x (100% – BE%)) = £0 Then, BE = 8.26%
So, as long as the probability of the trigger condition is above 8.26% you will achieve +EV, thus worth going for it. Otherwise, it's better to forget.
Let me reiterate, that this parameter is sorely based on the above scenario. Allow me to emphasize that the sole purpose to develop this % is to prepare the Basic Norm for the priority order of each offer and provide you with a better insight into the rationale to select the offer.
Prioritization Of Horse Racing Refund Offers – 10 Refunds Analysis & Suggestions
I'll list up to 10 horse racing refund offers in the order of higher probability & availability of the lock-in profit method. For this purpose, I re-categorized them into 4 as follows;
A. Too Good To Miss (Guaranteed Larger Profit)
B. Must Pursue (Guaranteed Modest Profit)
C. Should Pursue (Not Guaranteed Profit But Higher Probability)
D. Opportunistic Approach (Not Guaranteed Profit & Low Probability)
A. & B. wise, we don't need to be bothered by the probability because we can lock in profit. Means always Positive EV. Thus worth pursuing. We discuss the probability in C. &. D.
A. Too Good To Miss
Firstly, it's not a regular offer, but you will find juicy offers in big Meetings such as the ones in the below image (source: Rarcebet Blog);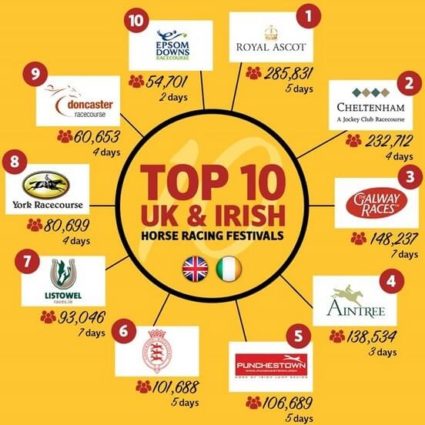 Let's list a few typical offers from Cheltenham Festival – see the details in our separate report of Cheltenham Betting Offers & How To Make £/€ 1,000 Profits.
1. Risk-Free Bet
"Money Back If You Lose", namely risk-free bet. It is 1 of the most popular offers often run by Skybet & Betways;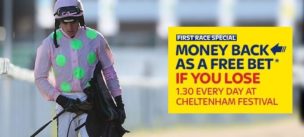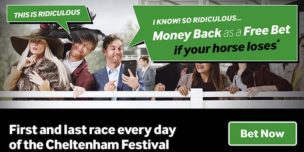 You can lock in profit with the simple Under Lay method specified in How To Lock-In Profits from Risk-Free Bet Sign Up Offer By Matched Betting.
2. Single IF (Trigger Bet)
Why Single? Because we will see the offers that require Double Triggers later. It is another popular tasty offer claiming "If SP Favorite Wins, Money Back" run by Ladbrokes as below;

We can also lock in profit from the Extra Lay method by using Customized Spread in How To Lock-In Profit on Trigger Bet with Extra Lay Spreadsheet.
BTW, a few big bookies like Ladbrokes & Sky bet conduct a tasty offer related not only to mega festivals but also medium size events which ITV televises;
All of these offers are essential to pursue. So, never ever overlook the offers in the big meetings. I will list 30+ UK key racing events scheduled for your convenience. Click the "+" mark to open the information;
B. Must Pursue (Guaranteed Modest Profit)
This is also the category you can lock in a profit by using our customized spreadsheets. As you know, locking-in profit means we will be profitable regardless of the outcome of the race.
Therefore, the probability of occurrence is not an issue and we should pursue it as long as these horse racing refund offers are available.
3. Back A Winner
Bookies incentivize you to bet on longer odds horses (which means less probability of winning). Since you get a refund if your horse wins, the lower the odds, the more you may win.
From this perspective, the 3/1 offer is better than the 4/1 offer.
Betfair ( & Virgin Bet) 3/1 Offer – Betfair regularly runs "Back a winner at SP odds of 3/1 or greater (Racing Post decision final) in any live ITV race. And receive a free bet to the same value up to £25 " See T&C that appears on Saturday when ITV televises the race. Follow the Instruction on How To Lock-In Profit on Back A Winner Offer by Overlay Betting – Coral & Betfair Case.
Bet365 Feature Race 4/1 Offer (T&C) & ITV Racing 4/1 Offer (T&C) – Bet365 runs the offers effectively every day. They claim "Back any single winner at 4/1 or more on any race televised live on ITV Racing (or Feature Race on the day's TV broadcasting is not available – 2 races/day). And you can have a risk-free bet to the same stake (up to £50*) on the next race broadcast live on ITV Racing (or Feature Race) ". On top of the instruction previously listed, you may also want to check 3 Proven Methods To Lock-In Massive Profits From Bet365 Promotions:
4. 2nd & 3rd Places Refund: Less Than 3 Places Case
Paddy Power & Skybet run this offer almost regularly in the 1st Saturday race televised by ITV. It claims "Money Back As A Free Bet If 2nd or 3rd up to £/€20 ".
We can lock in profit when the exchange offers Less Than 3 Places.
Use the spreadsheet in the instruction of Horse Betting 2nd Place Refund Calculator For A Guaranteed Profit. However, in the race where 4 or over places are offered in the exchange, we will no longer be able to guarantee a profit.
C. Should Pursue (Not Guaranteed But Higher Probability)
So, from this point onwards, the level of probability of trigger condition occurrence is the key parameter to deciding priority.
5. 2nd & 3rd Places Refund: 4+ Places Case
It is by far the highest probability of hitting the trigger condition.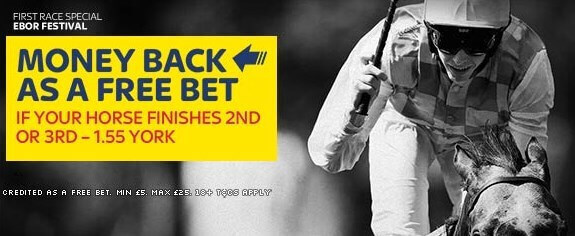 Based on our assumption of choosing the horse with 5.0 odds, the implied probability of finishing 2nd or 3rd in each is 20% (I apply the same probability of winning to both 2nd & 3rd running).
So altogether 40%, which is much higher than the break-even probability of 8.6%, thus it's worth pursuing.
6. 2nd Place Refund
This offer is regularly run by a few bookmakers such as Sporting Bet & Unibet etc by claiming "If your selection finishes second, we will refund your stake as a free bet up to £25.";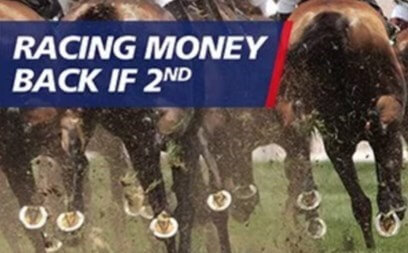 The probability of trigger condition is 20% according to our assumption, better than 8.6%. So worth pursuing.
There are several tactics or factors to achieve better probability such as selecting a fewer-runner race etc. For further details, please check 6 Best Ways To Make Extra Money from "Horse Betting 2nd Place Refund".
D. Opportunistic Approach (Not Guaranteed Profit & Low Probability)
The offers in this category are very common and you find them almost every day.
However, be noted that you need to satisfy 2 Trigger Conditions. Because most of the offers are "If your horse finishes XX by doing XX". This double trigger lowers the probability drastically.
Therefore, you need to be very selective before you pursue it.
7. 2nd (& 3rd & 4th) to SP Favorite
This is something like "Money back as a free bet up to £10 if your bet is second, beaten by the SP favourite.";

The SP Favorite largely affects the probability. There are 2 types. The first one is "2nd, 3rd & 4th to SP" which is often run by Paddy Power & Betfred. The 2nd one is just "2nd to SP" which is the more prevailing type.
Obviously, the 1st type has more probability. For "2nd, 3rd & 4th to SP", assuming the Favorite's odds is 2.0 of which probability is 50%, the final probability of hitting the trigger by our horse is 50% x 20% x 3 = 30%, much higher than 8.6 %.
In fact, this type can be in the previous "Should Pursue" category but I position it here because it is under Double Trigger. Anyhow, it is definitely worth pursuing.
What about just "2nd to SP"? 50% x 20% = 10% OK, still better than the threshold of 8.6%, thus worth going for it. But what if the favourite's odds are 2.5?
The probability is 40%, then 40% x 20% = 8%, which is lower than 8.6%.
So, these suggest it's essential to check if the race has a strong favourite with 2.0 or shorter odds. If not, you may want to pass over this offer.
If you blindly take up the offer, the average winning % of the favourite is 32.3% (source: Mirror), which means EV is negative thus you will lose.
A few more numbers, according to Flat Stat, the SP Favorite's winning stat in further break-down are;
Odds on favourites in Handicap races won 53%
And, odds on favourites in Maiden stakes races won 61%
Finally, odds on favourites who are 1/4 or shorter won 86%
Just FYI.
8. Faller Insurance
In the National Hunt Racing (British Jump Race) season, namely Oct – April, this offer claiming "Get on The Jumps: Money back as a free bet if your horse takes a tumble" is becoming quite popular;

According to Timeform, the faller's actual % based on the field size in handicap races is around 8% as an average as the below table shows;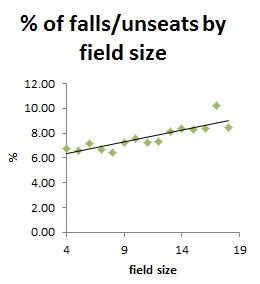 So, it's close to 8.6% of our threshold. Looks like the larger the field, the higher the probability (don't get confused with the distance that seems to have surprisingly only negligible effect according to the same source).
Importantly, the biggest influence comes from the course condition. See the below list of fallers' top & bottom courses in the UK & Ireland;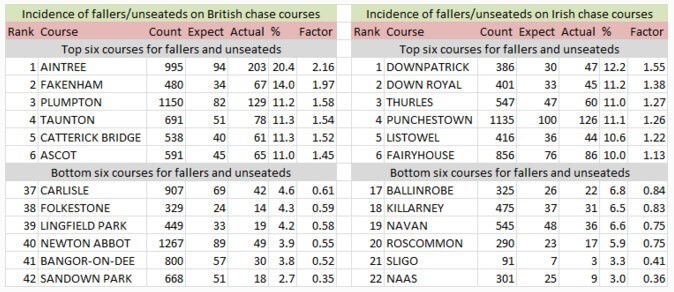 Therefore, if you want to go for this offer, focus on the top 6 courses and avoid the bottom 6.
9. Win By A Distance – By 2 or More Length
Flat Race
William Hill & a few other bookies run Winning Boost by claiming " if the horse you back wins by 2 or more lengths, you'll get a 15% free bet bonus on top of your winnings";

According to William Hill's advertisement shown at the shop says "30% of flat races last season were won by 2 lengths or more".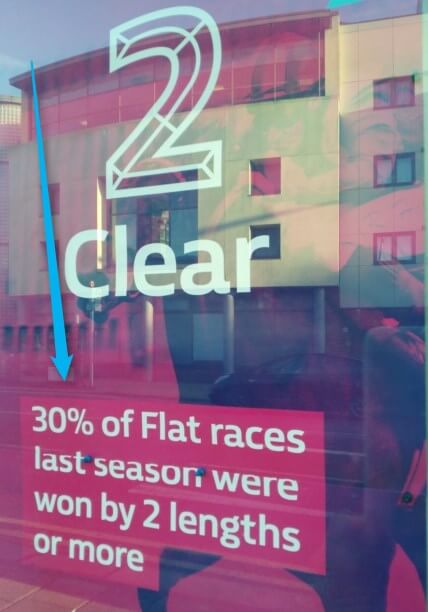 Assuming their data is genuine, the probability using our original assumption is 30% x 20% = 6%. Besides, this offer is a 15% winning boost. Then, your free bet will be (5 – 1) x £20 x 15% = £12 rather than £25 of stake refund, even much worse.
However, since this is a Winner's offer you can select the favourite, so, let's assume we select the favourite with 2.0 rather than the horse with 5.0 of our original assumption. The probability is 30% x 50% = 15% , bigger than 8.6%.
Then, what about the free bet? It will be (2 – 1) x £25 x 15% x 80% = £3 Then, EV = (£3 x 15%) – (£1.8 x (1 – 15%) = -£1.08 Negative EV. From every angle, this offer is not worth pursuing unless you combine it with other promotions (see the details in the Wrap-Up).
Jump Race
The above 2 Clear is for Flat Race. For Jump Race, William Hill offers "High 5";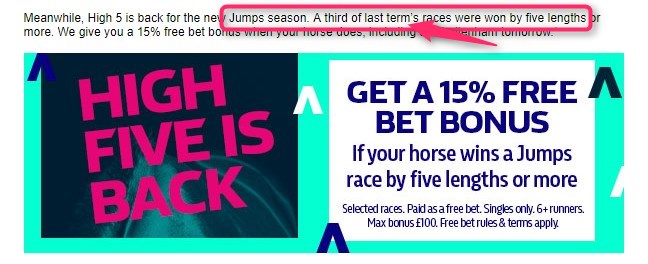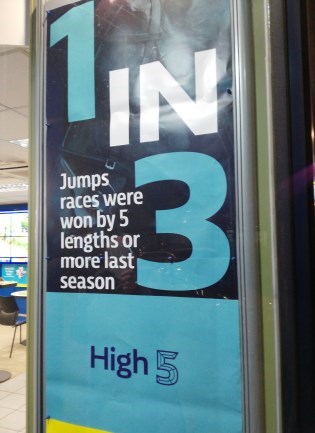 Given the same 15% free bet offer with similar statistics – A Third of last term's races (33%, slightly better than 2 Clear 30%) were won by 5 lengths or more, the expected value is more or less the same as 2 Clear, means not worth pursuingunless you can find a very small qualifying loss opportunity.
10. 2nd Finish Beaten By Length, Neck, or Head
These types of offers are also quite common like " if your selection finishes second, beaten by a neck or less in any race";

I tried to find any data related to the probability of these finishes. Unfortunately, I couldn't locate any meaningful stats. So, if anybody has any ideas, please let me know. Anything will be useful for every reader.
The only number I can use is the above William Hill's information of "30% of winning comes from 2 lengths or more".
Naturally, the case of Beaten by length, Neck & Head will be 70% aggregate. Surely, I can't break it down into each offer.
Again, if you allow me to take the bold assumption of an equal %, then each finish is around 23%. Then, 23& x 20% = 4.6% much lower than our threshold of 8.6%.
OK, I'm afraid, we have gone too far.
The fact is we don't know any facts, which means full of uncertainty. My policy is to keep away from uncertainty which is considered to be a risk.
Therefore my suggestion is not to pursue these offers unless you combine them with other promotions (see the details in the Wrap Up).
Horse Racing Trading Strategies
Betfair Horse Racing Trading
If you want to pursue winning horse racing trading on top of exploiting horse racing refund offers, you may want to take a look at 3 Simple Horse Racing Trading Strategies (for Betfair).
Watch the below video explaining Betfair Scalping as 1 of 3 strategies;
You may also want to check other Caan Berry Products.
Horse Racing Refund Offers – Wrap Up
Obviously, the probability of the trigger condition depends on each case. I might have an overly simplified & standardized norm (which is 8.6%).
However, I hope it at least gives you a good insight into which to choose & how to approach them. Let me quickly summarize the tactics.
Key Variables & Success Directions
Let me remind you that, from the EV formula, the key variables & success directions are;
Refund Value – the bigger, the better
Qualifying Loss – the smaller, the better
Probability of the Occurrence of the refund requirement, namely Trigger Condition – the higher, the better.
Horse Racing Refund Offers – Overall Tactics
Based on the above simple directions, some basic but important tactics are;
Always Stick To Matched Betting Basic Principle – minimize qualifying loss by locating the horse with the narrowest odds gap (between bookie & exchange).

Again, let me reiterate that worth or not worth comments in this document are based on the hypothetical example especially 7.8 % of the qualifying loss. If you find an extremely small loss opportunity, say less than 2 or 3%, almost all the offers must have +EV, thus you may want to go for it. Needless to say, when you locate any arbitrage condition, you should take everything.

Shorter Odds – since most horse racing refund offers to require a top 3 finish, you may want to select the horses with short odds. Besides, generally speaking, the shorter the odds, the tighter the gap between bookmaker & exchange.
Number of Runners – depending on the offer though, the fewer, the more chances to hit the trigger condition, especially for 2nd place refund.
Explore The Way To Exploit All Horse Racing Refund Offers – although I said not worth pursuing Win By 2 or More Length & Beaten By A Length, or Neck or Head if you can combine it with other offers such as Weekly Club, Why Not? Bookies basically don't allow players to combine 2 or more offers. However, the weekly clubs (Paddy Power Reward Club, Skybet Club, Coral Bet & Get Club, etc.) & weekly reward offers (TLC, Bruce Betting & Mint Bet, etc.) may count these bets (if you don't hit the refund, they will definitely count). So, you may want to use these low-value offers to satisfy the weekly club qualifying bets. If you're lucky, you get the refund, even if you do not still progress the qualifying bets. Since the bookmakers can & will change the condition anytime, suggest you always check T&C before placing the bets.
You can tackle horse racing refund offers every day. But if you're busy, focus on Saturdays. Many matched bettors allocate a few hours in the morning to review the bookie's offers. You can use Oddschecker to compare the odds across the bookmakers.
You can also use Free Software or Premium Service (that will save your time significantly) to compare the odds between the bookies & exchanges to locate the tightest gap.
If you check the odds in the final 10 minutes before starting the race, the odds on the exchange will move drastically which may give you a good chance to find great matches against the bookie odds. Many experienced matched bettors earn hundreds of £/€ on Saturdays.
When it comes to the premium service, we make a comprehensive comparison among these 3 services in Matched Betting Software & Subscriptions – Best 3 Deals & How To Choose, which must help you decide which is the best for you. 
Our Betting Principle
Lastly, allow us to share a bit about our betting principle. We never gamble which we define as "Count On Chance".
Our aim in playing Sports Betting is to create solid Extra Money based on 6 Advantage Plays by making the best use of mathematical edge to beat the bookies, casinos & bingo. 
When it comes to Sports Betting, we use Matched Betting / Sports Arbitrage / Value Bets On Proven Tipsters to lock in a profit or consistently earn extra income for the long term.
With that said, one of our policies is "Betting On Luck Is For Losers, Stop Gamble Betting But Bet on Only +EV (Expected Value) To Win Reliably".
It is effectively our way to promote Responsible Gambling. And we strongly support GamCare being explained in about us.
We would like all our readers to get the maximum return from bookmakers' every offer. Evaluating & Creating Specific Tactics for Each Horse Racing Refund in this report is one of our efforts to achieve those objectives.
International Players
BTW, although we use UK / Ireland horse racing refund offers in this document, the underlying concept & tactics should apply to any similar offers in other countries.
In fact, as our name GEM – Global Extra Money implies, we would like all visitors from anywhere in the world to exploit advantage plays.
With that vision, we have issued:
Just FYI.
Finally, allow me to repeat, as long as you take the positive EV offers, It's Impossible Not To Win. Pursue as many as possible. Then mathematics will back you up. You don't need to believe me but should trust simple mathematics.
However, if you keep getting too much value from the bookmakers, you may most likely be gubbed, which means your betting account will be restricted.
Actually, it's just a matter of time before most of the soft bookies limit your account if you do matched betting without any precautionary actions.
So, we have prepared the following 2 guides – One is Before Restriction, The Other One is After Restriction;
We believe the above 2 guides, as well as the prioritization list & basic tactics of horse racing refund in this document, will help you keep exploiting unfair bookies, means will enable you to make money on the side reliably for the long term.
BTW, if you consider becoming a sharp casino & game bonus hunter, strongly suggest taking a look at the List of 52 Best Bitcoin Casino Bonuses and for those who appreciate the highest privacy, go to the List of Best Anonymous Bitcoin Casinos & Bonuses, just FYI.
If you need any assistance from me, don't hesitate to contact me. 
Good Luck!!
Joshua Walker (bio) 
Editor – Global Extra Money (GEM)