What's Cheltenham Festival Betting & Why Is It So Profitable?
Cheltenham Festival 
Cheltenham Festival is the largest Jump Racing a.k.a. National Hunt meeting only after Grand National meetings in April. The festival takes place in March at Cheltenham Racecourse in Cheltenham, Gloucestershire United Kingdom and It features several Grade I races.
Huge amounts of money are gambled during Cheltenham Festival week, with hundreds of millions of pounds being bet over the week.
For full British horse racing key events schedule, see BHA (British Horseracing Authority) and please find the detailed Cheltenham schedule in the next sections.
Why Is Cheltenham Betting So Attractive?
Since a lot of money is poured into the betting market during the Cheltenham Festival 4 Day period (said to be over £150 million), all the bookies work hard to get a better share out of it by providing competitive offers.
That's an excellent opportunity for advantage players to make money efficiently by making the most from the bookmaker offers. Key types of such offers you can expect are;
Enhanced Sign-Ups for the bookies (if you don't have an account yet)
ITV Racing every day supported by Bookies' Usual (or better) Saturday Offers
Extra Places in Almost All Feature Races
Larger Stakes accepted on Many Price Boosts
A lot of Exclusive (invite only) offers are sent by e-mail
Prefestival Built-Up offers like Betfair (suggest use of Betfair Alternatives) below;
In this guide, you will find the typical offers bookmakers provide in Cheltenham Festival and the specific instructions on how to monetize from each offer risk-free. 
How Much Can Matched Bettor Make Money?
See the info from Outplayed (renamed from Profit Accumulator) (PA). PA is a premium subscription service for matched betting (see our Outplayed (renamed from Profit Accumulator) Full Review for the details).
They reported £936.12 average profit during 4 days meeting. 
It is based on their 185 members' samples. See below for rationale;

Not bad, isn't it?
In fact, it's very good, that's why you should not overlook Cheltenham Betting Opportunity.
Cheltenham Betting – Key Info
Let me list up a few key pieces of information you may want to know related to Cheltenham Betting.
Overall Schedule
Cheltenham Festival 2022 Schedule: From Tuesday, March the 16th to Friday, March the 19th for 4 Days. There are 7 races each day, giving a total of 28 races.
Day 4 is known as Gold Cup Day when Gold Cup Race will start at 15:30. It is one of the world's most prestigious horse jumps racing.
Feature Race Schedule
Each day at Cheltenham has a feature race, which is counted among the most important events in the world of horse racing. This means, that bookies try to make an offer to the feature races, therefore, you need to pay attention to;
1st Day: Champion Day 15:30 – Champion Hurdle
2nd Day: Ladies' Day 15:30 – Queen Mother Champion Chase
3rd Day: St Patrick's Day 15:30 – Stayer's Hurdle
4th Day: Gold Cup Day 15:30 – Gold Cup
Besides, there are several other Grade 1 races that include the Neptune Investment Hurdle, JLT Novices' Chase, and JCB Triumph Hurdle, etc. Just FYI.
TV Broadcasting
All through the 4 days, the races are broadcasted by ITV, see the ITV Racing Schedule;

Obviously, bookies running ITV Racing offers such as Bet365 will run the usual Saturday Offer for every televised Cheltenham race.
How To Make Cheltenham Betting Offers Risk-Free / Lock-In Profit
Our underlying method to lock in profit is Matched Betting. We use various techniques based on a matched betting concept to turn bookies tasty Cheltenman Festival Offers into Real Cash Profit Risk-Free. 
Anybody who is already familiar with the matched betting, please skip this section.
Matched Betting – Underlying Method Of Lock-In Profit
For those who are not familiar with the matched betting at all, suggest taking a look at Matched Betting For Dummies where you will find every basic about the matched betting.
However, for your quick start, I'll briefly explain how it works by using the 888sport Sign-Up Offer as a simple example for your easy understanding.

The offer is "Bet £10 Get £30 Free Bet" (for all territories outside the UK, need to enter the "30FB" code when you make your first deposit).
What we basically do are;
2 transactions of Back (bet on win) £10 on Team or Player A or Horse A at odds of 1.5.0 < at 888 Sport & Lay (bet on NOT win) appropriate £ (stake can be calculated by free software) on the same Team or Player A or Horse A at Betting Exchange like Betfair (you may want to use Betfair Alternatives) or Smarkets so that you cover all outcomes (

just in case, you can't access to any these betting exchanges in your country

use this method).
Regardless of the outcome, your losing & winning will cancel out each other. In real practice, usually, 2 bets are not perfectly offset due to the odds difference & exchange commission. Therefore you make a small loss called Qualifying Loss.
But now, you get £30 for Free Bets. You repeat the exact same process but use the free bet for the back bet at 888 Sport. Then, this time free bet value (minus qualifying loss) will become your net profit.
You may be able to extract around £23 – 27 pure profit from this offer Without Any Single Risk.
The success factor is how to minimize the qualifying loss by selecting the player whose odds gap (between 888 Sport & Betting Exchange) is the narrowest. You can use Free Odds Matcher to locate such opportunities. For the step-by-step process, take a look at Risk-Free Betting Starting Guide (3) – How To Extract Profit from Free Bet. 
BTW, the 888sport sign-up offer includes a £10 Casino Bonus, for this action, see the casino bonus hunting guide.
Betting Exchange
As you see in the above process, the betting exchange is essential for matched betting. We discussed more detail about betting exchange in this guide. Besides, we constantly update all top 4 betting exchanges' latest sign-up offers & how to extract cash risk-free from each offer in this list.
Betfair Alternatives
Just in case you can't legally or physically access any of the above betting exchanges in your country, this guide will help you open an account with Betfair Alternatives. 
Preparation & Key Tips For Cheltenham Betting
Let me list a few things we suggest you do prior to the Festival.
Bookmakers' Accounts
It's an excellent opportunity to rake in all available bookmakers' offers. So ensure you have the key bookmakers' account. Go to Betting Cashback Websites – The Ultimate Guide To Be Always Better Off to see how you get additional cash when you sign-up bookmaker's account. 
Follow the instruction we showed above and extract all the welcome offers before taking up Cheltenham Festival Offers.
You may also check Online Betting Sign Up Bonuses – 5 Common Types where you see the exact process for various types of welcome bonuses.
Important Bookmakers List
There are many online bookies, and the below will help you prioritize bookmakers;
1st: Generous & Easy Offers
Bet365 / Betfair Sports / Betfred / Betway / Coral / Genting Bet / Paddy Power / Sport Pesa / Skybet / Unibet / VirginBet / William Hill
2nd: Relatively Difficult Offers
Boyle Sports / Grosvenor / Jennings Bet / Mansion Bet / Quinnbet / Sporting Bet / Star Sports / Toals / Bet600 / 10Bet
3rd: Not Guarantee for Cheltenham but Offer Regular Horse Racing Refund
BetmcLean / Hollywood Bets / Kwiff / Ladbrokes / Mcbookie / The Pools
Bankroll
Given the intensity of the offer, suggest you have enough bankroll, especially in Betting Exchange (s). Well, how much is enough?
Depending on the target of the profit though, you may want to prepare a few thousand £ in at least 2 exchanges like Betfair & Smarkets.
We share 1 key tactic & 2 methods to maximize the efficiency of your bankroll as follows;
Basic Tactics
As kept emphasizing, you will be overwhelmed by many offers. If you have a limited bankroll (or even if you have a big fund), the most important approach to improve your efficiency is PRIORITIZATION. This means you focus on High EV (Expected Value) Offers – see the  10 Horse Racing Refund Offers – Value-Based Best Selection & Tactics To Win.
Don't let your money get tied with low probability, which means low EV offers such as 2nd to SP, Beaten by Head, or Neck, and Faller Insurance, etc.
Commission & Liability Sharing Technique
There are a few simple techniques that can save a lot of your bet exchange commission and reduce the burden of your lay liability (this is the cause that requires a lot of bankrolls in betting exchange).
Visit How To Minimize Exchange Lay Betting Commission & Liability For Matched Betting, where you find step-by-step instructions to increase your fund efficiency & improve profits.
Cheltenham Festival Pre-Practice
In case you're a matched betting newbie, suggest you make some practice before the festival. If you start subscribing to Matched Betting Premium Service that provides advanced software such as Racing Matcher, Each Way Matcher & Extra Place Matcher, etc.
It's a must to get accustomed to how to use it. The links I attached for each software will navigate to Oddsmonkey's explanation page. If you need more information, please take a look at our Oddsmonkey Full Review.
Outplayed (renamed from Profit Accumulator), which I introduced before also provides a similar range of software, so you would like to make a comparison between these 2 by checking our full review and each sign-up offers.
Get Organized & Place Early
As kept saying, it will be very intense work with a lot of races filled with a lot of offers. Just jot down your schedule for planned bet placements well in advance.
The more organized you are, the less likely you are to make any simple mistakes, thus more profits.
Cheltenham Festival Ante-Post
What's ante-post? According to Smarkets;
Ante-post betting is a longer-term bet where bettors trade on the outcome of an event, such as the winner of the Grand National. Betting this far in advance can have greater risks, but also enhanced odds. The odds offered on a horse will change as the race approaches, but you still get the odds that were in effect at the time you placed your bet. Ante-post markets generally offer better odds than would be available on outright winner markets closer to the start of the event because there are plenty of variables that can ruin your bets – such as a horse withdrawal or injury.
Smarkets Ante-Post Explanation
So, the Ante-Post is basically the market of betting before the final declarations are known. Then, when is the final declaration made? As usual, a bit complicated but according to BHA, usually 24 – 48 hours before the day on which the race is advertised to be run.
The odds in the Ante-Post market are better, but if your horse becomes a non-runner, your bet will be a losing bet in the bookmaker.
NRMB (Non-Runner Money Back)
As we list in the next section, several bookies offer NRMB (Non-Runner Money Back) or NRNB (No Runner No Bet).
What's it? It means, even if your Ante-Post becomes a non-runner, the bookmaker will not treat it as a losing bet but refund you.
So, the NRMB offer allows you to place a bet at possibly better odds without losing risk. What about the Betting Exchange?
Smarkets will make a back bet a losing bet (once the race has been declared) and lay a winning bet. However, Betfair will make it voided bet for both back & lay.
So, when you lay at Betfair, you will generate a pure loss of your back bet at the bookmaker if there is no NRMB. That's what I confirmed via Betfair Live Chat before, but now another live chat with Betfair shows;
Very confusing. So, at this stage, I can't clarify Betfair (suggest use of Betfair Alternatives)'s definite ante-post rule. But, the important point is as long as you get the NRMB offer, you seem to have little risk of losing any money but possibly get profit in the exchange (s).
NRMB (No Runner Money Back) or NRNB (No Runner No Bet) Bookies
The following bookies provide NRMB;
Bet365 / Coral / Paddy Power / William Hill / Ladbrokes / Betfair / Unibet / Betstar / 10Bet / 888Sports / Betfred
Note: Don't fail to check the T&C because each bookie may require different conditions such as Betfred (apply selected races – feature races only) or William Hill (Apply only if the horse doesn't run in any other Cheltenham races during the period, thus refund will be made after the festival is over), etc.
Account Restriction – Precautionary Actions
Account restriction is the biggest problem for the advantage players. Many matched bettors seem to worry about taking too much value from Cheltenham Betting Offers, which may instantly lead to Gubbing.
Gubbing Pre-Festival
It doesn't make sense to be gubbed before such a tasty period. So, be modest, and don't take values too aggressively. 
Gubbing During Festival
However, all bookies are totally overwhelmed whole through the 4 days. Given the yet tiny portion of matched bettors out of the total betting market, their priority should not be paid to locating the bonus abusers (this is what bookies describe matched bettors).
Although there is no guarantee, we think it's even safer to grab value than the calm period.
Anyhow, we have already prepared the following 2 guides;
List Of Typical Cheltenham Offers & Instruction

Let me list a few typical offers bookmakers provide for the Cheltenham festival by type of offer.
Festival Special Sign-Up (Account Open) Offer
888sport: Offer & How To Monetize Risk-Free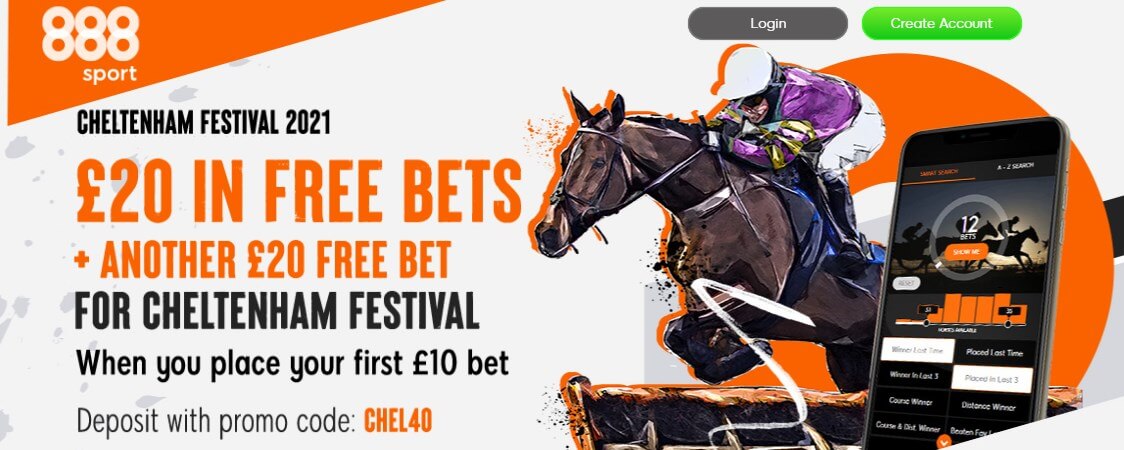 "£20 in free bets + Another £20 Cheltenham Free Bet"
It's basically the same as their standard welcome offer, but you can get additional Free Bet, so make sure you use the code "CHEL40".
You just do a simple back and lay off the qualifier bet (in normal mode) and free bets (in SNR mode) as explained before, or just go to matched betting starting guide (2) for the qualifying bet & (3) for a free bet. 
SpreadEx: Offer & How To Monetize Risk-Free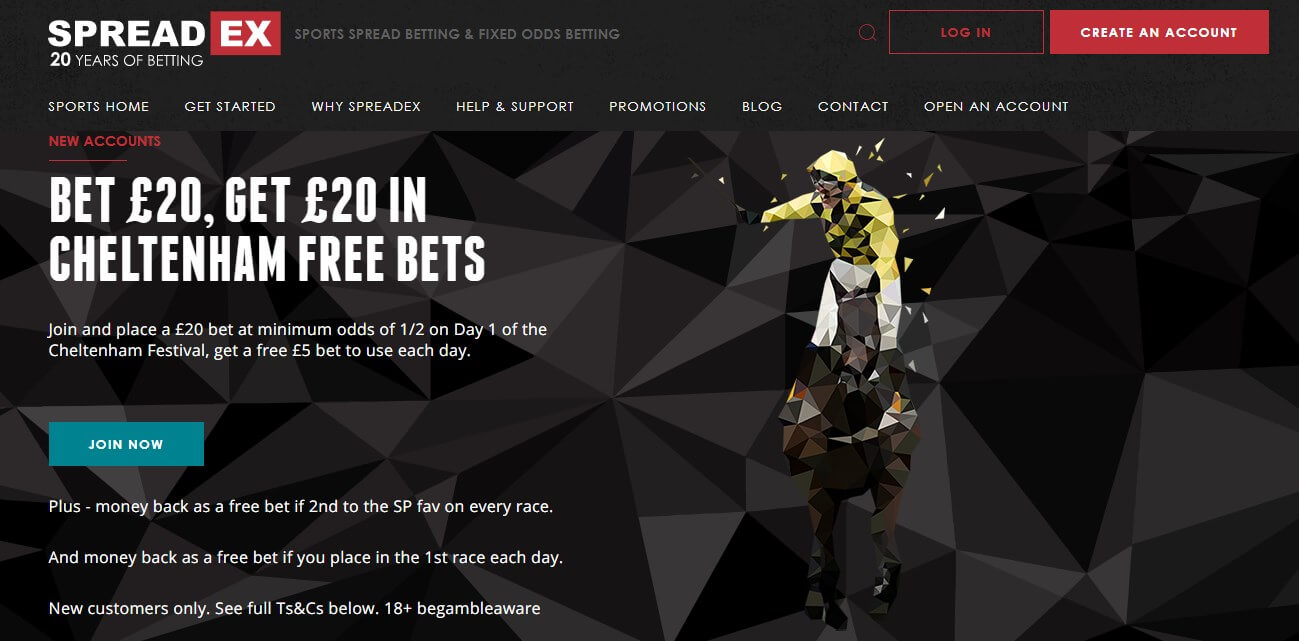 Join and place a £20 bet at minimum odds of 1/2 on Day 1 of the Cheltenham Festival, get a free £5 bet to use each day.
Go to SpreadEX Promotion Page and select Cheltenham Offers. Use the above simple back & lay method to cash out the free bet. 
Additionally, you will get money back (up to £50) if 2nd to the SP fav on every race and a risk-free bet (up to £50) if you place in the 1st race each day.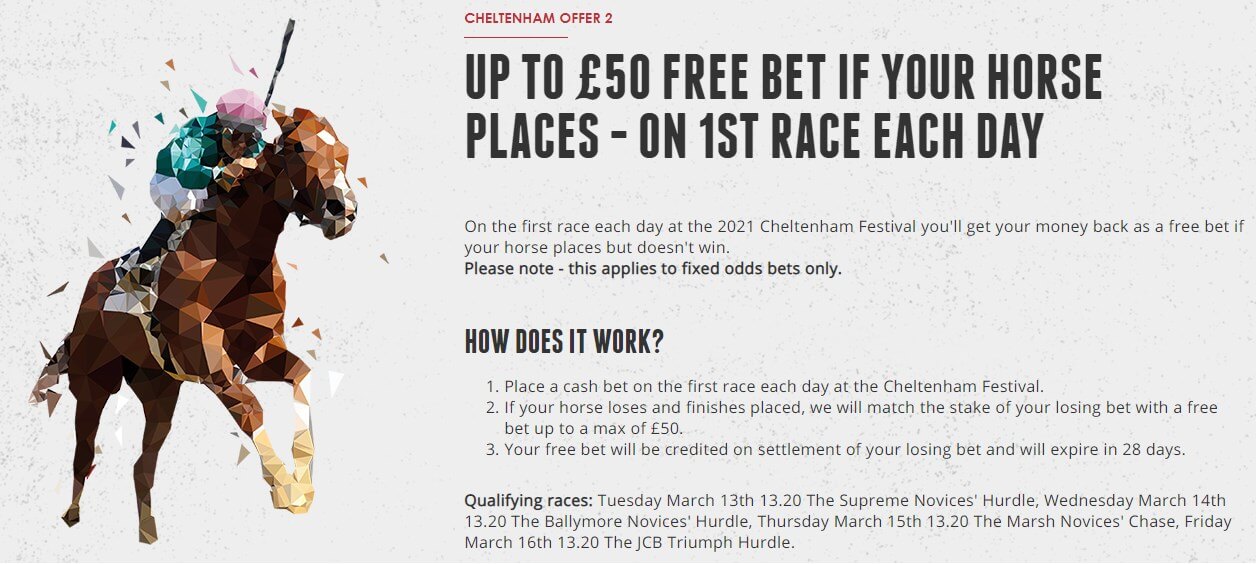 Pre-Festival Build Up
Unibet: Offer & How To Monetize Risk-Free
"Build a bank for Cheltenham with our bonus builder" – Get up to £50 Bonus. Place bets on horse racing (odds 1.4<) before Cheltenham Festival, and receive free bonus money (1x Wagering) on the 1st day of Cheltenham Festival.
Like Betway (please don't say you don't have a Betway account), Unibet is a typical soft bookie, so if you don't have an account open it now.
For this offer, you can also use simple matched betting. Opt-in to the promotion, and place bets of £250 in total to get a maximum £50 Bonus. Follow the standard matched betting guide: Qualifying Bet Placement & Extract Profit From Free Bet
Some bookies start build-up at a very early stage like Mark Jarvis;

Opt-in and place £25 or more on horse racing on any Saturday in February to earn Cheltenham Festival free bets.
The valid dates are Feb 6, Feb 13, Feb 20 and Feb 27.
For each of these days you stake £25 or more we'll give you a £5 free bet for the 2021 Cheltenham Festival (March 16-19). Earn up to £20 overall.
This offer will be repeated each week in February where you can build a total of £20 Free Bets for Cheltenham 2022.
Every Day Offer
Star Sports: 50% Refund
50% of your average Cheltenham stake back as a FREE BET and that's right up to £250. To qualify, you must place at least one Cheltenham bet on each of the four days.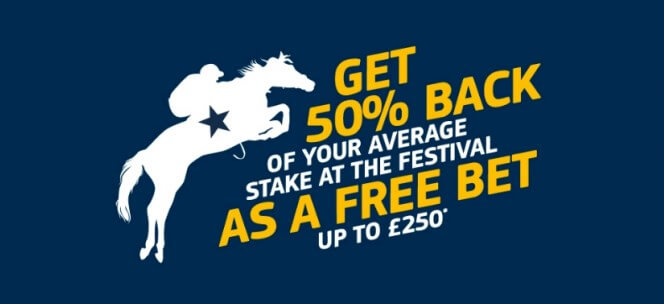 Follow the simple standard matched betting process of (2) for a qualifying bet & (3) for a free bet. Namely, place a £500 bet on any Cheltenham Race every day and lay in Normal mode. By Wednesday 24th March Starsports will issue you with a £250 Free Bet which you can use in SNR mode.
William Hill – 2nd Refund: Offer & How To Monetize Risk-Free
When a horse you've backed to win finishes 2nd, we'll give you your stake back in cash, up to a maximum of £10.

For the instruction, go to 6 Best Ways To Make Extra Money from Horse Betting 2nd Place Refund.  Given the large number of horses in each race, it's quite unlikely though if there are any race exchanges that offer only 2 places, you can lock in a profit by using our spreadsheet. See 2nd Place Refund Horse Betting Calculator For A Guaranteed Profit.
SportNation: 2nd Race 2nd Refund Offer & How To Monetize Risk-Free
 OPT-IN. Place a bet on the 2nd race (13:55) on any day of the 2021 Cheltenham Festival. Get money back as a Free Bet if your horse finishes 2nd! (£10 max Free Bet per race.)

Follow the same instruction as the above William Hill offer. 
Betfred: 2nd Refund
Place a win or each way single on the Supreme Novices Hurdle, Ballymore Novices Hurdle, Ryanair Chase or Triumph Hurdle from 5pm the day before the race. If your selection finishes second, we will give you your win stake back in Free Bets up to £10.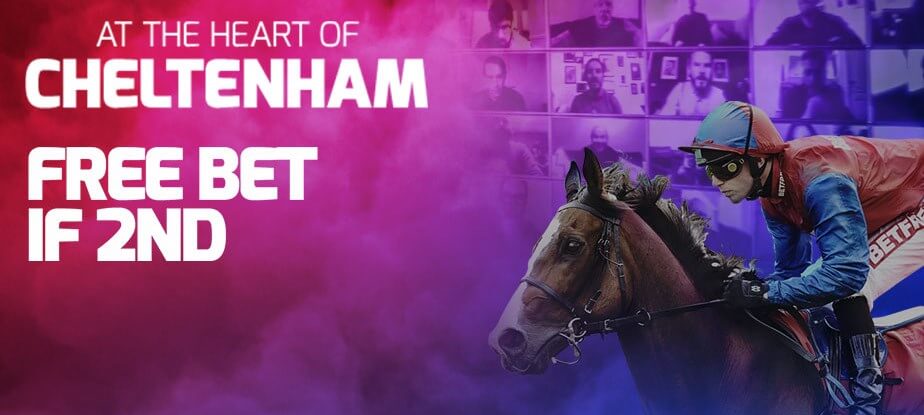 Follow the same instruction as the above William Hill offer. 
The Pools – Get Free Bet If Certain Event Happens: Offer & How To Monetize Risk-Free
15:05 Champion Hurdle
ABACADABRAS was a touch unlucky when second in last year's Supreme, and has done well enough in Ireland over the winter to make him a tempting price back on this better ground. Defending champion Epatante, Mares' Hurdle winner Honeysuckle and unfortunate Triumph loser Goshen are the ones he has to beat.
Bet £10 on Champion Hurdle and if Abracadabras or Epatante wins the race get a £5 free bet.
Place a bet of up to £10 on any of the races on the 1st Day at Cheltenham. You Have 7 races. On top of the standard matched betting method, you may want to use the Trigger Bet approach to lock in profit. Simply make extra lay on short-priced SP favourites See the detailed process in Trigger Bet Guide.
Cheltenham Festival ITV Racing Offer
According to the ITV Racing Schedule, every day 5 race out of 7 (not the last 2 races of 16:50 & 17:30) are scheduled to televise. So, altogether 20 ITV racings. 
Bet365 ITV Racing 4/1 Offer: Offer & How To Monetize Risk-Free
"Back any single winner at 4/1 or more on any race televised live on ITV Racing and you can have a risk free bet to the same stake (up to £50*) on the next race broadcast live on ITV Racing."

We have prepared complete instructions for this specific offer with 3 optional approaches ranging from Lock-In Profit to Risk-Free by Maximizing Profit.
So suggest taking a look at How To Guarantee Profit from Bet365 Feature Race 4/1 Offer & ITV Racing Offer.
Offer For Specific Race
Sky Bet – Wed 17th March – 13:20 Cheltenham: Offer & How To Monetize Risk-Free
Money Back if you lose on the Ballymore Novices Hurdle (13:20 Cheltenham). If your horse loses we will refund all win singles or the win part of each-way singles as cash up to £/€10 within 24 hours. E.g A £5 each-way bet (£10 total stake) would receive a £5 refund.

Place a £25 bet on any horse to win the Supreme Novices Hurdle, Exactly the same process as the previous Sky Bet & Bet Ways. Follow the Risk-Free matched betting guide and matched betting guide (3) if you received a refund.
Cheltenham Festival Each Way & Extra Place Offers
All the key bookies provide several races with extra place offers.
You can check the Oddschecker table where you can locate which bookmaker offers what extra place with what term like below;

Bet365 Place Term & Enhanced Prices: Offer & How To Monetize Risk-Free
To ensure you get the best Each-Way value, we will be paying 1/4 odds a place on ALL Cheltenham races.
This means, when you find any extra place offers from Bet365, the term is 1/4 odds rather than 1/5 odds, which will impact your profit.
It also says we will also offer enhanced prices on selected runners at various times during the Festival.
So, keep checking Bet365's extra place availability and also the enhanced prices. For the enhanced price, when available, these prices will display on the 'Enhanced' tab on the race coupon.
Note, Ante-Post bets are settled at the Price and Place terms applicable at the time of acceptance.
For how to maximize your profit from extra place offers, see the next section of "Offer Can Be Used in Gubbed Accounts." except the next Betfair Each way Edge.
Offers Of Opportunistic Approach – Take Up Only With Small QL (Qualifying Loss)
All the offers we list so far are basically the ones with extremely High EVs (Expected Value) because you can more or less Lock-In Profit.
We share a relatively Low EV as well, but you may consider it only when you can find a good match, which means the tight odds gap between the bookmaker back bet & betting exchange lay bet, to minimize QL (Qualifying Loss).
Boylesports – All 28 Races Offer & How To Monetize Risk-Free
"2nd or 3rd to SP Fav at Cheltenham" – Place a bet on any horse at The Cheltenham Festival. If your horse finishes 2nd or 3rd to the starting price favourite, we will refund your stake as a free bet.
Follow the simple standard-matched betting process. And, our 2nd place-specific guide of 6 Best Ways To Make Extra Money from Horse Betting 2nd Place Refund will be extremely useful for such an offer with the additional condition of "To The SP".
Because we use the same example of Boylesports to demonstrate how the extra trigger makes the whole offer so difficult. Anyhow, the biggest advantage of this offer is you can apply to all 28 races.
Cheltenham Festival Value Betting
Use Proven Tipster
For those who prefer Value Betting rather than matched betting, strongly suggest using a specialized tipster assessed by SBC. As shown below, the best tipsters screened by rigorous SBC criteria made excellent performances;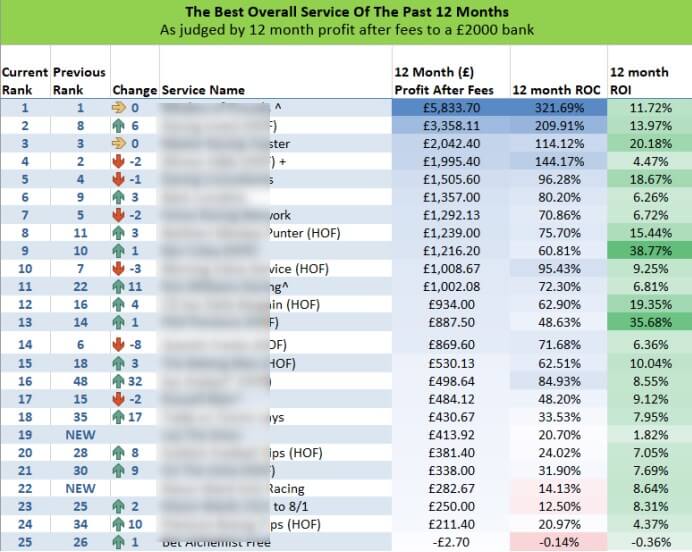 Especially, the tipsters introduced in the below SBC magazine are essential not only for the Cheltenham Festival but also for your year-round horse racing;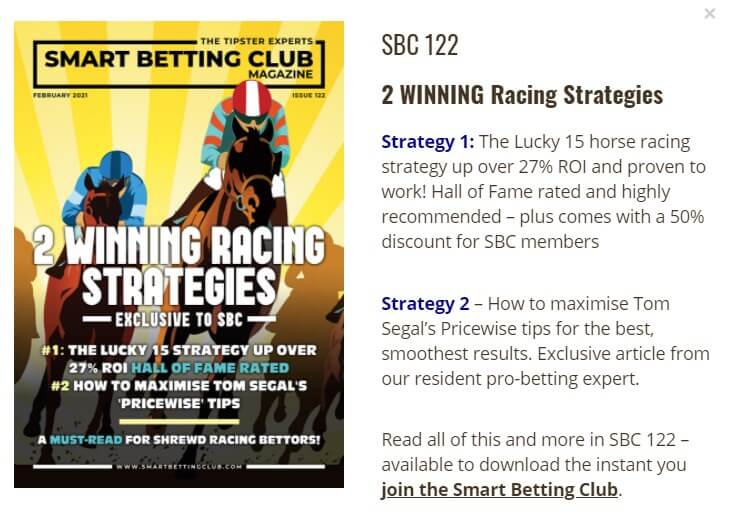 Cheltenham Festival Trading Strategies
Betfair Cheltenham Festival Trading Strategy
If you want to pursue winning Cheltenham trading strategies on top of exploiting bookies' Cheltenham refund offers, you may want to take a look at 3 Cheltenham Tips: Exploiting Potent Markets.
Watch the below video explaining Betfair Cheltenham Festival Trading;
You may also want to check other Caan Berry Products.
If you have any inquiries or need any help from us, please contact us anytime (don't worry, we will not charge you any fee, everything is free here).
Good Luck (Luck is what happens when preparation meets opportunity – Seneca)!!
Joshua Walker (bio)
Editor – Global Extra Money (GEM)
PS
Final Reminder, Keep Checking Your E-mail Box To Avoid Missing The Offer Like Below;
For Casino Advantage play, see Casino Bonus Hunting Guide – 7 Key Tactics to Beat Online Casino with +EV, and strongly suggest taking a look at the List of 52 Best Bitcoin Casino Bonuses for those who appreciate the highest privacy, go to the List of Best Anonymous Bitcoin Casinos & Bonuses, just FYI.