3 Best Matched Betting Software
There are 3 most reputable matched betting software services, which are Oddsmonkey, Profit Accumulator & Profit Maximiser.  We explain what are the differences and how to choose the right services with the best offer that suits your needs!! 
Advantages of subscription-based Matched Betting Software
What is Matched Betting Software service? When you start matched betting, you need to study hard to understand how the whole system works on your own. Although it's risk-free but not human error-free thus your careless mistake may ruin your efforts.
Doing Matched Betting manually is very time-consuming and tiring mainly because you keep several bookmakers & betting exchange sites open and compare the odds before placing the bets properly. 
Free Matched Betting Software
Then, is there any free service? Yes, you can access to the below free matched betting calculator & oddsmatcher;
Both are provided free by Bonus Bagging which is a Profit Maximiser's newbie-focused program – see how it works for newbies. 
However, those free software especially the oddsmatcher has severe limitations such as updating frequency – it shows 20-30 minutes old info while the paid one updates every minute. Actually, the odds change very quickly so you may miss many matched betting opportunities in free matcher. 
Besides, you regularly need to check & update the bookies' free bet offers to identify the matched betting opportunities which are also time-consuming.
High-Quality Automated Matched Betting Software – Matchers
Paid subscription programs provide you with the solutions to all the above issues as seen from the below Oddsmonkey dashboard;

Various automated matched betting software namely matched betting bot, can save your time to locate the best matched betting odds and calculate the lay bet stake & predicted profits instantly. Matched Betting Software will make you feel 100% confident, increase your efficiency, and matched betting income. 
One of the most critical parameters to assess the matched betting subscription service is the quality of Oddsmatcher that identifies the best matched betting odds, which will enhance your profitability significantly in the long term.
And, the above 3 services provide you with the best quality matches in the industry (the below screenshot is Profit Accumulator Oddsmatcher, which they claim invested over £500k to develop, just an example).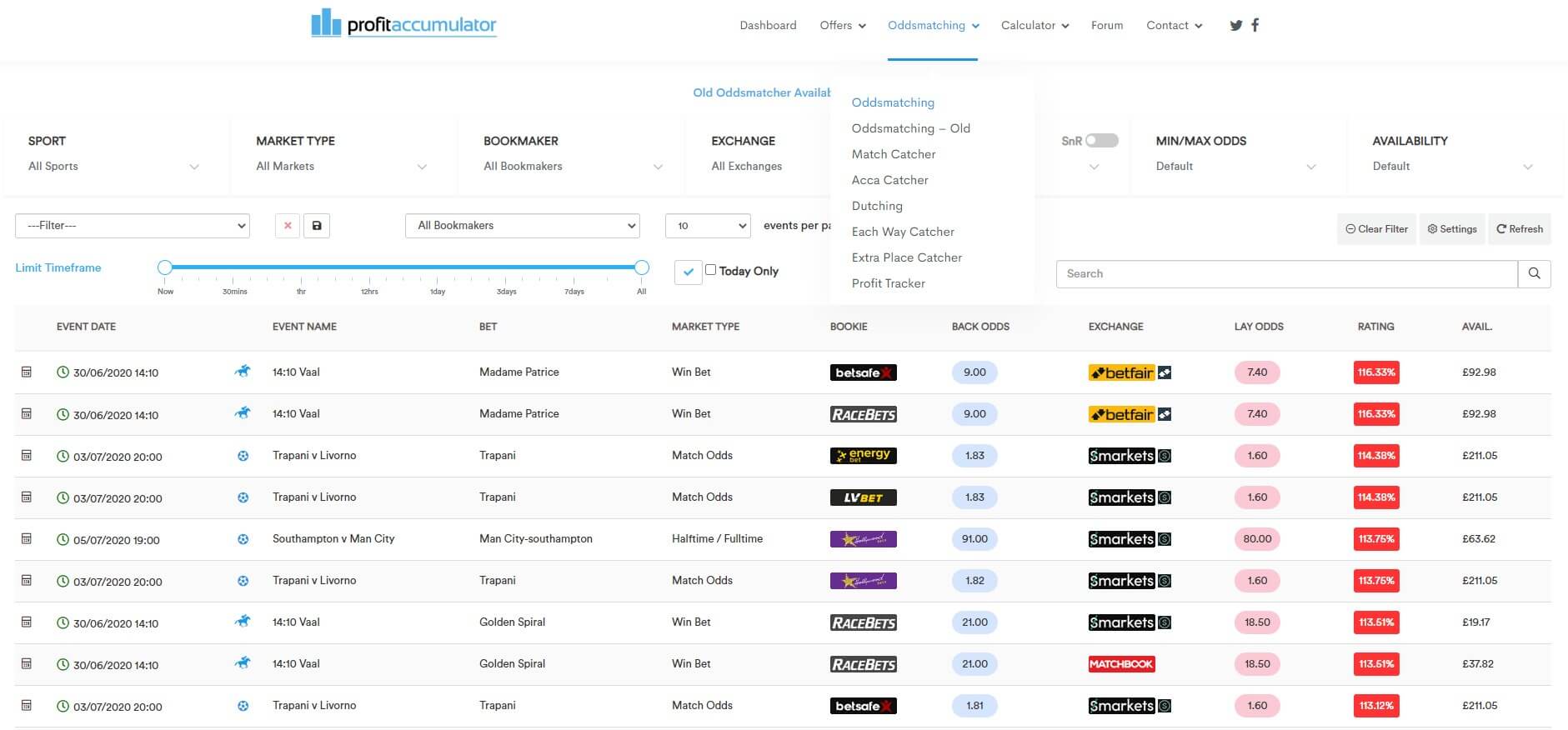 0% Betting Exchange Commission 
Besides, the top 3 matched betting service providers consistently make a partnership with key betting exchanges namely Smarkets, Matchbook & Betdaq, which gives you 0% commission during the defined period (the below image is Smarkets 0% commission with 3 key partners, namely Oddsmonkey, Profit Accumulator & Profit Maximiser);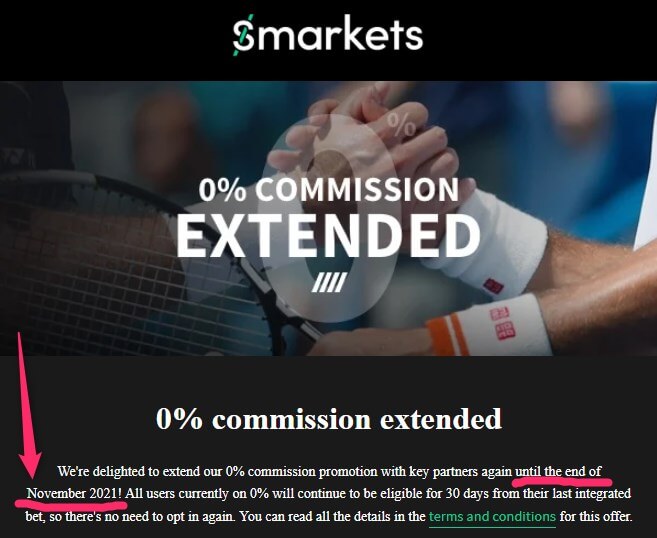 The average matched bettor is said to bet well over £3,000 / month in betting exchange. Given the 2% Smarkets' commission, you can save around £60 / month which is almost equivalent to the 4-month subscription cost of the premium service.
If comparing to Betfair's 5% commission, you would save £150 / month. Only this fact can justify the matched betting subscription service financially. Incidentally, all their own forums are very active and the members exchange a lot of matched betting success stories, which must be useful for you.  
Best Matched Betting Subscriptions & Key Differences & Which can fit your needs
2021 Three Best Matched Betting Software Review
The below 3 automated matched betting software package services are the best in the industry;
BTW, all the above 3 services focus on UK & Ireland market, for global players,  
Matched Betting Package Service Competition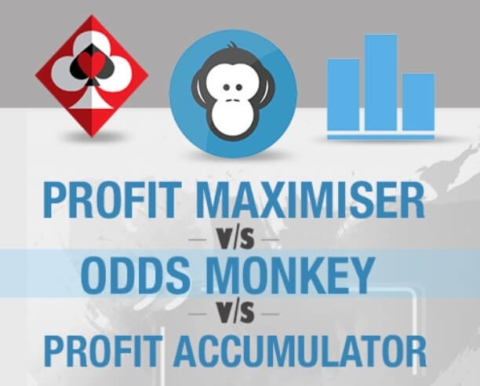 In order to explain the differences between the 3 operators, let me briefly talk about the historical background of this industry. 
Mike Cruickshank, a math genius originally created the method to turn the uncertain gambling offer into solid income opportunities with betting sites' bonus offers. He started sharing his unique methods up with Bonus Bagging (mainly sportsbook welcome bonuses, see our review) and added Profit Maximiser which is an advanced version expanding the opportunities into casino, bingo & spread betting areas as well tons of ongoing offers which bring much bigger profits.
After Mike's initiation of Bonus Bagging & Profit Maximiser, the rapid increase of matched betting market seems to have been spurred by Profit Accumulator (PA), probably the biggest operator in this industry now.
Profit Accumulator basically followed the methods Mike invented and established its position with a more sophisticated interface with aggressive marketing strategies. Then, Oddsmonkey (OM) is the next major player as a full-service provider although they have a long history of odds matching software providers.
Oddsmonkey has been eroding Profit Accumulator's share originally with cheaper price & wider range of matched betting software. Profit Accumulator has defended its position by matching the price & services to Oddsmonkey. 
Given the fact that both Profit Accumulator and Oddsmonkey have competed so fiercely by extending the range of services especially the variants of software, Profit Maximiser was left behind as below;
 
Profit Maximiser 
Profit Accumulator / OddsMonkey
Service / Software 
Tutorial: Training guides & videos  /  Offer: Daily offer calendar  /  Software: Oddsmatcher  /  Tools: Dozens of unique Spreadsheets & Calculators
Tutorial: Full training guides & videos  /  Offer: Daily offer calendar  /  Software: Matchers for Odds (Oddsmatcher), Dutch, Racing, Tennis, Each Way & Extra Place, Acca Finder & Acca Builder (4 types)  /  Tools: Profit tracker, many Calculators & Spreadsheets
Price
£97 + VAT = £116.40 annually
£19.99 a month or £180 for the year, However

Profit Accumulator increased to £24.99 a month or £180 for the year
What Mike has been doing is not trying to battle in the same ground but;
1) developed a complete new full-fledged service called Profit Maximiser Mastermind (or, Betting Mastermind) which included every advanced software – see the details later.
2) bundled a few services into a separate package and offer individually to meet the customers' different needs.
Key Differences Summaries
Simply put, Oddsmonkey & Profit Accumulator were more or less the same in all comparable parameters such as;
Price: both £19.99 / month or £180 / year but now Profit Accumulator made a price hike to

£24.99 a month or £180 for the year

Training (tutorial materials): both provide very comprehensive materials (PM may have more video courses)
Software: both provide almost the same Oddsmatcher / Dutch Matcher / Horse Racing Matcher / Horse Each Way Matcher / Horse Extra Place Matcher / Acca Full Range Matcher / Matched Betting Calculators Full Range (see the details of each software by clicking them – it will navigate to the Oddsmonkey software explanation) 
Matched Betting Offers: both keep you up to date for New & Reload Sports Offers, Casino & Bingo Offers every day as Daily Offer Calendar.
Matched Betting Community: both forums are quite active
Matched Betting Blog: both Oddsmonkey Blog & Profit Accumulator Blog are informative
Matched Betting Testimonials: both received more or less the equivalent comments & ratings in various matched betting forums, matched betting review sites & matched betting blog, etc. (see Oddsmonkey own site testimonial & Profit Accumulator own site testimonial, just FYI) 
So, at this very moment in time, Oddsmonkey must provide you with the best value for money service. 
On the other hand, Profit Maximiser's cost is £97 + VAT = Total of £118.80 / year (monthly base fee is not available), which is cheaper but the availability of Profit Maximiser matched betting software is very limited (the service with full range is called Betting Master Mind that costs you £216 annually or 4 x £58, and PM's founder Mike Cruickshank sells a few software in separate packages). 
Which Matched Betting Package Service Should You Chose?
Bottom line is that;
As a general package service, you may want to choose either Oddsmonkey or Profit Accumulator, since both services are almost equal quality and obviously value for money compared with Profit Maximiser especially for the range of software. 
Then which to be chosen? You may want to check which site's design & interface chemically fits you by experiencing both Profit Accumulator Free Account & OddsMonkey Free Account. Both free accounts enable you to earn around £40 risk-free profits.
You may also consider the promotional offer at the time you consider participation. Their sign-up offers (typically £1 for 7 days access to their full service) are not on a permanent basis but periodically run the special trial offer, since the timing & offer contents can be changed, suggest you regularly check the latest offers in the next section.
Generally speaking, the more you progress matched betting, the more you face restricted bookmakers' accounts because you are taking too good values from soft bookies, which they don't like.  Then, you may need only specific service & software including casino rather than whole package service as OM & PA provides.
Mike Cruikshank, bundled a few services into a separate package and offer them individually to meet the customers' different needs. Therefore, you may prefer such a Pick & Mix option at a later stage.
Oddsmonkey  
New Casino Hub Added 
Oddsmonkey added the Casino Hub tool as below;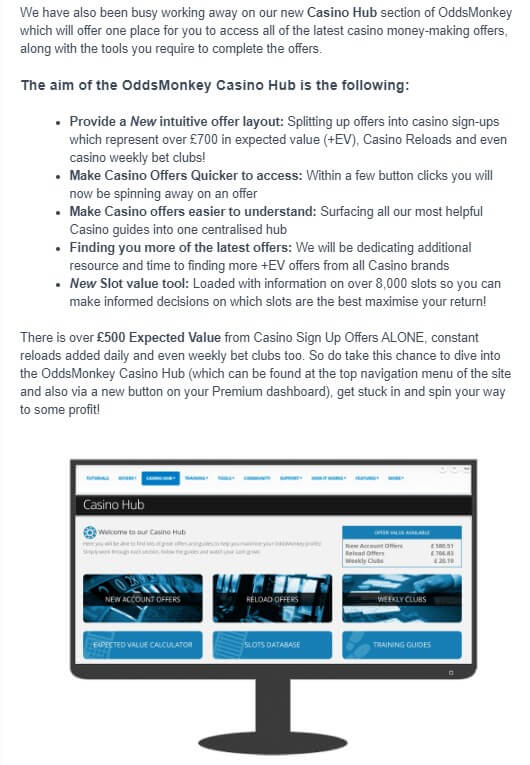 Given the Expected Values brought from Oddsmonkey Casino Hub including advanced tool like Slots Database, looks OddsMonkey value is pretty high currently. 
Special Offer – £1 Trial for 12 Days
Occasionally, Oddsmonkey provide you with "Full Access to Premium Account for 12 Days with only £1";
Click this Entire Box, If you are navigated to the below page and confirm the valid date, then Congratulations use the Code appeared in the page!!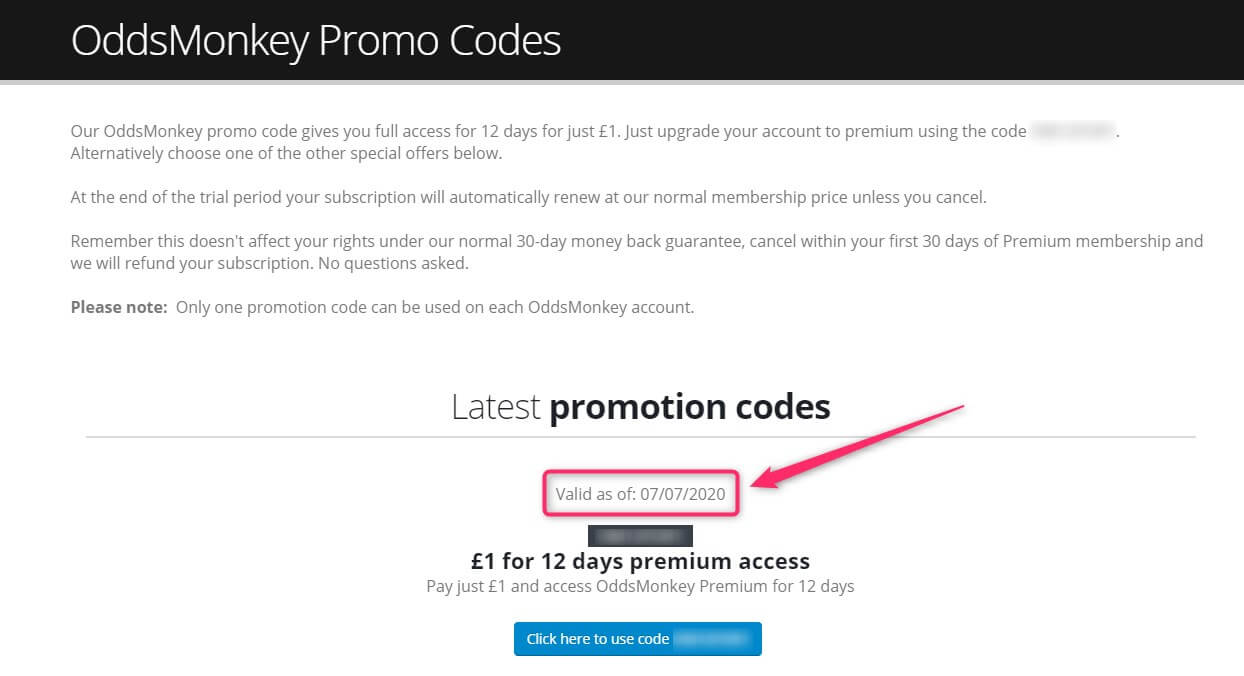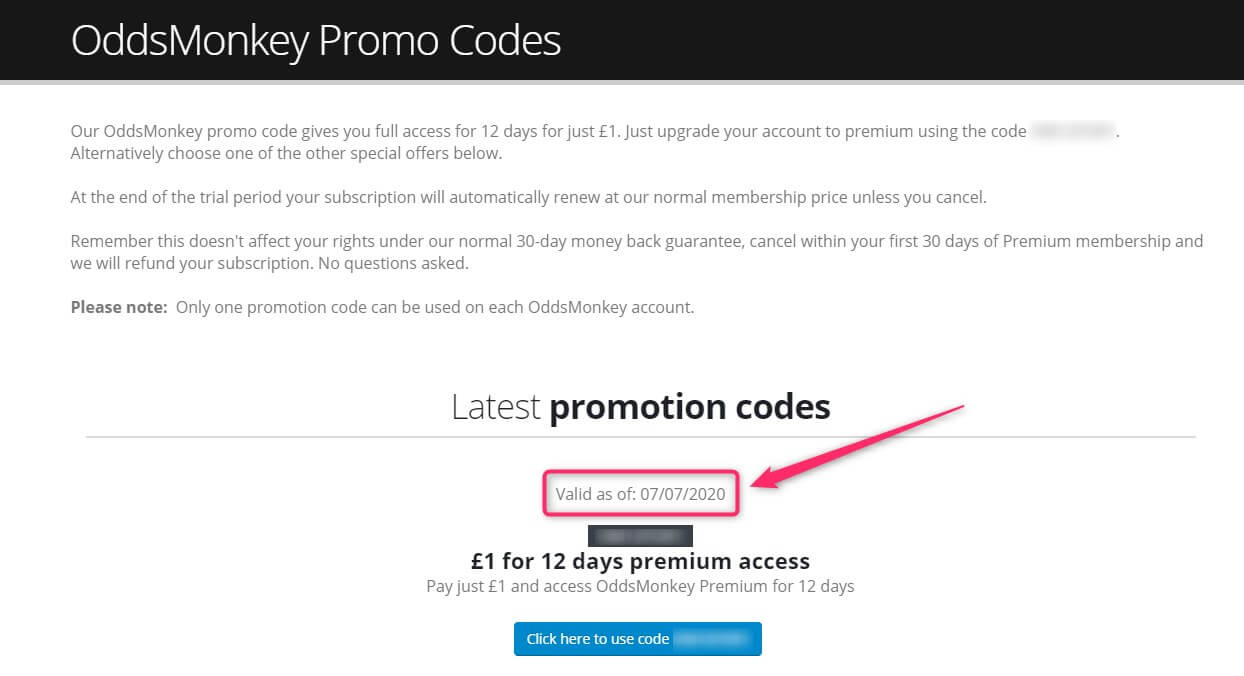 Permanent Offer – Free Account 
As an ongoing offer,
Oddsmonkey Offer Free Account. Click This Entire Box, Create Free Account to Earn up to £45!!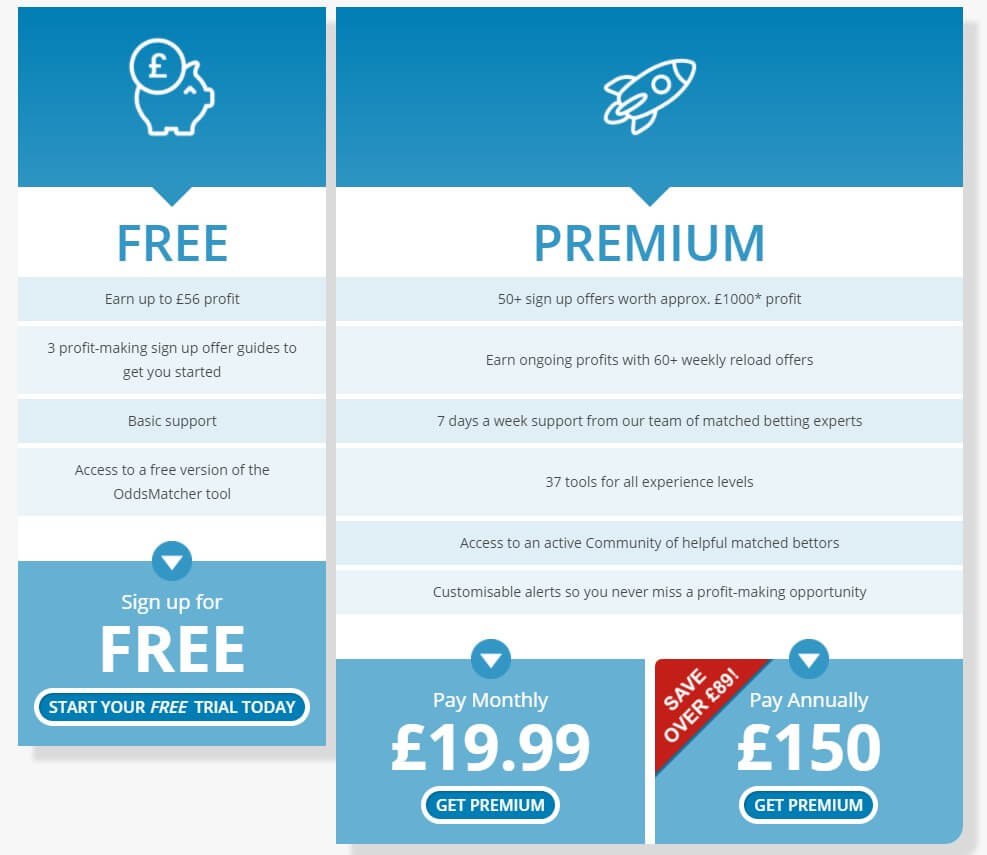 The services you can access in this free account will enable you to earn £45 (could be more), which will also get you familiar with how the matched betting works.
So, it's entirely risk-free although the accessible service is quite limited in comparison to the Premium account as seen from the above.
The above link will automatically give you the OddsMonkey 30-day trial, see its T&C;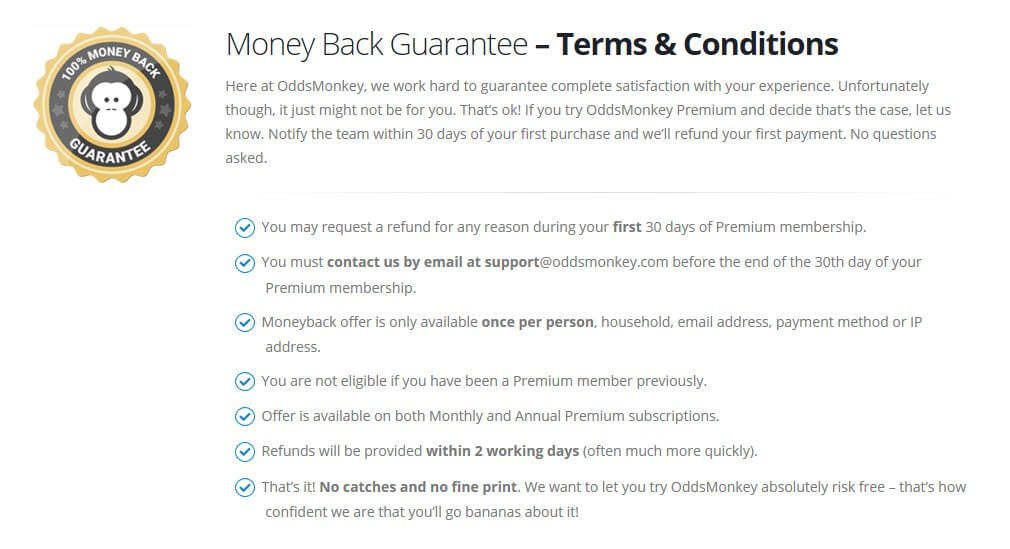 No OddsMonkey promotion code required means if you want to experience how Premium Account works for you, just upgrade your free account to a premium account at £17.99, get full Oddsmonkey benefits.
If you don't value it, just send a refund request to OddsMonkey support Then, you will get the full £19.99 money back within 2 days with no strings attached (you are not required to provide any reasons).
Honestly, I can't see any particular reasons not to go for this service.
Profit Accumulator 
Permanent Offer – Free Account
As an ongoing offer;
Profit Accumulator Offer Free Account, Click This Entire Box & Create FREE Account & Make over £40 Profits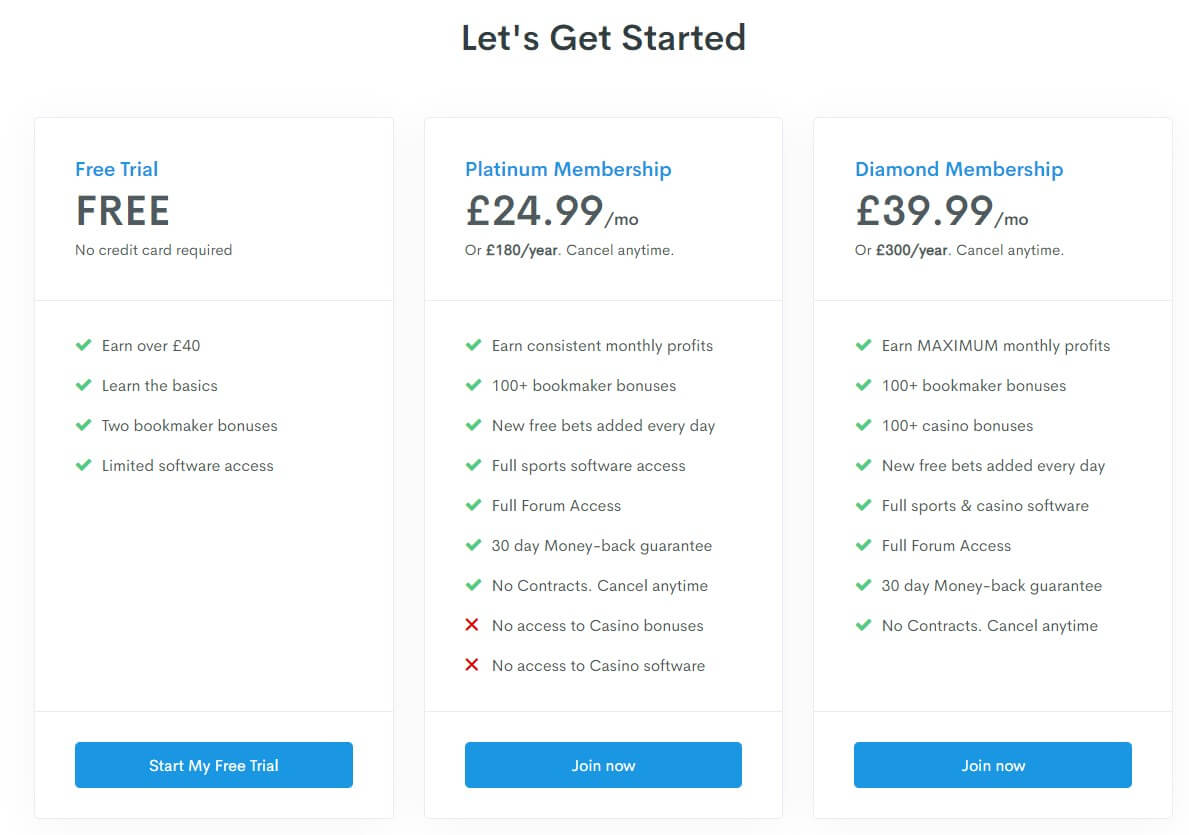 The services you can access in this free account will enable you to earn over £40, which will also get you familiar with how the matched betting works.
So, it's entirely risk-free although the accessible service is quite limited in comparison to the Platinum account as seen from the above.
The above link will automatically give you the Profit Accumulator 30 day trial comes from the below Refund Policy, see its T&C;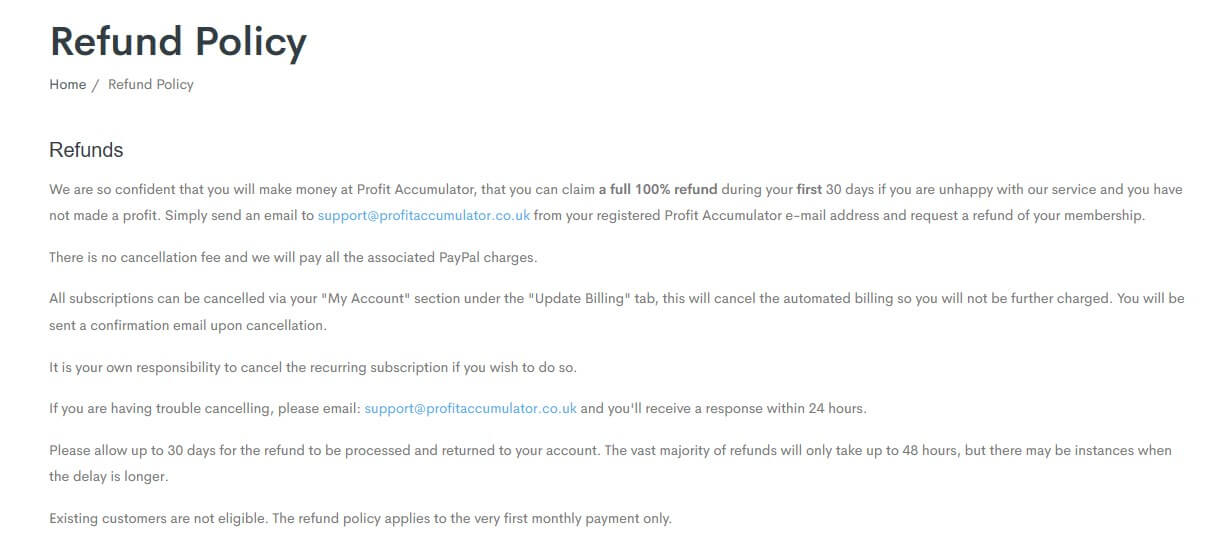 Again, exactly the same as Oddsmonkey, No Profit Accumulator promotion code is required, which means if you want to experience how Platinum Account works, just upgrade your free account to a premium account at £24.99, get full Profit Accumulator benefits. if you don't satisfy, request a refund for the full month, which is an effectively 30 Days Free Trial.
Or, if you want to pay the yearly plan that can save £120 a year, you just need to log into your account, go to "My Account" and use the "switch plans" tab. There's a payment form in there for you to fill out for the yearly subscription, that will automatically cancel the monthly subscription and the yearly subscription will start.
Profit Maximiser 
Permanent Offer – £1 Trial for 30 Days
As an ongoing offer;
£1 Trial – Profit Maximiser Provide You With 30 Days Trial at Just £1!! Check If It's For You With Your Own Eye!! Make The Most From It!! Click This Entire Box!!
How does It work? No brainer, you will be navigated to the site after clicking the above box where you will find the below icons;

Then, choose £1 trial.
After 30 days, a 1-year subscription of £97 will be automatically charged to you, therefore make sure you cancel it within 30 days if you don't want to continue.
Betting Mastermind vs Oddsmonkey & Profit Accumulator Comparison
For other Mike Cruickshank's full products line-up, suggest you take a look at Profit Maximiser Review 2021 – Should You Chose Betting Mastermind? which explains more about Betting Mastermind – this must be the best product for those who seriously considering living off matched betting. 
3 Best Matched Betting Software Comparisons – Conclusion
Lastly, allow us to share our Non-Gambling strategy.
Avoid Prejudice of Betting = Gambling. We Do Bet but Don't Count On Chance. Instead, we do 6 Advantage Plays based on mathematical edge to beat the bookies, casino & bingo. When it comes to Sports Betting, we use Matched Betting / Sports Arbitrage / Value Bets On Proven Tipsters to lock in a profit or consistently earn extra income for the long term.
With that said, one of our policies is "Betting On Luck Is For Losers, Stop Gamble Betting But Bet on Only +EV To Win Reliably", and it is effectively our way to promote Responsible Gambling under the regulation, and we strongly support GamCare & BeGambleAware being explained in about us.
We GEM – Global Extra Money would like our readers from all over the world to make the best use of our advantage play methods. And, sharing the comparison among the best 3 matched betting software is a part of our efforts to achieve that mission.
If you have any inquiries or need any help from us, please contact us anytime (don't worry, we will not charge you any fee, everything is free here).