Matched Betting DACH Region
Matched betting is definitely one of the best no-risk online money-making methods hugely popular in the UK/Ireland.
However, the concept has been expanded into many other countries and in this guide, we focus on matched betting in the German-speaking region, namely DACH (Germany, Austria & Switzerland) and the best matched betting service that serves in both German & English.
So, the people who can benefit from this guide (you will find more details in the interview with DoppelWetten) are;
All English-speaking residents in DACH areas
Any expatriates living in DACH areas (including students)
People who want to move to the DACH region to live off matched betting for a short while (good opportunity for working holiday scheme)  
Those who reside outside but can complete bookies KYC verification by using DACH resident's documents
What's no-risk matched betting?
Matched betting in the DACH region works exactly the same way as matched betting in the UK where hundreds of thousands of ordinary people make risk-free money every month. Watch the below video prepared by Germany based matched betting site DoppelWetten;
Germany – Gambling Law Update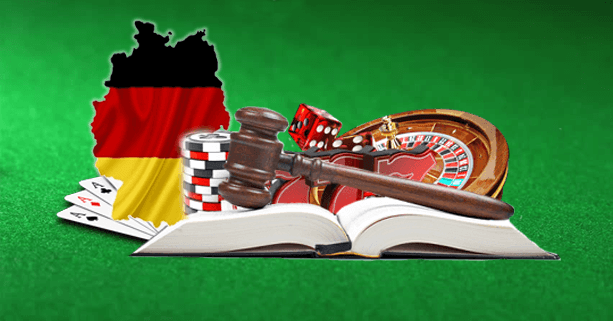 Germany will legalize online betting activities including casinos, sports betting & poker from the 1st July 2021, which requires stricter restrictions. For sports betting, bettors will only be able to wager on the final result or the next scorer of a game.
Prior to the legalization, some new restrictions started on 15 Oct 2020 to make a smooth transition. 
I asked the founder of DoppelWette (see later) to share his thoughts of the effect on matched betting, and he sent me the following update; 
The impact on matched betting in Germany has been minimal. A few bookmakers have left, while others have created a new site e.g. Ladbrokes now have a .de site without the casino part.
The whole thing is currently with the EU and it is still to be seen if the EU will approve. I don't think we have seen the last change yet.

These are the general changes for all German casino providers from 15.10.2020:

To play Games deposit directly into the Games account. A chip transfer is not needed anymore.
Only slot games will be offered.
The maximum deposit limit in a 30 days period for the Games offer is 1.000€ for customers who are fully verified.
There are no live casino games offers.
There are no jackpot games offers.
The previous casino offer is not accessible anymore.
The previous swipe offer in the Sport-App is not available anymore.
The usage of Games without verification (IDnow or SOFORT Ident) is restricted to 30 days. After this time period, the Games account will be blocked until successful verification.
You cannot transfer funds between your Sports betting account and your Games account

These are the changes for you directly while playing:

The maximum playing time is 60 minutes. You need to take a 5 minutes break after this limit is reached.
On each page and in all games in the Games sector is the possibility to activate an immediate break for 24 hours for this sector.
There is no auto spin functionality in the games.
You can only play one game at a time. Playing more games in different browser tabs or via split screen is not possible.

For the full report of "German State Treaty of Gambling update",  see Is Matched Betting still possible in Germany?
Just FYI.
How to start Matched Betting in Germany, Austria & Switzerland
You can do matched betting manually on your own. However,
(1) When you start matched betting, you need to study hard to understand how the whole system works. Although it's risk-free but not human error-free thus your careless mistake may ruin your efforts.
(2) Doing matched betting manually is very time-consuming and tiring mainly because you keep several bookmakers & betting exchange sites open and compare the odds before placing the bets properly.
(3) Besides, you regularly need to check & update the bookies' free bet offers to identify the matched betting opportunities which are also time-consuming including the latest sign-up bonuses by the state if available.
Therefore, as many British do in the UK, using a Matched Betting service is the smartest & highest-cost performance way to profit from it.
DoppelWetten Review
DoppelWetten is supposed to be the first & best matched betting bilingual subscription service in the DACH region.
So, let us review DoppelWetten;
DoppelWetten Overall Services 
The below video explains how DoppelWetten solves the (1) – (3) of the self manual matched betting problems we just listed above;
DoppelWetten Oddsmatcher
Since oddsmatcher makes a very important role in matched betting, let me add the video explaining how it works; 
Interview with Rasmus, the founder of DoppelWetten 
We conducted an interview with Rasmus, the founder & MD of DoppelWette, which will give you a better insight into if matched betting & DoppelWetten fit your needs;
1. Can you briefly introduce yourself and DoppelWetten (when & how did you start with what vision & ambition)?
First of all, a big thank you to Global Extra Money for the review and interview. I have been a huge fan of your site for a long time.
My name is Rasmus and I am the founder and Managing Director of DoppelWetten. The idea of DoppelWetten started back in 2016. I was living in London at the time and had been doing matched betting for years but was planning to move to Germany. I planned to continue matched betting in Germany and was looking for German matched betting sites but I couldn't find any.
I then toyed with the idea of starting a forum where matched bettors in Germany could come together and share offers and ideas. That idea then grew along with the ambition of introducing matched betting to Germany. I had earned money from matched betting month after month and was set on creating the first German matched betting site that could offer the tools, guides, and services to help others do the same.
We have decided to have the site in both English and German, which will certainly benefit expats and non-German speakers living in Germany.
2. Please give us the snapshot of the regulatory framework of sports betting, designated authority, bookmaker licensing & available bookmakers numbers, etc. in Germany, Austria & Switzerland respectively?
There is a *huge number of bookmakers available in Germany, Austria, and Switzerland.
At DoppelWetten, we have specific guides to over 100 different sign-up offers and we still continue to find new bookmakers to include.
However, the online sports betting scene is in constant change and it is therefore important to always check the terms and conditions. Some bookmakers merge, others simply vanish, and then some change from which country they will accept new customers.
To offer the best possible guidance to our members we constantly monitor and check sign-up offers and the terms and conditions of the bookmakers. Because our guides and lists of regular offers are continuously updated, our members save a lot of time.
The regulatory framework in Germany has been in a transitional phase for years – almost a decade. The reason for this is an ongoing dispute between Germany and the EU. Germany was attempting to implement restrictions, which the EU believed was against the EU regulations of free movement of goods and services.
It does look like we will soon get some clarity, as a new German State Treaty of Gambling (Glücksspielstaatsvertrag) is rumored to be implemented from January 2021. I think it will be good to get some clarity for both punters and bookmakers. We have seen bookmakers stop accepting German customers due to this uncertainty and I believe this is also the reason why the big betting exchanges do not offer their services here. Once we have the new treaty in place, I hope we will see the betting exchanges accepting German customers again.
As far as Austria and Switzerland are concerned, not all of the bookmakers listed on our site are available in those two countries, but those available exclusively in Austria and/or Switzerland are of course also included. We have added the flags of the countries in which the bookmaker is available. This makes it easy to identify whether a specific bookmaker is available in e.g. Austria.
People living in Austria or Switzerland have two great advantages. Firstly, there is no betting tax and secondly, they still have direct access to the big betting exchanges.
 
*GEM Note: Check online bookies DoppelWetten list in each country. 
3. Can you explain the specific tax imposed on the individual's winnings (or any other tax levied if any) in each country?
Most bookmakers in Germany apply a 5% betting tax, which is either deducted from any amount won, or from the stake when the bet is placed. However, while many bookmakers apply this tax there are also some bookmakers that do not apply the betting tax at all, so any tax payable is paid by those bookmakers.
In Austria & Switzerland, there is no added tax on sports bets.
We have of course accounted for such a tax in our matched betting tools.
4. Could you describe the matched betting market status & future prospects in the DACH region?
Compared to the UK, matched betting in Germany is still a largely unknown phenomenon. However, I believe this is slowly changing as people start realizing how much money they can actually make with matched betting.
The sign-up offers in the DACH region are very good if you compare them to the UK. Most bookmakers offer a sign-up bonus rather than a free bet and the standard bonus is €100 although many bookmakers have bonuses that are much higher.
Matched betting has always been and will always be a cat and mouse game between the people doing matched betting and the bookmakers that aim to restrict profitable accounts.
All in all, I am very positive about the future prospects of matched betting in the DACH region and actually in Europe as such. 
5. You may want to highlight the key benefits of your service & core competencies over your competition if any.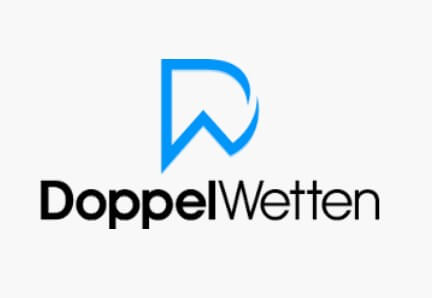 The key benefit you get from signing up to DoppelWetten is, of course, the ability to regularly earn money from matched betting. On our site, we often mention that you can earn around €500 a month.
We are actually being a bit modest there because, from the earnings reported by our members, the average income is closer to €750 per month. But nonetheless, we have decided to stick with the €500 as that is a realistic target for everyone.
There are two areas that really set us apart from similar services.
The first area is our excellent customer service. Everything we do is with our members in mind. In fact, we have just increased our staff to ensure even better and faster customer service.
If you have never placed a bet before, matched betting can all be a bit scary and overwhelming. We really put emphasis on guiding people through the process of matched betting and giving them the confidence to continue on their own.
To ensure people are off to a good start we have developed a number of free trial lessons, which will take the trial members through setting everything up, placing a trial matched bet and lastly placing a real matched bet. That way the trial members get to test everything for free and on top of that earn a bit of money.
We even offer one-to-one Skype training sessions to our members, in which they are taken through the process of using our tools and placing bets step by step with screen-sharing.
We also have a very popular Telegram channel, where all our reload offers are posted as soon as they appear in our Forum, to make sure our members get notifications immediately on their mobiles, wherever they are.
The second area that sets us apart is our focus on creating earning opportunities for our members. We offer more ways to make money than other services.
Here is what I mean by that:
• We have guides to more sign up offers
• We find and post more reload offers
• We have more matched betting tools, which ensure profit from a wider range of reload offers
• We have created strategic partnerships with services that complement matched betting and we have more in the pipeline.
By focusing on customer service and increasing the ways our members can earn money we are able to cater both for someone who is brand new to matched betting and also the very experienced members.
6. How much initial fund do people need to start and how much money can they expect to earn by using your service?
We do recommend that people start with €300-500. The reason for that is that most sign-up offers are the kind where the bookmaker will give you a 100% bonus up to €100.
You can of course also deposit €30 and get €30 in bonus but that means you are missing out on €70.
As mentioned, it is realistic for anyone to earn €500 per month but our members are on average earning around €750 per month. 
7. Can you elaborate on how active your forum is?
We have a group of very active and experienced members and there are some very interesting discussions going on regarding strategy and how to increase earnings from a specific offer.
The result of this discussion has on several occasions led to a new guide about how to tackle a reload offer, which we then put up for everyone to benefit from.
Besides, as part of the focus on customer service, we want to give everyone a good experience in the forum and do our best for new members to feel included in the forum.
8. Obviously, the biggest issue in this industry is the bookmaker's account restriction, can you share the situation in the DACH region?
Agree that account restrictions is a big issue.
Since most bookmakers are international companies, the situation is much the same in the DACH region as it is in the UK.
We try our best to inform people of this topic and have guides that offer tips on how to reduce the risk of gubbing.
In fact, we have a very extensive guide on the way, which will contain even more information and more methods to reduce the risk. 
9. What are your future challenges or any ongoing projects to add to your service?
First of all, I hope we will get clarity on the regulatory front soon. This regulatory vacuum that has lasted for years is not good for anyone and especially when it scares the bookmakers and betting exchanges away.
I really hope that the big four betting exchanges, Betfair (suggest use of Betfair Alternatives), Smarkets, Matchbook and Betdaq, will once again offer their services to everyone in the DACH region.
Secondly, we are constantly looking for new ways to provide value to our members. We have new exciting cooperation that I hope we can soon reveal.
We are also working on increasing the number of bookmakers in our Oddsmatcher and looking to develop a number of new tools.
Lastly, we also want to improve the user experience when using our site. We are looking to provide a more personal experience, which would allow our members more freedom to set things up the way they want it to be.
10. Which English speaker can benefit from the DACH region matched betting & your service?
Good question.
Doppelwetten.com is both in English and German and our customer service offer help and advice in English as well. In addition, most bookmaker sites are available in English. So, you don't have to worry about any language barriers.
Before listing who can benefit from our service, I wanted to highlight an exciting trend that I recently learned about.
The trend is that people actually move to Germany for a short period of time to do matched betting. Due to the very generous signup offers, you can really earn a lot of money in a short period of time and at the same time, you get the experience of living / traveling abroad. Just to give you an idea of the earning potential, the sign-up offers on our list have a combined value (in free bets and bonuses) of nearly €7000. It is almost like a working holiday. I really think this is an interesting option for people that are in between jobs, people that are able to work online from anywhere, students, and people taking annual leave or even sabbatical from their regular job.
Here is a list of different groups that certainly can benefit from our service.
• Returning DACH nationals.
• Expats living in the DACH region
• Students that study in any of the DACH countries
• People using VPN
• People living in mainland Europe but outside of the DACH region. They can easily use our guides and tools but they do have to find the offers themselves. However, many bookmakers have similar offers across their national sites e.g. the lucrative Bet365 in-play offer is also available here as the €50 in-play offer.
Just a comment regarding the VPN option. As long as you can pass the KYC requirements, which are similar to those in the UK i.e. proof of ID and address, then this is possible to do from the UK.
11. If you would like to add any other points, please do so.
Maybe just a quick summary.
Although we have seen some challenges in the German market, e.g. uncertain regulatory changes and betting exchanges leaving, I see a bright future for matched betting in Germany.
If any of your readers are looking to do matched betting in the DACH region then choosing a service like DoppelWetten, with our focus on customer service and increased earning potential, is definitely the right choice.
Lastly, I just want to once again thank Global Extra Money for this opportunity and I am looking forward to seeing what is next for you.
Thank you.
DoppelWetten Summary
The below table summarizes DoppelWetten key information;
Services
Tutorial: Full training guides & videos  /  Offer: Today & Future Promo (casino offers included)  /  Software: Oddsmatcher & Dutching  /  Tools: 9 Calculators / Very active forum
Pricing
Premium €18.99/month  &  €189.90/year  (see the tables below)
Is DoppelWetten safe?
Even you pay a full annual fee of €189.90, you will recoup it within the first few offers or so, therefore, a pretty good risk & reward ratio.
Money Back
You can cancel a subscription at any time and get money back within the first 30 days (Refund T&C)
Free Trial
Yes, it's available. Register here – No payment information is required.
GEM Special Offer
Use the coupon code "gem" in Premium Monthly sign-up to get the

First Month FREE

 (see below for how it works)
Price & Service Table
GEM 31 Days Free Access Offer
As said in the above table, after you click Buy Now Premium Monthly plan use "gem" code then you will get a confirmation like below;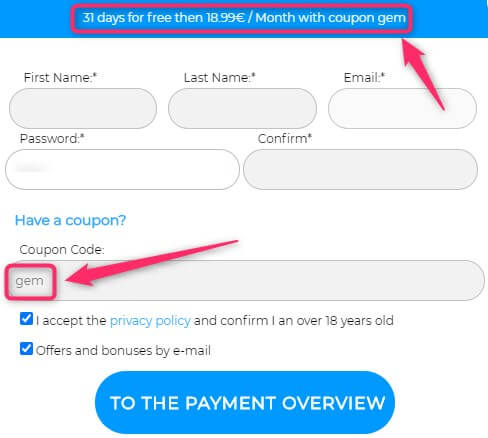 Betting Exchange 
As Rasmus commented in the interview, Betting Exchange is not available in Germany. So, some of you may wonder how you can do matched betting without the betting exchange. The below shows the solutions;
Betfair (suggest use of Betfair Alternatives) Whitelabel
You can use Orbit Exchange as a Betfair (suggest use of Betfair Alternatives) Whitelabel (, which is actually recommended by DoppelWetten). Betfair (suggest use of Betfair Alternatives) Whitelabel can only be accessed via bet broker, see the full details here (find the choice of bet brokers). Since this industry is a bit unstable and you need careful risk management, which you should take a look at here before taking any actions. 
Dutching 
Alternatively, you can use the Dutching method, which is a popular betting strategy to increase the winning rate while reducing the risk. Since Dutching enables you to cover all the outcomes among bookmakers, you can manage matched betting without a betting exchange (this method will become a Sports Arbitrage when we profit without bookmaker's offer). 
You can locate the dutching opportunities constantly via DoppelWetten Dutching Matcher as below;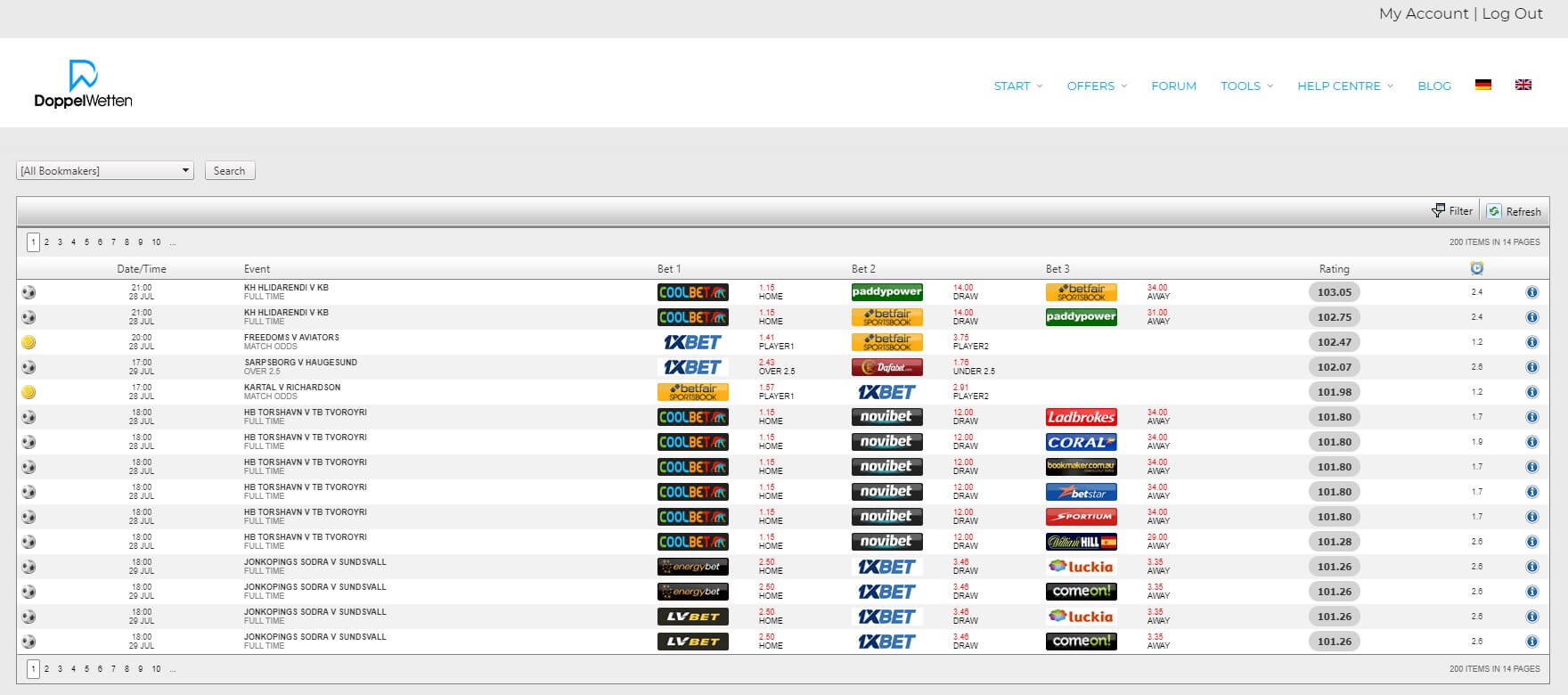 Matched Betting in Germany Conclusion 
DoppelWetten makes matched betting in Germany, Austria, and Switzerland easy & lucrative. 
Stop Gambling!!
On this occasion, allow us to share a bit about our betting principle. Please avoid prejudice of "Betting = Gambling". We do bet but don't count on luck. We do 6 Advantage Plays based on mathematical edge to beat the bookies, casino & bingo. When it comes to Sports Betting & Horse Racing, we use Matched Betting / Sports Arbitrage / Value Bets On Proven Systems & Tipsters to lock in a profit or consistently earn extra income for the long-term.
With that said, one of our policies is "Betting On Luck Is For Losers, Stop Gambling But Bet on Only +EV (Expected Value) To Win Reliably". It is effectively our way to promote Responsible Gambling under the regulation, and we strongly support Gambling Help as we do to GambleAware being explained in about us.
We, Global Extra Money (GEM) would like our readers to exploit such reliable money-making opportunities as much as possible. Matched Betting is probably the easiest advantage plays and this DoppelWetten review aims to provide you with the best approach to matched betting in DACH (Germany, Austria & Switzerland) region. 
Bookmaker Account Restriction a.k.a. Gubbing in DACH Region
Rasmus said in the above interview;
Agree that account restrictions is a big issue.
Since most bookmakers are international companies, the situation is much the same in the DACH region as it is in the UK.
We try our best to inform people of this topic and have guides that offer tips on how to reduce the risk of gubbing.
In fact, we have a very extensive guide on the way, which will contain even more information and more methods to reduce the risk.
So, in the meantime, you can use our 2 guides – One is Before Restriction, The Other One is After Restriction (the cases we use are UK bookmakers though, basic tactics & methods can fully apply to Australian matched betting);
We believe the above two guides will help you keep exploiting unfair bookies, means will enable you to make money on the side reliably for the long term.
Advantage Play Progression Tactics
As said, we use Six Advantage Plays based on the EV. When it comes to sports betting, we have Three advantage plays. Among them, we suggest people take the evolving move as a logical and the safest approach for newbies. namely;
Starting from Matched Betting (see Dummies Guide) / Sports Arbitrage (sure bet – see Cheat-sheet for Dummies). Because these are basically risk-free and you can lock in profit from almost every bet. This means you can start safely, which will help change your mindset toward betting activities/gambling.
Comparing between matched betting & sports arbitrage, many people feel more comfortable starting matched betting first because you can do it easier with a smaller bank. And, in the DACH region, we strongly suggest you start matched betting first with DoppelWetten.
However, these 2 methods could be relatively short-lived due to the ever-tightening soft bookies' account restriction. See the rationale in Know Bookies' Business Model. 
Thus, evolving into Value Betting without risk-hedge which is more size with better efficiency for the long term is a natural move as an ultimate betting activity.
With that said, you may want to consider moving up to the next sports trading level of value betting while exploiting the bookie's free bet via matched betting. The following are proven methods that can be used by basically anyone in the world, FYI;
We always value our readers' feedback, if you have any opinion or suggestion on how to improve our site or any list of information you would like to see on our site or any questions you would like to ask, please let us know via contact. 
Good Luck!!
Joshua Walker (bio)
Editor – Global Extra Money (GEM)