Before Going to this Guide (3) – Extract Free Bet Profit
In matched betting, you don't make money only by placing a qualifying bet from the "Bet xx Get xx Free Bet" offer but need to extract cash from the free bet.
Extracting profits from the free bet is the most important and final process in the matched betting.
So, this Matched Bet Quick Start Guide (3) – Extract Free Bet Profit will cover the free bet strategy specifying the process of extracting free bets profits as well as the full list of 8 types of welcome & reload bonuses with matched betting tactics to each offer.
If you are completely new to Matched Betting, read first;
If you want to know the overall picture, theory or say all about Matched Betting, access to the below Report for Dummies first;
OK, let's move on to;
Free Bet Profit Extraction Step By Step Guide
Where we are
This guide explains the last stage of Matched Betting to turn the Easiest Welcome Offered by Bookmakers namely "Bet xx Get xx Free Bet" into Real Withdraw-able Cash.
Recall what we did in the Starting Guide (2);
Opened Accounts of Both Exchange (Betfair (suggest use of Betfair Alternatives) & Smarkets) and Bookmaker (William Hill)
Placed the Qualifying Bet that is "

Bet

xx" partand are waiting for 

"

Get xx Free Bet"
Once we receive Free Bet, we still have a task to complete. Since it's Not Cash but Free Bet, yes you're just given the entitlement to place XX amount of bet. Remember, usually, this Free Bet is SNR (Stake Not Returned).
Process of Extracting Profits from Free Bet
I'll show you how to turn the Free Bet into Real Cash with No Risk. We continue to use William Hill's "Bet £10 Get £20 Free Bet" example.
As with the vast majority of free bets, William Hill's free bet is SNR (stake not returned). This means that the £20.00 free bet stake will not be returned with any winnings.
For each bookmaker's offer, you need to make double-check if it's SNR or SR since this is the condition you have to select in the calculator to predict your profit. Generally speaking, SNR is "Bet xx Get xx Free Bet" type, and SR is "Deposit Bonus with WR".
The process of extracting profit from a free bet is actually the same as the qualifying bet you just completed in the Guide (2). You have to find close back and lay odds (at betting exchanges such as Betfair (suggest use of Betfair Alternatives) or Smarkets) because the tighter they are, the more profit you will extract.
The only difference with placing free bets is that we need to place them at Higher Odds to account for the fact that our stake is not returned with any winnings. 
SNR Return Note
It's true that the higher the odds the smaller the proportion of the return is made up of the stake and thus lost when the stake is not returned. You can see the effect of this in the below graph;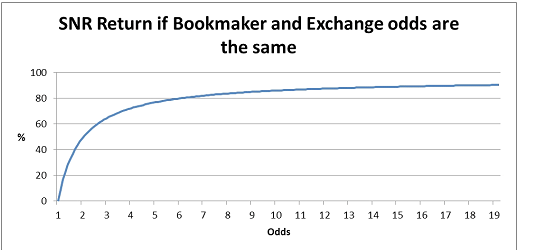 The higher the odds the better the return, assuming you can get similar odds at the exchange. However, the higher the odds the more cash is required at the exchange to lay the selection.
For this reason, most people aim for a 75-90% return using odds of 7+. It is, of course, flexible depending on your personal preference. The narrow high odds can sometimes be hard to find. If you're struggling, then check out the Correct score and HT/FT markets like a football game as these generally have high odds available. So you need to balance out your needs.
Risk-Free Betting Find The Matched Betting Opportunity
Let's start up with finding the proper match. Go Free Oddsmatcher Software.
Note: as explained in the guide (2), the time I originally prepared this guide was 2016, but William Hill welcome offer has not been changed, and even if it changes, the basic principle & process I draw up here perfectly applies to "Bet xx Get xx free Bet" offer. So don't worry about the old example, it works.
After selecting William Hill in the top box, we found EURO 2016 Russia vs Wales Correct Score of 0 – 1. It means Russia is beaten by wales by 0 – 1. The odds were 8.50 (William Hill) vs 8.4 (Smarkets) as the best profitable event of 99.4% matching as shown below;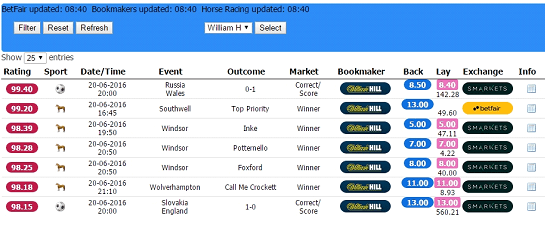 Let's see the details by clicking the Info box at the right end column. The below table shows the result of the automatic calculation after you input the £20 William Hill stake amount (the default setting is £10 so you need to adjust it) and select Stake Not Returned (default setting is Qualifier, thus you also need to change it) at the top. It tells you;
Your lay stake amount is £17.90 with the lay liability of £132.46 in Smarkets
Your net profit will be £17.54 no matter the event outcome will be as;
Back Wins (at Bookie): +£150 (William Hill) – £132.46 (Smarkets) = £17.54 Lay Wins (at Exchange): 0 (William Hill) + £17.54 = £17.54 So, £17.54 (87.7% retention rate out of £20 Free Bet) is your Guaranteed Profit.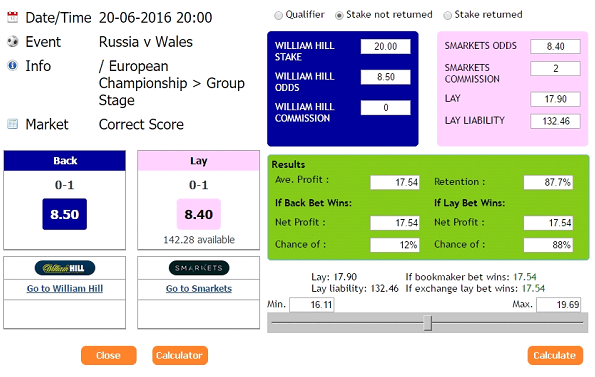 Risk-Free Betting Placing Bets Both in Bookmaker (William Hill) & Exchange (Smarkets)
Bookmaker (William Hill)
Log in to William Hill Account and locate the match of Russia vs Wales. Select the Correct Score. We are backing Russia 0 – 1 Wales, thus you need to choose Wales 1 – 0. Always double-check if the odds are still 8.50.
If it already changes, you have to go back to the above calculator and consult by inputting the new odds to see how your profit/loss will be. If it creates a bigger loss then you'd better search for a new opportunity;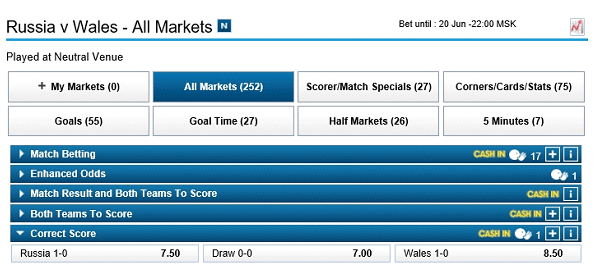 After you confirm to place the bet, the bet slip should show like below. Very important, you need to select the Free Bet Box shown in the bet slip (blue background part). Since my account does no longer has a £20 welcome Free Bet but just a £5.00 Free Bet received from other promotions, I can't show you £20.00.
However, it is exactly the same. You will find the dropbox stating £20.00 Free Bet instead of £5.00 as mine. Then you just select it;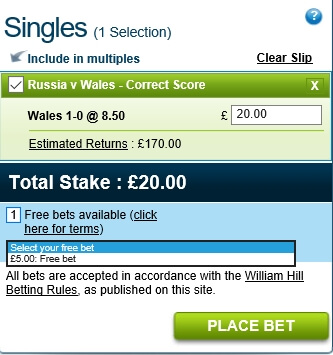 Betting Exchange (Smarkets)
Simultaneously (remember quick action is critical because the odds change very quickly), you log in to your Smarkets account. Then, locate the match as below.
Importantly, you do LAY in the exchange thus ENSURE YOU CHOOSE BLUE BOX (not green). In this case 8.4 in the blue box in 0 – 1.
Again, you have to confirm the odds stays put as you found in the Odds Matcher (if it already changes, the same thing as said for William Hill, you have to get back to the calculator & re-calculate);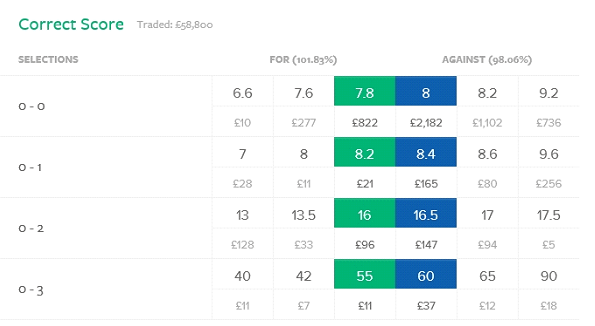 Since it is the same odds now, you click the 8.4 blue boxes. Input the LAY STAKE Amount instructed in the calculator table which is £17.90.
Then you see £132.52 liability which is the same as shown in the original calculator with a penny difference (due to rounding). So we know we have entered the correct lay stake as below;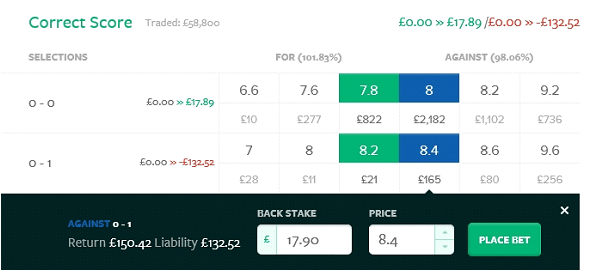 That's it.
BTW, as I said the odds change rapidly and while I'm writing this article, I found another good matched betting opportunity in the Oddsmatcher as below;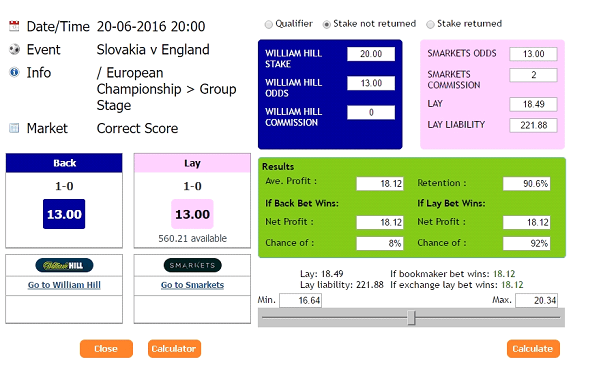 The above shows EURO 2016 Slovakia vs England, Correct Score of Slovakia 1 – 0 England. The odds of 13.00 (William Hill) vs 13:00 (Smarkets) will bring about £18.12 Net Profit with a 90.6% retention ratio.
However, you need a much bigger fund in Smarkets because it requires £221.86 Lay Liability. So, you have to balance out your needs. FYI. Anyhow, assuming you take Russia vs Wales, regardless of whether the match ends up with 0 – 1 or not (any other score) you can extract the guaranteed profit of £17.54.
It's 87.7% retention rate out of £20 Free Bet. Since you didn't generate any loss in the Qualifying Process (Qualified Bet), you earn a full £17.54 as your net profit from William Hill New Comer Offer.
"Bet xx Get xx Free Bet" Process Warp Up
A brief summary of the "Bet xx Get xx Free Bet" process is as follows;
Go to Odds Matcher software & find the list of profitable opportunities
Select low odds events for qualifying bets and high odds events for SNR-free bets.
Review the Calculator result especially for Lay Stake Amount & Profitability
Log-in Bookmaker & Exchanger, confirm the odds & place the bets quickly
Record your all bets.
So, we just introduced How To Extract Profits for the Most Common & Easiest type of New Customer Welcome Offer.
You gained a Net Profit of £18 from William Hill via Risk-Free Matched Betting Technique. There are hundreds of online sports bookmakers that provide you with such offers to new customers.
In fact, £20 Free Bet is the smaller end of the offer, you will find a much bigger bonus especially in Deposit Bonus with WR.
So you can imagine how much you will be able to rake money only from New Customer Offer, most people earn several thousand £ within a few months, but that is just the beginning.
We can then earn over £1,000 every month by applying the same strategy to tons of reload and free bet offers targeted at existing.
List of All Types Of Bonus (3 Welcome Bonus & 5 Reload Bonus)
Then, let me quickly summarize all available types of both welcome & reload bonuses and the tactics to extract cash from each offer risk-free as follows;
3 Popular Type of Welcome Offers for New Player
Qualifying Bet First before you receive Free Bet, typically "Bet XX Get XX Free Bet" (the one we have covered in the guides)
If You Lose Your Qualifying Bet, Receive Bonus, typically "We Refund If You Lose Your 1st Bet"
Receive Bonus When you Deposit and Make Qualifying Bets based on the required Rollover / Turnover before Withdrawal, typically "We Match 100% Bonus of Your Deposit"
For 1. it's by far the most popular welcome bonus used by UK bookmakers often claimed like 'Bet £10 Get £30 Free Bets' etc. (for full details related to Paddy Power, you may want to check Paddy Power ACCA Insurance Will Make €/£1,000 Risk-Free Profit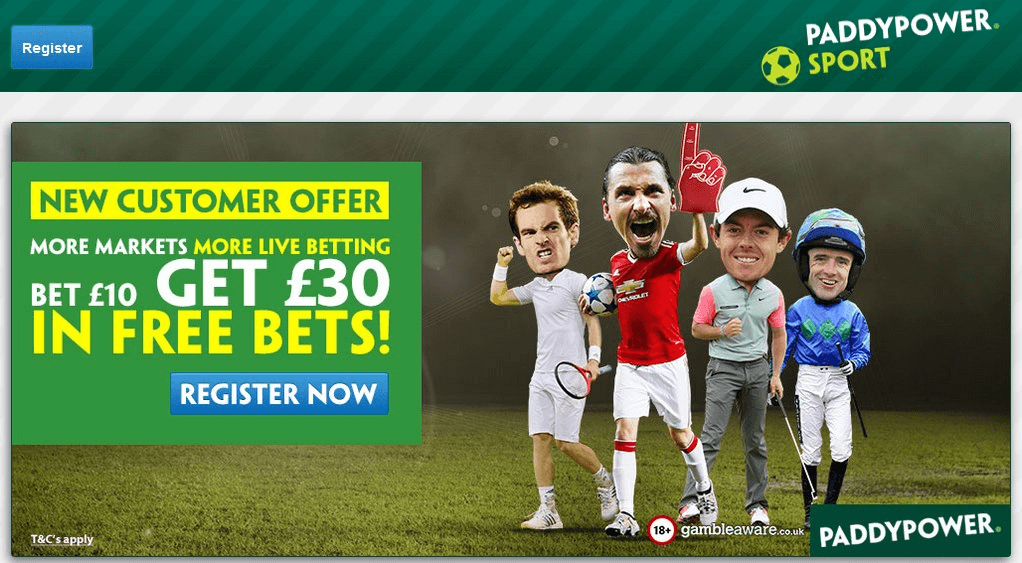 For 2, it's Risk-Free Bet or Lose Refund. This is 'If your 1st bet loses we will refund up to £30' as seen from below Dafabet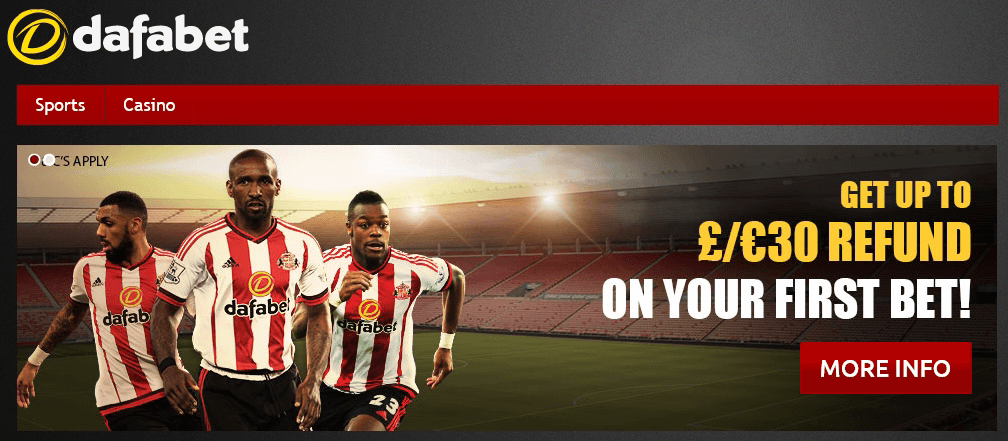 For 3, it's extremely popular among Continental Europe & Caribbean bookies, which is usually advertised like 'Welcome 50% Matched Bonus up to £200' etc. as seen in the below 10Bet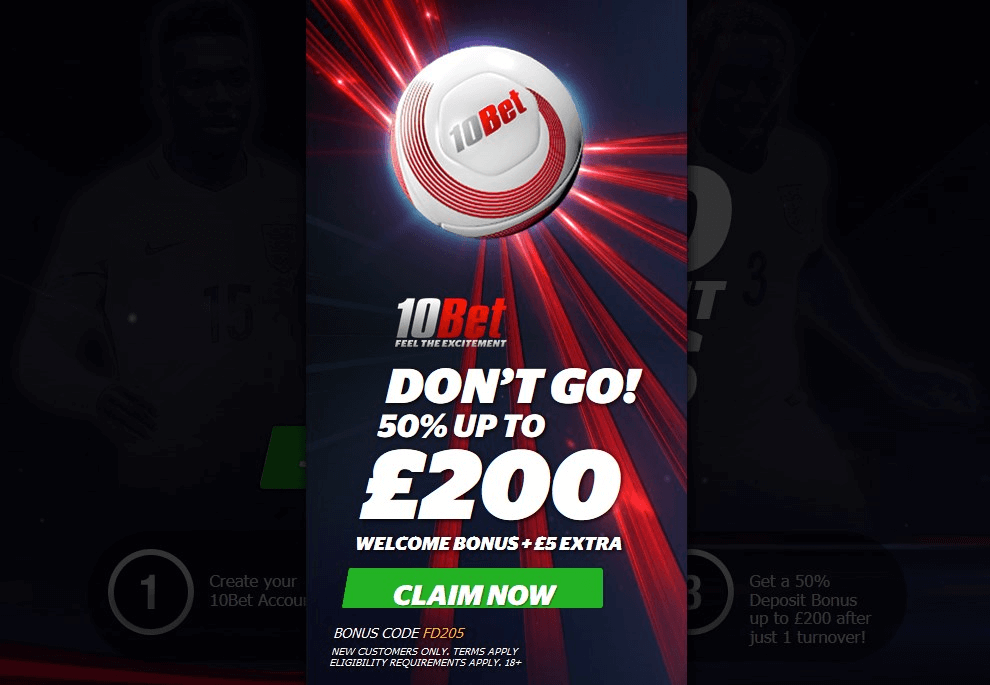 You will get your bonus usually instantly after you make the first Qualifying Deposit. However, you need to make bets called Settled Bets based on the number of Rollover (or Turnover) required before you can make a withdrawal. This is often expressed as a WR (Wager Requirement).
We separately prepare
this guide
, which summarize 5 popular sign-up offers of the bookies in the whole Europe & the process to extract cash, FYI.
Bookmaker Sign-Up – Attention
Allow me to remind that avoid sign-up directly with bookmakers before checking the availability of Cashback Offer because if you go through cashback sites you may receive both bookies' own welcome bonuses & cashback (usually big operators like Bet365, PaddyPower, Ladbrokes & Corals are listed).
Five Common Type of Reload Bonus for Existing Players
There is various type of promotions but 99% of them are the variations of the following 5 types of offers and our methods will allow you to extract real cash with risk-free.
1. We will Boost Your Price / Enhanced Our Odds
This is a common regular offer you may find almost every day in some bookies. Simply put, it may create arbitrage opportunity, which means higher back (bookmaker's) odds caused by boost than lay (exchange) odds, thus you will get guaranteed profit.
2. We will Refund you IF your horse Finishes 2nd
It is called 2nd Place Refund and is also found regularly, and you will see massive amounts of this offer in major horse festivals such as Grand National, Cheltenham Festival & Royal Ascot, etc. The key point is how to minimize the qualifying bet loss with a few techniques to grab the best lay odds which you will find in the instruction as well as the option to lock in profit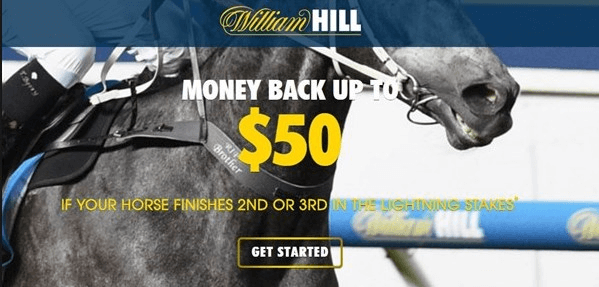 Note: Horse Racing Refund makes an important role in matched betting. I strongly suggest you take a look at 10 Horse Racing Refund Offers – Value-Based Best Selection & Tactics To Win, where we show how to gauge the value, prioritize & select the popular offers together with the specific tactics to extract cash from them.
3. We Offer You Extra Places (Horse Racing/golf or Tennis Tournament etc)
This Extra Place for a horse is almost offered every day and in fact, this is very lucrative for long-term especially using the Sculping or Dutching technique

4. We refund your losing bet "IF xxx happens"
This is called "IF Bet" there are many variations (bookies can create anything to make the bet more exciting) though all works basically the same.
We can lock in profit using Extra Lay Technique and you can find our Special Spreadsheet in the instruction which will automatically calculate everything to guarantee a profit. You need to assess 1) whether you can lay IF condition, 2) whether IF condition lay odds is short enough to make a good lock-in profit.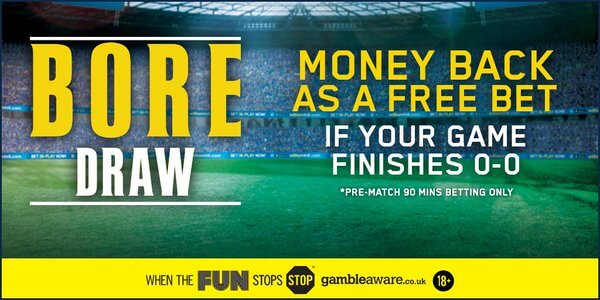 5. We refund IF 1 team fails your ACCA
It is a.k.a. ACCA Insurance which has been rapidly growing because ACCA is a cash cow for bookmakers.
However, it is also very lucrative for us advantage players (and also contributes to helping our bookmakers account avoid being restricted as I explain later), you may feel a bit complicated at the first glance, but actually very easy.
We have 3 types of Universal ACCA Insurance Spreadsheet which will assure your Guaranteed Profit, there are 3 stage instructions, for those who are completely new to this type of bet.
Lastly, you can do matched betting free by using our guides though, if you want to subscribe full matched betting package like Outplayed (ex Profit Accumulator), you may check this report where we compare the 3 best-matched betting software paid subscriptions & instruct on How To Chose.
If you have any inquiries or need any help from us, please contact us anytime (don't worry, we will not charge you any fee, everything is free here).
Good Luck!!
Joshua Walker (bio)
Editor – Global Extra Money (GEM)