Matched Betting Quick Start Guide (1) – Bonus SR & SNR (Free Bet): Introduction
Our matched betting quick start guide (1) focuses on how bookmakers' bonus works by understanding Stake Returned (SR) and Stake Not Returned (SNR)!!
No-Risk Matched Betting (or Free Matched Bet & Risk-Free Betting etc. all are basically the same) is;

Mаtched bеtting (also known as back or lay bet matching, or double bеtting) is a bеtting technique used by individuals to profit from the free bets and incentives offered by bookmakers. It is generally considered risk-free as it is based on the application of a mathematical equation rather than chance.

Wikipedia
Yes, you aren't gambling here, you're not hoping that an event you have bet on will fortunately happen. It is the act of legally exploiting procedural or structural weaknesses in some aspect of bookmakers' operations in a way that generates an edge over the bookmakers. No-Risk Matched Betting actually has very little to do with events and the profits are pre-determined. 
Since bookmaker's bonus is the profit source of matched betting, understanding how the bonuses work correctly is very important.
Broadly speaking, the bonus can be categorized into SR (Stake Returned) and SNR (Stake Not Returned).
SR is commonly used by the bookies in Continental Europe & Caribbean regions, while SNR often in the form of Free Bet is very popular in the UK & Ireland. In matched betting, you may expect to cash out at least 85% and 70% of SR and SNR value respectively.
This Matched Betting Quick Start Guide (1) – Bonus SR & SNR (Free Bet) will make a full explanation about how the bonus & free bet works in matched betting.
GEM Matched Betting Quick Start Guides
As a starting guide, we focus on "Bookmakers' New Customer Offer". Please be noted that this is the 1st of 3 series, so after you finish this guide, suggest you move to;
These Starting Guides (1) – (3) are for Real Practice, therefore very specific instructions. If you want to know the overall picture, theory, or say all about Matched Betting, access to the below Report for Dummies first;
BTW, many people somehow believe that matched betting is only for UK & Ireland. Completely Wrong. If you live outside the UK/Ireland, check;
OK, then, let's start;
Matched Betting – Understand Why No Risk
Fundamental Logic – Risk-Free
Since this is our (1) guide, allow me to briefly explain the fundamentals of matched betting. No risk matched betting is placing a bet with the bookmaker & eliminating all of the risks by placing an opposite bet with the betting exchange like Betfair to scalp all bonuses effectively.
Yes, the Bonuses (often being given in the form of Free Bets) is your Profit Source in the matched betting. Because in the back & lay transactions (see the explanation below), when you use the bonus (free bet) as the back bet at the bookmaker, offsetting the 2 bets result in the Earning of Free Bet value.
In real practice, the back & lay don't usually cancel out perfectly due to the odds difference & the exchange commission. Thus you incur a marginal loss. So to be precise (the free bet value – marginal loss = your final net profit). You will find more about this rationale in the Bonus Type (SNR & SR) later.
Given the process, theoretically, there is no risk involved because it is based on the same theory as Sports Arbitrage, which covers yourself by betting for and against the same event.
However, the risk comes when human errors are made. Therefore you need to double-check everything and follow the exact process instructed here.
Back & Lay
In this technique, we use "Back" & "Lay" terminology, thus firstly, let's make these terms clear as follows;
Back bet(or just a "bet"): bet on something to happen – this is the bet you usually place through conventional Bookmaker
Lay bet: bet on the same thing NOT to happen – this is the bet you place through Betting Exchange.
In arbitrage trading, we normally do this with other bookmakers. In the event with multiple outcomes such as football – Win / Lose / Draw, you need to bet both Loose & Draw for "Not Win" in usual bookmakers. However, in exchanges like Betfair, you can cover "Not Win" with 1 single bet. Simply put, you become a bookmaker position when you lay in exchanges. The below image shows the largest exchange Betfair's odds table.
Betting Exchange is like the Stock Exchange, namely Market Place. People don't bet against Betfair but bet against Each Other. You can offer both back & lay and when any other punter likes your offer, the bets are matched.
Yes, your lay bet will be backed by someone else at the odds (price) you offer. Or we may say you accept being against, means Laying some backer's stake & odds. If the 2 parties don't agree with the stake & odds, the bet will be UNMATCHED.
Allow me to repeat how the matched betting works. You place a bet on a particular result occurring with the bookmaker (Back) and a second bet placed on the same result not occurring at the betting exchange (Lay).
The latter is required to offset any loss in the event that the result does not occur, for instance, if a team loses. Yes, this is a Hedging.  As briefly mentioned, no matter which result occurs, there will always be a guaranteed profit because the bet you place at the bookmaker is Not Your Money but Free Bet.
The mathematics of the matched betting means that the profit made is identical, regardless of the final result.
When it comes to betting exchanges,
this guide
shows all top 4 betting exchange latest sign-up offers & how to extract cash risk-free from each offer including Betfair £100 Free Bet, which is supposed to be one of the best offers in the industry. Besides, if your residing country is not allowed to open an account of these exchanges, use
this solution
.
Bookmaker's Bonus for Matched Betting
Matched Betting is Not Only from Welcome Bonus
Simply put, you make money from 2 stage bonuses as follows;
) Bookmakers' New Customer Offer (Welcome or Initial Sign Up Bonus)
) Bookmakers' Existing Customer Offer (Reload Bonus)
Many people often misunderstand that no-risk matched betting is all about I). Then they finish after raking all bonuses from bookmakers while not recognizing the huge potential from II).
Generally speaking (depending on your commitment though), with I), you only end up with several thousand £ within a few months. However, if you continue with II), you may expect £1,000 every month with say less than 30 minutes – 1 hour/ day effort.
For the full 3 types of welcome bonuses & 5 types of reload bonus lists, see the end of Guide (3).
Bookmaker Sign-Up – Attention
When it comes to bookmaker sign-up, don't overlook cashback sites. So, suggest not sign-up directly with bookmakers before checking the availability of Cashback Offer because if you go through cashback sites you may receive both bookies' own welcome bonuses & cashback (usually big operators like Bet365, PaddyPower, Ladbrokes & Corals are listed).
SNR & SR Bonus – How Your Profit Works
Difference between SNR & SR
As briefly explained, Bonus can be split into 2 categories;
SNR – Stake Not Returned Bonus (represented by Free Bets)
SR – Stake Returned Bonus (represented by Deposit Bonus requiring WR)
In the UK, the bonus is often given in the form of a Free Bet, which is usually SNR as indicated. SR is popular in Continental Europe & Caribbean bookmakers explained in type 3. of welcome bonuses, which requires rollover/wager requirements (WR).
Generally speaking, you can secure at least 70% return from SNR and over 90% from SR with 100% risk-free. Because you're using free money viz. a portion of the free money offsets any potential losses and betting exchange commission.
Let me explain how the whole process works by using Bookmaker.eu (Caribbean bookmaker) where you can find a $300 – $500 (depending on the promotion) welcome bonus. I use this World Leading On-Line Bookmaker located in Costa Rica as an example for the bonus explanation.
Allow me to repeat what I said before, that this is because Matched Betting is often believed to be exclusively for UK / Ireland players. However, actually, there are so many bookmakers providing generous bonuses globally.
As long as you live in the countries where the exchange such as Betfair Betfair operates, you can make a decent profit from this strategy. Simply, my intention of picking Costa Rica bookie here is to emphasize the global opportunity of the matched betting.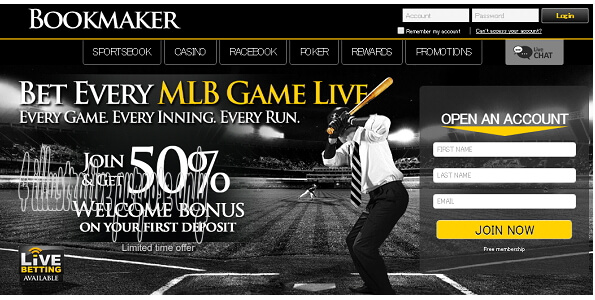 Bookmaker.eu Bonus Offer & Note
In the Bookmaker.eu, you receive a maximum of $500 free money to bet after you deposit. Unfortunately, you can't withdraw a $500 bonus before making certain betting called rollover (or turnover) requirement.
In this case, they require 4 times rollover (this rule is changeable). Means bet 4 times the deposit + bonus. Some bookmakers ask for more rollover. Clearly, hefty rollover requirements create problems for casual bettors.
The bookmakers rely on the fact that the vast majority of their customers end up losing both their deposits and their bonuses way before they become eligible to withdraw the original bonus part. However, you as a smart punter can turn this bookie's maneuver into an advantage.
(See (2) & (3) guide for the comprehensive Instruction of the whole process,)
The actual offer of Bookmaker.eu is a Deposit % Match Bonus, which is B) SR – Stake Returned. However, I created a hypothetical SNR as the below A) for the sake of comparing the SNR & SR.
Namely, in order to compare how the matched betting are constructed in each type of bonus and how the final profits are affected. Besides, SNR usually doesn't require any heavy Rollover but often 0 or x1 or 2 at the most. Just FYI.
A) SNR – Stake Not Returned Case
Assuming $500 free cash is SNR if your bet loses you get nothing exactly like a normal loss situation. If it wins then you do not receive the initial stake back but receive only the winnings hence it's called Stake Not Returned.
This is based on the viewpoint that your initial stake of a free bet has no real value although it's considered as a qualifying bet. Here just give you the concept of how the matched betting process works while explaining the impact of 2 different bonus types.
Process
You can scalp this bonus without risk. As briefly explained before, all you need to do is constructing the Matched Betting with "Back" (via Bookie) and "Lay" (via Exchange) bet on the same event by matching the Odds.
Means finding similar odds on the same sports event in bookmaker and exchange and bet both simultaneously. You can find such similar odds by using Free Odds Matching Software like below (this free matcher doesn't cover the bookies outside the UK like Bookmaker.eu here, so use Oddsmonkey (see full review) as the full matched betting package service or RebelBetting Software that can be fit for every player in the world);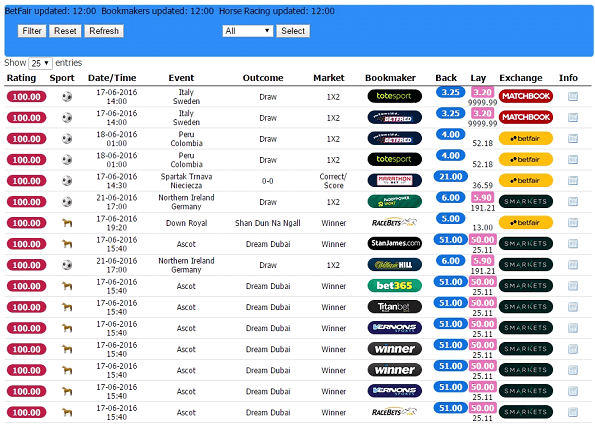 By doing so, you will have covered all possible outcomes (Team wins | Team does not win). If you stake your bets correctly whatever the outcome of the match you would not lose any money because the bets would cancel out each other.
Importantly, you need to take into account the fact that you will not receive the stake back. Because this is SNR (this is the difference from the next SR – stake returned bonus), means theoretically return is slightly lower than the case of SR.
Therefore, in order to maximize your return, you may want to find a bet at your conventional bookmaker with high odds. Generally, the higher the odds, the better your end profit will be.
Example A
You get the qualified $500 free bet in Bookmaker.eu Say, you find Draw on Chelsea vs Manchester United football game at the odds of 4.0. And place a $500 free bet on it, which will give you the total return of $1,500. $500 x 3 only, without your original $500 stake back since it is SNR if the draw occurs.
Next, you need to find a lay (Not Draw) at the same 4.0 odds in Betfair(exchanger) to secure the profit regardless of the result. However, don't forget the fact your bet in Bookmaker is SNR.
Thus if you lay the same stake of $500, your profit will be 0 in case the draw occurs.  Net Gain $1,500 will be wiped out by $1,500 Betfair Net Liability. So, you should lay a smaller stake than $500, say $380, then the possible scenarios are:
Draw Occurs
Receive $1,500 in Bookmaker.eu
Pay $1,140 to the opposite punter in Betfair
Net Profit $360
Draw Not Occur
Loose $500 free bet in Bookmaker.eu but your real loss is 0
Receive $380 your opposite punter's stake in Bookmaker.eu but need to pay $19 of 5% commission to Betfair
Net Profit $361
So, you can expect a return of $361 (72% return = $361 / $500 free bet x 100%) regardless of the outcome in this case. In other words, you secure the minimum 70% return.
Bear it in mind, if you don't do this matched betting, your result will be either $1500 profit or $0 as a usual gamble. Gambling doesn't secure any profit but simply counts on chance/luck, just for your information.
Now you may wonder how to calculate Lay amount, don't worry you can use Free Matched Betting Calculator like the below one provided by Bonus Bagging. The detailed process will be fully explained in the (2) & (3) guides.

B) SR – Stake Returned Case
Next, let's calculate the SR (Stake Returned) case. Again, all you need to do is the same Matched Betting then you place bonus as a back bet with Bookmaker.eu and a lay bet with Betfair on the same selection.
The only difference and good thing with SR are that they do include their stake in returns, thus the lay stake can be almost the same as the bonus stake, which will ensure you a better return.
Example B
Assuming the above Bookmaker.eu $500 is SR. Let's use the same above odds. Draw on Chelsea vs Manchester United football game at the odds of 3/1 (4.0). You place a $500 free bonus bet on it, which will give you the total return of $2,000 ($500 x 3 + $500 as your original stake since it is SR) if the draw occurs.
Next, you need to find a lay (Not Draw) at the same 3/1 (4.0) odds in Bookmaker.eu. Then lay $500 (rather than the previous case of $350) to secure the profit regardless of the result. Now, the possible scenarios are:
Draw Occurs
Receive $2,000 = $1,500 winning + $500 original stake in Bookmaker.eu
Pay $1,500 to your opposite punter in Betfair
Net Profit $500
Draw Not Occur
Loose $500 free bonus in Bookmaker.eu but your real loss is 0
 Receive $475 ($10 as 5% commission to Betfair is deducted) in Betfair
Net Profit $475
So, you can expect the return of $475 (95% return = $475/$500 free bet x 100%) in this case. In other words, you secure the minimum 95% return.
Overall, a much higher return than the case of SNR, because you don't need to lower your lay stake. As said, you don't need to calculate the optimum lay stake & profit manually but use Free Calculator which will do everything for you.
But the purpose of the above explanation is to enable you to understand the fundamental logic & SNR / SR calculation rationale behind the matched betting. 
SNR & SR Key Results & Implications
When the Rollover is required (as said, it's often expressed as WR – Wager Requirements), which you face in SR case;
A) If you win in the bookie, you still can't withdraw your bonus yet at this stage. But you effectively progress the rollover requirement and keep repeating the same practice until you finally fulfill the requirement or move to B).
B) When you lose in the bookie, you effectively transferring the free money to the exchange where you can withdraw without any strings attached.
C) The lower the odds, the more probable to progress A) than B) due to simply more chance on the successful back than lay.
D) You can optimize your risk by controlling your lay stake amount in Exchange.
E) The higher the odds, the higher your return – but don't forget you need to have sufficient fund in Exchange to cover the liability.
F) If the bet produces an arbitrage opportunity, you can expect much higher profitability.
BTW, there are the best tactics on SR (bonus requires WR) called underlay, we draw a full instruction in this guide, FYI.
As a final note, no risk matched betting doesn't necessarily require Lay Bet in Exchange. You can construct among Bookmakers with Back and Back. It's known as Dutching Betting, which you will find the full details in Dutching Betting – Awesome Technique To Win More & Reduce Risk.
If you have any inquiries or need any help from us,
please contact us anytime
(don't worry, we will not charge you any fee, everything is free here).
Good Luck!!
Joshua Walker (bio)
Editor – Global Extra Money (GEM)
It is effectively our way to promote Responsible Gambling under the regulation, and we strongly support GamCare

& BeGambleAware being explained in about us.