Free Matched Bet Starting Guide (2) – The Best Sign-Up Tactics & Place Qualifying Bet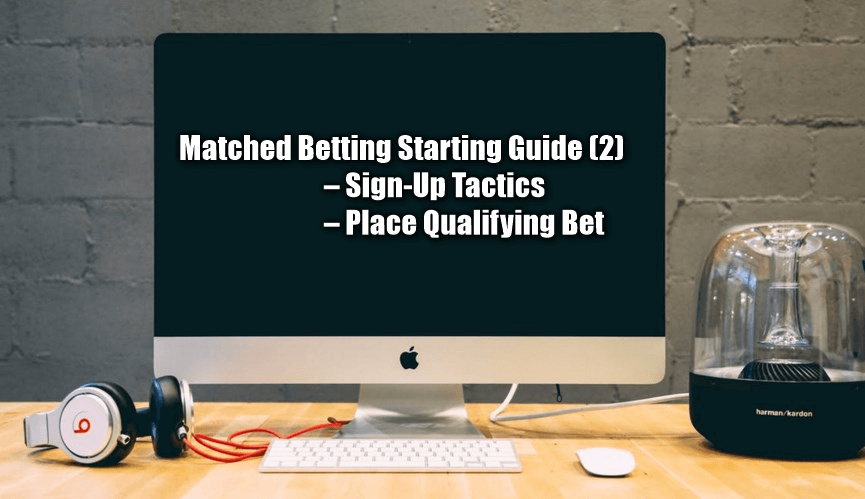 Estimated Reading Time: 22 minutes
What's Free Matched Bet? Yes, It's a Matched Betting, Don't You Know the Matched Betting? Then, Go (1), This Free Matched Bet Starting Guide Focuses On How To Sign-Up (New Customers) & How To Place Qualifying Bet (Existing Customers As Well). Very Easy, People Make £/€1,000 Every Month On The Side From It!!
---
Firstly, many people automatically think Betting = Gambling. Big Misconception. We do bet but don't count on luck. Instead, we do 6 Advantage Plays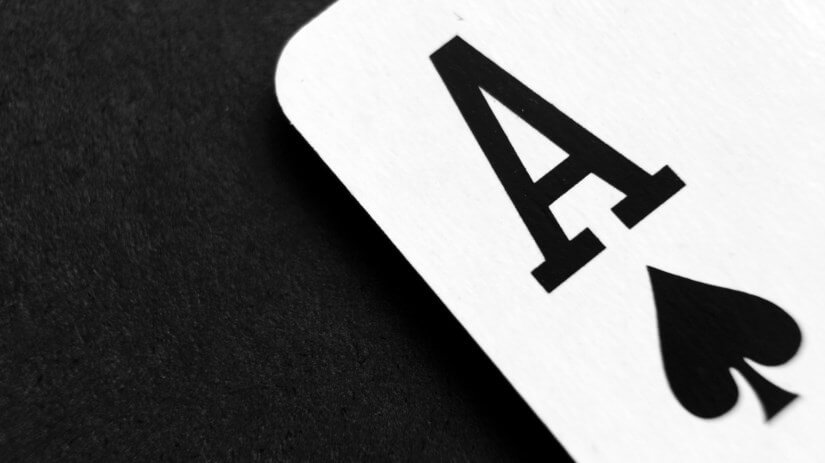 based on mathematical edge to beat the bookies, casino & bingo. When it comes to the Sports Betting, we use Matched Betting / Sports Arbitrage / Value Bets On Proven Tipsters to lock-in profit or consistently earn extra income for long-term. With that said, one of our policies is "Betting On Chance Is For Losers, Stop Gamble Betting But Bet on Only +EV (Expected Value) To Win Reliably". It is effectively our way to promote Responsible Gambling, and we strongly support GambleAware
being explained in about us. We GEM – Global Extra Money would like our readers to exploit such reliable profit making opportunities by accessing to our FREE instructions conveniently. And providing the of Free Matched Bet Starting Guide (2) – The Best Sign-Up Tactics & Place Qualifying Bet in this document is part of our efforts to achieve that vision.
Free Matched Bet Starting Guide (2) – Before Going Into Further;
This article is the 2nd part of 3 Matched Betting Start Guide focusing on Bookmakers' New Customer Offer (But For Those Who Already Have Bookies' Account, Use The Guide As How To Place Qualifying Bet) , so if you have not read the Guide (1), suggest you read;
Then after you finish this guide, move to;
OK, then, let's start;
Free Matched Bet Guide (2) – Sign-Up & Placing Qualifying Bet
Bookmaker Sign-Up – CAUTION
As cautioned in the Guide (1), Don't Sign-up Directly With Bookmakers Before Checking the Availability of Cashback Offer, otherwise you may waste hundreds of £ risk-free cash. Make sure you access to our instruction of Betting Cashback Websites – The Ultimate Guide To Be Always Better Off
, before opening any bookmakers' account (the document shows you how to collect £2,500 cashback all together).
We Start Up With The Easiest One
 Recall 3 Popular Type of Welcome Offers for New Player explained in the Guide (1);
Qualifying Bet First before you receive Free Bet, typically "Bet XX Get XX Free Bet"
If You Lose Your Qualifying Bet, Receive Bonus, typically "We Refund If You Lose Your 1st Bet"
Receive Bonus When you Deposit and Make Qualifying Bets based on the required Rollover / Turnover before Withdrawal, typically "We Match 100% Bonus of Your Deposit"
The 1st "Bet XX Get XX Free Bet" is by far the most popular and actually the easiest one to tackle. Therefore, this starting guide focuses on this type of offer.
For 2. of "We Refund If You Lose Your 1st Bet", you will find the Specific Instruction in How To Lock-In Profits from Risk Free Bet Sign Up Offer By Matched Betting;
For 3. of "We Match 100% Bonus of Your Deposit", go to How To Guarantee Profits from Sports Deposit Bonus With WR (Wager Requirements);
2 Bet Stages: Qualifying Bet & Extracting Free Bet
Regarding "Bet XX Get XX Free Bet", you need to go through 2 stages before withdrawing your profit earned by Bonus / Free Bets.
Qualifying Bet – For the 1st stage, you sign-up to open the account. Then, deposit money & bet called Qualifying Bet based on the requirements specified in each bookmaker's T&C (Terms & Conditions). This first bet placement is described as qualifying process. In this stage, we may incur a small loss but should be marginal such as a few pence.
Extracting Free Bet – After receiving the free bet in your account, use it to earn 70% (minimum) – 100% of the stake you bet without risk as the 2nd stage. This process will be explained in the guide (3).
Sign-Up & Placing Qualifying Bet – Step by Step Process
1st Open Account – Both Exchange & Bookmaker (If You Already Have Accounts, Skip It & Jump To Place Qualifying Bet)
As the first step, you need to sign-up Bet Exchange for Laying Bet and Bookmaker for Backing Bet. Here, we use SMarkets (not Betfair as the market leader, why? see the next section) for Exchange and William Hill for Bookmaker as the examples.
Bet Exchange Sign-Up
As you already know, betting exchange is essential for matched betting. Therefore, it's critical to take the right approach from the beginning which will affect your profit for long-term. Suggest you take a look at Bet Exchange – How To Sign-Up & Lock-In Profit Wisely With Best Offers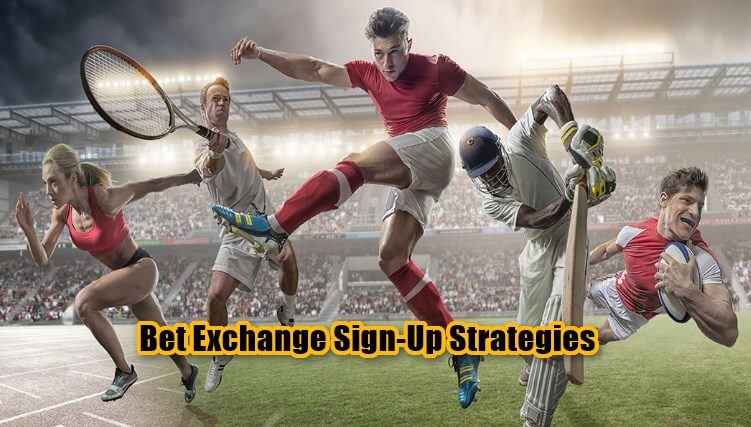 , where you see spoon-fed like instruction of Sign-Up Process & Offers. I will extract a few tactics from the documents here as follows.
Bet Exchange List
There are following 4 Major Betting Exchanges;
Betfair – Market Leader / Broadest Market Offer / Largest Liquidity / Highest Commission of 5%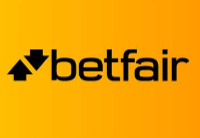 Betdaq – Market Follower / Good Market Coverage / Modest Liquidity / Highest Commission of 5%
SMarkets – Rising Star /  Good Market Coverage / Modest Liquidity  / Competitive 2% Commission
Matchbook – Niche / Modest Market Coverage / Modest Liquidity / 1.7% Commission (both win & lose, remember all the other exchanges' commissions are against only win)
Bet Exchange Sign-Up Tactics
Basic Principle
Firstly, we are matched bettors, means we rake cash from every promotional offers. Same as the bookmakers, all the above 4 betting exchanges provide you with sign-up offers. Therefore, there are no reasons to be picky but you should sign up all to extract cash from the welcome bonuses.
So, what I will explain next is a few tactics on sign-up order, daily use & a bit of cautions.
Suggested Tactics
Core Bet Exchange SMarkets; Given the competitive 2% commission, you may want to use it as a core exchange for your daily matched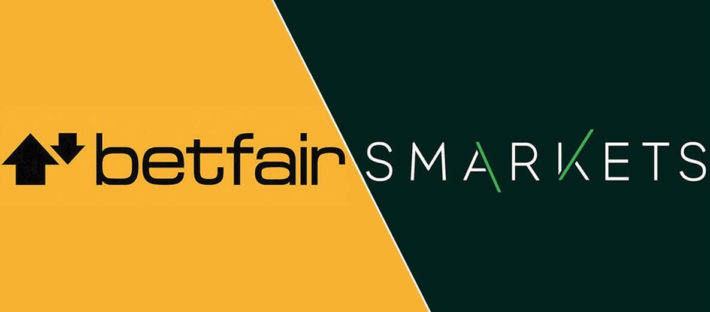 betting. Means, your first sign-up to be SMarkets.
Stand-By Bet Exchange
Betfair: Given its vast market coverage & liquidity, you always want to keep Betfair stand-by whenever you can't find the appropriate market such as Greyhound in SMarkets. Besides, note that Betfair also provide conventional bookmaker service called Betfair Sportsbook in addition to bet Exchange. Since Betfair is famous for bet Exchange, many newbies are initially confused. Importantly Betfair Sportsbook offer a lot of juicy promotions for matched bettors.
Warning
While you're using Betfair Sportsbook, suggest don't be obvious at Exchange. What does it mean by obvious? Find out more about account restriction. Never ever lay off at Betfair Exchange while backing the same event at Betfair Sportsbook. It's exactly demonstrating that you're a matched bettor. Then your Sportsbook account could be quickly gubbed. So, ensure you use SMarkets when you do matched betting at Betfair Sportsbook. Anyhow, once your Betfair sportsbook is gubbed, it's high time to start using the exchange function aggressively together with SMarkets. Don't worry, Betfair will gubb your Sportsbook but Never Gub Your Exchange.
Opportunistic Bet Exchanges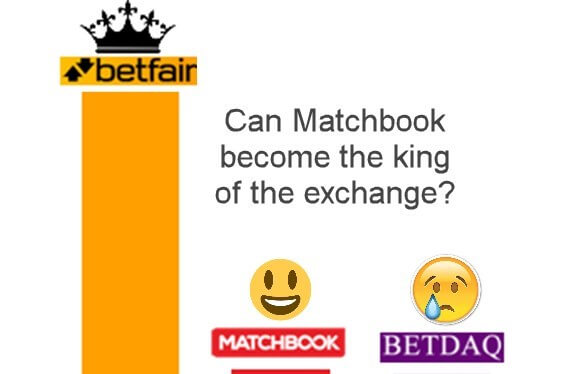 Unlike bookmakers, historically, bet exchange is not aggressive in providing promotion. However, both Betdaq & Matchbook periodically provides juicy promotion such as 0 Commission in the specific sports category, regularly. Betdaq – The standard commission is 5%, same as Betfair. But Betdaq started "0" commission for Any Tennis Games. But Betdaq started 2% commission from Feb 2018 (looks it's a permanent change) to regain their losing ground to the competitions. So, it's a good chance to take up this exchange by making the best use of the latest offer;
Matchbook – The standard commission is 1.7% but it applies NOT ONLY to winning bets (applying only to winning bets is the case for all the other exchanges) BUT ALSO to LOOSING BETS. So, obviously how this affects varies from punter to punter. Assuming you as a matched better's win & loss at exchange is 50:50, the return could be equivalent to SMarket's 2% commission. The benefit is they run 0 Commission for specific sports category such as All Horse Races periodically. So, we should keep our eye on their offers;

BTW, Betfair also started periodical promotion such as 2% Commission for All Premier League Matches;
It proves that the competitiveness among bet exchange is getting fierce, which is an encouraging news for us. Just FYI.
Bet Exchange Sign-Up Process – SMarkets
I'll show you how to sign-up bet exchange by using SMarkets as an example. Actually, the process is more or less the same among 4 bet exchange, the important thing is carefully check each T&C as emphasized in my each instruction. Click the below "+" which opens the step-by step process with the screenshots;
Bookmaker Sign-Up – T&C Check Points
For Bookmaker sign-up I'll use William Hill as an example in this document; William Hill – Bet £10 Get £30 Free bet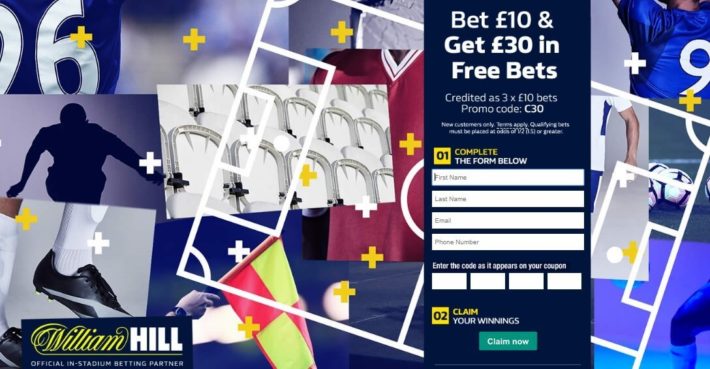 , you will find the detail T&C at the bottom of the offer page. Boring Thing – I know it's cumbersome & boring to read T&C of every sign-up offer. But strongly suggest you do, because skipping it may lead to costly mistake. For Exchange, once you complete the sign-up offer, you may not have many reload offers. However, for bookmakers, the real income comes from such re-load offers to the existing customers. So get accustomed to read T&C every time, and get insight which points you need to check. Find the below list of key T & C check points. Bear it in mind that T&C varies among bookmakers;
Availability of Bonus / Offer Code and the timing to Input
Type of Offer – Qualifying Deposit or Qualifying Bet
Within how many days you need to deposit after sign-up
Qualifying Bet – Within how many days you need to bet after deposit (or code input)
Again Qualifying Bet – Within how many days you need to use up Free Bet
Qualifying Deposit – Number of Rollover required to make a withdrawal
Again Qualifying Deposit – Within how many days you need to complete Rollover
Qualified odds you need to bet such as 1/2 (1.50) or greater both for Qualifying Bet & Free Bet
This is not an exhaustive list and you need to review each bookmaker's T&C carefully.
Odds Decimal Format
You need to change the Odds Format from Fractional into Decimal. UK bookies usually set fractional as a default format for easy comparison between exchange odds & bookies' odds. Brief explanation about these formats is, Decimals show how much money you will win if you win your bet including your original stake. Therefore if a decimal is 2, I would win 2 overall (£1 profit + £1 stake). Just add '1' onto your fractional odds if the denominator is '1'. So, for instance fractional odds of 5/1 become 6. In cases of fractional odds denominators not being 1, it's just as easy. Say the odds were 13/2, simplify the equation to 6.5/1, and then add 1 to 6.5. So your decimal would be 7.5. It means £6.50 profit for every £1, and £7.50 including your stake.. It's much easier to compare odds of 2.25 and 3.38 than it is to compare 5/4 and 11/8! See the below comparison table for your convenience;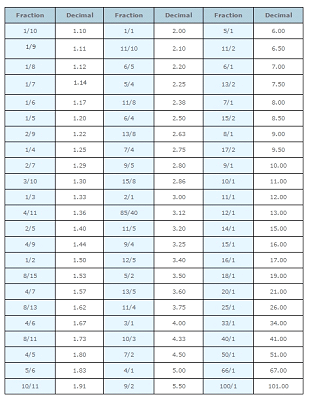 2nd Qualifying Process – Qualifying Bet (This Process Will Apply To Any Reload Offers)
This is the step by step instruction on How To Complete Qualifying Bet to Unlock your Free Bet.
Free Odds Matching Software
Firstly, we need to find an opportunity of Matched Bet in the market. We use Free Software to do it. Probably, the best software for FREE is the one provided by Bonus Bagging (No.1 Matched Betting System for Newbies), as shown below;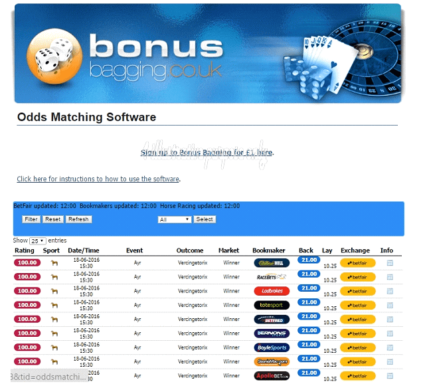 Odds Matching Software
This bonus bagging free odds matcher is provided by Mike Cruickshank who run Profit Maximiser, the premium matched betting subscription service. If you're interested, see my full review of Profit Maximiser – The Engineer Of Matched Betting Success, Is It Still Good: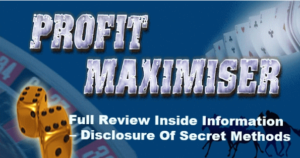 QUALIFYING BET
Let me start up with basic principle of Odds Selection. In the matched betting, it is important to locate the sports event with close back and lay odds. The closer the odds are, the less we will lose on our qualifying bet. Therefore the more profit we will make overall. Besides, for qualifying bets, it's better to look for selections with short odds. Ideally as close to the minimum odds requirement as possible. The Odds matcher shows you all the current matched betting opportunities in the order of profitability. At the left end column, you see the % in descending order from 100%. The 100% indicates your loss is 0. As said before, in the stage of qualifying bet, you need to prepare for marginal loss. Thus it's great to find the 0 loss opportunity, and the nearer to 100% the lower the loss. At the top center, you can choose the bookmaker (currently over 70 bookmakers are listed) and select William Hill like below;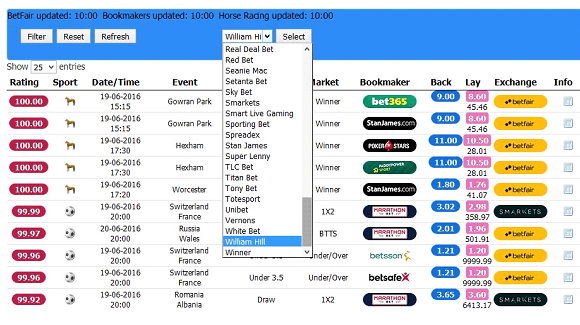 Then, you will see the below page;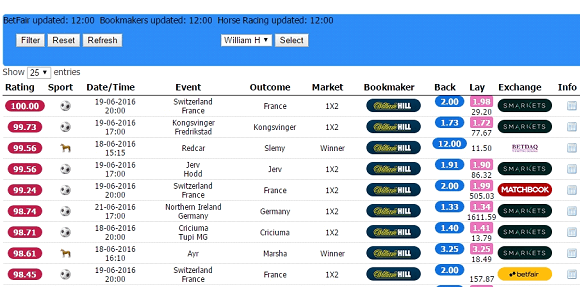 Luckily, there is 100% opportunity which is EURO 2016 Switzerland vs France on 19 June 2016 (the first one). It shows Bet on France Win in the Market 1×2 (means home wins or draw or away wins) with the Odds of 2.00 at William Hill and 1.98 at Smarkets (Exchange). Here you need to be careful for the Odds. Bookmaker usually set minimum odds requirement like 'Your first bet must be placed on a selection(s) with single/cumulative odds greater than 2.0' etc. William Hill's condition is greater than 1.5, so this opportunity satisfies the requirement.
Specific Instruction of What You Should Do with Matched Betting Calculator
Although there is a separate dedicated Free Calculator, the software conveniently instructs what you should do when you click the Info box at the right end column. So, click the box of Switzerland vs France match, you see the below table;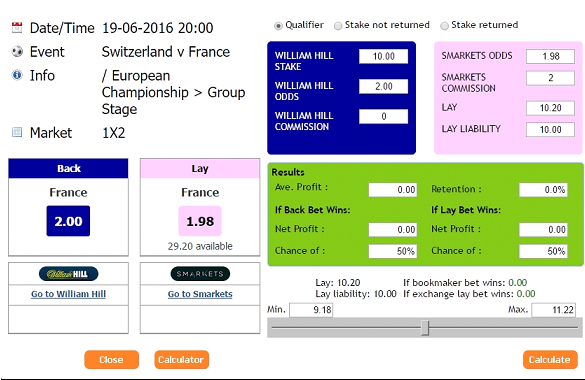 How To Read Calculator
This table shows; If you bet £10 in William Hill (£10 is the default amount in this software and William Hill new comer offer is 'Bet £10 Get £30 Free Bet' therefore you don't need to change at all), under the Qualifier (it's again the default setting at the right top. you should change into SNR – Stake Not Returned or SR – Stake Returned when it comes to Free Bet), you can maximize your profit as;
You need to lay £10.20 in Smarkets (remember Lay stake amount differs from the back amount).
Your net profit / loss is 0 (usually a small loss but here 100% opportunity means no loss, which is good) no matter the outcome of the event will be as;
Back Wins (at Bookie): +£10 (William Hill) – £10 (SMarkets) = £0 Lay Wins (at Exchange): -£10 (William Hill) + £10 (SMarkets) = £0
Placing Bets Both in Bookmaker (William Hill) & Exchange (SMarkets)
William HillLog-in William Hill Account and adjust odds into Decimal;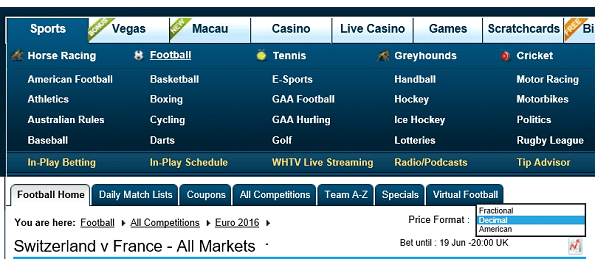 Locate the match of Switzerland vs France. Then choose Back France. Make sure the odds is still 2.00 because it is quickly changing. If it already changes, you have to go back to the above Calculator Table to consult by inputting the new odds to see how your profit / loss will be. If it creates bigger loss then you'd better search new opportunity.

After you confirm place the bet, the bet slip should show like below;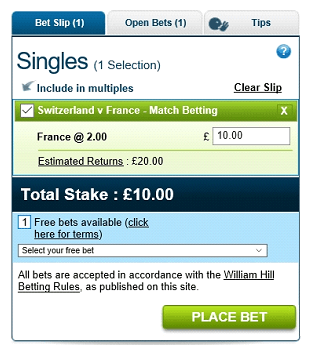 Smarkets
At the same time, you access to Smarket and locate the match as below. Importantly, you do LAY in the exchange thus ENSURE YOU CHOOSE BLUE BOX (not green). In this case 1.98 in blue box in France. This is the Odds of France Will NOT WIN, means it includes both Loose & Draw. Again, you have to confirm the odds stays put as you found in the Odds Matcher. Iif it already changes, the same thing applies as said for William Hill. You have to get back to the table & re-calculate.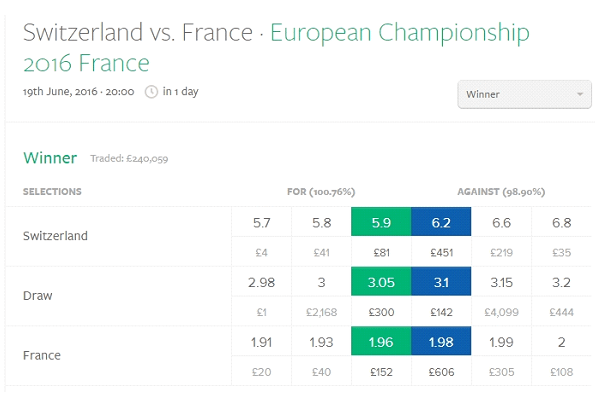 Since, it is the same odds now, you click the 1.98 blue box, and input the LAY STAKE instructed in the calculator table which is £10.2 as below;

Lay Liability
Here, you see the word 'Liability' of £9.99. Let me briefly explain this concept. Lay liability is the amount of money you need to have in the exchange to place the lay bet. When our lay bet loses, we lose our liability. On the other hand, when a lay bet wins, we receive the amount in the 'backer's stake' box & we get our liability back. The calculation is Back Stake (£10.2) x Odds (1.98 – 1 = 0.98 to calculate the genuine part of loss when your lay loses) = £9.99 In this case, odds is short (means small). The longer (bigger) the odds, the bigger the liability is. Say the odds is 8.00, then liability will be £71.4 (£10.2 x 7.00). Coupled with your back stake of £10.2, the total £81.60 will be required in your exchange. That amount will be locked until the bet is finally settled. For this particular topics, you may want to take a look at How To Minimize Exchange Lay Betting Commission & Liability For Matched Betting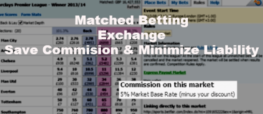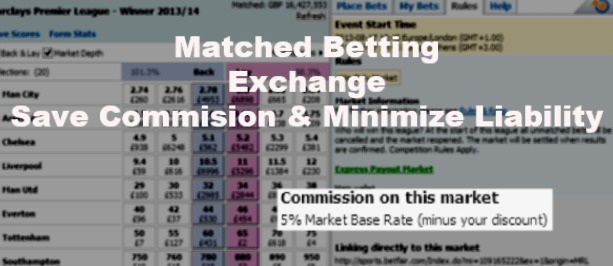 In the Guide (3), we will talk about extracting profit from Free Bet. In general, the longer (the larger) the odds, the bigger your profitability. As you see here, you need larger fund in your exchange when you chose larger odds. Therefore you need to balance out the profitability & bank size (or say liquidity) at the starting point. That's it. You basically completed the Qualifying Bet placement by covering all the possible outcome of the event. Namely Back France Win in William Hill & Lay France – Not Win in SMarkets without incurring any loss in this case. After the match settles, you will receive £30 (£10 x 3) Free Bets in your William Hill account.
Now, Continue to
Matched Betting Starting Guide: New Customer Offer (3) –
Extract Profit Step By Step
If you have any inquiry or need any help from us,
please contact us anytime

(don't worry, we will not charge you any fee, everything is free here). Good Luck!! Joshua Walker
---