What Is Horse Racing 2nd Place Refund Offer?
"Refund 2nd Place" is a pretty straight bookmaker's offer, meaning your loss will be refunded if your horse finishes 2nd. You will get a cash refund like William Hill or receive a free bet like Paddy Power. Obviously, a cash refund gives you better value.
This type of offer is not only for horse racing but is used in many sports events such as Outright Markets of the golf tournament, darts tournaments, Football competitions, or Olympics.
This 2nd Place Refund will bring about constant profit with almost no risk. For horse racing, you will find a lot of offers, especially in big festival seasons such as Cheltenham Festival, Royal Ascot, and Derby. Many bookmakers are trying to compete with an attractive offer.
Evaluate Which Offers to Give You Value
One offer you should never overlook is the one including the 3rd place refund as seen from Paddy Power offer Paddy Power in Galaway Festival; 

Actually, such an offer is extremely juicy compared with the usual only 2nd place Refund (see more in the EV – Expected Value evaluation later).
BTW, you may also see similar offers but with other conditions such as "Your horse finishes next to SP Favorite" or "Lose within Length / Head / Neck. 
Honestly, all of these multiple conditions decrease your refund probability to very low.
So unless you are a seasoned matched bettor, suggest a focus on Simple 2nd (or 3rd) Place Refund which Sky Bet offers every weekend. 
We have drawn the strategic paper related to the Horse Racing Refund. I strongly suggest you take a look at 10 Horse Racing Refund Offers – Value-Based Best Selection & Tactics To Win, where we show how to gauge the value, prioritize & select the popular offers together with the specific instructions to extract cash from them.
(Incidentally, many gamblers tend to prefer privacy, and if you do so, go to the List of Best Anonymous Bitcoin Casinos & Bonuses.)
Standard Process Of Horse Betting 2nd Place Refund – How My Bet Went
As said, we use matched betting to make bookmakers' offer almost risk-free, which applies to horse betting 2nd place refund as well. Therefore, let me quickly show you how matched betting works as follows.
BTW, many people imagine matched betting is for only UK & Ireland, wrong, check;
this approach enables everybody in the world including US citizens to make decent profits from this risk-free betting technique
for Germany, Austria, and Switzerland residents, suggest this program that focuses on these 3 countries
when it comes to Australia, this service is supposed to be the best.
How To Do Matched Betting On Horse Betting 2nd Place Refund
In case you're not familiar with it, Matched Betting For Dummies will be of your help. But just briefly, matched betting for horse racing 2nd place refund works as;
2 transactions of Back (bet on win) the horse at Bookmaker that offers Horse Racing 2nd Place Refund such as Paddy Power & Lay (bet on NOT win) the appropriate stake (use free calculator) on the same horse at Betting Exchange such as Betfair (you may want to use Betfair Alternatives) or Smarkets so that you cover all outcomes (

if you can't access to any these betting exchanges in your country

use

this method

).
No matter what the final outcome of your horse will be, your losing & winning will cancel out each other. In real practice, usually, 2 bets are not perfectly offset due to the odds difference & exchange commission therefore you make a small loss called Qualifying Loss.
However, if your horse doesn't win but finishes 2nd, you will get a refund for your losing bet.
Then, you repeat the same betting practice in different racing. But, this time, you will use the free bet in Paddy Power therefore it (free bet value – qualifying loss) will become your net profit.
The success factor is how to minimize this qualifying loss.
You can do such horse racing matched betting every day by using the offer below William Hill Money Back Second;

Betting Exchange
As you see in the above process, the betting exchange is essential for matched betting.
This report shows all top 4 betting exchanges' latest sign-up offers & how to extract cash risk-free from each offer like the below Smarkets example (The  "+" icon underneath displays Full Contents);
Remember, the more you have betting exchanges, the more you have choices to lay off, so try to make all your accessible exchanges available for your matched betting.
In case you can't access any betting exchanges in your country, then don't worry use this method, which enables you to access to Betfair market.
Now, let's follow the process step by step;
Process 1 – Keep Checking E-Mail
Bookies often send the promotion announcement by e-mail on the day unless it is prepared long before a big promotion. They may issue the offers based on their business needs like balancing the book or needing short-term sales to boost etc. So, you have to keep watching your e-mail or SMS text. The above Paddy's offer was sent around 14:00 PM.
Process 2 – Seek Short & Narrow Odds
Given the nature of the promotion (2nd & 3rd), you should select the horse with short odds though as the below odds checker indicates Paddy's top 2 – 4th horses don't show attractive odds. Well, it's often the tactics that attract you to the event by promotion but get you to buy not attractive odds or long odds horses. Anyhow, I selected one horse that is relatively good odds around 4 hours well before the race starts – this is Early Price
We need to find a close match between the bookmaker back odds & the Betfair lay odds. Ideally, you want the Betfair lay odds to be slightly lower than the bookie-back odds. You back / lay any horse for no loss and hope it finishes second so you get the free bet refund. Any of Betfair's odds are not attractive (means close) enough to Paddy's odds for matched betting at this stage. So I decided to wait until just before the race starts when usually the odds move drastically thus we have a good opportunity to grab preferable odds.
Process 3 – Combine With Other Offers
At the same time, I received a similar offer from Boylesports, which has the additional condition of After SP (Starting Price) Favorite. It means my horse needs to finish 2nd or 3rd beaten by the Favorite Horse at starting time. As said before, usually, this 2nd to SP offer is a very low chance means relatively low value. However it still has value (because it offers the 3rd as well) & it offers in the same race so that I can save exchange commission & best utilize my fund (see

Matched Betting Exchange – Minimize Exchange Commission & Liability

), therefore if there are close odds between Boylesports & Betfair I would take up this offer;
Process 4 – Lay Off 10 Minutes Before The Race Starts
The below shows the Betfair Lay Odds, just 5 minutes before the race starts. These are much better (means lower because this is Lay) than the previous one (the Favorite Horse increased the odds but we don't buy Favorite otherwise we lose the Boylesports' promotion benefit), so I completed the laying satisfactory;
So, do you want to see the final results? Here you are;
Do you want to know how I went? My bet at Paddy Power finished 14th while my bet at Boylesports finished 3rd. Wow, but unfortunately the SP Favorite finished on the 10th, so I couldn't receive the refund. Now you see how such a simple added restriction makes this lucrative 2nd & 3rd Place Refund so difficult. However, I could take great odds for both horses in the last 5 minutes in Betfair, in fact, Paddy's bet resulted in an arbitrage, thus overall ending up with a slight profit.
Is It Really Worth it? Let's Evaluate The Value
As usual, let me use EV (Expected Value) to gauge the value of the Horse Betting 2nd Place Refund offer. EV calculation formula, in this case, can be:
EV = (Outcome A x Probability %) – (Outcome B x Probability %)
Outcome A is Receiving a Refund with the result that my horse finishes 2nd (or 3rd), while Outcome B is that my horse finishes other than 2nd (or 3rd).
Example
So, I will set a hypothetical case that is quite common, which means something you can construct such a bet without any problem.
You bet £25 on the Horse with Back Odds at 6.5 and lay odds at 6.7 under the offer of a 2nd Place Refund.
A refund is in the form of a free bet, therefore its cash value is predicted to be around 80%, which is £20.
Regarding the probability of 2nd or 3rd finish, we can calculate based on the bookie's Each Way term such as 3 places with 1/4 or 1/5 payout. However, it's a bit complicated. More importantly, the implied probability based on the place terms tends to give too high odds to top runners to attract place bets. This means favourites' probabilities tend to be lower, while underdog especially outsiders' probabilities become too high, which means payouts get worse. Therefore allow me to avoid unnecessary complications and make a bold assumption that the probability of 2nd would be similar to the probability of winning (top), which I assume is closer to true probability.
Then we can use the converting formula;
Implied Probability = (1 / Decimal Odds) x 100

, namely 1/6.5  x 100 = 15.4% is the probability of 2nd Finish, and 100% – 15.4% = 84.6% is the probability of Not Finishing 2nd.
When it comes to the qualifying loss, given the back & lays odds (assume using Smarkets), as the below calculator shows we lose £1.18;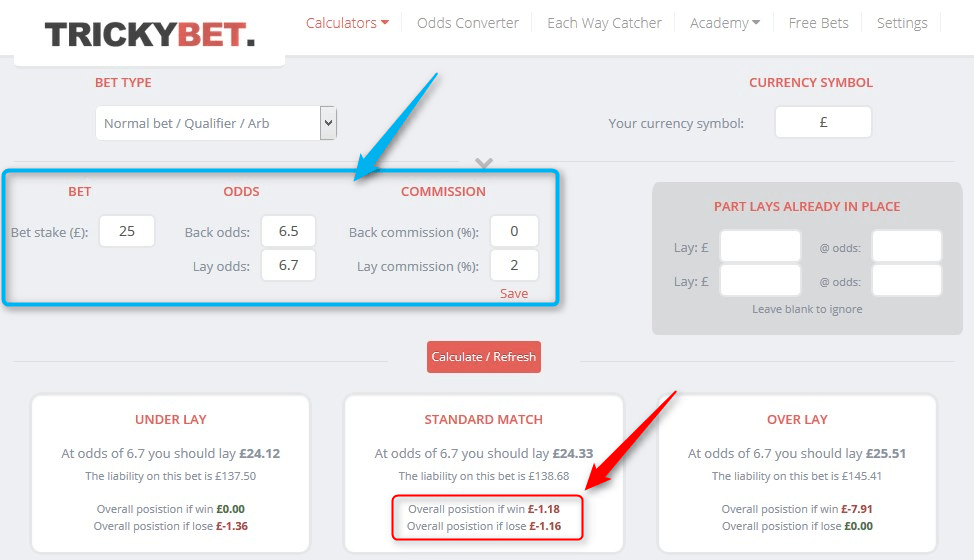 So, let's enter these numbers into the EV formula.
2nd Place Refund EV = (£20 x 15.4%) – (£1.18 x 84.6%) = £3.08 – £0.99 = £2.09
Positive EV
As seen, it is a Positive EV, which means you will make an average £2.09 profit in long term from this offer, so the more you take this offer the more your profit will be.
It's NOT POSSIBLE FOR YOU TO PRODUCE LOSS in the Long-Term. If the offer is not only the 2nd place but also 3rd place, the probability of a refund will be double as 30.8% while no refund will be 69.2%, then;
2nd & 3rd Place Refund EV = (£20 x 30.8%) – (£1.18 x 69.2%) = £6.16 – £0.82 = £5.34
So, you see how much difference 1 more place will make. If you can select & manage to bet on shorter & narrower (between back & lay) odds, your EV will be better means your average profitability will be improved.
Bottom-line, this offer is absolutely profitable. Needless to say, because of the Variance, you don't always win. Say, you may not get a refund from the 5 races in a row but the refund of the following 2 races will make the whole 7 bets profitable.
So don't be fooled by variance. As long as you keep taking the positive EV offers, you will make a lot of money in the long term. You don't need to believe me but should believe in mathematics.  
6 Essential Tactics to Make Real Profits from 2nd Place Refund
Having explained, the below shows the 6 best tactics to tackle
Set your priority on

BOG (Best Odds Guaranteed) bookmakers

(Ladbrokes / Betfred / Boylesports / SkyBet / Race Bets / Bet365 / William Hill / 10 Bet, I attached the link to each bookmaker's BOG page or promotion page for your convenience). This is the insurance when your odds move unfavourably so that you have to take higher lay odds later since these bookies will give you whichever the higher (your original odds or final SP- Starting Price).
The race with

Small Runners

which of course will give your horse a better probability to have 2nd place. But check Promotion T&C carefully, usually, bookies set minimum runners like "Require 7 or more runners" etc.

Select

Low Odds Favorite

that has the better chance to finish within the top 3. Bookies often tactically give much shorter odds to those promising horses. However, as I explained in the Secret Of Odds, bookies have to balance the book. Therefore you will have a large chance to find increasing odds at a certain point. So, don't give up and try to get better odds.

Back – Check Early Price

Given the bookmaker's above tactics, you may not always find good odds for the promising horses at the early price. But definitely worth checking because this is when you can often find soft odds. Just be cautious, and try to avoid taking only the early price (not necessarily for this offer but in general). Because you will be labelled sharp (taking too much value) & could be gubbed quickly. See the next section for how to deal with this bookmaker's nasty action.

Lay – Around 10 Minutes Before

the Race Starts. It is simply because this is the time when big money comes in and the odds fluctuate largely. There are a lot of chances you will get much shorter odds that may give you arbitrage conditions, which means you get profit rather than qualifying loss. However, it could move unfavourably, which means you may result in a bigger qualifying loss. Especially during the last 5 minutes before starting the race, the odds move in flush. It's difficult to lay off as you want, and you could even be left un-laid. So, this is a risky approach and thus not for the matched betting newbies. Although the odds movement is unpredictable, 1 way to have better insight is to keep checking Oddschecker's colour. The blue shows shortening while the pink indicates drifting/increasing, just FYI;


Combine Multiple Bookies' Promotions

in the same market to efficiently use your fund in Exchange as well as reduce your commission paying to the Exchange. For example, the recent Paddy Power "Refund 2nd, 3rd, & 4th to SP Favorite" offer. Since it attaches SP Favorite requirement, the probability is lower. However, Paddy Power runs an ongoing reward Club (Bet £10 x 5 Get £10 Freebet Every Week). Then betting on the refund race will also contribute to the progress of the reward Club requirement, which means it gives you more value;
While writing this document, I just found the Unibet E-mail below;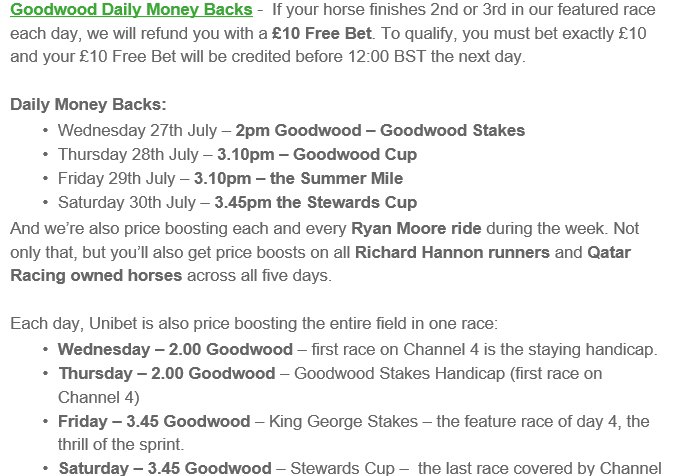 No footy in this off-season? Doesn't matter, you have a full of Sports for Matched Betting.
Bookmaker's Account Restriction
It's our policy that "Betting on luck is for losers, stop gambling but bet on the only +EV to win reliably", which is effectively our way to promote Responsible Gambling under the regulation, and we strongly support GamCare & BeGambleAware being explained in about us.
With that said, we use Matched Betting, probably the most popular Advantage-Play in the UK, to make "Refund IF Finished 2nd Offer" risk-free. No need to gamble but make profits risk-free by laying off at betting exchanges like Betfair.
However, if you keep exploiting too much value from unethical soft bookmakers, you will face Account Restriction a.k.a. "Gubbing".
Actually, it's just a matter of time before most of the soft bookies limit your account if you do matched betting without any precautionary actions.
Therefore, we have prepared the following 2 guides;
In case you want to consider moving up to the next sports trading level of value betting while exploiting the bookies' free bet via matched betting, the following are proven methods that can be used by basically anyone in the world;
BTW, if you're a sharp casino & game bonus hunter, strongly suggest taking a look at the List of 52 Best Bitcoin Casino Bonuses, just FYI.
2nd and 2nd & 3rd Place Profit Lock-in Method
Finally, let me introduce a hidden method to lock in profit from Horse Betting 2nd Place Refund Offer.
Here is the way to rake the profit no matter what the race results will be under this promotion.
I placed the Unibet Offer at the 15:10 Goodwood festival with Lock-In Profit Method. The key point is laying off Not Only the Win part but also the Place part.
Special 2nd Place Horse Betting Calculator To Produce Guaranteed Profit
What I used is a specifically designed software (spreadsheet) for Horse Betting 2nd Place Refund to simulate your required lay stakes both for Win & Place market and estimated guaranteed profit. It looks like;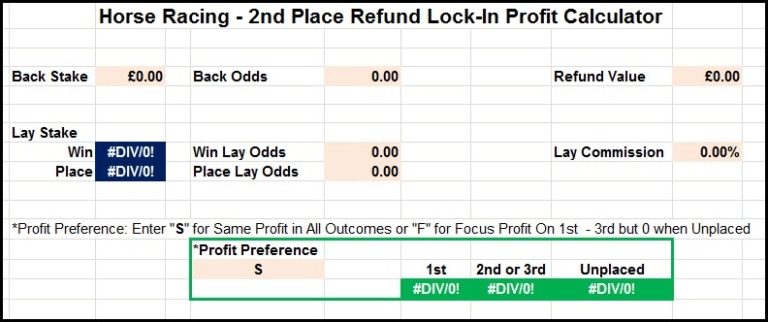 The Brief Instruction is;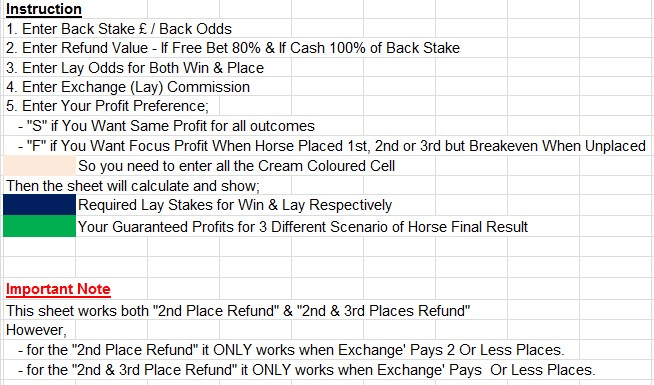 It takes less than 30 seconds to enter the necessary information and the spreadsheet will automatically calculate the required Lay Stakes under the 2 scenarios;
S: Same Profit Achievement No Matter The Final Outcome Will Be
F: Focus Profit on Finishing 1st – 3rd with Risk-Free (means when the horse finishes unplaced break-even)
This spreadsheet is extremely handy, and I explained how to make the best use of it in the form of a calculator tutorial as follows;
2nd Place Refund Horse Betting Calculator
 We separately prepared the Calculator Tutorial where you can download the sheet for free!!
I used the Unibet Offer as the real example and showed exactly what I did with the spreadsheet and the final results, all are the true story, therefore it's a very practical & useful tutorial. This guide is on the "Member Only" page, thus just fill in your name & e-mail address to obtain your Password. It takes only a few minutes to get the PW and access the information. This PW can be used in any other Member-Only documents.
Hope this information will help you expand sure bet options. If you have any inquiries or need any help from us, please contact us anytime (don't worry, we will not charge you any fee, everything is free here).
Good Luck!!
Joshua Walker (bio)
Editor – Global Extra Money (GEM)