Overlay betting is a popular technique used in matched betting to make bookie's "Back a Winner" offer risk free or completely sure bet!!
The "Show" box underneath displays Full Contents & Jump Links for your convenience.
What's Overlay Betting?
3 Additional Lay Techniques Used in Matched Betting
In the matched betting, on top of the standard Lay, we have 3 additional Lay variations.
Extra Lay
This is probably the most advanced technique which is used in Difficult IF Bet.  Namely "We will refund your lose bet if Messi scores first" or "We will refund your lose bet if Serena Williams wins the title" etc.  For the details, see Trigger Bet guide where you fill find the specific instruction on how to extract cash from such offer with concrete examples.
Underlay
It is the method employed to Get Less Profit when you Win at Exchange and More Profit when you win Bookmaker. You may wonder what sort of offer we're talking about.  In fact, this technique can be used in various occasions though the typical condition often required in the Betting Sign Up Offers – Bonus with WR (Wager Requirement), see the full instruction in this guide. 
Overlay
Finally, let's talk about the main subject here. Overlay is the opposite of underlay. Means it is the method employed to Get More Profit when you Win at Exchange and Less Profit when you win Bookmaker by increasing the stake for your lay bet on the exchange. See the example of Betfair "Back the Winner, Get Free Bet" as below image. Simply put, you will get free bet when your bet wins. Means you need less profit when you win in the bookmaker because you will get free bet reward. Complicated? Don't worry, see the specific instruction separately.


When should we use Overlay Betting?
As briefly said, we can use overlaying technique for back a winner type offer. Yes, you may imagine, we use underlay when the offer is for backing a loser at the bookmaker, while overlay is backing a winner at the bookmaker, typically used in the racings namely horse racing & greyhound racing.
Bet365 4/1 Offer
Among the back a winner type offers, the most established offers is Bet365 Feature 4/1 or ITV Racing 4/1 Offer, basically these 2 offers are identical;

The offer is to Back any horse at 4/1 (5.0) or more on any race televised live on ITV Racing. If your horse wins then you can have a risk free bet to the same stake (up to £50) on the next race broadcast live on ITV Racing. Since it is a sequential betting which involves multiple techniques, it's a bit complicated. However, we can definitely guarantee profit from every race. For further details, suggest you take a look at How To Guarantee Profit from Bet365 Feature Race 4/1 Offer or check 3 Proven Methods To Lock-In Massive Profits From Bet365 Promotion.
Other Back A Winner Offers
On top of Betfair offer, a few bookies provide the similar offer regularly, especially for the ITV broadcasting races as follows;
SportNation – 4/1 Back A Winner up to £50 on Selected Races


Back a winner at 4/1 or greater to get a free be. You have to Opt-In and stake up to £50 on a horse to WIN any of the selected races within 1 hour of the scheduled off time. If your horse wins and the SP is 4/1 (5.0) or greater, you will qualify for a free bet equal to the value of your original stake. Free bets will be credited on or before 4pm the day following the race.
VirginBet – 3/a+ Winner on ITV Racing


Get a free bet up to £10 if your horse wins at odds of 4.0 or more in any ITV race.
Unibet – ITV Racing 15 to Go


Bet on any ITV race in the 15 minutes before the scheduled start time and if you back the winner we will match your stake with a free bet up to £20! (Min odds 2.0, make sure to click the "15 To Go" button before betting)
Coral ITV Race Back A Winner up to £25 (Currently Not Available)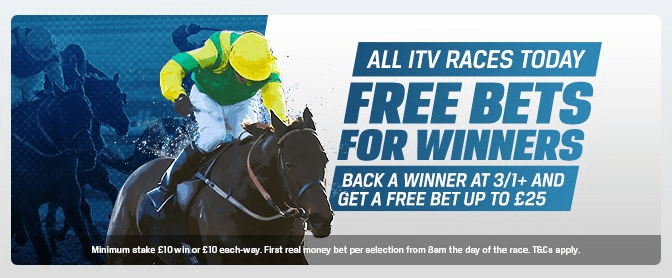 Get paid TWICE every time you pick a 3/1 winner with us. Make sure you're a winner on live ITV racing with our unique Free Bets for Winners offer. Just place a £/€10+ win single or £/€10 each-way single at 3/1 or bigger from our selected races and if it wins, we'll match your stake as a free bet up to £/€25 for the following day's racing.
Overlay Betting Process
Matched Betting Recap
So, the back a winner offer is very simple, isn't it? Generally, select the horse of XX+ odds, and if your horse wins you will get additional winning equal to your stake in Free Bet. We can make it Risk Free Bet or Further Lock-In Profit with simple Matched Betting Overlay Technique. Just in case you're absolutely new to the matched betting, suggest take a look at Matched Betting For Dummies.
However, very quickly, how we process Standard Matched Betting for Betfair 3/1 back a winner offer is;
2 transactions of Back (bet on win) £25 on Horse A at odds of 4.0 < at Betfair Sportsbook & Lay (bet on NOT win) appropriate £ (stake can be calculated by free software) on the Horse A at Betting Exchange like SMarkets or Matchbook so that you cover all outcomes.
BTW, Never Ever Lay at Betfair Exchange otherwise your Sportsbook account will be instantly gubbed. What is it? See the detail.
Regardless of the outcome, your losing & winning will cancel out each other. In the real practice, usually, 2 bets are not perfectly offset due to the odds difference & exchange commission. Therefore you make a small loss called Qualifying Loss.
But if your horse A wins, you get £25 Free Bets. You repeat the exact same process but using the free bet for the back bet at Betfair Sportsbook. Then, this time free bet value (minus qualifying loss) will become your net profit.
You may be able to extract around £20 pure profit from this offer.
Success factor is how to minimize the qualifying loss by selecting the horse of which odds gap (between Betfair Sportsbook & Betting Exchange) is the narrowest. You can use Free Odds Matcher to locate such opportunities. For the step by step process, take a look at Risk Free Betting Starting Guide (3) – How To Extract Profit from Free Bet.
BTW, many people imagine matched betting is for only UK & Ireland, wrong, by using this approach everybody in the world including US citizens can make decent profits from this risk-free betting technique.
Betting Exchange
Since we're talking about Laying technique, we need to have a betting exchange account. Besides, for matched betting, the more we have exchange accounts, the more options of laying we have. This report shows all top 4 betting exchange latest sign-up offers & how to extract cash risk-free from each offer, which includes Betfair £100 Free Bet, which is supposed to be one of the best offers in the industry.
In case  you can't access to any betting exchanges in your country, then don't worry use this method, which enables you to access to Betfair market.
Overlay Betting – Risk Free Approach
So, we quickly reviewed how the standard matched betting is processed. However, by using Overlay Betting technique, you can make this offer Completely Risk-Free (means No Qualifying Loss) or Lock-In Profit no matter how your horse ends the race.
I'll explain the process of Risk Free first, followed by Lock-In Profit method by using Coral actual example.
What we do is still a simple matched betting, means back the horse at Coral (I use the Coral offer as an example here although Coral no longer offers it, but this approach applies to all the similar offers) and lay off the same horse at exchange (SMarkets) by locating the horse with the tightest odds. Tightest between Coral & SMarkets. The only difference is we apply Overlay Betting mode when we calculate Lay Stake at Exchange as shown in the below process. BTW, if you take Betfair Sports offer, never use Betfair Exchange to lay off because you're confessing you're a matched bettor. Then, your Betfair Sports account may be gubbed instantly.
Select A Horse
I took a look at Oddschecker to see which horse Coral currently gives the best price in the promotion races;

As seen from the table, "Seven heavens" looks a good choice.
Then, let's check SMarket's lay odds;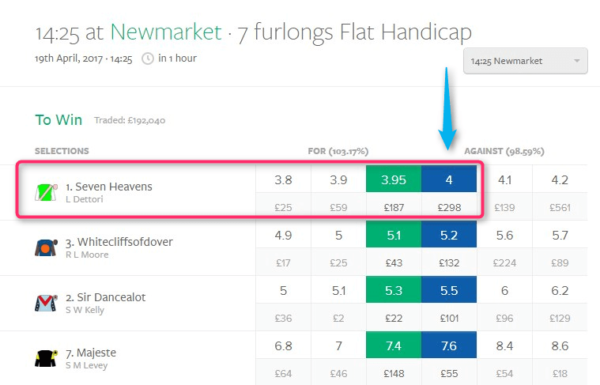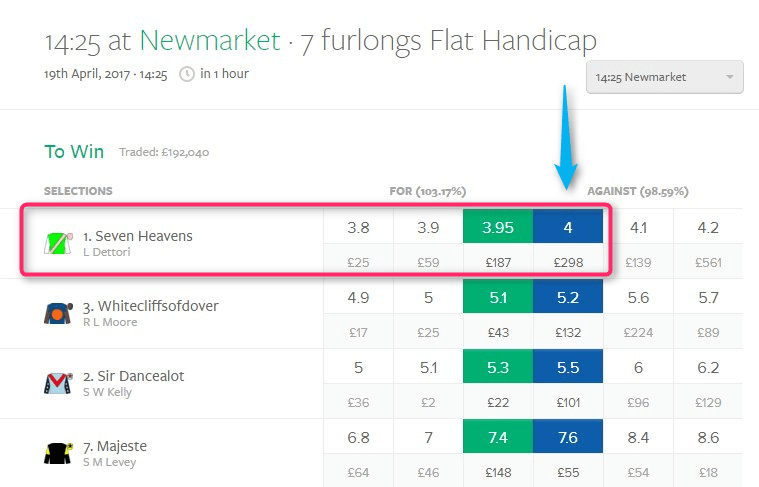 Well, very good, the same odds, means we can minimize the qualifying loss.
Calculate Lay Stake with Overlay Betting Mode & Predicted Profit / Loss
In order to construct Risk Free Bet, we Set Overlay Betting up to the level where I achieve break-even when my horse loses. Remember, if my horse wins, I will receive Free Bet, thus I should focus on offsetting loss when my horse loses. We use free matched betting calculator, Tricky Bet. After entering Back Stake Amount (assume we bet Free Bet Maximum of £25), Back & Lay Odds, and Exchange (SMarkets) Commission, it calculates;

The middle part shows the result of standard matched betting. You lay £25.13 then will lose around £0.38 regardless of the outcome. The right one pointed by blue arrows is the case of Overlay. The software automatically calculates Risk Free basis. Namely, it sets to offset the loss of £0.37 in the standard matched betting by making additional lay by £0.38 to £25.51 stake.  As you see, it shows £0.00 if my horse loses, and increased the loss to £1.53 from £0.39 when my horse wins. But I get £25 Free Bet if my horse wins.
The summary of Risk Free scenarios are;
if my horse "Seven Heavens" wins, I lose £1.53 but receive £25 Free Bet which is estimated to be around 80% in cash value. Therefore (£25 x 80%) - £1.53 = £18.47 will be my net profit.
if "Seven Heavens" loses, I'm break-even, no profit or loss.
Overlay Betting - Lock-In Profit Approach
Now, let me show you how to construct the bet to guarantee profit. We can set the level of Overlay Betting further. We use Custom Match function by sliding the bar to locate the optimum profit & loss.
So, what's the optimum point? As said, the cash value of the free bet is around £20. Therefore you can adjust the overlay stake that makes the Loss (£20 - displayed loss) when the horse wins, equal to the displayed gain when the horse loses. See the below calculator;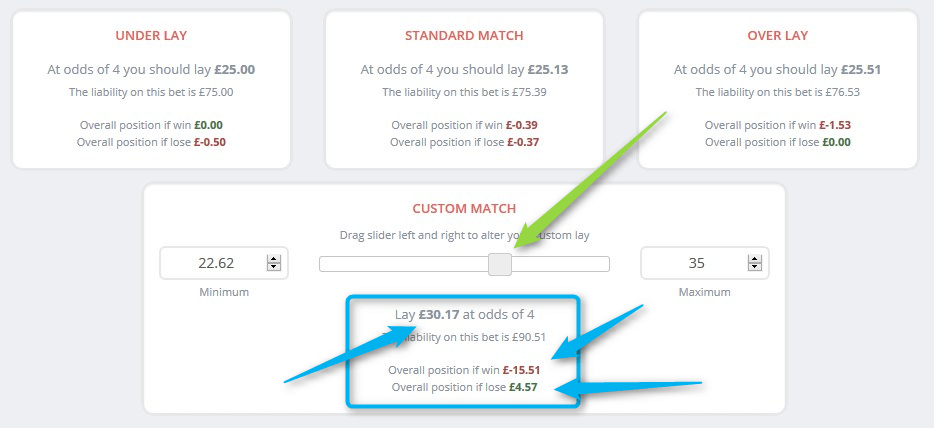 The summary of Lock-In Profit scenarios are;
if my horse "Seven Heavens" wins, I lose £15.51 but receive £20 cash value Free Bet. Therefore £20 - £15.51 = £4.49 will be my net profit.
if "Seven Heavens" loses, my profit will be £4.57.
Race Result
Let's see the result of this race (Sporting Life Today's Result);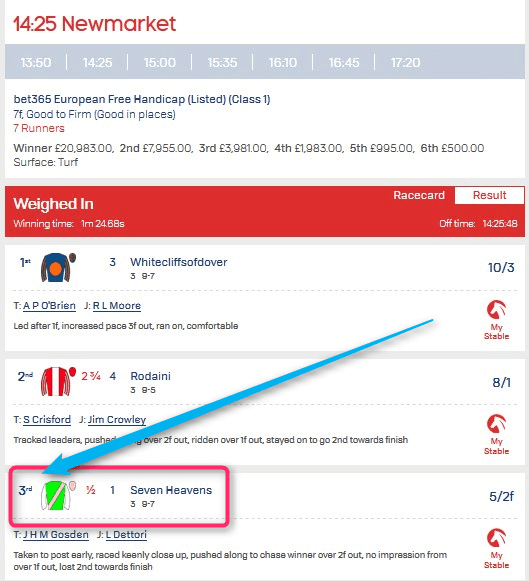 My horse didn't win.
Overlay Betting - Wrap Up
So, the result supported Lock-In Profit approach. But in the above case, there is no right or wrong among 3 approaches including standard matched betting. Because all approach should indicate positive EV (Expected Value). As long as you keep taking such offer, it's IMPOSSIBLE for you NOT TO WIN in long-term. Probability theory and simple mathematics will support you.
With that said, the bottom-line is pursuing Back A Winner offers as many as possible.
However, you also need to be a bit cautious about the size & liquidity of the market, please see the below case;
Greyhound Offer - Caution & Tactics
Coral also constantly run the similar offer for Greyhound Racing ;

Actually, the T&C is identical to the Horse Offer except the minimum odds. Greyhound requires minimum 2/1 (3.0) rather than 3/1 (4.0). So, does it sound easier?
It also line-up a lot of races every day. The below shows Sheffield on 25 April evening race schedule. There are total 16 races within 4 hours;

However, you will face a few issues.
Firstly, the below is the odds display at 9:20. The odds are still not shown even 4 minutes before the race start. Greyhound race is always like this, the earliest timing of appearing the odds is around 5-7 minutes before the race. Means you have very limited time to compare with Betfair Lay Odds (you need to lay at Betfair because SMarket doesn't have Greyhound market).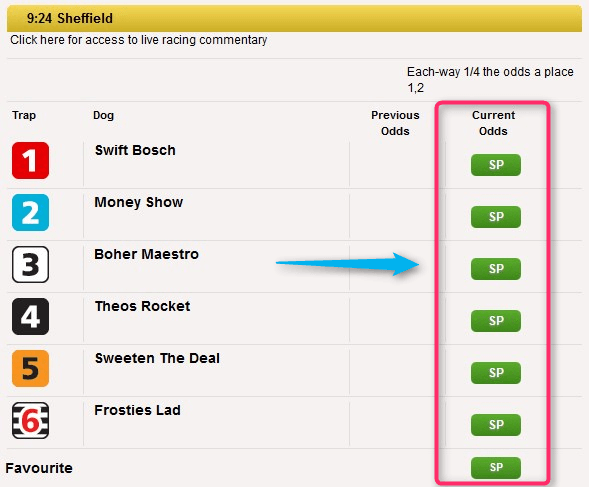 When we look at Betfair Lay Odds, liquidity is usually very limited. I took this screenshot right after I took the above Coral odds, means around 4 minutes before the race starts.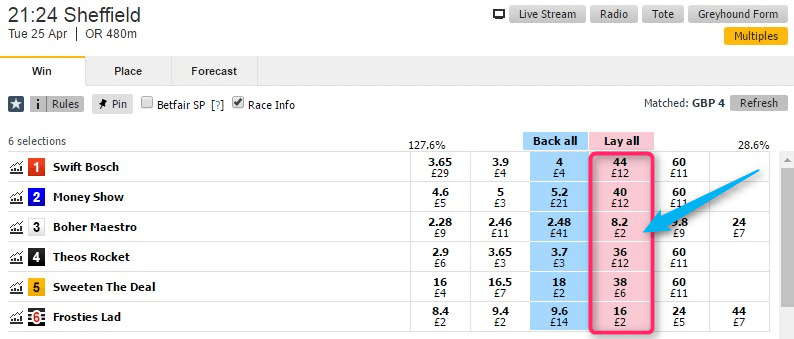 This is even for Sky Televised Race;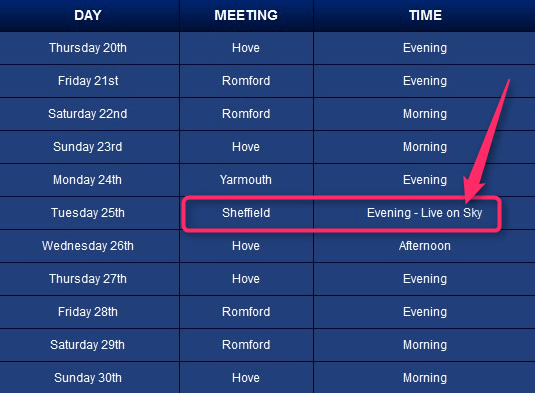 Finally the odds came out 3 minutes before as below;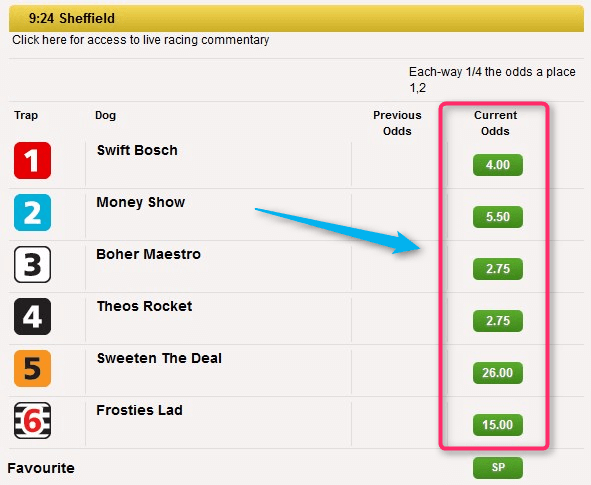 Then, Betfair Odds moves so quickly,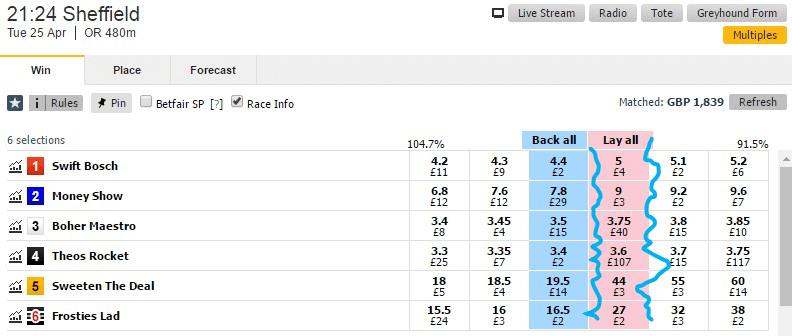 It's very difficult & stressful to calculate the proper lay stake when odds change in flash. Importantly, there is a big risk that you are left with an un-laid bet.
Note
I used Coral Greyhound odds situation as an extreme case of late odds.However, other key bookies such as Bet365 or Betfred are not as bad as Coral, and displays at least 3-6 races odds in advance;
Although the above image shows only 3 races, Betfred actually displayed 6 races odds in advance. So, despite the fact that the liquidity of Betfair are generally still limited, you have chances to locate the narrow odds well in advance. Just FYI.
Greyhound Betting - Wrap Up
Firstly, given all the above issues, this is Not For Newbies. Unless you have a lot of matched betting experiences, suggest keep away from it.
If you're interested in it, a few tips are;
Observe the several races without any bet, feel the pace & know what to be done when.
Check Betfair odds first and guess the Coral odds. Ignore lay odds which are usually so poor, see "Back (For)" odds in blue colour. You may assume 10-30% lower odds for Coral although depending on the race & dog. Don't forget the offer requires minimum 3.0 odds thus it's safe to target the dog with over 3.5 odds.
Based on your guessing back odds and available lay odds, just briefly calculate lay stakes for a few dogs to make yourself ready.
Once Coral odds comes out, make a quick adjustment in lay stake, and Place Coral Bet FIRST. Never ever ignore Basic Principle of matched betting. Don't lay first, in case you fail to place back bet, the loss could be pretty big because minimum odds is 3.0. Finally, place lay bet.
Strongly suggest practice with small stake such as £1 to see if you can manage it comfortably.
Hope these will be of your help.
Our Betting Principle
Finally, allow us to talk a bit about our betting principle. Many people automatically think Betting = Gambling. Big Misconception. We do bet but don't count on luck. Instead, we do
6 Advantage Plays
 based on mathematical edge to beat the bookies, casino & bingo. When it comes to the Sports Betting, we use
Matched Betting
/
Sports Arbitrage
/
Value Bets On Proven Tipsters
to lock-in profit or consistently earn extra income for long-term. With that said, one of our policies is "
Betting On Chance Is For Losers, Stop Gamble Betting But Bet on Only +EV To Win Reliably
", and it is effectively our way to promote Responsible Gambling, and we strongly support
GambleAware
 being explained in
about us
.
We, Global Extra Money (GEM) would like our readers to exploit those reliable money making opportunities. And providing little known overlay method to lock-in Back A Winner offer profit is part of our efforts to achieve that vision.
Incidentally, as our name Global Extra Money implies, we would like many people from all over the world to enjoy our methods as much as possible. Therefore, we have issued :
In Short, except 8 Countries (Cyprus, Poland, North Korea, United Arab Emirates, Singapore, Brunei, Cambodia) where on-line gamble is legally prohibited, all of you can make profit from matched betting, see the above report for full details.
If you have any inquiry or need any help from us, please contact us anytime (don't worry, we will not charge you any fee, everything is free here).
Good Luck!!
Joshua Walker (bio) 
Editor - Global Extra Money (GEM)