Are You Aware Of the Real Value Of Paddy Power 2 Up You Win & Bet365 Early Payout Offer? We Show You Little Known Method To Maximize Your Profit!!
The "Show" box underneath displays Full Contents for your convenience.
Paddy Power 2 Up & Bet365 Early Payout Introduction
Paddy Power 2 Up & Bet365 2 Goals Ahead Early Payout are Arguably the Most Attractive Offers For Those Who Do Betting With Hedge, namely Matched Betting. How Do You Use them? Just a Means to Secure Your Potential Win Earlier? Well, Then This Report Will Surely Give You Another Paddy Power 2 Up Strategy & Bet365 Early Payout Strategy For Much More Benefits, Remember You Need Neither Paddy Power Bonus Code nor Bet365 Bonus Code to participate in the offers.
What Exactly Are Paddy Power 2 Up & Bet 365 Early Payout Offer?
Paddy Power 2 Up – You Win
Paddy Power originally started this promotion concept in football, offering;
BACK A TEAM TO WIN AND IF THEY GO 2 GOALS UP AT ANY POINT IN THE MATCH WE'LL PAY YOU OUT AS A WINNER IMMEDIATELY
Paddy Power Blog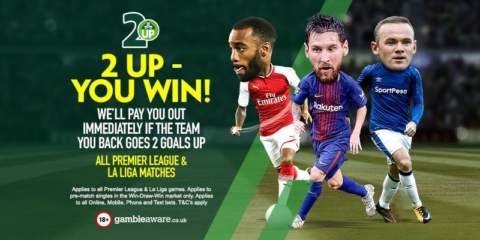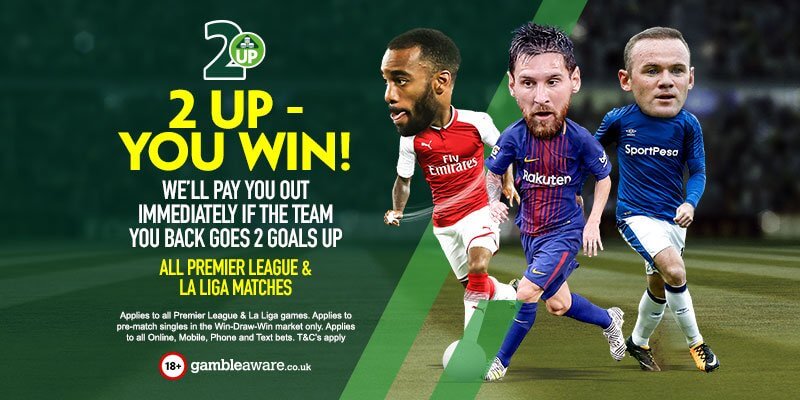 It's been expanded into tennis and regularly conducts "2 Up – You Win" promotion at major tennis events such as;
Paddy Power Mens French Open 2 Up – You Win
The site says;
GET PAID OUT EARLY IF YOUR PLAYER GOES 2 SETS UP Applies to all French Open Men's Singles matches from Sunday May 27th to Sunday June 10th 
Paddy Power

Bet365 Early Payout Offer
Bet365 follow suit and regularly run the same promotion as Bet365 Early Payout football or Bet365 2 Goals Ahead Early Payout;


Bet365 French Open Early Payout Offer
With our fantastic new French Open Early Payout Offer, place a pre-match single bet on the To Win Match market, for any men's Singles match, and if the player you back to win goes 2 sets up we will settle your bet early as a winner.
Bet365 Promotion

Bet365 even extended the offer into various sports like NFL;

and Bet365 Early Payout Rugby (means they continuously offer this promotion to the major sports & events);

besides, they now expanded into Bet365 Early Payout Accumulator as below;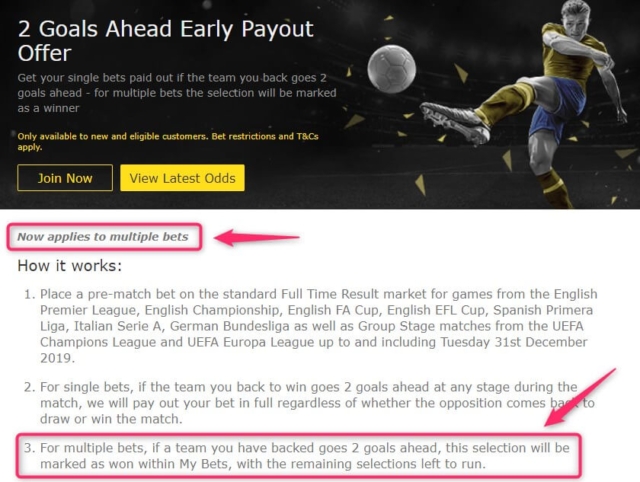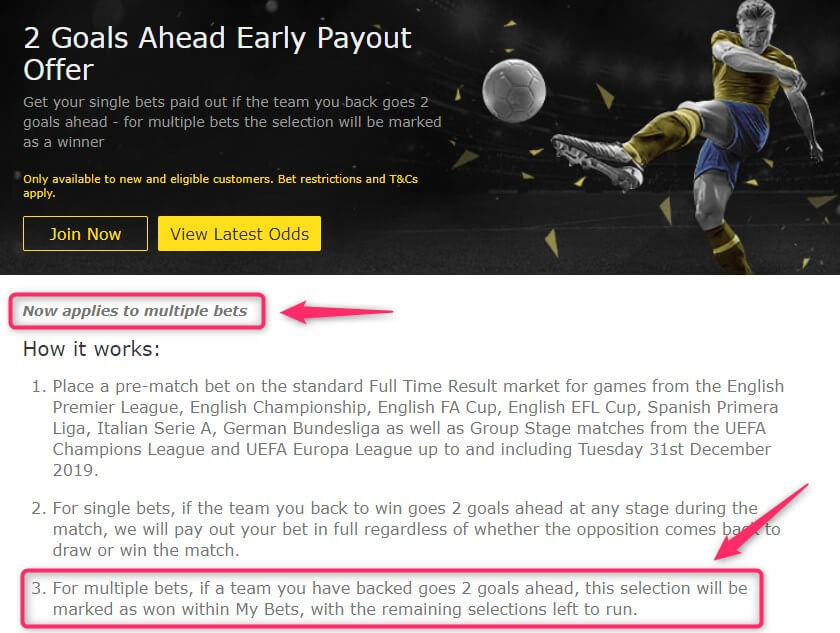 What Are The Benefits Of The Offer?
2 Biggest Advantages
Let me share the 2 big advantages of this promotion;
Unlike the other free bet offers, there is no limit to the Refund / Payout Amount except your max. stake limit for both Paddy Power & Bet 365 Offers. And remember you will receive the payout Not in the form of Paddy Power Free Bet / Bet365 Free Bet but in the form of CASH Winnings, so the value is much higher than the free bets. 
Probably Bet365 do not but Paddy Power allow your gubbed account to do this offer. We received mix feedback, some said "Got Paid Early" some said "Not Happened", and some was sent Specific Restriction Remarks on This Promotion as below;


Obviously, it's not consistent, so suggest even your account is gubbed, place the bet to see if it works for you. And after you confirm working, then start the method you find in this document.
Therefore, you can potentially make an unlimited risk-free profit (possibly in your restricted account). I'll show you 2 methods.
The Methods Apply To Both Tennis & Football
We use tennis as an example in this document since we found a very useful stats related to this offer as we explain later. But, bear it in mind that the common benefits of these offers are Early Payout, and our methods can be used Not Only for Tennis But Also Football. In fact, it can basically apply to any sports events if the underlying concept is the same.
Paddy Power 2 Up & Bet365 Early Payout – Risk-Free Method
As said at the beginning, we don't gamble but use Matched Betting technique to make almost every offer risk free. So, yes the 1st and the base method is to use the matched betting in both Paddy Power 2 Up & Bet365 Early Payment offers.
Matched Betting As The 1st & Base Method
If you are a matched bettor, just skip this section. In case you're not familiar with the concept, Matched Betting For Dummies – 9 Essential Things will be of your help. But very briefly, I will explain how matched betting works for this Paddy Power 2 Up & Bet365 Early Payout offer.
What we do are;
2 transactions of Back (bet on win) a Player at Paddy Power & Lay (bet on NOT win) the same Player at Betting Exchange like SMarkets so that you cover all outcomes.
Regardless of the outcome, your losing & winning will cancel out each other. In the real practice, usually, 2 bets are not perfectly offset due to the odds difference & exchange commission. Therefore you make a small loss called Qualifying Loss.
However, if your backing player or team goes ahead 2-0 and then lose the match you will win at both Paddy Power / Bet365 and Exchange, which could potentially be a massive profit because as said, the early payout amount is No limit. 
Real Example
The below is just an example of Football case. The Champions League Bet365 Early Payout result – I bet £25 on Juventus which went ahead by 2 goals, but finally Tottenham caught up & ended draw. It means, I got winning of £26.25;
And, £24.29 in the betting exchange (Matchbook) I placed lay bet on Juventus as;
Success factor is how to minimize this qualifying loss by selecting the player whose odds gap (between Paddy Power & SMarkets) is the narrowest.
Important Note – Tennis Rule Difference
When you do tennis matched betting (don't worry about football), you need to match the bookmaker & exchange that use the same tennis retirement rule to avoid unpleasant loss. Paddy Power's retirement rule is identical to the exchanges (Betfair, Betdaq, Smarkets & Matchbook use the same retirement rule of "1st Set Completed". However, Bet365 use a different rule of "Match Completed". Therefore, suggest you use Dutching Method when you lock-in profit.
For the step by step instruction, take a look at; Dutching Betting – Awesome Technique To Win More & Reduce Risk, where you can also find the details about what's the difference of tennis retirement rule & impact on your profit.
Betting Exchange
As you see in the above process, betting exchange is essential for matched betting. Therefore, it's critical to adopt the right approach toward the betting exchanges from the beginning, which will affect your long-term profit. We discussed more detail about betting exchange in this guide. 
We position SMarkets as a Core Betting Exchange for matched betting. Not Betfair, Why? See the above guide.  Anyhow, for those who have not opened SMarkets exchange account, we prepared a step-by-step guide for your flawless start. You can effortlessly extract cash from its sign-up bonus of £10 Risk-Free Bet. The  "" icon underneath displays full process;
Probability Check
What I explained in the above scenario, namely "The Player Who Win the First 2 Sets Will Finally Lose the Match" is ideal. I know many of you think it's extremely low probability that the player who already lost first 2 sets would win the match. Yes, you're right, not so many. Let's discuss based on the numbers. Since I found an interesting stat posted by a member in Oddsmonkey forum (you will find more detail about Oddsmonkey in our Full Review – List Of Competitive Edge Over Rivals Testified By The Founder;),let me extract it as below. (%) & alphabet of (A),(B),(C),(D) are my addition for the subsequent explanation;
From Wimbledon 2016:
43 out of 64 first round matches had a player go 2-0 up (67%). 21 others were 1-1 (33%) after two sets.
31 out of 43 matches finished in three sets, 72% (A)
7 out of 43 matches finished in four sets, 16% (B)
The remaining 5 out of 43 matches (12%) finished in five sets of which;
two won by players who were 2-0 up, 5% or 40% out of 5 (C)
three won by players who were 2-0 down, 7% or 60% out of 5 (D)
So, at the early stage (1st round) of the Grand Slam, 67% of the matches went 2-up and 12% of 67% saw the massive recovery by the player who was beaten in the 1st 2 sets.
What do you say? You may be a bit surprised with the better result of hitting the ideal scenario than you originally felt. No? Well, ok you may feel right because such probability is yet less than 10% out of the total games.
Oddsmonkey Forum
Note;
Remember, the % I show based on the above numbers are not trustworthy from research perspective due to the extremely limited number of samples. So just consider as indicative ones which still give us a good insight on how to build the optimal tactics.
So, let's move to the 2nd method to lock-in profit regardless of the outcome.
Trade Out Method
The method I discuss from here applies only after we see Our Backing Player achieves 2 Up. Otherwise, this offer is over by ending most probably with small qualifying loss.
Once the player goes 2 sets up, Paddy Power pay you the winnings. Since you are doing matched betting, you still have unsettled lay bet at Exchange at this stage. What we do is Trade Out. Trade Out is an Early Cashout at Exchange to offset the lay liability. You can do it by clicking the "To" button as shown;
Wimbledon 2017 Gentlemen's Single- Enlarge by click
You will find the below instruction on the right hand of the above calculator area;
So, how to use is very simple as shown in the Instruction which is self-explanatory. See the bottom of this post for how to download this spreadsheet.
You can use the top box of Standard Qualifying Bet Part to calculate the original matched betting lay stake & qualifying loss. Then, the middle box of Trade Out Part will calculate the back stake at the exchange to see the eventual profit in the bottom box.
Paddy Power 2 Up – Tactics On Each Option
As I noted in the above Key Tips in the Spreadsheet Instruction, there are 3 success factors for this Offer. The 1st 2 factors are obvious. Selecting the tightest odds is all about matched betting. And the bigger (longer) back odds at bookmaker does make sense because your profit source is winnings at Paddy Power, so yes the longer the better.
Then, what is the 3rd factor of "The Bigger Your Back Odds at Exchange after 2 up is, The Better Your Profit will be."? This is related to the (A) – (D). Let me show you how it works with spreadsheet based on the following hypothetical example;
Example
Let's assume you stake £100 to construct matched betting by backing Player A at the odds of 1.8 (Paddy Power) & laying the same Player A at 1.85 (SMarkets). Fortunately, Player A won 1st 2 sets and at the time before starting the 3rd set, Player A's back odds at SMarkets downed to 1.05. Don't get confused, Yes, it's not typo, now we are saying Back (Not Lay) at Exchange because cash out is all about offsetting lay liability by additionally backing the same player at the exchange, which is practically Selling Your Lay Position.
With this example, see how we maximize profits in each option;
(A) Option: 72% Probability of Ending as 3 – 0
This is the most likely happening scenario. Means 72% of the matches where Player A went ahead 2 sets up won the 3rd set, thus won the match. In this case, the best tactics is trade out as early as possible in the 3rd set. But the Player A's back odds is shortened to 1.05 under the 2-0 condition, the profit will be only £5.06;
(B) Option: 16% Probability of Ending as 3-1
This is the next probable scenario. 16% of the matches where Player A went ahead saw One set recovery by the opponent but Player A won the match by winning the 4th set. In this case, the best tactics is trade out after the opponent won the 3rd set, because the Player A's back odds drifted slightly back, say to 1.25, the profit will increase to £32.79;
(C) Option: 5% of Probability of Ending as 3-2
This is the least happening scenario. 5% of the matches where Player A went ahead saw 2 consecutive sets recovery by the opponent but finally, Player A won the match. In this case, the best tactics is trade out after the opponent won the 4th set, because the Player A's back odds must be significantly increased, say to 1.6. Then the profit will be £64.63;
So, now you understand my 3rd success factor in the Key Tips. The bigger the back odds, the better the final profit will be.
(D) Option: 7% of Ending as 2-3
This is effectively the Ideal Scenario we discussed at the beginning and obviously, we never Trade Out. 7% of the matches where Player A went ahead resulted in turn around by the opponent. Or 60% of the game seeing the 2 consecutive sets recovery by the opponent ended up with Come-From-Behind-Victory. This (D) scenario is more likely to happen than (C). We can easily imagine it because of the momentum of the opponent. The profit will be £80 (Paddy Power Winnings) + £96.39 (Lay Return at SMarkets) = £176.39
Paddy Power 2 Up & Bet365 Early Payout – Wrap Up
Advantage Play
Finally, allow us to talk a bit about our betting principle. We don't gamble. We do 6 Advantage Plays based on mathematical edge to beat the bookies, casino & bingo. When it comes to Sports Betting & Horse Racing, we use Matched Betting / Sports Arbitrage / Value Bets On Proven Systems & Tipsters to lock-in profit or consistently earn extra income for long-term. It is effectively our way to promote Responsible Gambling under the regulation, and we strongly support GamCare

& BeGambleAware being explained in about us.
We, Global Extra Money (GEM) would like our readers to exploit those reliable money making opportunities as much as possible. Sharing the method to lock-in profit from Paddy Power 2 Up & Bet365 Early Payout Offers is part of our efforts to achieve that objective. 
What we have been doing here is, Simply put, by constructing the matched betting, we make this offer almost Risk Free (just small qualifying loss) while expecting to lock-in profit under the different scenarios.   
Bet365 Dutching
When you do Dutching for Bet365 TENNIS (football is ok, you can use matched betting) Early Payment offer, you can lay the player who loses the 2 sets by In-Play instead of Trade Out method, so that you secure Bet365 winnings from early payout while cancelling out the loss in the other bookmaker. If you don't understand this, please go Dutching Betting Guide. 
What I reviewed in the above scenarios is based on the actual results already happened in Wimbledon 2016. So the tactics I said are hindsight. Then, how can we judge the timing when we should trade out? Obviously, there is no definitive answer but the best way is to keep reading the tide of the game. The good thing is you are the one who can control the timing of the trade out. So whenever you feel comfortable, lock-in the profit.
Let me reiterate, we're not doing gamble, so even your team lose or don't 2-up, your loss is extremely limited compared with the usual gambling.
Besides, the real advantage is you can stake big. If you stake £1,000 rather than £100 in the above example, your profit becomes £50.6 even you trade out immediately after the 2nd set at the lowest 1.05 odds. BTW, Paddy Power's standard limit is supposed to be £10,000, and Bt365 is more than that. The most important thing is Minimize Qualifying Loss, and the ideal condition is arbing.
Matched Betting is usually scalping a small sure profit, but for this particular Paddy Power 2 Up – You Win & Bet365 Early Payout Offer , Matched Bettor will Play a High Roller's Game.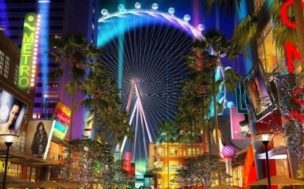 Finally, if you keep taking too much value from the bookmakers, you may most likely to be gubbed, means your betting account will be restricted. Actually, it's just a matter of time before most of the soft bookies limit your account if you do matched betting without any precautionary actions. So, we have prepared the following 2 guides – One is Before Resriction, The Other One is After Restriction;
We believe the above 2 guides will help you keep exploiting unfair bookies, means will enable you to make money on the side reliably for long-term.
If you have any inquiry or need any help from us, please contact us anytime (don't worry, we will not charge you any fee, everything is free here).
Good Luck!!
Joshua Walker (bio) 
Editor – Global Extra Money (GEM)
Post Scripts – Ideal Odds / Player Selection For Best Profits
I believe you have another question. How can we identify the matches that have better chance to go 2 up & eventually better profit? Yes, the key is Better Profit. If you want only 2 up match, just select the strong favorite match. Choosing Nadal match in French Open and Federer match in Wimbledon will give you an extremely high probability of achieving that. However, at the same time, it will be extremely high probability to end at 3-0.
The same member in Oddsmonkey forum I quoted before also posted an interesting info as below;
Trying to look more closely at the 12 matches that went to four or five sets and work out who the players were and ifthere are any trendsre: seedings or style of play.
Lukas Rosol vs. Sam Querrey (28)
Philip Kohlschreiber (21) vs. Pierre-Hugues Herbert
Damir Dzumhur vs. Denis Kudla
Nicolas Almagro vs. Rogerio Dutra Silva
Denis Istomin vs. Kevin Anderson (20)
Evgeny Donskoy vs. Alexandr Dolgopolov (30)
Santiago Giraldo vs. Gilles Muller
Horacio Zeballos vs. Mikhail Youzhny
Donald Young vs. Leonardo Mayer
Taylor Fritz vs. Stan Wawrinka (4)
Marcel Granollers vs. Victor Estrella Burgos
Nick Kyrgios (15) vs Radek Stepanek
In bold is the player who went 2-0 and so we would've benefited from the early payout offer with a bet on them. Aside from Wawrinka and Kyrgios, most of the players involved were either unseeded or seeded 20-32.
Oddsmonkey Forum
Unfortunately, I'm not a tennis expert thus can't analyze further from these players & results. But, it looks obvious that the match with strong favorite players has little chance to have a good return under Paddy Power 2 Up or Bet365 Eary Payout offer. I assume the comparable players' matches say 1.8 – 2.3 odds range seems to give you better chance to have a better return.
With all that said, to me, the first priority is to Focus On Searching The Tightest Gap Matches, then consider the Rival Matches if the odds gaps are acceptable.  
Paddy Power 2 Up & Bet365 Early Payout – Appendix
Spreadsheet
For those who would like to download the Spreadsheet I used in this article, please visit GEM Matched Betting Spreadsheet Archive, where you will find a list of all the available Spreadsheet Calculators & Comprehensive Guide to follow.
Paddy Power Other Opportunities
Besides, if you seek the way to lock-in profit from Paddy Power Promotions, suggest go through Paddy Power ACCA Insurance Will Make €/£1,000 Risk Free Profit.
Bet365 Other Opportunities
Let me introduce you the following 2 popular guides related to Bet365 offers;
Safety
Not only Paddy Power & Bet 365 but also all the bookmakers we list in our entire site are needless to say legitimate and being regulated by UK Gambling Commission or prominent gaming control board such as International Association of Gaming Regulators (IAGR), North American Gaming Regulators Association (NAGRA) & Gaming Regulators European Forum (GREF) etc. So, basically they are remote from scum, fraud or any wrong doing. However, too much winnings could cause a big headache for everybody such as Bet365 over £1m payout Megan McCann court battle, so Be Modest, Just FYI.
If you have any inquiry or need any help from us, please contact us anytime

(don't worry, we will not charge you any fee, everything is free here).
Good Luck Again!!
Joshua Walker (bio) 
Editor – Global Extra Money (GEM)