No Lay Matched Betting – The Ultimate Method To Exploit Bookies' "Lay Impossible Offers"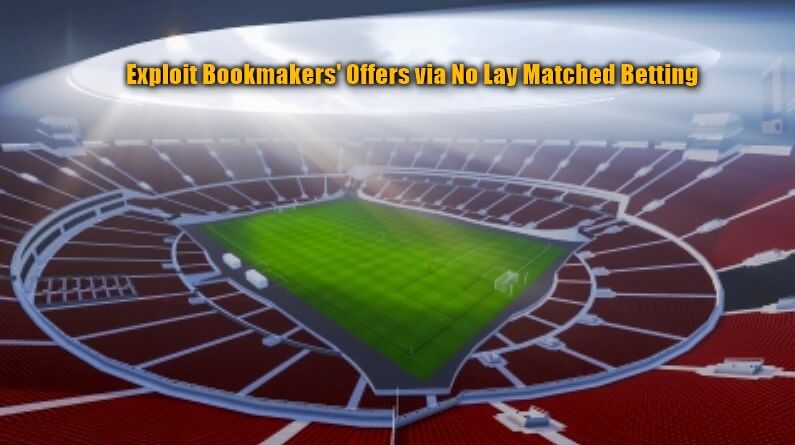 Estimated Reading Time: 20 minutes
No Lay Matched Betting Method Is Very Useful Not Only For Sharp Punters But Also For Casual Bettors As A Risk Hedging Approach!!
If You are a Matched Bettor, You Must Have Encountered Many Bookies' Free Bets Offers Which You Can't Lay. How Do You Deal With Them? Just Ignore? There are A Lot Of Juicy Opportunities You Can Explore Big Profit with Minimum Risk by Using No Lay Matched Betting Method. I'll Share How To Do It.
---
Firstly, many people automatically think Betting = Gambling. Big Misconception. We do bet but don't count on luck. Instead, we do 
What is Matched Betting & No Lay Matched Betting?
If you are familiar with matched betting, just skip this section.
The Offer That Can Be Laid
Coral offers "If You Place £10 Tennis Pre-Match Bet, You Will Get £10 In-Play Bet";

Very briefly, how we do matched betting to achieve Sure Profit with Risk-Free from this offer are;
In pre-match, 2 transactions of Back (bet on win) Player A at Coral & Lay (bet on NOT win) the same Player A at Betting Exchange like SMarkets so that you cover all outcomes.
Regardless of the outcome, your losing & winning will cancel out each other. In the real practice, usually, 2 bets are not perfectly offset due to the odds difference & exchange commission. Therefore you make a small loss called Qualifying Loss.
Now, you get a free bet. So, you repeat the exact same process In-Play but using the free bet for the back bet at Coral. Then, this time free bet value (minus little loss) will become your net profit.
Success factor is how to minimize this qualifying loss by selecting the player whose odds gap (between Coral & SMarkets) is the narrowest. For further details, please see Place Qualifying Bet Section in Free Matched Bet Starting Guide (2) – How To Sign-Up & Place Qualifying Bet 
No Lay Matched Betting I have described is effectively doing usual betting for the Qualifying Bet stage and doing matched betting to extract cash from the free bet.
Betting Exchange

As you see in the above process, betting exchange is essential for matched betting. Therefore, it's critical to adopt the right approach toward the betting exchanges from the beginning, which will affect your long-term profit. The 4 most established bet exchanges are;

Suggest you take a look at Bet Exchange – How To Sign-Up & Lock-In Profit Wisely With Best Offers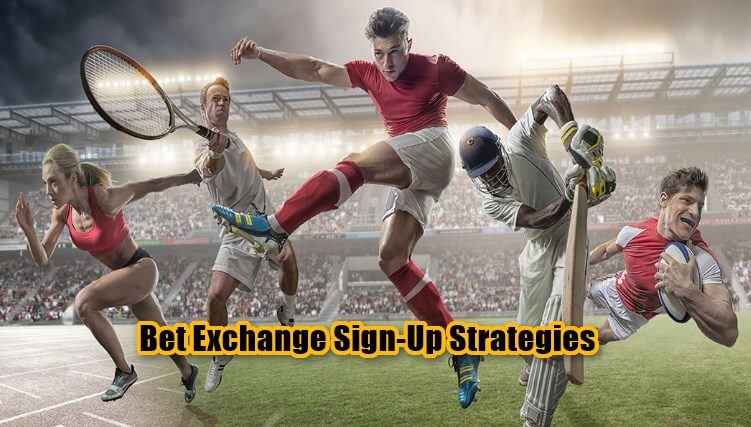 , where you find the Smart Tactics on How To Use Which Bet Exchange in Which Occasion with spoon-fed like instructions.

We recommend SMarkets as a Core Betting Exchange for matched betting. Not Betfair, Why? Also show how important Matchbook is. Please go to the above document that explains the full rationale & comprehensive strategies to make the best use of all 4 key betting exchanges. BTW, due to the fierce competition, each exchange started various incentives such as commission deduction, please check Update & Offer located at the top of our home page. For sign-up offers, you may want to check 4 Best Betting Exchange Sign-Up Offers with Cash Extraction Process.

Anyhow, for those who have not opened SMarkets or not even a single bet exchange account, I prepared a step-by-step guide for your quick start. You can effortlessly extract cash from its sign-up bonus of £10 Risk-Free Bet. Actually, this is one of the easiest offers to lock-in profit in the industry. Please click "+" mark to open the instruction;
£2,500 Risk-Free Opportunities
BTW, for matched betting, you need, in fact you want to open up bookies account as many as possible, because major bookies provide not only Impossible To Lay Offers but also Lay Possible Juicy Offers. In the first place you really want to rake bookies' welcome offers risk-free via matched betting as much as possible. However, Don't Sign-up Directly, Click + To See Little Known Smart Method;
No Lay Matched Betting – What Sort Of Offers Are We Talking About?
In this context, we are referring to the method that can address to the bookmaker's offer which we see impossible or extremely difficult to lay in the betting exchanges.
Let's see the specific offers we're concerned about. I list 4 types of offers.
1) No Exchange Market
Coral run different Tennis promotion that can't be Laid, which is "Bet £10+ on Virtual Tennis You'll receive a £10 free bet to use on Wimbledon finals weekend", T&C   
Simply, No Betting Exchanges including Betfair provide Virtual Sports Market, thus you can't lay.
2)  "Your Own Bet" Offer
The recent buzz is Your Own Bet offer. This is the special market each bookie allows you to mix and match markets to create your own unique bet and then request a price. A few examples are William Hill "#YourBet", Betway "BetYourWay", Coral "Build Your Bet" etc. The offer is often in the form of free bet like "Place a £5 (or higher) on —, If You Lose We Will Refund" like Betfair Sport "OddsOnThat" as below;
Although not impossible depending on the market, usually you may not be able to lay any such markets since most of them are quite unique based on the individual punter's request as seen below;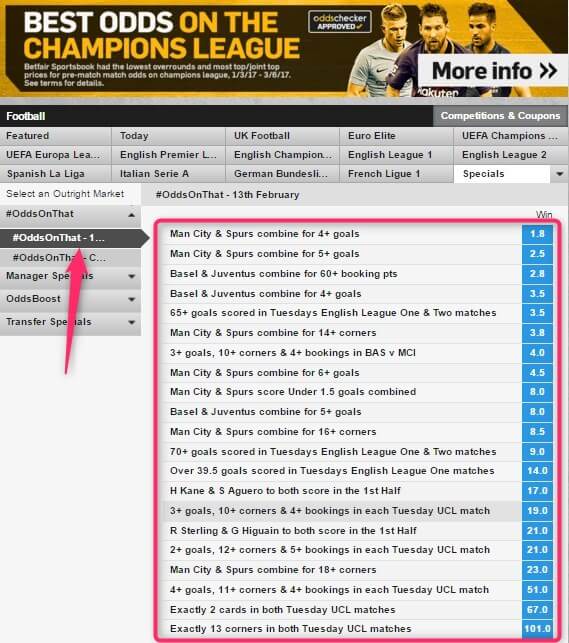 So, unless you are lucky enough to find the proper lay market (I would say even you can find it, the liquidity of such minor lay market could be extremely limited or very poor odds), it's impossible to lay.
Creative Solution
However, we all human being are creative creature and always come up with some solution. T&C of Create Your Own Bet varies between offers but it's often the case that you need at least 3 selections like below Netbet Offer;

" Bets to be placed via mobile only. No Opt-In required, customers need to place a Pre-match £5 Bet Maker on one of the selected games above. The minimum total combined odds for the bet maker is 3/1. The minimum number of Pre-Match selections for the bet maker is 3."
So, how to lay off this offer? Find the various examples;
BTW, if the required minimum selection is only 2 like below;

, it's much easier.
Find many examples;
Some of the other offers you can't lay are;
3) No Liquidity in Exchange Market
Ladbrokes  – "Money Back as a free bet up to £/€10 on losing Set 1 Correct Score betting in the Muguruza v Rybarikova match", T&C

See the below Betfair Lay Odds that is even 3 minutes before the match starts. Firstly, very little lay offer, secondary almost all the odds are too poor, means not worth laying because qualifying loss will be too big;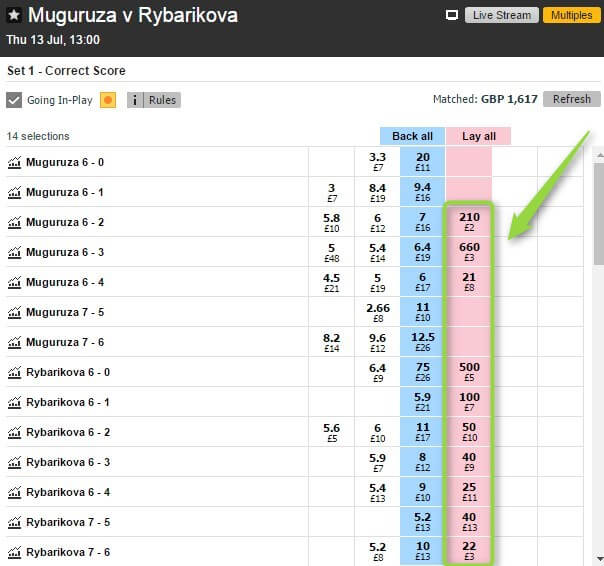 4) ACCA Offer That Requires the Matches Simultaneously Occurring
StanJames – "Place a Both Teams To Score Acca on four or more Premier League games on Sunday and Get a £5 free bet", T&C

The basic prerequisite for making matched betting on ACCA Offers is Laying The Matches Sequentially. Means if the matches happen concurrently, we can not make it Risk-Free. For this rationale, please see How To Lay & Make Matched Betting Multiples / ACCA for Newbies;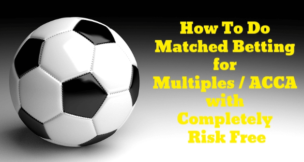 What Are The Solutions?
For 3), since the lay market itself exists, if you're lucky you may find a good lay offer. Then you can simply take Underlaying as a Risk-Free Bet Approach. The detail process is explained in How To Lock-In Profits from Risk Free Bet Sign Up Offer By Matched Betting;
For 4), we prepare variety of acca insurance spreadsheet that includes a mode called Lay All At The Start. As the name connotes, we lay all the matches all at once before the games start. However, it requires very short odds in every match. Please find Lock-In Profit Lay Accumulator Spreadsheet Tutorial;
As you have noticed, both of the above approaches have limited chance for these offers. Therefore, we need something we can do anytime.
No Lay Matched Betting Method
As briefly explained before, what we suggest is very simple, Do No Lay yet Advantage Play by minimizing risk for the qualifying bet, and extract cash from free bet via matched betting.
Rationale: Risk vs Return – Effective Odds
All through 1) – 4) cases, we receive the Free Bet as long as we place the qualifying bet. We can confidently extract 80% of the free bet. In other words, what we do is risking 20% of the free bet amount for any potential return in the qualifying bet.
Say, 3) of Ladbrokes Offer, the free bet is £10, thus we need to prepare £2 loss in the free bet. When it comes to the qualifying bet, the range of odds of the correct 1st set score was around 4.5 – 18.0. The actual result was Muguruza 6 – 1 Rybarikova of which odds was around 9.0. This gives you the expected return of £80 from £10 qualify bet. In summary, we are risking £2 for potential £80 return. Means, the effective odds is £80/£2 + 1 = 41 compared with 9 of Muguruza's odds of winning the 1st set by 6 – 1. Obviously, you feel comfortable to pursue this risk/reward level. Even you take the lowest odds of 4.5, the effective odds was 18.5 in comparison with 4.5. Definitely, it's a value bet, and as long as we keep taking this offer, mathematically it's impossible to lose in long-term.
We can apply the same concept to 2) Betfair Sports & 4) StanJames offer.
Rationale: EV – Expected Value
For 1) Coral Virtual Tennis offer,  although you can take the same approach, I will show you another tactic. Since it's not necessary to place entire £10 into 1 bet, we can take casino game approach to minimize the loss. For further details in this regard, please take a look at Casino Bonus Strategy – How To Beat Online Casino With Expected Value Betting;
I explained the EV tactics on 3 most popular games, namely, Roulette, Blackjack & Slots in the above document though, the fundamental concept is the same. And it can also apply to the sports betting as below.
The virtual tennis odds look pretty standardized. The favorite's service game gives the odds range of 1.1 – 1.3 to favorite and 4.5 – 7 to underdog as seen from the below example;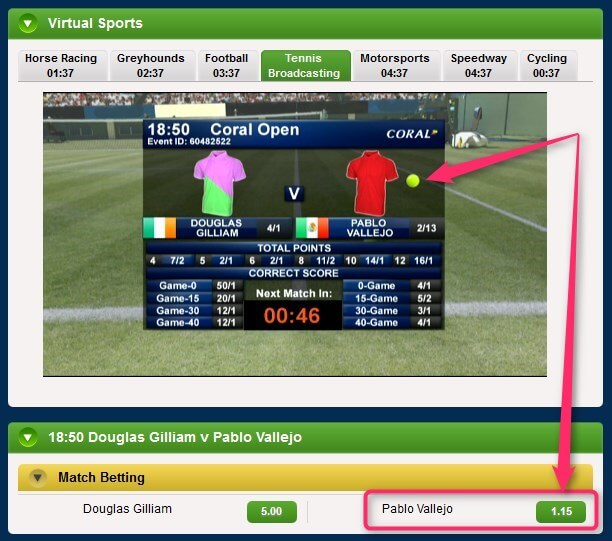 Let's quickly calculate the Coral overround % based on the above odds. 1.15 of the favorite's probability of winning is 87% (1/1.15), while 5.0 of the underdog's probability of winning is 20% (1/5). So, Overround = (87% + 20%) – 100% = 7% This is a bookmaker's profit margin that is equivalent to the house edge of casino. So, we can calculate  
EV =  Bonus (£) – WR (Wager Requirements) Amounts (£) x House Edge (%) = Freebet (£10 x 80% Extraction) – (£10 WR x 7%) = £7.3  
This offer gives you Positive EV. That's why it's worth pursuing. The more you bet, the closer to the overround because the better you can get rid of variance. You may want to bet £1 x 10 or £0.5 x 20 or £2 x 5, depending on your preference.
What I did was £1 x 10 and ended up with £2.21 profit with 10 consecutive winning. I bet on the only favorite. I observed 16 games including no real money practice, I never saw the underdog winning. Just FYI.
No Lay Matched Betting Wrap Up
Let me alert you that what I discussed in this article works in the simple Risk-Free Offer. If the offer requires additional Trigger in Qualifying Bet such as "If Messi Scores 1st Goal, We Will Refund You" etc, you need to take Matched Betting Trigger Bet Approach, please see How To Lock-In Profit on Trigger Bet with Extra Lay Spreadsheet;
If that trigger condition can't be laid like the offer of "If Messi Scores 2nd goal rather than 1st goal, We will refund you", there must be extremely limited value. Because there is no guarantee to get free bet. Thus, such offer is not our scope in this discussion.
Never Overlook The Value Opportunities
I understand from my readers that many matched bettors tend not to be bothered by the bookies' offers that can't be laid. I really would like those people to change mindset due to the reasons we discussed here. As long as we find Value in the form of effective odds or expected value, we should take the offers as many as we can. Because we are able to make the profit in long-term without fail. That is the Advantage Play. You don't need to trust me but trust mathematics.
If you have any inquiry or need any help from us, please contact us anytime

(don't worry, we will not charge you any fee, everything is free here).
Good Luck!!
Joshua Walker
---