Bet365 Bore Draw Refund Offer
Bet365 Bore Draw Money Back Offer enables you to guarantee profits via matched betting technique if the game finishes 0-0 and the bet loses.
What's Bet365 Bore Draw Money Back?
Bet365 bore draw money back is the offer allowing you to get a refund on your losing bet on the correct score, half-time/full-time, or scorecast markets in any soccer match if the game finishes 0-0. This offer is a part of Bet365 football specials. 

BTW, What are Scorecast Markets?
It consists of two separate bets. It's essentially a double bet by predicting the first goalscorer and the correct score of the same match. Very tough that's why the odds are usually quite long.
Pay Attention to 0-0 as the meaning of Bore Draw
So, it is a 0-0 Refund. The refund condition is 0 – 0, that's why it's called BORE DRAW money back because no score is boring. 
Yes, a bore draw means a 0-0 result. Why do I keep saying 0-0?
Because you need to make sure your bet should not duplicated with 0 – 0 results to be eligible for the refund. You can receive a refund only when your bet loses.
Are you with me? So, you should not bet 0 – 0 for Correct Score (this is obvious, right?) or Draw/Draw for Half-Time/Full-Time because your bet will win if the match finishes 0 – 0, thus you can't get a refund.
I guess some of you already started wondering, "Getting a refund is not our objective. Why do we aim at losing? What's wrong with the win?"
Well, if you think this way, your mindset is still a gambler. As said in the conclusion section, we don't gamble but do advantage play to make it Risk-Free.
Someone asked us if this method is the Bet365 Refund Trick. No, nothing is tricky here, we use an established legit method a.k.a Matched Betting.
If you're not familiar with this technique, we briefly explain its concept later. 
Caution: Bet365 is a soft bookie, which means if you profit a lot from their bonuses, your account is quickly restricted. If you're a serious punter, you may want to see the list of sharp bookies that never restrict your account. 
Bet365 Bore Draw Process Of Lock-In Profit
I will show you how it works very briefly (the example here is relatively old but the underlying concept & the whole process are viable and can perfectly apply to basically all bore draw offers now in 2022).
Locate The Appropriate Game & Market
I just took a look at Odds Matching Software (it's free to use) to see if there are any close back & lay odds in the selected market.
Bet365 allows only Correct Score, Half-Time/Full-Time, or Scorecast markets for this offer, which are usually long odds. This means it's relatively difficult to find a good match (the narrow odds gap between bookmaker & betting exchange because the longer the odds, the wider the gap tends to be. From this perspective, the best market is usually the match 1 x 2 market).
However, given Bet365's competitive odds offer, usually, you can find certain opportunities almost anytime.
The one I found was below Eifsborg vs Halmstad Correct Score 1 – 1 (NOT 0 – 0);

Not familiar names? Let's see Who they are (the below information will appear when you click the "i" icon at the right end of each match in the above odds matching software table);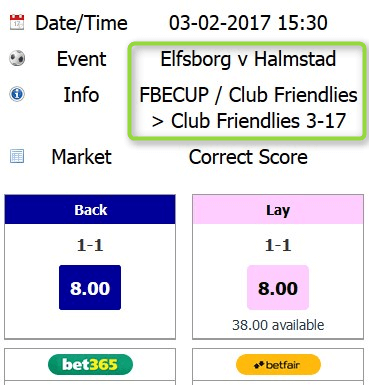 OK, it's not a very minor league in a small country but at least an international club friendliness competition, thus it should not be a problem.
In fact, these 2 teams belong to Allsvenskan which is the top-flight of the Swedish football league system.
Anyhow, suggest not choosing an extremely minor match that will collect the bookmaker's unnecessary attention and could be gubbed.
Place Both Back & Lay Bets
The odds are 8 at Bet365 and 8 at Betfair (you may want to use Betfair Alternatives) (Exchange), so what we do is simply place a back bet on a 1 – 1 correct score at Bet365 and lay it at Betfair. Before doing it we have to ensure these odds are still available;
Bet365 – Yes it's available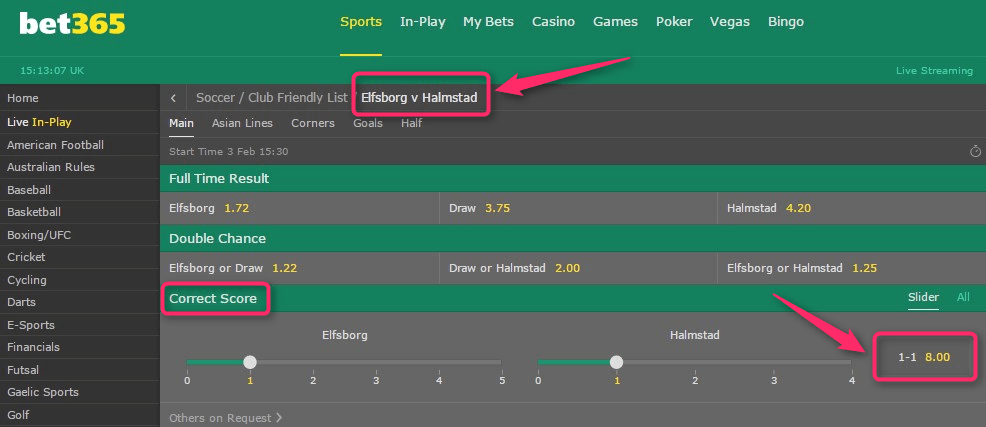 Betfair – Now it decreased to 7.8 as pointed out by the blue arrow. Pretty good since it creates arbitrage conditions;

Lock-In Method with Free Customized Spreadsheet
Now, let's move to How To lock in Profit. It is Placing Extra Lay Bet on the Refund Condition, which is a Bore Draw of 0 – 0. When I look at the Betfair 0 – 0 Lay Odds, it is 12.5 as pointed out by the red arrow.
So, how much do I have to lay on the 1 – 1 and on this Extra Lay of 0 – 0? I need to use our Special Spreadsheet.
Customized Spreadsheet
You can download the above spreadsheet free in GEM Matched Betting Spreadsheet Archive. Use the 1st sheet titled "Orthodox Offer".
This archive is a Member Only page, so just quickly fill in your name & email address (that's it) to get a Password to access the archive where you will find 13 Customized Spreadsheets for bookies' various offers. You can use the same password for all the other Member-Only documents.
Spreadsheet Instruction
It's very simple, just entering the information of;
Back Stake – we assume a £50 stake
Refund Value – £50 (as said, this is the advantage of Bet365 Offer, because the refund is in cash, if Free Bet, should be £40)
Back Odds – 8.0
Lay Odds – 7.8
Extra Lay Odds – 12.5
Exchange (Betfair) Commission – 5%
Then, the spreadsheet instantly calculates how much you need to lay in Smarkets and How Much Guaranteed Profit will be, as follows;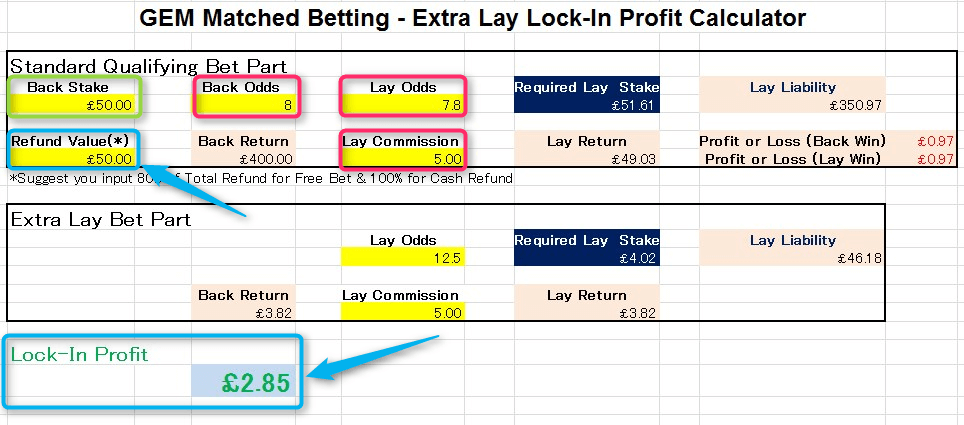 So, the spreadsheet says we should lay £51.61 for the Standard Lay part and £4.02 for the Extra Lay part. Then, we can lock in a £2.85 Profit NO MATTER what the final outcome of the event will be.
Is it too small? Well, It took me less than 10 minutes to search for the match, confirm the odds, calculate the stakes, and finally place the bets.
If I bet £100 in Bet365, the lock-in profit would be £5.7 which is equivalent to £34.2 hourly wage, not bad, isn't it? Remember, there is no limit to this earning opportunity, see the conclusion.
Alternative Risk-Free Method
However, it's true that the lock-in profit is largely affected by Extra Lay Odds. The longer the odds, the smaller the profit. And 0 – 0 Odds are usually quite long like the above, which is the biggest disadvantage of Bore Draw Money Back and often limits your profit.
Therefore, what you can do alternatively is maximize the profit while setting up RISK-FREE (Not Guaranteed Profit) conditions.
Maximizing Potential Profit – How Can We Do It?
The Extra Lay I place will be only the amount to offset the loss derived from the original Back & Lay (qualifying Bet)
Let's see the above spreadsheet again, you see £0.97 loss in red color as below;
So, in order to offset the £0.97 loss, how much should I lay? Simply £0.97 / 0.95 (1.0 – 5% Betfair commission) = £1.02 this is the lay stake you need to bet on Extra Lay 0 – 0. Then, the whole scenario will be;
If the Match Finishes 0 – 0: I receive a £50 Refund while incurring a £0.97 loss and I also lose an Extra Lay of £11.73 which is calculated as £1.02 x (12.5 -1), so my final profit is £50 (refund) –  (£0.97 + £11.73) = £37.30
When Match Finishes 1 – 1: Break-Even (my £0.97 loss from back win & lay off is offset by an extra win lay of £0.97).
Finally, if Match Finishes Anything Else: Break-Even (my £0.97 loss from back loss & lay win is offset by an extra win lay of £0.97).
So, you have constructed a Risk-Free Bet with a Potential £37.30 Profit.
Thanks to the arbitrage condition, the above case shows an extremely small loss in the qualifying bet. It means the qualifying bet loss is usually higher.
However, you may find the technique in this document a pretty good Non-Gambling approach to extract money from the Bore Draw Money Back offer.
Better Efficiency
As you must be aware that the key factor for success is identifying the profitable opportunity, namely the narrow gap between Bet365 & Bet Exchange.
I used the free matcher in the above example, but alternatively, you can use extremely high-quality software as a part of the full matched betting paid service. One example is Oddsmonkey oddsmatcher. You can quickly set the filter function as below;

Then, many profitable opportunities come out like the below, which I searched on Monday when the footy activities are quiet;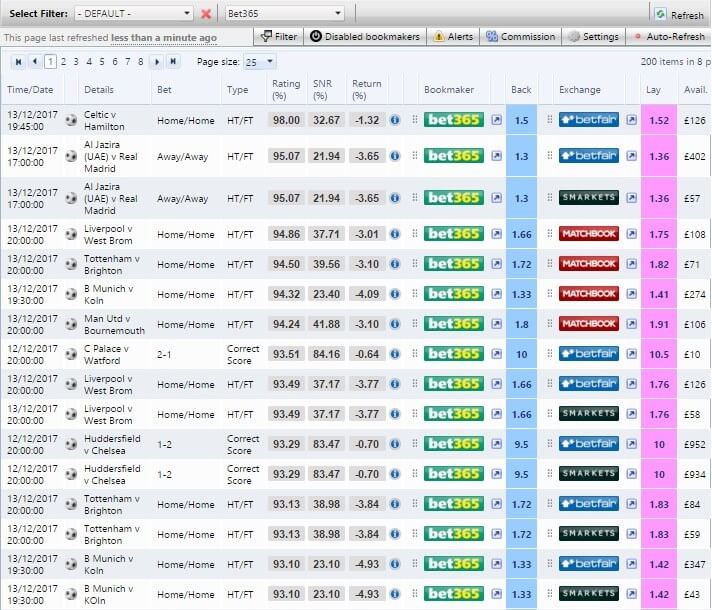 If you're interested in it, take a look at our Oddsmonkey Full Review.
Bet365 Bore Draw – Conclusion
0 – 0 Draw Probability
Finally, choosing a Guaranteed Method or Risk-Free Method is entirely up to you & depending on the odds.
The important thing is Now you have a Sure Method to make Extra Money from the Bet365 Bore Draw Money Back offer. This is the power of Advantage Play.
According to the Pinnacle Predicting Soccer Draw, O-O draw in English Premier League for a decade is 8.3% (Draw 26% x 0-0 Draw 32%). This probability may help you decide your approach to the Bore Draw Refund. Just FYI.
Let me reiterate that in the football season (Aug – May), needless to say on the weekend, even during the weekdays there are numerous football matches.
You can choose any match in the entire world and there is no stake limit. This means you have a huge extra income opportunity risk-free. This is the real benefit of this method in the Bet365 Bore Draw Offer.
BTW, if you keep exploiting too much value from the bookmakers, you may most likely be gubbed, which means your betting account will be restricted.
Actually, it's just a matter of time before most of the soft bookies limit your account if you do matched betting without any precautionary actions. So, we have prepared the following 2 guides – One is Before Resriction, The Other One is After Restriction;
Why Is Bet365 Bore Draw Money Back Better than Others?
You may find similar offers in other bookmakers though, the advantages of Bet365 Bore Draw Money Back are;
Bet365 Refund is

Cash

, many bookmakers refund in Free Bet which is around 80% final value compared with a cash refund
You can select

ANY Football match

in the world (so many choices)
There are

No Minimum Odds & No Maximum Stakes
Other Bookmakers' Football Bore Draw Offers
Nevertheless, the method we share in this document can perfectly work not only with Bet365 Bore Draw but all other bookies', such as (there are no Paddy Power Bore Draw or Coral Bore Draw, which many people asked);
Bet600
Bore Draw Money Back If a match finishes with no goals, we will refund losing bets on the first goalscorer as a free bet up to £25, T&C;

VBet
Free Bet Token for a Boring Football match. How many times have you expected to see a fantastic match but been disappointed as it ends in a 0-0 draw? Now you will be happy to see the zeros on the scoreboard, as we will refund 50% of your bet when your selected match finishes 0-0, T&C;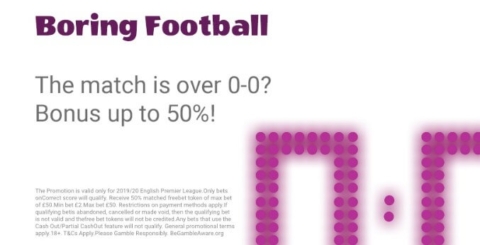 QuinnBet
No Goal No Worries Soccer Special! Money-Back as a Free Bet if it's a 0-0 Draw. Applies to Pre-Match Bets on First Goalscorer, Anytime Goalscorer, Correct Score, and Half-Time/Full-Time (£/€20 Max Free Bet), T&C; 

So, whatever they describe, the essence is the same. If the game ends up with 0 – 0, your losing bet will be refunded. 
Since the technique you will learn here, which some describe as Bet365 Refund Trick can apply to all these offers, I just want to emphasize that once you get used to it, there should be no reason to limit your opportunities to Bet365 only but explore all the other bookies offers to increase your sure profit.
However, too many winnings could cause a big headache for everybody such as Bet365 over £1m payout Megan McCann court battle, so Be Modest, Just FYI.
Our Advantage Play Principle
Lastly, allow us to explain a bit about our principle.
Avoid prejudice against "Betting = Gambling". We Do Bet but Don't Count On Chance. Instead, we do 6 Advantage Plays, based on mathematical edge to beat the bookies, casinos & bingo.
When it comes to Sports Betting, we use Matched Betting / Sports Arbitrage / Value Bets On Proven Tipsters to lock in a profit or consistently earn extra income for the long term.
With that said, one of our policies is "Betting On Luck Is For Losers, Stop Gambling But Bet on Only +EV To Win Reliably". It is effectively our way to promote Responsible Gambling under the regulation, and we strongly support GamCare being explained in about us.
We, Global Extra Money (GEM) would like our readers to make the most use of our reliable money-making opportunities. That's why we have shared the technique of How To Lock-in Profit from Bet365 Bore Draw in this guide.
BTW, our advantage play method is designed for any player all over the world. For full instruction, please see our strategic paper of How To Make Money From Offshore Sports Betting With 3 Advantage Plays and use World 19 Best Offshore Betting Sites Offers where you can get over USD19,000 sportsbook bonuses altogether. 
So, wherever you locate it, as long as you can access your local Bet365 Bore Draw offer legitimately (or any similar promotion offered by your local bookies), you can enjoy our method.
Underlying Method to Lock-in Profits from Bet365 Bore Draw Refund
Matched Betting Quick Summary
For those who are not familiar with matched betting at all, suggest taking a look at Matched Betting For Dummies where you will find every basic about matched betting.
However, for your quick start, I'll briefly explain how it works by using the 888Sport Sign-Up Offer (for all territories outside the UK, need to enter the "30FB" code when you make your first deposit) as a simple example for your easy understanding.

The offer is "Bet £10 Get £30 Free Bet".
What we basically do are;
2 transactions of Back (bet on win) £10 on Team or Player A or Horse A at odds of 1.5.0 < at 888 Sport & Lay (bet on NOT win) appropriate £ (stake can be calculated by free software) on the same Team or Player A or Horse A at Betting Exchange like Betfair or Smarkets so that you cover all outcomes.
Regardless of the outcome, your losing & winning will cancel out each other. In real practice, usually, 2 bets are not perfectly offset due to the odds difference & exchange commission. Therefore you make a small loss called Qualifying Loss.
But now, you get £30 for Free Bets. You repeat the exact same process but use the free bet for the back bet at 888 Sport. Then, this time free bet value (minus qualifying loss) will become your net profit.
You may be able to extract around £23 – 27 pure profit from this offer Without Any Single Risk.
The success factor is how to minimize the qualifying loss by selecting the player whose odds gap (between 888 Sport & Betting Exchange) is the narrowest. You can use Free Odds Matcher to locate such opportunities. For the step-by-step process, take a look at Risk-Free Betting Starting Guide (3) – How To Extract Profit from Free Bet. You will find William Hill's sign-up bonus case as an example in this instruction.
BTW, the 888Sport sign-up offer includes a £10 Casino Bonus, for this action, see the casino bonus hunting guide.
Now, getting back to the Bet365 Bore Draw case, we place a qualifying back bet in Correct Score, Half-Time/Full-Time, or Scorecast markets in Bet365 and lay the same market in the betting exchange to cancel out losing & winning with minimum qualifying loss, while expecting the match to end up with 0-0 to get a refund.
As explained later, since the Bet365 Bore Draw offer set no maximum stake, you may earn a big profit with minimum risk, that's the reason why we should not bet anything that can be duplicated with the refund condition.
We use an additional technique to this standard matched betting to lock in profit from Bet365 Bore Draw Offer, which you will learn later.
BTW, many people imagine matched betting is for only UK & Ireland, wrong, check;
Betting Exchange Smart Use
As you see in the above process, Betting Exchange is essential for matched betting, and the following 4 betting exchanges are the most established ones;
Betfair (see
Betfair Alternatives
)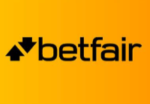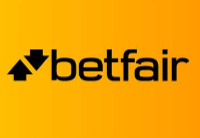 Smarkets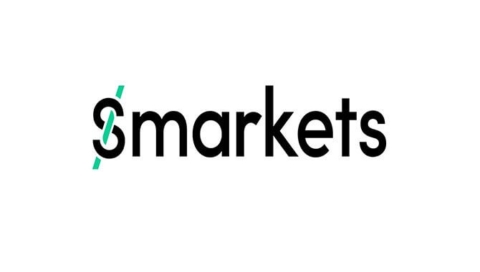 BetDaq (Warning)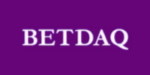 This guide shows all top 4 betting exchanges' latest sign-up offers & how to extract cash risk-free from each offer including Betfair's £100 Free Bet, which is supposed to be one of the best offers in the industry.
In case you can't access any of the 4 betting exchanges because of your residing country, use this bet broker solution that enables you to access the Betfair exchange market.
Anyhow, for those who have not opened the Smarkets exchange account, we are adding a step-by-step instruction below for your convenience. You can effortlessly extract cash from its sign-up bonus of £10 Risk-Free Bet, which is, in fact, one of the easiest offers to lock in a profit in the industry. The  "+" icon underneath displays Full Contents;
BTW, Matched Betting is all about making the best use of bookmakers' promotions, thus you need to open up bookies' accounts as many as possible. However, don't sign-up directly, read this guide to learn how to get additional money for the standard welcome bonus, which often applies to Bet365 as well, just FYI.
Lastly, if you happen to be a sharp casino & game bonus hunter, strongly suggest taking a look at the List of 52 Best Bitcoin Casino Bonuses and for those who appreciate the highest privacy, go to the List of Best Anonymous Bitcoin Casinos & Bonuses, just FYI.
If you have any inquiries or need any help from us (don't worry everything is free), please contact us anytime
Good Luck!!
Joshua Walker (bio)
Editor – Global Extra Money (GEM)