ACCA Insurance Case Study
We're sharing the best way to secure profit when ACCA (Accumulator) Insurance Hit 0 Loser Until The Last Leg.
Basic Guide
Before moving into the subject, just in case you're not familiar with Acca (Accumulator Bets), suggest How To Lay & Make Matched Betting Multiples / ACCA for Newbies; Special Report by GEM
or, you understand Multiples & how to lay it to make matched betting, Football Accumulator Tips to Guarantee Profits (This information is "Member Only", thus please register by just filling in your name & email (that's it) to get Password to access to the document. You can use the password for all the other Member-Only pages. All of them are very valuable instructions. )
ACCA Insurance Offer – William Hill Example
Let's get down to the actual offer of William Hill Acca Five which claims "Place an accumulator of 5 or more selections on the listed sports and markets, and if just one of your selections loses, we'll refund your stake as a free bet."
It's a typical ACCA Insurance though why is it better than other bookies' ACCA Insurance? Mainly 3 points;
You can select the events from any sports category including horse racing, which makes your choices much easier than the other offers that are usually restricted to 1 category such as Football, Tennis or NFL, etc.
Although there is an odds restriction for each selection (at least 1.2<), it doesn't apply to major football events which are probably the most popular ACCA market & you prefer to choose.
The maximum refund is up to £50 while many others are up to £20 – 25.

Update: William Hill have constantly changed ACCA Insurance condition, and currently ACCA Five is no longer available, however, the instruction in this guide can apply to any standard ACCA Insurance like this offer, which means you can use it. 
ACCA Insurance – No Loser Until Last Leg Method
Process
I placed £30 on ACCA Five with the below football match selections;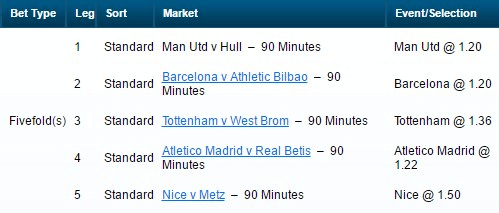 Based on the basic tactics of matched betting I selected narrower (between William Hill & Exchange) & shorter (strong home favourite) odds as much as possible.
I use one of 3 types of our Bet Accumulator Insurance Spreadsheets.
That is Lay Sequentially Spreadsheet to control my ACCA Lay Off and Profit/Loss shown by the red arrow at the right end column in the below table.

So at the starting point, I'm losing £3.47.  Ideally, the loss at the outset is less than 10% of the Stake. However, it can be acceptable as long as below 15%.
In this case, we should try to be less than £30 x 15% = £4.5, then £3.47 is not good but OK.
As the very maximum, it should not be over 20% unless we have strong confidence that some of the matches' lay odds are too high when you place an Accumulator bet, therefore it will be reduced in due course.
How The Bet Accumulator Insurance Spreadsheet Works
Just briefly, how we profit from ACCA Insurance with this method is by laying the selections off one by one (therefore it is called lay sequentially) for a small loss until we hit a loser.
And then we hope that we just have the 1 loser get the free bet.
Remember you should keep laying until you hit the first loser.
If you didn't lay the 1st loser, you would lose not only your stake but also all the previous liabilities because you don't receive the lay winnings from the 1st loser which cover all the cumulative liabilities.
In other words, the ACCA Insurance Spreadsheet is designed to cover all the cumulative liabilities at the time when you have a loser.
Therefore, I kept laying off the Stake Ideal suggested by the Spreadsheet based on the updated lay odds in the exchange (I used Smarkets).
Since all the favourites I selected are pretty strong and kept winning until the last leg. At this stage, thanks to the shortened lay odds of the first 3 selections, my loss decreased to (£1) as shown below;

Now, I have 3 Possible Outcomes with the following actions;
I. Standard Approach – I keep laying the ideal stake off "Nice" at the last leg and if "Nice" doesn't win I lose £1. but get a £30 free bet, of which cash value is around 80% of the free bet, thus £24. The net profit would be £24 – £1 = £23.
II. Standard Approach – Ditto, but if "Nice" wins, I lose £1 although I win this ACCA. III. Lock-In Profit – I set the Spreadsheet to generate Guaranteed Profit regardless of the result of "Nice" in the last leg.
Lock-In Profit Approach
Before making the final decision, let's see how to set III. lock-In approach.
All you need to do is to Activate the Bonus Section by Turning It into YES as shown by the red arrow in the below table.
Then the sheet automatically calculates the final lay amount you should do at the last leg (red arrow) while giving you the lock-in profit amount in the right end column (blue arrow).
It shows £7.43 Profit if "Nice" win and £16.57 Loss if "Nice" lose but as you get the £24 cash value refund, means £24 – £16.57 = £7.43 Profit.
So, no matter what the final leg's result will be, you will have a guaranteed £7.43 Profit.

Although "Nice" is at the top of the league table, given the 1.5 odds doesn't make me comfortable to take a risk by applying the standard approach of either a £23 profit or a £1 loss.
It is a Home Favorite of the Top Team that fights with the league bottom team "Metz". Then the odds should be shorter than 1.3. But the market doesn't see it like that.
So, I decided to take a Safe Approach to Lock-In Profit.
Final Result
What was the actual result? "Nice" could not beat "Metz" but ended up with Draw, which means my last leg lost as shown in my William Hill account;

When you place "L" at the last leg (as red arrow points), the final result of the Profit / Loss are shown as below, the actual Lay odds I placed was bit reduced, therefore my final lock-in profit improved to £8.53 (blue arrow);

The result supported Lock-In Profit Approach this time.
However, as I keep saying, nothing is wrong to choose the standard approach. Because it's still an Advantage Play, namely risking £1 to get £23 profit which is 23 effective odds (£23/£1) under the 66% Nice win probability.
How to calculate? 1 / 1.51 odds x 100 = 66.2%. So really worth taking such a risk. Even though you lose this time you will never lose but be profitable in the long-term as long as you keep doing such advantage play.
Tip To Improve Your Profit
1 point I have to tell is that, if the last leg's odds are too short, your lock-in profit amount would be limited. I just enter some hypothetical back odds of 1.11 and lay odds of 1.12 then the result would be;

On the other hand, longer odds would make your lock-in profit bigger though long odds' fluctuation is, in comparison with short odds, big and the gap between lay odds & back odds tend to widen.
This is the most critical factor for your final profit, thus our basic principle of taking Narrow & Short odds remains.
As a general guide, preferably chose the range of 1.3 – 1.7 for the last leg to maximize your lock-in profit while minimizing the risk of widening the odds gap. In other words, when your last leg's odds are above 1.5, it's worthwhile considering the lock-in approach.
Conclusion
Bottom line, there is no right or wrong for the selection within the above 2 approaches, it fully depends on your Risk Tolerance, the key points here are;
I can't stress more that we're not doing gambling but implementing Advantage Play. Therefore it's no way for us to lose money but be profitable on average in long term as long as you follow our methods & use Bet Accumulator Insurance Spreadsheet. Mathematical logic always supports you.
The lock-in Profit method under this scenario will give you a bigger profit compared with the case of having an early loser. Therefore whenever you have no loser until the last leg you should always keep this lock-in profit option in mind.
You may also want to read; "How To Lock-In Profit on Accumulator Bet Insurance – Already 2 + Winners Scenario" &"How To Lock-In Profit ACCA Insurance – EARLY 1 Loser Scenario in Coral Accumulator". 
How Much Can You Make from Accumulator Bet Insurance?
Earning Potential
I happen to bet £30 in the above example though. As explained, William Hill will refund up to £50 per bet. If I had bet £50, the result would have gone up to  £17.57 Lock-In Profit;

You can place the above ACCA Insurance bet every day in William Hill. If you place even only 20 bets a month, the average profit is pessimistically estimated to be £10.
Then you will get £200 solid extra income every month with just 10 minutes of work per day.
All the big UK / Ireland Bookmakers including Paddy Power, Betfred, Bet Victor, Betway, Sporting Bet, Betstar, etc. offer you more or less the same ACCA Insurance.
For the ongoing Accumulator Bet Insurance, see List Of The Best ACCA Insurance Offers By Key Bookmakers.
Actually, you can take all their ACCA Insurance Offer then you will calculate how much you get guaranteed profit, easily over £300 every month.
Additional Benefit
Another benefit of Accumulator Bet is that Bookmakers like the players who place ACCA Bets. Because it's their cash cow, therefore you can reduce the chance of being gubbed – meaning "account restriction" which bookmakers do to the smart punters, consequently, you can keep profiting for the long term.
When it comes to the Accumulator Bet Insurance Guidance & Lay Spreadsheet Calculator, see the below sections;
Specific Instruction On Accumulator Bet Insurance Lay Sequentially & Customized Spreadsheet
Just in case you're new to ACCA Insurance bet, How To Lock-In Profit From Multiples offers / ACCA Insurance. (The above info is a protected page, so just fill in your name & e-mail address to instantly obtain a password that can be used for all the other member-only pages).
ACCA Insurance Calculator
Customized Spread Sheets
We separately prepare the Tutorial for the Lock-In Profit Calculators – we have 3 modes of Spreadsheets;
Basic Mode – Lay Sequentially (this is the spreadsheet I used in the above William Hill example)
Lock-In Profit Mode – Lay Against Refund (in fact, this Mode set what I did in the above from the beginning)
Simultaneous Mode – Lay All
You can download all the 3 mode spreadsheets and follow the step-by-step tutorials for each spreadsheet to guarantee profit risk-free. Go to ACCA Insurance Lock-In Profit Spreadsheet Tutorial Special Report by GEM (you can use the same password you obtained in the above report for this document as well). 
Allow Me To Repeat Sports Betting is No Longer Gambling, Get Extra Income that will Cover All Daily Expenses and Save For A Rainy Day No More Money Worries!!
Back A Winner Acca Offer
Incidentally, Acca Insurance is the insurance for losing bets. On the other hand, you can also find many Acca offers for winning bets: Enhanced Odds, Price Boost, or Bonus.
Coral's new offer is this concept. I include a few of these offers in the above Acca Insurance List, which will increase your earning potential.
You can lock in profits from these offers, please take a look at 3 Methods Of Laying Enhanced Accumulators & Acca Bonus To Lock-In Profit.
Advantage Gambling
Allow me to briefly share our principle. We Never Count On Chance But Make the Best Use of Mathematical Advantage Over Bookmakers Derived From Their ACCA Insurance Offers. How?
We Employ Matched Betting Technique, which is one of the Advantage Plays. We Have Many Customized Tools To Rake Cash Risk-Free or Lock-In Profit from ACCA Insurance Offers.
This guide is just a part of those. 
How Matched Betting Works
Since all our ACCA Insurance method is based on the matched betting concept, it's vital for you to clearly understand how it works. For those who are completely new to matched betting, firstly suggest taking a look at Matched Betting For Dummies, where you will find every basic about matched betting.
I'll briefly explain how it works by using William Hill Welcome Bonus. In fact, you can lock in Profit at the time you open the account. William Hill offers to new players "Bet £10 Get £30 (3 x £10) Free Bets" What we do are;
2 transactions of Back (bet on win) £10 on Team or Player A at William Hill & Lay (bet on NOT win) appropriate £ (stake can be calculated by free software) on the same Team or Player A at Betting Exchange like Betfair (you may want to use Betfair Alternatives) so that you cover all outcomes.
Regardless of the outcome, your losing & winning will cancel out each other. In real practice, usually, 2 bets are not perfectly offset due to the odds difference & exchange commission. Therefore you make a small loss called Qualifying Loss. But now, you get £30 (£10 x 3) Free Bets. You repeat the same process but use the free bet for the back bet at William Hill. Then, this time free bet value (minus qualifying loss) will become your net profit.
You may be able to extract around £22-25 pure profit from this offer.
The success factor is how to minimize the qualifying loss by selecting the player whose odds gap (between William Hill & Betfair) is the narrowest. You can use Free Odds Matcher to locate such opportunities. For the detailed step-by-step process, take a look at Free Matched Bet Starting Guide (2) – How To Sign-Up & Place Qualifying Bet. We use this William Hill sign-up bonus as an example in this instruction.
Betting Exchange
As you see in the above process, the betting exchange is essential for matched betting. Therefore, it's critical to adopt the right approach toward the betting exchanges from the beginning, which will affect your long-term profit.
Suggest you take a look at Bet Exchange – How To Sign-Up & Lock-In Profit Wisely With Best Offers, where you find the Smart Tactics on How To Use Which Bet Exchange in Which Occasion with spoon-fed instructions.
For those who have not opened Smarkets or not even a single bet exchange account, I prepared a step-by-step guide for your quick start. You can effortlessly extract cash from its sign-up bonus of £10 Risk-Free Bet. Actually, this is one of the easiest offers to lock in a profit in the industry.
Please click the "+" mark to open the instruction;
£2,500 Risk-Free Opportunities
BTW, Matched Betting is all about making the best use of bookmakers' promotions, thus you need to open up bookies' accounts as many as possible. 
All online bookies are in a fiercely competitive situation thus advertise tasty offers to attract your sign-up. However, Don't sign-up directly, Click + To See Little Known Smart Method;
Good Luck On Your Extra Income Journey!!
Joshua Walker (bio)
Editor – Global Extra Money (GEM)