Enhanced Accumulators & Acca Bonus – What Are The Offers?
Enhanced accumulators & Acca bonuses are basically Price Boost on Multiple Bets (such as Double, Treble, or Acca – Accumulator bets), which have become very popular offers, especially in Football, frequently offered by Sky Bet, Ladbrokes, Betfred, Coral, and Bet365, etc.
Broadly speaking, there are 2 types;
Enhanced Odds – It's the ones described as Enhanced Accumulators, Acca, or Multiples, all are the same, enhanced odds. Skybet enhanced accumulators a.k.a. Soccer Saturday Price Boost is every weekly offer. You can usually get guaranteed profit from this offer. Please see the details in Sky Bet Offers – A Treasury Of Guaranteed Profits.
Acca Winning Bonus – Some bookies like Coral & Bet365 run bonus accumulators as an ongoing offer that could be used as an alternative to Acca Insurance as seen below in Bet365 Enhanced Accumulators Acca Insurance is for losing bets but bonus accumulator is the bonus for winning bets. They give an additional % bonus to your winning based on the level of multiples. You can find more examples in the List Of The Best Acca Insurance Offers By Key Bookmakers.
Enhanced Accumulators – How To Lock-In Profit
We use the matched betting technique to ensure profit from Multiple Bets-related offers. If you're not familiar with how to lay multiple bets, go Laying accumulator step-by-step guide, which shows a comprehensive example of the best way to bet on football accumulators.
As a basic approach to Lay Multiples, we use the Lay Sequential method. Namely, we lay each leg one by one, yes we lay sequentially. This means we can't take the offer where any of the matches overlap.
Some of you are aware that there is a method a.k.a. Lay All At The Start, which allows you to lay the games being played at the same time.
However, it requires extremely short odds across all the matches, thus we focus on the Lay Sequential method for these Enhanced Accumulators except in the case where the exact lay market is available (see the below Method 1).
For the full range of Acca Lock-In profit methods, please take a look at Acca Insurance Lock-in Profit Spreadsheet Tutorial, where you will find specific instructions & a customized spreadsheet you can download for Free. In this document, I'll explain the specific tactics to tackle both Enhanced Accumulator & Acca Bonus.
As said that our underlying concept of these methods is matched betting, and many people imagine matched betting is for only UK & Ireland.
Wrong!! by using this approach everybody in the world including US citizens can make decent profits from this risk-free betting technique, just FYI. 
Enhanced Accumulator & Bonus – 3 Specific Methods To Guarantee Profits
I am showing a total of 3 specific methods. 2 methods for Enhanced Accumulator & 1 method for Acca Bonus.
I'll use the Price Boost Treble Offer of 138Bet as the example for Enhanced Accumulator. 138Bet enhanced Tottenham, Man Utd, and Chelsea all to win from around 3/1 to 5/1;

The 3 matches kick-off at different times at 12:30, 15:00 & 17:30, and don't overlap. Therefore, we can take the Lay Sequential approach.
Enhanced Accumulators & Acca Bonus 1st Method – Use Betfair Existing Lay Market
I said we would lay sequentially. However, let me start up with the Exception, which is the case that you can lay everything all at once. This means you can apply this method to the matches that overlap.
Betfair Acca Lay Market
It's by far the simplest & easiest method. Whenever you find the enhanced accumulator offer in particular up to Treble or 4 legs, first try to check if the subject lay market exists in Betfair (you may want to use Betfair Alternatives).
Many people don't yet seem to be aware of this lay market. Just use Search Box, enter "Acca", then you will see;
Then, click 12:30 Acca market,
Bingo, there it is. The lay odds is 5 whereas 138Bet boosted price is 6. So, it's an arbitrage condition and you will get instant profit.
Profit Calculation
After you locate the lay market, go to Free Calculator, and input the necessary information to see the expected profit.
Since the maximum stake allowed in this offer is £10, the profit you will get regardless of the outcome of the event is (Note – For the Proper Calculation of the Boosted Odds, see Method 2);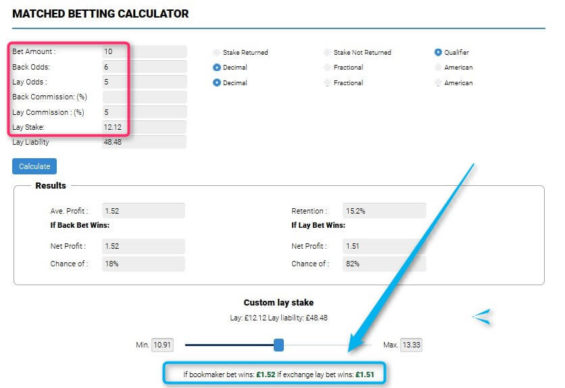 Or, if you want to maximize the profit, use the underlay by making it risk-free as;

That's it.
Matchbook & Smarkets 
Given the popularity of enhanced accumulators, both Matchbook & Smarkets exchanges started opening up the accumulator lay market as Betfair. You can find the market in the following method;
Matchbook
You go to the "Enhanced Special" section, then you will locate the list of accumulator markets.
Customized Lay Market
Bookies are creative enough to create various boosts which you can not usually find in the lay market. Matchbook offers customized lay market via Oddsmonkey forum;
This will obviously generate more opportunities to lock in profit instantly.
BTW, Oddsmonkey is a premium-matched betting package service. Their range of software is quite useful, especially the basic oddsmatcher which makes a lot of difference in your long-term profit.
If you're interested, take a look at our full review – Oddsmonkey Review – List Of Competitive Edge Over Rivals Testified By The Founder. If you need any help from us, don't hesitate to contact us.
Smarkets
Smarkets started a new feature that enables you to build your own custom-made Acca and lay them as one bet, for the full instruction on how to make the best use of it, go to Smarkets Custom Lay Multiples – Easiest Way to Lay Acca. 
Betting Exchange
As you're aware, the betting exchange is essential for this method, this report shows all the top 4 betting exchanges' latest sign-up offers & how to extract cash risk-free from each offer including Betfair's £100 Free Bet, which is supposed to be one of the best offers in the industry. 
In case you can't access any betting exchanges in your country, then don't worry use this method, which enables you to access to Betfair market.
Enhanced Accumulator & Acca Bonus Method 2 – Lay Sequential
Lay Sequential (1)
Now, let's assume there is no Exchange Lay Market, which is often the case (actually there is hardly any lay market of over 4 legs).
As long as the matches don't overlap, we can lay sequentially risk-free. What we do is use the customized Spreadsheet.
In order to download the spreadsheet Free, go to GEM Matched Betting Spreadsheet Archive. (Select the Lock-In Profit and Price Boost Spreadsheet – functionally the lay sequential & lock-in spreadsheet is the same, and the lock-in profit sheet in the archive is the updated version.)
Enter Spreadsheet
First, check the normal odds of 138bet are;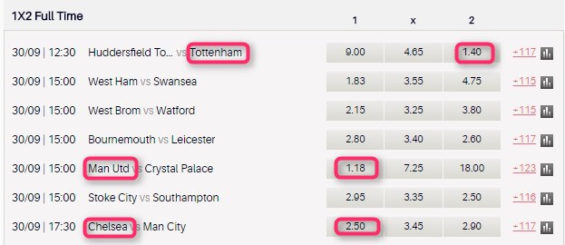 We entered the above back odds & the lay odds I took from Smarkets. I tend to use Smarkets of which the commission is 2%, smaller than 5% of Betfair.
In the spreadsheet, make sure the mode is set to Normal Mode with No Bonuses. Then, the sheet displays;

The EV (Expected Value) of this treble is -£0.92 without Price Boost.
This means, assuming you take the current back odds, and all the lay odds will stay put, you will incur a £0.92 loss.
Now, we need to input the enhanced odds (same meaning as the price boost) information into the "Override Box" pointed by the green arrow.
Price Boost – Either Cash Or Free Bet
This is very important. In Method 1, just for the sake of a simple explanation, I treated the full Price Boost portion as a cash return, which is the case for Sky Bet Saturday Soccer Price Boost.
However, bookies often pay the difference between normal odds & enhanced odds in the form of Free Bet, which also applies to this 138Bet offer.
Then, what should we input?
Cash: If the price boost is in the form of cash, simply input the boosted odds. In this case, 6.0. The spreadsheet now shows £3.20 Expected Value;

Free Bet: You need to set the Boosted Price based on the cash value of the free bet. We usually assume that 80% of the free bet value can be finally extracted via matched betting. Therefore, you can use the following calculation formula. Then, the final EV based on the Free Bet is £2.38;
The Real Boosted Odds = (Boosted Odds – Normal Odds) x 0.8 + Normal Odds
Therefore, in this case, (6 – 4.13) x 0.8 + 4.13 = 5.626

In either case, all you need to do is to keep laying sequentially by updating the lay odds as long as your team wins.
Namely, lay the 1st leg as advised, enter the actual lay stake in the sheet where requested – then continue to lay subsequent legs, changing lay odds if required, only if the previous leg wins.
If a leg loses you will be done, no more lays are required. You will get an instant profit on the Exchange.
Actual Results
Would you like to know the result? It was;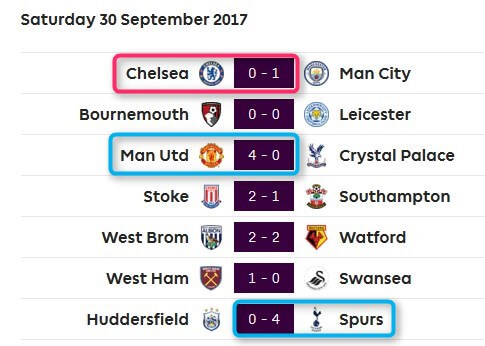 The last leg of Chelsea failed to win. Whichever method you took, you didn't lose anything but made a profit unless you take a risk-free approach.
Lay Sequential (2)
Let me share just 1 more example of lay sequential, which looks impossible to lock in profit because of the following conditions;
No Betfair ACCA Lay Market – As said before, there is no market for over 4 folds
Not Possible To Lay Sequentially – Some Matches are overlapped
Enhanced Accumulator Offer
The below Betway Boost is the case;

As seen from the below odds table showing the time schedule as well, the Tottenham match starts at 12:30 and Liverpool starts at 17:30.
But both Chelsea & Man U start at 15:00. So with 4 folds and overlapping matches, looks like we can apply neither Betfair Acca Lay nor Lay Sequential Method.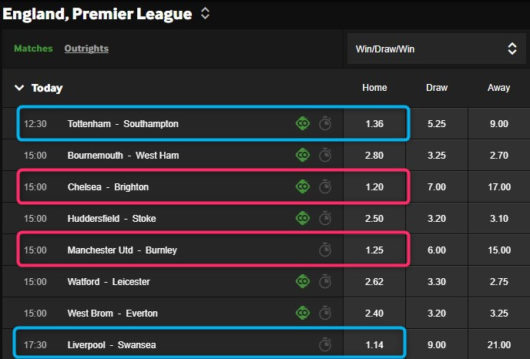 Creative Solution
However, we can use our creative solution. We combine Betfair Acca Lay & Lay Sequential Method because there is a double lay market of Chelsea & Man Utd. in Betfair as below;
Lay Spreadsheet
So, what we should do is make it 3 folds Acca by combining Chelsea & Man Utd, and the lay sequential spreadsheet will be;

Although the back odds of each match are not relevant in this case because the boosted odds of 4.0 will override, the combined odds of Chelsea & Man Utd are simply multiplied each odd as 1.25 x 1.2 = 1.5 Just FYI.
Now, you can lock in a profit of £4.38 out of £10 betting, which is less than 10 minutes of work.
Enhanced Accumulators Method 3 – Acca Winning Bonus
On top of the Bet365 Euro Soccer Bonus, there are several bookies that offer Acca Winning Boost in the form of a % Bonus like Coral & 10Bet Acca Jacker

1 of the biggest advantage of this 10Bet offer is you can include selections from any sport, all leagues and competitions, and all betting markets. I extracted the other key points as shown in the below screenshot;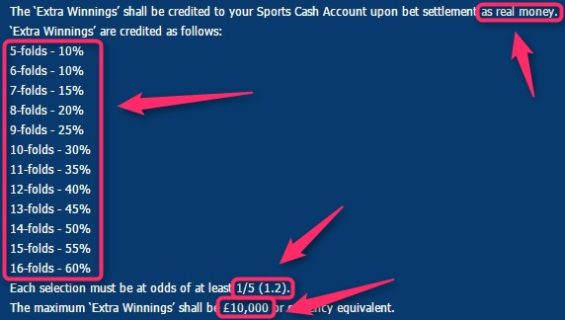 Pros & Cons
In comparison with the previous Enhanced Odds, this Bonus Offer's advantages & disadvantages are;
Advantage
On-Going Offer: You can take whenever you want and you have the freedom to select the match within the given conditions, whereas enhanced odds are often ad-hoc offers related to the specific event or preselected matches
Cash Return: Winning Bonus is usually given in the form of cash rather than a free bet.
Stake Limit; In general quite high, while enhanced odds are pretty small like £10 – 20.
Disadvantage
Bonus %: Generally speaking, the % of the bonus is not really impressive. See the results of our simulation later.
Process
You can use the same spreadsheet as before. The sheet can accommodate up to 14 folds. The key point is how to calculate the boosted odds based on the bonus. The formula is;
Boosted Odds = (Normal Odds -1) x (1 + Bonus % / 100) + 1
Looks complicated, but actually not. Just put the numbers in the formula. Let us use the extremely simplified case.
With 10Bet Acca Jacker 7 folds, assuming we select 7 matches with all 1.3 odds. The accumulator's odds are the 7th power of 1.3, which is 6.27. Since 10Bet will give you a 15% bonus in 7 folds Acca, the calculation will be;
Boosted Odds = (6.27 – 1) x (1 + 15 / 100) + 1 = 7.06
Profit Simulation
I said the disadvantage of the offer is a low bonus %. Let's simulate a few scenarios to examine how profitable this offer is. We continue to use the above assumption.
We additionally assume a £100 stake and all the lay odds are 1.32 which causes around a 2% loss in each qualifying leg. Then, we see the spreadsheet as;

It creates a loss. Ummmm, even with the tight odds of 1.3 & 1.32, a 15% bonus is not enough to generate any profit.
Then, we make the odds gap even narrower by setting the average lay odds of 1.31, which is just a 1% loss level. The result is;

Yes, we can see the profit. However, as you must agree, finding the matches of which the average loss is 1% is absolutely tough and not practical.
Alternatively, I will increase the number of legs, which means increasing the bonus % to 10 folds with a 30% bonus with 1.32 lay odds;

Yes, we see the profit. However, you may think £4.44 profit out of £100 stake (4.44% return) is too small.
As I pointed out as the disadvantage, you may need a 40 – 50% + winning boost (bonus) to get a decent return. Then, the 10Bet offer requires 12-14 folds up, which may require a huge bank in your exchange account.
But Bet365 asks for only 8-9 folds to achieve that bonus level as shown below;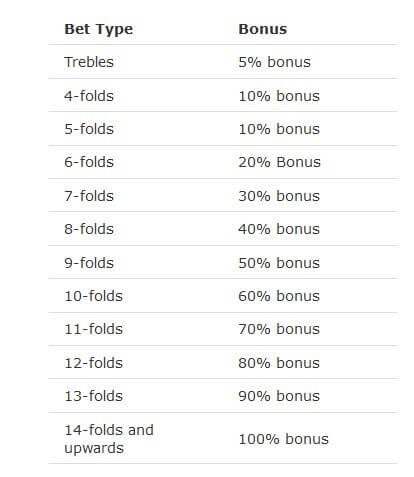 From this perspective, you will understand why I kept saying Coral has made a very disappointing change from Acca Insurance into merely a 10% winning boost. It's almost impossible to get profit from the risk hedging tactics.


In any case, this spreadsheet method & standard norm of bonus % will help you make the right choice of the offers.
Enhanced Acca Wrap Up
Let me summarize key points;
Lay Market Existence: When the offer is up to Treble, check if the lay market exists. If it does, such a single lay off is not necessarily the most profitable but obviously the easiest option which you may consider first.
Real Boosted Odds Calculation: Check if the price boost is paid in cash or a free bet. If it's a free bet, follow the calculation formula to get real boosted odds.
Over 40-50% Bonus Requirement: When you select the offer of Acca Winning Bonus, chose the one that offers at least a 40-50% winning boost. But ensure you have sufficient funds in your exchange account.
Acca Offer List & Potential Earnings
For the ongoing Accumulator Bet Insurance, see the Latest List Of The Best ACCA Insurance Offers, where I include a few Acca Bonus offers.
I list over 20 offers in the above document including a few of Back a Winner offers. Remember you can expect around £300 -500 per ACCA Insurance.
So, you may be able to achieve thousands of income only from Accumulator Offers during the footy season. It may take less than 1 hour/day when your efficiency is improved. Not bad, isn't it?
Our Betting Principle
Lastly, allow us to share a bit about our betting principle. Many people automatically think of Betting = Gambling.
Big Mistake!! We do bet but don't count on luck. Instead, we do 6 Advantage Plays based on mathematical edge to beat the bookies, casinos & bingo.
When it comes to Sports Betting, we use Matched Betting / Sports Arbitrage / Value Bets On Proven Tipsters to lock in a profit or consistently earn extra income for the long term.
With that said, one of our policies is "Betting On Chance Is For Losers, Stop Gambling But Bet on Only +EV (Expected Value) To Win Reliably".
It is effectively our way to promote Responsible Gambling, and we strongly support GambleAware being explained about us.
We GEM – Global Extra Money would like all our readers to exploit such tasty opportunities as much as possible. Enhanced Accumulators & Acca Winning Bonus have been an increasingly popular offer lately and sharing 3 methods of Laying Them Off is one of our efforts to achieve that vision.
BTW, In case you happen to be a sharp casino & game bonus hunter, strongly suggest taking a look at the List of 52 Best Bitcoin Casino Bonuses and for those who appreciate the highest privacy, go to the List of Best Anonymous Bitcoin Casinos & Bonuses, just FYI.
As our name Global Extra Money implies, we want ordinary people from all over the world to pursue our methods. Therefore, we have issued :
In these documents, you will find the specific methods that enable people from almost all countries to make the best use of the lucrative offshore advantage gambling opportunities you may have overlooked. 
In Short, except 8 Countries (Cyprus, Poland, North Korea, United Arab Emirates, Singapore, Brunei, and Cambodia) where online gambling is legally prohibited, all of you can make a profit from matched betting, see the above report for full details.
Incidentally, if you take too much value from bookmakers, you will face Account Restriction a.k.a. "Gubbing".
Actually, it's just a matter of time before most of the soft bookies limit your account if you do matched betting without any precautionary actions. Therefore, we have prepared the following 2 guides;
Hope These Will Help.
Good Luck!!
Joshua Walker (bio) 
Editor – Global Extra Money (GEM)