How to win Tennis Live Betting
Many smart punters lose money in tennis live betting. We show you the best online tennis live betting strategy & useful tips to win consistently with real examples.
The basic principle & approach we explain in this guide actually applies to other sports such as Football In-Play Bet as well.
Our aim of sports betting online is to gain extra money risk-free by using Matched Betting, probably the most popular Advantage-Play in the UK, to lock in a profit or consistently earn extra income for the long term. 
Bookmakers offer a lot of promotions related to In-Play Tennis & Football Betting. However, even experienced matched bettors seem to struggle with extracting decent profit, then give up.
Why is that? One of the biggest problems is the extremely fast movement of live tennis betting odds. We share the advanced tennis betting strategy to minimize qualifying loss or even generate qualifying profit in the marched betting process. 
Bookies' Offers Related With Live Betting Tennis
Without exception, major bookies like William Hill, Paddy Power, 888Sport & Skybet provide you with live tennis betting (BTW, Live Betting is the same meaning as In-Play betting). And many of them give you attractive offers related to in-play tennis betting on various occasions all through the year.
Let's See Real Examples Of Live Betting Tennis Offer
Typical examples are;
Ad-Hoc Base in Big Event
You will find a lot of offers in mega-events like the Tennis Grand Slam, namely the Australian Open in mid-January, the French Open in May and June, Wimbledon in July, and the US Open in August and September.
The example is; Paddy Power – Place £5 In-Play bets on the French Open, Get Power Up (big price boost*) Every Day

*you can lock-in profits from price boost, see Enhanced Bets and Odds Boost Guide. 
Tennis big tournaments are run by the Association of Tennis Professionals (ATP) for Men & Women's Tennis Association (WTA) for Women all year round.
For a detailed schedule, see ATP World Tour & WTA Calendar.
This means you will enjoy tennis live betting offers consistently like below;
Weekly Base
Unibet – Join the In-Play Free Bet Club & get a £10 In-Play Free Bet every week when you place five or more £10 In-Play bets on Football, Cricket, Tennis & Darts.

Every Day Base
Vernons – A free bet worth £5 will be awarded if any 5 consecutive Tennis bets, each on a different event, worth £5 or more are placed in play on any Tennis match.

Our Underlying Method To Lock-In Profit
Matched Betting Concept
These offers will create Guaranteed Profit via Matched Betting. Just in case you're not familiar with this Risk-Free Method, you can find the details in Matched Betting For Dummies.
But, very briefly, how we construct matched betting for say the above Unibet offer to aim at a tasty risk-free profit is;
2 transactions, Back (bet on win ) £10 on Player A in Live Bet at Unibet & Lay (bet on NOT win) appropriate £ stake (use Free Calculator to decide the amount) on the same Player A in Live Bet at Exchange such as Smarkets.
Then, you cover all outcomes, therefore regardless of the outcome, your losing & winning will cancel out each other. In real practice, usually, the back & lay bets are not perfectly offset due to the odds difference & exchange commission. Therefore you make a small loss called Qualifying Loss.
You repeat the same bets 5 times and receive a £10 Free bet.
Again, you repeat the exact same process but use the free bet for the back bet at Unibet. Then, this time free bet value (minus qualifying loss) will become your net profit. You can do this process every week.
The success factor is how to minimize the qualifying loss by selecting the player whose odds gap (between Unibet & Smarkets) is the narrowest. For the detailed step-by-step process, please see Place Qualifying Bet Section in Matched Bet Starting Guide (2) – How To Sign-Up & Place Qualifying Bet. 
Obviously, the betting exchange makes an important role in matched betting. This report shows all the top 4 betting exchanges latest welcome bonuses & how to extract cash risk-free from each bonus.
As you can easily imagine, the more betting exchange accounts you have, the more you get matched betting opportunities. Therefore, try to increase your exchange accounts as much as possible.
In case your residential country is not allowed to sign-up for these exchanges, use this solution. 
BTW, many people think matched betting is only for UK & Ireland. Completely Wrong, check;
this approach enables everybody in the world including US citizens to make decent profits from this risk-free betting technique
for Germany, Austria, and Switzerland residents, suggest this program that focuses on these 3 countries
when it comes to Australia, this service is supposed to be the best.
Live Betting Tennis Odds Issues
Any punter who places an in-play bet must be aware of the following 2 facts;
Odds Change In Flash – Especially in Live Betting Tennis, the odds never stay the same long enough to even press the button during the play, it also moves dramatically every time the score changes.
Long Lead Time Until Bet Acceptance – Usually you are enforced to wait a long time patiently after you click the bet placement button until the bet is finally accepted. This long lead time applies both to Bookies & Bet Exchanges.
Because of this frustrating Live Betting Tennis nature, it's very difficult & stressful to complete your intended back & lay betting successfully.
In the first place, you may not be able to calculate proper lay stakes when odds change in flash. Second, while waiting for the bookie's bet acceptance, the lay odds may change thus the planned lay stake will have become obsolete and lose money.
The typical bad situation is, say you back A player at 1.7, then before you lay off at 1.75 as you planned, A player's lay odds sharply increased to 2.5, 3.5, 4.5 even within the same game and never get down until the match ends at 12.0 odds. You could leave it un-laid or lose a lot.
Key Tips To Win Live Betting Tennis
Under such extremely intense circumstances, you need certain discipline & techniques to manage successful Backing and laying. I will share several best tips to do it by using the LeoVegas Live Betting Tennis site example.
BTW, the latest LeoVegas in-play tennis offer is the Australian Open. Bet £20 x 4 In-Play at an odd of 1.25<, you get £10 Free Bet up to 10 Free Bets/week, thus theoretically up to 20 Free Bets. This is a tasty offer if you can manage Live Tennis Betting smartly.

So, what are the key points?
Identify Your Targeting Player / Match
Firstly, when you look for the appropriate matches, you may want to target any players between 1.3 and 2.5. And compare the back odds with lay odds at exchanges such as Smarkets.
Given the drastic odds movement, preferably back Favorite because even if you have an un-laid bet, there is a relatively high chance to get shorter odds later in the game.
If you back the underdog and if things go wrong, the odds may never come back but get longer endlessly. I use the Lauren Davis vs Naomi Osaka match at WTA Birmingham, and Lauren Davis is a favourite.
How To Minimize Risk
After you identify the game, the simplest & most effective method to reduce the risk is placing both back & lay at the time the odds are stable. There are 3 such occasions in Live betting Tennis. They are 1. Just Before the Game starts 2. Change Ends (Court Change) Interval 3. Set Interval. I'll elaborate on each below;
Just Before The Game Starts – There is a calm period after the players come into the court/do the obligatory 10 minutes of pre-match practice and before the 1st official serve is played. It depends on each bookmaker though, I often observed that during the time the players are doing the warm-up practice, the betting mode is changed into LIVE mode. Once you confirm the LIVE mode in the bookie, you have some time to place the bets under steady odds.
The below shows LeoVegas Tennis betting mode which changed into a LIVE mode during the players' pre-match warm-up period;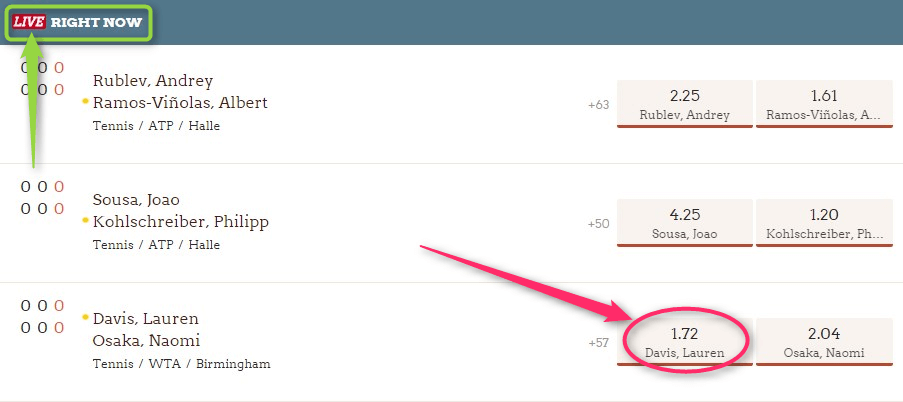 Let's look at Lauren Davis's Lay Odds in Smarkets. It's 1.68, which means we can even create an arb condition which can be happened occasionally. You can place both back & lay in a calm & quiet environment at this stage;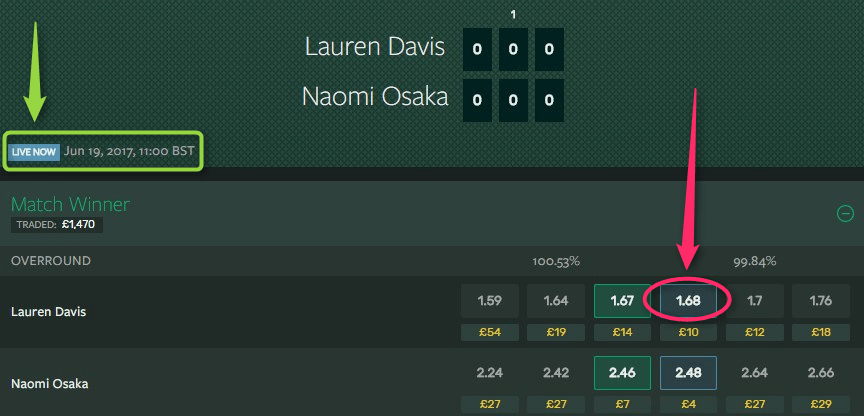 Change Ends (Court Change) Interval – players change ends after the odds-numbered game finishes, namely 1, 3, 5, 7, & 9, etc. There is a short interval (around 1.5 – 2 minutes) when both players sit in the chair to take a break. This is also the period you can place the bets without being annoyed by fluctuating odds so much;
Let's use the same example as Lauren Davis. Despite the fact she is a favourite, she lost the 1st set. Anyhow, now the 3rd game is finished, so the players are changing courts & taking a short break in the chair. The below shows LeoVegas odds;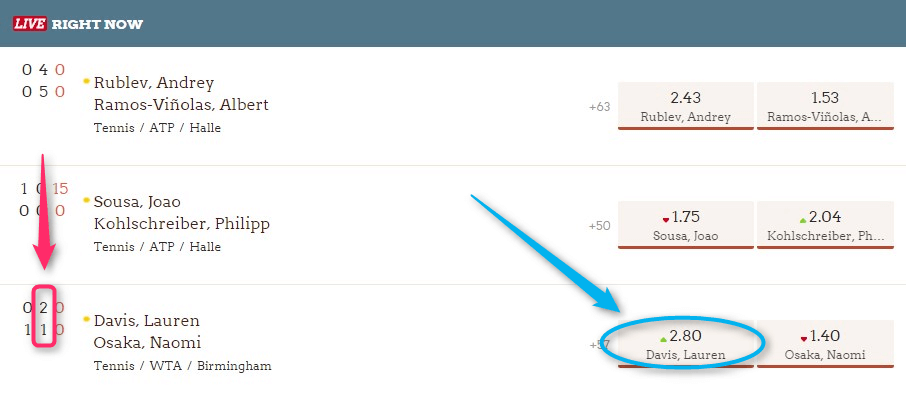 The Smarkets lay odds are as below. Although, Laura's odds become longer than Naomi's, still tighter. It's often the case for favorites until the game result becomes obvious.
You can choose these odds which are not ideal but decent (4.7% loss) in the stable odds condition;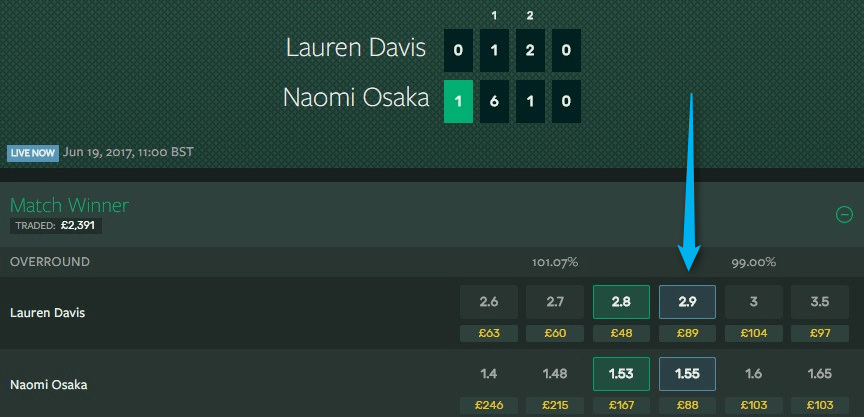 Set Interval – Between the sets, there is a relatively longer interval (2 – 3 minutes) which gives you enough time to place back & lay under the steady odds.
Let's keep using the same match, wow, Lauren Davis has made a good recovery. She won the 2nd set and now her odds are downed to 1.74;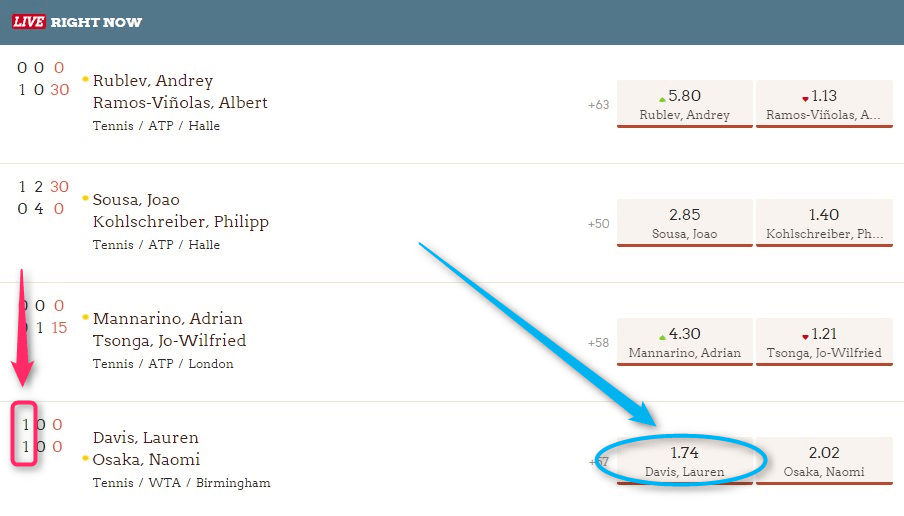 The Lay odds are not good but yet acceptable (6.8% loss) to place both back & lay in the stable odds condition. During this whole interval, both back & lay odds didn't change at all;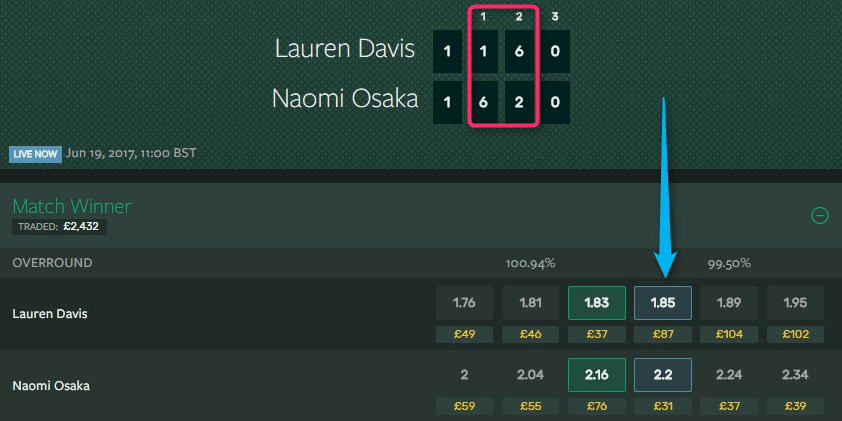 These are basic but the safest way to avoid big losses in Live Betting Tennis.
Improve Profit with Risk
If you have the stomach to absorb a bit of risk for a better profit, the below is 1 way;
Back The Favourite during Opposition's Serve. You may have a large chance that the Favourite lose the game. Then the favourite has a better chance to win in the favourite's own serve in the following game.
You may want to do it when the odds-numbered game finishes. This means the opposition's services should be the odds-numbered game.
If you back to the end of the opposition's service, the gap with the lay odds would be 0.1-0.3, and it would possibly change into Arbing Condition if the favourite service progresses well.
Let's use the Lauren Davis example. Recall the above Game Interval status. In the 3rd game, Lauren lost in Naomi Osaka's serve and the odds were LeoVagas 2.8 while Smarkets 2.9.  
Assuming you place the back bet at this stage while leaving the lay bet open during Lauren's service game (the 4th game), the result of the lay market was;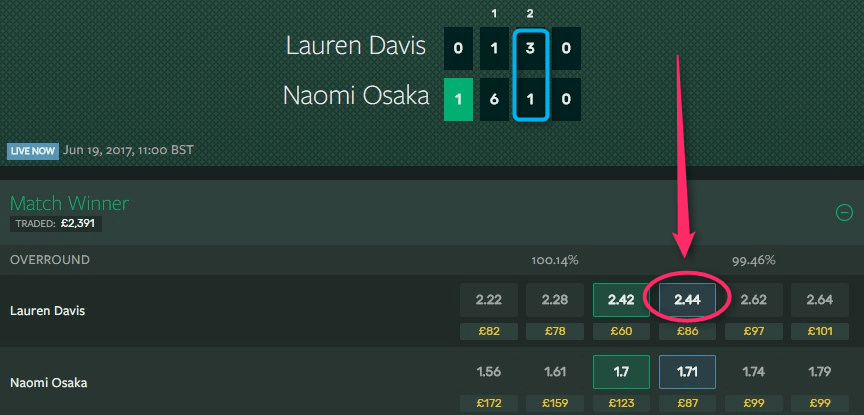 Yes, Lauren won as expected and the lay odds downed to 2.44. So it generates an arbing condition of 2.8: 2.44. Of course, it may backfire and result in a loss, in fact, Lauren lost the 1st set as you know. So, it's not a low-risk approach.
Live Tennis Streaming
In Live Betting Tennis, it's essential to keep watching Live Streams and feel the game progress.
Several major bookmakers such as Bet365 & Betfair (you may want to use Betfair Alternatives) give you free live stream as below (you can watch it without placing a bet as long as you have any balance in your account) ;

Ensure you're placing the odds during the interval by confirming the players' real break in the live stream. Because occasionally, there could be a slight time gap between the real game & odds display both in bookmaker & exchange.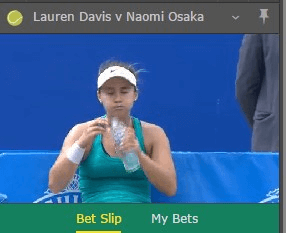 When you notice that the game is about to resume, then don't bet after that;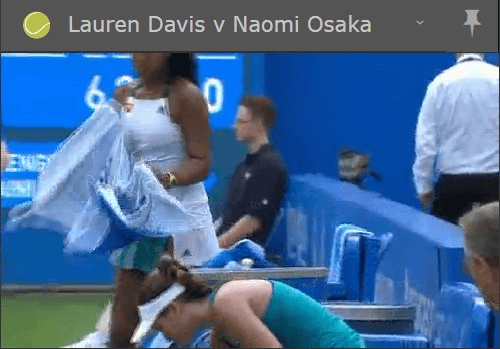 Mobile Live Betting Tennis
For Live Betting Tennis, the Mobile Betting requirement has been increasingly popular. In fact, the above LeoVegas Australian Open offer also requires In-Play via Mobile.
If you are comfortable with Mobile Betting, it's OK. However, for those who prefer a larger PC screen, there is a solution.  
Use Spoofs & Mimics User-Agent strings to disguise your PC browser as a Mobile Brower, which you can actually see the mobile interface on your desktop as below;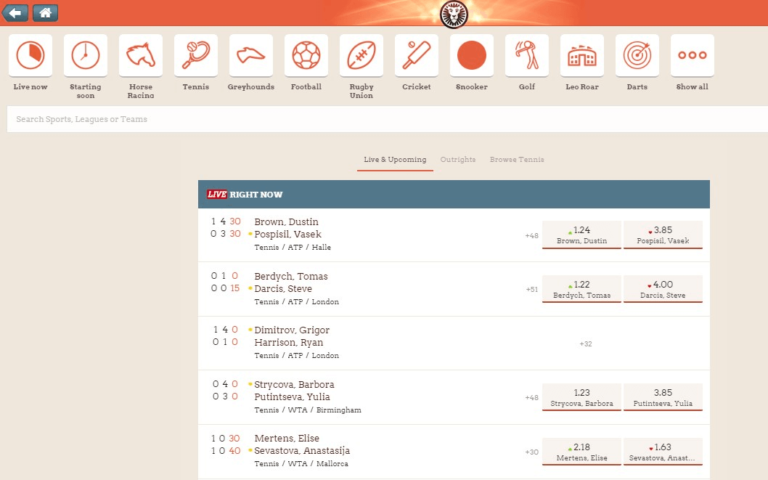 Free Bets Tactics
In case your free bet is also required to place In-Play, again try to choose Favorite when the odds go longer.
The basic theory of the free bet is that the longer the odds, the better the profit. However, when it comes to Live Betting Tennis, suggest avoiding any odds bigger than 7 or 8 (even 6).
It's simply because this seems to be a sort of threshold level to maintain a reasonable gap with lay odds.
Any odds bigger than this level (especially when you back the underdog) often go much longer to 10, 15 & 20 very quickly. And the widening gap with lay odds would be exponential.
It means the lay odds move much faster like 15, 30 & 50, etc. Under such circumstances, the odds tend to never come back, in other words, underdogs often lose the energy to fight back from that level.
If you back the favourite around 4 -6, there is a large chance that you will see an arbitrage opportunity when you take the risk explained previously. It also depends on the game's progress, that's why it's important to keep watching live streams to feel the tide of the game.
Live Betting Tennis – Wrap Up
Having explained, Live Betting Tennis is not for matched betting newbies. However, given the abundance of bookmakers' offers related to Live Betting Tennis, it's absolutely wasting opportunities if you avoid Tennis Live Betting.
So, for the seasoned matched bettors, with the methods, I listed above, you may obtain even better profitability than the Non-Live Betting.
Therefore, I can't see any reasons to hesitate. BTW, I was seeking some useful information related to Live Betting Tennis before writing this post. Then I found an interesting comment & data in OLBG Forum.
A member said "Just bet in-play on women's tennis, back the one that lost the first set. Too many times do the women lose the first set 6-0/1/2 and then win the next by the same score" The other person agreed by sharing the below stat;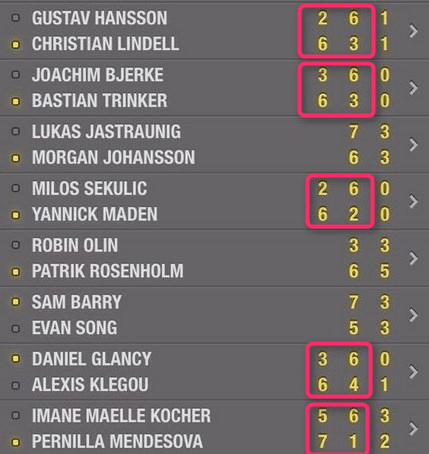 Well, the list contains Men though, yes looks that actually happens a lot.
The point here is in case you have the un-laid match under the unfortunate odds change and the lay odds don't seem to improve in the 1st set, don't panic.
You may consider waiting for the 2nd set. Then possibly you can get even arbitrage conditions with profit.
The key is don't give up. Actually, the above Lauren Davis vs Naomi Osaka case applied to it. The favourite Lauren lost the 1st set but won the 2nd.
Do you want to know the final result?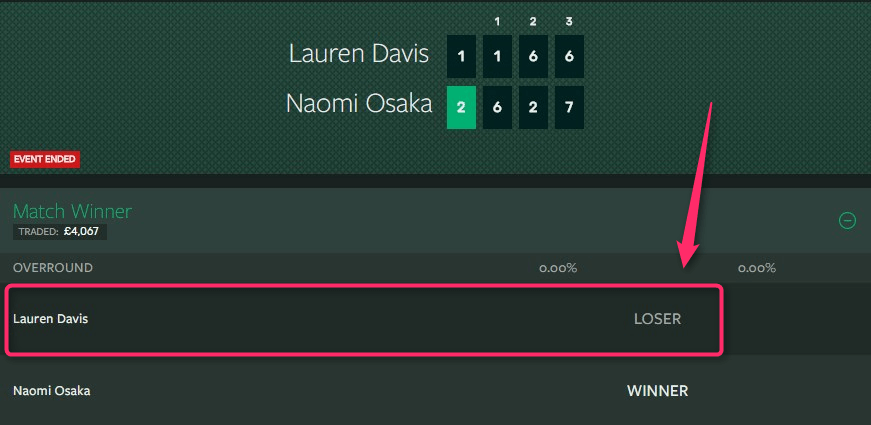 Lauren lost the match. So, don't be too greedy, whenever you find decent lay odds, complete the lay & matched betting.
Live Betting Tennis Related Opportunity
Finally, since we discussed the "1st set lost but bounce back" condition, let's talk about other opportunities related to this concept. In a big event like Grand Slam, a few bookmakers provide you with the tasty offer (not In-Play) such as Betway;

It claims;
Australian Open Double Winnings Place a Match Winner bet on any Men's and Women's Singles match in the Australian Open, and if the player you back loses the first set but wins the match, we'll double your winnings with a Free Bet up to £/€/$25
Betway Promotion Page
So, although the above Lauren Davis couldn't finally win, given the data women often lose the 1st set but comes back, there seems to be a good probability you can hit the offer & get double winnings.
Caution – Tennis Retirement Rule
When you do Tennis matched betting, never ever forget that you need to check if the bookmaker's tennis retirement rule is the same as the exchanges (basically all 4 exchanges use the same rule of "1st Set Complete").
Otherwise, you should not use matched betting because you will expose yourself to the risk of losing both bookmaker & exchange.
Betway's tennis retirement rule is "Bet Completed", therefore you'd better not do matched betting. Instead, you can use Dutching Betting.
For step-by-step instruction, take a look at; Dutching Betting – Awesome Technique To Win More & Reduce Risk, where you can also find the details about what's the difference between tennis retirement rule & impact on your profit.
Benefits Of Dutching
There are a few benefits of Dutching compared with matched betting, like no need to pay an exchange commission.
One of the biggest advantages is that you can combine the other bookie's offers. For example, Bet365 uses the same retirement rule as Betway, and they offer an Early Payout of "Bet settled as a winner if the player you back goes 2 sets up" which will potentially bring you a huge profit.
For further details of this offer, suggest seeing Paddy Power 2 Up & Bet365 Early Payout Offer – How To Make Massive Profit.
The point is you can effectively combine Betway & Bet365 juicy offers smartly. Although there is no guarantee to hit the offers, the risk/reward rate would be very high.
So, let's keep exploiting the best & efficient way to rake cash from juicy bookies' offers. 
Lastly, if you happen to be a sharp casino & game bonus hunter, strongly suggest taking a look at the List of 52 Best Bitcoin Casino Bonuses and for those who appreciate the highest privacy, go to the List of Best Anonymous Bitcoin Casinos & Bonuses, just FYI.
If you have any inquiries or need any help from us, please contact us anytime (don't worry, we will not charge you any fee, everything is free here).
Good Luck (Shallow people believe in luck and in circumstances; Strong people believe in cause and effect. – Ralph Waldo Emerson)!! 
Joshua Walker (bio) 
Editor – Global Extra Money (GEM)