Sports Arbitrage – Cheat Sheet For Dummies To Become A Seasoned Arber Overnight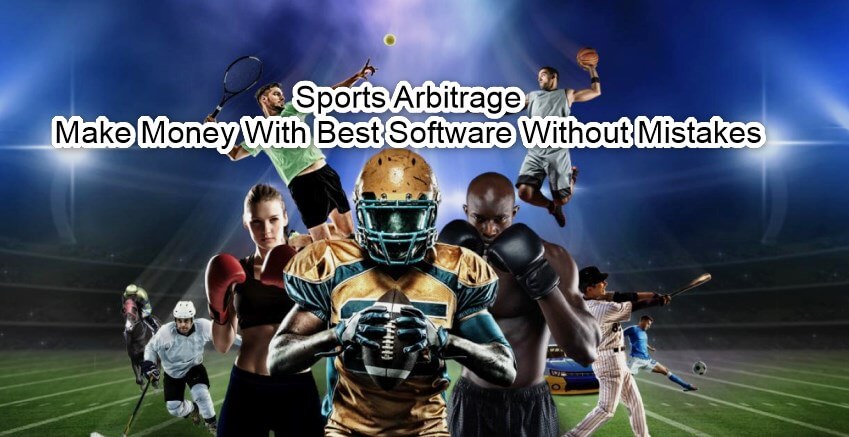 Estimated Reading Time: 47 minutes
Make Money From Sports Arbitrage Smartly By Learning How To Avoid Pitfalls With Top Quality Software & Deal With Account Restriction!!
---
Sports Arbitrage Betting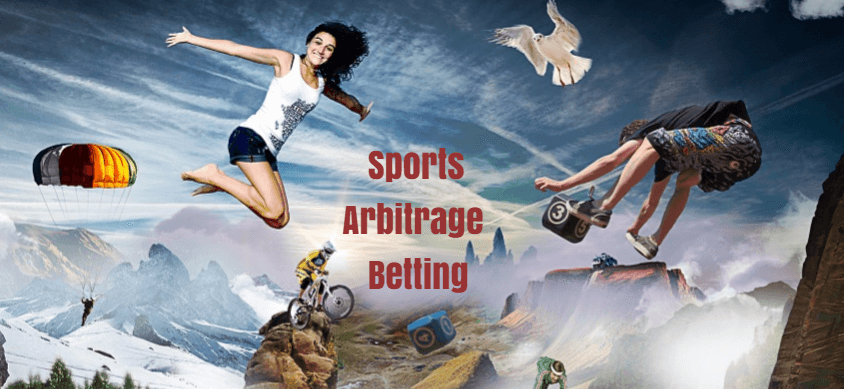 is one of our
6 Advantage Plays to Beat the Online Bookies
. Gambling Is For Losers. You Will Never Bet On Chance But Bet On All Outcomes To Achieve Guaranteed Profit. Sounds Safe? Actually Not, There are Several Pitfalls That Damage Newbies. Read This Guide Carefully To Make Your Bet Really Surebet. Yes, You Can Do It Because We Will Show You How!!
What is Sports Arbitrage All About?
Sports Arbitrage a.k.a. Surebet does theoretically generate profits no matter which team or player wins. Simply, you bet all the outcomes and make money. Just in case you are absolutely new to Sports Arbitrage, suggest take a look at Surebet – Know The Basics & Pitfalles Before You Plunge
However, the harsh reality is not few people tried but failed & lost money. Remember, Sports Arbitrage is 100% Risk Free as an advantage play based on the simple mathematical logic. However practically it's not as simple as that and newbies lose money mainly because of the human error.
How To Be A Seasoned Arber Quickly
With that said, I will try to follow 'For Dummies' concept. Means, I design it to be a Simple Manual & Focus on How To Avoid Pitfalls in Sports Arbitrage. Broadly speaking there are 3 such key Pitfalls as follows;
I'll explain each pitfall and draw the best solution / precautionary actions. This will enable any newbies to
Be A Seasoned Sports Arbitrage Player. Because as long as you know how to avoid the problems & how to solve them, you will have been already a professional arber (in fact, choosing the right arbitrage bet finder represented by RebelBetting will solve almost all issues). Remember, theoretically it's a Surebet thus you will earn guaranteed profit unless you commit mistake.
After that, I'll share the alternative method of using Betting Exchange (Betfair Arbitrage Strategy) rather than only among conventional bookmakers, which expand your horizon to increase profits. It's particularly useful for those who do matched betting. Then finally I add a Sports Arbitrage Quick Check List which you can use whenever you do arbitrage trading.
Process
I'll follow :

1) Point out Pitfalls & Prevention actions
2) Provide all-in- one solution
3) Show how to make sustainable arb
4) Quick Check-List which you can refer anytime  (suggest you bookmark this page for your convenience).
Most of the arbers may end up with soft bookmakers' account restriction, but before that you will have been able to earn tens of thousands £/€/$ if you do the things right.
Note
If you already started Sports Arbitrage, you may understand the bookies' nasty account restriction a.k.a. "Gubbing". Yes, if you keep doing Sports Arbitrage, it's just a matter of time before your account is gubbed in most of the soft bookies. Don't worry, we already prepared the 2 perfect documents you will see later. We have many measures to address to that issue, and since we're talking about Arbitrage, one of them is; Each Way Arbing – The Way To Guarantee Profit Even In Your Restricted Account Special Report by GEM;
So, don't be bothered by the account restriction, keep reading.
1) Careless Mistakes During Betting Process
The Sports Arbing Process can be divided into the following 4 major parts;
Initial Set Up & Money Management
Find Arb
Verify Bets
Place Bets
In this 1) section, I will briefly explain the whole process with key requirements / activities in the above A. – D. by listing relevant pitfalls & solutions.
In the 2) section I will elaborate on selected critical pitfalls and possible preventive actions.
A. Initial Set-Up & Money Management
1. You need to open Up at least 5 – 10 on-line bookies' accounts Both Soft & Sharp Bookies.
Over 200 on-line bookmakers are supposed to exist, and majority, probably over 95% of the bookies are soft bookies. You Need Both Soft & Sharp Bookies. This is because the profit source of Sports Arbitrage comes from Market Inefficiencies that creates under-round condition when we cover all the outcomes of a sports event.  Means, we locate an arbitrage opportunity when bookmakers present different but sufficiently high odds on each side of an event. This often happens between a soft and a sharp bookmaker. It is difficult to place arbs among only sharp bookies because they are very fast at adjusting odds. So, in order to make decent arbitrage betting, you need at least 5 – 10 bookmakers comprised by both soft & hard bookies.
But, most important thing is security. There are many fishy online bookies, thus ensure you use only top notch established Bookmakers.
List Of Soft & Sharp Bookmakers
We have issued and periodically updated the below 2 lists that are important for advantage players, so whenever you have time, go through;
Pinnacle
that officially promotes Arbitrage in its site.
Don't get misled by the title. Those 30+ bookies are world top class solid bookies. They just don't like sharp punters thus restrict such account, very quickly. Actually, all the 50 bookies are best of the best in the world. Therefore feel free to choose the ones that allow you to open in your residing country.
Cautious Action Plans – Differing Bookmaker Rules
Different bookmakers have different rules for how to handle the outcome in various cases like draw, extra time, and incomplete game etc. If there is a difference in rules and one bookmaker acts on the bet while the other simply returns your bet, then you have a 50-50 chance of winning and losing. So it isn't all bad. But it is a risk nonetheless, and is no longer a surebet. So, learn what rules each bookmaker uses with any sport you are going to bet on. When you have an arb between two bookmakers, make sure;
Both bookmakers use the same rules. Typically, withdrawal of 1 player in Tennis, one bookmaker considers the match is not completed and reimburse your money while the other bookmaker considers it is completed. Then your bet is no longer arbitrage but just a normal bet. For this particular point,
Beyond the rules, you need to check; Are they in the same markets? / Do handicaps match? / Do the dates match? / Do the currencies match?
2. You need to open up E-Wallet
Arbitrage requires the banking facility to manage quick & frequent money transfer among the bookies. So you need to deposit & withdrawal economically. Credit card / bank transfer etc are relatively time consuming & costly thus not for arb. You need to use the below two E-Wallet that are the most reputable & widely accepted by any bookmakers. ;

Note For Matched Bettor
Almost all bookies don't accept the above e-wallets as the first deposit method for welcome bonus / sign-up offer. Therefore, in case you do matched betting before sports arbitrage, make sure you use your bank card (credit or debit) for the initial deposit.
3. You need to have Starting Capital (Bankroll)
Plan your income target, once you get used to the arbing you may be able to achieve 15 – 20+% return per month, say average 18%, so if you start up with $10,000 you may get £1,800. For its rationale, check Is Arbitrage Betting Really 100% Risk Free Surebet?

Learning curve is something you can't miss for arbing at the outset, so do Free Practice.
Cautious Action Plans – Never Underestimate Money Management
Never ever underestimate the importance of your bankroll management.  This is the key to improve your profit by enhancing efficiency. Your money should have the greatest liquidity. The amount of funds on hold should be kept as low as possible. Ensure your funds are always available at the right bookmaker at the right time to place all of the good arb opportunities.
Keep Fund In Your E-Wallet
Never divide your total capital and deposit them all into the bookmakers account, which completely empty the e-wallet account. This is a common mistake new arb traders do. For example newbie with an initial capital of $2,000 often end up depositing $100 into 20 different bookmakers. Don't do this because most of the funds are locked up. The problems arise when you run out of funds in a bookmaker and your money processors like Neteller or Skrill accounts are empty. By that time you make a withdrawal request at a bookmaker which has funds, but the withdrawal can take some time. So you will end up locking your funds for many days. One of the most efficient manners to manage the bankroll is to keep at least 30% of your bankroll in the money processor account as a reserve & to deposit the rest of 70% equally among the bookmakers you want to use.
Example
Your total bankroll is $2000, and assume you use 10 bookies, you have to:

Keep $600 saved in the money processor account, as a reserve
Spread $1,400 into 10 bookies, you may want to allocate equal $140 at the start, but gradually make more appropriate allocation, say $200 to bookie A but $100 to bookie B based on the frequency of arb opportunities.
E-Wallet Reserve Importance
Once you start trading arbs, there are chances that some of your bookmaker accounts might run out of funds. This happens because in any arbitrage bet, one bet wins at a bookmaker, while the bet at other bookmaker involved loses. So you will always end up having lots of funds at some bookmaker accounts, while no funds at other bookmaker accounts. If you manage your bankroll like this, whenever you run out of funds in a particular bookmaker account, you can transfer funds from the money processor account. Depositing funds from the money processor is free and instant in almost all the bookmakers.
So it is always recommended to maintain a good balance at your e-wallet account (at least 30% as mentioned), as you can always use it as instant money. By the time your money processor account balance comes to nil, you will need to make withdrawal requests from your bookmaker accounts. Most bookmaker offer a free withdrawal once a week or so. You can use the free withdrawal to get funds back to your e-wallet account. Withdraw enough to reset bankroll back to the initial state. 30% at money processor & 70% among bookmakers is the optimal ratio many traders suggest based on their experiences.
B. Find Arb
Setting up Arbitrage Service
How to find arbitrage bets is all about selecting a good sports arbitrage software. Since it's critically important, I'll make detail explanation & suggested services in the 2) Improper Selection of Arb Software & Lack Of Practice section.
C. Verify Bets
When you receive the signal from your chosen arb software, check: 
What percentage is it?
This is always your first consideration because this determines whether the arb is worth and is also your first hint at whether there might be an error (palp) in the arb. 1% – 7% return looks optimized range and you may need to check if it is a palp if higher than 10%, you may disregard below 0.5% (too low) and will dismiss over 20% immediately, just a guideline.
What are the odds like?
If the percentage is in the sweet spot area, a quick check of the odds to make sure nothing is too strange about them, is usually enough. If the arb is a little higher than usual, then it may be worth applying a few checks. Look for swapped odds, swapped handicap signs, typos, and if possible compare the odds with the general market odds and see if either one of the bookmakers is significantly out of line. Use Oddchecker;
If it looks like there might be a palp (palpable error – see the detail explanation later), then suggest not take unnecessary risk.
What sport is it?
If it is a sport which commonly has rule mismatches (Tennis, NHL or MLB), then make sure the two bookmakers involved use the same rule. Navigate to the appropriate bets in your bookmakers.
After your practice, you should evaluate the above 3 points almost instantly and you will be straight onto navigating your way to the appropriate bets right away. Double check the details from your alert service to make sure you have the right sports, the right teams, the right markets (money-line, handicap, over/under etc), and to make sure you have the bets the right way around.
Calculate your bets
If the arb is indeed real, then you need to figure out how much you can place on either bet. This is often determined by how much money you have in each bookmaker, or by a maximum bet size imposed by one bookmaker. So you need to look at your account balances and the maximum bet sizes for each bookmaker (where possible). And you need to use those limitations to calculate how much can be, and how much needs to be placed on either side of the arb with some form of an arbitrage calculator. Importantly never risk too much of your balance on any one arb because:
If the arb is a low percentage, you may not want to dump all of your cash into one low percentage arb when better arbs may come
If the bet limits are quite high for both sides of the arb, then you may still want to limit your bet to a manageable figure (also remember 75% rule to avoid bookmaker's radar).
In the first place, if the arb is high, you don't want to risk large amount on something that might be an error, or something that you might make a simple mistake on.
Sports Arbitrage Calculator
BTW, you don't need to do all the calculation manually, but you can use Free Sure Bet Calculator. It is prepared by Pinnacle used in the above example. BTW, Pinnacle Bet is a sharp bookmaker publicly promoting surebet. It is a Must Bookie for professional punters including arbers, so suggest go through our Pinnacle full review.
Cautious Action Plans – Palpable Bookmaker Errors
All bookmakers have a clause in their terms and conditions which state that if they make an 'obvious error' in their odds, they can
cancel the bet at any time. They can void the bet before the match begins, during the match or after completion. Books with good reputation however usually don't void a bet after the match has started.If one of the odds we have used in an arbitrage trade was in fact a mistake made by the bookmaker and they decide to invoke this rule, we are obviously left with the second bet standing uncovered. This creates a risk as that remaining bet may lose. So, the best way to avoid this problem is taking preventive actions and we can follow a few simple rules for identifying odds which might be errors. Firstly, you need to closely look at the details for any arbitrage of 10% or over and check the below 2 odds / handicaps.
Reversed Odds
the most common error where the odds or handicapping of the favourite and underdog have been swapped. If the odds for either of the bookmakers more than 25% higher than odds offered by other books on the same event, It is likely an error.
Agreed Odds Range
An obvious favourite / underdog is indicated by odds under1.85 and over 2.25 respectively. In other words, only trust arbs where both sets of odds are within the 1.85 and 2.25 range, or both odds are outside of the 1.85 and 2.25 range.
Even after your careful check, if palp still happens then;
Never Leave Your Uncovered Bet Open – Extremely Important
Cover your bet as much as you can if the bookmaker voids the bet before the match begins. If the bookmaker voids your bet during the match, try to cover your bet as best as you can with live-betting (in-play). You might have to lock in a small loss of a few %, but that's the way better than losing your entire stake in a gamble. If you leave your bet open then it's no longer arbitrage or investment but a normal bet that is a gamble. If the bookmaker voids your bet after the match is complete (not very common, but it happens), accept this fact and avoid that bookmaker.
Cautious Action Plans – Odds Change
Odds are not static but changing at all times

Special Report by GEM
by reflecting modification when bookies find imbalance situation causing possible loss for them. Good news is once you bet, any later odds correction will not affect you. However, If you place one bet and then take too long to place the second bet, you may be too late to get the correct odds, or you might miss the second bet completely. Missing the second bet leaves you open to potentially losing that bet, but of course, it also leaves you open to potentially winning. Needless to repeat,
Gambling is not the word included in the dictionary of sports betting arbitrage.
So, make sure:

You open the web pages of all the bookmakers involved into the bet BEFORE inputting your bet into the first one. In other words, verify that the info from alert service is always up to date.
The problem could only happen in case of a change (in 1 bookmaker) during the few seconds you will need to input your bet into the other bookmaker, which highly limits the scope for such case to occur.
If it happens
Don't panic, apply the above Never Leave Your Uncovered Bet Open Theory. You just need to use the best replacement odd, which will lead you to a Surebet in 90% of the times. Admittedly a bit less profitable, but still positive. In the worst scenario, you will make a "negative" Surebet which will make you lose instead of win several %, but in any case you will not lose your total stake.
Notes – Betting Just Before Starting Event
Suggest you to pay special attention to avoid betting just before events start. You need to be aware that odds tend to change very frequently just before event starts (as many people want to catch last possibility to place their bets) and it results in showing up of multiple surebet opportunities, some of them being very lucrative. Unfortunately, it could happen that some bookmakers will temporary close the market just before the event starts and you will end up with one bet placed somewhere else without a possibility to cover other options. So:

You need to double check at bookmakers sites when exactly event starts.
You need to be absolutely sure for enough time to place bets at all bookies of interest.
General rule is not to place arbitrage bets, 10 minutes or less before event takes place.
It is better to lose one or two arbitrages than to risk significant part of your budget. And, if it happens, explore to cover it up at live-betting markets.
Cautious Action Plans – Stake Upper Limit
Ceiling of betting could be a problem. Say you have got 5,000 euros to bet and that the arb calculator is telling you that you should bet 1,500 euros in (A) and 3,500 euros in (B). You bet the 1,500 euros in (A) without any problem, then once you arrive to (B), the bookmaker system tells you that the upper bet on this chance is 1,000 euros ! You cannot make a Surebet anymore. So follow the principle of:
Firstly, try to avoid the problem by not gambling with the bookmaker which does not announce its upper limit in advance.
Secondary, in case the book (A) that does not show their max stake until you have confirmed the bet and you know the max of the other book (B), always confirm your bet in (A) first with the amount that shouldn't exceed the max of (B) to avoid this problem.
Tirdly, if none of the involved bookmakers publishes its limits, then you have to start with the one whose odd diverges most from the competitors. Indeed, some bookmakers announce a super cote in order to be listed on the betting websites but they strongly limit the ceilings of the stakes.
Lastly, if you are still caught in that situation, apply the above Never Leave Your Uncovered Bet Open Theory & find out the best replacement odd.
D. Place Bets
Once you have calculated how much to place on either side of the arb, enter the amounts into both bookmakers. Then start submitting both sides to get "Confirmation" which is important. The side you should ultimately 'confirm' first is the side you are least sure about being accepted.
Bookmaker Confirmation Methods
What may confuse you is that there are a few different confirmation manner depending on each bookmaker, 2 typical patterns:

Standard Confirmation (Good One)
There are books who use the first confirmation screen to indicate whether your bet is acceptable or not. So you Enter your bet amount and Submit it. And the confirmation screen will indicate that your bet will be Placed upon Confirmation, or it will indicate that the bet is Rejected for whatever reason. Once you are on the confirmation screen with an accepted bet, you Confirm the bet and it will usually be Placed.
The only exception is if the odds actually change in the time between when you Submitted the bet and when you Confirm the bet, so you do need to be fast when placing bets.
Problematic System (Bad One)
There are books who have a confirmation screen, but that confirmation screen does not indicate whether your bet will be Placed or Rejected. So you Enter your bet amount, Submit your bet and reach the confirmation page. The confirmation page will always simply display your bet amount and ask you whether you are sure. You still don't know whether your bet is going to be accepted or not. You then have to Confirm your bet and find out whether the bookmaker has Placed your bet, or Rejected it.
This method is problematic if you don't know the maximum bet you are allowed to place and you have to Confirm your bet to find out if you are over it or not. I think this is another good bookmaker variable to note in your spreadsheet next to all of your bookmakers as you get set up.
Recheck and Record
Reread the confirmation message to check;

Do they both have the same sports and markets on them?
Do the two (or three) bets cover ALL possible outcomes?
Are the odds right?
I'm sure you already checked all of this before you placed the bets, but suggest you do the last check to make sure everything is ok – Be Professional. After confirmation, enter the information into your record sheet. Spreadsheet or program which you are using to track all of your arbs, bookmaker balances, and profit. Once again, entering your arb into the spreadsheet should be the final check verifying that the maths adds up on the odds (clearly showing that your arb will turn you a profit).
2) Wrong Selection of Sports Arbitrage Software / Service
1. Careless Sports Arbitrage Software Selection
Firstly, if you try to arbitrage without proper software, our suggestion is Don't Do That. 3 key reasons;
Finding arb manually is too time consuming & practically difficult to capture short-lived opportunity, means you will be able to make only extremely limited number of successful arbitrage.
As explained in the above 1) there are so many traps that cause your mistake, it's almost impossible to avoid all of them if you do manually. In other words the proper all-in-one system will allow you to avoid most of the above pitfalls automatically.
Due to the above 1. & 2. reasons your profitability will be significantly better even after paying the subscription fee to the system.
Sports Arbitrage Software
Having said, using high quality arbitrage bet finder / software is must. When it comes to the selection there are tens of services in the market.  However, most of the software / alert services don't even fulfill the basic thing of finding arbitrage options. We think the below 2 software are the most reliable.
RebelBetting
It's a Swedish company (ClaroBet AB) that

 

started service in 2006 and by far the most widely used & creditable software among broad range of groups from newbie to experts. They have over 100,000 users in worldwide.
Friendly interface that allows users to see all necessary information in one screen. Easy to handle system with Auto-Login & Auto-Surf allow users to place correct bets within seconds.  It doesn't only log you into accounts at bookmakers involved in the surebet, but also brings you to the correct pages containing the event and highlights the participants and the odds. This means that the only thing left for you to do is to enter the stake amounts and confirm the bets. You are aware that a lot of arbs last only a couple of minutes and quickly expire. Using auto-login and auto-surf features enable you to place bets you used to miss. In addition, you will be able to make greater trading volume in the same trading time.
No risk to miss a great arb with alerts like filtering away low arbs, or arbs from specific bookmakers or sports etc.
Good warning function displayed in the Betting Browser such as different event rules or a greater risk for a voided bet, means you can automatically avoid many mistakes listed in 1).
The widest range of Cross-Markets & Middles (see below for what the Cross-Markets & Middles are).
Average return / month is 10-20+% depending on your time to devote the arbitrage activities.
For full review,
Rebel Betting Review – The Truth About World Number One Arbitrage Software

Special Report by GEM
Subscribing such alert with quality software will save your effort & time to get initial learning curve and importantly to do your daily betting with high arb success rate & less mistakes.
Cross Market
It's natural trend that bookmakers increasingly offer betting options on top of the standard outcome of a match (home, draw, or away). There are many more betting choices such as Goal numbers, Asian Handicap etc. within a single game thus more arbitrage openings. It's said that for popular matches like World Cup football, there are over 100 different bet types available in the market. Making the best use of arbitrage opportunities among cross-market arbitrages opportunities (different bet offer) but, in order to find them, creative thinking is required. The advantage is that many cross market arbitrages are not obvious therefore, the opportunity remains viable for a much longer time.
Middles
Middles is the Jackpot in arbitrage. It comes when played surebet is characterized by opportunity to win both (or more) placed bets, provided certain event outcome will appear. Probably the best way to understand is to read Rebel Betting comprehensively explains.

Note
Rebel Betting also provides high quality & quantity Cross Market & Middles. There are not many Arb Services that can provide good services in these arenas because it requires complicated programing & algorithm. Having said both Rebel Betting & Math Bet are the very top providers while offering Free Service (see below), therefore if you're serious about arbing I can't think of any other better services than these 2.
Caution
As you find later in the 3) Bookmaker's Account Restriction, one of the nastiest action by bookmakers & the biggest issue preventing sharp punter from long-term profit making is the imposition of your account limitation & restriction. You need to be aware of the risk of it when you use Free Software and Sign-Up Bookmakers via Software System. Let me elaborate on these critical points as follows;
1. Free Software
Since it's free, many users access & bet based on it. Whenever the opportunities appear in the free finder, significant number of punters bet on it more or less at the same time, which triggers the bookies' radar. In other words, the bookmakers will easily identify you as a price trade.r. Thus the chances of your account restriction will significantly increase. I personally don't believe any free software is worth if you risk giving up most of the profit by having your accounts restricted quickly.
2. Bookmaker Account Sign-Up via Software Vendors' Referral Link
When you use Arb Software, the system facilitates you to sign up (open) new bookmaker easily. But you should be aware of the consequences by doing so, which can be said both for Free & Paid Software. Usually software vendors embed their own referral link for you to sign-up the bookmakers. Means they earn referral commission paid by the bookies when you bet which is the important income source especially for Free Software vendors. Therefore without exception, free software vendors set their referral link in the system. What's the implication of it? Bookmakers know the software name & referral account. So, opening up the bookmakers via software system will spontaneously inform the bookies that you're using the software. Hence you're disclosing you're a price trader. Consequently, the bookies may automatically place your account in their black list at the outset for them to restrict your account anytime they want. I'm afraid signing the bookmakers via software is the quickest way to get your accounts limited.
2. Skip Risk Free Practice
Inexperience is Sin Here, So Practice & Practice
Not understanding odds, bet types, how bookmakers work and not knowing how to react to an unexpected situation, all these mean
you may lose money. Thus, inexperience is probably the biggest risk.  Because it manifests itself in all of the above risks either in the creation of the problem, or in the inability to respond to the problem. Sports Arbitrage requires speed and in order to move fast, you have to take it slow at the beginning and learn how to do it properly. First, you need to start 'trading' without actually betting real money. Find the arbs, go through the motions, pretend you are doing it but don't actually bet anything. This is called 'Paper Trading'. This allows you to learn how the bookmakers work without risking your money, it builds experience. As you gain some experience you will navigate to the correct destination faster and place the correct bet more reliably. With the basics under control you will need to progress past paper trading to real money in order to understand how the bet confirmation process takes place, and so trading with very small amounts is a necessary second step.
Free Trial Of Quality Sports Arbitrage Software
During this practice period of Paper Trading, suggest the below software' Free Trial Period;
Arbitrage may seem to be difficult at the beginning, but the truth is it has a steep learning curve. Any legitimate opportunity to work at home and make a good profit at the same time will always involve real work. Once you master the few basic principles and apply the above triple check steps, you will very quickly improve the rate at which you can place an arb successfully. Your mind will be triple checking everything as you go, and you will flow through the whole process without needing to think about it. But in the beginning… you have to take it slow!
3) Bookmaker's Account Restriction
Bookmaker's Restriction on Successful Players – Limiting Stakes
Soft bookmakers say "any accounts being used for sports arbitrage purpose would be frowned upon because they are fundamentally opposed to the clients making money from dealing with them without incurring risk". Simply to say they don't like sharp bettors who eventually win, in fact this applies not only to arbitragers but any of the punters who constantly win.
Therefore, we have prepared the following 2 guides;
How Do They Restrict?
Although the above document covers this point, very quickly. What they usually do is that they restrict your betting limits down to amounts that are too small to keep betting with them. Some of them do it dramatically. So one day you are able to place bets of over $3,000, and then the next day you will be limited to $5. Some of them do it over several steps. Limiting you to $500 for a couple of weeks and then lowering it down to $5 when you continue to place 'pro' style bets. In any case, they don't do anything to your account except a few bookies that close your account. But they can't confiscate money, and they can't restrict your withdrawal options or anything else because you never do any illegal thing. Remember arbitrage trading is legal. They simply make you want to withdraw your money by not letting you bet it.
Generally speaking, inexperienced & uninformed traders tend to suffer from this issue disproportionately. Because they do not take sensible precautions to protect their accounts. So, it's important to take measures to disguise your activities and not make it obvious that you are an arbitrageur.
Sharp Bookies
Allow me to reiterate that you need both soft & SHARP bookies. The sharp bookies never limit your account thus having their accounts is must for sports arbitrage. So, make sure you check the bookies lists we mentioned before.
4) Arbitrage Alternative Method – Betfair Arbitrage Strategy
You can use not only Betfair but any Bet Exchange such as;
This method is based on a small research we conducted among our GEM members. Several members called it Betfair Arbitrage Strategy. For the background & full details of this method as well as the application to the worldwide players, go to Arbitrage Betting – Use Exchange & Extend Matched Betting Profits;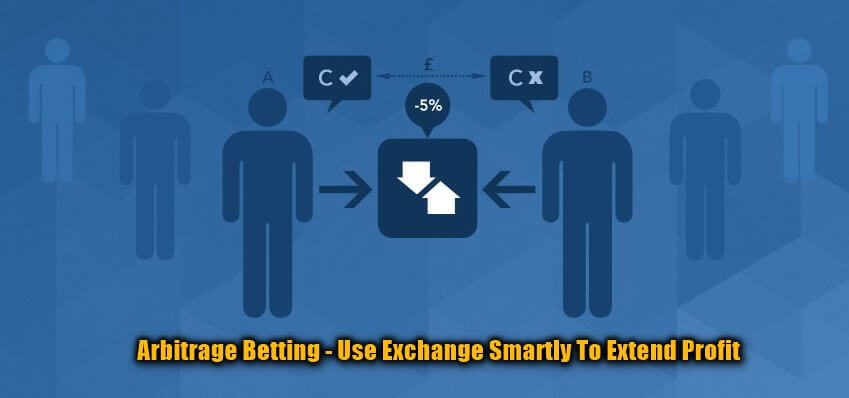 I will excerpt the relevant part to this subject from the above document as follows;
Betting Exchange
So far, we focus on the sports arbitrage being organized among Conventional Bookmakers. However, we can arbitrage between Bookmaker & Betting Exchange as long as we can capture market inefficiencies. For those who are not familiar with betting exchange, take a look at All About Betting Exchanges & Sign-Up Strategies;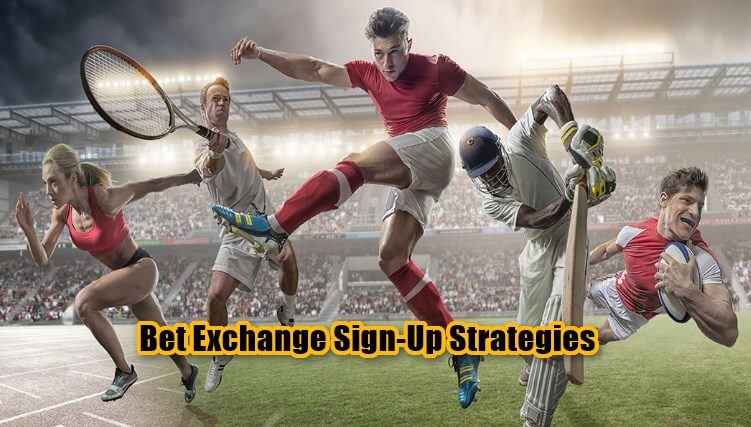 For those who do matched betting, they must have the betting exchange account such as Betfair. Simply put, we make the best use of Lay Bet in exchange. It is the bet on the "Thing NOT To Happen". On the other hand, the bet we usually place in the conventional bookmakers is called Back Bet that is "Thing To Happen".
Benefit Of Lay Bet
In the event with multiple outcomes such as football – Win / Loose / Draw, you need to bet both Loose & Draw for "Not Win" in usual bookmakers. However, in exchanges, you can cover "Not Win" with 1 single bet. Namely, you become a bookmaker position when you lay in exchanges.
 Matched Betting Concept
In the matched betting method, we take the approach to find the narrowest odds gap on the same event & market between the bookmaker & betting exchange. We use the software called Odds Matcher, which locate & list the opportunities. See the below example showing the William Hill (bookmaker) case;


The top event shows English League 2 football match of Accrington vs Newport County. The calculator indicates if you bet £100 to back Newport County (means Newport County win) at William Hill and Lay £101.98 Newport County (means Newport County NOT win, namely lose or draw) you will lose £0.06 regardless of the outcome.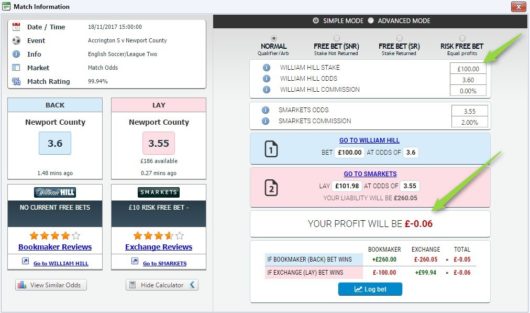 Yes, it incurs loss. Bear it in mind, higher lay odds than back odds like the above case creates profit. But we have to take Betting Exchange Commission (SMarket is 2%) into account, thus it results in marginal loss. In any case, matched betting uses bookmaker's offer like free bet. Means the £100 you bet at William Hill is a free bet, thus you will profit from the free bet value minus loss. Practically, it is not such simple but theoretically it works like that. The point here is how this process applies to Sports Arbitrage.
 How To Arbitrage Between Bookmaker & Betting Exchange
The Odds Matcher often (as a matter of fact, always) captures the profit opportunities rather than loss opportunity, such as;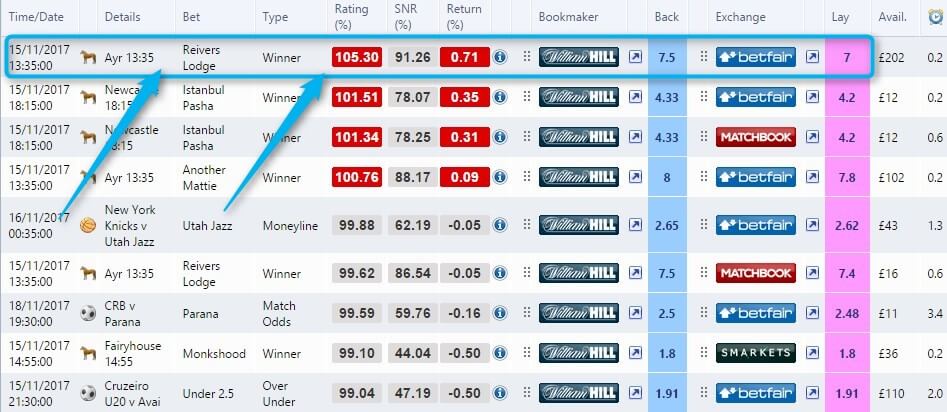 The % in the red box shows 100+ %, means Lay Bet Odds is Better than Back Bet Odds. This is the condition of under-round which creates arbitrage opportunity, thus generates profit. The calculation shows;
It says if you place £100 back bet on Reivers Lodge (Horse Racing at Ayr) in William Hill while laying £107.45 on the same horse in Betfair (betting exchange), you will lock-in £5.30 net profit (105.3% indicated in the red box) no matter Reivers Lodge wins or loses. This is exactly the sports arbitrage profit.
Precautionary Tactics
As kept sating, bookies are very keen to find price takers and will impose restriction on the account that keeps taking high values.
If you use high quality Odds Matcher like Oddsmonkey always capture arbing opportunities as shown in the screenshot. However, as said repeatedly, any opportunities with over 10% profit (in the oddsmatcher, the rating % of 110% <) could be a palpable error. The bookies may cancel the bet. If you lay the long odds and the lay loses, your loss will become so huge.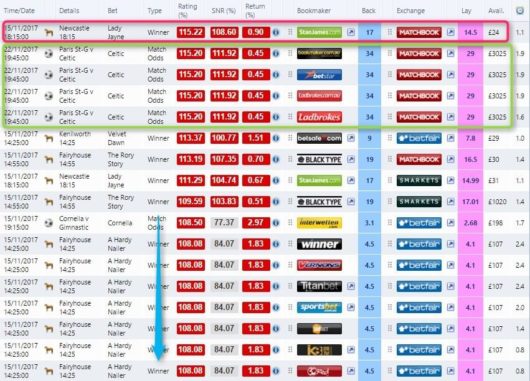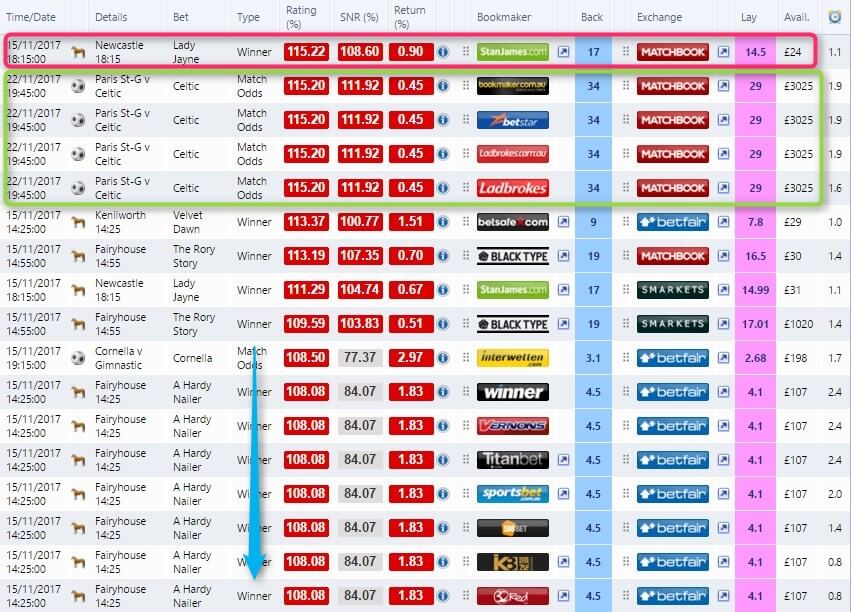 Let's quickly review the opportunities In the table;

Nasty Bookie
The top rating event is StanJames horse racing of 15.22% profit. StanJames may not cancel the bet but if you take this sort of value a few times, they will immediately restrict account. I'm a living example, I took around 15% arb 2 days consecutively, then in the following day I receive the below e-mail. It suddenly happened after 2-years calm happy matched betting life in this account. As I cautioned in 30 World Betting Site List, don't take value in racing at StanJames. It was not only gubbing / restriction but jumped into Closing;

Click To Enlarge
Same Odds Among Multiple Bookies
2nd rating event is 15.2% profit of PSG vs Celtic Champions League found in 4 bookmakers including Ladbrokes. Generally speaking, when multiple bookies show the same odds, it may not be an error. But, there are many a.k.a. clone sites or the syndicates where the same source of odds service are used. Therefore, the same odds among multiple bookmakers only doesn't prove "Not a Palp". Then let's compare with more bookies by checking the oddscheker. It shows Ladbrokes' outstanding odds. They may not cancel but obviously this odds is the one you should stay away. Because in case they cancel, your loss could be huge given such long odds. Even not cancel, Lad may put your account into watch list;

Click To Enlarge

Bottom-line, from all the angles, it's better to avoid any opportunities with over 10% profit. Don't try to be greedy. If you take only up to 8% as shown by the blue arrow in the table, you may be safe although there are no guarantee.
Earning Projection
As said, high quality oddsmatcher constantly capture the arb opportunities. The followings are possible earning scenario;
Bet stake of £/€40 – 60 with average 5% arb profit x 5 – 10 bets / day
Then Monthly Profit would be the range of £/€300 – 900
If you cover many bookies say over 30, you may be able to arb efficiently. Besides you may not have to keep arbing in the same bookie which could trigger bookie's unnecessary attention.
Don't forget, all the pre-cautionary actions I list below, such as avoid minor league should apply here. Although I cautioned StanJames, the horse racing is the place you consider for daily arbitrage. As long as you don't try to be greedy but keep 3 – 7% level, you may expect sustainable solid profits.
Wrap Up
So, if you live in the country where you can access to Betting Exchanges, you can construct sports arbitrage in the way as explained. Therefore those who already started or plan to start matched betting, the sports arbitrage is definitely the profitable option you can do regularly (again, be modest to take only decent profit % opportunity).
However, given the nature of arbitrage, the opportunity disappear extremely quickly. Therefore very high quality oddsmatcher is required as the standard arbing (among bookmakers).
The free oddsmatcher like I use as an example in the matched betting can't be used because their data is around 20 minutes late. It's impossible to capture the arb opportunity that change in minutes or even seconds. The best one in the industry is Oddsmonkey that covers over 130 bookies in the world. It's a full matched betting package service, people who can't make matched betting think it's a waste. But considering the possible earnings above, it's worth for 2nd thought. See our full review on Oddsmonkey;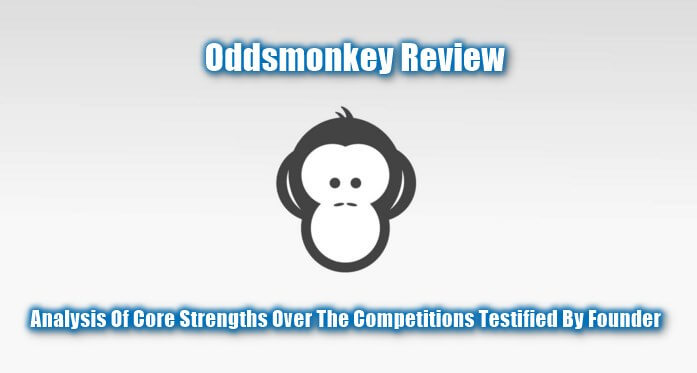 5) Arbitrage Trading – Quick Check List
The following is a quick check-list for you


to keep it handy whenever you trade:
Pre-Trading (without real money)
Bookmakers Accounts – select & open proper bookies account at least 10.
E-Wallet (Money Processor) Account – open Neteller / Skrill (it also help bookies save cost).
Arb Service Provider – select the proper arb alert / software service.
Free Practice – do enough practice before using real money.
Bankroll Allocation – keep 30:70 between bookies & money processors to maximize efficiency.
Single Currency – decide at the outset & not change to avoid any exchange influence.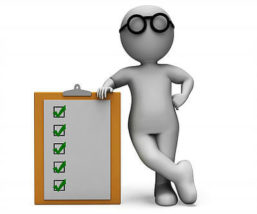 Real Trading (with real money)
Game Choice – don't choose too lower tier minor game like Thailand Division 3 Football.
Game Category – don't bet many kinds of sports inconsistently, but forcus on less than 5.
 Game Confirmation – ensure the right game in the right league with the right teams.
 Odds Check – ensure for correct bets (1×2 +0.5 -0.5 +0.25 over or under half time or full time).
 Bookmaker's Unique Rule – ensure counter-party rules of event correspond with each other.
 Return Choice – don't touch possible Palpable error of over 10%, safe & reasonable range is 3-7%.
 Bookmaker's Fund Balance – ensure enough money with counter-party to cover stake.
 Upper Limit of Stake – always confirm the limit of the game in both concerned bookies first.
 75% Guideline – don't always bet the maximum stake limit but bet up to 75% of it.
 Bet Round figure – don't bet like $151.38 but make it $150.
Factor Commission – ensure charges is calculated (software usually does automatically).
Betting Amount – double check if your figures are correct before placing your trade.
Multiple Bets – never do over 2 bets in the same game & bookie such as draw + one team.
Bet Timing – avoid betting during the last 10 minute before event starts.
Order Confirmation – verify bet, record & even take screenshots for all trades individually.
Unmatched Trade – never leave part of trade unmatched but find & bet the next best odds.
Fund Withdrawal – avoid frequent transfer or withdrawal of entire balance from bookies.
European Punters
Lastly, European has many reasons to pursue Sports Arbitrage. Internet speed is one of the reasons. Arber should access to the internet to constantly update & capture arb opportunities even during traveling. The advanced public wifi speed (remember speed is a critical factor for fast changing arb odds) based on 172 countries survey as below (US is the 20th) proves it.
Good Luck!!
Joshua Walker
BTW, we GEM deal with 6 Advantage Play as follows;

For Full Index of Our Guides, Go;
List Of Special Reports – All Information are Based On Our Intensive Research & Professional Analysis
---