6 Facts You Should Know Before Starting Social Copy Trading
Estimated Reading Time:
12
minutes
Have you ever visited J. Paul Getty Museum called the Getty, a beautiful large complex – the above photo, close to Beverly Hills in LA California? (stick with me, this article is about FX Social Trading as a Passive Income Idea). It is run by Getty Trust, the world's wealthiest art institution that was founded by Paul Getty, the oil tycoon who Guinness Book named as the world's richest private citizen in 1966. Unlike Howard Hughes who was famous for philanthropist in the same era, Getty was said to be a miser.
Whatever his nature was going to be, the bad news is that the Getty has a reputation for buying works that are of questionable provenance as well as being involved in the controversies with Italy and Greece regarding proper title collection. The left picture is known as Getty Kouros, purchased in 1985 for $9 million. Initially, the work was regarded as authentic through scientific analysis of the marble, yet it has been demonstrated that it is possible to age the stone by an artificial method, throwing the authenticity of the piece into question. The sculpture is still on exhibit in the Getty with the label, "Greek, about 530 B.C., or modern forgery." LOL!!The Museum's previous curator of antiquities, Marion True, was indicted in Italy in 2005 (along with famed dealer Robert E. Hecht) on criminal charges relating to trafficking in stolen antiquities. Similar charges have been addressed by the Greek authorities.
In 2007 the Getty was forced to return 40 artifacts, including a 5th-century BC statue of the goddess Aphrodite (the right photo), which was looted from Morgantina, an ancient Greek settlement in Sicily. Paul Getty used to say "The beauty one can find in art is one of the pitifully few real and lasting products of human endeavor". Well, unfortunately the Getty seems to have been struggling to find the beauty by facing a lot of problems with the reality (authenticity) of work titles though, you may find such beauty without seeing any controversy between great works (forex trading) & social trading platforms, and you can even copy such pitifully great works legally & basically Free.
6 Simple Facts
Now, let me start listing and explaining 6 simple facts that facilitate you to start Forex Social Network Copy Trading as below;
1) What is Social Copy Trading?
Social Network Copy Trading or just Social Trading is another way to utilize the expert's knowledge & skill in various financial trading including FX. Social trading sites initially were set up for traders and investors to share information, strategies and tips from all over the world. They allow people to view what trades other professional traders are making, and when they are making them. By connecting traders from all over the world into a network and sharing their views and trades real-time, investors can use that information to make social
rather than fundamental or technical trading decisions. You as an ordinary trader can use this "social" information to make your own decisions & trades (i.e. self-trade). Because the networks shares a transparent actual performance, it motivates social trading companies to allow investors to automatically follow the trades from traders they believe to be profitable, of which process is called "Copy Trading" i.e. auto-trade. Given the basic principle of my site (quest for the superb passive trading), my focus will be on the Copy Trading rather than self-trading. In the copy trading, you do not need to make any input at all on all trades but the professional trader who you copy makes every single decision and you get the exact same returns on the trade as the trader does on their personal account. It is not a Pooled Fund thus your money never leaves your FX broker account, there is no human intervention and no direct link between your account and the traders, the professional trader you copy never touch your money but you do your own trading in your account which will be exactly the same trading of the professional you copy, therefore it's a Ponzi Free safe system. So the security and privacy of your trading account is preserved. Your job is simply to find those profitable traders who are making good money on a consistent, long term basis – and copy them.
2) How Does It Work?
In order to make it workable, we need a common platform called social trading network. It is the place connecting the traders and trade followers from all over the world, in fact it's more or less the same as Facebook or Twitter. Once you open your account with a social trading network (it's free to join), you effectively agree to let the nominated broker associated to that site to execute trades on your behalf. After the account has been funded, you simply select a professional trader to copy and the system will automatically open and close trades for you (the actual costs are basically Spread – the difference between a trades bid and ask price) and possibly fee on the successful trade you follow depending on each social trading site.
Pros & Cons
Pros
Passive: any novice or experienced traders can use the trading knowledge & skills of the world best expert traders. You may find a bunch of professionals who are full time traders with goodwork background in large financial firms in the past thus they know sophisticated trading models that smaller individual investors could never use. Economical: as briefly said, there are often no upfront trading fees associated with social trading platform but only a fee paid on the profits the trader generates on your account. Transparent: it is a high level of transparency with social trading. All trading activity made by professional traders are recorded and accessed in real time. Diversification: there are 2 aspects, firstly the choice of trader you follow, you don't need to restrict into 1 expert but you can follow multiple traders, secondary, it's not only FX trading but extended into Stock, Commodity & Option Trading, all of which allows you to build diversified portfolio.
Cons
The biggest disadvantage is that your trade will loose exactly same as the expert you follow if he / she looses. This is unavoidable, there is nothing you can do to intervene when one of their trades takes a turn for the worse, and once the funds are lost, there is little way to retrieve them (don't get me wrong, you can terminate your copy trading anytime). This is why your due dilligence in the process of choosing the expert is critically important.
---
BTW, you may be interested in the below comments & statistics (although it's a bit old data) I excerpted from eToro the leading social trading platform; "When we launched our company 6 years ago, who would have thought that the day we reached 50 million positions would come so soon! The fact is, that out of those 50 million, 32 million positions have been copied trades, 85% of which were profitable, as opposed to manual trades, only 55% of which were profitable. That is a staggering statistic and we couldn't be prouder of our copy traders who have evidently done a terrific job of identifying the best social gurus for them to copy." The following infographic shows more detail numbers comprehensively;
3) Does Copy Trading Really Work?
MIT Professor Alex "Sandy" Pentland said in the Deloitte Interview that "For instance, social learning on eToro's trading network can improve the user's return on investment by about 30 percent, which is huge. And this has been tested over millions of people, several years, and tens of millions of trades.", quite interesting. So, let me excerpts key points from HBR (Harvard Business Review) report tited "Beyond the Echo Chamber" by this professor Nov '13 issue, which summarized the MIT Media Lab research on eToro. The report indiated "The traders who had the right balance and diversity of ideas in their network had a return that was 30% higher." See the table below, which was explained as "you can see that people fall along a continuum. One group of investors works in almost total isolation: Its members follow few other traders and come up with most investment ideas on their own. At the other end of this spectrum lies a group of hyperconnected traders who follow (and are followed by) many others, and social learning guides a lot of their strategies. Many of the investors using eToro fall somewhere in the middle—they engage in a moderate level of social learning but behave with a degree of independence that makes it clear that they're not just following the herd."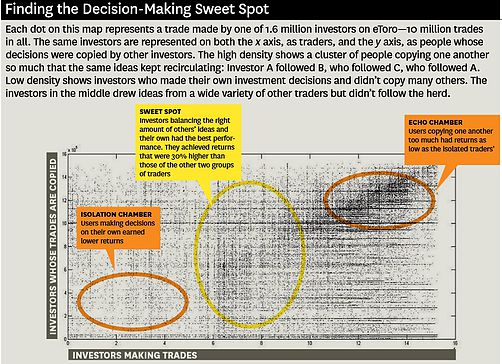 The report continues "What pattern of exploration and social learning produced the best outcome? We discovered the answer when we plotted the return on investment each trader got against the diversity of ideas he or she harvested through social learning. An analysis of the results reveals that the effect of social learning is enormous. The traders who had the right balance and diversity of ideas in their network—meaning that their social learning was neither too sparse nor too dense—had a return on investment that was 30% higher than the returns of both the isolated traders and those in the herd. In this digital trading environment, the sweet spot resides between the two extremes. This intermediate zone is where social learning—that is, copying successful people—yields real rewards. And though this study looked only at financial decision making, we believe the principle holds true for all kinds of decisions." So, at least academic research confirmed that Copy Trading works.
4) Copy Trading vs PAMM Account
Both are basically passive though, there are a few differences.
PAMM Advantage over Copy Trading ☑ No Latency / Slippage: although PAMM trader only accesses to his own capital within the entire pool of funds, his whole trade size is automatically "scaled-up" in exact proportion to the full amount that's allocated to him by his investers.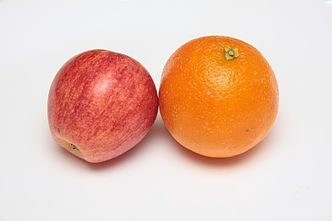 On the other hand, copy trading is first executed remotely by the expert you copy then replicated a few instants later in your account. This small delay may not result in the same entry or exit level as the trader you copy. The problem is worsened if you're using an entirely different broker to the trader. These slippage problems should not happen with PAMM (provided the software works) because the trader's account is one "big virtual pot" so to speak.
Copy Trading Advantage over PAMM ☑ As briefly said before, Social Trading Platform for Copy Trading offers many investment opportunities other than FX, including Stocks, Precious Metals, Indices & Options etc, while at this moment in time majority of PAMM is FX (Managed Account generally offers various tradings, but unlike PAMM it requires big minimum investment), so from perspective of diversification, Copy Trading looks better.
5) Copy Trading Best Practice / Basic Process
Here is how you can start your copy trading;
1. Review & Select the Social Trading Platform:
Given the increasing popularity of social trading, new trading platforms have been mushrooming so you will find several options but obviously, you shouldn't select the first network you come across. Major platforms include eToro, ZuluTrade, ayondo, TradeCrowd, FxPro SuperTrader, Tradency, Signal Trader, Currensee, Myfxbook, BelforFX, Tradeo, MetaTrader, Gallant Trade Copier, MyDigiTrade, FxStat, ZipSignals and Collective2 etc. Although they all broadly work along the same lines, there still differences such as the ways in which fees are calculated, what the minimum deposit needs to be, all of which to be carefully reviewed though it looks safer if you start up in either eToro or Zulu Trade because these 2 are the most established & reputable platforms. Those brief profiles are;
eToro – appropriate for novice traders, good education tool & friendly interface. eToro provides both the broker and social trading network functions (no use of a 3rd party broker), which gives you an advantage of almost no slippage – the weakness of copy trading compared with PAMM account as already explained, but remember spreads are not as competitive as some other brokers.
Zulu Trade – ZuluTrade is an archrival to eToro. It supports over 40 outside brokers on top of AAAfx broker as its own broker. ZuluTrade receives compensation per trade per contract from the brokers connected within its peer-to-peer network and splits the compensation with the signal providers that have originated the trades which have been executed successfully on one or more live followers' trading account. 
2. Decide & Open FX broker:
If you already have your own FX broker account then need to check if the broker is supported by the Social Trading Platform you choose (for eToro, no other choices but you need to open its own broker), in case you don't yet have any FX vroker account you should first check which brokers are the partner brokers. You may also visit my articles of 【 Hidden Agenda You Should Know About Forex Broker Part (1) & Part (2) 】to ensure you choose the right broker;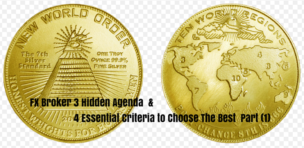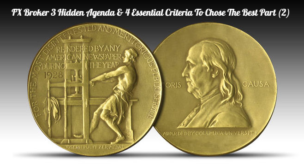 Moreover, there are a few agencies that have partnership with Fx brokers, they will provide you various rebates without any change of your trading. If you are interested visit
FX Rebate Gurus

  or
Cashback Forex

, both agencies have partnership with over 30 Fx brokers,
3. Set Your Own Trading Strategy:
Copy trading may not require technical trading knowledge but it is important to develop a clear strategy on how you will allocate your trading funds and risk tolerance which would be a basis to select the trader you copy. For this purpose my separate articles of 【 Ultimate Guide (7 Secrets) To Find Best PAMM FX Trading Part (1) 】 must help you;
4. Open Your Account in Social Trading Platform:
Surely you can open multiple accounts with different sites. Opening account is usually quite simple by just filling out the online registration form and you do not need to deposit any money at this stage.
5. Start with Demo Account:
Strongly suggest that before going into real money trading, start a dummy trading in demo account where you will be able to trade with virtual money. The conditions will represent real market returns, therefore simulate your planned real trading, means if you intend to invest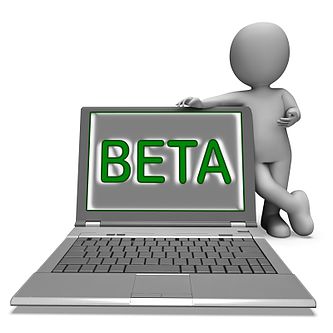 $500 then set $500 rather than any other amount like $10,000. Using the demo account, start copying a number of traders and follow their progress closely for the duration of your demo period. Track how their trade decisions turn out correct. Don't switch to a real account until you start making a profit on your demo account comfortably.
6. Research & Identify The Traders You Copy:
Needless to say, the most crucial thing is to choose the right traders to copy. You may want to check the number of followers to each trader disclosed in the Social Trade Platform site, which is an easy & comprehensive indicator of how good that trader might be. However, never ever count on only this number. First, don't pick a single trader and follow the rule of diversifying your profile by picking up multiple traders to follow. A single trader isn't supposed to make winning trades all the time so minimize your risk of loss by following multiple traders who use different trading strategies and tactics. Traders vary wildly in their approaches and strategies, thus try
to get familiar with their trading style and analyze how they perform in different market conditions. You can find out more about a traders style by checking their profile and their trading history. Do they have more smaller, consistent winning trades or are there a few huge gains with many losses? These are a sort of things you need to check. Review their drawdown rate to see how many people have stopped following that trader as well. If a lot of people have un-followed a trader, it shows that they tend to make a lot of wrong decisions. Create a risk profile of the trader and match it with your own risk profile. To ensure that you only take risks you are ready to take, select traders whose risk portfolio matches your own. You can't simply pick up a random trader and start following them in the hopes of making winning trades. So, get your strategy in place and practice with demo accounts before you actually start copy trading with your hard-earned money. I'll publish more detais about How To Pick The Best Traders in eToro & Zulu Trade soon. You can also check 【 Ultimate Guide (7 Secrets) To Find Best PAMM FX Trading Part (2) 】 because the basic principle explained there can apply to the selection of Trader you want to copy;
7. Start Trading with Real Money:
Once your dummy account starts seeing consistent profits, you can then deposit real cash into your account and begin trading for real. Some social trading sites offer bonus cash when you make a first time deposit – this can be a good way of raising the amount of capital you have to trade with.  
6) Risk Management
I always say Keep Participating In The Game is everything. If you loose your capital by following aggressive traders because of their impressive return, you will loose motivation to go back to the game thus loose opportunity to recover. So, good risk management will help preserve your capital and make sure that it grows as you practice social trading. Some of the key points for Sound Risk Management are;
Ensure the platform you select offers you the option to pause and resume copying a trader at anytime.
Never forget you trade with only a comfortable amount of capital and diversify that capital sensibly.
Consider how to allocate your capital into each trader very carefully. You need to remember the simple fact that the more traders you elect to copy, the more trades the system will be making on your behalf and so the more capital you will need to have available. Ensure you have sufficient capital in your account for all the trades that your chosen traders make or you need to limit your selection of traders.
As said before, slippage, the difference in price that is caused by the time difference between placing your order and having it executed is always an issue you have to keep in mind. Your trading may not be exactly the same as the trader you copy because this slippage. Although slippage should not cause much of a difference in your gain / loss in short-term, it may damage as time goes, therefore if the price moves too far away from your expert traders, the copying should be cancelled.
Let me repeat, there are significant risks involved in social trading and past performance is no indicator of future success. Some individuals have gone into social trading without truly understanding this and have ended up losing significant sums they could ill afford to lose. It is not uncommon for the top traders on networks to go through periods of consecutive / significant loses. This is why you should only ever trade with money that you can afford to lose. As with all investments, there is no guarantee of profit, or that you will not lose a part or all of your capital, so you should only allocate that amount of capital that you are comfortable investing. However, if you don't start, you will never gain. Since you already understand how it works by now, I would strongly suggest you open social trading account & copy traders with fake money NOW. It's very true, actual practice is the quickest & smallest way to be a master. You may choose either eToro (click HERE) or Zulu Trade (click HERE) to open Demo Account & Do Risk-Free Virtual Trading. Finally, Italian art dealer Giacomo Medici (the below photo at the Getty) made a significant role in the trafficking of the stolen arts and his operation was thought to be "one of the largest and most sophisticated antiquities networks in the world, responsible for illegally digging up and spiriting away thousands of top-drawer pieces and passing them on to the most elite end of the international art market". I hope Social Trading will become (or actually has become) the largest and most sophisticated trading networks in the world, responsible for sharing the best elite trading expertises with the most ordinary & largest traders international forex market.  
BTW, we GEM deal with 6 Advantage Play as follows;

For Full Index of Our Guides, Go;
List Of Special Reports – All Information are Based On Our Intensive Research & Professional Analysis
---