The Most Trusted European Online Casinos & Bonuses
We have compiled a list of the Most Trusted European Online Casinos based on legitimacy, security, fairness & bonuses.
Rapid Growth of Online Casino & No License Sites
According to Edison Research, the global online gaming market has grown at a 10% CAGR over the past decade and amounted to £40bn GGR in 2018. Europe is the largest market with a 54% share and casinos account for 27% (the 2nd biggest category only next to sports betting).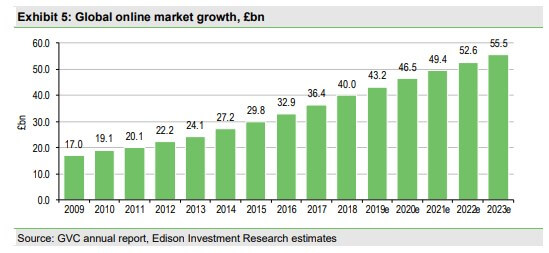 H2GC estimates online growth of 7% CAGR to 2023. Such heavy growth is partly driven by the mushrooming of new casino sites given the low entry barrier (many no licensed sites are operating online), which means there are a full of unethical rogue online casino sites in Europe.
Even for the site regulated by UK Gambling Commission (UKGC) like MoPlay, the poor business management causes a disastrous situation and people lost a lot of money (see the reality of how your money is protected by betting sites).
How we evaluate the online casino sites
Therefore we prepared a list of Most Trusted Online Casinos in Europe based on the Legitimacy (license), Business Health, Fairness Verification and Bonuses, namely the sites enabling you to enjoy the best possible monetary return (fairness & bonus) safely (far from scam & bankruptcy and strong data protection).
You will find the details of these criteria later (right after the list).
BTW, the online casinos in Europe include the UK, which means the list covers European Casinos for UK Players. 
Most Trusted Online Casinos in Europe List
We are listing the following casino brands from the gambling operator groups represented by EGBA (European Gaming and Betting Association) as well as the sites we have received very favorite feedback from our own members (Bear in mind that the bonus offers may vary by country, the ones we show are the offers seen in the UK).
888 Casino (Gibraltar)
Mr Green (Malta)
LeoVegas (Stockholm Sweden)
Party Casino (Gibraltar)
32Red Casino (Gibraltar)
Betsafe (Malta)
Casino Euro (Malta)
777 Casino (Gibraltar)
Nordic Bet (Sweden)
Rizk (Malta)
Betsson (Stockholm Sweden)
Dunder (Malta)
22Bet (Curacao)
Criteria for Finding the Most Trusted & Best European Online Casino
Key Elements
In order to identify the most trusted & best European online casinos, we set the following simple 4 key parameters (besides we think much of our members' frank feedback);
Let me quickly go through each criterion;
1) Legitimacy – License & Regulation
Needless to say, licensing & registration (being regulated) are the fundamental requirements for safety & security. So, firstly, I'll share how online gambling licensing works among European jurisdictions. European Commission says;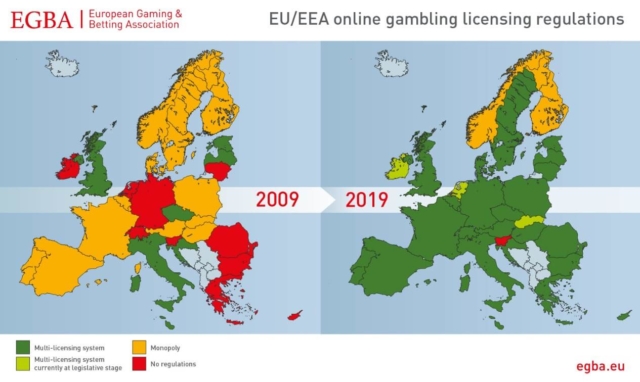 As the site also states, EU online gambling regulation is characterized by diverse regulatory frameworks. According to EGBA*, multi-license regimes have become the dominant regulatory model in the EU, introduced in 23 EU member states by 2019 as below;
*European Gaming & Betting Association (EGBA) is the Brussels-based industry body registered both in EU Transparency Register & International Betting Integrity Association (IBIA) and launched the yearly Responsible Gaming Day.
They affiliate with Bos.nu & GBGA and represent the leading online gaming & betting group operators established, licensed, and regulated within the EU. EGBA member companies offer their services across 19 EU Member States and, as a result, collectively possess more than 134 online gambling licenses to do so, averaging 7 licenses per country as below (it doesn't mean all the member casinos own licenses in every country marked in the map);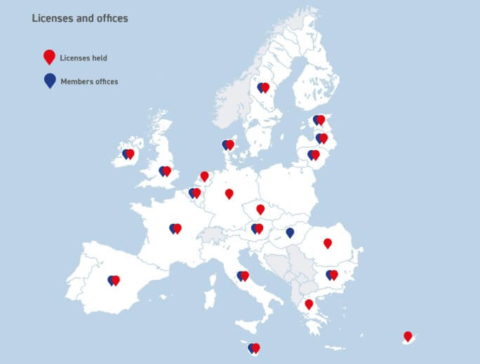 What we like in EGBA is the fact that they employ 900 DEDICATED EXPERTS in customer due diligence, anti-money-laundering, & fraud prevention, and constantly auditing the business of the members. So, we feel comfortable to chose some of their member casinos here.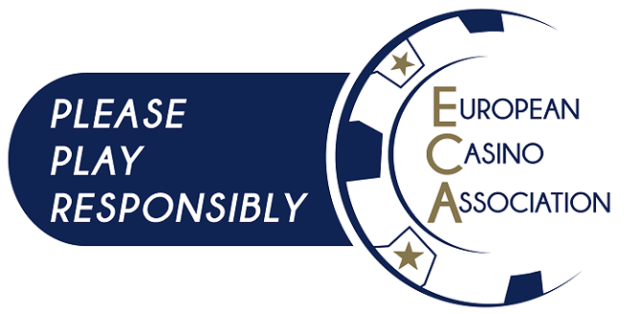 BTW, strict protection to the players' gambling addiction is, needless to say, a very important business standard in the gambling industry.
So, any casinos that don't support the protection scheme such as BeGambleAware belonging to European Casino Association (ECA) or Global Gambling Guidance Group (G4) are ethically unaccepted (typical unethical bookie news & support evidence, which we hate so much).
Especially, any European casinos not on GamStop (Britain's national online gambling self-exclusion scheme) in the UK are not ideal.

2) Business & Financial Health
Legitimacy based on the registration only doesn't ensure any long-term business. As said earlier by referring to the disastrous MoPlay case, poor business management will vanish your money. The below ranking table from Market Research Report shows the world top 10 gambling operators;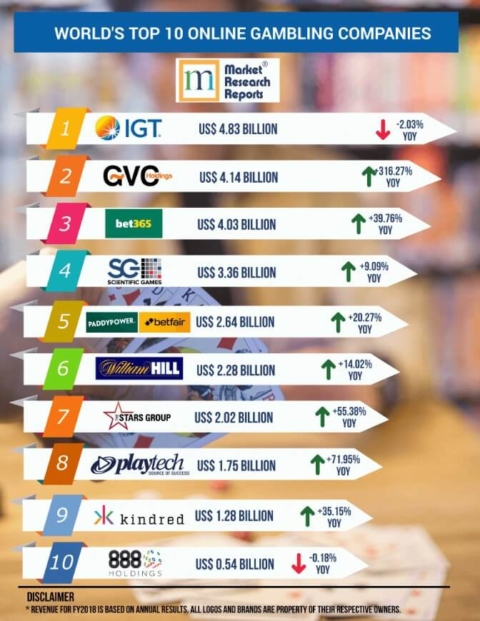 The business scale itself also doesn't guarantee any financial health though, yet usually the bigger the more stable & sound. So, naturally, we tend to select a bigger business as the basis of top European online casinos.
3) Fairness
You may ever wonder whether a casino cheats you by manipulating the game's RTP (return to player) especially when you face losing streaks.
Let me quote the below from one of our Casino strategy papers;
The below shows 888Casino example indicating eCOGRA seal;

So, you may feel easier if the site carries such endorsement (see eCOGRA audited clients). However, it doesn't mean the sites without these seals are manipulating. Both Bet365 & William Hill don't indicate any seals though it's not necessarily they are not audited by the 3rd party;

&

BTW, various sites publish casino's pay chart like below (the left end is the brands constantly shows over 95% average payout ratio);
When we look at UK & Ireland giant betting operators like Bet365, William Hill, Ladbrokes, Coral, Paddy Power & Betfair, they are not regularly ranked top position in such pay chart. And their own profitabilities (especially payout to CEO) are quite high. What does it imply? They are not cheating but most probably include many low RTP games, just FYI.
4) Attractive Welcome & Ongoing Bonuses
We Global Extra Money (GEM) would like our readers/members to make extra income by consistently beating online bookies, casinos & poker with Advantage Gambling methods.
When it comes to the casino where pure mathematics dictates, people can't win long-term due to the house edge, and using the bonus is basically only the way for ordinary people to win consistently.
Thus, a juicy bonus is a very critical criterion to select the online casino for us. There are several best European casinos with no deposit bonus included in the list. BTW, we have issued the following guides that must help you pursue bonus hunting effectively;
Casino Bonus Hunting Instructions & Manuals
Basic Strategies
Low-Risk Bonuses
High-Risk Bonuses
When it comes to the advanced software for casino bonus hunting, we extract the summary of 1 excellent software from the above guide, which you will find in the Wrap-Up section at the bottom of this document. Suggest not overlook it.
Advanced Casino Calculator – EV Maximiser
We suggest you consider using EV Maximiser which is an excellent casino bonus tool.
Suggest you watch Mike's Introductory Video, which will give you a good insight into how it works. Click the below screenshot, then you will be navigated to the video;
Top European Online Casinos Warp Up
Beware Scammers are next to you
Although the data is relatively old, Casino.org says;
The largest market for online gambling is Europe, but this probably won't come as a surprise to anyone. Across the globe during 2015 the EU market made up 47.6% of the €34.6 billion of online gaming gross win (stakes minus winnings) generated. While the success of online gambling in Europe is pretty well known, what's helping the continent be seen as the leader in gambling is its level of innovation, especially through the growth of successful casino platforms.
We're pleased to know the progress of the European casinos' innovation, but we also know that Europe is historically the hotbed of casino scams.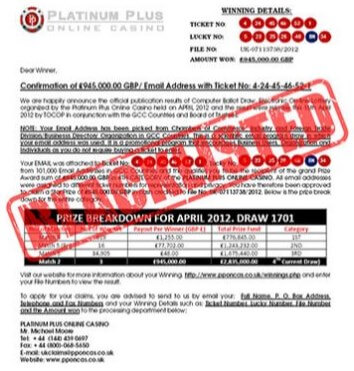 You may have been aware of many shady online casinos associated with rogue Affpower (they are registered in Malta), we have also heard the bad experiences (slow & no payments) related to European online casino sites such as Mighty Slots, Plenty Jackpots & Slots Inferno (all of them belong to Curgam Malta Ltd Group).
So, Europe is the largest online market in the world with a full of cons, which means people must lose a lot of money not only from gambling but also from fraud. Don't trust irresponsible review sites which rank the casinos without solid rationale.
BTW, when it comes to US Online casinos, they have been severely restricted due to The Unlawful Internet Gambling Enforcement Act of 2006 (UIGEA) that outlawed financial transactions involving online gambling providers.
However, ironically, many online gambling sites located in the Caribbean region & open to US citizens are ranked top in the world by many reliable rating sites and gained an excellent reputation with decades histories.
Many of these casinos accept European residents, so see the best offshore betting site list which is based on sportsbook criteria but they are all-in-one sites including casinos & poker.
Standard Benchmark for New Casino Sites
As seen from the below chart, the UK is by far the largest online gambling by accounting for over 1/3 of the total European market;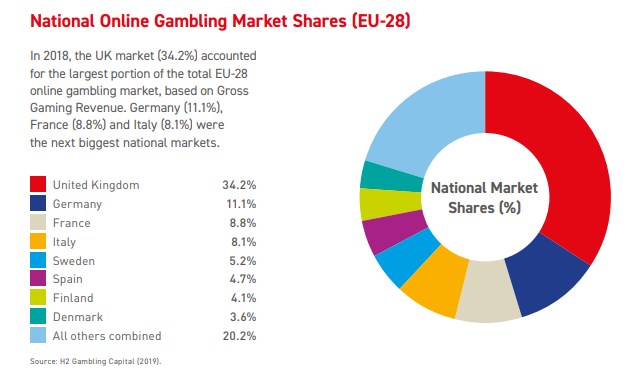 And, the UK Gambling Commission (UKGC) is famous for its tough regulation with rigorous checks and procedures in place to guarantee a level playing field.
When you seek a new online casino that is neither represented by EGBA nor a part of a big gambling group (say top 10), then if they acquired the UKGC license would be one of your benchmarks, which you can usually confirm at the bottom of the online casino site like;

Don't get me wrong I'm not saying a UKGC license is mandatory, there are many safe & trusted casinos that decide not to go into UK markets due to their business reasons.
Just saying top online casinos UK regulated by UKGC is probably the most trusted.