What Is Pinnacle Arbitrage?
Pinnacle Arbitrage uses its super competitive odds to achieve more profitable surebets than even betting exchange and can be an alternative for Betfair (you may want to use Betfair Alternatives) to lay in matched betting!!
By the way, if you don't know Pinnacle Sports, Pinnacle is the best of the best sportsbook in the world for sharp/professional punters.
Suggest you check our full review of Is Pinnacle Bet Really Best for Sharp Punters?
Sports arbitrage a.k.a. Sure Bet is simply making a guaranteed profit by betting all the outcomes of the sports event among different bookmakers. For a full detailed guide & instructions, take a look at Best Sports Arbing Software & Alternative Surebet Finder.
Matched betting is a no-risk technique that lock-in profit from bookmaker promotions such as bonuses/free bets, basically using the same mathematical logic as sports arbitrage. Suggest you take a look at matched betting for dummies for full details.
Pinnacle's super competitive odds can beat not only peer conventional bookies but also betting exchanges (both back & lay odds) such as;

Betfair (see

Betfair Alternatives

)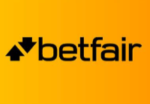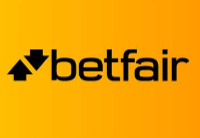 Smarkets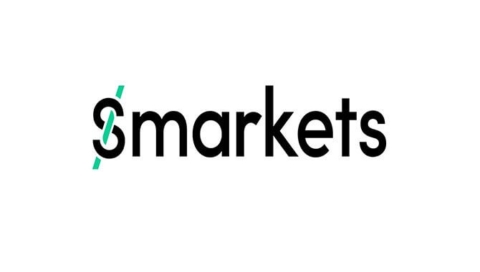 BetDaq (Warning)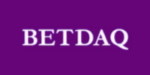 Just in case, you're not familiar with Betting Exchange,How to make money on Betting Exchanges &  4 Best Betting Exchange Sign-Up Offers with Cash Extraction Process will be of good help. 
Pinnacle Arbitrage Rationale
We show how to do Pinnacle Arbitrage & Matched Betting by starting up with the excerpts of 2 Pinnacle Articles. This information verifies if Pinnacle odds enable people to do such advantage plays.
Back Bet: How to Calculate Commission-Free Odds
Calculating an exchange hidden commission
Unlike regular bookmakers, exchanges charge a commission on your winnings, i.e. net profit on the market. Base commission is often at 5% of your winnings but increased to 6% or 7% for many countries. With an exchange like Betfair, you place bets, you collect points that will discount your commission, but the points are subject to decay every week, and if you are really successful, you will find yourself caught in the so-called Premium Charge, which may take as much as 60% of your profit.
Back Bet
Example
Pinnacle offers 1X2 odds of 1.84 for Swansea to win against Crystal Palace, while that same bet is available at 1.86 at a betting exchange. And you wonder which one offers better value – is the exchange's 1.86 after commission still better than Pinnacle's commission-free 1.84?
Decimal Odds
Decimal odds represent an inversion of the probability of an event to happen (e.g., the probability of landing on a head when tossing a fair coin is 50%, or 0.50, so equivalent odds are 1/0.50 = 2.00), but also a ratio of your possible return and your stake. For example, if you staked £100 at odds of 1.86, you hope to pocket £186, which consists of the £100 you staked earlier and £86 that you won.
Decimal odds = return/stake
or
Decimal odds = 1 + (profit/stake)
As we have explained, betting exchanges charge a commission on net profit on the market. That means, in this example above, you will get your £100 back untouched, but the £86 that you won will have commission taken off first.
Betting Exchange Commission
Unlike regular bookmakers, exchanges charge a commission on your winnings, i.e. net profit on the market
Let's suppose that you live in a country that has not been affected by commission increase, but is unlucky enough to collect sufficient points for a commission discount; that means betting exchanges like Betfair will charge 5% of your winnings, or 0.05 * £86 = £4.3; you will pocket the remaining 0.95 * £86 = £81.70.
To summarize, you risked £100 to win £81.70; therefore, you effectively got your bet at 1.817 – or some 3% worse than the odds available at Pinnacle.
Actual Odds
By now, you understand how to calculate net odds after commission; if COMM is your exchange commission in %, and ODDS available back odds, then your actual odds, in decimal format, are calculated as:
Actual odds = 1 + (1 – COMM/100) * (ODDS – 1)
Exchanges are a useful weapon in a bettor's armoury but the way that commission is deducted after the bet often leads them to misinterpret the extent of their value. Now you have the tools to make the calculations yourself it is up to you to decide where to bet, but we think smart bettors will choose Pinnacle.Pinnacle.com
Hedging Calculator
You can use the Pinnacle arbitrage calculator to do the calculation;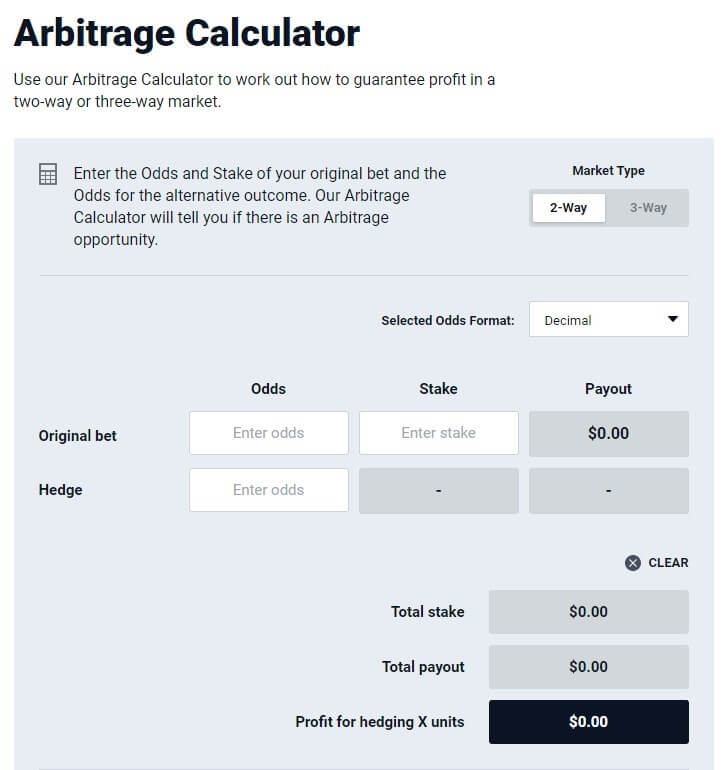 Lay Bet: Pinnacle Also Could Be Better than Betting Exchange
Think that you have to use an Exchange to lay a bet? Pinnacle Sports can provide an alternative. Find out how. Value when laying odds
In the above article, we highlighted how to calculate commission-free odds and explained how the odds offered on Exchanges initially appear better than Pinnacle Sports. However, once their commission is taken off to reveal the true value of the bet, Pinnacle Sports remain the smart bettor's choice.
Lay Bet
But what about when you lay odds? Exchanges enable you to act as a bookmaker and lay the bets, in which case you are betting against the outcome happening. Sometimes a lay bet with an Exchange is equal to another bet at Pinnacle Sports.
If you lay an Away team at an Exchange expecting a draw or home win, you then do the same by betting on the Home team +0.5 at Pinnacle Sports. In both cases, you win if the Home team wins or the match ends as a draw, while you lose if the Away team wins. Similar logic applies for betting on the Away team +0.5 at Pinnacle Sports, which is equal to laying the Home team on a betting Exchange.
Double Chance
Other bookmakers offer this bet as a "double chance" – home win or draw, away win or draw and home win or away win. For top-tier matches, the double chance is available on Exchanges too, but liquidity is much lower than on the 1X2 market, so you will struggle to get your bet matched at the desired odds.
Example
You believe Chelsea won't lose away to Liverpool. Pinnacle Sports offers Chelsea +0.5 at 1.971.(GEM Note: +0.5 is AH – Asian Handicap, which is exactly the same as double chance, so you will win if Chelsea wins or draw)  Alternatively, you can click the pink boxes at the Exchange and lay Liverpool at odds of 2.02, or bet on Chelsea or the draw with other bookies at odds between 1.80 and 1.95.
Obviously, Pinnacle Sports' Chelsea +0.5 easily beats the double chance of other bookmakers, but does it offer better value than laying at the Betting Exchange?
As we noticed earlier when laying, you're actually acting as the bookmaker, and the Exchange member(s) who matched your lay bet is/are the punter(s), or backer(s).
In the previous article example, the backer bets £100, while the bookmaker offers £86, which appears to be the below equation, with the winner taking £186:
Stake * (Decimal odds – 1) or £100 * (1.86-1)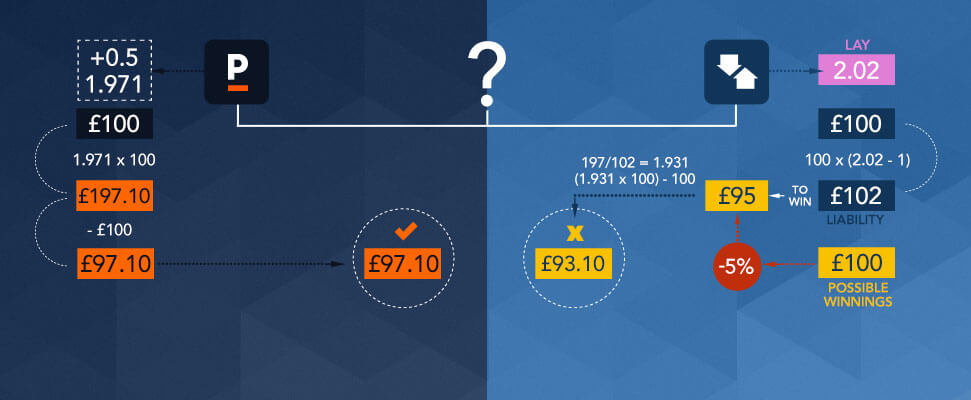 Liability
Therefore, when laying, you are risking the amount of money calculated using the formula above, which is known as "Liability", and you can possibly win the backer's stake, minus the commission, of course.
So, you lay Liverpool at odds of 2.02 and a stake of £100. Your liability is:
100 * (2.02 – 1) = £102
Your possible winnings are the backer's stake, or £100; if your commission is 5%, your net profit will be £95. So effectively you risked £102 to win £95 i.e. for a return of £197; hence, you got this bet at
decimal odds of 197/102, or 1.931. Obviously, the profit you can achieve at Pinnacle beats the oneat the Exchange by some 4%.
From this example above, it is easy to work out the formula to convert lay odds into effective back odds, i.e. odds that easily show your profit after commission. Again, if COMM represents your Exchange commission in %, and ODDS available signify your lay odds, then your actual odds, in decimal format, are calculated as:
Actual odds = 1 + (1 – COMM/100) / (ODDS – 1)
Exchanges are a useful weapon in a bettor's armoury but the way that commission is deducted after the bet often leads them to misinterpret the extent of their value. Now you have the tools to make the calculations yourself it is up to you to decide where to bet.
Pinnacle.com
Pinnacle Arbitrage 2 Advantages
The above articles suggest that Pinnacle's Super Competitive Odds usually beat
Not Only Conventional Bookmakers (this is already known & proven)
but also Betting Exchange both Back & Lay after taking the commission into account
Consequently, we can enjoy the following 2 advantages;
1) Arbitrage Bet Finder
The above is the reason why Pinnacle is the most popular bookmaker being used in Sports Arbitrage. As evidence of that, the world No.1 Sports Betting Software provider RebelBetting praised Pinnacle as;
The number one bookmaker for sports betting and arbitrage trading is Pinnacle. They openly welcome arbitrage players, accept high bets and will never limit your account. Every sports arbitrage player should use this bookmaker.
The biggest challenge for sports arbitrage is how to find arbitrage bets. RebelBetting arb finder gives you the solution, take a look at our RebelBetting Full Review. Yes, as Rebelbetting comments, unlike almost all other bookies (they are called Soft Bookies) that restrict the account of arbers, Pinnacle Promotes Arbitrage like below;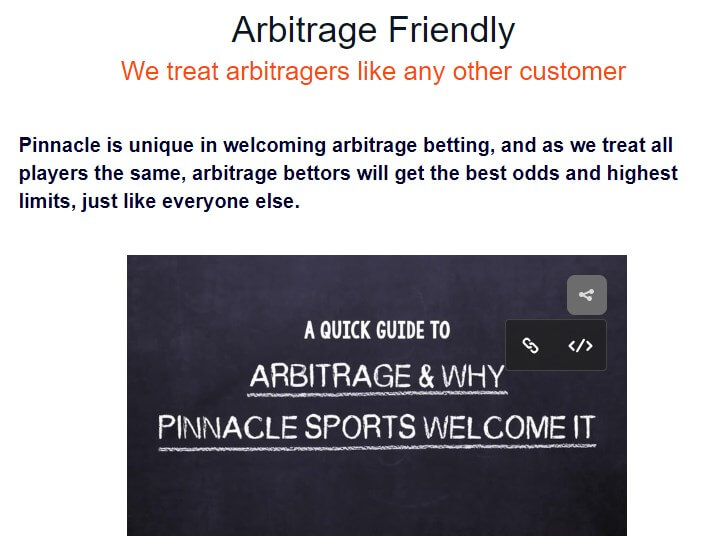 The point is Pinnacle is a Must sportsbook for arbitrage and is included in the arbitrage finder software.
Arbitrage Friendly Sportsbooks 
Incidentally, let me share the arbitrage-friendly bookmakers' list. Arbitrage-friendly bookies are without exception Shap bookies and separating the sharp bookies that accept professionals from soft bookies that focus on recreational punters by quickly restricting sharp's account is very important. From this perspective, we have issued and periodically updated the below 2 lists;
Let me share a few examples which are also included in the bet broker account (except Dafa bet) you will see later; 
SBO Bet (Philippines/Isle Of Man)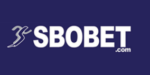 SBOBet was founded in 2004 / said to be the punter's dream same as Pinnacles mainly because high stake limit with very competitive odds especially for Asian Handicapping and allows arbitrage (bet one side only per match) / lack of offers, so not for matched betting. They restrict many countries, so try access, and if you're blocked, then consider a bet broker.
dafabet (Asian-Philippines)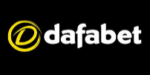 dafabet Started in '04 / one of 3 Asian best / provides competitive odds with low vig (reduced juice) / Their e-mail response officially confirmed that they allow sports arbitrage but they may limit promotion participation, so exploit their offers including welcome bonus first (see Dafabet review).
2) Pinnacle Arbitrage – Matched Betting Application
There are many countries where people can access a decent number of soft bookies that provide welcome & reload offers, but can't access betting exchanges. Then, you may use Pinnacle as an alternative.
As demonstrated in the above example, instead of laying at the exchange you can choose;
Asian Handicap +0.5
Or Double Chance
When it comes to matched betting for different countries, check;
For Those Who Can't Access To Pinnacle Sports
In the case of those who can't access Pinnacle, you may consider using Bet Broker (you can also access Betfair Whitelabel via bet broker, which is a good solution for people who can't access any betting exchanges). But you need to take a cautious approach if you use the brokerage, the following 2 documents will help you select the right one(s);
Advantage Plays
Lastly, allow us to share a bit about our betting principle. We do betting activities, but we don't gamble. In other words, we don't count on luck or chance. Instead, we do advantage plays based on mathematical edge to beat the bookies.
When it comes to Sports Betting, we use Matched Betting / Sports Arbitrage / Value Bets On Proven Tipsters to lock in a profit or consistently earn extra income. 
As our name implies, we would like our readers FROM ALL OVER THE WORLD to make the best use of little-known Advantage Plays. From this perspective, we have issued;
In Short, except 8 Countries (Cyprus, Poland, North Korea, United Arab Emirates, Singapore, Brunei, and Cambodia) where online gambling is legally prohibited, all of you can make a profit from matched betting, see the above report for full details 
BTW, if you would like to be a sharp casino & game bonus hunter, strongly suggest taking a look at the List of 52 Best Bitcoin Casino Bonuses and for those who appreciate the highest privacy, go to the List of Best Anonymous Bitcoin Casinos & Bonuses, just FYI.
Hope these will help you achieve reliable extra income consistently.
Good Luck!!
Joshua Walker (bio) 
Editor – Global Extra Money (GEM)