RebelBetting Review
RebelBetting is famous for being the world's best sports arbitrage software which enables you to achieve 10-20% proven profits of your bankroll every month risk-free.
Our RebelBetting Review including the interview with the founder will answer your questions such as How does RebelBetting work, How to Use RebelBetting, Who can use RebelBetting & Is RebelBetting Worth it? 
RebelBetting Arbitrage Software
RebelBetting (Sure Betting Home) provides you with a Sports Arbitrage Service (see Sure Betting – Too Good To Be True?) in the form of Software. This software is based on algorithms that identify differently priced online bookmakers' odds (including offshore sportsbooks) for the same sporting event.
Wagering on a pair can, in theory, lead to small but risk-free wins. The practice is akin to arbitrage in financial markets – taking a profit by simultaneously buying and selling the same security at different prices – but here at the expense of bookies.
So, RebelBetting considers its service to be Sports Investing Software rather than a gambling tool and already extended its service to Value Betting.
What Is Rebelbetting All About?
RebelBetting Snapshot
RebelBetting (About Us) was built by Clarobet AB, a small team of software developers and sports betting specialists in Umea, the north of Sweden.
It started in 2006 when two programmers and two poker players developed the application. In those days, there were very few services related to sports arbitrage such as Sports Arbitrage World.
In 2009 they had users from 62 countries and were nominated for the Young Entrepreneur award. It operates very efficiently and had earnings before interest & tax of Skr3.6m ($523,000) on revenues of SKr6.7m in 2013.
Arbitrage bets today are very popular and represented by soccer arbitrage. 
Amazing Global Popularity
The impressive fact about RebelBetting is that they have customers on all continents even in Antarctica (that's shown in the top image), see their comment as follows;
We noted that we have RebelBetting users in all continents of the earth, except Antarctica. Now finally, RebelBetting has conquered all continents of the world! Our friend Christian is currently doing research at the Amundsen-Scott station at the South Pole, and very kindly took these pictures. As a thanks, we gave all his friends back in Sweden a month free. As promised earlier, RebelBetting will always be free to use from Antarctica.
Well done.  Since its inception, they have helped over 125,000 users from 120+ countries make money from sports betting under the current CEO Björn Leyonberg and expanded its service to Matched Betting software & Value Betting software (see the details later).
Summary of RebelBetting Key Advantages & Disadvantages 
Check the following core advantages & disadvantages (challenges);
Advantages 1) Betting Browser – Auto Login & Auto Surf features
It's obvious that the biggest advantage is the automation and usability of the software. Autologin and autosurf features automate most of the arbing process.
For people who already use arbitrage software, the step from finding sports events at bookmakers' websites, verifying the odds, and placing bets can be frustrating and boring. The betting browser saves valuable time and lets you bet on a lot more arbs before they disappear.
Importantly, this process is where people make careless mistakes and thus lose money despite its theoretical Sure Bet concept (see Best Sports Arbing Software & Alternative Surebet Finder for details)
With the Auto Log-In & Auto Surf RebelBetting software, you are able to automatically avoid most of the dangerous pitfalls.
These include Palpable Error, Mixed Rules, Reversed Participants, Stake Kidnapping & Odds Changing, etc with proper alarming.
You may wonder how it actually works, so just a quick look;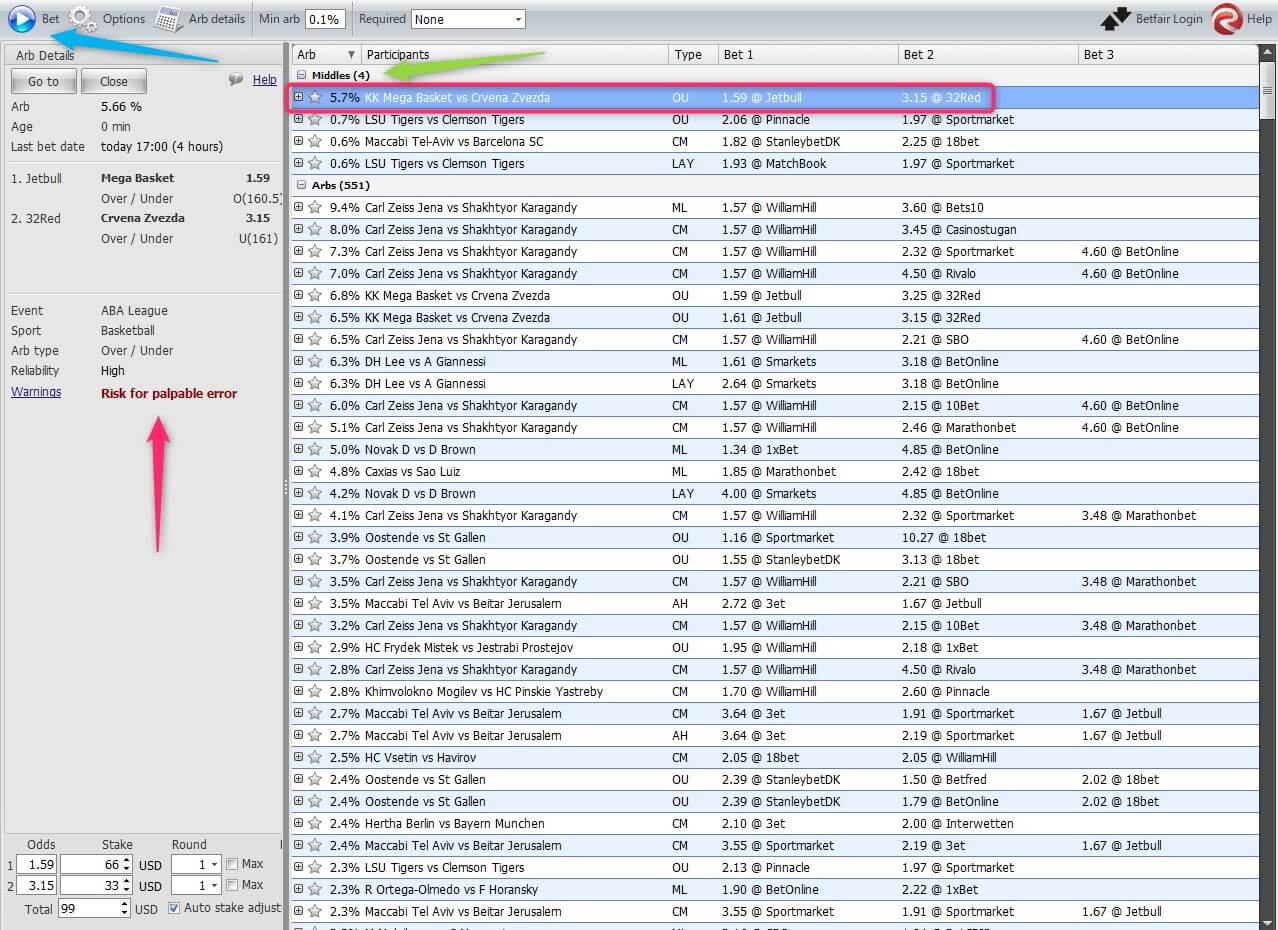 The above betting browser indicates the list of available arbing opportunities. And the top one (pink framed) is showing a Middles (green arrow) opportunity (see the details in the next section) with the arb details on the left & the caution of Palpable error (pink arrow).
Clicking
at the left top will open the betting browser, which can be divided into two main sections. The windows show the concerned bookmakers' sites (to the right) and the Arb Info panel (to the left);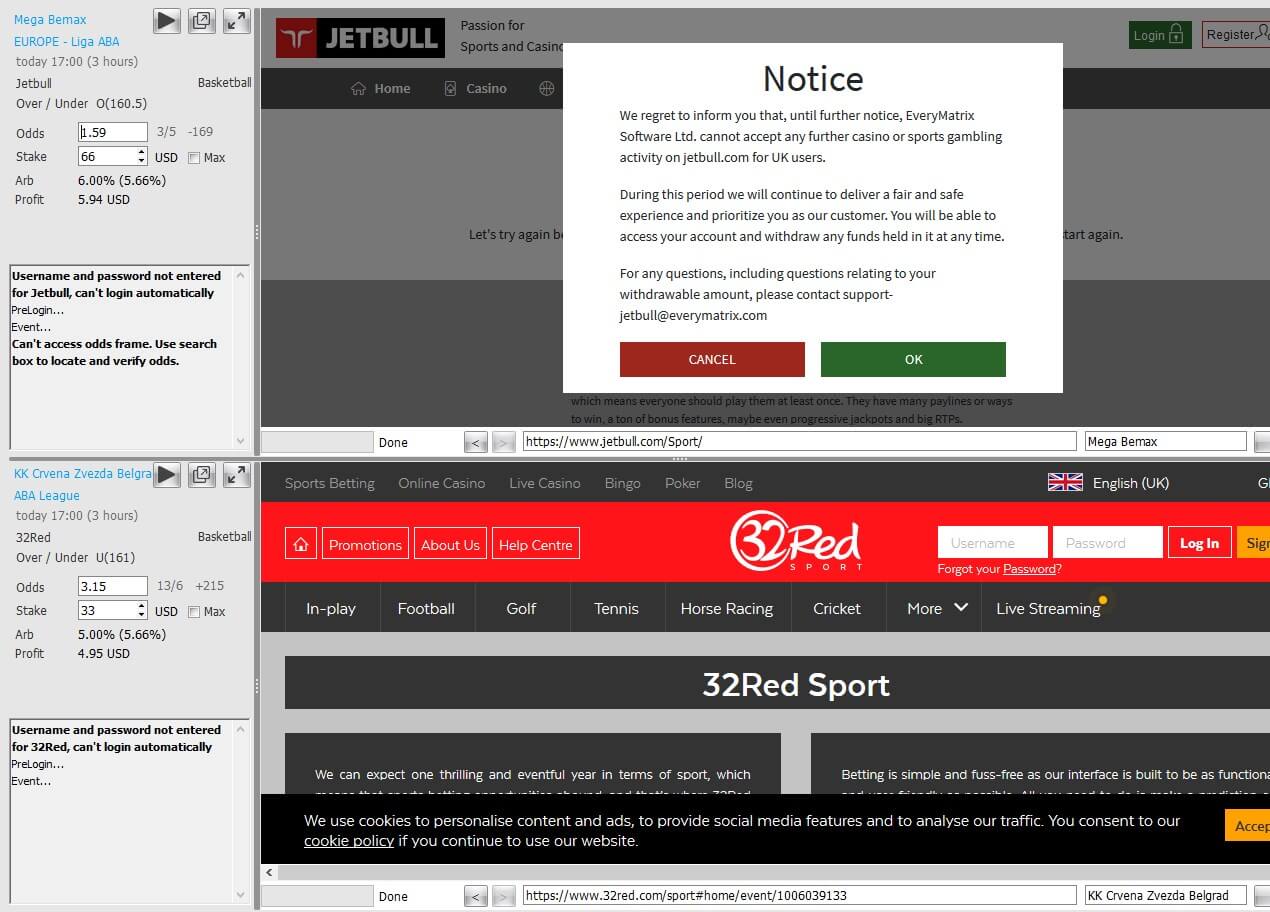 Since I'm located in the UK, this particular bookmaker (right-top) doesn't accept UK players thus such notice appears.
You can enter your credentials under Options / Bookmaker Setup for all your active bookmakers & your log-in information, then the software will automatically log in & take you to the subject arb markets in each bookmaker (right top & bottom).
The integrated calculator on the left suggests the stakes you need to place. If you change any number in the calculator, the other numbers will automatically change to the correct amount.
You never have to do any calculations by yourself.
Advantages 2) Middles
RebelBetting Software also finds "Middles". It is a profitable trading opportunity that allows you to win both (or more) placed bets. RebelBetting commented, "Middles are extremely valuable. Some users focus almost exclusively on middles".
Below is a very simple example of basketball. When you are "Under 149 points" and "Over 147 points" and if the final result is 148, it is a middle by winning both your bets with a profit of around 100%;

Watch the video below;
Advantages 3) One-Stop Shopping
The company's key product is Sports Arbitrage, but they have extended their services to matched Betting & Value Betting software. Once you get used to the Surebet software, you will find it much easier to use other software as well because the interface & process are more or less the same.
For further details, go to RebelBetting Other Services Section. 
Disadvantages 1) High Subscription Prices
Obviously, their service is not cheap, therefore you need to assess if it will be worthwhile by predicting your income (see the next section);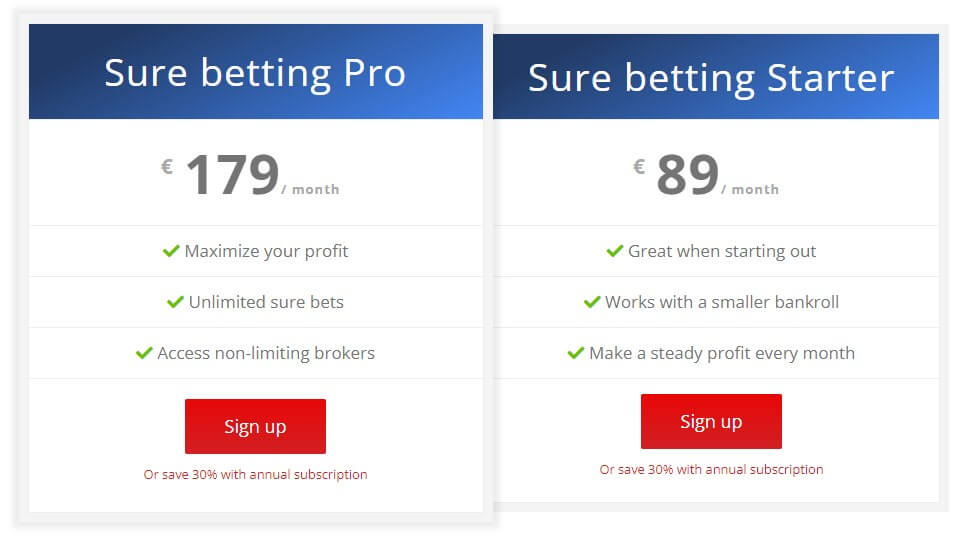 BTW, we have a solution for this price, see the next section..
Disadvantages 2) In-Play Arbitrage
In the sports betting industry, in-play betting has been getting popular as mobile betting is more & more increasing, which means the arbitrage opportunities should also increase in In-Play Betting, I checked Simon (RebelBetting Founder) about their status on it as follows;
Question
Do any ongoing improvements projects such as In-Play arb?
Simon's Answer
– We are currently not planning this because of the large risks for players. This might be added in the future as a feature for the more experienced arbitrage traders, we already have a working prototype.
So far, the In-Play function has not been added. However, we also feel flash In-Play arbitrage is too risky given the fact that the live odds movement is extremely quick and there are large chances you may lose rather than profit. Thus, this point may not be a disadvantage.
50% Price Off 
In order to mitigate the above disadvantage related to the price, RebelBetting agreed to offer a 50% price discount for the first month to our readers, which will be an excellent opportunity to assess its capability, so use the below links;
However, It's Only a Limited Time and We Don't Know When the Link Deactivated
So click the link, and if the below image appears, then you're lucky, you are entitled to get the discount;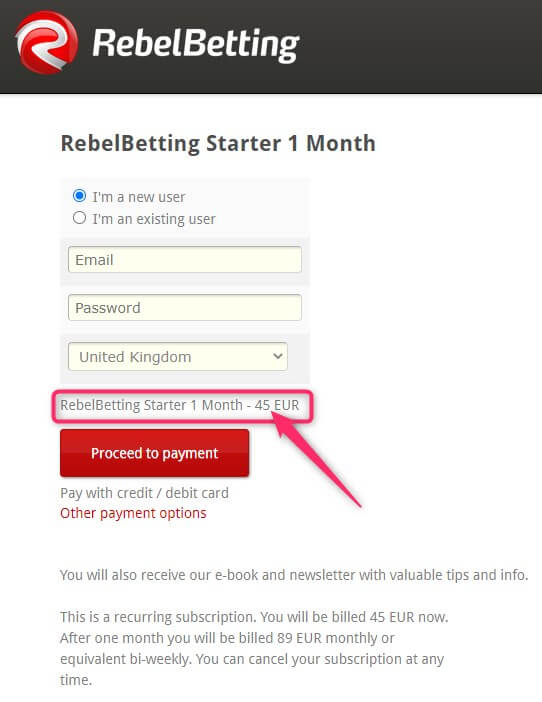 But, in case you are navigated to the page below;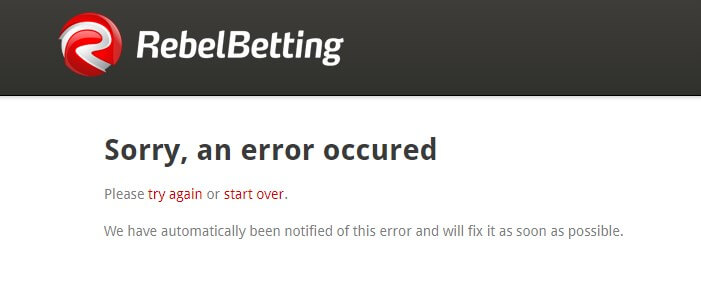 I'm sorry, it's no longer available.
The above is a Starter example and exactly the same applies to Pro. 
How Much Money Can You Make from RebelBetting?
RebelBetting said;
Well, on average, our customers are up and running within 10 days. 10 days of learning the ropes and you can get over 100% annual return. Wait a minute, say what? 100%? Yes, our customers regularly make 10-20% profit per month of their total investment.
That's 120-240% per year.
I'll say that again. Over 100% profit per year. On average! And if you invest more time than the average customer, you will earn more.
You can project your income using the calculator, go to RebelBetting Sure Betting, and you will locate the below calculator in the middle of the page;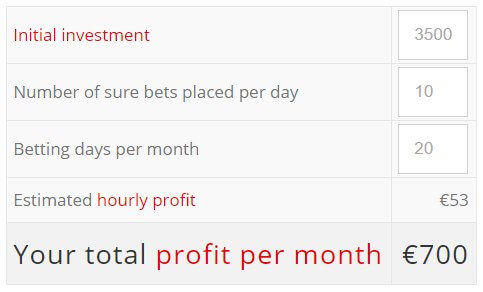 Simon separately commented that "A normal player can make 10 to 13 percent per month. The greater bankroll you have the better up to a threshold of around €35,000, after which it gets increasingly difficult to distribute the money."
This means you can earn €4,550 per month (€35,000 x 13%). Obviously, not many people can afford to prepare a €35,000 initial bankroll though, given the quality of the software with a high reputation, there seems to be a limited risk even for a relatively big bankroll. Let's see the conservative model scenario as follows;
Bankroll: €5,000
Average Monthly Profit: 11%
Period: 1 year & subscription cost is €89/month (the shorter the period, the bigger the cost)
Expected Profit: €5,000 x 11% – €79 = €471/month and €5,652/year
This is a very realistic model proven by many subscribers and definitely not bad for your extra income which can be generated in your extra time. 
The profits you will make stand in direct proportion to the time you invest to learn the basics, as well as the size of your bankroll.
As with everything else in life, there is no free lunch. You will have to dedicate a few days to learn the basics and practice.
Workable Countries & Profits Sustainability
The key point is the Number of Accessible Bookies 
RebelBetting doesn't restrict any countries, therefore wherever you reside you can subscribe RebelBetting Arbitrage software.
As explained in the previous section of "How Much Money Can You Make from RebelBetting?", Sports Arbitrage profit is directly affected by the size of the bankroll. And, RebelBetting said;
When arbitrage betting, a capital of 2.000-10.000 would be enough to cover many bookmakers and still have money left to balance the accounts if some of them run out of money.
So, how many bookmakers are to be covered, according to RebelBetting;
When arbitrage betting with a small bankroll, you have to be clever and manage your money well. You may have trouble to keep your bookmaker accounts funded. This depends of course on how many bookmakers you use, but ideally, you would use at least 6-8 bookmakers  when starting out. You want to have enough money deposited at your bookmakers to be able to cover your next couple of bets, even when some of your money is 'locked in' while waiting for the bets to get graded.
Obviously, what affects you are the availability of the RebelBetting supporting bookmakers/betting exchanges and the size of your bankroll. RebelBetting arbitrage software covers over 80 bookies & betting exchanges as below;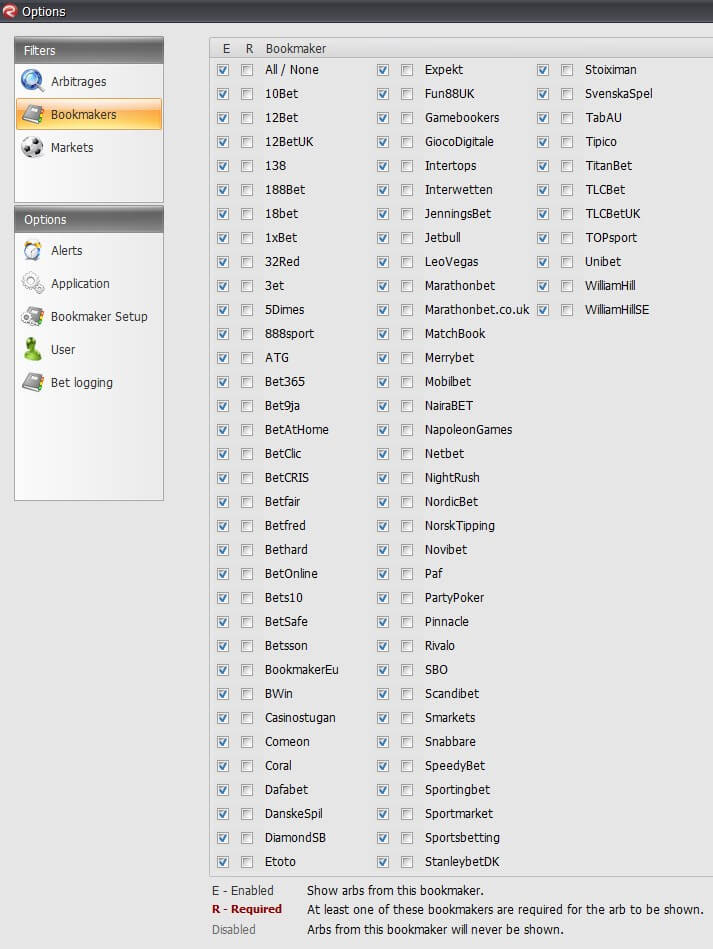 So, you need to check which bookmakers you can access in your country. you may want to use Bookmakers By Each Country, which lists nearly 150 countries. You can see the available bookies below;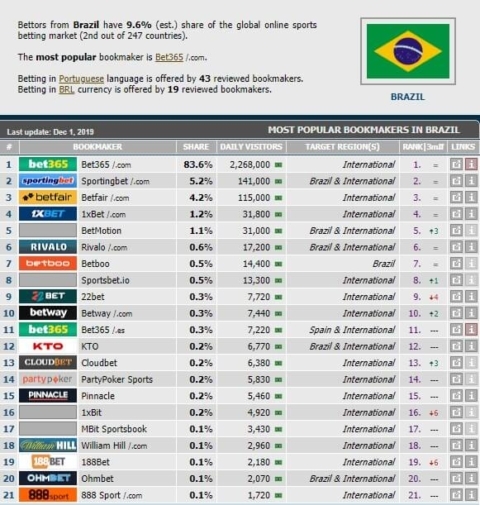 Bet Broker Utilization
In your location, you may have fewer available bookies & exchanges. For RebelBetting, Pinnacle is one of the most favourite bookies but Pinnacle doesn't accept many countries.
So, use a Bet Broker that allows you to place bets on sharp bookies via their single platform. For example, BetInAsia offers an integrated multiple-account platform (called Black) as follows;
Bookies: Pinnacle / Singbet / BetISN / SBObet / MAXbet (Former IBC Bet) / 18bet / RedZone and JAbet
Betting Exchange: Betfair (you may want to use Betfair Alternatives) (3% on winning) / Betdaq (1.5% on winning) / Matchbook (1.25% on both winning & losing) / Turf7 (1.25% on winning) & Citibet
The above () indicates the commission taken by BetInAsia
The Betting exchanges in the BetInAsia account don't offer Lay bets but only back bets, you can use Orbit Exchange (Betfair White Label) under BetInAsia. 
Restricted Countries: USA / UK / France / Sweden
Importantly, Sportmarket Pro includes 3 betting exchanges, all of which are covered by RebelBetting and produce good arb opportunities. 
Before making registration, in order for you to understand how it exactly works, suggest you go through Honest Opinion About Bet Broker & How To Use Them Safely & Smartly, where you will find BetInAsia's special bonuses info including our exclusive offer as well;

Alternative Bet Broker
BetInAsia don't accept USA / UK / France / Sweden, so if you reside in these countries, you may want to use Asianconnect;
Restricted Countries: US, Philippines & Singapore (UK Players are Accepted Only If use Bitcoin for deposit/withdrawal – which means Asianconnect don't reject UK registration but accept deposit only in BTC)
Covered Bookies: Pinnacle / SBOBet / MaxBet (Former IBC Bet) / Bet ISN / Sing Bet
You can receive a sign-up 20% deposit bonus (up to 400 EUR bonus) by using the promotion code "AC400".
Anyhow, suggest you go through our Asianconnect review before signing up. 
Lay Market
You can arb between bookie and betting exchange (not back but lay) as a standard method of matched betting, see the details in Arbitrage Betting – The Ultimate Guide To Extend Matched Betting Profits With Exchanges. 
It means if you have full access to bet exchange including the lay market, your arbing opportunities will be increased.
As briefly said before, BetInAsia (and also Asianconnect) provide you with Betfair White Label, meaning you can access the same Betfair market & liquidity including the Lay market. 
We have reviewed and listed 3 Bet Brokers offering Betfair Whitelabel, see the details in Betfair Alternatives For People Who Can't Access Or Seek Better Options.
Countries Verdict
Unfortunately, the USA as one of the most restricted online gambling countries can access only 4 bookies of Betonline, Bookmaker EU, Intertops & BetAnySports, which does not seem to be enough for arbitrage (so, suggest you take a look at RebelBetting Value Betting or ZCode System).
However, probably almost all European Countries, and the many Asia Pacific and some African & Latin American countries can enjoy decent profits depending on the accessible bookies. 
Suggest you carefully check how many bookies you can physically access including bet brokers before you start subscribing.
BTW, for those offshore bookies, check World 14 Best Offshore Betting Sites Offers where you can earn well over $4,000 in welcome bonuses as well as unlimited reload bonuses.
Account Restriction & How to Sustain Your Long-Term Profits 
As I explained in Offshore Betting Guide, broadly speaking, there are 2 types of bookies of Soft & Sharp bookies, for details, take a look at Beat The Bookies By Knowing How Your Enemy Makes Money – Secret Of Odds. But very quickly, we can characterize each bookie as;
Soft bookies: Targeting Casual Punters – Run a lot of promotion / Odds adjustment is relatively slow / Impose account restriction (gubbing)
Sharp bookies: Targeting Professional Punters – Highly competitive odds / High staking limit / Quick Odds adjustment / Never impose account restriction
Remember Soft Bookies will limit your account when you take too many values while Sharp Bookies never restrict your account. Given the tendency that arbing will lead to the restriction relatively quicker, therefore using Sharp Bookies including Betting Exchanges will ensure your long-term sustainable profits. 
So, check the list of Sharp Bookies.
BTW, you will never face any account restriction via Bet Brokers. 
How To StartRebelBetting Surebet Software
See the quick guide with Video & Screenshots;
Step-by-Step Enrollment Instruction
Go to the RebelBetting site and do Free Sign-Up to get the free e-book. You will receive an email with a confirmation link. Click on the link and get a Free e-book.
After you've read the basics, you can download and install RebelBetting the free version. You will need to register with a username, email, and password.
Try the software in free mode, and register on the bookmaker sites.
Subscriptions can then be purchased later after you feel comfortable with the service. You will then get all arbitrages.
Email any questions or comments to support@rebelbetting.com
Placing your first arbitrage bet
This short video explains the basic betting process:
If you want to get started as quickly and efficiently as possible you should take part in an Arbitrage training course.
It's specifically aimed at RebelBetting users and includes step-by-step video lessons, text material, and questionnaires to make sure you have understood each lesson.
To get more familiar with the software, please refer to the manual below. If you need more support, get the e-book or get answers to frequently asked questions, go to our support page.
Anyhow, all you need to do is to follow the step-by-step manual.
Daily Routine
Configure the alerts so you get a visual or audio alert whenever a good arb turns up.
Have RebelBetting running in the background and have your computer close.
When the alert goes off, review the arb (as described in the e-book) and place the bets.
Log your arbs and review the results from the previous day.
Decide on a goal, for instance, nr of arbs per day, or hours per week.
Don't be surprised if you reach 15 or even 20% profit in the first month, which then settles for most people around 10-13% every month.
How to profit on horse racing arbitrages from RebelBetting Software
You can earn a lot of money betting on horse racing arbitrages. Key benefits are;
Fast profit: A horse race doesn't last very long meaning you can quickly reinvest your earnings.
All year round: Horse racing is an all-year-round sport, which means you can make money anytime.
However, horse racing arb opportunities don't last long actually shorter than other sports, which makes it difficult to do a lot of successful horse racing arbitrages. But, thanks to RebelBetting AutoSurf technology, you can place bets in seconds.
Since a race finishes off so quickly, you can easily reinvest your earnings again and again, which is good for those who are serious about making money from arbitrage betting. 
What you can do is;
Select Horse Racing in Setting
To highlight the horse racing, you can set it as;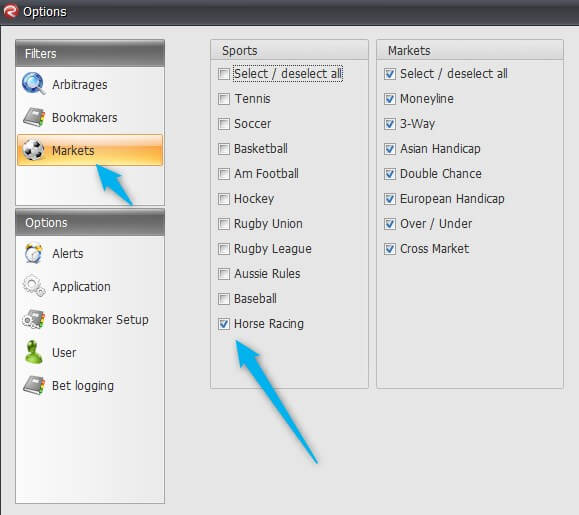 Arbing Opportunities
Watch the below video;
Lay Betting
For horse racing arbs, the Bet 2 appeared in the arb list are all betting exchanges and Lay Bets as below;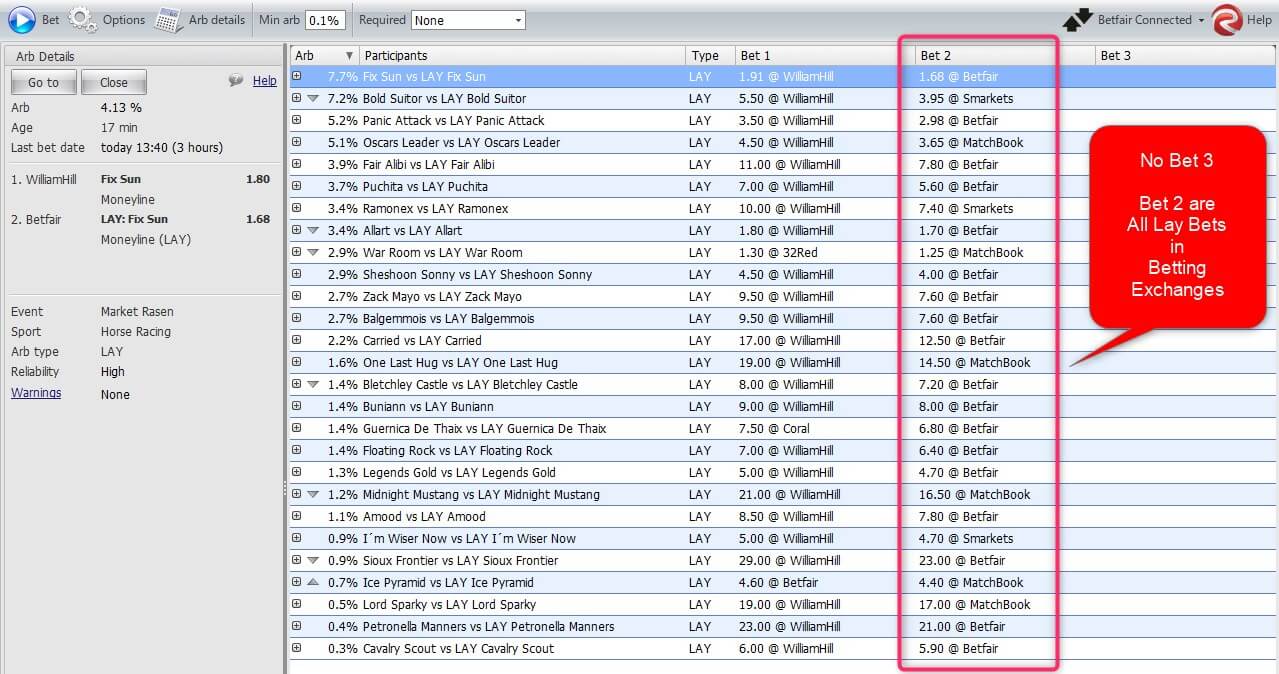 Yes, you need to do Lay betting for horse arbing. With a regular bet called a back bet, you bet on the horse to win. On the other hand, lay betting means you bet on the horse not to win. See further details.
Why? Since a horse race usually contains over 6 horses, thus it's almost impossible to cover all the outcomes by betting on all horses to win, as regular arbing with back betting would impose.
Therefore, Lay betting comes in handy. Simply, you back a horse to win at a bookmaker and lay the same horse at a Betting Exchange.
By doing this you have effectively reduced the outcome of the race to two. The following 4 betting exchanges are the most established ones;
major exchanges such as;
Betfair (see 
Betfair Alternatives
)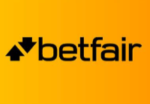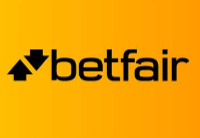 Smarkets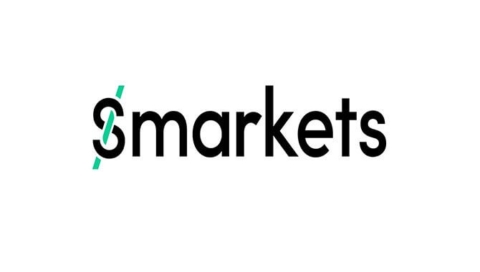 BetDaq (Warning)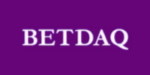 You may want to check their latest offers.
For those who can't access the 4 key betting exchanges, as said in the previous "Workable Countries section" you can use bet brokers, see Betfair Alternatives For People Who Can't Access Or Seek Better Options.
Caution
However, bear in mind that arbings in horse racing have large chance to limit your soft bookies' accounts. If you face an account restriction, check 21+ Methods to Make Money from Restricted Betting Accounts.
Interview with the RebelBetting Founder
Our Interview covered the following topics;
Company Profile
Legal Structure & Compliance
Market Insight – Sports Arbitrage
Programme / Service / Product Profiles
Financials
Risk Management & Privacy Policy
RebelBetting Review – Future Prospect
Below are the full scripts of the interview with Rebel Betting Founder Simon Renstorm;
1. Company Profile
Please introduce your company as our starting point for RebelBetting Review briefly. When & how did you start this business with what vision/ambition etc?
During 2006, two of our founders did some research on the sports arbitrage market, which at the time consisted of a few quite poor products. There were however still good possibilities to make money. This led to the idea of building a sports arbitrage service ourselves. A prototype was built in 2007, with great results. The decision was made to proceed and the company ClaroBet AB was formed in 2008. The small team now consisted of two experienced programmers and two professional poker players.
Our ambition was and still is very high. We aim to create the best arbitrage service in the world,  Our Site. 
You may want to elaborate a bit on your ethical philosophy for managing the business in the internet industry where people face many unethical rogues. 
Since the gambling business has quite a bad reputation, and there has been a number of sports arbitrage scams, we decided very early on to do the exact opposite of our competitors:

Act honestly and ethically in our marketing and business in general.
Never make unrealistic claims or downplay the risks of arbing.
Be open and transparent as a company
Present both ourselves and our board of directors 
Have outstanding support and aim to reply to all emails within 12 hours.
Listen to our customers, see Testimonial page
Have a long-term plan for the product and the company
Constantly improve

 Initially, the idea was to only use the product internally and not sell the product. This changed because of a few reasons: there is a practical maximum bankroll you can turn over in a day, and the idea of creating a "sweatshop" with arbers was not appealing to us, even if it might be a viable business. Right now we are making money both by selling and using the product ourselves. This is great because we have even more incentive to build the best possible product! 

We were awarded the "most popular arbitrage service": 
How do you structure your organization & how many employees do you have?
ClaroBet AB is a privately owned company in Sweden. Four people are working full-time with RebelBetting, and we have a great network of people helping us part-time. 
Can you introduce your key personnel? background/qualification etc?
2. Legal Structure & Compliance
Can you explain what sort of legal structure you set up for your business under which jurisdiction?
ClaroBet AB is a privately owned company, registered and in Sweden under Swedish law. Please share the registration details / regulatory bodies / certification / registered # etc. depending on the type of business formation
ClaroBet is registered by the Swedish Companies Registration Office ("Bolagsverket").
What sort of license have you obtained to do your current business (trading/investment/gaming/gambling etc.) activities?
ClaroBet does not offer gambling services, and as such is in compliance with the Swedish Lotteries Act.
ClaroBet does not offer financial advice and as such is in compliance with the Financial Advisory Services to Consumers Act.
3. Market Insight – Sports Arbitrage
Theoretically sports arbitrage is a surebet, which means technically all people involved can make money without fail so it should be very attractive. However, looks like its total surebet market is not so big (if you have any estimated size, please share) judging from the popularity observed in the public forum/google search, etc., you may want to enlighten why?
There are a number of reasons why there are not that many active sports arbitrage traders:

It's a largely unknown activity
Many do not believe it works (sounds too good to be true)
It requires time and effort to understand the concept and get started
It requires a bankroll (1000-2000 EUR minimum)
It's NOT totally risk-free. The risks can be minimized, and compared to a normal ROI of 10% per month it's almost impossible not to make a profit.
Is this market growing?
Yes, in a number of ways.
There are at any given moment thousands of quality arbitrages. During a regular weekend, we can average almost 4000 arbitrages (and 400.000 odds) at any given moment.
We add several new bookmakers every year to our service, and also new ways to combine markets to get new arbs ("cross-market arbs").
Bookmakers and odds: While the books have been getting better at automatically balancing their books against the competition, they still need to have attractive odds to survive the fierce competition. The margins in the gambling business ("juice") have been steadily declining from an average of around 8% closer to 5% today. The market leader Pinnacle Sports has around 2%.
Sports arbitrage traders: The number of active traders increases steadily every month, but it's still a somewhat unknown activity. 
What are Bookie's general attitudes on sports arbitrage trading?
Generally, the better the books are at setting their odds, the more they like sports arbitrage trading. The traders bring them a huge increase in turnover, and the most accurate books keep the most juice. 
The books that are bad at setting odds, or generally try to have very attractive odds, usually cater to the smaller gamblers and try to limit expert traders as quickly as possible.
Please list the Key Factors of Success for newbies:
– Dedication, patience, time, and keeping a cool head.
What could be the Risks / Things arb traders should avoid, you may list up 3-5 biggest elements:
The biggest risks are: bet cancellation, individual (human) mistakes, moving odds, limiting bookmakers. A big part of the e-book is dedicated to how to avoid, limit or mitigate these risks.
4. Programme / Service / Product Profile
Please list your available products/services with a brief explanation.
We have two products, RebelBetting Free and RebelBetting Pro.
RebelBetting Free displays all simple arbs up to 0.6%. It's great for learning the basics, and will always be free to use for as long as you want.
RebelBetting Pro Subscription is generally cheaper the more months you purchase. Most start with the 39 EUR trial week, and then move on to purchasing monthly (129 EUR), 6 months (89 EUR/mo), or 1 year (69 EUR/mo). 
If possible, please share some of your business statistics such as:
Q.a) # of current Members;
–  I can't divulge trade secrets but we currently have over 55,000 subscribers to our newsletter
Q.b) # of Bookies you cover;
–   Over 55
Q.c) # of sports Categories you cover (& its details);
–  Tennis, Soccer, Basketball, Baseball, American Football, Ice Hockey, Rugby, Aussie Rules.
Q.d) # of Areas / Countries you cover (& its details);
–  All of them.
Q.e) # of arb opportunities per day (average);
–  Between 2000 and 4000 arbitrages at any given moment (we actually cap the number of arbs, and don't display the smallest).
Q.f) # of minutes/time (age) each arb lasts (average), if available;
–  There are two kinds of arbs, the majority are slow ones which can stay for hours and the fast ones which can disappear very fast. Generally, larger arbs last shorter.
Q.g) % of palpable error actually happened in your listed arb opportunities, if available;
–  You will learn not to even play on high odds that are in danger of being voided as a "palpable error" by the bookmaker.
Is there any capping you intend to set for the total number of clients from an optimal management viewpoint?
Yes, there is a limit to how many subscribers we will accept. Too many subscribers will start to affect the market, and arbs will disappear before most people can bet on them. We have seen very little indication of this as of yet, but it will happen, and RebelBetting will become limited.
In a word, what's your core competence compared with many other sports arbitrage programs? Means, in your opinion, what differentiates you make from similar online programs based on trading? What makes it unique and stands out from the crowd?
Our obvious unique features are the AutoLogin and AutoSurf features. No other sports arbitrage service has this, and our users seem to really like getting to the arbs within seconds, and not manually having to browse to the correct event, team, and find the exact correct market. It leads to more successful arbs and fewer mistakes.
We are also quite proud of the quality of our arbs. We have fewer "false positives" than other services, meaning odds that are not arbs for some reason (the wrong team, moving odds, wrong market). It's actually very complex to match events, participants, and markets and to make sure everything is correct when the bookmakers don't present the data in a structured way. 
We like to think our Windows client is the most user-friendly and advanced. 
No other arbitrage service gets updated and improved as regularly.
What could be the shortfall of your program (or the issues you would like to address / the areas you would like to improve in the future) compared with your major competitors?
We are never satisfied and always strive to improve our service. We don't cover as many books as some competitors. This will of course improve, and we never get complaints about too few arbs.
5. Financial Operation
Can you share your key financial statements such as B/S, P/L, and C/F?
If not, is there any way you want to prove your financial health for long-term going concerns?
We've been profitable from the start in 2008.
6. Risk Management & Privacy Policy
You ask your members to pay your subscription fees in advance up to the yearly levels. Do you have any refund plan in case some unforeseeable event makes you close your business? If you have, how do you secure the fund to use for a refund as a contingency? Or is all the subscription fee non-refundable once they are paid to you?
Subscriptions can be canceled and refunded at any time within 7 days of purchase.
When purchasing with a credit card customers can usually claim a chargeback in this unlikely scenario.
Please briefly explain your IT backup & Disaster Recovery plan.
All internal servers and workstations are backed up every night to the Amazon cloud. The database is backed up every hour, and copied online every night.
We also run a disk imaging software that clones the entire hard drive of the important computers every night. In case of a disaster, we could be back up within hours.
Can you advise how members' information is secured and your privacy policy?
Please read the Privacy Policy page. Please list possible occasions you report your members' personal information with the authorities in their jurisdiction if any?
First, we only store usernames, email, and in some cases IP numbers. We will never share any personal information about our customers unless required by Swedish law (which requires a serious felony and a ruling by a prosecutor).
7. Future Prospect
What is your long-term vision? Where would you like to see your business in another three years? What would be a realistic expectation given the level of progress you have seen to date?
We will keep improving and will be the undisputed Nr one arbitrage service in the world. We might have branched out with different related products. We might be forced to limit the number of subscribers. 
We have no plans of selling the company unless a very good offer is given, we plan to work on RebelBetting for many years.
What will be the possible causes enforcing you to close your business, if any? 1. Dramatic changes in the legal situation regarding sports betting in Sweden or Europe. 2. A new competitor with huge investments taking the majority of the market.
We are very solid financially, there is no risk in that regard.
RebelBetting Wrap Up
Why did we review RebelBetting?
On this opportunity, allow us to share our betting policy.
Betting activity is not necessarily gambling. We beat the bookies, casinos & bingo by 6 Advantage Play based on mathematical edge. For Sports Betting, we use Matched Betting / Sports Arbitrage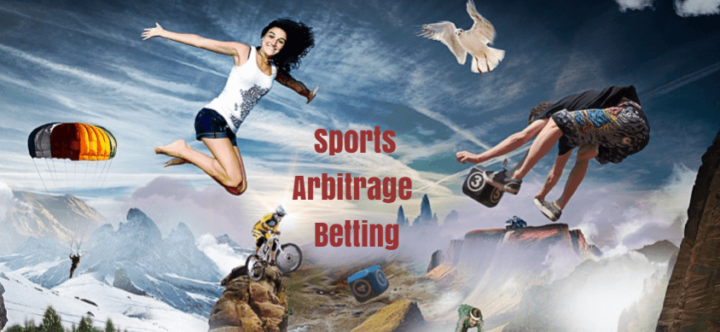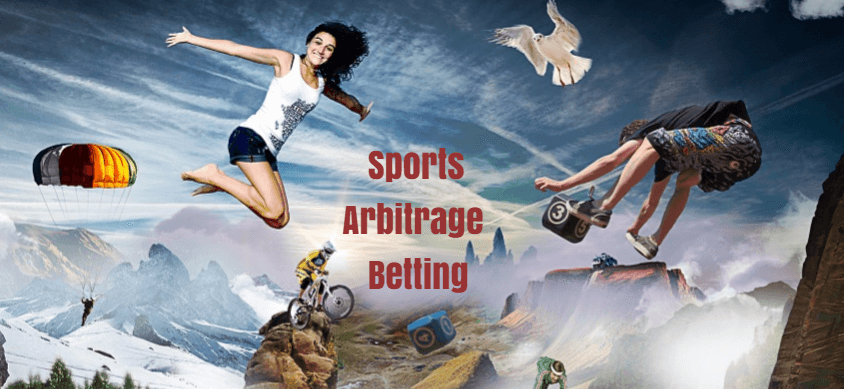 / Value Bets On Proven Systems & Tipsters to lock in a profit or consistently earn extra income. With that said, one of our policies is "Betting On Luck Is For Losers, Stop Gambling But Bet on Only +EV (Expected Value)To Win Reliably.
It is effectively our way to promote Responsible Gambling as Social Responsibility defined by the Gambling Commission, and we strongly support GamCare being explained in about us.
We strive to share the best tool/program in each 6 advantage play category through the full review including brief Due Diligence, which brings the best value to our readers.  Our RebelBetting Review is one of them. 
At the beginning of this review, we said RebelBetting has customers all over the world. Incidentally, as our name GEM – Global Extra Money implies, we also would like all visitors from anywhere in the world to exploit advantage plays including arbitrage. With that vision, we have issued :
Finally, RebelBetting provides you with the following 2 other software;
RebelBetting Matched Betting Software
See Matched Betting Software Service.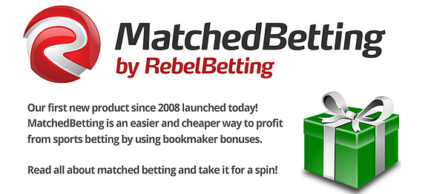 Incidentally, you may want to check my separate guide of Arbitrage Betting – The Ultimate Guide To Extend Matched Betting Profits With Exchanges.
It fully explains how you can arbitrage efficiently with the exchange. Simon answers my question by e-mail as;
Me; Does your software capture the arb opportunities between bookmakers & EXCHANGE LAY odds as well? Simon; Indeed we do, this is one of the more common combinations. We will add a new Betfair clone soon, which will work in most countries where Betfair does not operate.
E-mail with Simon, RebelBetting
Value Betting Software
If you're not familiar with Value Betting, take a look at Value Bets Finder – RebelBetting Value Betting & Trademate Sports.

When it comes to RebelBetting Value Betting software, we have issued a separate report of RebelBetting Value Betting – Method To Double Your Capital Within 3 Months, which explains how the software enables you only to win long-term based on LLN (Law of Large Number).
If you have any inquiries or need any help from us, please contact us anytime (don't worry, we will not charge you any fee, everything is free here).
Good Luck!!
Joshua Walker (bio) 
Editor – Global Extra Money (GEM)