Betway Offers – We Can Lock-In Profit When We Open An Account
Betway Betting Provide You With Many Tasty Offers. If You Happen To Be A Matched Bettor, It's a Must-Have Bookmaker.
What does it mean by that? We beat Betway Betting Offers by using Matched Betting technique to lock in profit. For those who are not familiar with "matched betting" at all, firstly suggest taking a look at Matched Betting For Dummies, where you will find every basic about matched betting.
Betway Sportsbook Sign-Up Offer
Here, I'll briefly explain how matched betting works by using Betway Betting Sign-Up Offer (for new customers).
You can lock in Profit at the time you open the account. Betway Betting offers to new players "100% 1st Deposit & Bet Matched Free Bet Up To £30", which is virtually Bet £10 Get £10 Free;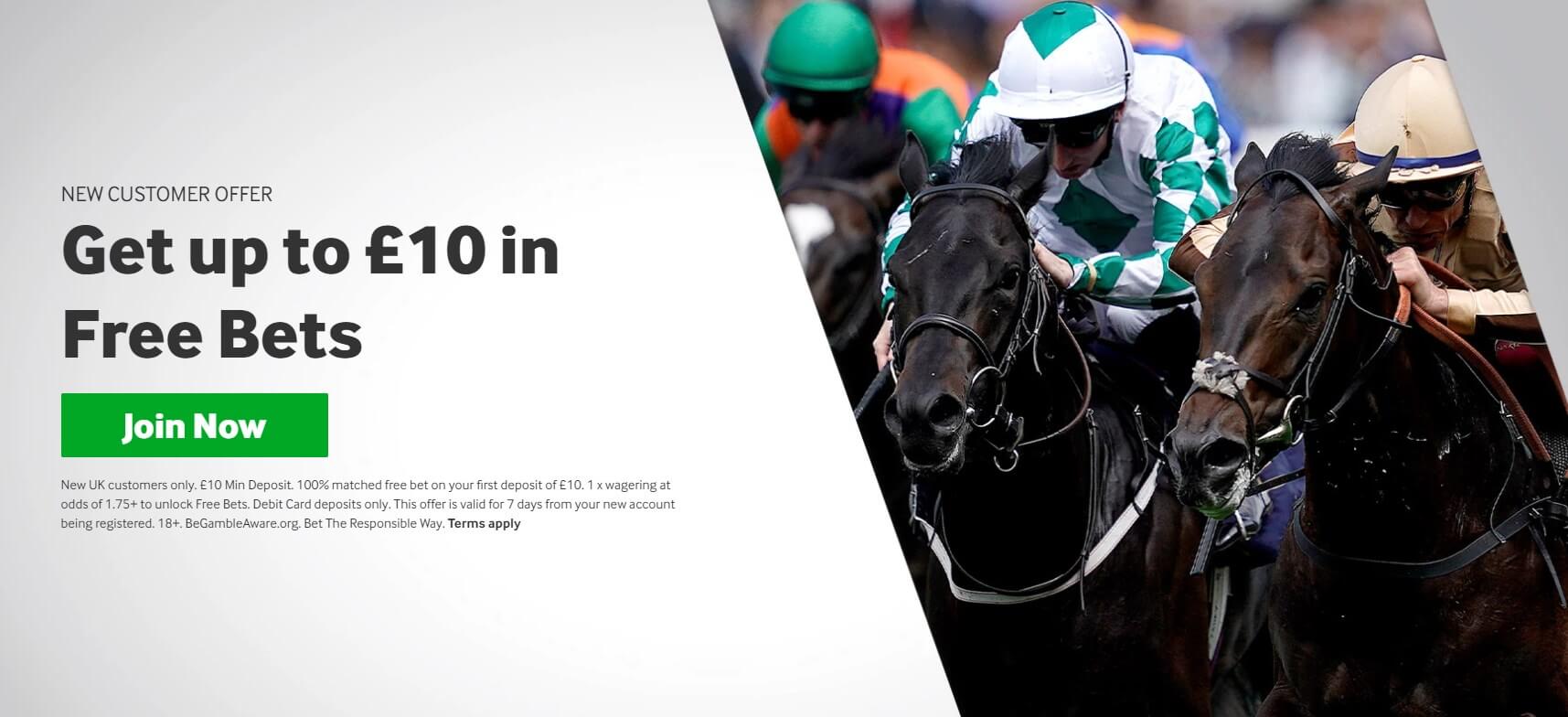 What we do are;
2 transactions of Back (bet on win) £10 on Team or Player A at Betway (over 1.75 odds) & Lay (bet on NOT win) appropriate £ (stake can be calculated by free software) on the same Team or Player A at Betting Exchange like Betfair (you may want to use Betfair Alternatives) so that you cover all outcomes.
Regardless of the outcome, your losing & winning will cancel out each other. In real practice, usually, 2 bets are not perfectly offset due to the odds difference & exchange commission. Therefore you make a small loss called Qualifying Loss.

But now, you get £10 for Free Bets. You repeat the exact same process but use the free bet for the back bet at Betway. Then, this time free bet value (minus qualifying loss) will become your net profit.
You may be able to extract around £8-9.5 pure profit from this offer.
The success factor is how to minimize the qualifying loss by selecting the player or team whose odds gap (between Betway & Betfair) is the narrowest. You can use Free Odds Matcher to locate such opportunities. For the detailed step-by-step process, take a look at Free Matched Bet Starting Guide (2). We use the William Hill sign-up bonus as an example in this instruction, which can apply to Betway Betting exactly in the same way.
Note
Betway betting is famous for generous odds & slow adjustment (if you're interested in what's odds adjustments, take a look at the secret of odds).
These facts enable you to find the very tight odds between Betway & exchanges. You can even find a lot of arbing opportunities (Betway odds are better than the exchange).
That's why it's a Must-Have bookmaker. But they are also famous for quick gubbing (account restriction), therefore see the precautionary actions at the bottom of this document.
BTW, many people imagine matched betting is for only UK & Ireland, wrong, by
using this approach
 everybody in the world including US citizens can make decent profits from this risk-free betting technique.
Betting Exchange
As you see in the above process, betting exchange is essential for matched betting. There are 4 betting established betting exchanges as below; 
Betfair (see
Betfair Alternatives
)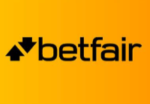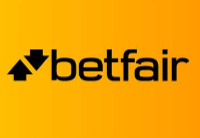 Smarkets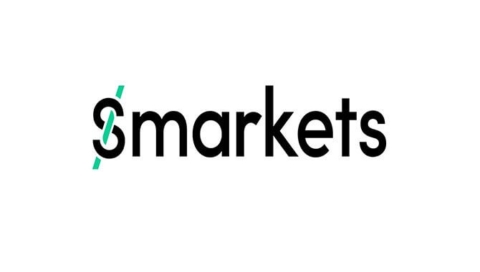 BetDaq (Warning)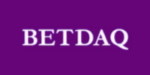 And, in case you are not familiar with the betting exchanges, the below 2 documents will be of good help;
If you have not had any betting exchange accounts, the above guide shows all the top 4 betting exchanges latest sign-up offers & how to extract cash risk-free from each offer including Betfair's £100 Free Bet, which is supposed to be one of the best offers in the industry, just FYI.
Anyhow, for those who have not opened Smarkets or not even a single bet exchange account, I prepared a step-by-step guide for your quick start.
You can effortlessly extract cash from its sign-up bonus of £10 Risk-Free Bet. Actually, this is one of the easiest offers to lock in a profit in the industry. The  "+" icon underneath displays a full instructions;
For those who can't access the 4 key betting exchanges, don't worry, you can use bet brokers, but you need to take a cautious approach given their small business operation. The following 2 documents will help you select the right one(s);
Betway Betting – You Have Every Week Offer
Betway has been offering a Free Bet Club of "Spend at least £25 on Football trebles (or higher) in a week and we'll credit you with £10 in Free Bets"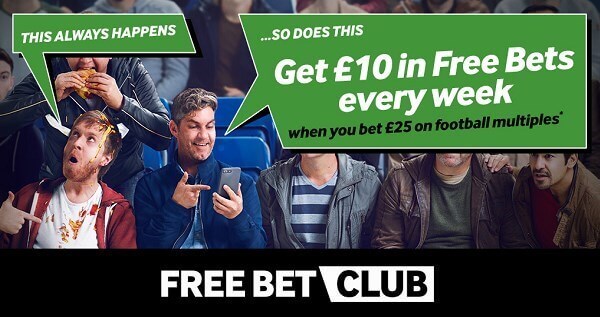 , which is actually a very juicy offer.
You need to Opt-In first, visit Betway, and go to Free Bet Club to click Opt-In. Some of the key requirements are;
Bets must be settled between Saturday at 00:00 GMT and the following Friday at 23:59 GMT to count towards the promotion for that particular week.
Bets won't be carried over from week to week, the promotion restarts every Saturday at 00:00 GMT.
Qualifying customers will be awarded the Free Bets in two instalments:
£5 (or customer currency equivalent) Free Bet will be credited at 12:00 GMT on Saturday and is valid until 12:00 GMT Monday the following week
£5 (or customer currency equivalent) Free Bet will be credited at 14:00 GMT on Monday of the following week and is valid until 14:00 GMT on Friday
All markets eligible, excluding enhanced price, offers, and Betway Boosts
Eligible qualifying bet(s) must have three or more selections
Bet(s) must be placed on odds of at least 2/1 (3.00) to be eligible. This refers to the total odds of the multiple bet, not each individual selection.
Make sure you read the Full T&C before you start.
Expected Earnings
Unlike the usual Acca-related offer that focuses on Football markets, Betway Free Club allows you to select from any sports market.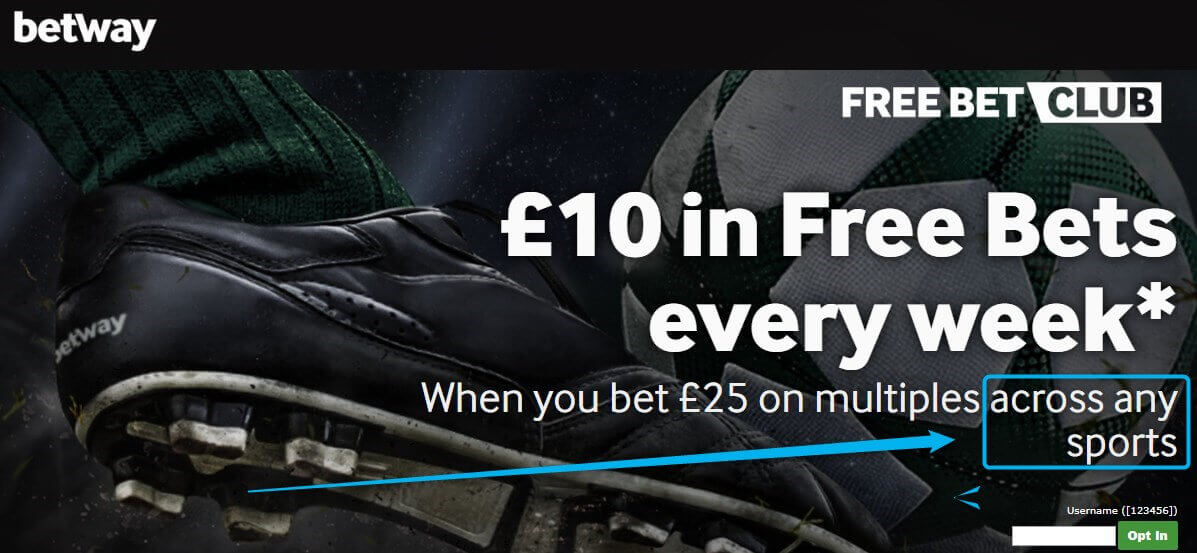 This is the biggest benefit of this offer. And it can be done all through the year.
At this moment in time, there is no specific ending time, and if any market in Football is eligible then Football is played at any time anywhere so you can participate in the offer every week, say 50 weeks/year.
Given the fact that £10 will be in the form of £5 x 2 Free Bet and the cash value of Free Bet is equivalent to around 80%, £10 x 80% x 50 weeks = £400 is the expected Cash Amount you will be rewarded.
When it comes to Treble, how should we construct matched betting? Just in case you're not familiar with Multiple bets and how to make Matched Betting for these types of betting, go to How To Do Matched Betting For Multiples / ACCA Risk-Free, where you can see the step-by-step instruction.
Whole Process Quick Explanation
Since it requires Treble (3 folds) or more and the more the fold the more your qualifying loss could be, you may want to stick to the Treble
We do sequential lay to 3 matches, which means we have to select the games which happen a different times, at least a few hours between 1 match finishes and the next match starts
The required minimum odds is 3.0, which means the average odds of individual games is around 1.45 (1.45 x 1.45 x 1.45 = 3.05). Generally speaking, the longer the odds the wider the odds difference (between bookmaker & exchange) & the more the liability in exchange required.
Having said that, the basic approach is to be Selecting 3 matches with an average of 1.45 odds (favourite) of which the gap between Betway & exchange is close as possible.
When I look at Oddsmatcher, I can immediately choose the 3 matches as shown;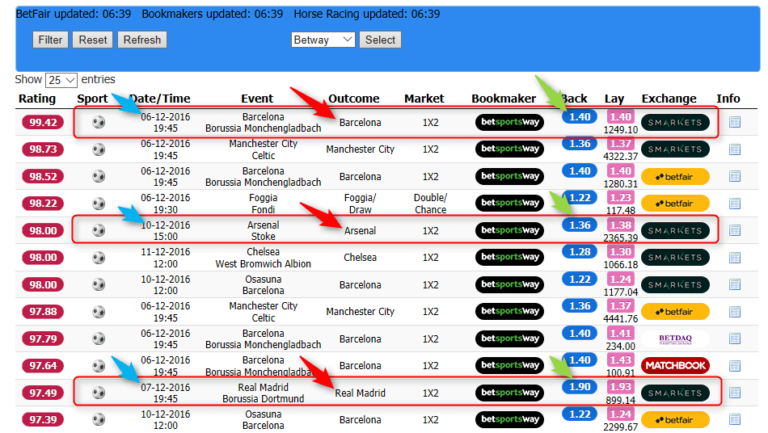 Then, I entered the information of the 3 matches into the Spreadsheet of Sequential Lay, which result shows as;

In short, irrespective of the results of each match, we will lose £1.25.
So, since we gain a £10 Free Bet of which cash value is around £8, our net profit will be £8 – £1.25 = £6.75 The above example includes relatively long odds of Real Madrid 1.9 which attributes to a higher loss.
We can usually manage a loss of up to £1.0, therefore, you may expect around £7 from Free Bet Club, which in fact took me less than 5 minutes to organize.
Assuming you do 50 times, you can anticipate £350 Risk-Free Net Profit with altogether around 4 hours job, not bad isn't it for an extra income from home?
When it comes to the above spreadsheet, see the below information – you can download it from our site for free;
Customized Spread Sheets
We separately prepare the Tutorial for the Lock-In Profit Calculators – we have 3 modes of Spread sheets of;
Basic Mode – Lay Sequentially
Lock-In Profit Mode – Lay Refund
Simultaneous Mode – Lay All
You can download all the 3 mode spreadsheets and follow the step-by-step tutorials for each spreadsheet to guarantee profit risk-free, go to ACCA Insurance Lock-In Profit Spreadsheet Tutorial (you can use the same password you obtained in the above report for this document as well)
Acca Insurance List
On top of Betway, all the big UK / Ireland Bookmakers including William Hill, Paddy Power, Ladbrokes, 188Bet, Titanbet, 21Bet, Sporting Bet, Betstar, etc. offer you ACCA-related offers, mainly Insurance.
For the ongoing Accumulator Bet Insurance, see the List Of The Best ACCA Insurance Offers By Key Bookmakers. Actually, you can take all their ACCA Insurance Offer then you will calculate how much you get guaranteed profit, easily over £1,000 every month.
Additional Benefit
Another benefit of Accumulator Bet is that Bookmakers like the players who place ACCA Bets. Because it's their cash cow, therefore you can reduce the chance of being gubbed – meaning "account restriction" which bookmakers do to the smart punters, consequently, you can keep profiting for the long term.
A Few Other Regular Betway Offers
On top of the above offers, you will find the following regular promotions valuable from matched betting perspective;
ITV Racing Money Back 2nd Special – Changed to "Lead At The Last" Refund
Every Saturday, ITV televises key horse racing meetings in the afternoon. Betway betting offers Money Back If Your Horse Finishes 2nd.

This offer had value. But, unfortunately, Betway replaced this tasty offer to "Lead At The Last". This is the refund if your horse loses while leading at the last jump.

This obviously reduces the value significantly, thus you may want to put it on the back burner. Are you wondering how to gauge the value & decide if it is worth pursuing or not? Take a look at 10 Horse Racing Refund Offers – Value-Based Best Selection & Tactics To Win.
For ensuring profit, you may want to see 6 Best Ways To Make Extra Money from "Horse Betting 2nd Place Refund" as a thorough guide for the 2nd place refund offers.
Football Free Bets For Every Goal
Betway betting gives away very generous free bets in big football events. Usually, it gives £5 Freebet for every goal but in a very big event such as below FA Cup Final, you will be given a whooping £10 per goal.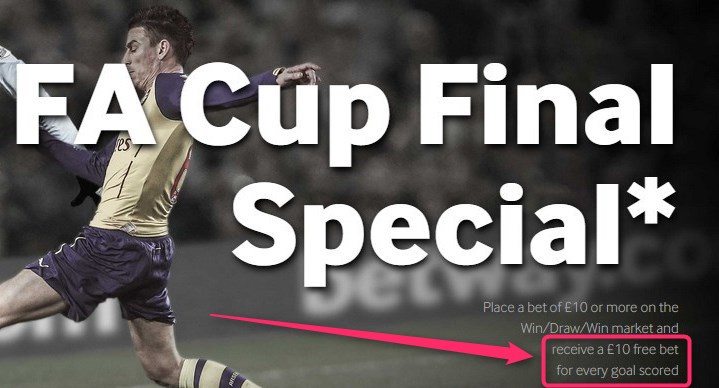 Simply no other bookies can't beat it. Considering the fact that only  8.2% of English Premier League matches ended 0-0, it's a very high-value offer you shouldn't miss.
You just construct standard matched betting by minimizing qualifying loss to maximize the profit.
Price Boost
Almost every day, Betway betting offers you a few price boosts, often in the form of multiple bets like the below example.

You may often find the exact multiple markets in Betfair ACCA. For further details, please see How To Lock-In Footy Accumulator Profits with Customized Calculator.
ACCA Boost When Multiple Games Occur At The Same Time
Our standard method of laying ACCA is a Lay Sequentially. However, Betway often offers the ACCA Boost where more than 2 games are played at the same time, like;

This FA Cup offer includes Man City, Watford & New Castle which play at 15:00. Only Chelsea plays at a different time of 17:30. But thanks to the Betfair ACCA Lay Market, we can lock in a profit by treating it as Double Bet rather than 4 Folds as shown in the below spreadsheet;

For the full details of the step-by-step process, please take a look at 3 Methods Of Laying Enhanced Accumulators & Acca Bonus To Lock-In Profit.
BetYourWay
Finally, Betway regularly makes special promotions in "BetYourWay".
This is the market Betway allows you to mix and match markets to create your own unique bet and then request a price.
The offer is often in the form of a free bet like "Place a £5 (or higher) BetYourWay bet on the match between Dallas Cowboys vs Washington Redskins and we'll give you a £5 Free Bet. ";

You may not be able to lay any BetYourWay markets since most of them are quite unique based on the individual punter's request. Therefore, you can use the No Lay Matched Betting Method.
Betway Betting Offers – Wrap Up 
Advantage Gambling
On this occasion, allow us to share a bit about our betting principle.  Many people automatically think of Betting = Gambling. Big Mistake!! We do bet but don't count on luck.
Instead, we do Advantage Plays, based on mathematical edge to beat the bookies, casinos & bingo.
When it comes to Sports Betting, we use Matched Betting / Sports Arbitrage / Value Bets On Proven Tipsters to lock in a profit or consistently earn extra income for the long term.
With that said, one of our policies is "Betting On Chance Is For Losers, Stop Gamble Betting But Bet on Only +EV (Expected Value) To Win Reliably".
It is effectively our way to promote Responsible Gambling, and we strongly support GambleAware being explained about us.
We GEM – Global Extra Money would like all our readers to exploit such tasty opportunities as much as possible.
Sharing how to rake cash from several Betway Betting Offers is one of our efforts to achieve this objective.
Precautionary Actions
Lastly, if you keep getting too much value from soft bookies like Betway, you may most likely be gubbed, which means your betting account will be restricted.
Actually, it's just a matter of time before most of the soft bookies limit your account if you do matched betting without any precautionary actions.
So, we have prepared the following 2 guides – One is Before Restriction, The Other One is After Restriction;
Betway is worth making the efforts specified in the above guide.
If you have any inquiries or need any help from us, please contact us anytime (don't worry, we will not charge you any fee, everything is free here).
Good Luck!!
Joshua Walker (bio) 
Editor – Global Extra Money (GEM)