What's Red Card Refund Offer?
Turn Football Red Card Misery Into Tasty Profits. We Show You How To Make Red Card Refund Offer Profitable Without Any Risk via Simple Back & Lay technique!!
Red Card in Football
In the first place, do you know what is a "Red Card"? According to wiki;
The specific sport we discuss here is Football. The penalty cards issued in football come from misconduct, and there are 2 card types yellow card & red card, depending on the level of misconduct. The below Venn Diagram in the wiki shows the relationship between fouls and misconduct in association football, with examples, just FYI.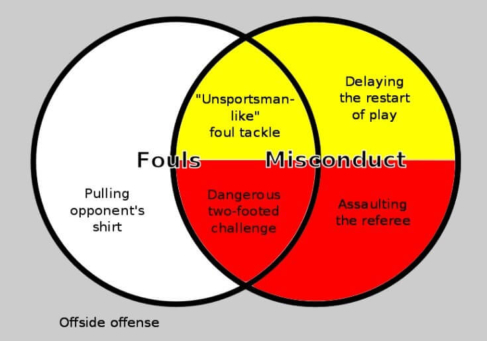 So, when a player is given a red card by a referee, he (she) has to leave the field of play immediately because he (she) did some serious misconduct.
The red card can be issued straight away from just 1 time of serious misconduct or 2 yellow cards from less serious misconduct will turn into a red card.
Red Card Refund Offers
Then, what sort of offer are we talking about? Red Card Refund or Red Card Money Back is a bookmaker's reload offer to the existing customer, as the claim of "We will refund your losing bet if Red Card is shown in the match" in a Football game.
188Bet is the one that often uses this promotion such as the Tottenham v Chelsea match (BTW 188Bet shut down UK & Ireland presence in 2019, just FYI);

Many people tend to think that Red Card occurrence + Lose Bet is No Chance. Thus Not Even Considering this offer. However, from a mathematical viewpoint, it's a very profitable offer and worth pursuing.
This is the power of Advantage-Play and Value Bet (see more in the wrap-up at the end). As long as you keep taking such a Positive EV (Expected Value) bet, you will be no chance to lose money but surely make money on average in the long term.
The above offer's refund limit is £25. Then you can earn potentially around £18 from this offer in just less than 10 minutes.
There are several bookies offering a similar promotion. You can basically apply this approach to the offers claiming " Refund If Red Card Shown" such as 10Bet;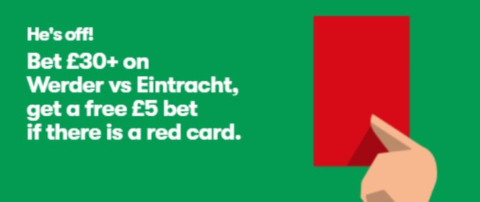 and SportNation;

However, read each offer's T&C carefully before placing any money because it may give you slightly different requirements.
For example, the below 188bet Tottenham vs Chelsea limit the betting via Mobile ONLY, so don't overlook such a tiny but critical requirement;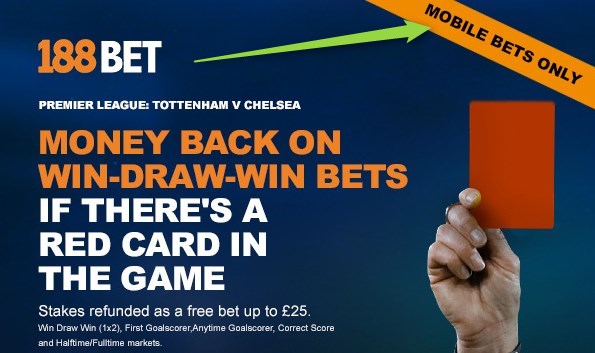 Red Card Refund Profit: Our Underlying Method
As said, our underlying technique to maximize the potential profit by heading the risk is Matched Betting. Anybody who is familiar with matched betting, please skip this section.
Matched Betting Recap
For those who are not familiar with matched betting at all, firstly suggest taking a look at Matched Betting For Dummies, where you will find every basic about matched betting.
However, for your quick start, I'll briefly explain how it works by using the 888Sport Sign-Up Offer (for all territories outside the UK, need to enter the "30FB" code when you make your first deposit) as a simple example for your easy understanding.

The offer is "Bet £10 Get £30 Free Bet".
What we basically do are;
2 transactions of Back (bet on win) £10 on Team or Player A or Horse A at odds of 1.5.0 < at 888 Sport & Lay (bet on NOT win) appropriate £ (stake can be calculated by free software) on the same Team or Player A or Horse A at Betting Exchange like Betfair or Smarkets so that you cover all outcomes (

just in case, you can't access to any these betting exchanges in your country

use this method).
Regardless of the outcome, your losing & winning will cancel out each other. In real practice, usually, 2 bets are not perfectly offset due to the odds difference & exchange commission. Therefore you make a small loss called Qualifying Loss.
But now, you get £30 for Free Bets. You repeat the exact same process but use the free bet for the back bet at 888 Sport. Then, this time free bet value (minus qualifying loss) will become your net profit.
You may be able to extract around £23 – 27 pure profit from this offer Without Any Single Risk.
The success factor is how to minimize the qualifying loss by selecting the player whose odds gap (between 888 Sport & Betting Exchange) is the narrowest. You can use Free Odds Matcher to locate such opportunities. For the step-by-step process, take a look at Risk-Free Betting Starting Guide (3) – How To Extract Profit from Free Bet. You will find the William Hill sign-up bonus case as an example in this instruction.
BTW, the 888Sport sign-up offer includes a £10 Casino Bonus, for this action, see the casino bonus hunting guide.
BTW, many people imagine matched betting is for only UK & Ireland, wrong, by using this approach everybody in the world including US citizens can make decent profits from this risk-free betting technique.
Betting Exchange
As you see in the above process, betting exchange is essential for matched betting. There are 4 established betting exchanges as below; 
Betfair (see
Betfair Alternatives
)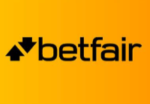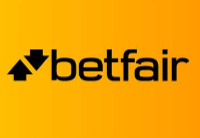 Smarkets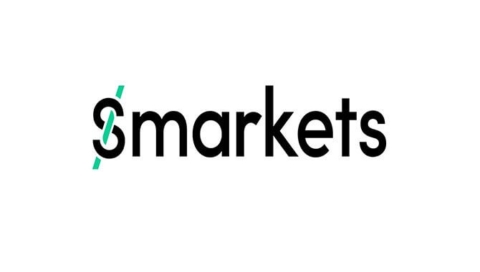 BetDaq (Warning)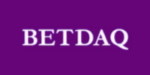 In case you are not familiar with the betting exchanges, How to make money on Betting Exchange & 4 Best Betting Exchange Sign-Up Offers with Cash Extraction Process will be helpful.
In case you have not had any betting exchange accounts, the above guide shows all the top 4 betting exchanges' latest sign-up offers & how to extract cash risk-free from each offer including Betfair's £100 Free Bet, which is supposed to be one of the best offers in the industry, just FYI.
Besides, if you can't access any betting exchanges in your country, then don't worry use Betfair  Whitelabel, which enables you to access to Betfair market.
Anyhow, for those who have not opened Smarkets or not even a single bet exchange account, I prepared a step-by-step guide for your quick start. You can effortlessly extract cash from its sign-up bonus of £10 Risk-Free Bet. Actually, this is one of the easiest offers to lock in a profit in the industry. Please click "+" mark to open the instruction;
Process To Get Profit from Red Card Refund Offer
Firstly, Can't We Guarantee Profit From Red Card Refund Offer?
Usually can't because, unlike bookmakers, you can hardly find Red Card Lay Market in the betting exchange. Betfair occasionally opens the market of "Sending Off".
Although I myself can't think about any reasons that a Player Is Sent Off other than "Red Card is Shown", anything bizarre could happen, therefore it's safer to avoid laying Sending Off. This means, we can't hedge by placing extra lay on Trigger bet, thus can't always guarantee a profit.
For searching Guaranteed Profit in this type of offer, go to How To Lock-In Profit on Trigger Bet with Extra Lay Spreadsheet.
How To Construct Matched Betting for Red Card Refund Offer
I'll explain how to tackle this Red Card offer by using the below Champion's League example (I originally wrote this guide in 2016 thus the example is relatively old but the process we take here can perfectly work in any similar red card refund offers).
Champions League and Europa League Money Back Special up to €/£50 if a Red Card is Shown!
If a Red Card is shown during your selected match in any of the Champions League and Europa League games from Tuesday 22nd November 2016 to Thursday 24th November 2016, we will refund all losing 1×2, First Goalscorer, Anytime Goalscorer, Correct Score, Half Time / Full Time and Both Teams to Score, up to a maximum of €/£50 per match. The refunded stake will be credited as a free bet. 
You can use the simplest qualifying bet method which we used in the above sign-up offer method. Again, I'll briefly show you by using a real example.
Key Approach
Since we get a refund for only losing bets in the event where a red card is shown, you may prefer to place your qualifying bets on selections that you don't think will win.
However, unlike the standard matched betting, we can't make this offer completely Risk Free, thus the most critical direction is Minimizing the Qualifying Loss. This means you have to choose the match & market with the tightest odds between 188Bet & Exchange.
You need to be careful with the qualified market, they specify "1×2, First Goalscorer, Anytime Goalscorer, Correct Score, Half Time / Full Time and Both Teams to Score ", and usually, the tightest odds can be found in Match Result (1 x 2) or BTTS (Both Teams To Score), FYI.
Example – Arsenal vs PSG
I use Arsenal vs PSG – "Arsenal Win" match odds since I found the narrow odds between 188Bets & Smarkets (exchange) in odds matcher as;

Since the maximum refund, we can get is £50, set £50 as a back stake in the calculator (you will find the below-calculating table by clicking the "i" icon in the above oddsmatcher) which shows;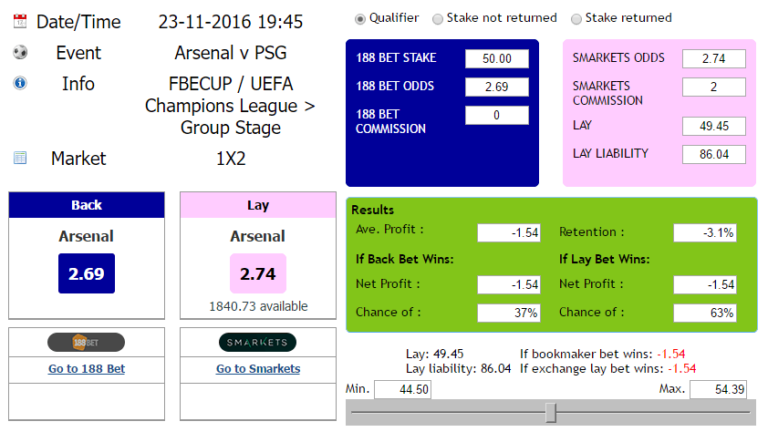 This means;
If Arsenal wins, we lose £1.54
If Arsenal does Not Win and a red card is not shown, we lose £1.54
If Arsenal does Not Win but a red card is shown, we profit £48.46 (£50 refund – £1.54 qualifying loss)
Is It Worth It?
In summary, we are risking £1.54 (this is why it's not completely risk-free) to gain £48.46. This can be translated as 32.47 effective odds (£48.46 / £1.54 + 1), or your break-even point is the 32nd trial. In other words, even if you keep Not Hitting Refund for 31 consecutive tries but get a refund in the 32nd trial you will still be profitable.
When it comes to the statistics of the red card, in the 2016-17 Premier League season, 12 red cards were issued in total out of total120 matches (ESPN FC site). That is exactly 10%. So if you try this offer 30 times, you will theoretically hit the refund at least 3 times, or £145.38 profit. The math suggests it's definitely worth pursuing.
BTW, the 10% implied probability of the red card is 10.00 decimal odds. However, bookmakers don't seem to provide you with fair odds reflecting the actual numbers. See William Hill below;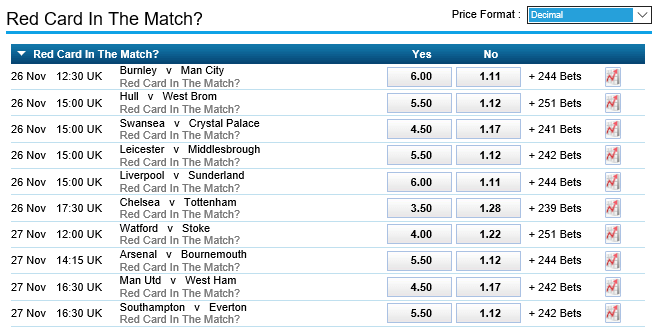 Just FYI.
So Do You Want To Know The Result?
I always like this Passionate French Striker, Olivier Giroud. He received a Red Card;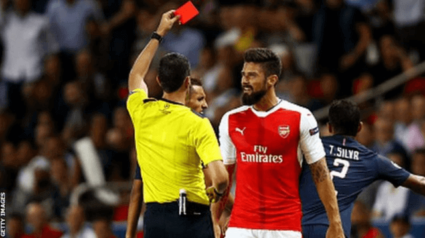 , and the final result is Arsenal Not Win thus happy refund resulting £48.46 Pure Profit;

Red Card Refund Wrap-Up – Change Your Mindset
Finally, allow us to talk a bit about our betting principle. Please Avoid Prejudice of Betting = Gambling.
We Do Bet but Don't Count On Luck. Rather, we do 6 Advantage Plays based on mathematical edge to beat the bookies, casinos & bingo. When it comes to Sports Betting & Horse Racing, we use Matched Betting / Sports Arbitrage / Value Bets On Proven Tipsters to lock in a profit or consistently earn extra income for the long term.
With that said, one of our policies is "Betting On Luck Is For Losers, Stop Gambling But Bet on Only +EV (Expected Value)To Win Reliably.
It is effectively our way to promote Responsible Gambling, and we strongly support GamCare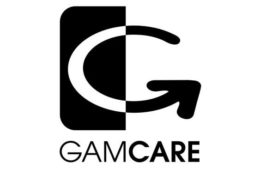 being explained about us.
We use various methods & many customized spreadsheets to calculate mathematical advantage over the bookies' offers to secure Guaranteed Profit. The technique To Extract Cash from Red Card Risk-Free is part of them.
Incidentally, as our name Global Extra Money implies, we would like many people from all over the world to enjoy our methods as much as possible. Therefore, we have issued :
BTW, in case you're a sharp casino & game bonus hunter, strongly suggest taking a look at the List of 52 Best Bitcoin Casino Bonuses and for those who appreciate the highest privacy, go to the List of Best Anonymous Bitcoin Casinos & Bonuses, just FYI.
If you have any inquiries or need any help from us, please contact us anytime (don't worry, we will not charge you any fee, everything is free here).
Good Luck!!
Joshua Walker (bio) 
Editor – Global Extra Money (GEM)