Spread Betting Bonus Clearing Guide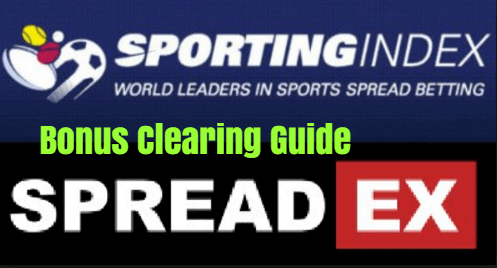 Estimated Reading Time: 4 minutes
Brief Summary
Two Markets – There are 2 main markets in spread betting which are Financials and Sports. We focus on Sports market with the advantage play.
Speculation – It is a type of speculation that involves taking a bet on the price movement. The broker offers own prediction for the sports event, and if you think it is too low, you would 'buy', too high, you would 'sell'. The more right you are, the more you win, the more wrong you are, the more you lose. Although the volatility is supposed to be the benefit for spread betting, people often lose in rapid movements because unlike fixed-odds betting the amount won or lost can be unlimited, thus in usual trading Stop-Loss setting is essential (but the methods we discuss to clear the bonus doesn't need stop-loss).
Key Providers – There are virtually only 2 dominate brokers in sports spread betting sector.
Bonus Availability –  Both brokers offer you welcome bonuses and one offers periodic reload bonuses.
Tax Free – In the UK, spread betting is regulated under Financial Conduct Authority rather than Gambling Commission, but since there is no underlying assets you own, your profits are free of stamp duty and capital gains tax, so it's tax free income same as the other advantage gambling incomes.
Note
Don't be confused with Point-Spread. Point-Spread is a handicap placed on one team by bookmakers, which is designed to give both teams in any game an equal chance at winning in the eyes of sports bettors. Sports Spread Betting here is the betting system exclusively offered by Sports Spread Betting companies in the UK & Ireland.
Types & Requirements Of Spread Betting Bonuses
Given the fact that the spread betting is yet relatively new, spread betting bonus intends to be Just Trial for new players to get used to the system. Means, unlike bookmakers, casino or bingo sites, it usually doesn't require WR (Wager Requirements) where good opportunity to rake the bonus efficiently exists.
Sports Spread Betting
As briefly said there are "Big Two" in Sports Spread Betting that are Spreadex and Sportingindex, which offers;
Welcome Bonus (No Deposit or Required Qualifying Bet)
Reload Bonus
1) The 2 companies changes the offers periodically especially Sporting Index, though, basically their offers are either No Deposit Bonus such as "You get £100 risk free bet after you successfully open an account" or Deposit Required Bonus such as "You will get up to £400 complimentary Free Bet after you place certain numbers of qualifying bets" etc. which are off course not withdraw-able, but any winning would become your profit while this free bet compensates your any loss, thus it becomes risk free bet.
Methods Of Spread Betting Bonus Clearing
We provide you with different solutions for the above 2 types of bonus without Any Risk Involved. The 1st one is;
Welcome Bonus Extraction via Matched Betting (No Risk)
What we do is applying the Matched Betting method . The concept is simple, we find the identical market between Sporting Index & Spreadex and seek the close prices to make matched betting, which is risk free. We can rake especially Spreadex £200 x 2 welcome bonus nicely, for the specific step by step instruction, go Spread Betting How To Extract Welcome Bonus 100% Risk Free ;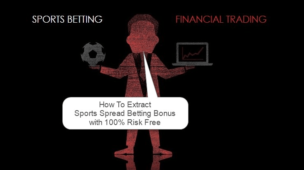 The 2nd one is;
, from Sporting Index that offers reload risk free bonus periodically, we will upload the specific instruction on how to tackle it in due course.
---