What's USA Value Betting?
USA value betting is the way for Americans to win gambling especially sports betting rather than being the world's largest gambling loser online as shown below;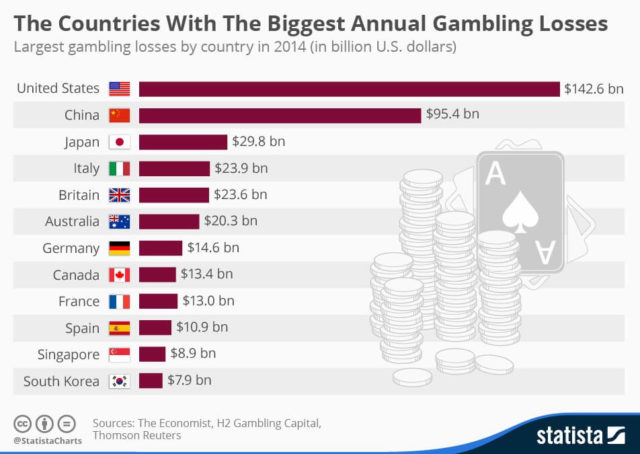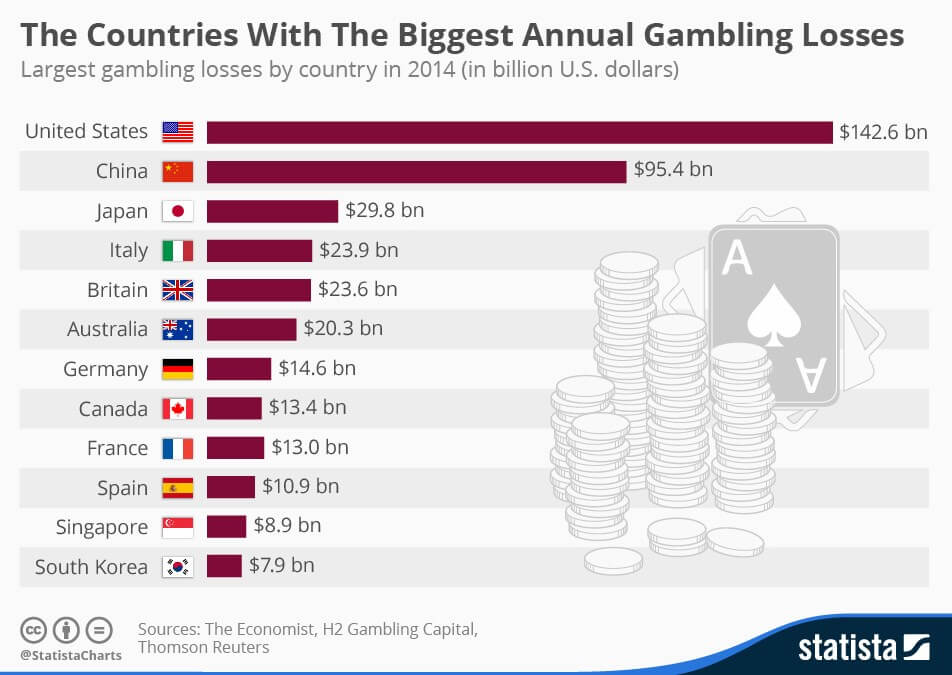 Given the PASPA change in 2018, the US sports betting market is predicted to grow exponentially. Then, Americans shouldn't keep losing to sportsbooks but should hit back with value betting as one of our advantage play techniques. 
BTW, for any Americans who wonder about the specific legality of sports betting, see our summary at the bottom. 
What's Value Betting All About?
For those who are not familiar with value betting, take a look at Value Betting Software – Ultimate Guide & List though, very briefly; 
Value Betting means placing bets that have a better chance of winning than implied odds set by bookmakers, which is expressed in EV (expected value).

EV = (Winning Amount x Winning Probability) – (Losing Amount x Losing Probability)

Positive EV (+EV) is the essence of consistent winning for the long term and the higher +EV the more profits.
You Need Value Bet Finder
The long-term mean more number bets where LLN (Law of Large Numbers) applies. In a word, the more you bet, the closer to EV your profits will be. 
It's impossible for us as a human to scan hundreds of thousands of bets to seek the value (+EV) even if we have a value bet calculator.
Therefore, value bet finder software comes in, which is designed to automatically locate sports events where bookies provide inaccurate prices in the bettor's favour, namely Overvalued Odds, which gives us great efficiency. 
Trademate Sports Value Bet Software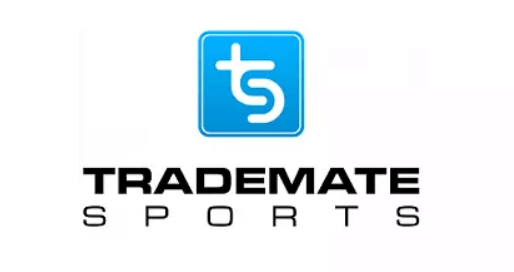 Trademate was founded in Norway in 2014 and has become one of the most successful Value Bet Finder providers.
Our Value Betting Software – Ultimate Guide covers the Trademate review including the interview with the CEO, which will give you a good insight into the company's credibility.
Trademate Value Betting Software Services
Trademate provide you with the following 4 packages;
Trademate Core: An entry-level value betting tool, that is ideal for generating a secondary income or building your trading bankroll before moving into the Asian markets €120/month or €300 / 3 months
Trademate Nordics: A value betting tool for beginners and those who only want to use the Scandinavian national bookmakers €30/month or €75 / 3 months
Trademate Pro: For the professional/aspiring sports bettor or any individual wishing to generate a secondary income from trading in the Asian/Exchange betting markets €400/ month or €1000/3 months

Trademate US

: For sports bettors from the US who just want to bet on US sports (Basketball, American Football, Baseball & Ice Hockey). It's a great way for Americans to build their bankroll with the soft bookmakers, before moving on betting European Soccer and/or the Asian markets for

$49/month or $125 / 3months
This guide focuses on "Trademate US" – you can visit Trademate site, open the pricing tab and click Trademate US if you want;

Trademate US Package
Is Trademate US Only For US Citizens?
Trademate US package doesn't mean US players only but means USA 4 Big Sports of Basketball, American Football, Baseball & Ice Hockey. 
The software traces 10 US Bookies (most of them are international bookies), which are; 888Sports, William Hill, Bet365, Fanduel, DraftKings, Intertops, Bookmaker.eu, Betcris, Unibet and 5dimes.
Therefore, anyone who wants to make money from these US sports and is able to access these bookies can enjoy the benefits of the package.
How Trademate US Works
Firstly, watch the below video which explains how Trademate works using the Core package (basically the process of all the packages works the same, the difference is mainly the covered markets & bookmakers); 
Trademate US says;
The minimum recommended starting bankroll is €1,000. One should start with a higher bankroll and it is highly recommended to spend at least 10 hours a week trading. This could be heavily skewed towards the weekend when there is a lot of action on.
Our Assessment Based on 5,000 Bets Placements
So, with 10 bookmakers & 4 US sports, how much can we make?
We made the simulation by placing 5,000 bets which is more than enough samples to assess the true results. 
My Dashboard after completing 5,000 bets shows;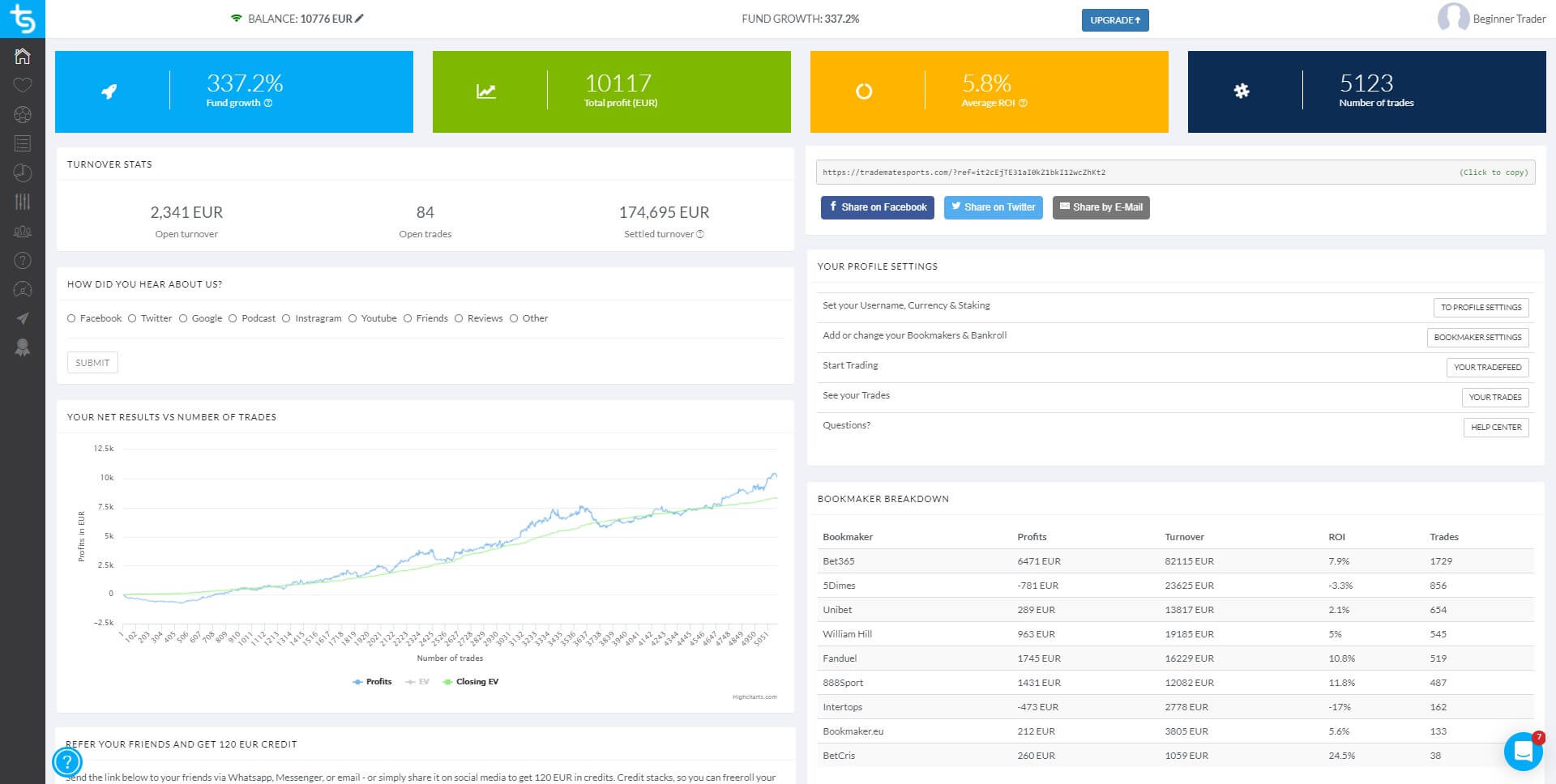 Results – 337% Fund Net Growth
Quick Summary is;
Placed 5,123 Bets over the 5 months period (Aug – Dec 2020)
Starting Bankroll of €3,000 (€300 x 10 bookmakers) has grown up to €13,117, means the net growth is €10,117 (337% up)
The average ROI is 5.8%

Setting
We set;
Stake Sizing: 30% Kelly Criterion
Odds: 1.5 – 10
Edges: 1.5% – 100% 
Trade: 0-7 hours before kick-off.
*For Odds & Edges, we preset 3 options to see which one works best for us. 
Assessments / Comments on Each Phase
Below is the graphical presentation of the 5,000 bets progress;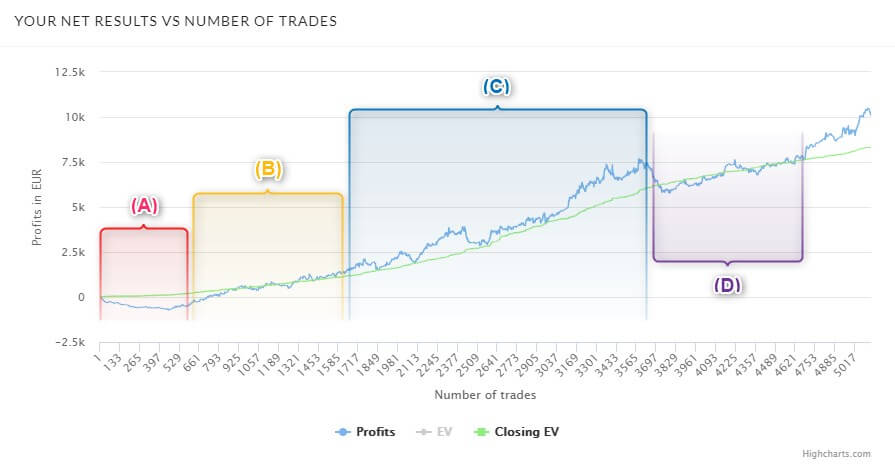 Let us assess each (A) – (D) stage by validating Trademate's strategy (we quote their comments from their articles such as this & this). 
Stage (A) – Initial Struggling 
In the beginning, especially up to around 400 bets, we recorded negative fund growth of over -20%. However, we followed Trademate's warning of;
A NOT MAKING A COMMITMENT OF GETTING TO 1000 TRADES
When you start with value betting or any other endeavour in life, you should make a commitment in terms of how much money and time you are willing to spend to succeed.
Getting to 1000 trades takes roughly 6 weeks or 60 hours assuming you average 10 hours per week with 5 bookies. That's 166 trades per week. Do not give up until you've made it.
Your chances of success dramatically increase if you make it past 1000 trades. 74.7% of our customers who make it to that stage are profitable, with an avg. Profit per trader of €3.7k.
If you are committed to getting to 1000 trades, you could also consider going with a Quarterly > Monthly subscription package as this reduces your avg. monthly cost.
It's important to analyze your performance. 
Free Analytics
Trademate US package doesn't include Analytics Tool but as long as you satisfy "Place 500 trades in your first month or 1,000 trades in the first 2 months" you will get their analytics tool FOR FREE for one month.
We noticed that we didn't set "Keep it in the tradefeed" in the "After placed trade" setting. Consequently, we placed multiple bets on one game resulting in big swings affected by variance, which was in fact cautioned by Trademate.
Therefore we changed to "Remove all trades on that match" as below;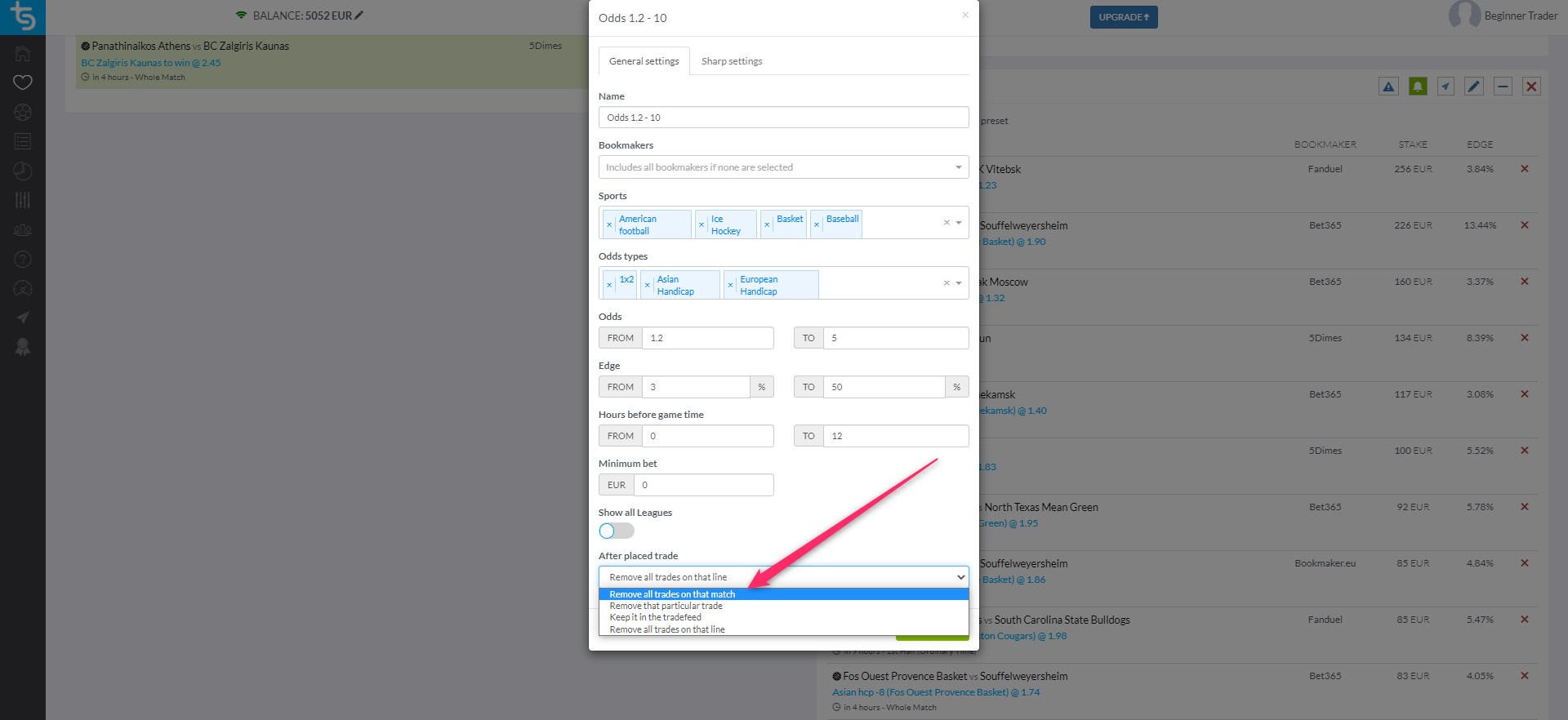 Stage (B) – Reaching EV 
We recovered the entire loss at around 600 bets and reached to Expected Value by 1,000 bets. Trademate says;
As our data clearly shows that over time the results align with the expected value. 
So, do not fall into the trap of thinking this is something that will get you rich quick, because just like anything that is worthwhile doing, it takes time and effort to get results.
Persistence during the downswings and consistency with getting the trades in are key traits you need to possess.
Note that as you get above 500 trades, your chances of being profitable increases from 60.9% to 67.5%. Getting above 1000 trades increases the chance to 74.7%.
If you do incur a loss after your first month, remember Trademate has a Value Guarantee where you can get a second month for free.
At the time of reaching 1,000 trades, our results show 35% fund growth as below;

So, we are a part of a 74.7% profitable majority investors. 
Stage (C) – Exceeding EV 
We constantly beat the EV between 1,000 bets and 3,700 bets. Trademate says;
With 5 bookies, we estimate that it takes 30 hours to make 500 trades, to which 10 hours of those are actually sitting at your computer trading.
During the other 20 hours you can do other things as the trades arrive more sporadically.
So if you're having a quiet weekday evening or weekend, why not turn that time into money.
Here are some rough estimates based on the data (see the Final Summary section) that show how much you can make per hour using Trademate.
500 trades: €303 / 30hrs = €10.1 an hour
1k trades: €1,030 / 60 hours = €17.2 an hour
2k trades: €3,764 / 120 hours = €31.4 an hour
We didn't get carried away, but the progress was excellent as below;

Our profit/hour achieved around €53 an hour. 
Stage (D) – Converging Period 
Well, after 3,700 bets, our profits line & EV lines converged during the further 1,000 bets (so up to 4,700 bets). The math is right as commented by Trademate;
Don't take off and get too emotionally attached to your profits if you find yourself running above EV. Because as mentioned, in the long run, results converge towards the EV line.
Final Summary 
Trademate summarized customer results based on how many trades they have placed as below;

Our test results were far better than the average as shown in the below summary;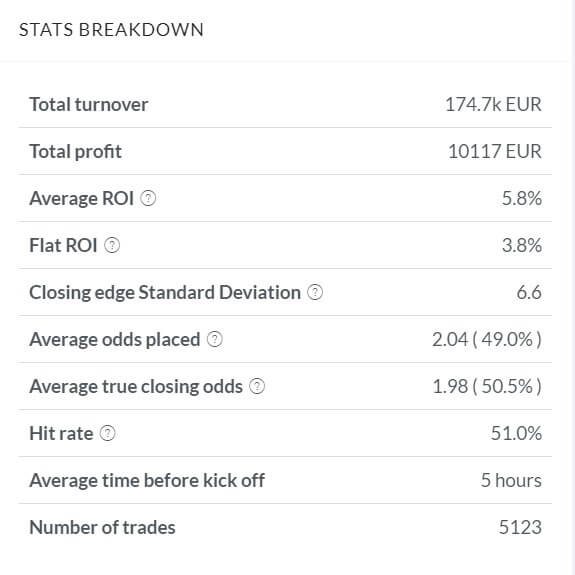 We are happy to confirm that we clearly validate Trademate US sports finder's capability and Trademate's strategy based on the law of large numbers.
Given the strong correlation between placing more trades and earning more profits, we can conclude that we will be more profitable if we keep betting with the software.
A Few Key Suggestions
Below is our recap to be successful with Trademate Sports software;
1,000 Trade Mark: Allow me to reiterate that the EARLIEST point you should judge this system is 1,000 bets. Value betting with Trademate Sports is all about placing a large number of trades with small edges, which will turn out to be massive amounts of profits taken from the bookmaker. If you're not ready for this commitment, suggest not starting.
Lower Kelly & Max Bet Set: Focus on placing more bets by not taking shortcuts like increasing Kelly %. You may also want to define a max bet so that you never risk more than 1-2% of your bankroll on the outcome of any single game.
Play In Your Comfortable Zone: You need to know your own risk tolerance. Even though we know that the result will be close to EV eventually, in case you are emotionally intolerable with consecutive losses or a very low win (hit) rate, you may give up at the early stage. So, if your tolerance is low, it's better to avoid long-odds betting. Instead, as we did, mainly chose short odds like 1.75 or 1.5. Then, the hit rate is close to 60%, which may be comfortable for many betters. Actually in our test, combining 1.5 & 1.75 bets accounts for nearly 50% of total bets and 90% of total profits.

BTW, when it comes to the bookmakers, although Bet365 is the one generating the most value bet opportunities, profitability (ROI) wise, 888Sports is the best and Must Have, just FYI. 
Trademate US Package How To Start
Make the best use of 1 Week Free Trial 
Follow the below process to start a money-making journey;

Click the "Get your free trial now" button which navigates to;
Sign-up either by Facebook or filling in your email & password, then you will instantly access;
At the same time activate this 7 Day Free Trial by validating your e-mail;
You need to upgrade to the paid subscription after the expiry.
You may want to take a 1-month plan in order to further monitor your progress while examining the best fit for your lifestyle as well as your risk tolerance.
If you do not make a profit within the first month, you can get the 2nd month for free. The below video explains the value guarantee;
Once you feel comfortable going for the long-term, you may want a 3-month plan which allows you to save the subscription cost by around 15%. 
USA Online Betting Legality
Finally, let me briefly share the latest USA sports betting legality for people living in the US. There are following 3 laws related to US online sports betting;
(1)  Interstate Wire Act called the Federal Wire Act, prohibits sports betting operators to offer interstate gambling within the USA.
(2)  PASPA (Professional and Amateur Sports Protection Act in 1992), which prevented states from offering legal sports betting.
(3)  UIGEA (Unlawful Internet Gambling Act) prohibits financial institutions from knowingly accepting or processing payments for wagers deemed to be illegal according to federal or state law.
For (1), it targets betting sites providing betting services in the USA means business, not an individual who places a bet on sports.
For (2), despite the facts that US Major Professional & Amateur Sports Leagues including NFL, NHL, MLB, NBA, and NCAA have strongly opposed sports betting legalization (BTW, NBA Commissioner Adam Silver publicly wants sports gambling legalized), on 14 May 2018, the Supreme Court struck down PASPA in the federal level, so now the legality depends on each state. Check here for the latest legal status of each state.
For (3), UIGEA restricts offshore bookmakers to accept credit cards/cheques from Americans, but cryptocurrency like BTC is a loophole (see Bitcoin Betting).
Most importantly, there is no single federal law that specifically makes it illegal for US Citizens to bet online offshore. Therefore, tens of millions of Americans bet over $150 billion through offshore sportsbooks every year.
In summary, check the status of online sports betting in your state and if it's legalized you may want to use the sportsbooks that are already regulated, or you can keep using offshore sportsbooks without any problems.
But make sure, you use offshore sites that have based in a jurisdiction where online betting is legal and regulated like the sites we list in this guide.
Hope this guide will help you successfully create extra income. If you need any assistance, please contact us.
Good Luck!!
Joshua Walker (bio)
Editor – Global Extra Money (GEM)