Trading Robot Enables You to Execute Automated Trading by Eliminating Human Emotion as the Largest Obstacle to Your Success & Could Achieve the Profitability Institutional Traders Enjoy!! 
Brief Summary
Trading Robot is;
Software – It is a piece of computer software that trades your account 24 hours a day automatically on your behalf, thus 100% passive income.
No Emotion – Given the cold execution based on the algorithm set by the software based on your strategy, it eliminates any human emotion that is supposed to be the biggest obstacle for successful trading.
Low Cost – Usually, you purchase the software with just one-off cost and you retain full profit from your forex robot trading.
Trading Robot Market Insights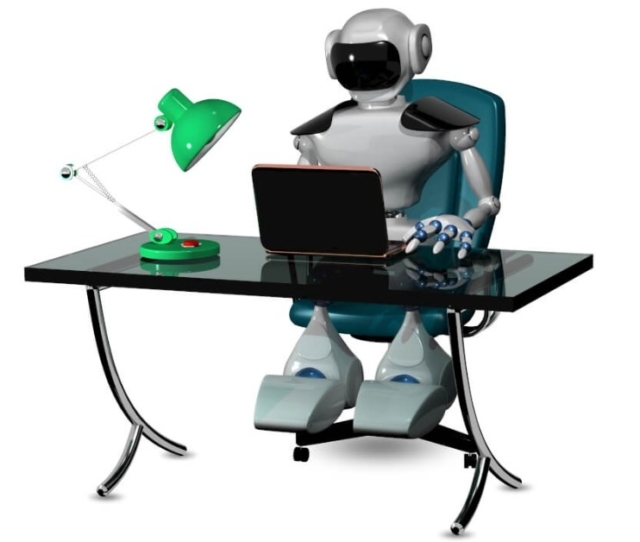 Trading Robot Market Growth
A trading robot including forex trading robots & stock trading robots, is a computer program based on a set of trading signals based on the pre-set computer algorithm. Therefore, it's described as an algorithmic trading. As one of the biggest advantages, algorithmic trading eliminates human feelings that avoid investor behavioral issues in keeping losses for longer periods of time and selling lucrative securities too soon.
Over the previous decades, algorithmic trade has risen dramatically in popularity as shown in the below graph taken from wikimedia commons;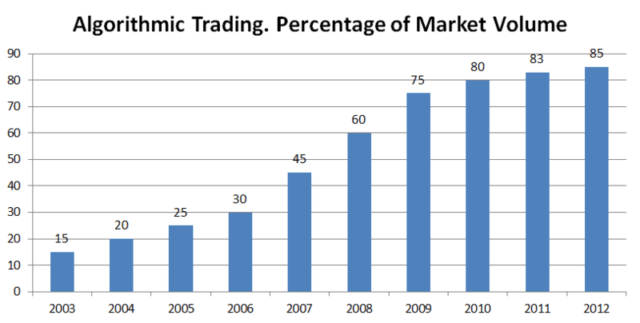 In the US, algorithmic trading generates over 70 % of the total volume of trading. The estimated number in developing markets such as India is about 40%.
The above wikimedia commons data is relatively old, but the growth trend obviously continues as;
Global algorithmic trading market was valued at US$ 10,346.6 Mn in 2018 and is expected to exhibit a CAGR of 10.7% over the forecast period to reach US$ 25,257.0 Mn in 2027.
Coherent Market Insights

By segment, the growth projection is as;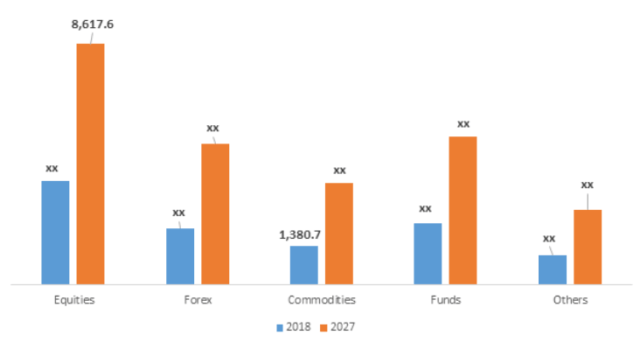 Algorithmic trading will have an exponential growth, particularly among retail traders, as cloud computing now gives individuals a chance to have instruments comparable to those used by institutional traders. Technology has become better, cheaper and more effective than any human being, as it is difficult to match the high-frequency execution or decision-making velocity of algorithmic trading robots. 
In a word, Robot Trading is the method for Retail trader to get close to the profitability that Institutional Traders are achieving. Don't get yourself left behind. 
Robot Trading Algorithm Development 
The algorithm of robot trading is usually developed as below;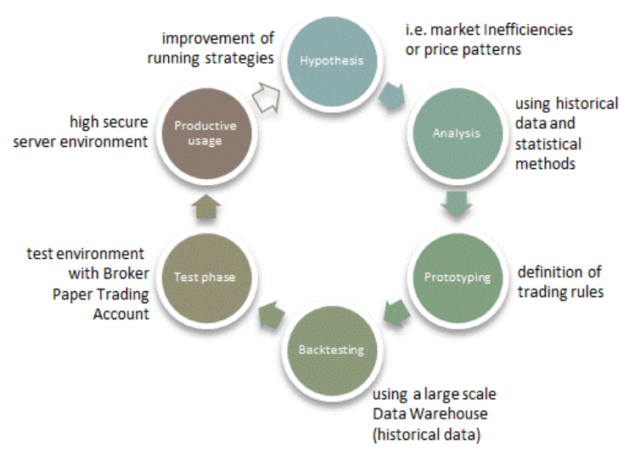 Allow me to repeat the point that retail traders tend to remain away from algorithmic trading thinking it's complex and the use is dominated by institutional traders. However, the basic concept / development process is comprehensive as shown in the above image. And Forex EA (Expert Adviser) is actually very easy to install and start, which gives a great opportunities to improve your profitability. 
Robot Trading Take Proper Approach
Understand the Basics
Robot trading is an auto-trading, but you need to set it based on your trading strategies & risk-tolerance level etc. before you actually let the robot start trading. If you fail to do so properly, the results will most likely to be different from what you originally expected.
So, I strongly suggest you go through Forex Robot For Dummies – 5 Essential Things You Should Know First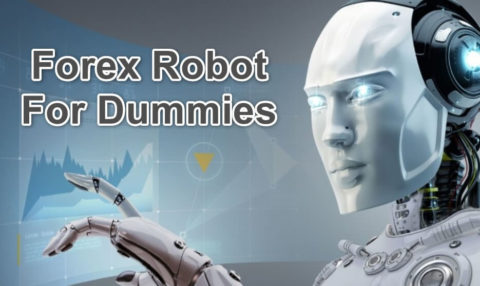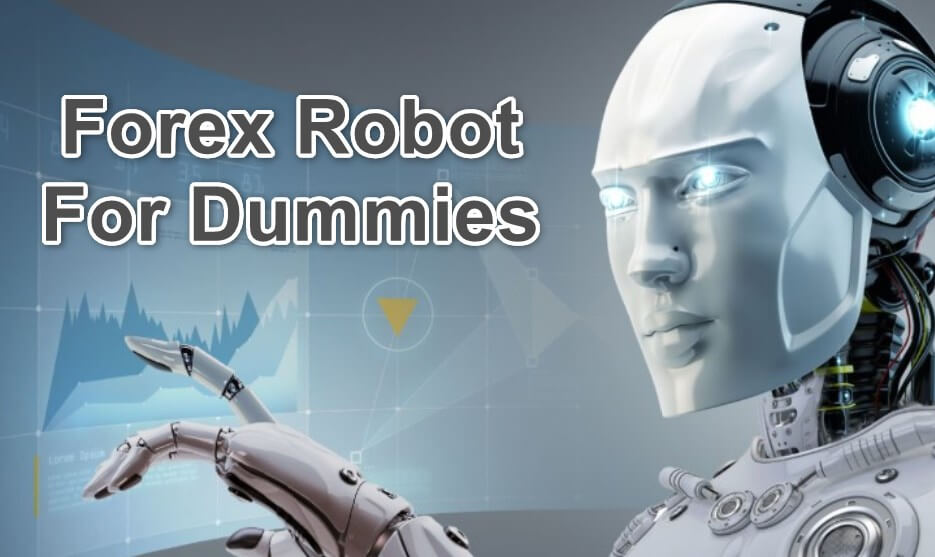 Know How to Select the Right Trading Robot
Then, the key success factor is needless to say, how to chose the Profitable Trading Robot that fits your strategy & personality. So, suggest go through To Find The Best Forex Autopilot Trading Robot – 5 Ultimate Process;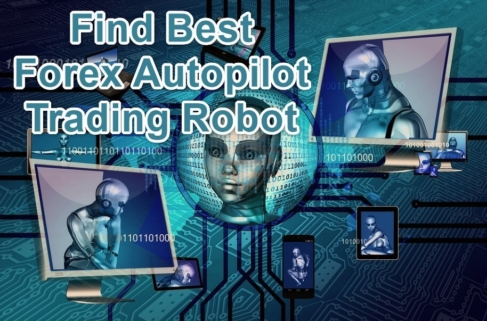 , which in fact guide you on how to establish the Profitable Forex Autopilot Trading Portfolio. 
Take Advantage of Trading Robot to Secure Your Job
Jobs Being Replaced by Robot
Oxford associate professor Michael Osborne, along with co-author Carl Frey, published a paper called "The Future Of Employment: How Susceptible Are Jobs To Computerisation?" The main findings are; among 702 occupations in 12 categories of total US employment, 47% is at high risk of getting replaced by robots (meaning that associated occupations are potentially automatable over some unspecified number of years perhaps a decade or two), 19% could go either way, 33% are unlikely to. In the below table, the y-axis shows the number of people working in each of those categories, while the x-axis shows automation probability. Turning to the expected employment impact, distinguish between high, medium and low risk occupations, depending on their probability of computerization (threshold at probabilities of 0.7 and 0.3).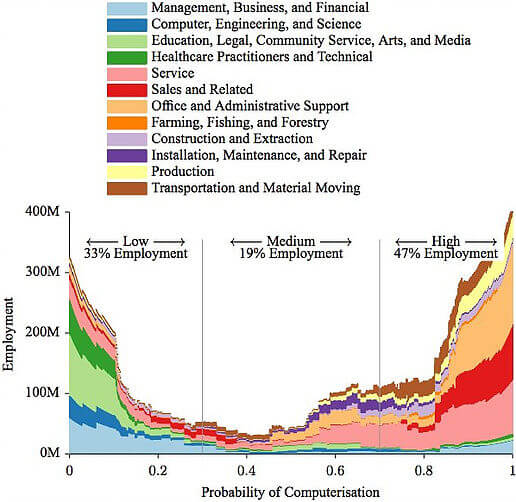 The probability axis can be seen as a rough timeline, where high probability occupations are likely to be substituted by computer capital relatively soon. Looks most workers in transportation and logistics occupations, together with the bulk of office and administrative support workers, and labour in production occupations, are likely to be substituted by computer capital. So, for instance, "sales and related" jobs have a huge chunk of positions that are at high risk of automization. Hence the big red section on the right. On the other hand, "education, legal," etc. have a greater chunk of positions with a low probability of getting taken over by robots (hence the big light blue on the left).  In short, generalist occupations requiring knowledge of human heuristics, and specialist occupations involving the development of novel ideas and artifacts, are the least susceptible to computerization. So if you're, say, in the arts, and your job requires "negotiation" there's virtually no chance you're going to be replaced by a robot. If your job is in production or sales, and doesn't involve any of the above skills you need to watch out.
As explained before, in US, over 70 percent of financial trading markets including the majority of investment banks and other big institutions are done by robots and the growth of robot trading is predicted to be exponential. Means, although financial jobs seem to be less chance of being replaced by Robot according to the above chart, trading area is obviously not the case. In other words, it is a vital proof that Forex software of auto-trading works and there are no single reasons that you as an individual trader are left behind. If your current job is at high risk of being replaced by robots, you need Contingency Plan as your safety-net. Read carefully this special report to know the best process to create Extra Income through FX Robot.
Three areas Human Have Advantage over Robot
Erik Brynjolfsson, a professor at the MIT Sloan School of Management describes 3 areas where humans have a distinct advantage over machines which are actually identical to Michael Osborne's paper as follows (BBC article);
"Creative endeavours: These include creative writing, entrepreneurship, and scientific discovery. These can be highly paid and rewarding jobs. There is no better time to be an entrepreneur with an insight than today, because you can use technology to leverage your invention.
Social interactions: Robots do not have the kinds of emotional intelligence that humans have. Motivated people who are sensitive to the needs of others make great managers, leaders, salespeople, negotiators, caretakers, nurses, and teachers. Consider, for example, the idea of a robot giving a half-time pep talk to a high school football team. That would not be inspiring. Recent research makes clear that social skills are increasingly in demand.
Physical dexterity and mobility: If you have ever seen a robot try to pick up a pencil you see how clumsy and slow they are, compared to a human child. Humans have millennia of experience hiking mountains, swimming lakes, and dancing?practice that gives them extraordinary agility and physical dexterity."
I fully agree with the point that there is no better time to be an entrepreneur with an insight than today, because you can use technology to leverage your invention. Allow me to repeat that you'd better have a Plan B for your financial safeguard and you don't need to have massive capital or skill to start your side business but just to be an entrepreneur by using modern Technology Economically & Passively via Forex Robot – incidentally CEO job is one of the least at risk being replaced by robots, FYI.
Robot – EA (Expert Trader) is the 3rd of three Passive Trading, the others are;
Lastly, in case you are skeptical about trading Forex PASSIVELY, suggest you first read the below report; 【 Three Practical & Safe Ways to Succeed in Passive Forex Trading 】 , which gives you good insight on how it works.
Forex Self Trading
For those who still would like to pursue self-trading, strongly suggest you go through:
These reports comprehensively explains how you can evolve Forex Trading successfully by using world top class tools & the full list of them. It includes the introduction of Trading For A Living: Lucrative Trading Business, Travel the World, And Work For Less Than 20h/week.
Good Luck
Joshua Waloker
Publisher – GEM (Global Extra Money)