PAMM – Percentage Allocation Management Module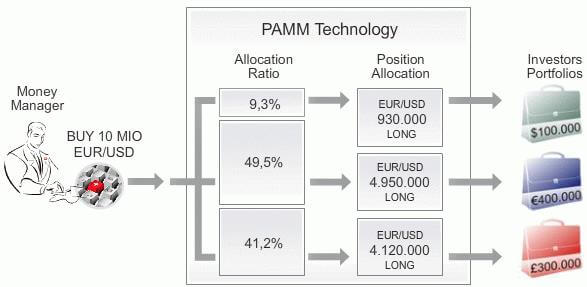 Estimated Reading Time: 3 minutes
Brief Summary
Collective Fund – It is a Managed Account, or a sort of mini-version of a mutual fund for forex trading. Large FX brokers provide platform where money managers offer their PAMM to you. You choose the specific PAMM account to generate profits for a predetermined commission.
Safety – It's a collective fund but the trader can't withdraw your money but only trading in the broker, so your money is basically scam free.
Low Minimum – threshold of managed account with dedicated trader is very high like over $100,000 but PAMM may start with $100.
Full Analysis Of PAMM
We prepared Special Reports to analyse all about PAMM including the methods to identify the Best PAMM account, Visit;
【 Ultimate Guide (7 Secrets) To Find Best PAMM FX Trading – Part (1) Click HERE 】
【 Ultimate Guide (7 Secrets) To Find Best PAMM FX Trading – Part (2) Click HERE 】
PAMM Account Provider
There several PAMM account providers (mainly FX Brokers) and Myfxbook publishes the list of PAMM brokers as below;
Among the top rated providers, Alpari gained the highest reputation (they are supposed to invent PAMM system), followed by FX Pro, InstaForex and Hot Forex.
Alpari is the established broker but after facing the bankruptcy in the UK & Japan in 2015, surely better to take a cautious approach. You may want to check your own survey though, given the high quality customer service & low (from 0) spread, Hot Forex seems to be one of the best choices to start.
Hot Forex
Awarded as the best broker in Asia & Europe and quite convenient broker in various aspects including the wide range of payment & withdrawal methods, and offer a lot of PAMM account as 100% passive income
Its Zero Spread account ( also Zero Markups) is ideal for scalping / high-volume / auto trading for money mangers who use auto-trading system.
---
---