Oddsmonkey Review 2019 – Full Inside Analysis Through The Founder Interview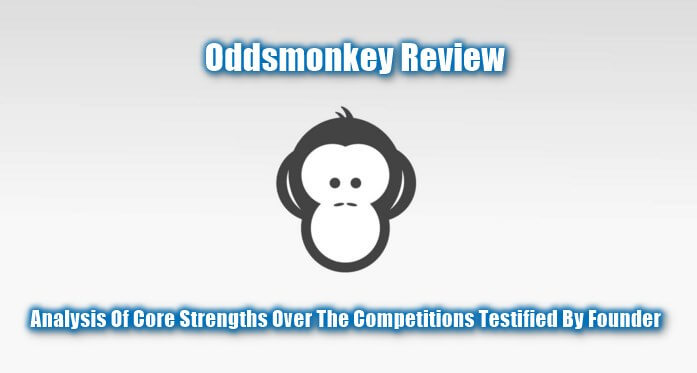 Estimated Reading Time: 31 minutes
Our Oddsmonkey Review Examine All Important Insider Facts Based On The Founder Interview, Which Enables You To Decide If This Matched Betting Subscription Service Is Economically Viable!!
Our Fact Based Honest Oddsmonkey Real Reviews Will Answer from the very basic question of "Is Oddsmonkey Safe?" to "Possible Oddsmonkey Earnings" & "Comparison with Profit Accumulator".
Oddsmonkey Review Introduction
Firstly, allow me to share why we use matched betting to earn extra income.
Oddsmonkey Review – Latest News
Oddsmonkey Review – Oddsmonkey's Competitive Edge Over The Competitions; Answers by Paul, Founder & Chief Technical Officer
Let's start Oddsmonkey review. I communicated with Paul to get his Opinion About Oddsmonkey's Core Strengths Over the Competitors as well as his Overview on Matched Betting Industry & Oddsmonkey's Vision. Let's start up with Competitive Edges as follows (I'll introduce the other comments in the appropriate sections later), blue part is my question and green parts is Paul's answer;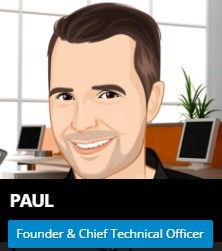 Oddsmonkey Competitive Edges
1) What would you think makes OddsMonkey standout in the matched betting industry (you don't need to repeat your price commitment which we already know it as 1 of your outstanding advantages)?
As long as we understand, Profit Maximiser (PM) & Profit Accumulator (PA) dominated the full-package service market, and after you rejuvenated your service last year obviously you are a rising star by taking significant share of market from them. PA as a market leader have taken several counter measures by reducing price & adding optional tools into the standard package, and as of now PA's offer – fee (annual) & software tools are more or less the equivalent to yours.
So, can you also elaborate on or list the specific competitive edges you think you offer to your customers compared with PM & especially PA?
1a)
We try and set ourselves apart in a few different ways from our competitors. The main areas being detailed below…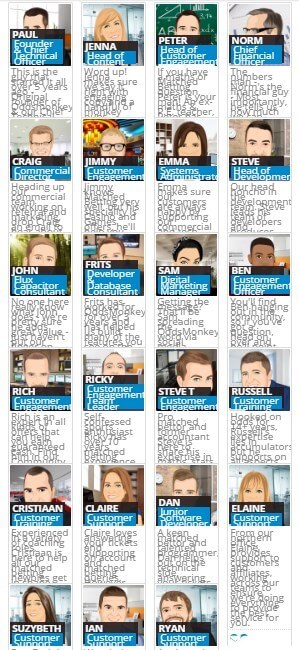 Customer support – We are passionate about ensuring our customers receive an exceptional level of support and assistance when necessary.  We have worked hard to build a team of industry experts that share my original ethos of always putting the customer first and ensuring that we make the process of learning and using our software as easy and pleasant as possible.  You can see the current OddsMonkey team and read a little more about them here.

Amazing software – I developed the first OddsMatcher software, that made the process of matched betting quicker and easier, in 2009.  Since we relaunched OddsMonkey as a full matched betting service in 2016, we have assembled an extremely talented in-house technical team that allows us to support the existing software and also to innovate by enhancing existing tools and developing new software and features to ensure that our customers have as many ways as possible to earn regular guaranteed profits every month.  You can read more about how and why I created the original oddsmatcher on our blog here.  T

he nature of working with so much 3rd party odds data means that there'll always be the occasional technical issues that crop up, but by having our own in-house tech team, we're able to respond quickly to any problems as soon as they arise.

Open and friendly Community – We pride ourselves on hosting a community forum that is friendly and helpful for beginners, advanced matched bettors, and everyone in between.  We have dedicated staff that are available in the forum between the hours of 9am-9pm ready to help out with any specific questions from our customers.  As well as our own staff, we are fortunate enough to have some extremely knowledgeable premium members who are on hand to help out other members, swap stories, share successes – it really is a great place to meet people that are interested in matched betting and discuss making money using our software.  We do not prohibit the discussion of other matched betting websites as we welcome feedback if it can be used to improve our own service. Historically we have been advised that some customers preferred a way that a competitor's tool worked (which was charged as a separate product at considerably more than our monthly fee) and we took this feedback on-board and used that feedback when designing a new version of that particular product.  I'm pretty sure you can't discuss OddsMonkey on our competitors' forums. We feel this is a strong indication that we are dedicated to being the best at what we do, and are not interested in deleting genuine posts or comments just because they mention a competitor website.
You can see from our Alexa traffic ranking here

http://www.alexa.com/siteinfo/oddsmonkey.com t

hat we've seen a dramatic increase in traffic since our relaunch, we feel this is a great indication of how we've moved from just being a software company, to now being offering a complete matched betting service to our customers, and the response to this has been amazing.

 
Paul's Answer
Oddsmonkey Review – 5 Key Competences 
Now, we will list up & analyze the outstanding advantages of Oddsmonkey (OM) over key competitions of Profit Accumulator (PA) & Profit Maximiser (PM) from our own perspective while verifying Paul's comments as follows (BTW, when it comes to the latest comparisons among these providers, the method to chose the right service for your demand with their latest offers including Oddsmonkey promotion code, see this page;
;
1) The Lifetime Price Commitment – Solution For Saving Your Long-Term Expense
Firstly, see the comparison of the price among 3 providers. which shows the monthly or & annual fee, the products included in the standard package & optional products requiring additional fee.
Price Comparison (with key features included in the standard package)
PM (Profit Maximiser)
No Monthly Fee but Only Annual Fee of £99 + VAT = £118.80 / Year
Training Guides, Daily Offer Information, Matched Betting Calculators, Oddsmatcher, Forum (Face Book Private Forum with around 7,000 members)
Add Features With Additional Fee – Bonus Bagging (for Newbie), Accumulator Generator (similar to ACCA Matcher & Fee £100 + VAT = £120 / Year), Each Way Sniper (similar to Each Way Matcher &  Fee 1 time payment of £47 + VAT = £56.4 ), EV Maximiser (Slot EV Calculator & Fee 1 time payment of £49.99 + VAT = £59.99)
PA (Profit Accumulator)
£17.99 / Month or £150 / Year and £14.99 Month or £125 / Year for loyal user (from the 2nd year)
Training Guides, Daily Offer Information, Matched Betting Calculators, Oddsmatcher, Forum (In-House Forum with around 20,000 members), Match Cacher (Horse Racing),  ACCA Cacher, Each Way Matcher (Horse Racing) & Dutching Matcher
OM (OddsMonkey)
£17.99 / Month or £150 / Year and Life Time Price Guaranteed
Training Guides, Daily Offer Information, Matched Betting Calculators & Advanced Calculators, Oddsmatcher, Forum, Racing Matcher (Horse Racing Offer), Each Way Matcher (Horse Racing), Tennis Matcher, ACCA Finder & 4Types Of ACCA Matchers, Tennis Matcher, Dutch Search
When it comes to the price, there is no differences between OM & PA. PM is cheaper but with fewer matched betting software. Anyhow, don't forget, new subscriber can recover even the annual cost less than 1 week.
Lifetime Price Guaranteed
Since I heard a lot of rumor about Oddmonkey's lifetime price guarantee, I sent a below inquiry before making the further Q&A shown in the above; "I'm reviewing your service and will publish it in my site. As a part of listing your core strengths, I am very curious about your price commitment. I understand you have kept your old £5.00 per month to the customer who had started subscribing your original odds matcher even after you renewed your business & started providing the current full-packaging service, am I right? It's based on your principle of rewarding to your loyal customers which will apply to the existing members. Means, you will not change the price but frozen the current price of £15 / month to the existing members even if you introduce any price hike in the future. Do I understand correctly? Please confirm, add your comments or amend my understanding if I'm wrong. I'll copy & paste your whole answer in my review." The below is the immediate answer I received (in screenshot) from Paul;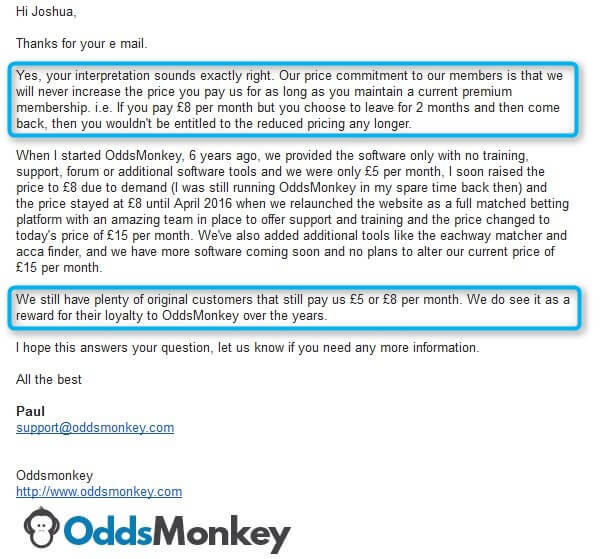 I really like his commitment to the loyal customers. So, if you sign up while the price is £15.00 per month and they increase it at some point in the future, you'll continue to pay £15.00 per month for the lifetime. PA (Profit Accumulator) recently introduced £14.99 per month or £125 per year for loyal customers who stays over 1 year. Obviously it aims to stop switching from PA to OM. However, OM's level of commitment to the loyal users looks far stronger than PA's tactical action.
2) The Highest Quality Oddsmatcher – Solution For Better Efficiency Thus Better Income
I said Efficiency is the key criteria for the paid service. Matched Betting is all about scalping profits by capturing good opportunities as many as possible. Oddsmatcher is the very basic tool but makes a significant difference in this regard. Although you can start Matched Betting even without oddsmatcher, and there are a few decent Free Software I used in my instruction documents, usually free software's update is 20-30 minutes behind. This is critical especially short-lived odds such as horse racing.
Oddsmonkey Oddsmatcher is needless to say Real Time with almost No Bug or Technical Glitch. It actually supports Paul's comment of;
The nature of working with so much 3rd party odds data means that there'll always be the occasional technical issues that crop up, but by having our own in-house tech team, we're able to respond quickly to any problems as soon as they arise.
Paul's Comment
How Efficient ? – Free Bet Extraction Rate
Let me put in this way. We generally assume 80% extraction from Free Bet, and yes it is average as long as you use Free Matcher. However, the paid service matcher will improve it to 85%, and Oddsmonkey's oddsmatcher make me constantly achieve over 90%. Assuming you get £/€1,000 Free Bet per month, 10% extraction improvement is worth £/€100 additional income per month (it already covers 2/3rd of the annual subscription fee).
How Efficient ? – No Opportunity Loss
The filter function is next to none. As seen from the below, you can filter almost all imaginable criteria to search the opportunity that meets the conditions of each bookie's offer.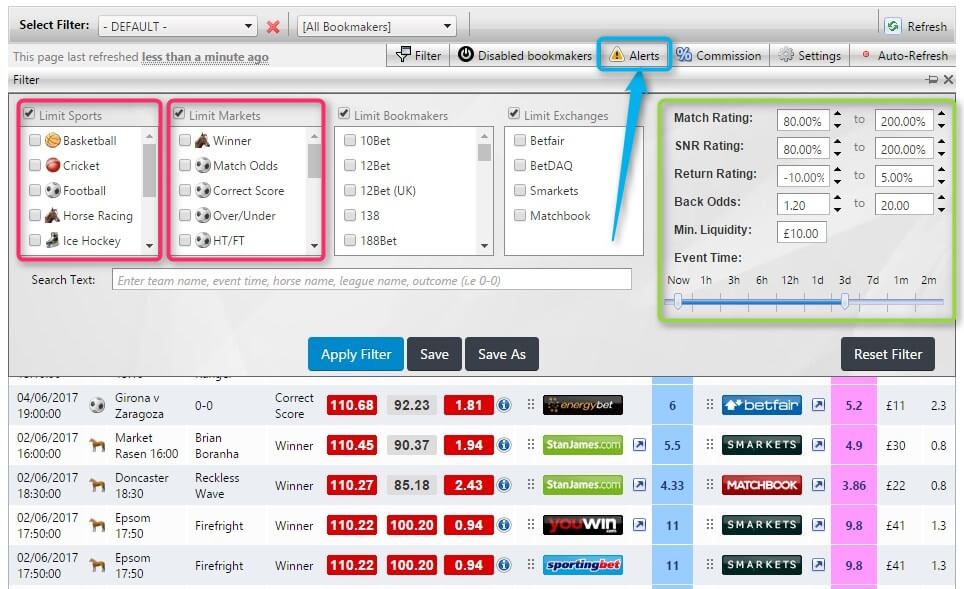 If what you're looking for is currently not available, you can save your filter and set Alert e-mail. It's very convenient for regular offer, say Bet365 Bore Draw. It's every day offer thus you filter "Football" "Correct Score & HT/FT", and you may want to set Profit Requirement & Minimum Liquidity based on your preference. Then, you will receive e-mail when the opportunity arises.
There are many weekly loyalty offers that can be simultaneously pursued with other offers. For example, Mint Bet (never heard about it? It's a new bookie I found in Oddsmonkey) offers Bet £10 x 10 Get £10 Free Bet every week. It also offers Red Card Refund for football match bet. What I do is combining these 2 offers, means I bet 10 Football Match Result market, if I hit Red Card match then get refund, even not I can fulfill the weekly free bet requirements. Since I want to minimize qualifying loss, I set match rating to 95% & set Alert. BTW, your bet that gets refund from other offer is not usually counted for the loyalty offer, just FYI.
It saves hours of scouring the sites and allows you to cover so many more events that you wouldn't have done otherwise.
Overall, the quality of the OM's oddsmatcher is the highest but PM already caught up so, among these 2, no significant differences.
3) The Widest Range Of Software – Solution For Better Time Efficiency
On top of the Oddsmatcher, Oddsmonkey provides you several advanced tools to capture earning opportunities in major type of offer or sports categories. Namely, ACCA Matcher / Finder (Football), Racing Matcher (Horse Racing), Each Way Matcher (see the next section for details) and Tennis Matcher;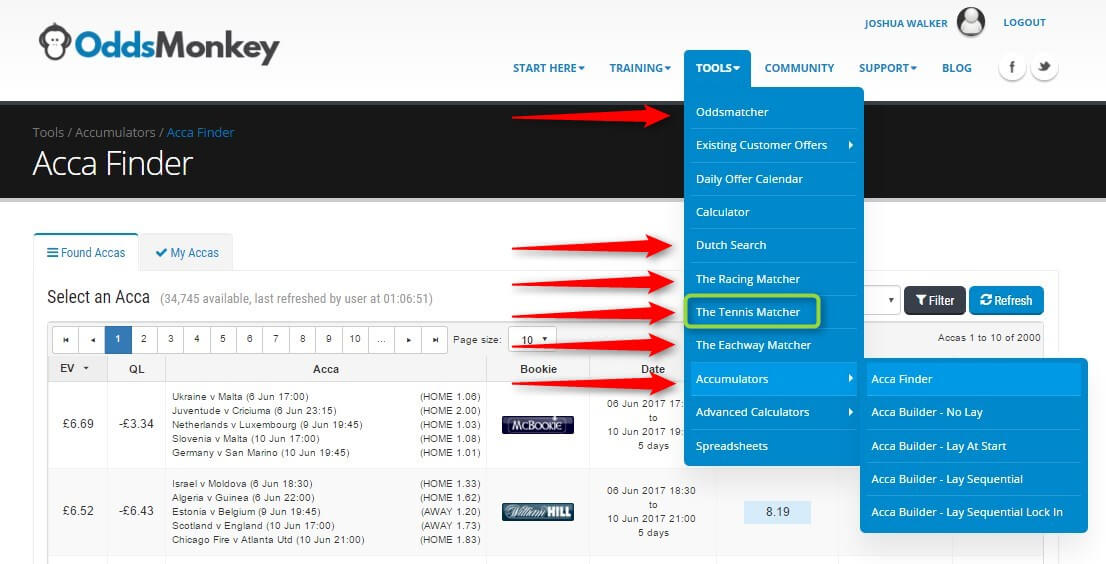 Since Tennis Matcher is the tool provided by only Oddsmonkey, let's take a look at how it works. It's extremely useful in major tennis event such as grand slams. Many bookies conduct promotions intensively, and the below Betfair's Profit Guaranteed Offer of "Place 5 Bets & Get A Free Bet" for French Open is one of them; 

Tennis Matcher displays all the major offers by bookie, and when you chose Betfair, the current best opportunity (the tightest odds match) is shown as below;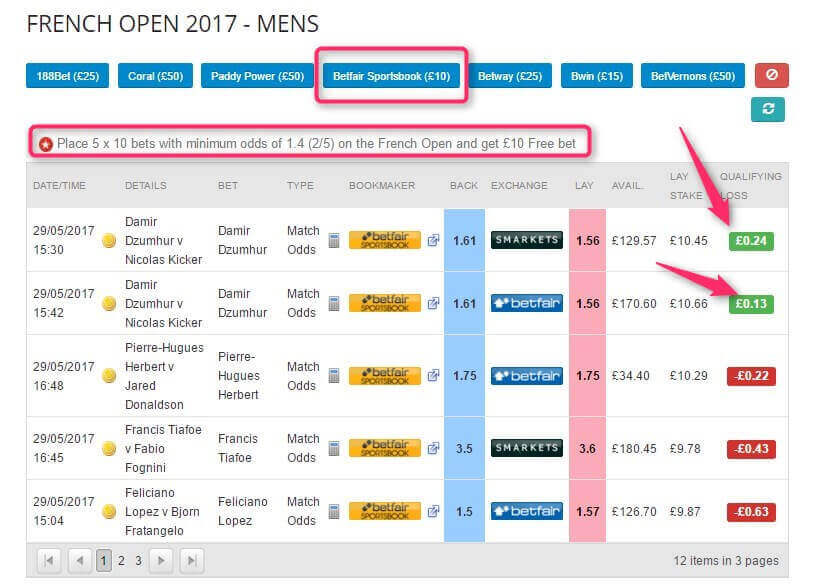 So, the above table gives you 2 arbing opportunity, means qualifying profit rather than loss. These software will greatly help you save your time to identify profitable opportunities when you have specific bookmaker's offer in mind (or you will find the on-going offers in the matcher).
OM's Oddsmatcher & other advanced software provides you with probably better efficiency than any other competitors with the highest quality supported by in-house technical staffs. Therefore, when it comes to the matched betting software range, we would say OM seems to be the best. 
4) Each Way Matcher – Solution For Long Term Sustainable Income
All the matched bettors are aware that the biggest obstacle to achieve sustainable long-term profit is Bookies' Account Restriction a.k.a. Gubbing.
Each Way Betting is just a standard way of betting that is not related with bonus / offer. Therefore you can keep placing each way bet after your account is gubbed. Each Way Arbing (in case you're not familiar with it, find it more in Each Way Arbing – The Way To Guarantee Profit Even In Your Restricted Account ) is the way you can completely exploit your gubbed account. As remarked in my document, one of the hardest issue is finding the opportunity. This Each Way Matcher will constantly provide you with the Arbing Opportunity as below;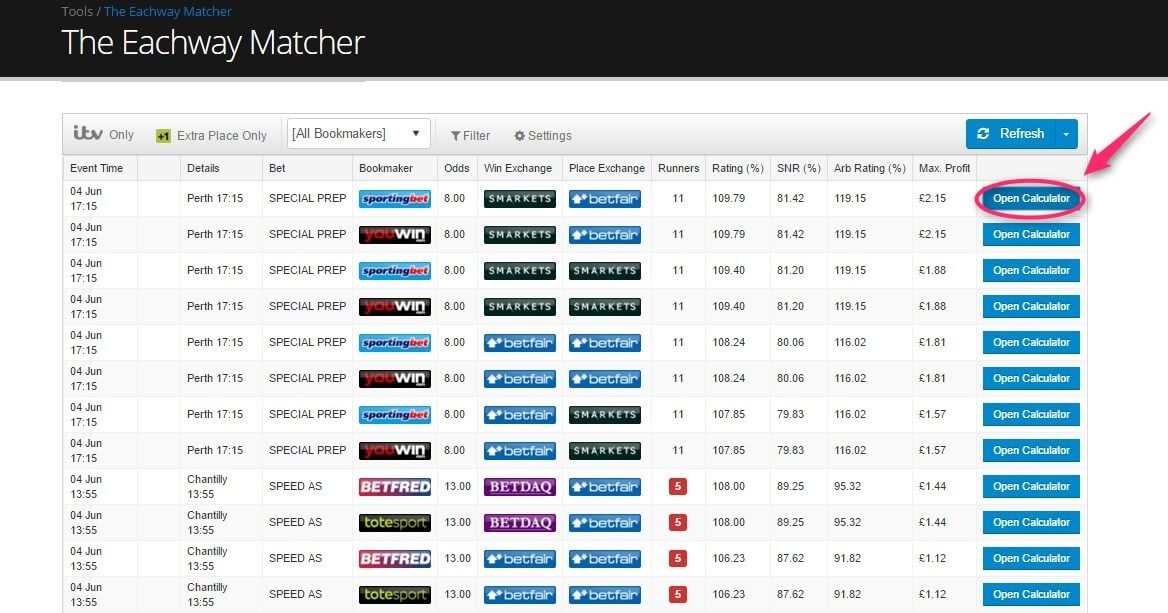 Like all the other software, when you click Open Calculator, the specific instruction, namely how much stake you can stake in which bookmaker at what odds as follows;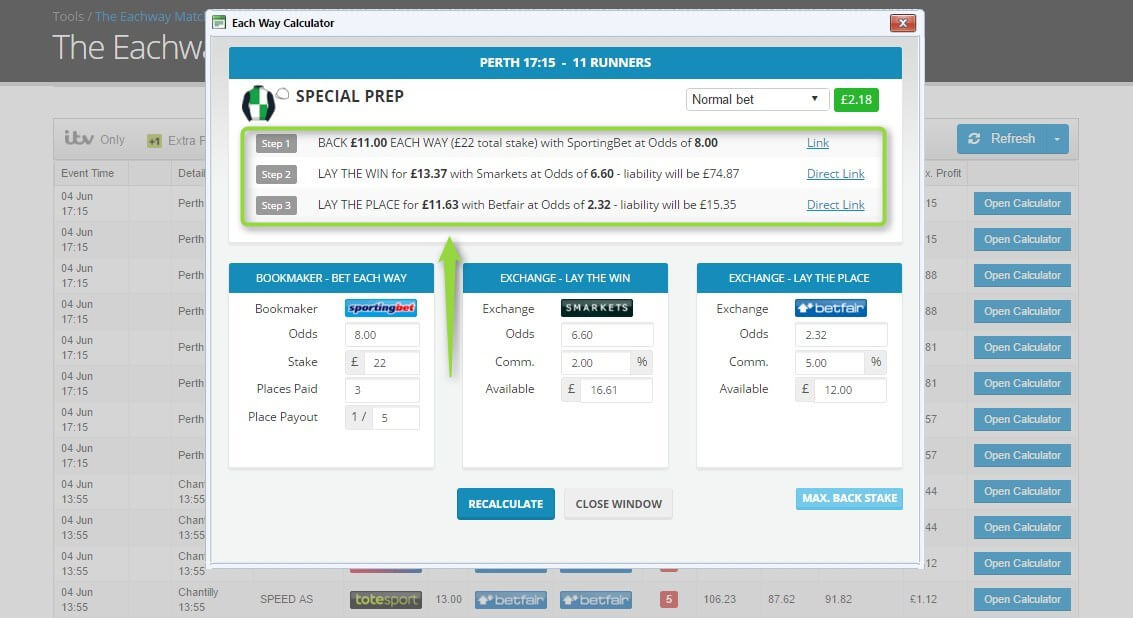 OM & PA are the most advanced & value for money software tool in this category because other providers including PM ask for additional fee or still in the beta stage.
New Development – Extra Place Matcher
For this particular category, please see the below correspondence with Paul;
3) It will be great if you can share your strategic vision on your future business. You previously said "we have more software coming soon", yes we understand you always strive for continuous improvement. Is there specific new features you can share now?
3a)  Unfortunately for commercial reasons, I cannot share too many details on some of the projects we're currently working on, but we're very excited about them and they will make the process of matched betting even easier for our members, saving time which should translate to more profit :)
One tool that we will be releasing very soon, and I can share some details on, is our new Extra Place Matcher which will simplify the process of earning and tracking profits from horse races where the bookmakers are offering extra places.  We're just finalising internal testing and this should be with our customers for beta testing in the next few weeks.
Paul's Answer
I like their continuous improvements and as confirmed you will enjoy all additional benefits Free as long as you join before any price hike in the future, which is not seen in any competitors. 
Extra Place Matcher Update
When it comes to Extra Place Opportunity, we have Spreadsheet in How To Make Profits from Extra Place Offers EVEN in Your Gubbed Account With Lay Calculator. However, Oddsmonkey's new development is far more efficient. The software is like below;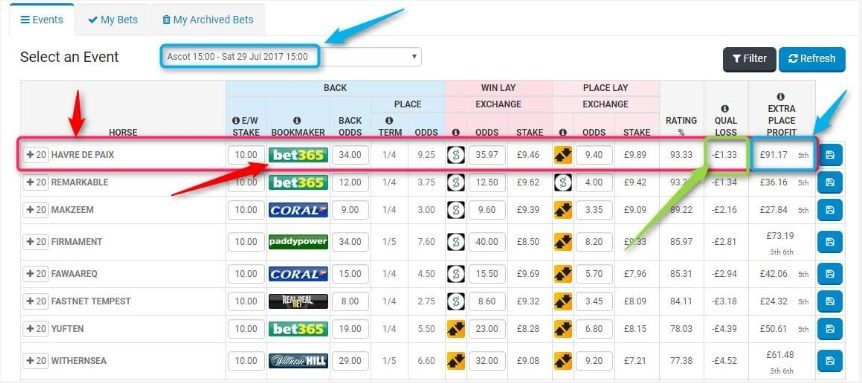 The image speaks volume. For every race where bookmaker(s) offer extra place, the software list the highest profitable horse with specific stakes (back, lay win & place) in which bookie & exchange(s). The top row info indicates, you will incur £1.33 qualifying loss but if "Havre De Paix" finishes the extra place of 5th your profit will be £91.17. The effective odds is 69.5, which is absolutely worth pursuing. The Extra Matcher always provides you with such juicy opportunities. That's the value of Oddsmonkeyy paid service.
5) Coverage of Bookies & Dutching Software – Solution for International Players
Many sites introducing matched betting says matched betting is for UK/Ireland only. Therefore most of the players outside UK/Ireland seem to give up. It's true that earning potential may be limited but definitely there are decent opportunities.
Please see my question & answer from Paul as follows;
4) What about your view on the overseas market. Nearly half of my GEM's registered members are from outside UK. So far, the matched betting is pretty much UK/Ireland opportunity, but there are many bookies that offer attractive promotions, even in the absence of Exchange, arbitrage or Dutching method can be applied. Would you have any chance to expand your service to the prospective customers outside UK/Ireland as a next stage, if so how?
4a) We actually have a fair few overseas customers already, there are some European countries that have access to the same Betfair as the UK (i.e. not ring-fenced like the Italy market).  It's definitely something that we will be exploring in the future, but we're currently focused on meeting the huge demand from the UK since our relaunch. So far, this has involved scaling our systems and support teams to ensure that the level of service we provide to our customers continues to operate at a very high standard.
Paul's Answer
Actually, in the Oddsmonkey forum, although it is not as active as other threads, there is a dedicated section for Overaseas Members as below;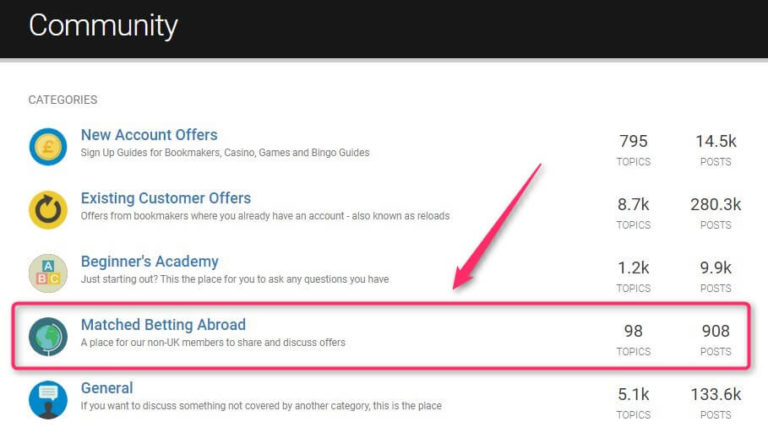 Importantly, Oddsmonkey's oddsmatcher trace around 130 Bookmakers that is by far the largest coverage in the industry. It includes many outside UK/Ireland bookies such as Australian (William Hill au, Ladbrokes au, Bookmaker au etc), Asian (SBO) & Carrebian (Pinnacle & Bookmaker.com etc). So, on top of the European members Paul mentioned, it paves the road for many other international players. Actually outside UK/Ireland, there are several excellent bookies that don't gubb you, which you will find the details in
List of 20 World Best Online Bookies That Never Restrict Your Account
 and
World 9 Best Offshore Betting Sites Offers
that list their latest offers. 
Needless to say Oddsmatcher finds every opportunities for those bookies. Even in the areas where the betting exchange is not available, the Dutch Search constantly finds you the opportunities of matched betting when the bookies offer any promotions or arbing as follows;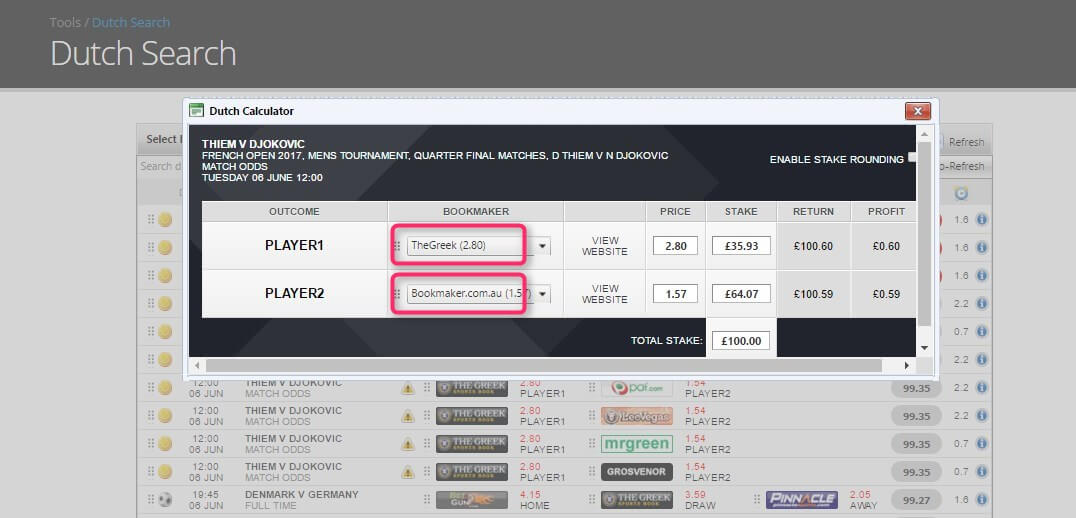 Oddsmonkey's bookies coverage is the largest including outside UK/Ireland. Coupled with available tools, they can provide the international bettors with decent matched betting opportunity, which is not observed in the other providers.
Video Library
For your convenience, access to Odds Monkey You Tube Library;
, where you find a series of video instructions about how Oddsmonkey works.
How To Start Oddsmonkey? 
Oddsmonkey regularly run special offer especially for the sign-up deal, so suggest you go Matched Betting Software & Subscriptions – Best 3 Deals & How To Chose to check if you can access to any additional benefits. 
Free Account & 30 Days Money Back Guarantee
As an on-going offer,
Oddsmonkey Offer Free Account. Click This Entire Box, Create Free Account to Earn up to £45!!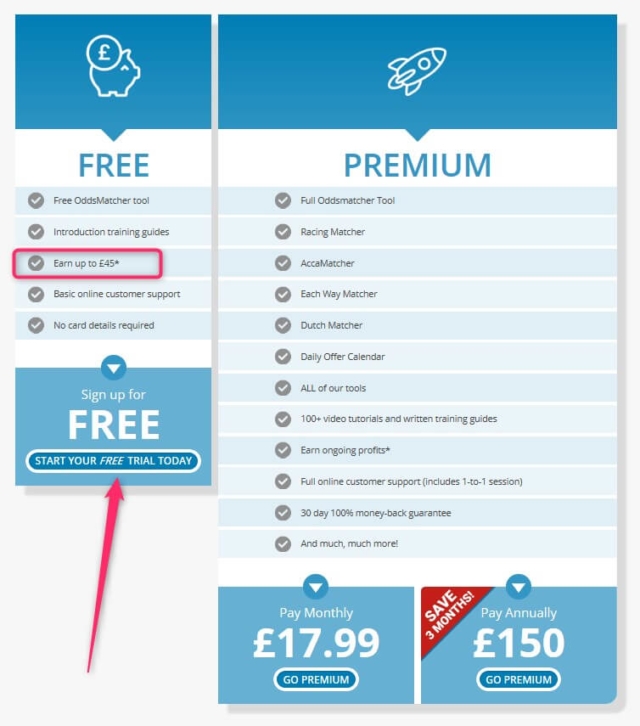 The services you can access in this free account will enable you to earn £45 (could be more), which will also get you familiar with how the matched betting works. So, it's entirely risk free although the accessible service is quite limited in comparison to the Premium account as seen from the above.
The above link will automatically give you the OddsMonkey 30 day trial, see its T&C;
No oddsmonkey promotion code required, means if you want to experience how Premium Account works for you, just upgrade your free account to premium account at £17.99, get full Oddsmonkey benefits. If you don't value and want to cancel Oddsmonkey, then just send refund request to support@oddsmonkey.com. Then, you will get full £17.99 money back within 2 days with no strings attached (you are not required to provide any reasons).
Honestly I can't see any particular reasons not go for this service. 
Oddsmonkey Review – Conclusions
Judging from all the above competitive edges analysis, I would say OddsMonkey is one of the top matched betting subscription services.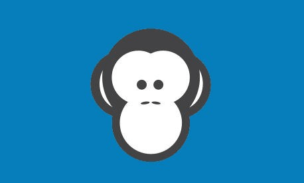 And I would personally feel it could last for long time as long as they have Customer First Culture with Open Mind, which are reflected on their forum policy & the way of continuous improvement. Let me quote Paul's comment again for these particular aspects;
We do not prohibit the discussion of other matched betting websites as we welcome feedback if it can be used to improve our own service. Historically we have been advised that some customers preferred a way that a competitor's tool worked (which was charged as a separate product at considerably more than our monthly fee) and we took this feedback on-board and used that feedback when designing a new version of that particular product.  I'm pretty sure you can't discuss OddsMonkey on our competitors' forums. We feel this is a strong indication that we are dedicated to being the best at what we do, and are not interested in deleting genuine posts or comments just because they mention a competitor website.
Paul's Answer
  Lastly, let me show you Paul's comments regarding the Matched Betting Industry Forecast as below;
2) Could you share your view on how the matched betting industry will evolve for long term? You may want to include possible threat & opportunity such as bookies business model change (from heavy reliance on promotional activities to Pinnacle approach?) or Law Enforcement on Banning Gub etc?
2a) This is obviously a difficult one to answer categorically as no-one can accurately foresee any upcoming changes in gambling laws or bookmaker customer acquisition strategies, but what we can say is that the free bet/promotion model has been the preferred strategy for the majority of European bookmakers for over 30 years, and this has increased since the advent of the internet.  Matched Betting and advantage gambling has been in existence for over 15 years and, while it has grown dramatically over the last 2 years, it still represents an extremely small fraction of the new players acquired by bookmakers each month.
Pinnacle have always been the exception to the rule, and I'd personally be very surprised if other bookmakers chose to adopt the same model, but even if they did it would open up new opportunities for our customers to make guaranteed profits using our current and future software products.  Pinnacle used to be one of our most popular bookmakers before they withdrew from the UK, and we expect them to be very popular once again when they re-enter the UK market in the coming months (so they tell us).
Paul's Answer
I agree with Paul. As I said in my Beat The Bookies By Knowing How Your Enemy Makes Money – Secret Of Odds, given the success of promotion driven model, it's quite unlikely that the bookies will cease the offers. Means the matched betting industry will have large chances to keep growing. Oddsmonkey has alternative way to keep making money even if the bookies change their business model to Pinnacle Model.
Make a Living Oddsmonkey
In their forum, there is a thread of Full Time Matched Betting;

The members talk about £10,000 – £30,000 yearly Oddsmonkey earnings. I am personally not for the notion but suggest it be an Extra Income as explained in 3 Smart Ways To Make Fast Extra Money Online & Why We Need Extra Income. However, for those who consider it, Oddsmonkey must be the most appropriate service.
Oddsmonkey Alternatives
As we already referred in this report, the clear contenders to Oddsmonkey are Profit Accumulator & Profit Maximiser. In fact Oddsmonkey is the newest major player as a full service provider although they have a long history as an oddsmatching software provider.
Let me briefly talk about the 2 contenders.
Profit Maximiser Review
Profit Maximiser is run by Mike Cruickshank. Mike is actually a forerunner to turn the bookies offer into the organized system. His Bonus Bagging is one of the first movers that commercialized the service,  which contributed to the rapid popularity of the matched betting in UK / Ireland. Please see my full review of Profit Maximiser – The Engineer Of Matched Betting Success, Is It Still Good?;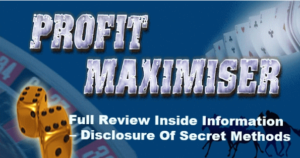 Profit Accumulator Review
Profit Accumulator came in by largely copying Profit Maximiser's service structure. PA have become the most popular service initially by aggressive marketing strategies but actually provided high quality services. Please also see my full review of Profit Accumulator Review – Should We Believe 20,000 Members' Earning Claim?;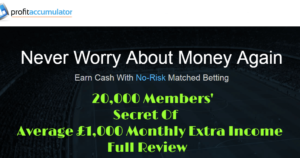 These 2 services were the best & most popular matched betting full package services until Oddsmonkey renewed its service in April 2016.
Who Is The Best?
See the latest Oddsmonkey vs Profit Accumulator, Profit Accumulator vs Profit Maximiser etc comparison & choice in Matched Betting Software & Subscriptions – Best 3 Deals & How To Chose.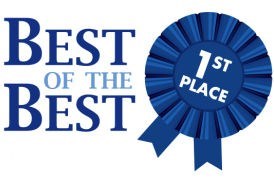 So, whatever questions you have in your mind, don't hesitate to contact us –  Click the Face Icon on the right. I as a live subscriber to their service will make my best to answer your concerns.
Good Luck!!
Joshua Walker
Editor – GEM (Global Extra Money)
---