Technique To Secure Profits from Betting Signup Offers – Bonus WR (Wager Requirements)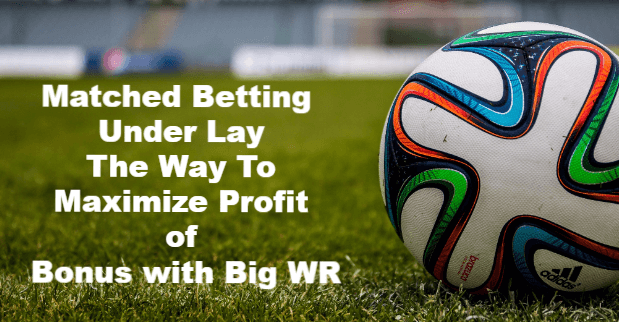 Estimated Reading Time: 10 minutes
Struggling With Rollover Requirements Before Withdrawing Sports Betting Signup Offers? No More Worries, Use Underlay Technique To Secure Bigger Profit!!
No-Deposit Bonus is getting popular in Casino
 but Sports Betting Signup Offers like Deposit Bonus requires Real Money Deposit First. And you need to stake x times, a.k.a. Rollover Requirements or WR (Wager Requirements) before you can withdraw your bonus. Although WR of Sports Betting Signup Offers is much smaller than Casino, still it's a burden & may decrease your profit. Many matched betters are not aware of Simple Lay technique which enhance your profit under WR. We Show You How!!
This is a part of the series of Specific Instructions about Matched Betting;
Full List Of Instructions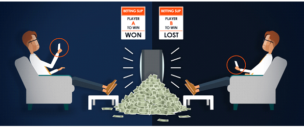 , which is probably the most popular advantage play in the UK. You may want to see the Advantage Play Guide, which gives you an overall picture of our strategies with a full list of 6 advantage gambling methods (bear it in mind, we don't do gambling because we never rely on Chance but on mathematical advantage)
In this document, we provide you the step-by-step instruction on How To Secure & Maximize Profit from Bookmaker's Deposit Bonus that requires WR (Wager Requirement) .
3 Additional Lay Techniques Used in Matched Betting
In the matched betting, on top of the standard Lay, we have 3 additional Lay variations as follows;
Extra Lay
This is probably the most advanced technique which is used in Difficult IF Bet.  Namely "We will refund your lose bet if Messi scores first" or "We will refund your lose bet if Serena Williams wins the title" etc.  For the details, Extra Lay – Technique To Lock In Profit in Tricky "IF" Bet  where you fill find the specific instruction on how to extract cash from such offer with concrete examples;

Overlay
It is the method employed to Get More Profit when you Win at Exchange and Less Profit when you win Bookmaker. You may wonder what we're talking about. See the example of Betfair "Back the Winner, Get Free Bet" as below image. Simply put, you will get free bet when your bet wins. Means you need less profit when you win in the bookmaker because you will get free bet reward. Complicated? Don't worry, we are preparing the specific instruction separately.
Underlay
Finally, let's talk about the main subject here. Yes as you imagine, it's completely opposite to the Overlay. In fact, this technique can be used in various occasions. But in this document, we focus on 1 popular condition often required in the Betting Sign Up Offers – Bonus with WR.
How To Use
As said, it will create just opposite condition to the Overlay, so get more profit if the bet wins at the bookmaker and less if it wins at the exchange. When specifically do we want that to happen?
WR (Wager Requirement) on Sports Betting Signup Offers – Deposit Bonus
Rather than requiring qualifying bet before receiving free bet such as "Bet £10 Get £20 Free Bet", some bookmakers give you a bonus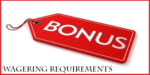 immediately when you deposit. Off course things don't go too easy. They require you to rollover (turnover) your bonus means betting your bonus before you can withdraw your balance, which is called WR (Wager Requirement).
The typical example of this betting signup offers is Bet 365 Turnover Requirement used for welcome offer*.
*Bet365 changed the welcome offer from Oct 2017 in UK / Ireland. The old offer was a long-established typical Roll-Over Bonus. And the instruction on the old offer is a very good example to explain how you can maximize extracting cash from Roll-Over Bonus. This method can apply to any "Deposit XX Get XX% Bonus Which You Need XX Roll-Over Before Withdrawal", I will keep the whole instruction using Bet365 old offer.
(BTW, for the current Bet365 welcome offer, please go Bet365 Sign Up Offer – How To Guarantee £/€80+ Profit With No Gambling)
Bet365 Old Welcome Offer
You open an account & deposit £200, you will receive 100% deposit matching £200 bonus. Sounds attractive? Yes, but you have to stake (original deposit of £200 + bonus of £200) x 3, means you have to bet £1,200 before you can withdraw your balance related with the bonus.
Ideal Way
What is the best way to finish it via matched betting? The simplest way is placing all the £400 at once and hope you will lose the entire £400 in Bet 365 and win in Exchange. Because once your balance becomes 0 in Bet 365, you're finished. No more WR (don't worry you win the equivalent amount in your exchange since it's matched betting).
However, things don't always go like this. Often you win in Bet 365. Then you have to complete the full WR of £1,200 or until the time you lose the entire balance in Bet365. Theoretically, the more you progress WR, the more you lose your bonus. Because unless you find arbitrage opportunity (the back odds is higher than lay odds), you will make a marginal loss every qualifying bet you place. Is there any way to make the situation better if your bet wins in Bet 365?
Here comes the Underlay.
How Doe It Exactly Work?
Let's continue to use Bet365 example to explain the exact benefits of Underlay.
Firstly, assuming we find the event of odds of 2.0 at Bet365 and 2.1 at Betfair.  And bet the entire £400 for the first bet at 2.0 odds with £390 lay which is the amount we need to lay at the 2.1 odds of exchange. You can get it in Free Matched Betting Calculator as below;

Then, we lose a bit less than £30, the below image shows the lower part of the above calculator;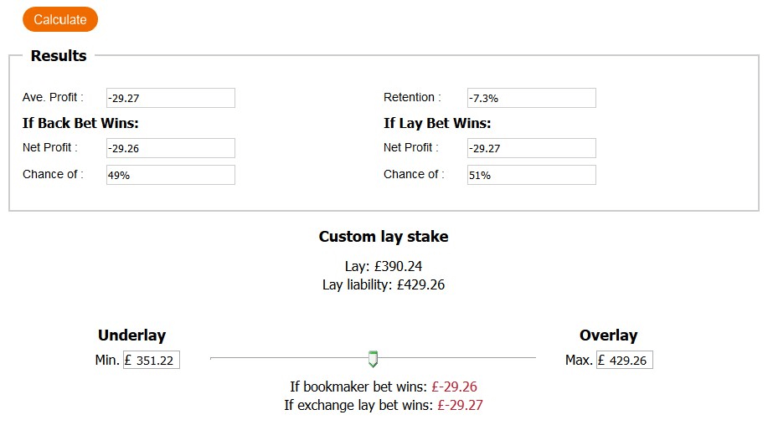 So, if you're lucky, you win at Betfair and lose at Bet365 so that your balance at Bet365 becomes 0 and WR is completed with successful £170 pure profit (£200 bonus – £30 loss). However, if your bet wins you need to start wagering the balance of £800.
Assuming we bet £100 x 8 bets with the same odds combination of 2.0 at Bet365 & 2.1 at Betfair, we will lose nearly £60 (£7.32 loss per£100 stake as shown in the below calculator x 8 bets). So combining the initial loss of £30, the total loss will be £90 which is nearly half of the bonus.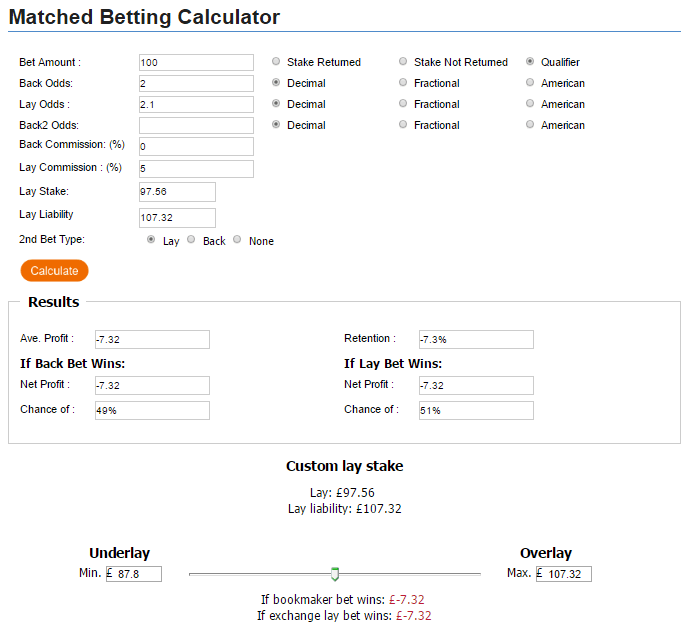 Underlay Scenario 1
So, how can we make this situation improve with the underlay? As you must already notice, the calculator shows both Underlay & Overlay. Let's start up with the initial £400 bet. This time, we only lay £363.64 (underlay) rather than £390. Why £363.64? Because this is the point we don't lose when bookmaker wins as seen in the below calculator;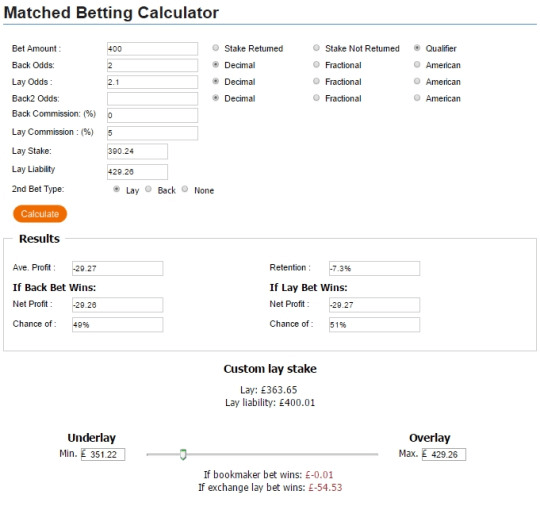 If the bet wins at the bookie we still have £800 balance and lose around £60 in the course of WR. But that's it because we don't lose in the first bet. If the bet wins at the exchange, no more WR, we lose £55 that's bigger than £30. Well, what do you say? Compared with the original approach of just expecting the Bet365 bet to lose (this is a gambling) we can lock-in the better equal profit of £140 – £145.
Underlay Scenario 2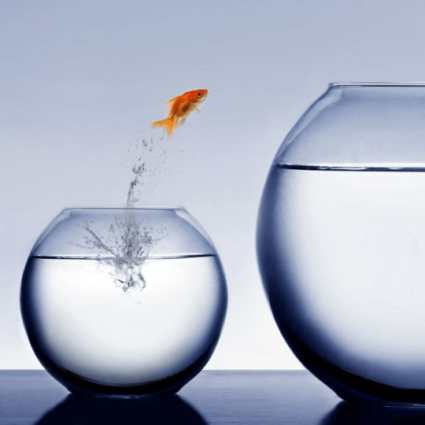 Let's examine what happens if we underlay even more. Taking the same £400 back bet at odds of 2.0 and again having lay odds of 2.1, this time we'll only lay £350, 

Now, I don't need to explain details. You will finish WR with the loss of £67 or have an £800 balance with £15 profit, means you will lose total £45 (£60 anticipated loss – £15 profit). In this case, the profit would be between £133 – £155.
In fact, there is not so much difference between the 2 scenarios.  I just want to demonstrate how the underly works. You may adjust the level of underlay you feel comfortable, or depending on the odds. If the odds are quite short such as 1.2 – 1.6 (Bet365 sets minimum odds at 1.5 for WR) means the probability of winning at bookmaker is high. Then, you may maximize the underlay. However if  the odds is relatively high like 3.0 over, then you may take modest underlay. Don't forget, the basic rule is finding the odds as short as possible for qualifying bet mainly because you tend to find narrower odds & can minimize lay liability.
Anyhow, you can use underlay like the way you have seen.
Risk Free Bonus
I said, underlay can be used in many occasions other than betting signup offers with WR. Risk Free (Lose Bet Refund) Bet Bonus is one of them. ‪What is Risk Free Bet? You may see a lot of bookies' advertising like 'If you lose your — bet we refund you all in the form of Free Bet' etc. This promotion is extremely popular as seen in the below 188Bet image;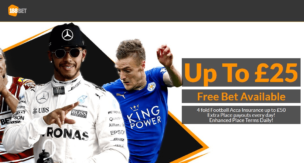 Typical Mistake
Many matched bettors, even experienced may not be aware of the Way To Lock-in the Profit from this Riskfree signup offers. Look at Dafabet "If Your First Bet Doesn't Win, Refund Up To €/£30 As a Free Bet";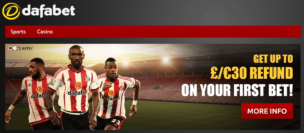 Since the condition of the betting signup offers is IF YOUR BET LOSES, the matched betting newbies tend to think placing the bet at high odds with the hope of losing it to get the refund is the only way to deal with it. Yes, probability wise, betting on long odds will give you a better chance to achieve your objective, and often people get refund. But occasionally your bet wins, then you have no benefits from this offer. Therefore, from the perspective of guaranteeing profit, obviously it's not the best tactics
Lock-in Profit Method
We can lock-in the profit by using the Underlay method,
How To Lock-In Profits from Risk Free Bet Sign Up Offer By Matched Betting where you will find step-by-step instruction by using several real examples including the above Dafabet; 

---