Northern Monkey Punter Review
Northern Monkey Punter is The Best Tipster Chosen By The Reputable Proofing Service SBC for 4 Consecutive Years!! 
Is Tipping Service Worth?
There are a few Extraordinarily Great Tipsters who can bring about Outstanding Profit that exceeds top financial investments including offshore hedge funds.
But unfortunately, it's Extraordinarily difficult for Ordinary People to find such Extraordinarily Tipster. Well, if you are lucky enough to find the one, you have a large chance to live off of it. For the detailed rationale behind it, read How To Make Living Sports Betting.
Again, unfortunately, such lucky doesn't usually happen.
Self-Claim experts manipulate their performance and many rating sites fail to make objective evaluations affected by affiliate relationships. As a result, many punters disappoint with the poor tipping results.
Genuine Proofing & Rating Service
Therefore you need reliable rating service that provides you without any distorted numbers.
Smart Betting Club (SBC) has all abilities to locate such gems through their 100% Independent (means no affiliate relationships with tipsters) Proofing Services & Strict Review. Please take a look at our Full Review On Smart Betting Club.
BTW, we have recently updated 3 Methods To Eliminate Fake Tipsters & Select Genuine Best, where you can also confirm the authenticity of SBC, Just for your information.
Hall Of Fame Rating
SBC set Hall of Fame (HOF) ratings based on longevity and consistency of profits.
The tipsters that are rewarded HOF rating are seen no obvious reason why these profits won't continue in the short to medium term.
Very often a Hall of Fame rating has been won over a long period of time, with the majority of tipsters listed within this having a track record dating back several years. The below is a HOF rating list and Northern Monkey is one of them;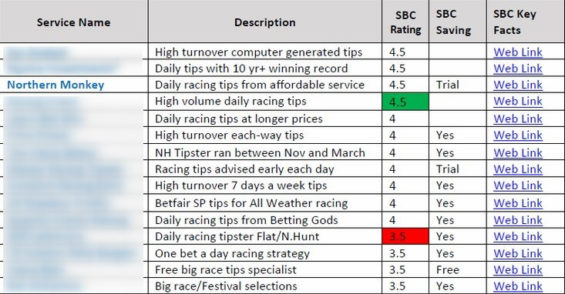 I will share the case study excerpted from the SBC article (I put my own notes & highlighted the key points in red), which demonstrates why SBC's selected tipsters are So Good by using Northern Monkey Punter as the Gold Winner of Both Best Horse Racing & Best Overall Tipster in 2015, 2016, 2017 & 2018 Smart Betting Club Awards. 
Revealed: The Anatomy of a 'Hall Of Fame' tipster
Our aim of Smart Betting Club is simple – to help you make money from your betting, whether it be for the first time ever or by increasing the profits you are already making. 
One way (amongst many more) in which we can do this is by pointing you towards the best tipsters in the market, the ones who are provento make long-term profits.
What makes the best, the best?
If you were to sit down and think about what exactly you would want from a tipping service you would pay for, I would imagine your wish list would look something like this:
Excellent results – after all, you want to make money!
Proven over the long term – you don't want to be investing in anything that might just be a flash in the pan with some lucky recent results that make them look good.
Affordable – big fees can eat into your profits in a big way!
Good explanations behind each bet – it's always nice to know exactly why you're putting your money down.
Odds availability – something that is massively important and often overlooked, you need to know that you can match the results the service is claiming.
We don't feel that asking for the above is asking for too much!  But sadly, there are so many so-called expert tipsters that fail to put a tick in these boxes.
The good news is, there are many that do…
A case study: Northern Monkey Punter

Northern Monkey Punter is a long-time favorite of our members and regularly received elite Smart Betting Club Hall of Fame services. It was voted as Best Horse Racing Tipping Service and Best Overall Tipping Service (all sports) for 2016 in our annual member's poll.  That's quite a thing, but then when you consider it won both prizes in the 2015 vote too.
Why don't we break NMP down?  That way, we'll be able to see the anatomy of an SBC Hall of Fame tipster.
Long-term success, a proven edge, low fees…
Although primarily a flat racing specialist, this year's Cheltenham Festival witnessed Northern Monkey build quite the ante-post portfolio.  It was clear that he had spent a huge number of hours analyzing form, and the results for his subscribers were spectacular:
But remember what we were saying about not wanting to pay up to what might be a short-term flash in the pan?  Well, Northern Monkey has been proofing his bets to us here at the SBC since 2010.  We have six years of proven results which have provided an excellent long-term Return On Investment of 12%.

You might worry that such a successful tipster might be charging huge subscription fees, but that couldn't be further from the truth.  Northern Monkey continually rides high in our "Best Low-Cost Horse Racing Service" table that can be found in the SBC's Tipster Profit
The report issued regularly to all members. With all this plus every single bet, Northern Monkey advises accompanied by a detailed rationale that explains why the horse is being tipped, you can see that all the boxes in our essential checklist of what makes a great service have been ticked.  That is, all apart from one – that of odds availability.
Better Results Than The Tipster Himself?!?
We find, from our analysis, that there are certain tipping services that are only too happy to shout to the rooftops about their massive profits.  And it is often true that they did advise their members to back the winners they claim.
What they don't tell you though is that the odds they've used to record their results are likely to have been completely unobtainable by the vast majority of their members. 
If a tipster uses a standout price, being offered by just the one bookmaker, or perhaps two, it doesn't take much before those odds are slashed as a flood of wagers suddenly hits that book. 
A horse tipped at 6/1 can very easily be 7/2 just a minute or two after the tipster sent his email out, and this makes it impossible for you to get anywhere approaching the results boasted about in those flashy ads!
At the Secret Betting Club, we take this issue very seriously. When we review a tipster, we conduct a thorough analysis of odds movements at various time intervals after the bets have been released. 
This practice is quite rare for the usual proofing service.
This means we can provide you with a true picture of exactly what level of profit you can reasonably expect to make, and not some pie in the sky figure you're never going to get anywhere near.
In our latest Tipster Profit Report, we showed members that Northern Monkey Punter's odds recording policy is so fair that anyone who can place his bets within 15 minutes of receiving the email each day can reasonably expect to boost their ROI by a massive 4%!
To give that context, that's an extra £578 per year profit to Northern Monkey's own official results if working with a £2,000 bank.
Now, we can see that every box has been ticked.
If you are interested in the Northern Monkey Punter service, then all SBC members are welcome to take up an exclusive anytime 2-week trial of their service to sample what they offer.
This is part of the unique Tipster Discounts & Deals we negotiate on behalf of our members (read more on them here)
FIND OUT WHO THE BEST TIPSTERS ARE
Northern Monkey is a proud and long-standing member of our revered Hall of Fame tipping services but is only one of a number of tipsters who meet our strict criteria.  
As you have read, we put tipsters through many stringent tests before we include them on our list of the best tipsters in the industry.
You can find out who these tipsters are, and read all our analyses on each and every one of them, simply by signing up to the SBC today. 
Best of all, you can sign up totally risk-free due to our 30-day money-back guarantee, so if you find that our service is not for you, then you can get a full refund.  This means you have everything to gain and nothing to lose in joining our exclusive club!
So if you are looking to find out who the very best tipsters are to follow and start making serious betting profits, then sign up for a Secret Betting Club membership today.
(Source: SBC Article)
Northern Monkey Punter Snapshot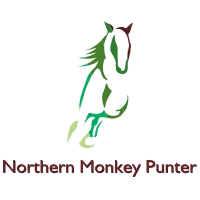 This is a snapshot of Northern Monkey Punter;
Profile
My name is Wayne (aka the Northern Monkey) and I have run my NMP service since 2010.
I initially started my working career as a research scientist but am now a professional horse racing journalist and have been a member of the Horserace Writers And Photographers Association (HWPA).
My work has appeared in many national newspapers and in 2014 I wrote a popular and highly profitable Saturday column in Racing Plus that showed a (+67 % ROI) during the turf season.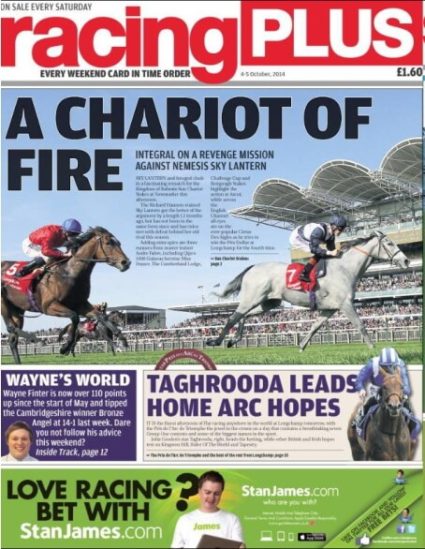 What started as a little side project through my daily job turned into one of the most profitable tipping columns in print in the industry during 2014.
The most pleasing thing about the column, which was titled 'Inside Track' and was run in conjunction with form base gurus Proform, was that the results were extremely profitable to the industry starting prices – not inflated by unobtainable prices to restricted stakes.
The column covered a whole host of big meeting winners in races like the Spring Cup, International Handicap, Northumberland Plate, Old Newton Cup, Portland, Skybet Dash, and Great St Wilfrid.
I also tipped up the autumn double by advising Big Easy in the Cesarewitch and Bronze Angel in the Cambridgeshire.
Despite its high level of success, at the start of 2015, I gave up writing the column to concentrate on sending out my bets solely through my NMP service, though my time writing for the paper was a great experience and the high level of profit my column produced (especially as it was mostly to SP) showed I can stand against anyone in the industry, writing a professional and profitable tipping column in the national press.
Got 3,991/1 in a six-fold accumulator
I have written form previews that have appeared in the Racing Post (betting shop edition) and my work has also appeared on well-known racing websites (including one of the main racing broadcasters and main odds comparison sites) and in course racecards.
On 26th August 2015 I went through the entire six-race card at Musselburgh and tipped up winners at SPs of 11/10, 11/4, 11/2, 3/1, 5/1, and 9/4 – this returned 3,991/1 in a six-fold accumulator!
In the past I have participated in the tipping competition run for members of the Horserace Writers And Photographers Association (HWPA), finishing fifth in their yearly tipping competition in 2011 and fourth in 2013 (with the second most number of winners tipped up over the year) – up against the top media pundits in the industry from the likes of Timeform, Sporting Life, The Racing Post, and Racing UK, etc.
Northern Monkey Punter Tips Guide
Click the below +Northern Monkey Punter Tips Guide to expand the information of key guideline of the tips, which include the expected profits;
Northern Monkey Punter Full Review
If you want to subscribe Northern Punter Monkey (Wayne) tips subscribe, the best way is become SBC (Secret Betting Club) Member and get 2 Weeks Free Trial as announced in Northern Monkey Punter Site;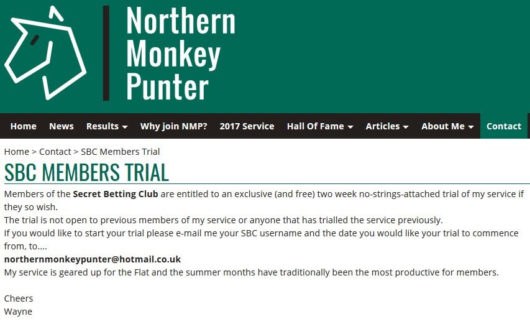 Coupled with all the information & benefits you can receive as a SBC Member. It's obviously the most cost-saving method & value deal. Go SBC Free Membership.
SBC is often appeared in the below popular media;

Lastly, for those who seek US Major Sports Most Successful System in the world, suggest you take a look at  ZCode Latest Info, where you can also find 75% subscription link (check if it's working now, if not come back later).
Good Luck!!
Joshua Walker (bio) 
Editor – Global Extra Money (GEM)