HUD for Poker
Poker Hud (Heads Up Display) is software that allows you to collect data on your opponents and put it right on your screen in online poker.
Actually, poker tracking software gives you 2 benefits;
Improve Your Poker Skills: The software collects your hand histories to monitor each poker session's hands played, profit or loss, & table style and finds your leaks as self-analysis, which hugely improves your poker skill. 
Identify Bad Player: The software also collects and analyzes studying opponents to spot their weaknesses, which is very useful especially when you play multiple tables because you're difficult to keep track of many different players across several tables.
Poor casual players can be identified based on their playing styles, and HUD allows you to instantly assess if your opponent is a Fish, Whale, or Shark. The more data it collects, the more accurate it gets in predicting how a player would react to certain situations.
List of Best Poker HUD Software
We list the 2 Best Poker Huds that are second to none in this industry. 
PokerTracker 4 – Best For High Volume Reg/Grinder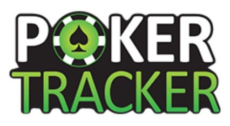 Snapshot
PokerTracker 4 (PT4) was developed by PokerTracker Software, LLC in 2012.
Collects in-depth data and the WYSIWYG editor allows you to do more customization features, which can work for cash games, SNGs, and tournaments. 
PT4 helps you to make real-time adjustments while playing in the game (LeakTracker), so instant improvements (see Product Features)
Compatible between Windows & MAC and Light software
The licenses are for life and can be used on up to 3 different machines.
Poker Sites Supported: Works with major poker sites including 888Poker, PokerStars, Winning Poker Network (ACR & BCP), iPoker Network (Betfair Poker, etc).
Free Hand Grabber to Paiwangluo Poker Network (Ignition, Bovada & Bodog)
A very active forum is available.
Free Trial for Serious Grinder
"14 Days Free Trial – No Registration Code Required, Just Click this whole button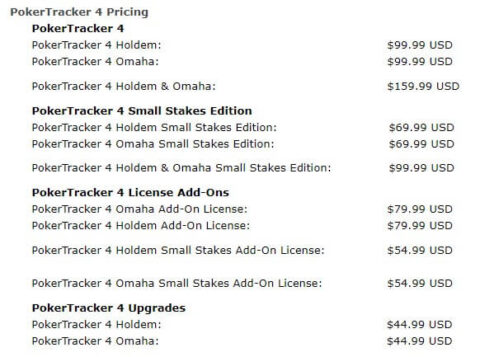 Payment: Card (Visa, Master, Discover, American Express), PayPal & Neteller.
Holden Manager 3 – Best For Beginner/Casual Player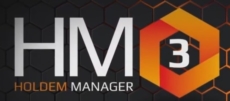 Snapshot
Holden Manager 3 (HM3) was created & introduced by MVS (Max Value Software) in 2007, one of the HUD pioneers
HM3 collects all the stats (can customize to make the feed less cumbersome) and does In-depth analysis (can be adjusted based on skill level). Post Game Analysis helps you improve your core skills by finding your leaks (see features)
Very easy to install and use
Multi-language support for non-native English speakers
The licenses are for life and can be used on up to 3 different machines
Poker Sites Supported: Works on 12 major poker sites including 888Poker, PokerStars, Winning Poker Network (ACR & BCP), iPoker Network (Betfair Poker, etc).
Free Hand Grabber to Paiwangluo Poker Network (Ignition, Bovada & Bodog)
A very active forum is available.
Free Trial For Casual Player
"15 Days Free Trial – All cash games and tournament buyins are supported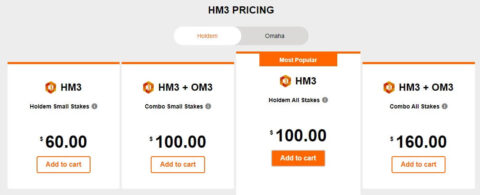 Payment: Card (Visa, Master & American Express), PayPal, Neteller. & Bitcoin
Poker HUD A-Z
What's Poker HUD?
HUD stands for Heads Up Display and is one of the key components of poker tracking software. Poker tracking software tracks each hand of yourself & all your opponents and stores relevant data on every occasion.
This data is displayed as rows of numbers, with player's names & other statistics while you're playing and appear alongside each player at the table as in below example;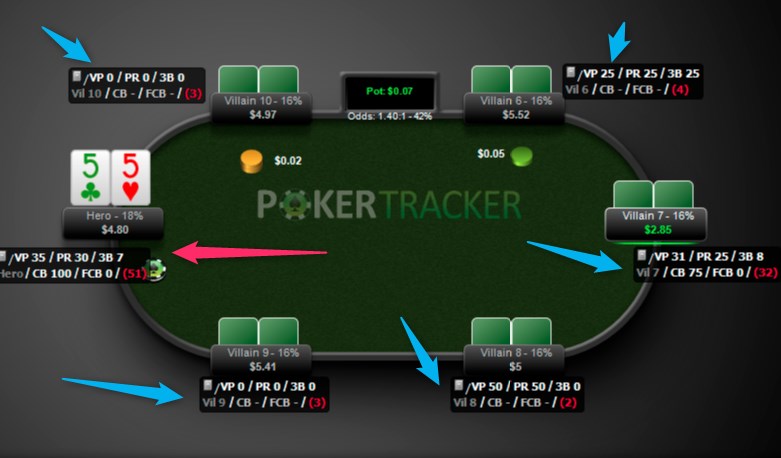 It may seem like a screen full of numbers for those who never used a HUD before though it's an excellent weapon to increase your winning rate, so suggest getting used to it.
What Does HUD Show You?
Here are some of the most common statistics that HUDs show:
VPIP or VP$IP (Voluntarily Put Money In the Pot): Measures how often a player voluntarily puts money in the pot preflop, which is always higher than PFR. 
PFR (Pre-Flop Raise): Measures the frequency that a player raises pre-flop instead of call or fold, limping preflop will increase VPIP but not PFR.
3Bet (3B): Measures the frequency of a player's re-raises in %. 
Flop CB (CB): Measures how often a player continuation bets the flop given the opportunity, expressed as a percentage.
These are the most common stats, but HUD can provide you with more and customize the information you see in your feed. 
With this, you don't have to remember information as it's kept right there on the screen.
If you combine all of these stats, you'll have a better idea of how a particular player plays against you and helps you strategize how you should play with them. 
Are Poker HUDs legal?
Yes, Poker Hud is legitimate and absolutely not cheating, because HUDs simply give you the information that you already have while playing poker.
When you're using an online poker client such as PokerStars or other similar platforms, the program stores hand histories as a text file on your computer. These files are easily accessible, but many players won't really get to use any of them unless they have a HUD.
Actually, nearly 100% of profitable online poker players (long-term) use a HUD.
HUDs access hand histories that are stored as text files on your computer automatically by your poker client. The HUD then mines and displays the relevant data from them in real time.
Free HUD
People often ask "Are there any free poker HUDs?"
The quality HUD is very sophisticated software that requires a lot of development time & cost, which requires constant updates. Besides, you may need quick comprehensive support.
So, we can clearly say, any workable HUDs can't be obtained completely free.
You can get a 2-week free trial at PokerTracker 4 Free Download & Holden Manager 3 Free Download, it's absolutely worth trying.
Poker Hud Acceptance By Poker Site
Poker Sites Allowed Poker HUD
People often ask "Does PokerStars allow HUD?" The answer is, PokerStars partially banned HUDs but they allow both PokerTrackers 4 & Holdem Manager 3.
Poker Tracker summarize the poker sites accepting HUD as below (basically, the same applies to Holdem Manager 3);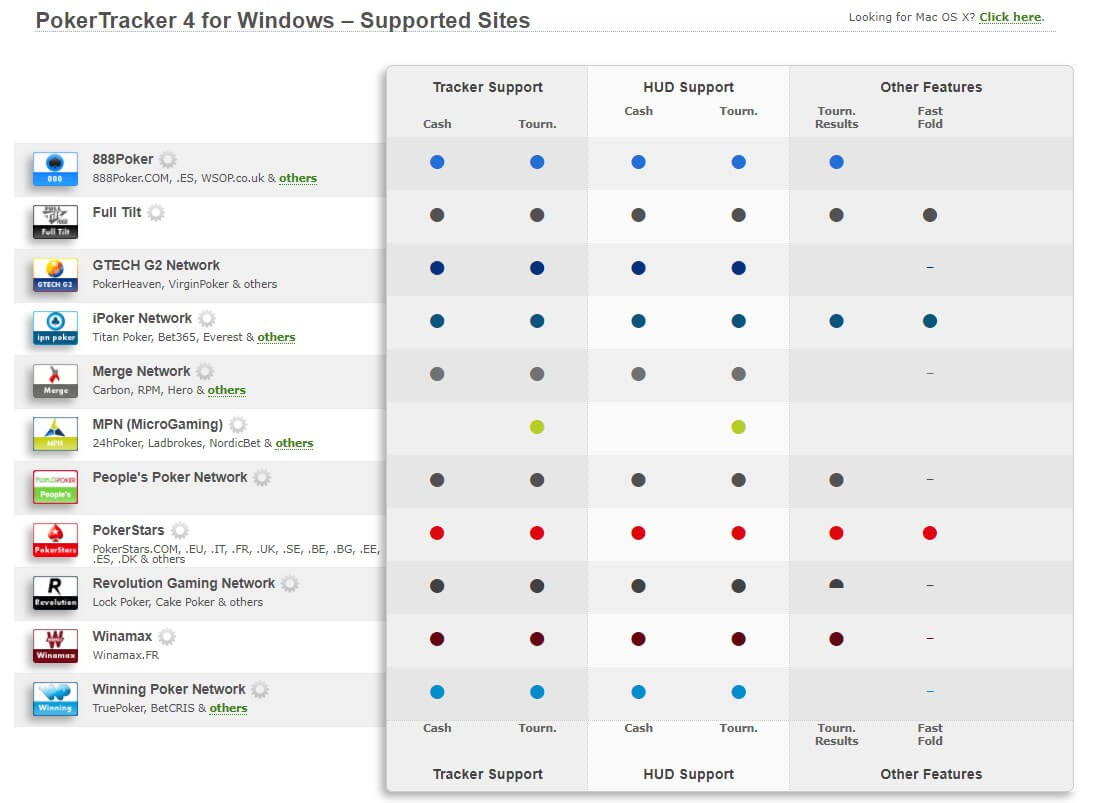 Poker Sites Not Allowed Poker HUD
The list of the poker sites that prohibit is;
PartyPoker – Banned all HUDs and changed cash game & tournament tables to anonymous.
Unibet Poker – Never allowed HUDs & actively sanctions players using custom HUD.
GGPoker – suggest keeping away from this Poker site due to the reasons below;
GGPoker Caution
Although GGPoker invites large traffics, it's not our favourite because we constantly receive terrible feedback from our members, some seriously even believe GGPoker is rigged.
We intentionally sent a bit complicated but an important inquiry, then they kept neglecting it even after the 5th reminder, never experiencing such unprofessional customer support. Such a negative reputation is confirmed by below Trustpilot;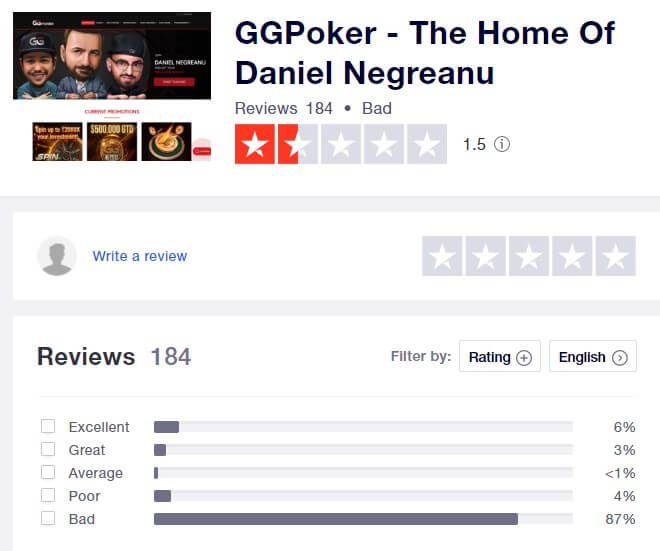 How To Use Poker HUD
There are 2 main objectives to using Poker Tracking Software;
Locating Fish or Whales
Improve Your Poker Skills
How HUD Helps You Locate Fish & How To Beat Them
The importance of playing with fish is paramount. Just following the right & advanced strategy only will not let you win consistently, you need to consistently play against bad poker players.
Your profits come from your opponents' losing, yes online poker is zero-sum, to be precise negative-sum game considering the fee (rake) you pay to the poker room.
How Do You Find the Fish? Go 9 Softest Online Poker Sites – Latest List to Prey Fish (utilize the list of safe & easiest online poker sites where you find many unskilled players & fewer grinders).
When you play online poker, the details of every hand played out are saved to your computer. The HUD software then loads in all previous hand information to establish how often each player was raising, betting, & folding, etc. to give you accurate information on how likely a player is to be bluffing or value betting.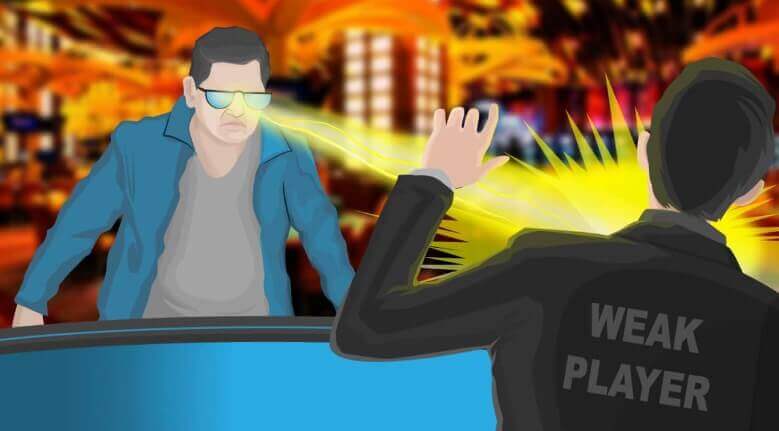 You can customize the data to be displayed, and some readings are;
VPIP (VP) / Voluntarily Put in Pot (%) – The lower the VPIP is for a player, the less likely he's to bluff or get involved with mid-range hands.
PFR (PR) / Preflop Raise (%) – It'll tell you whether your opponent is usually aggressive based on his previous actions.
3Bet (3B) – If your opponent has a low 3Bet Frequency but re-raises a hand, it's more likely that he has a strong hand.
Aggression factor – It helps you understand whether he is unusually aggressive at a particular hand, or whether he's generally playing aggressively
Remember that passive play preflop is often an indicator of passive play post-flop.
Generally, the higher the PFR, the more aggressive a player is. The bigger the gap between VPIP and PFR, the more passive a player is.

High VPIP / low PFR

like 70/10, 53/8, and 40/5 shows a sign of weak players. Such opponents play far too many hands passively, called "Whales", and yes, this is the player you want to play with.

Normal VPIP / low PFR

such as 20/3, 33/5 indicates very tight players, known as "rocks" who wait patiently for high cards and only like to raise with their best hands.

Low VPIP / PFR

with a tight gap like 10/8, and 16/14 shows called "nits", who play a very tight range of hands and usually play their range advantage aggressively post-flop. Grinders that you should avoid showing also small gaps between their VPIP and PFR like the nit but from very tight to very loose ranges such as 15/14, 19/17, 22/20, 32/29.
The more you use HUD, the more accurate it gets. With enough data to work, you'll be able to tell whether a particular game will be good for you to play or not, possibly saving your stack from a more experienced player.
How HUD Helps You Improve Skill
The HUD is in fact a tiny part of how Poker Tracking software helps you improve your win rate.
Studying your own game and opponents in a poker tracking software database is the biggest key to your success. People find it extremely useful in analyzing their lost games because you can find & fix leaks in your gameplay and work on them to formulate better strategies to beat your enemies regularly. 
The below video gives you some insight into how the software (HM3) works;
BTW, If you're new to online poker, obviously your priority is making a correct decision on each hand & play.
You need Multi Tabling skills which will drastically improve your profits (suggest taking a look at Make $1,000 a Month from Online Poker Cash Games Specific Instruction).
Therefore, a start-up with a single table, and gradually (yes slowly) add one table at a time and get accustomed to a faster pace of action.
If you need time to think about very basic decisions like which hands to go, wager amount & EV calculation, etc. then multi-tabling is probably almost impossible to manage. Therefore standardizing your decisions is critically important where Poker Tracker & Holden Manager comes into play.
One of their biggest benefits is finding out which action works best by analyzing your & opponents' data for almost all scenarios. This will help you standardize your decisions even taking your opponents' playing types into account.
Multi Tabling Software
You may want to use another software exclusively tailored for multi-tabling. The best tool for multi-tabling is below;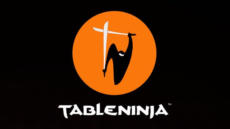 License: Annual & Monthly Subscription
Feature: Hotkeys, Preset Bets, Annoyances, & SNG Sensei, etc.
Supported Sites: PokerStars, PartyPoker, Full Tilt Poker & 888Poker (Tournament only)
Price: Annual $75 – $150 (pro), Month $9.99 – $19.99 (pro) – see full price list
Payment: Card, PayPal, Neteller
Offer: 30 Days Free Trial (No credit card required)
Note: automatically open tables, manage waitlists, compute bet sizes in Big Blinds, manage sit-n-go registration, handle your time bank & provide hotkeys, etc, which makes your multi-tabling plays very efficient by saving huge time as well as avoiding mis-clicks.
Watch the below video which gives you better insight into how it works;
Poker HUD Conclusion 
When you play poker, the strategies you take, almost always, depend on your opponent.
Poker Hud enables you to focus more on the mathematically profitable choices because poker is all about making the correct decisions based on EV (Expected Value) rather than being influenced by emotion a.k.a. tilt. 
Needless to say, a poker HUD will not allow you to win every time. However, it does swing the odds much more firmly in your favour.
So, if you want to be a serious poker player, Poker HUD is the essential tool for you.
Lastly, if you happen to be a sharp casino & game bonus hunter, strongly suggest taking a look at the List of 52 Best Bitcoin Casino Bonuses and for those who appreciate the highest privacy, go to the List of Best Anonymous Bitcoin Casinos & Bonuses, just FYI.
Good Luck!!
Joshua Walker (bio)
Editor – Global Extra Money (GEM)