RebelBetting Matched Betting for the Players Outside UK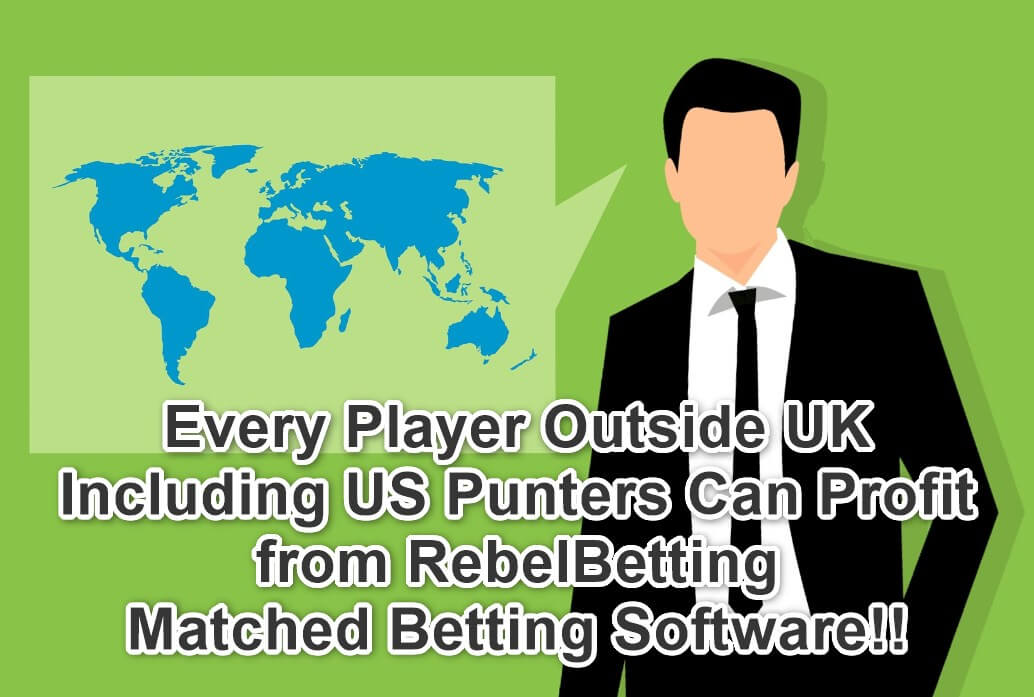 Estimated Reading Time: 19 minutes
RebelBetting Matched Betting Software Makes Matched Betting Easy for Every Ordinary People All Over the World including USA with the Cheapest Cost!!
The "Show" box underneath displays Full Contents & Jump Links for your convenience.
What's Matched Betting?
If you're not familiar with Matched Betting, take a quick look at;
Matched Betting for Dummies
Matched betting is a way of profiting from the free bets and bonuses which bookmakers give out as promotional offer both to new & existing users. Wiki describes it as;
Mаtched bеtting
 (also known as 
back bet matching
, 
lay bet matching
 or 
double bеtting
) is a bеtting technique used by individuals to profit from the free bets and incentives offered by 
bookmakers
. It is generally considered risk-free as it is based on the application of a mathematical equation rather than chance. Moreover, matched betting is considered risk-free as it negates the liability of the bet by laying the same outcome. A typical return for a matched bet where the stake is returned is 85%+ of the free bet offer amount, and 70%+ where the stake is not returned. Most free bets are stake not returned. 
Wikipedia
For full details of Matched Betting, suggest take a look at Matched Betting For Dummies – 9 Essential Things You Should Know;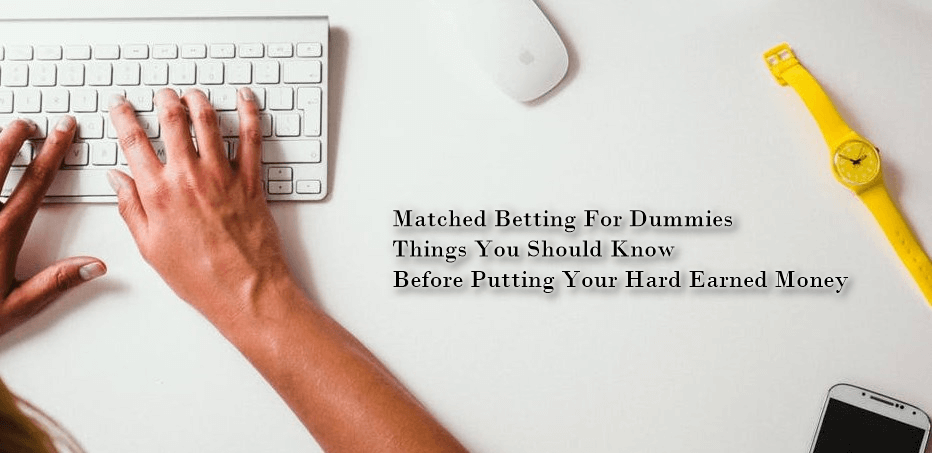 Matched Betting Process Example
Although the above article explains A-Z of matched betting, let me share a simple example which may give you good quick insight on how matched betting works as follows;
Let's use bwin Welcome offer (this is for Germany, Austria, Italy, The Netherlands, Denmark, Sweden, Norway, Finland and Hungary market) of "Get 100% Deposit Bonus up to €100";
Make sure you check T&C (Terms & Conditions) which is boring but very important to avoid any unpleasant surprise down the road. This bwin's T&C shows;
So, the process of matched betting are;
Assuming you deposit €100 to Tipico, then €100 bonus will be credited into your Tipico account. In order to withdraw your bonus, you need to wager €100 (bonus) x 6 = €600
There are 2 transactions involved. Since you have €200 in your account (€100 your deposit + €100 bonus), 1 transaction is Back (bet on win) €200 on any sports event with over 2.0 odds at Tipico & Lay (bet on NOT win) appropriate stake € at Betting Exchange like Betfair so that you cover all the outcomes (if no betting exchange is available in your country, you can back on the opposite outcome(s) in other bookmaker(s), which is called Dutching method).
Regardless of the outcome, your losing & winning will cancel out each other. In the real practice, usually, 2 bets are not perfectly offset due to the odds difference & exchange commission. Therefore you make a small loss called Qualifying Loss.
If your bet loses at Tipico, then your Wager Requirement is completed and at this stage you successfully cashed out €100 bonus (minus small loss depending on the odds) to bet exchange or other bookmaker(s).
If you win at Tipico, then you need to repeat exactly the same process until you complete €600 wager requirement or your balance becomes 0 at Tipico. 
For this specific type of offer, there is an advanced technique called "Under Lay" of which details can be found in the method to maximise your profits. 
Remember, key success factor is how to minimize the qualifying loss by identifying the narrowest odds between Tipico and betting exchange etc. during the entire process.
Don't forget you need to complete the above process within 90 days after you receive the bonus in this offer, otherwise any bonus related balance will be forfeited.
We have summarized 5 Types Of Bookmakers' Matched Betting Sign Up Offers
, where you will find the real examples of most popular type of offers provided by the bookies not only from UK but all over the world & the instructions on how to monetize each offer risk-free. Hope it will give you better insight on how the matched betting works. 
Is Matched Betting Only For British (& Irish)? NO!!!
Why do we say so? See;
Firstly, it's true that UK & Ireland are breeding grounds of Matched Betting due to the facts that overwhelming number of bookmakers provide bonuses & free bets relentlessly and, above all, their prevailing betting culture. 
UK & Ireland – Matched Betting Heaven 
Huge number of Brits have made thousands of £ from matched betting which can be estimated from the below image of Profit Accumulator (PA) (for details see our PA review), one of 3 top UK matched betting subscription service;
It claims over 375,000 people signed up their service since they started in 2014. There are 2 other big service provider of Oddsmonkey(OM) & Profit Maximiser (PM) (see the comparison among these 3) as well as mushrooming similar services in the UK & Ireland. It's said that OM's market share is close to PA, then the bald guess is that over 1 million Brits have been enjoying risk-free extra income. 
Outside UK & Ireland
But, what about this opportunity for the outside UK & Ireland? 
Theoretically, as long as you reside in the country where online gambling is not prohibited and there are bookies that offer promotional activities such as bonuses & free bets, you can do it as explained by Tipico Welcome Offer in the previous section.
The issue is efficiency. Matched betting can be done manually, but updating the ever changing bookies' offers and locating the good matched betting opportunities are very time consuming practice. Therefore many Brits make the best use of the above subscription with software services.
Unfortunately, all the subscription services listed previously focus on UK & Ireland market. And when it comes to such service for outside UK, there is very limited choices.
RebelBetting as the world No.1 Sports Arbitrage software provider as well as a reputable value bet finder has extended the service of Matched Betting Software that can accommodate the needs of almost all Players in the world including US residents who are supposed to be one of the most restricted online betting circumstances (see How it works: Process & Tips section later).
In case you're not familiar with RebelBetting, suggest take a look at our RebelBetting Arbitrage Review & RebelBetting Value Betting Review as follows:
RebelBetting Matched Betting - How Much Can You Make? and Pros & Cons
Profits Ballpark Projection
This fully depends on how many RebelBetting's supporting bookies can be accessed by you. RebelBetting includes around 80 bookmakers & betting exchanges, their rough estimates are;
Around 1 – 1.5k EUR only from Sign-Up Bonuses 
For re-load bonuses where the long-term matched betting incomes come from, again it fully depends on the available bookies and their offers. For example, even in the US where only 5 supporting bookies can be accessible, thanks to the permanent juicy re-load offers, decent income can be expected (as said, see the details in Bookmakers for US & Canadian players under How it works: Process & Tips section). 
You can check how many bookies you can access among the list RebelBetting supports. In matched betting software, the bookies RebelBetting supports, which is basically identical to the above list, can be seen in Option section as follows (you can input the specific bonus of the bookmaker(s) for the software to display in the oddsmatcher, which we will elaborate later);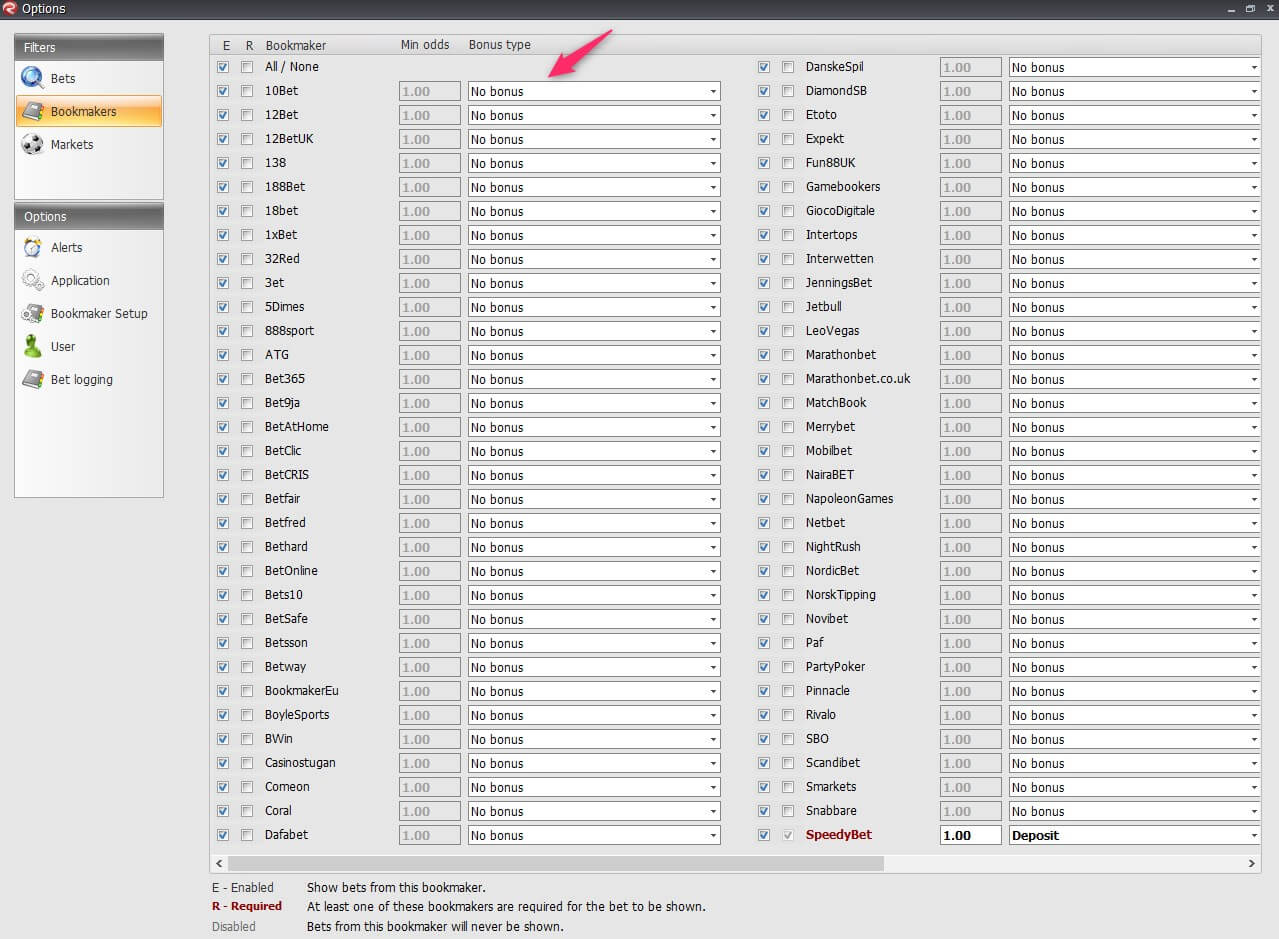 Bookies & Betting Exchanges Coverage
In case you're not certain about which bookies you can access in your country, you may use Bookmakers By Each Country, which lists nearly 150 countries. It shows the most popular bookies in each jurisdiction although it is not necessarily available as seen from below screenshot of the Germany's example. Nevertheless, it's a good source;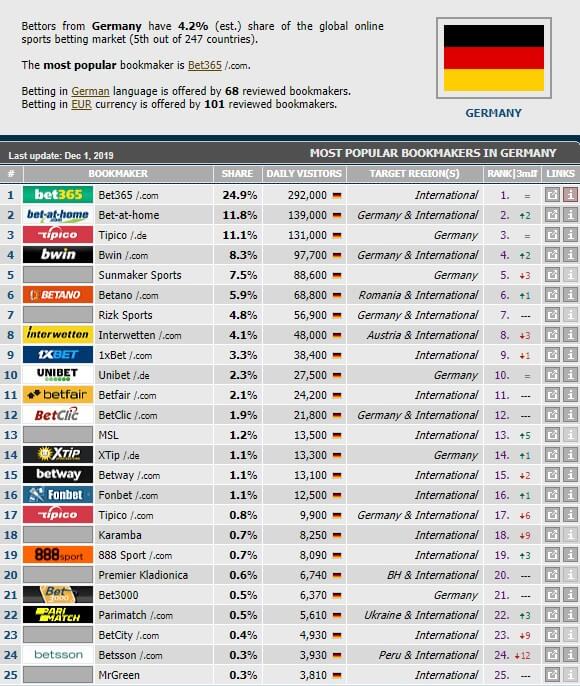 The Method to Increase Your Bookmaker Coverage - Bet Broker: Sportmarket
In order to increase your bookmakers, you can use Bet Broker such as Sportmarket. Bear it in mind that since Sportmarket is not a bookmaker, they don't offer any bonuses but they provide you with an account that integrated multiple bookies (you need to take Sportmarket Pro account) as follows (the bookies in bald letter are the ones supported by RebelBetting software);
Bookies: Pinnacle / SBO / 18bet / 3et (0.5%) / IBC / Singbet / ISN / Redzone (1%)  
Betting Exchange: Betfair (2.3%) / Matchbook (1.8%) / Betdaq (1.2%) / SPM (1%)
The above () indicates the commission taken by Sportmarket
The Betting exchanges in Sportmarket Pro account don't offer Lay bet but only back bet
Restricted Countries: USA / UK / France / Spain / Portugal / Serbia
As you will see later, the RebelBetting matched betting software uses Backing in most cases (Dutching) therefore, lack of betting exchange lay odds is not an issue. You can simply increase the sharp bookies (there are soft bookies & sharp bookies - see what they are) and you can take advantage of better odds of sharp bookies in dutching (you will see the advantage of covering sharp bookies later). 
Anyhow, before opening Sportmarket account, strongly suggest you go through Honest Opinion About Bet Broker & How To Use Them Safely & Smartly;
, which includes our review on Sportmarket. 
Alternative Bet Broker - Asianconnect
As noted above, Sportmarket don't accept USA / UK / France / Spain / Portugal / Serbia, so if you reside in these countries, you may want to use Asianconnect;
Restricted Countries: US, Philippines & Singapore (UK Players are Accepted Only If use Bitcoin for deposit / withdrawal – means Asianconnect don't reject UK registration but accept deposit only in BTC)
Covered Bookies: Pinnacle / SBOBet / MaxBet (Former IBC Bet) / Bet ISN / Sing Bet
You can receive sign-up 20% deposit bonus (up to 400 EUR bonus) by using promotion code of "AC400". Anyhow, suggest you go through our Asianconnect review before signing up. 
Pros
Price
The price is €9 monthly which is the cheapest not only among RebelBetting other software but also among Matched Betting other subscription services namely PA £17.99 monthly fee & OM charges £17.99 monthly;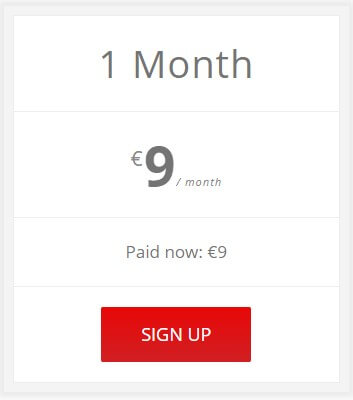 Auto Log-In & Surf Function
If you already experienced RebelBetting Arbitrage or Value Betting software, one of the best features is Auto Log-In & Auto Surf function, which automate most of the matched betting process.
For those who know the process of matched betting, the step from finding sports events at bookmakers' websites, verifying the odds and placing bets can be frustrating and boring. RebelBetting betting browser saves valuable time. Let's take a quick look at the interface;
You see the list of the matched betting opportunities in oddsmatcher format like;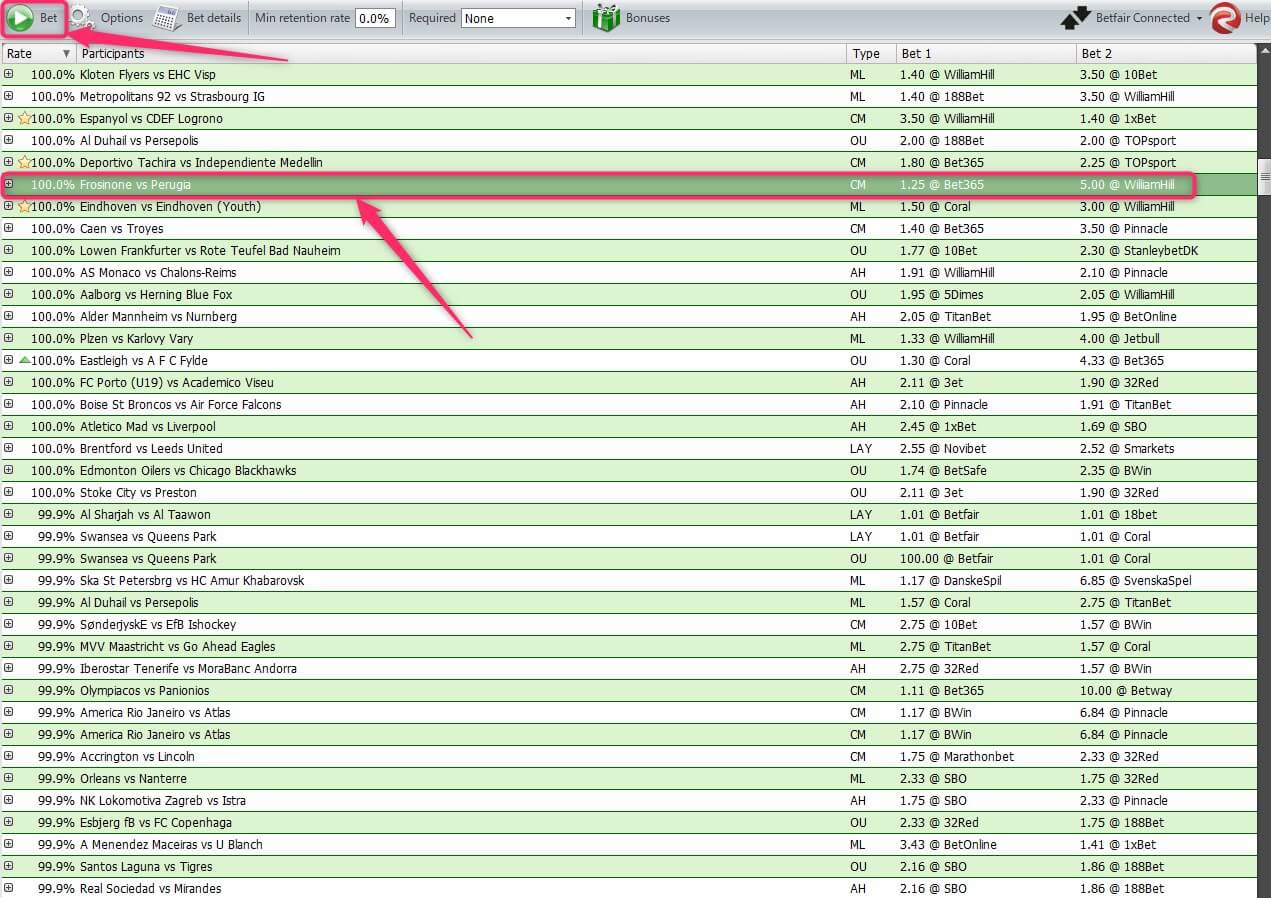 By clicking 
at the left top Betting Browser will open the window, which can be divided into two main sections  showing the concerned bookmakers' sites (to the right) and the Arb Info panel (to the left);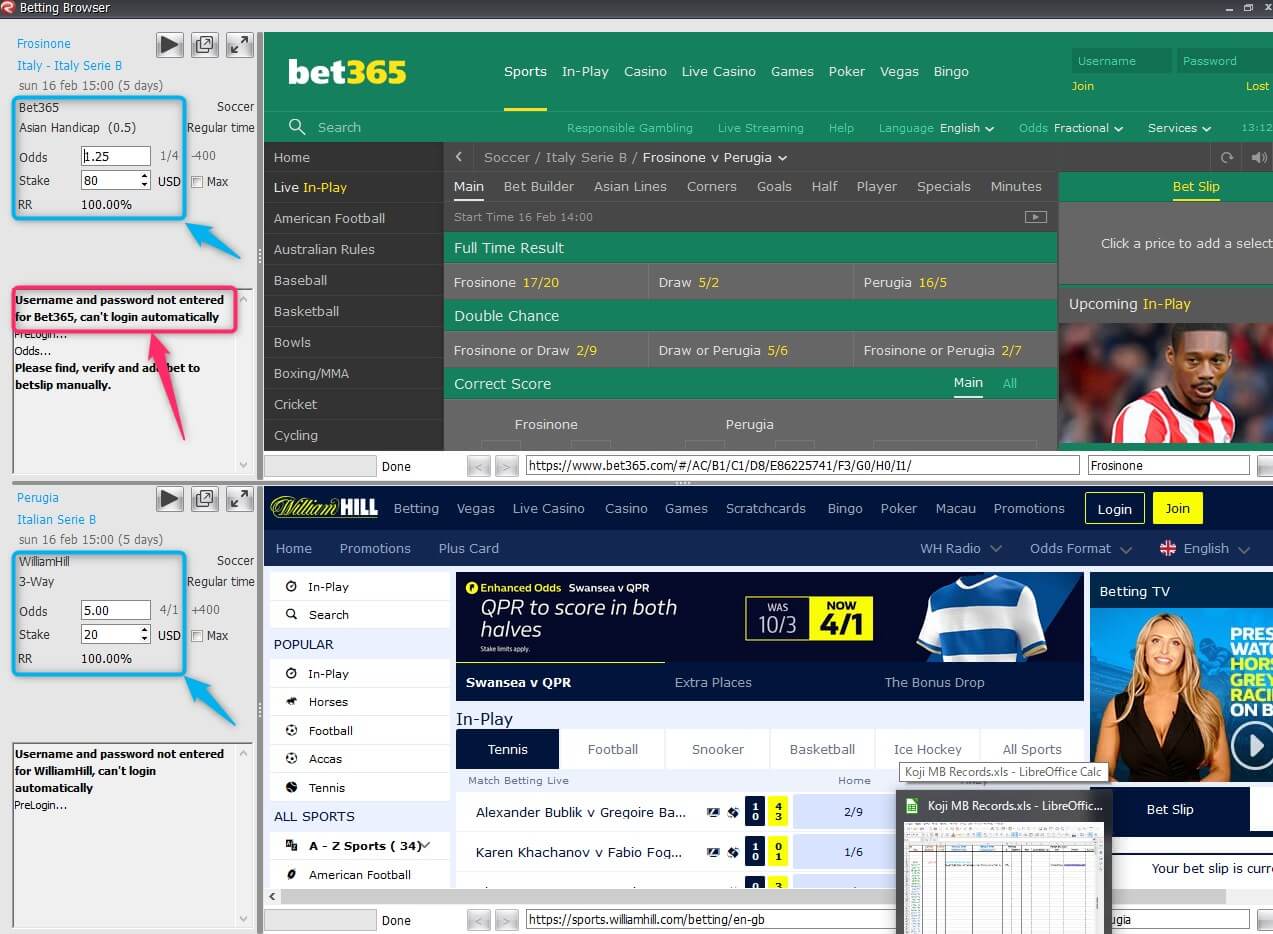 You can enter your log-in credentials under Options / Bookmaker Setup for all your active bookmakers, then the software will automatically log-in & take you to the subject event in each bookmaker (right top & bottom).
The integrated calculator on the left suggests the stakes you need to place. If you change any number in the calculator, the other numbers will automatically change to the correct amount. You never have to do any calculations by yourself.
Cons
Offer Update
You can go & see Bookmakers' Offer that shows like (Tipico's offer is the one introduced in the first section);

The issue is that this list is not updated timely. Knowing the latest offer is one of the most important things for matched bettors, and seeing the offers already changed or expired is not ideal.
RebelBetting Matched Betting - How It Works: Process & Tips
Let me take you to the process & a few tips as follows;
Sign-Up
Just go RebelBetting Matched Betting and sign-up 1 month subscription;
The cost is merely €9 for a month, which most likely can be recovered by the 1st bookmaker offer you take up in the software. You may be able to cash out around €80 - 90 from the Tipico offer we have used in the first section, with only this, you can cover 10 month subscription costs. 
Beginner Guide 
Firstly, suggest take a look at the Beginner Guide, which basically explains all the process you need to follow.
A Few Tips - Increase Opportunities & Improve Profitability
Let me list a few important points & tips which may help you increase your profitability as well as understand the software better; 
Bonus & Oddsmatcher
You will find the bonus in your available bookmakers in RebelBetting Bonus page though, as said, given the fact that the list is not necessarily the latest info, you'd better visit each bookmaker's site to check their current offer in promotion section or you may want to check the following sites to find the bonus;
Oddsen.nu – Oddsen is a great bonus page for all nordics bookmakers.
Wett-Bonus.com – Another great resource for high bonuses.
Once you know the offer of the specific bookmaker, you can input it in Options. The Tipico welcome bonus we have used can be;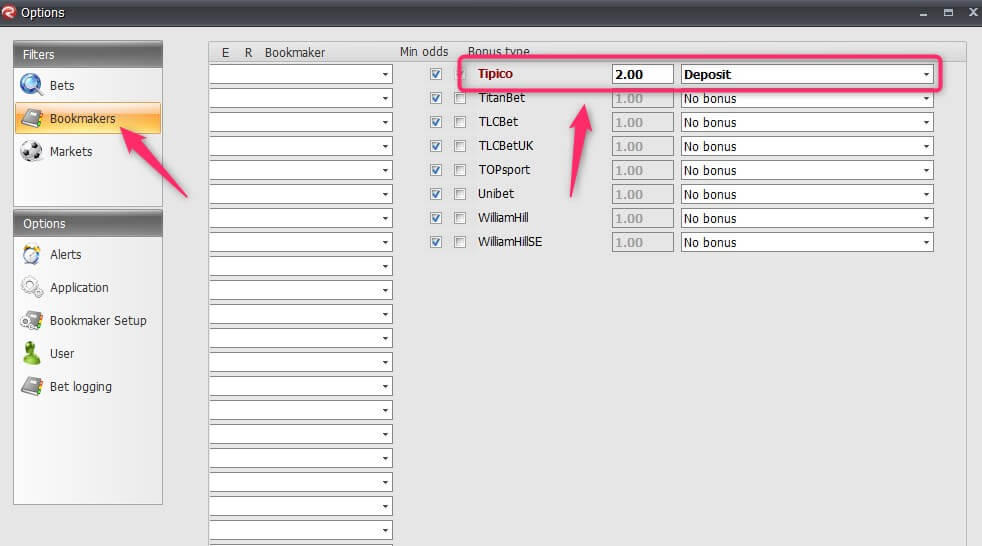 Then, the oddsmatcher shows only Tipico related opportunities as below;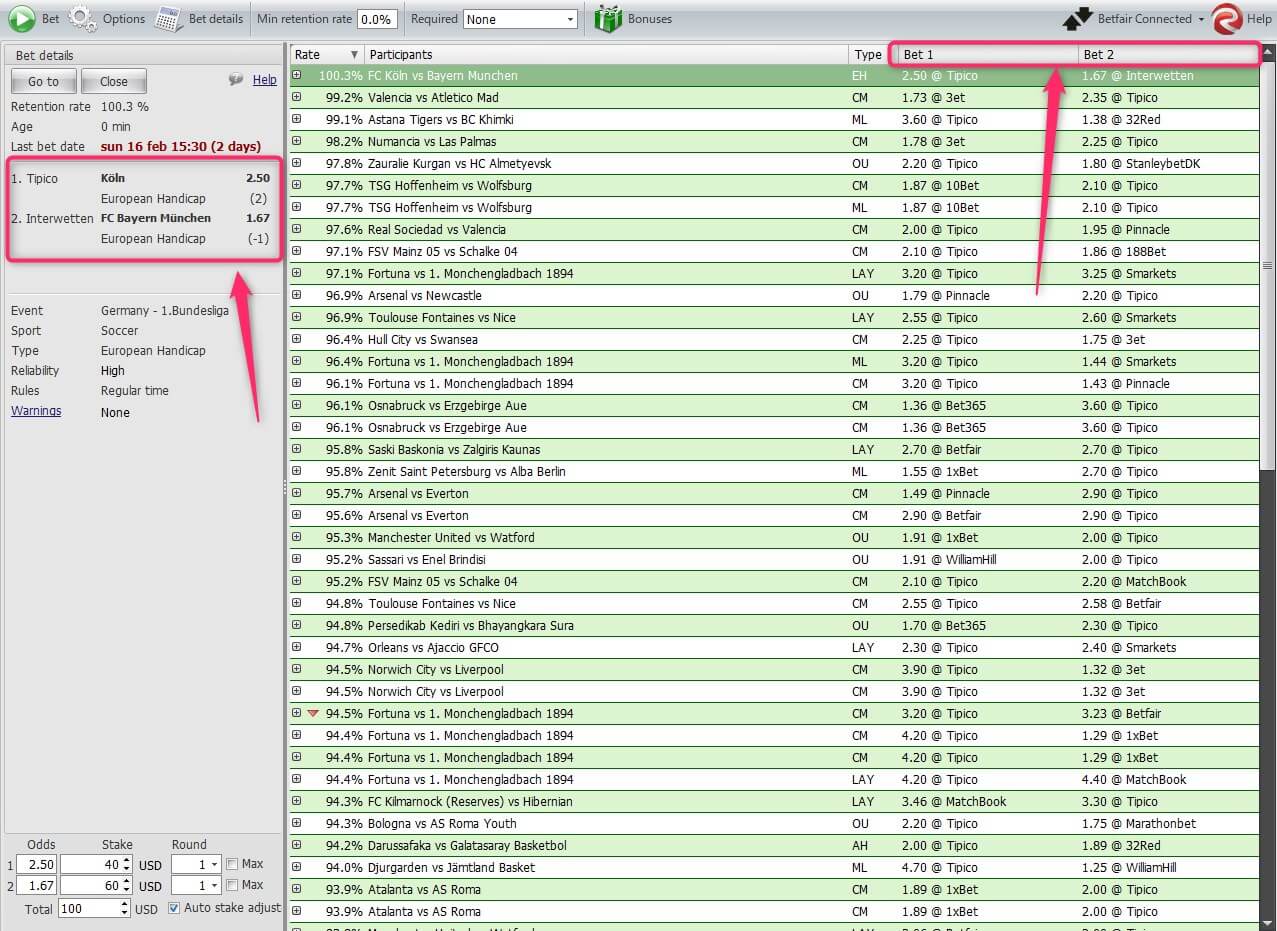 In the UK, the standard method of matched betting is to use lay in betting exchange. However, RebelBetting software uses arbitrage odds to bet between two different bookmakers with back bets (actually the software captures the lay bets from betting exchanges as well). When you arbitrage among bookies for popular football 1 (home win) x (draw) 2 (away win) market, you need 3 bookies to cover all 1 X 2 outcomes. But the software searches the market such as total score 2.5 over or under or handicap markets etc, which enables you to complete the matched betting within 2 bookmakers. 
Increase Opportunities
As explained in "How Much Can You Make?" section, you can increase matched betting opportunities by using bet brokers. The bookies the bet brokers cover are all sharp bookies. BTW, if you're not familiar with 2 types of bookies of Soft & Sharp bookies, suggest take a look at Beat The Bookies By Knowing How Your Enemy Makes Money – Secret Of Odds. But very quickly, we can characterize each bookie as;
Soft bookies: Targeting Casual Punters – Run a lot of promotion / Odds adjustment is relatively slow / Impose account restriction (gubbing)
Sharp bookies: Targeting Professional Punters – Highly competitive odds / High staking limit / Quick Odds adjustment / Never impose account restriction
So, in matched betting, we use Soft Bookies as the ones that offer bonuses & free bet while the software often captures Sharp Bookies as the other bookmaker to complete matched betting. Because Sharp bookies basically offer no promotions but provide you with competitive odds, which can produce many matched betting opportunities. 
As explained, Sportmarket & Asianconnect both covers Pinnacle & SBO bets, and see the below RebelBetting software (oddsmatcher) list showing the impact of these 2 bookies;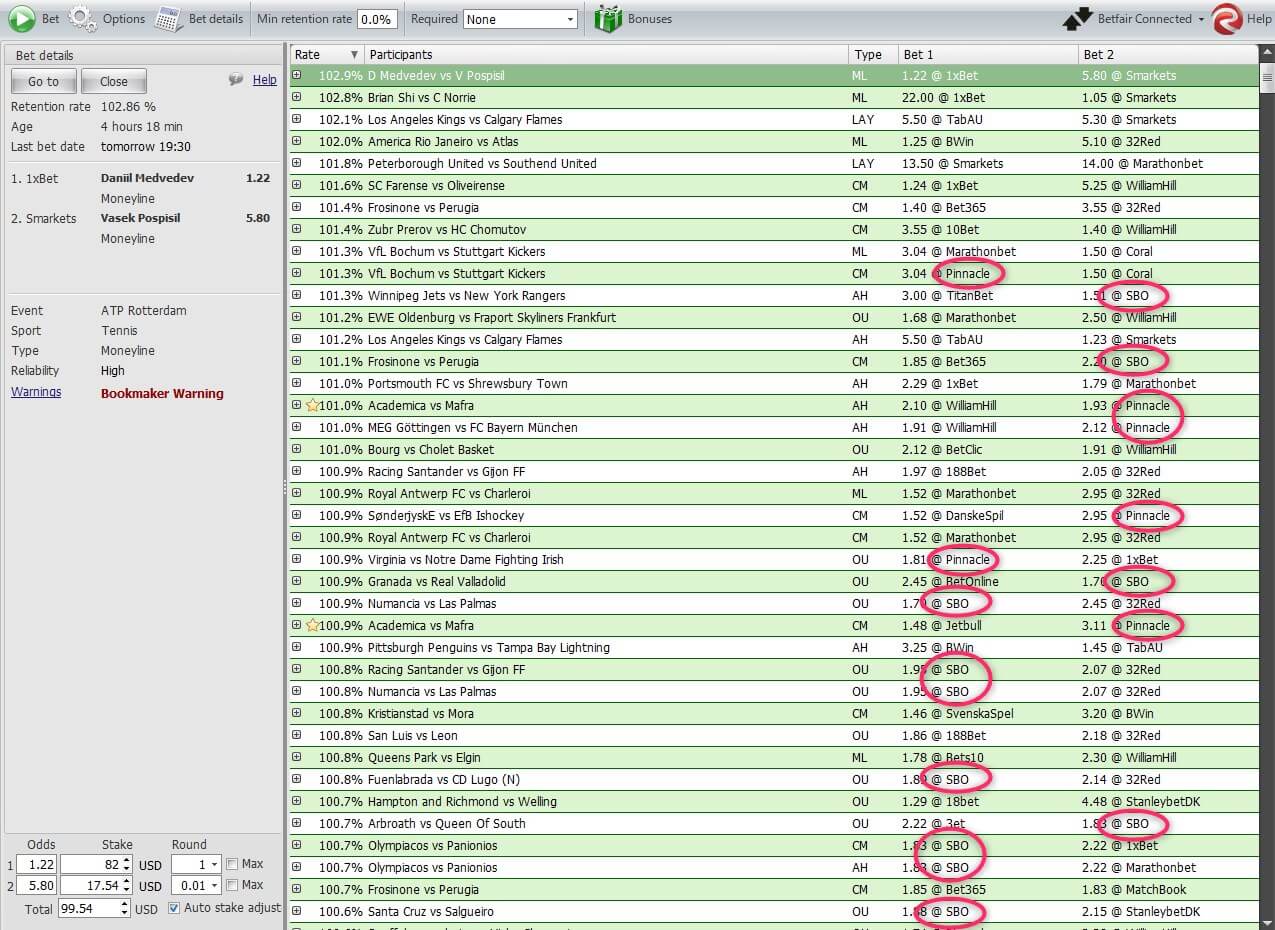 BTW, you may open Pinnacle account directly if you prefer, then check if your jurisdiction is allowed.
No Qualifying Loss
I need to remind you that the matched betting opportunities the above oddsmatcher shows are all 100%< rating which is pretty good. Matched betting usually generates qualifying loss (for example rating 99% means loses 1%), however, conversely 100%< opportunities bring you about the profits as an arbitrage trading. 
So, you may understand how important the inclusion of such sharp bookies as Pinnacle & SBO  is. 
Bookmakers For Americans & Canadians
For residents in USA & Canada, RebelBetting supports Caribbean bookmakers that offer juicy bonuses like;
In fact, the punters from many countries can use these bookies but their bonuses are only for US & Canadians (except 5Dimes & Intertops). For the details of their latest offer, suggest you check World 11 Best Offshore Betting Sites Offers.
Despite the fact that RebelBetting supporting bookies for US & Canadian Players are limited, with the above excellent online bookies offering attractive welcome & (permanent) reload bonuses, American & Canadian players should be profitable enough after paying €9 monthly subscription. Because RebelBetting oddsmatcher constantly produce matched betting opportunities even only among these 5 bookies as below;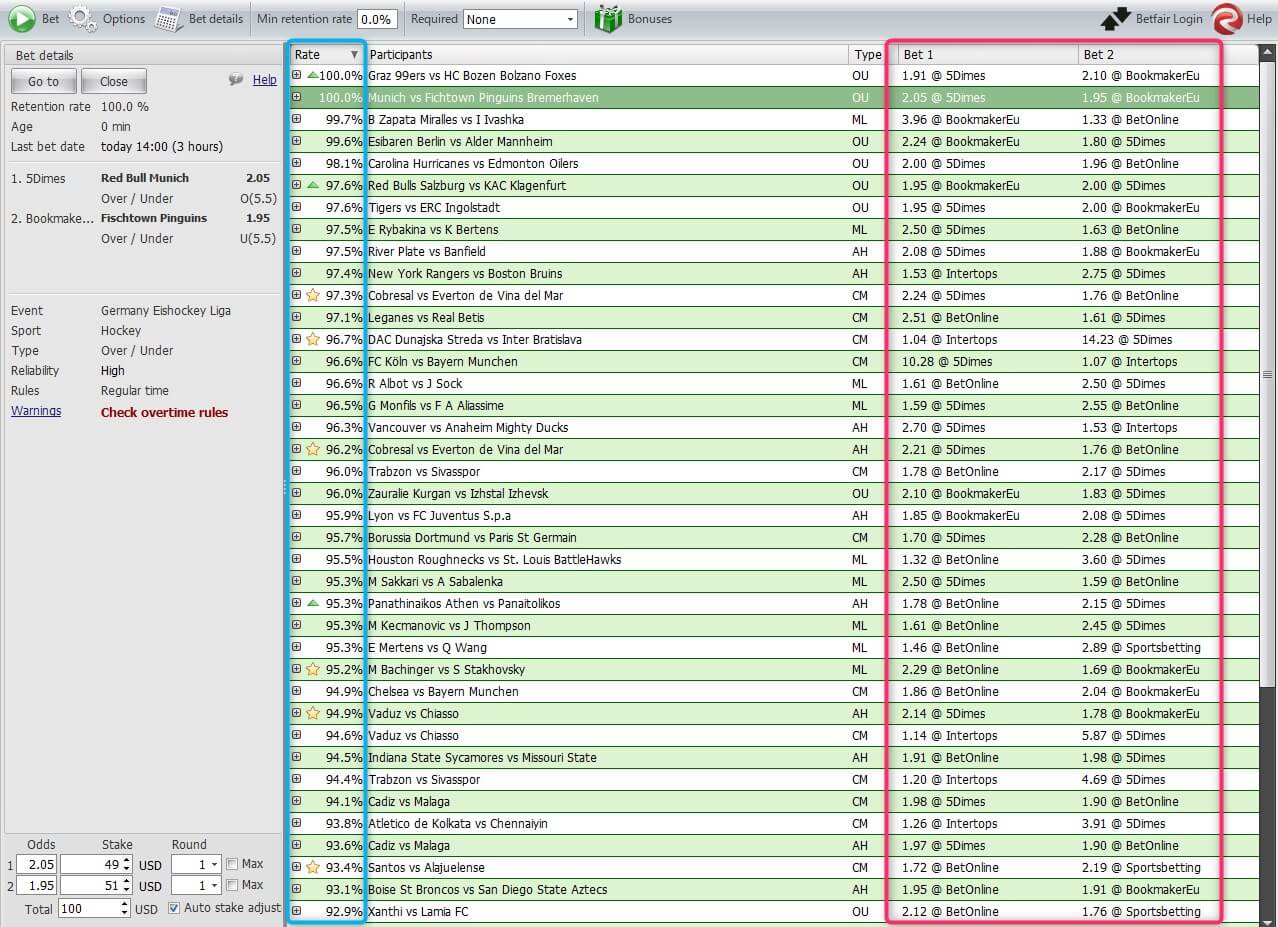 So, bottomline, pursuing matched betting with RebelBetting software is absolutely worth while for US & Canadian players. 
Daily Routine
You don't need to spare much time to do matched betting, just 10-15 minutes per day is sufficient enough for most people to make decent profits. In fact, you can set an alert like below then you may need just a few minutes to complete the opportunities;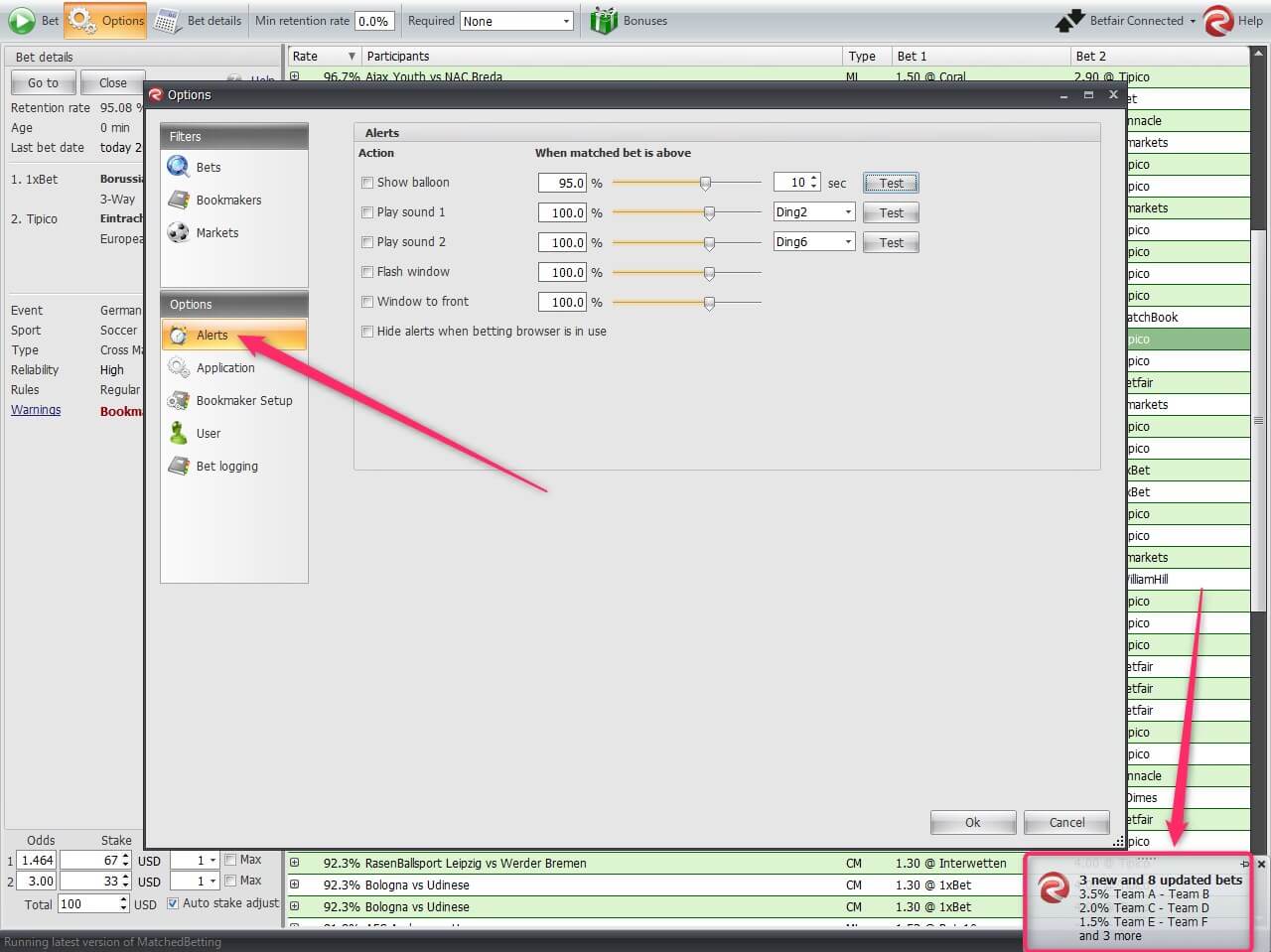 Needless to say, Rebelbetting mobile is available, so you can manage the matched betting life at your most convenient style. 
Next Stage - RebelBetting Value Betting
After exploiting all the bonuses by Matched Betting software, RebelBetting value betting must be the perfect next phase for your sports trading. You can start Matched Betting with very small bank such as a few hundreds € and increase it to a few thousands € easily.
Then, you can use such increased bank in Value Betting, which enables you to double it in 3 months;
See our RebelBetting value betting review of Method To Double Your Capital Within 3 Months for full details. 
Good Luck!!
Joshua Walker (bio) 
Editor - Global Extra Money (GEM)
---